By Lambert Strether of Corrente.
Readers, I got wrapped around the axle writing an original post that decided to turn out differently from how I had planned it, and so I'm going to finish it up, and then return here. So please return in a bit! –lambert UPDATE 4:13PM All done.
* * *
Trade
"It's a question that every major law firm and think tank in town is trying to answer: Just how much legal authority does President Donald Trump have in terms of scrapping NAFTA? The growing consensus is that while Trump could steamroll Congress when it comes to pulling the trigger on withdrawing the U.S. from the deal, his power over raising tariffs could be far more limited" [Politico]. "U.S. duties on all but a few Mexican and Canadian goods are currently zero under NAFTA. Under the deal's implementing act, those duties would likely stay the same for a year if Trump withdraws from the pact. After that, they would rise to World Trade Organization levels in the case of Mexico. In the case of Canada, a U.S. withdrawal would cause tariffs to revert to levels under the 1989 U.S.-Canada Free Trade Agreement. Trump could potentially speed up raising tariffs on Mexico under Section 125 of the 1974 Trade Act, and it's possible he could also decide to withdraw from the U.S.-Canada pact in addition to NAFTA. But the Constitution clearly gives Congress jurisdiction over tariffs, even if the White House shares some powers on trade, so Trump would be out of bounds if he tried to raise tariffs above the WTO levels, John Veroneau, a partner at Covington and Burling, said during a panel discussion Wednesday hosted by the Washington International Trade Association."
Politics
2017
"Democrat pulls off special election victory for Senate seat in west Tulsa County" [Tulsa World]. Here's how:

[Allison] Ikley-Freeman, a mental health counselor, said she and her campaign team worked hard at targeting voters they knew would turn out for her in a low-volume election.

"When we were knocking on doors, so many people said, 'Thank you. We didn't know there was an election," Ikley-Freeman said.

Her campaign was managed by Sarah Baker, who was behind Tulsa County's other big upset this year, state Rep. Karen Gaddis' victory in House District 75.

She asked for their votes! Wotta concept. (And I think we'll be hearing more from Sarah Baker, as well.) Sadly, Ikley-Freeman doesn't support #MedicareForAll, though she's not against it, either.

"LESBIAN DEMOCRAT PULLS OFF ELECTION VICTORY IN CONSERVATIVE OKLAHOMA" [WMGT]. (I'm betting the hyphen in "Ikley-Freeman," which after all appeared on the ballot, was also a barrier to overcome.) Here's how, again:

"That voter-to-voter contact really made a difference," she said, adding that she and her campaign team even mailed out handwritten postcards to people in the district.

She asked for their votes!!!

"How Not to Write a Demand Letter, Roy Moore-Style" [Law.com]. Hilarity ensues.
2018
"A Wave Is a Comin'" [Amy Walter, Cook Political Report]. "My colleague David Wasserman has been digging into the question of just how big of a wave Democrats need to get in order to surf into the majority. The short answer: they need to see a generic ballot advantage of +8 or more, which roughly translates to getting at least 54 percent or more of the national House vote in 2018. The last time Democrats enjoyed a margin of +8 or more in a mid-term year was 2006." I remember that "wave" quite well. The Democrats promptly squandered it. IMNSHO, Bush should have been impeached or at the very least pilloried for his program of warrantless surveillance which involved multiple felonies. Pelosi instantly took impeachment off the table, and [genuflects] Obama proceeded to rationalize and consolidate the program.

"DCCC Names First 11 Candidates in 'Red to Blue' Program" [Roll Call]. Not a word about policy, but the contributions of the donor class are amply detailed.

"Ethics Committee Should Review Franken Allegations, McConnell Says" [Roll Call]. "A Los Angeles morning radio news host accused Franken of forcibly kissing and groping her in an open letter on her station's website."

"Franken calls for ethics probe into charge he harassed actress" [MarketWatch].
Trump Transition
Ugly:

So. Here's a thing that happened.

IIP (State Department) has a Flickr account with many awesome photos: https://t.co/eaxEgzj8sZ

It has many, many photographs from the Trump and Obama administrations.

— Jason Scott (@textfiles) November 15, 2017

But one category is now missing…
Realignment and Legitimacy
On Weinstein et al:

in one graf by @mattyglesias, why much of the country sees in progressivism not moral authority, but weaponized sanctimony subject to the convenience of particular people and institutions. Bill Clinton is now costless to shun, and so we will. https://t.co/Xr7meB0SwU pic.twitter.com/oVRdPTtPIh

— Steve Randy Waldman (@interfluidity) November 15, 2017

"Weaponized sanctimony." That's a keeper. (It's worth noting that the Franken allegation isn't weaponized at all. Nor Louis CK.)

"America has allowed a culture of sexual abuse and harassment to flourish, and all of our industries and political parties exist within that culture. This is a systemic rot, not merely a few bad apples" [Ezra Klein, Vox]. "I have been reflecting of late on why the Harvey Weinstein revelations kicked off this revolution, and one theory I have is that Weinstein was a powerful Democratic donor, and that was actually important. After Trump, Democrats were primed to take allegations of sexual abuse seriously. And since Weinstein was a Democrat, Republicans didn't respond by rallying around him or trying to change the subject. Thus, the Weinstein affair broke the normal forces of polarization and made this something more than red versus blue…. [I]t's worth remembering that the president of the United States has more than a dozen well-documented, on-the-record allegations of sexual assault against him. The fact that those allegations are known doesn't make them less serious, and the fact that he won the Electoral College despite them does not absolve him."

"Thinking Intersectionally About Race and Class in the Trump Era" [Law and Political Economy]. "Intersectionality, though, teaches us that class, gender, or race often are not "independent" influences in this way. For example, if class were independent of race, then class differences among people of color should operate like class differences among whites. But these data show that working class people of color turned out overwhelmingly for Clinton. Indeed, they supported Clinton at slightly higher rates (76%) than those with college degrees (72%), a 'class' effect in the opposite direction than for whites. This simple analytical point shows that class did not operate independently of race. It recalls Stuart Hall's insight that "race is the modality in which class is lived.'" Watch those definite articles, tho.

"State lawmakers intervene: Popular Upstate NY snowmobile trail will be open" [Syracuse.com (Bob)]. The story is buried seven paragraphs down.
Stats Watch
Industrial Production, October 2017: "The last piece has fallen into place. The manufacturing component of the industrial production has not been confirming the enormous strength of regional and private surveys nor recent acceleration in factory orders data, that is not until October's 1.3 percent surge and a 3 tenths upward revision to September which is now at 0.4 percent" [Econintersect]. "The yearly gain for manufacturing is still moderate at 2.5 percent but all the indications from the factory sector are pointing to acceleration going into year end, an upward pivot that should give a special boost to fourth-quarter GDP." And: "This is 21.8% above the recession low, and just above the pre-recession peak" [Calculated Risk]. And: "There was significant upward revision to the existing data over the last 6 months – so even though the data was better than last month, it is even better when compared to the upward backward revisions. The best way to view this is the 3 month rolling averages which improved. Industrial production is in a long term upward trend" [Econintersect]. "Manufacturing employment growth remains flat year-over-year." So what's in it for me, then?
Philadelphia Fed Business Outlook Survey, November 2017: "A little less heat is a welcome thing when it comes to the Philly Fed manufacturing report" [Econoday]. "This report continues to show some of the most impressive strength on record though actual government data on the factory sector have shown much less momentum." And: "Consider this a stronger report than last month because of the improvement of the key internals" [Econintersect].
Bloomberg Consumer Comfort Index, week of November 11, 2017: "Full employment, the rally in the stock market, and solid home-price appreciation are all important pluses for confidence measures" [Econoday].
Jobless Claims, week of November 11, 2017: "Jobless claims rose 10,000 but it's not due to Puerto Rico where the worst evidently is over" [Econoday]. "Despite the bump higher in the latest week for initial claims, the data point to very tight conditions in the labor market."
Housing Market Index, November 2017: "Home builders are reporting acceleration going into year-end" [Econoday]. "Strength in this report has not translated this year to strength in actual housing data."
Architectural Billings: "After a stand-alone month of contracting demand for design services, there was a modest uptick in the Architecture Billings Index (ABI) for October. As a leading economic indicator of construction activity, the ABI reflects the approximate nine to twelve month lead time between architecture billings and construction spending" [American Institute of Architects].
Import and Export Prices, October 2017: "Cross-border price pressures are flat like other inflation readings" [Econoday]. "[P]rices for finished goods, whether on the import or export side, remain stubbornly flat… There have been glimmers of wage pressures in recent months but this week's inflation readings re-establish the expansion's anomaly — that full employment is not triggering any inflation. And excluding petroleum which swung sharply higher in the month, import prices rose only 0.1 percent. The year-on-year rate for ex-petroleum import prices is only 1.4 percent" And: "The elephant in this month's changes were fuel / oil commodities" [Econintersect].
Shipping: "This was the 2nd highest level of imports ever for the month of October [at the ports of Los Angeles and Long Beach] – following record imports in July, August and September – suggesting the retailers are optimistic about the Christmas Holiday shopping season" [Calculated Risk].
Shipping: "Investigation finds China's top ports have been ripping off shipping lines for years" [Splash 247]. "China's National Development and Reform Committee (NDRC) has recently concluded an anti-monopoly investigation into major ports in the country. According to the NDRC, the two-month investigation uncovered a series of irregularities in several major ports including Shanghai, Tianjin, Ningbo-Zhoushan and Qingdao. The investigation found that shipping companies have been forced to use towage services provided by port affiliate companies with no alternatives offered, cargo handling fees have regularly been overpriced, and many unreasonable terms have been added into contracts with shipping lines. Following the investigation, NDRC has ordered the ports to open their towage markets and abolish unfair contract terms. As a result, ."
Shipping: "By matching owners of excess warehouse space with users, or retail shippers, that need it temporarily, [warehousing on-demand] provides a way for both parties to 'easily match both sides of the transaction…with greater transparency and fewer transaction costs to the process'" [Logistics Management]. "David Egan, CBRE head of industrial and logistics research in the Americas, likened the pop-up warehouse to the natural cousin of the gig economy and its better-known players such as Uber and Airbnb in terms of how they also match demand to capacity,"
Retail: "Overall, seasonal retail hiring has fallen each year since 2013. Last year's gains of 641,000 fell almost 10 percent from the previous year, when 708,800 jobs were added in retail" [Econintersect].
Retail: "Black Friday is dying" [Fast Company (CL)]. And not a moment too soon. Dare we hope that "Cyber Monday" suffers the same fate?
Retail: "Amazon Sellers Brood as States Come Calling for Taxes" [New York Times]. You'd think the software brainiacs at Amazon would have handled state taxes for vendors from the very beginning. I suppose there must have been some kinda business reason not to…
Supply Chain: "Workers stitched pleas for help into clothes sold by Zara" [CBC]. "Shoppers in Istanbul discovered notes in clothing saying workers had not been paid at the Bravo Tekstil factory in Turkey, according to widespread media reports this month…. Zara has said its so-called hardship fund would help the affected workers who, according to reports, are seeking 2,739,281 Turkish lira, which is about $900,000 Cdn."
The Bezzle:
So much of the "startup era" this decade was using an app and cheap labor in a bad economy to solve non-existent problems.

— Conor Sen (@conorsen) November 15, 2017
And:
It's the same as the tech industry; liberals are falling all over themselves for nightmare libertarian tech bros because "innovation" – have you fucking LOOKED at the tech industry? Only thing these guys INVENT anymore is shit we ALREADY HAVE but "without the labor regulations"

— Nina Illingworth (@EIWBM_Cat) November 15, 2017
So, a portfolio manager (Conor Sen) and an anarcho-syndicalist and curmudgeon (Nina Illingworth) have arrived at more or less the same view of Silicon Valley. I think that's remarkable.
The Bezzle: "Tesla Inc. first-ever pure corporate bonds are trading under water, boding ill for the Silicon Valley car maker's next attempt to tap capital markets" [MarketWatch]. "But the weak performance of the bonds may be a sign that bond investors, at least, are starting to disbelieve Tesla's growth story and will be looking for higher premiums to take on higher risk, said Trip Miller, a managing partner at hedge fund, Gullane Capital LLC. That higher cost of borrowing will have its own negative implications, he said."
Concentration: "Missouri Opens Antitrust Investigation Into Google" [New York Times].
Mr. Market: "THE HINDENBURG MEETS THE TITANIC: Stocks are flashing an ominous signal not seen since the financial crisis" [Business Insider]. John Hussman. I suppose whether the Hindenberg "meets" the Titanic would depend on timing, eh?
Five Horsemen: "Amazon blows past Microsoft in morning trade to lead the Fab Five" [Hat tip, Jim Haygood].
Today's Fear & Greed Index: 36 Neutral (previous close: 49, Neutral) [CNN]. One week ago: 54 (Neutral). (0 is Extreme Fear; 100 is Extreme Greed. Last updated Nov 14 at 7:00pm. Hoo boy. Enormous swing toward fear. Tax reform is a goner, maybe?
News of the Wired
"Archaeologists say human-evolution study used stolen bone" [Nature]. Son of Piltdown Man!
"FCC plans to vote to overturn U.S. net neutrality rules in December: sources" [Reuters]. "[Republican FCC Chairman Ajit Pai ]asked in May for public comment on whether the FCC has authority or should keep any regulations limiting internet providers' ability to block, throttle or offer 'fast lanes' to some websites, known as 'paid prioritization.' Several industry officials told Reuters they expect Pai to drop those specific legal requirements but retain some transparency requirements under the order." Obviously, the Internet should be a lot more like cable.
"On Being Midwestern: The Burden of Normality" [The Hedgehog Review]. "'What is the Midwest like?' she asked. 'Midwestern history, Midwestern customs, Midwestern cuisine?'" Worth a read, especially if you grew up in the Midwest, as I did.
"Apology after Japanese train departs 20 seconds early" [BBC]. "The mistake happened because staff had not checked the timetable, the company statement said." So, Japanese timetables are to the second. Ouch.
"The Coin Flip: A Fundamentally Unfair Proposition?" [Coding the Wheel].
* * *
Readers, feel free to contact me at lambert [UNDERSCORE] strether [DOT] corrente [AT] yahoo [DOT] com, with (a) links, and even better (b) sources I should curate regularly, (c) how to send me a check if you are allergic to PayPal, and (d) to find out how to send me images of plants. Vegetables are fine! Fungi are deemed to be honorary plants! If you want your handle to appear as a credit, please put it in the subject line. Otherwise, I will anonymize by using your initials. See the previous Water Cooler (with plant) here. Today's plant (RP):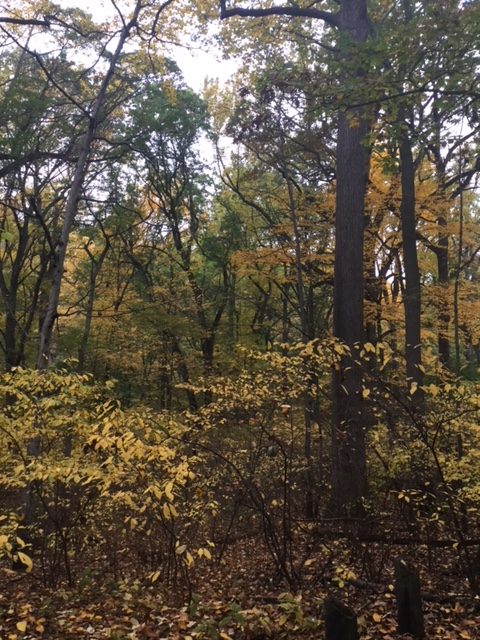 RP writes: "Took these in Inwood Hill Park (upper Manhattan) today. The yellows were eye-popping in person, not so much in these photos."
* * *
Readers: Water Cooler is a standalone entity not covered by the NC fundraiser. So do feel free to use the dropdown and click the hat to make a contribution today or any day. Here is why: Regular positive feedback both makes me feel good and lets me know I'm on the right track with coverage. When I get no donations for five or ten days I get worried. More tangibly, a constant trickle of small donations helps me with expenses, and I factor that trickle in when setting fundraising goals. So if you see something you especially appreciate, do feel free to click the hat!