By Lambert Strether of Corrente.
Last month, I looked at PG&E and Northern California fires collectively known as the Wine Country fires, and related past Pacific Gas and Electric (PG&E) fires to inadequate tree-trimming ("vegetation management") and concluded:
In Puerto Rico, lack of tree trimming caused by an austerity regime imposed by the Obama administration acting on behalf of Wall Street caused the complete collapse of Puerto Rico's grid. In California, a pattern of lack of tree trimming caused by the profit motive led to collapsed power lines and fires in the Sierra Blaze, the Pendola Fire, the Butte Fire, and quite possibly the Wine Country. If the relation between the PUC and PG&E is as cozy as the San Bruno Pipeline Explosion and Clopton's whistleblower suit suggest, the truth of the matter may be hard to come by. But maybe we'll get lucky!
One way to get lucky is, of course, through a lawsuit, of which there is now a "wave" against PG&E. And yes, the suits — the litigation, not the litigants — are focusing on tree-trimming. From Law.com:
A coalition of plaintiffs firms has sued Pacific Gas & Electric claiming the utility company's lackluster maintenance of power lines, poles, and the brush beneath them played a major role in sparking the wildfires that ravaged Northern California's wine country last month.

Forty-three people died and about 100,000 people were displaced after wildfires burned about 200,000 acres and destroyed about 8,000 structures across North Bay counties.

Attorneys at Cotchett, Pitre & McCarthy; Dreyer Babich Buccola Wood Campora; Panish Shea & Boyle; Walkup, Melodia, Kelly & Schoenberger; and Abbey, Weitzenberg, Warren & Emery filed three separate lawsuits in San Francisco Superior Court Tuesday on behalf of families affected by the fires, claiming PG&E knew its electrical infrastructure was aging and ineffective at preventing wildfires.

Pitre said Tuesday that part of the motivation behind the current lawsuits is to allow investigators hired by the law firms to access evidence that Cal Fire and PG&E collected so that they can make an independent assessment of what caused the blazes. "We have serious concerns about relying on a company that has previously been convicted of misleading the NTSB," Pitre said.
Luck being the residue of design, we can hope those independent assessments make their way into the press and have beneficial effects on public policy.
Meanwhile — and who can blame them? — PG&E is preparing (and leaking) its defense. From the San Francisco Chronicle:
The deadliest and most destructive of last month's Wine Country wildfires may have been started by electrical equipment not owned or installed by Pacific Gas and Electric Co., the utility said in a legal filing Thursday.

The filing states that while California fire investigators are still trying to determine the cause of the Tubbs Fire, which destroyed entire neighborhoods of Santa Rosa, "preliminary investigations suggest that this fire might have been caused by electrical equipment that was owned, installed and maintained by a third party."
On the preliminary investigations: Here's a link to "incident report" (PG&E Incident No: 171026-8601) performed by a PG&E "compliance specialist" dated October 8, and submitted October 26. The incident location is Calistoga, where the Tubbs Fire (one of the Wine Country Fires) started on October 8. Regarding the third party electrical equipment:

Note the description of the equipment is given only at the point where CalFire takes possession of it on the 26th; all we have on the 8th is the cryptic "Damage? Yes" (with nothing else filled in; reasonable, since the equipment was not PG&E's). There's also no indication of the cause of the damage. (Could it be poor tree-trimming, this time on private property?) There is also a mention of PG&E equipment, not damaged at all, from which the defense might infer that the private equipment started the fires, given that the PG&E equipment was undamaged, but I don't see how we can infer that without knowing what the PG&E equipment was; the incident report does not say. So there is a good deal to be brought out in depositions and testimony (and there are at least a dozen other fires the defense must account for, not just the Tubbs Fire).
But assume the Tubbs Fire was started by private equipment. Does that mean that PG&E is off the hook? Under "man in the dock" theories of blame, yes. Taking a more systemic view, no.
Here is the regulatory state of play on Fire Safety Rulemaking at the California Public Utility Commission (CPUC). I'm quoting a great slab of it so you get the flavor of it. From the CPUC:
Most of the new regulations consist of new or revised rules in General Order (GO) 95. Several of the new regulations that designate areas where there is an elevated hazard for powerline fires to occur and spread rapidly (fire-threat maps). These regulations include:

GO 95, Rule 18A, which requires electric utilities and communication infrastructure providers (CIPs) to place a high priority on the in high fire-threat areas of Southern California.
GO 95, Rules 31.2, 80.1A, and 90.1B, which set the minimum frequency for of aerial communication facilities located in close proximity to power lines in high fire-threat areas throughout California.
GO 95, Rule 35, Table 1, Case 14, which requires increased radial clearances between bare-line conductors and in high fire-threat areas of Southern California.
GO 95, Appendix E, which authorizes increased time-of-trim between bare-line conductors and vegetation in high fire-threat areas of Southern California.
GO 165, Appendix A, Table 1, which requires more frequent patrol of overhead powerline facilities in rural, high fire-threat areas of Southern California.
GO 166, Standard 1.E., which requires each electric utility in Southern California to to reduce the risk of fire ignitions by overhead facilities in high fire-threat areas during extreme fire-weather events. Electric utilities in Northern California must also develop and submit a plan if they have overhead facilities in high fire-threat areas that are subject to extreme fire-weather events.
(So, a lot of planning, inspection, and vegetation management.) Obviously, maps (or even live, dynamic representations from Geographic Information Systems) are an excellent way to keep track of things on the ground like powerlines, trees, and where powerlines are close to trees, so you know which trees to trim. If you want to get fancy, you'd integrate drought information, so you could deploy resources not only to where trees were close to powerlines, but where they were close, and dry, hence flammable. (I'm sure GIS buffs can come up with many more cases.) Note the word "maps," plural. There isn't just one map. Again the CPUC:
The regulations identified above require a map to designate "high fire-threat areas" where these regulations apply. There are now three surrogate fire-threat maps that together are called the "Interim Fire-Threat Maps."
Obviously, regulatory efforts that "rely on maps" that are "interim" "surrogates" (!) risk outcomes that are less than ideal, and the CPUC has undertaken to create a single, unified, master map:
In 2012, the CPUC ordered the development of a map that is designed specifically for the purpose of identifying areas where there is an increased risk for utility associated wildfires….The development of the CPUC's fire-threat map was bifurcated into Fire Map 1 (FM 1) followed by Fire Map 2. FM 1 is a statewide map that depicts areas of California where there is an elevated hazard for the ignition and rapid spread of powerline fires due to strong winds, abundant dry vegetation, and other environmental conditions. These are the environmental conditions associated with the catastrophic powerline fires that burned 334 square miles of Southern California in October 2007. FM 1 served as the foundation for the development of Fire Map 2 (FM 2), which is currently in progress. FM 2 will delineate the boundaries of a new High Fire-Threat District where utility infrastructure and operations will be subject to stricter fire‑safety regulations. Importantly, the development of FM 2 will (1) incorporate fire hazards associated with historical powerline wildfires besides the October 2007 fires in Southern California (e.g., the Butte Fire that burned 71,000 acres in Amador and Calaveras Counties in September 2015), and (2) rank fire-threat areas based on the risks that utility-associated wildfires pose to people and property.
(Here is Fire Map 2. GIS buffs?) FM 2 sounds neat; preventing "catastrophic powerline fires" is always neat. This is 2017 (not 2012). Why isn't Fire Map 2 already in place?
Fire Map 2 is not in place because PG&E (along with the other utilities) have stalled it. From the San Jose Mercury News:
PG&E helped stall effort to map risky power lines prone to wildfires

For the better part of a decade, California's utilities have helped to stall the state's effort to map where their power lines present the highest risk for wildfires, an initiative that critics say could have forced PG&E to strengthen power poles and bolster maintenance efforts before this month's deadly North Bay fires….

A review of the mapping project by the Bay Area News Group shows that utilities have repeatedly asked to slow down the effort and argued as recently as July that, as PG&E put it, certain proposed regulations would "add unnecessary costs to construction and maintenance projects in rural areas."…

[Sen. Jerry Hill, D-Redwood City] and other critics have characterized the years-long state regulatory efforts as a long, meandering slog, with hundreds of utilities, telecommunication companies, internet providers and other stakeholders fighting over proposed regulations that could add significant costs to their bottom line….

In October 2016, PG&E complained to a judge that the PUC's plans to complete the map by March of this year was "too aggressive." And in July, the utility called a proposed regulation to increase the wind speed that power poles must sustain "arbitrary."…

A pair of administrative judges tried to shepherd the utilities along, but they continued to pick away at regulations and map criteria…

This year, after a March 31 deadline came and went, PG&E, Southern California Edison Company and PacifiCorp complained that the intention to highlight vulnerable power infrastructure on the final map "could present public safety and security issues."…

In July, PG&E also fought a number of regulatory proposals. The company, for example, said it didn't want to have to comply with any new wildfire regulations within a proposed six-month deadline — and preferred a year to get up to speed.

State officials began working to tighten regulations on utilities and create the detailed maps after wind-toppled electrical lines in 2007 ignited catastrophic fires in the San Diego area. But nearly 10 years later, the state Public Utilities Commission — which initiated the process — still hasn't finished the maps, let alone adopted strict new regulations.
So, from a systemic perspective, even if PG&E wasn't responsible for the private equipment that they claim started the Tubbs fire, they are very much responsible for retarding the mapping system that could have flagged that private equipment as a problem.[1] Metaphorically, PG&E didn't toss the match, but they made sure that the electrical system wasn't up to code, that there weren't any fire extinguishers, and that there weren't any "In Case of FIre" signs to the exits. (I should also mention that the CPUC seems to be lacking the sort of aggression I'd expect from a regulatory body with such important duties. Perhaps they're a little too close to the Brown administration?)
And here we are: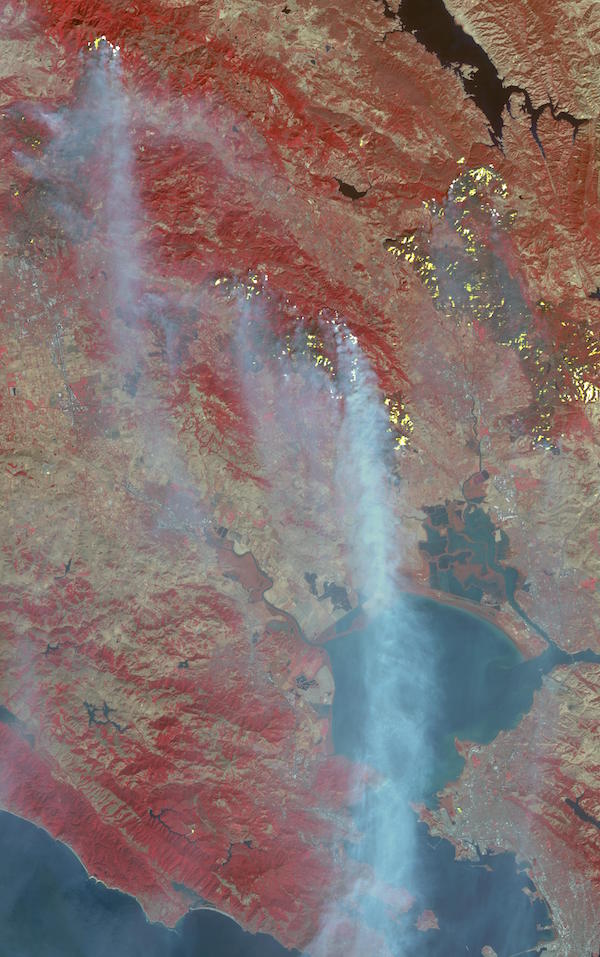 (NASA.)
I'm sure we'll hear more about PG&E and the Wine Country fires, especially if the lawyers have their way. And rightly!
NOTES
[1] I have to assume that FIre Map 2 will map all power lines, public and private. Otherwise, given the Tubbs Fire, what's the point?