By Lambert Strether of Corrente.
Readers, I'm still catching up from my email debacle, and I also had to put on my yellow waders to deal with a Clinton interview, so I'll add more on The Bezzle and 2017 shortly. –Lambert UPDATE 2:41PM All done, though I still left plenty on the cutting room floor. Things are very dynamic right now!
Trade
"Talks on redrawing North America's trade map are resuming under a cloud of pessimism" [Wall Street Journal]. "Mexico and Canada are still digesting contentious U.S. proposals like stricter rules for the proportion of a vehicle's components that must originate in North America and in the U.S. to avoid tariffs. Freight transport concerns also are reaching the table, with the U.S. looking to pull back a Nafta provision that allows Mexican trucks to operate in the U.S. The American Trucking Associations has asked the Trump administration to maintain the program, but the Teamsters union opposes it. The countries have said they want to complete talks by March, but delays deeper into next year could make an agreement less likely."
"Hopes of a major breakthrough on NAFTA's labor provisions during this current round of talks are not high. And labor and public interest groups are questioning whether the Trump administration, despite prior promises, will make any effort to press Mexico to increase its labor and wage standards" [Politico]. Nobody could have predicted…. More: "[Rep. Sander Levin (D-Mich.)], who was instrumental in writing the first bipartisan agreement for tightening labor protections in trade deals, said the "crux" of addressing this administration's overarching goal of reducing the trade deficit with Mexico is inextricably linked to improving its wage and labor standards to prevent the offshoring of manufacturing and related jobs. It'll also be key for getting any Democrats to support the deal, he added."
"Next Round of NAFTA Talks May Bring Renegotiation to an Inflection Point if Canada and Mexico Refuse to Engage on U.S. Proposals" [Lori Wallach, Public Citizen]. "The administration has made clear that the choice facing Canada, Mexico and the corporate lobby is either a new approach or no NAFTA. Ironically, the corporate lobby's strategy increases the likelihood of a no-NAFTA future. The corporate lobby's response to the administration's proposals to eliminate NAFTA job outsourcing incentives suggests that the new reality of a different NAFTA or no NAFTA is being dismissed as a bluff, or that the corporate lobby prefers no NAFTA. Whether a case of magical thinking or ideological rigidity after years of corporate interests dictating U.S. trade policy, the fifth NAFTA renegotiating round will reveal whether the corporate lobby has persuaded the governments of Canada and Mexico to join a game of high-stakes poker that increases the odds of the no NAFTA outcome."
"Because no U.S. president has used the provision in U.S. trade pacts that provides for withdrawal after a six-month notice, President Donald Trump's threat to do so has led various commentators to opine about his authority to act without congressional authorization [for example, in Politico yesterday. –lambert]. The claim made by some NAFTA proponents that a president does not have such authority is premised on three major errors, all of which relate to the peculiarities of trade pacts and their implementation under U.S. law" (PDF) [Lori Wallach, Public Citizen]. "It is correct that Article I-8 gives Congress exclusive authority over tariffs. But it is also true that . This provision automatically reverts tariff levels back to the WTO MFN rate one year after an agreement is terminated or the U.S. withdraws. However, it also provides a president with delegated authority to proclaim such tariff changes immediately. Delegations of Fast Track authority since 1974 have explicitly applied this authority to agreements entered into under subsequent Fast Track grants. Notably, in the NAFTA implementing legislation Congress explicitly delegated its tariff authority to the president, who was empowered to proclaim tariffs changes with respect to Mexico and Canada to implement NAFTA tariff rates. The NAFTA implementing legislation did not include specific NAFTA tariff levels that Congress approved by passing that bill."
Politics
2017
UPDATE "How Doug Jones could pull off a stunner in Alabama" [Politico]. "[Jones] does have a path. Here's how it looks, according to interviews with nearly a dozen Democrats within and near Jones' team since Moore was hit with accusations of pursuing — and in two cases abusing — teenage girls. First, create a permission structure for alienated Republicans who are skeptical of Moore — primarily those who voted against him in the GOP primary — to cross the aisle. At the same time invigorate the base, especially African-Americans, who make up over a quarter of registered voters, according to the Alabama Secretary of State's office. And finally, , while still benefiting from its money."

UPDATE "Ballotpedia has had good coverage of the swing districts situation" [bears2267, Reddit] (original). Figures as of November 15: "Currently they have it 49-48 D with 3 races too close to call, officially it sits at 51-49 R with election results certified or ready to be certified. The Virginia Democratic Party is challenging 55 ballots in District 28 (and a potential challenge of 668 votes intended for the 28th that might have been mistakenly cast in the 88th instead). Once those challenges are figured out in the courts, the state board will certify the results and then recounts can begin and the 3 Democrats in the 3 swing districts have all indicted they were request their allowed recount. So a couple of weeks still until we know the final results."

UPDATE "Latest 28th District fight focused on Fredericksburg precincts" [Inside NOVA]. "Now that all the votes have been counted, Democrat Josh Cole fell 82 votes short of beating Republican Bob Thomas in the 28th District race to replace retiring House Speaker Bill Howell. Since then, Democrats have been raising challenges to the results, including a pending federal lawsuit, in the hopes of flipping the race and forcing a tie in the House — Republicans are still clinging to a 51-49 majority following a wave election for Democrats on Nov. 7."

UPDATE "Rural white voters didn't show up for Virginia's election" [Vox]. "What fueled Democrats' victories on Tuesday? A quick analysis from the New York Times suggests this was a "suburban rebellion," with moderates shifting from Donald Trump to Democrats. A look at the Virginia vote, however, suggests that votes in the most rural, conservative counties may hold the real story." Readers will have noticed the "suburban rebellion" strategy pre-positioned by Democrats for whom that is the preferred 2018 and 2020 strategy, so this article is a useful corrective. More: "The analysis above suggests that Democrats did well because white, conservative, rural Republicans, — those who gave Trump his victory last year — simply didn't show up this time." So, why would that be?

UPDATE "Independent upset: Dems crush everywhere—except Charlottesville" [Cville]. "The unprecedented evening continued in Charlottesville, where Nikuyah Walker bucked the Democratic groundswell and became the first independent to win a seat on City Council since 1948. Also unprecedented: It's the first time two African Americans will serve on council when she joins Vice-Mayor Wes Bellamy on the dais in January…. Walker's win 'breaks up the total Democratic control on council,' says UVA Center for Politics' Geoffrey Skelley. "It's meaningful in the aftermath of all the terrible things that happened in Charlottesville" with the monument debate and neo-Nazi invasion, which some put at the feet of City Council. 'Walker was offering something different,' he says. 'It's a reaction locally when Democrats were crushing it everywhere else. It's a reaction to local issues that have become national issues.'"
2016 Post Mortem
"Hillary Clinton on Trump's Election: 'There Are Lots of Questions About Its Legitimacy'" [Mother Jones]. "In an exclusive interview with Mother Jones, Clinton says Russian interference and GOP voter suppression efforts may have cost her the presidency." Remember when liberal Democrats were fomenting a moral panic that Trump wouldn't accept the election results? Good times. Anyhow, I read the piece — nice get, Clara, thank you for your service — so you don't have to (though I didn't have time to listen to the video). Here is the key paragraph (not Clinton, but exposition):

The impact of Russian interference in the election can be measured in a few tangible ways. Operatives in Russia published about 80,000 Facebook posts that reached 126 million Americans, as Russia-linked Facebook ads targeted swing states like Michigan and Wisconsin. More than 36,000 Russia-linked Twitter accounts generated 1.4 million tweets about the election that had 288 million impressions. The constant drumbeat of stories based on Clinton campaign and Democratic Party emails [said by the intelligence community and Democrat vendors to have been –lambert] obtained by Russian-backed hackers is one reason that then-FBI Director James Comey's 11th-hour letter hurt Clinton so much.

Once more: On Facebook and Twitter, the constantly repeated numbers seem impressive, but are tiny relative to total content on both platforms; and if the $50K Russian Facebook buy neutralized the $1.4 billion spent by the Clinton campaign, then Clinton (and Mook, and Podesta) owe us (and their donors) an explanation. None has been forthcoming. Moreover, I have yet to see any evidence, either in survey form or anecdotally from voters, showing that one single vote was affected, and I do try to keep track. Moreover, is such evidence did exist, I would expect the famously detail-oriented and knowledgeable Clinton to be able to cite it. (I suppose at some point it will have become necessary for a study to emerge, at which point it will be important to look at methodology and funding; testimony from million-dollar trolls on Twitter won't be credible.) On the DNC and Podesta emails: In the real world of issues, supposing there to be such a thing, nobody, including Clinton in this interview, has ever successfully challenged their authenticity, and they portrait they paint of the snakepit of vicious mediocrities infesting the leadership of both institutions. And so what if voters were appalled? It's certainly strange that a party calling itself "Democratic" depends on keeping voters ignorant for electoral success! As for the Comey connection, Sanders asks the right question: "It's not a question of what happens in the last week. The question is that she should have won this election by 10 percentage points."

More importantly, Clinton says that she regards Russian "election meddling" as a form of war. Remember Clinton wanted a no-fly zone in Syria, which was likely to provoke war with Russia (and, as Clinton herself said, kill a lot of Syrians).Perhaps I'm too cynical, but it looks to me like Clinton — along, one supposes, with her silent partners in the national security apparatus and the intelligence community — is using her failure in election 2016 to push the policy we already know she's in favor of: War with Russia. After all, a great power faced with a casus belli that doesn't respond is no longer a great power, no? Any stick to beat a dog.

Joy Reid says that Clinton was lying about TPP. Who knew?

Hillary Clinton was shoved into opposing it because of the Bernie challenge. But I highly doubt she would have pulled out. Highly.

— Joy Reid (@JoyAnnReid) November 13, 2017

Not to be overly snarky, but if Bernie Sanders can push Clinton around, how would Clinton have fared against Vladimir Putin?
Trump Transition
"Murkowski Tax Vote Contingent on Stabilizing Individual Health Insurance Market' [Roll Call]. Murkowski: "If the Congress is going to move forward with repeal of the individual mandate, we absolutely must have the Alexander-Murray piece that is passed into law."
Realignment and Legitimacy
"When Does a Watershed Become a Sex Panic?" [The New Yorker]. "https://www.newyorker.com/news/our-columnists/when-does-a-watershed-become-a-sex-panic… The affirmative-consent and preponderance-of-the-evidence regimes shift the burden of proof from the accuser to the accused, eliminating the presumption of innocence. If the presumption of innocence is rooted in the idea that it is better to let ten guilty people go free than risk jailing one innocent person, then the policing of sex seems to assume that it's better to have ten times less sex than to risk having a nonconsensual sexual experience. The problem is not just that this reduces the amount of sex people are likely to be having; it also serves to blur the boundaries between rape, nonviolent sexual coercion, and bad, fumbling, drunken sex. The effect is both to criminalize bad sex and trivialize rape."

"'O.K., 'intended to be funny but wasn't?' Colbert said, quoting part of Franken's apology. 'No. Your movie Stuart Saves His Family was intended to be funny but wasn't. That photo was intended to embarrass her — that's why he did it while she was asleep. Nobody goes up to their buddy when he's awake and says, 'Hey, can I draw a penis on your forehead?'" [RealClearLife].

Why voter registration should be a 24/7/365 core party function:

I ordered my birth certificate in JULY. I got it TODAY. If you're planning on registering voters in states that suppress the vote and may require birth certificates, start registering NOW, not in 2018 pic.twitter.com/MCDCBmrdXH

— Brett Banditelli (@banditelli) November 15, 2017

Since the Democrat Party doesn't do this, they don't really want to expand their base, and don't make the interests of those too marginalized to get proper ID a priority.

"Pittsburgh DSA Beats Democratic Machine & Knocks Off Two Key Incumbents As They Eye More" [Payday Report].

"Bernie Sanders's Socialist Revolution Is Happening, Very Slowly" [Vice]. "Democrats won off-year elections across the country last week for many reasons, but let's pause for a second and give Bernie Sanders some credit. Among the historic victories Democrats earned in Virginia, New Jersey, and elsewhere were a handful of out-and-proud actual socialists who won local office. It could be a precursor to an upsurge in leftists scoring bigger wins in next year's midterms, but it's both a validation of Sanders and proof that the movement he built during the heated 2016 primaries isn't going away anytime soon." Then again, if Lee Carter — not to knock Carter's amazing victory — is "the most powerful socialist in America" besides Sanders (for some definition of socialism) then the socialists have a ways to go.
Stats Watch
Kansas City Fed Manufacturing Index, November 2017: "Regional report after regional report say the same thing: manufacturing is growing solidly" [Econoday]. "Inventories are building but at a slowing rate this month and delivery times are stabilizing, both indications of easing strains on the supply chain. This week's factory news was highlighted by Thursday's major gain for the manufacturing component of the industrial production report, results like this report which point to a strong and increasing contribution from manufacturing."
Housing Starts, October 2017: "Housing starts and permits posted unexpectedly strong gains in October" [Econoday]. "Housing started the year off strongly and stumbled through a weak spring season and a flat summer. The year-on-year rates, held down by multi-units, tell the story with total starts down 2.9 percent and permits up only 0.9 percent. But today's report does point to momentum for new home sales which surged to a 28-year high in the last report for September. Hurricane effects are limited in this report." And: "The backward revisions this month were moderately upward.The nature of this industry normally has large variations from month to month (mostly due to weather) so the rolling averages are the best way to view this series – and it shows permits rate of growth improved, and completions rate of growth improved" [Econintersect]. "We consider this a much stronger report than last month."
E-Commerce Retail Sales, Q3 2017: "Online shopping has been strong this year but did slow in the third quarter, up 3.6 percent quarter-to-quarter vs a revised 4.7 percent in the second quarter. As a percentage of total retail sales, e-commerce continues to gain ground, up 2 tenths to 9.1 percent" [Econoday].
Retail: "[Walmart, the] world's biggest retailer posted its strongest quarterly U.S. sales growth in nearly a decade, picking up momentum for a strategy aimed at finding customers in both its brick-and-mortar stores and online" [Wall Street Journal]. "[E]-commerce sales at Wal-Mart, which has made a series of acquisitions in online retail, jumped 50% and are on track to reach $17.5 billion this year. That's still a fraction of overall revenue, and analysts say Amazon's sales are 10 times greater than Wal-Mart's online business. But with Wal-Mart's digital business growing and Amazon moving more deeply into physical stores, the companies increasingly look like they are competing on similar ground."
Retail: "Whole Foods Offers Amazon Prime Members Thanksgiving Discounts. Here's Why That's Bad" [The Stranger]. Classic monopoly behavior. Amazon doesn't have to make a profit, because capital buys its narrative. So it can undercut its competitors, who do. John D. Rockefeller would be proud.
Shipping: "Excess capacity hitting box freight rates hard" [Splash 247]. They just can't help themselves! "Boxships are sailing not fully laden amid dangerously excessive capacity leading to fears of a slump in financial results for liners this quarter…. '2017 utilisation on the transpacific has only breached 90% in September 2017, and only marginally so, and with healthy demand growth the only logical explanation is excess capacity,' SeaIntel noted in its latest weekly report."
Energy: "The [power generation] companies [like Siemens and GE] have been caught off-guard by a rapid shift by governments and companies away from large, fossil fuel-powered plants to renewables. Siemens says demand for its biggest turbines has fallen dramatically and orders for large electrical motors for industries from mining to steel and shipbuilding are also tumbling. The declines are so big they suggest the industrial sector overall is being reset" [Wall Street Journal]. Could have filed this under Gaia, I suppose….
UPDATE The Bezzle: "California may limit liability of self-driving cars' makers" [Los Angeles Times]. "Critics say regulations drafted by the California Department of Motor Vehicles could open a loophole for automakers to skirt responsibility for accidents, injuries and deaths caused by defective self-driving cars — for instance, if tires are slightly underinflated or if the oil hasn't been changed as regularly as manufacturers suggest. The DMV wording drew from a GM recommendation intended to protect self-driving carmakers from lawsuits if a vehicle hasn't been maintained according to manufacturer's specifications. That's a change from current liability laws governing cars driven by humans." Typical tech thinking. If your algo doesn't work, change the inputs 'til it does. And I love the idea of, in essence, making your insurance claim depend on whether you obeyed your EULA. Probably would work with health insurance, too!
The Bezzle: "Tesla Chief Executive Elon Musk revealed the company's first all-electric truck along with a new $200,000 super car late Thursday… , in his latest attempt to stir excitement for his vision to upend transportation" [Wall Street Journal]. "[H]is latest attempt to stir excitement" isn't the sort of hagiography we've come to expect with Musk. More: "The Semi, due out in 2019, will join a highly ambitious automotive supply chain that has stumbled in its bid to ramp up mass-market production." Nor is "highly ambitious."
The Bezzle:
Roadster deposits begin today. $50k. Base model starts at $200k total. First 1000 models will be Founder's Series and are $250k paid entirely upfront.

— David Undercoffler (@autonews_west) November 17, 2017
Much amused speculation on the thread on whether the "Founder's Series" — "Founder" being one of those start-up words you know signals a scam — deposits will help with any cash flow problems Tesla might have: $250,000 * 1000 = $250,000,000, which isn't chump change, but is pretty easy to burn through, too.
The Bezzle: "A German regulator has banned the sale of smartwatches aimed at children, describing them as spying devices" [BBC]. "'Via an app, parents can use such children's watches to listen unnoticed to the child's environment and they are to be regarded as an unauthorised transmitting system,' said Jochen Homann, president of the Federal Network Agency. 'According to our research, parents' watches are also used to listen to teachers in the classroom.'" So it's not they're hackable. It's that, intrinsically, they're spying devices. Of course, the same goes for smartphones….
The Bezzle: "There's a Digital Media Crash. But No One Will Say It" [Talking Points Memo]. "The big picture is that Problem #1 (too many publications) and Problem #2 (platform monopolies) have catalyzed together to create Problem #3 (investors realize they were investing in a mirage and don't want to invest any more). Each is compounding each other and leading to something like the crash effect you see in other bubbles."
Honey for the Bears: "The NY Fed reports household debt growth decelerated in q1, in line with the deceleration in bank lending" [Mosler Economics].
Five Horsemen: "The 'Big Five' Could Destroy the Tech Ecosystem" [Bloomberg]. "What's forgotten as these companies seemingly gobble up the rest of the economy is they remain dependent upon customers who get value from their services. Companies advertise on Facebook and Google only if they've determined it's more profitable than not doing so. Cloud revenue requires the existence of profitable businesses that need business software and services. Third-party vendors choose to sell on Amazon because it's profitable for them to do so. In other words, for the most part, the big five tech companies exist at their current size and scale only because they serve a larger underlying economy of profitable companies. But the disruptive nature of the tech companies raises questions about how much they can grow. Because, in a sense, at some point they'll only be able to grow by putting some of their customers out of business either directly or indirectly."
Five Horsemen: "Death Star Amazon leads the pack" [Hat tip, Jim Haygood].
Today's Fear & Greed Index: 50 Neutral (previous close: 36, Fear) [CNN]. One week ago: 54 (Neutral). (0 is Extreme Fear; 100 is Extreme Greed. Last updated Nov 15 at 7:00pm. Enormous swing toward neutral from fear.
Retail: "Amazon's Last Mile" [Gizmodo (HC)]. HC: "A long piece but interesting and nauseating in turn."
Retail: "Consumers are holding off on buying smart-home gadgets thanks to security and privacy" fears [Business Insider]. Idea: Products people want? Idea: Wage hikes so people can afford to buy?
Gaia
UPDATE "Keystone pipeline leaks 210K gallons of oil in South Dakota" [AP]. "Discovery of the leak comes just days before Nebraska regulators are scheduled to announce their decision Monday whether to approve the proposed Keystone XL oil pipeline, an expansion that would boost the amount of oil TransCanada is now shipping through the existing line, which is known simply as Keystone."
"US switches focus of its Bonn event from clean energy to fossil fuels" [Guardian]. "At [the Bonn climate talks], the US occupies a small locked room that often seems unoccupied. There is no pavilion, and Monday's event on coal and nuclear power is the first public sign of the US government's engagement, though the UN said US delegates were present at at least some of the many meetings taking place around the event." IIRC, however, fracking boomed on Obama's watch.
Militia Watch
"Ryan Bundy tells Las Vegas jury: 'I am an innocent man'" [Las Vegas Review Journal]. "'We were attacked, and our home was surrounded by 200-plus armed, what appeared to be mercenaries,' he told the jury. 'You should have seen all the guns pointed at us.'" Hmm.
Class Warfare
UPDATE "The Problem With Privilege and Divulging Sexual Assault" [Glamour]. "Famous monsters aren't necessarily bigger monsters—they just fall more publicly. Harvey Weinstein operated out of luxury hotels, but similar scenes take place in the storerooms of big-box outlets, in the cubicles of stationery supply companies, in the teachers' lounges at middle schools, on the floors of garment factories. And the nonfamous women being belittled, abused, and assaulted aren't getting any relief."
"Restaurant Sex Abuse: At Full Boil, but on Back Burner" [RealClearInvestigations]. "[E]xperts widely agree that harassment is rampant in less exalted sectors of the economy and especially in the hospitality industry, including restaurants, bars and hotels, where more than half the workers are female." Then again: "A claim that 37 percent of all sexual harassment complaints filed with the EEOC come from restaurants has been widely reported in news media, including the New York Times and the Huffington Post. But the EEOC complaint form does not have a required field for employment sector, so it's impossible to determine restaurant complaint totals or where the industry ranks compared with other sectors." Oh well, They're waitresses, not movie stars or comedians. So who cares?
UPDATE "Last week, the Federal Trade Commission voted 2-0 to join the Justice Department's Antitrust Division in an amicus brief to the 9th Circuit Court of Appeals, siding with the Chamber of Commerce against the City of Seattle's grant of collective bargaining rights to "independent contractors" working as drivers for Uber, Lyft, taxis, and other ride-sharing companies" [Roosevelt Institute]. "." The headline terms the precariat "alt-labor." I'd drop that term immediately, since there's no reason to get labor issues involved in the alt-left/alt-right hairball of competing narratives.
"Bankrupt Toys "R" Us wants to pay $16 million in executive bonuses" [CNN]. "In the filing made with the court Wednesday the company argues the bonuses are necessary to get executives to perform at a high level during its bankruptcy." The executives have no ethics or self-motivation at all, apparently. Surprising!
"Law School-Administered Financial Aid: The Good News and the Bad News" [SSRN]. "Financial aid administered by law schools was even the most rapidly rising cost factor for law schools collectively. At first glance this increase might seem like some good news for persons sharing my values and worldview. Historically financial aid has been associated with helping the financially needy, encouraging them and members of underrepresented identities to attend law school, and helping make it possible for students who want to devote their careers to low-paying, public-interest-oriented work to achieve their dreams. In fact, however, as the task force makes clear, almost all the increased financial aid is being awarded to applicants with high LSAT scores and high undergraduate GPAs — what is called 'merit' these days. Any correlation between the beneficiaries of increased financial aid and the kinds of students who traditionally benefited from law school-administered financial aid is purely coincidental."
"Employee Reaction to CEO Pay Ratio Disclosure" [The Harvard Law School Forum on Corporate Governance and Financial Regulation]. The authors, from Willis Towers Watson, write: "The question of how to provide context for their CEO pay ratio proxy disclosure has been one companies have been turning to as they near completion of their calculation work. One perspective on this issue has come from a recent ISS Position Paper that recommends companies include in their disclosure a comparison to peer group disclosures. We would make the case that taking an approach that focuses solely on placing the pay ratio in context for shareholders is likely at odds with the message companies want to communicate to their employees, which they've expressed to be their biggest challenge regarding the pay ratio." No doubt!
"Technocratic Vistas: The Long Con of Neoliberalism" [The Hedgehog Review]. "What many defenders of liberal democracy fail to realize is that they are no longer defending either liberalism or democracy; the forms of elite rule that provoke popular anger are merely the husk of liberal democracy. The once-vital discourse of liberal democracy has been hollowed out and transformed into a language of managerial technique—a technocratic jargon used to legitimate the spread of free-flowing capital. Within this discourse, freedom has been reduced to market behavior, citizenship to voting, efficiency for the public good to efficiency for profit. The rich civic culture that gave rise to popular American politics in the past—unions, churches, local party organizations—has been largely replaced, in both parties, by elites who have benefited from the technocratic turn."
"Ban Prisons" [Splinter]
News of the Wired
UPDATE "Amazon Key flaw makes entering your home undetected a possibility" [Ars Technica]. "Rhino Labs discovered that a courier equipped with a simple program can use their laptop to fake a command from your Wi-Fi router to disconnect the Cloud Cam from your network. This causes the camera to stop functioning by freezing the image at the last frame. At that point, the courier could re-enter your home, do whatever it is that they want there, and then exit, reactivate the camera, and lock the door as usual. This re-entry would be undetectable by the resident, and it would appear like a normal delivery in Amazon's data."
"Google Has Picked an Answer for You—Too Bad It's Often Wrong" [Wall Street Journal]. "For many queries, the internet giant is presenting itself as the authority on truth by promoting a single search result as the answer." I'm not sure this is true; I tested the author's question ("Does money buy happiness?") and there's no "featured snippet." Of course, that could be Google optimizing for what it knows about me. Or it could be Google optmiizing for the WSJ story.
"Do civilisations collapse?" [Aeon]. "States collapsed, civilisations or cultures transformed; people lived through these times and employed their coping strategies – they selectively preserved aspects of their culture and rejected others. Archaeologists, historians and others have a duty to tell the stories of these people, even though the media might find them less satisfactory. And writers who appropriate history for moral purposes need to think carefully about what they are doing and what they are saying – they need to make an effort to get the history as right as possible, rather than dumbing it down to silver-bullet theories."
* * *
Readers, feel free to contact me at lambert [UNDERSCORE] strether [DOT] corrente [AT] yahoo [DOT] com, with (a) links, and even better (b) sources I should curate regularly, (c) how to send me a check if you are allergic to PayPal, and (d) to find out how to send me images of plants. Vegetables are fine! Fungi are deemed to be honorary plants! If you want your handle to appear as a credit, please put it in the subject line. Otherwise, I will anonymize by using your initials. See the previous Water Cooler (with plant) here. Today's plant (LR):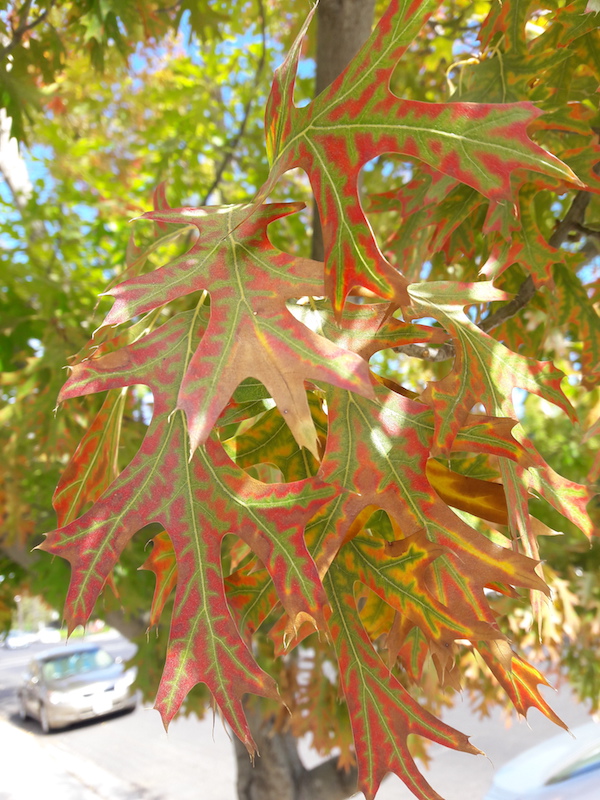 LR writes: "I don't remember seeing coloring like this before. The picture is from Sacramento California. I know that Sacramento had a very hot year this year, and then the fires. Could there be a connection, or is it usual to see this kind of coloring develop?"
Gorgeous picture, and good question. Readers?

* * *
Readers: Water Cooler is a standalone entity not covered by the NC fundraiser. So do feel free to use the dropdown and click the hat to make a contribution today or any day. Here is why: Regular positive feedback both makes me feel good and lets me know I'm on the right track with coverage. When I get no donations for five or ten days I get worried. More tangibly, a constant trickle of small donations helps me with expenses, and I factor that trickle in when setting fundraising goals. So if you see something you especially appreciate, do feel free to click the hat!