By Lambert Strether of Corrente.
Trade
"Darker clouds are gathering over North American trade talks. President Donald Trump's chief trade negotiator issued a downbeat assessment after the latest negotiations over a new North American Free Trade Agreement… while Canada and Mexico added their own grim outlooks for the effort to rewrite the 23-year-old trade deal. The negative statements after the fifth round of negotiations concluded this week in Mexico City cast fresh doubts over the ability of the countries to reach any sort of accord by the March deadline that they've set" [Wall Street Journal]. "Canada and Mexico officials say wide gaps remain but blame the U.S. for digging in on proposals they said would weaken the pact. One Mexican official said the country won't offer 'a counterproposal on something that is unacceptable.'"
"In October 2015, as President Barack Obama was hoping to rush the newly signed Trans-Pacific Partnership trade deal through Congress, he invited leaders of the pharmaceutical industry to the White House. The industry had emerged as a key obstacle to the largest free trade agreement in history, insisting that TPP didn't provide enough protection for an expensive class of nature-based drugs called biologics" [Politico]. "In the Roosevelt Room meeting, Obama made the case for pharma's leaders to accept half a loaf: The eight years they'd get under TPP were way better than the zero years they'd get without it, and his administration would have no way to extract a better deal if it tried to reopen negotiations. The industry reps did not dispute either point. But they said they would still oppose the trade deal, even though it beat their status quo…. Ultimately, Congress punted on TPP, and President Donald Trump formally withdrew from the pact in January. But now the deal is moving forward—just without the United States, and without 20 provisions originally included at the behest of the United States. One of the provisions the remaining 11 TPP nations deleted was the eight years of exclusivity for biologics. What the drug industry got, in the end, was zero." And the downside here would be?
Politics
2018
"Democratic Wave Begins Forming Off Political Coast" [Charles Cook, Cook Political Report]. "Either 48, 49, or 50 percent of Americans strongly disapprove of him, according to the latest ABC News/Washington Post, CNN, Fox News, and NBC News/Wall Street Journal polls. Generally speaking, when voters get to the point of strong disapproval, they never make it back to approval…. According to the national polls, the generic congressional ballot test points to a wave as well… The off-year election results also point to a wave….. It is certainly true that Democrats lack both a single leader and a message, but midterm elections are never about a party out of power. Those are problems that Democrats must face in 2019 and 2020. The more immediate problem next year is whether this hyper-motivated Democratic base nominates too many "exotic" candidates who might not fare well in general elections. It will be interesting to see if any Republicans try their version of what Sen. Claire McCaskill of Missouri did in 2012, effectively steering the GOP nomination to Rep. Todd Akin, who ended up being unelectable." That's the Pied Piper strategy, isn't it? Which has had decidedly mixed results.
2017
Alabama Senate Special Election – Moore vs. Jones [Real Clear Politics]. Jones +0.8 (previous: Jones +0.2).

"Editorial: U.S Rep. John Conyers must resign" [Detroit Free Press]. "After the alleged victim made a formal complaint through the U.S. Congress Office of Compliance, Conyers' office endorsed an alternative route. If the woman dropped her complaint and signed a legal document attesting that Conyers had done no wrong, and if she agreed never to disparage him or make subsequent claims, she'd be re-hired as a temporary "no-show" employee and paid $27,111.75 over the course of three months. She accepted the terms…. But the House's ethics rules are clear: A House member can't retain an employee who isn't performing work commensurate with the pay, and regardless, can't give back pay for work that stretches further than a month…. It looks an awful lot like hush money." Not the crime but the coverup, for the Detroit Free Press….

"State Sen. Dan Schoen, Rep. Tony Cornish both to resign after harassment claims" [Star-Tribune]. "A pair of Minnesota state lawmakers — one a DFL senator, the other a Republican representative — announced Tuesday that they will resign from office in the wake of sexual harassment allegations…. The resignations end — for now — a jarring period in Minnesota politics, with the Capitol beset by highly charged harassment allegations similar to those sweeping the country."
Realignment and Legitimacy
"Ba®a©k Obama: The First Bank President™" [Ghion Journal]. There is little here that will be new to NC readers (see Stoller here), but the piece is written with verve and for a younger audience. Also, I love "the First Bank President." More: "Alas there are narratives and then there are back stories. Consider this missive page one of Obama's back story. You see, it takes a truly wicked and malicious mind to take the pains of an oft injured and maligned people and use their struggles to impose yet more harm upon them. I know this article will induce agita upon the legions of Obama's loyalists and some will try to discount what I write as some "right wing hit piece"; which overlooks the fact that I ran to be Obama's delegate and was once one of his biggest supporters [read My Political Awakening]. The truth is that none of us really knew Obama when he launched his campaign; to this day, very few know his past and even fewer know what he stands for. Obama is a billboard who morphs into whatever personality is needed at the time—he is a political actor unlike any we have ever witnessed."

"Pritzker: 'There really is no Illinois Democratic Party'" [Crain's Chicago Business]. "'There really is no Illinois Democratic Party,' Pritzker said, referring in part to the lack of a unified field organization, but also to the fact that the party's central committee doesn't even bother to meet to consider endorsing candidates anymore. 'The Democratic Party doesn't exist. . . .I believe we need to build a real Democratic Party in Illinois when it comes to field.'" Holy moley. And Illinois is Obama's home state! Surely he didn't nuke the Democrats as an institution so his good buddies from the squillionaire Pritzker clan can buy up the pieces?

"FIRE Republicans Aim to Save the Republican Party" [Independent Voter Network] (from August, still germane). "The Republican Party needs to be saved, according to a handful of budding politicians in New Jersey, who label themselves FIRE Republicans. They aim to pull the party away from entrenched candidates and extremism, and back to the people's party of Lincoln and Roosevelt…. 'If a house is on fire, and you run away from it, it burns down the whole neighborhood," said founder, Dana Wefer. 'Republicans are on fire, and we need to put it out so it doesn't take down our whole democracy. We need to run toward the fire.' … FIRE is an acronym for Fighting the Institutional Republican Establishment…. 'It will only take 10-15 FIRE Republicans to change the dialogue,' she said. 'New discourse stops the spin.'"

"Turn the Republican Base Against the Republican Party: Part Two" [Progressive Army]. "The immediate goal is to move everyone left one space [on the spectrum active alliesBillings Gazette].
Stats Watch
Durable Goods Orders, October 2017: "Durable goods orders, down 1.2 percent in October, couldn't post three straight gains but there are positives in the report" [Econoday]. "[T]he negatives.. include a 33 percent reversal for commercial aircraft orders and a 0.5 percent decline for core capital goods orders (nondefense ex-aircraft)." Aircraft are sporty, but a capitalist economy needs capital investment, no? Not just in unicorns? More: "This report isn't a step forward but the factory sector, nevertheless, still looks to be a positive contributor to fourth-quarter growth." And: "There is a core capital goods reading that came in with a month-over-month decline of 0.5%, well below the consensus estimate for a gain of 0.5%. Year over year, the core reading rose 8.1%, below the revised September year-to-date gain of 8.7%" [247 Wall Street].
State Coincident Indexes: "Here is a map of the three month change in the Philly Fed state coincident indicators. This map was all red during the worst of the recession, and all or mostly green during most of the recent expansion. Recently several states have turned red" (from the Philly Fed) [Calculated Risk]. "The downturn in 2015 and 2016, in the number of states increasing, was mostly related to the decline in oil prices. The reason for the mid-2017 sharp decrease in the number of states with increasing activity is unclear."
Consumer Sentiment, November 2017 (Final): "Consumer sentiment edged higher from mid-month but down slightly from October" [Econoday]. "This report, like other confidence readings, has been holding steady at expansion highs all year."
Jobless Claims, week of November 18, 2017: "Demand for labor remains unusually strong with initial jobless claims remaining near historic lows, down" [Econoday].
Retail: "Amazon.com Inc. isn't playing around with the toy market this holiday season. A surge in holiday shopping online has made Amazon something of kingmaker in the retail arena, and … the e-commerce company is bulking up its role in seller supply chains with a program called Launchpad that helps companies forecast demand and plan for the critical shopping period" [Wall Street Journal]. "Companies are using Amazon's online reviews and marketing on the site as an alternative to persuading traditional retailers to add a new item to store shelves, and Amazon is even buying inventory from the startups [which? Not mentioned] to sell directly on its site." Hmm. Not sure how companies can be "using" the online reviews without, well, faking them. But I'm sure Amazon controls for that…
Supply Chain: "[H]igh school students say some 3,000 students were sent to a factory in Zhengzhou, China, where they routinely worked 11-hour days assembling the iPhone X, which is against Chinese law. Apple and Foxconn both say the students were working voluntarily and that they are halting the overtime work" [Wall Street Journal]. Hell, yeah. What ambitious Chinese high school student would'nt want to go work on the line in a corporate hellscape?
The Bezzle: "New Uber CEO Keeps Finding Horrors at Every Turn" [Bloomberg]. "Khosrowshahi's role so far looks less like a turnaround artist and more like chief apology officer on behalf of his predecessor, Travis Kalanick." Could it be that Uber is simply a criminal enterprise, with no model for making money other than looting it, and scamming the stupid money that supports it?
The Bezzle: "Elon Musk says his Boring Company has raised $300,000 with hat sales alone" [MarketWatch]. Now he's just toying with us.
The Bezzle; "NextGen Supply Chain: Time to pay attention to autonomous vehicles" [Logistics Management]. Despite leading with puffery, the author gets to the SAE levels in paragraph ten, writing: "As you can see, only at the top level is the vehicle completely autonomous. How quickly we get to that top level is anybody's guess. And the timelines vary greatly depending on the source."
Tech: "Stop Using Excel, Finance Chiefs Tell Staffs" [Wall Street Journal]. "Errors can bloom because data in Excel is separated from other systems and isn't automatically updated." Hmm. I seem to recall a major California agency that still uses Excel….
Today's Fear & Greed Index: 55 Neutral (previous close: 54, Neutral) [CNN]. One week ago: 36 (Fear). (0 is Extreme Fear; 100 is Extreme Greed. Last updated Nov 22 at 1:22pm.
Big Brother Is Watching You Watch
"According to new research from Princeton University's Center for Information Technology Policy (CTIP), at least 482 of the world's top 50,000 websites use a technology called "session replay scripts" to track every keystroke, mouse movement, and scroll that users make when visiting the website. The scripts and their frameworks are provided to the websites by third-party developers" [247 Wall Street] (original study). "Some scripts collect personally identifiable information that is not stripped from the behavior data they provide to publishers' sites."
Our Famously Free Press
"'CBS This Morning,' Dead Last in Ratings, Faces More Problems as Rose Departs" [247 Wall Street]. "The three morning TV shows are estimated to be the largest profit centers at the three networks. Each brings in hundreds of millions of dollars in advertising a year. Their ratings are critical to the financial health of each network…. Rose has left CBS flat footed, desperate to replace him with a TV household name… 'They are begging Oprah to fill in,' said a TV insider."
"Modern Media Is a DoS Attack on Your Free Will" [Nautil.us]. "How do the Internet and social media apps threaten democracy? Democracy assumes a set of capacities: the capacity for deliberation, understanding different ideas, reasoned discourse. This grounds government authority, the will of the people. So one way to talk about the effects of these technologies is that they are a kind of a denial-of-service (DoS) attack on the human will. Our phones are the operating system for our life. They keep us looking and clicking. I think this wears down certain capacities, like willpower, by having us make more decisions. A study showed that repeated distractions lower people's effective IQ by up to 10 points. It was over twice the IQ drop that you get from long-term marijuana usage. There are certainly epistemic issues as well. Fake news is part of this, but it's more about people having a totally different sense of reality, even within the same society or on the same street. It really makes it hard to achieve that common sense of what's at stake that is necessary for an effective democracy."
"BuzzFeed's Conyers Scoop Shows That, Unfortunately, Mike Cernovich Isn't Going Away" [New York Magazine]. Interesting look at the food chain….
Health Care
"Alaskan senator supports free choice for health care" [Lisa Murkowski, Daily News-Miner]. "I believe that the federal government should not force anyone to buy something they do not wish to buy in order to avoid being taxed."
Sports Desk
"Long Live The Butt Fumble" [ESPN]. "I referred to it in my copy the next day as the butt fumble with lowercase 'b' and lowercase 'f.' I don't know when it became Butt Fumble with a capital 'B' and capital 'F, but the next time I wrote about it, on Nov. 28, it was "Butt Fumble."" Life comes at you fast.
Class Warfare
"Democrats May Deny It, But This Bill Is A Handout To Payday Lenders" [HuffPo]. "Rep. Gwen Moore (D-Wis.) has a payday lending problem…. [I]n 2015, [consumer advocates] got some help from a federal judge, who ruled that debt collectors and other opportunists who purchase debts from national banks couldn't enjoy the same freedom from state rules that national banks do… This gave state predatory lending laws new bite. And Moore ― along with Rep. Gregory Meeks (D-N.Y.) and Sens. Mark Warner (D-Va.) and Gary Peters (D-Mich.) ― is working to reverse that decision nationwide, enshrining partnerships between banks and payday lenders in federal law and undermining state rules. 'The bill blesses rent-a-bank arrangements where banks launder debt for usury purposes,' notes Georgetown University Law professor Adam Levitin."
News of the Wired
"Calling Net Neutrality Rules 'Heavy-Handed' and a 'Mistake,' FCC Chairman Proposes Changes" [247 Wall Street]. "Treating the internet as another utility essentially forbade internet service providers (ISPs) from differential pricing of packets transmitted over the internet backbone provided by carriers like AT&T Inc. (NYSE: T), Verizon Communications Inc. (NYSE: VZ), and Comcast Corp. (NASDAQ: CMCSA), among others. In other words, under current net neutrality rules, the 10 readers of your blog are entitled to the same level of transmission speed at the same price as the millions of Netflix subscribers." Yes. As it should be.
"Those opposed to the reversal [Obama-era internet regulations] say getting rid of the [net neutrality] protections will allow internet service providers (ISPs) to throttle the connection of some sites, giving preferential treatment to others at a price. FCC officials say ISPs will have to disclose any such actions, which will then be reviewed, most likely by the FCC and the Federal Trade Commission" [MarketWatch]. "While throwing their support behind the FCC's proposed approach to internet regulation, Comcast; Verizon and Charter have vowed to uphold open internet ideals."
"Why Americans should brace for an internet where not all websites are treated equally" [MarketWatch]. "If net neutrality ended, cable companies could charge Netflix, Hulu and YouTube to prioritize their services and speed." Isn't that great? The Internet is turning into cable. But we have cable.
"Repair Cafés Aim to Save Broken Items, Enhance Community" [Seven Days]. "On a recent Saturday, small groups of people huddled inside the Charlotte Town Hall to collectively troubleshoot their neighbors' problems. But, unlike the questions that typically arise in this building about zoning, property taxes and building permits, these residents were tackling more mundane issues. Among them: Why doesn't this lamp switch work? Can this old sewing machine be fixed? How do you replace the zipper on a winter coat?" This is even better than our thrift shop (which is the only place I can still buy a decent man's dress shirt). And it never occurred to me that the "right to repair" (see, e.g., J-LS here) could help build communities.
"Meet the Man Who Has Lived Alone on This Island for 28 Years" [National Geographic]. Carrying the INTJ thing a bit far?
* * *
Readers, feel free to contact me at lambert [UNDERSCORE] strether [DOT] corrente [AT] yahoo [DOT] com, with (a) links, and even better (b) sources I should curate regularly, (c) how to send me a check if you are allergic to PayPal, and (d) to find out how to send me images of plants. Vegetables are fine! Fungi are deemed to be honorary plants! If you want your handle to appear as a credit, please put it in the subject line. Otherwise, I will anonymize by using your initials. See the previous Water Cooler (with plant) here. Today's plant (Ed):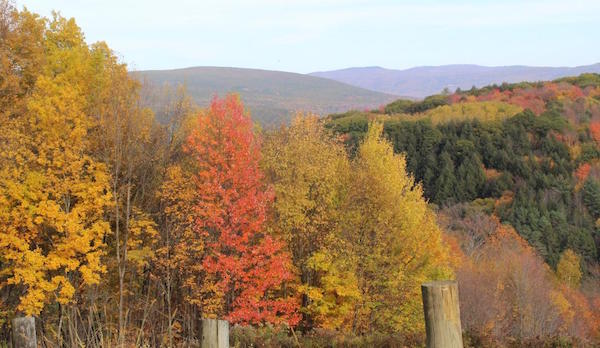 Ed writes: "This photo was taken on Saturday afternoon 10/21/17 from the 'turnout' on Bee Hill Road just south of Williams College, towering over Route 7 below and looking out to the east.
Foliage in the Northeast, of which I am a big fan, was delayed by an extended warm spell, funky rain and droughts, etc. Peak in the northern Berkshires area has traditionally been Columbus Day weekend, generally a tourist bonanza. Not so this year due to poor foliage and dilapidated economy.
I lived ages 9-18 in the valley in this picture. The county has become a ward of the state, still touts supreme arts attractions, but has no jobs (unless you work for Williams College). The area has been economically suppressed for decades. On the distant horizon, looking upslope on the Hossacs, the white specks are the HairPin Turn and Whitcomb summits. A known reason for increasingly-poor foliage is the devastation caused by acid rain.
Two years ago at at about this same time of year, I struck out early in the AM so as to have the sun rising at my back as I came up out of Greenfield headed west on Route 2. What I was met with was fog. I drove for hours looking for good foliage. I found none. But I got a rather dramatic shot of an acid-turned-and-killed tree standing (barely) on the edge of a reservoir with the sun glinting through the fog over the waters.
Best estimate of location from which this was shot is latitude 42.7055 Longitude -73.2251."
* * *
Water Cooler will be off for Thanksgiving, and on very light duty the day following.
* * *
Readers: Water Cooler is a standalone entity not covered by the NC fundraiser. So do feel free to use the dropdown and click the hat to make a contribution today or any day. Here is why: Regular positive feedback both makes me feel good and lets me know I'm on the right track with coverage. When I get no donations for five or ten days I get worried. More tangibly, a constant trickle of small donations helps me with expenses, and I factor that trickle in when setting fundraising goals. So if you see something you especially appreciate, do feel free to click the hat!