By Lambert Strether of Corrente.
Politics
2018
"Democrats Should Aim To Replace An Even 100 GOP Congressmembers" [Down with Tyranny]. "Now, if Pelosi would just tell the DCCC to stop recruiting more Blue Dogs and New Dems, things will be a lot less complicated for the party going forward. But that isn't going to happen. Of the 11 candidates for 2018 that the DCCC has thus far officially endorsed, at least 8 are from the Republican wing of the party– gun freak and New Dem Ann Kirkpatrick (AZ), Blue Dog Brendan Kelly (IL), Blue Dog Paul Davis (KS), New Dem Elissa Slotkin (MI), New Dem Angie Craig (MN), Blue Dog Dan McCready (NC) and Blue Dog Anthony Brindisi (NY). And, although neither Jason Crow (CO) nor Susie Lee (NV) has been officially endorsed by either the New Dems nor Blue Dogs yet, I know that stink of Republicanism emanating from both of them."
2017
"[Alabama's] top election official Monday said he is lowering his prediction for turnout in Alabama's December 12 special election, a potential measure of how sexual misconduct allegations have roiled the Senate race between Republican Roy Moore and Democrat Doug Jones" [NBC]. "In an interview with NBC News, Secretary of State John Merrill also said his office has just sent local election officials more detailed guidance for processing write-in votes, a result he said of a higher volume of inquiries than his office normally receives from voters across the state." Low rural turnout was a factor in Virginia was well (though AFAIK, nobody has provided a reason for it). More: "Merrill cautioned that his prediction of a lower turnout or a possible surge in write-in votes were not evidence of any shifting advantage in a contest where the Republican candidate has a naturally large advantage. Moore's political base has shown to be highly committed while Democrats have a limited political infrastructure in the deeply red state. And, he said, there's been no sign of an "organized campaign" to write in a new candidate's name."

"The DSCC has descended on Alabama to help Doug Jones fight Roy Moore" [Vice]. "National Democrats have had staff on the ground in Alabama supporting Democratic Senate candidate Doug Jones for months, multiple Democratic sources tell VICE News, complicating Jones' efforts to keep his race against scandal-marred Republican Roy Moore focused on local issues."

"In the Alabama Senate special election next month, the national political parties are either a punching bag or an anvil" [RealClearPolitics]. "Alabama Republicans have, for the most part, stuck by the embattled candidate. The state party steering committee chose to back him last week; Kay Ivey, the governor, said she believes Moore's accusers, but said she would vote for him anyway, citing his eventual votes for Supreme Court justices and other appointments." So, "but the Supreme Court!!" isn't something only Democrats say…
Realignment and Legitimacy
Very good tweet storm on parallels between the second term of the Bush administration and the first term of the Trump administration:

Trump's first term is similar to George W Bush's second term in his approval ratings and legislative situation. Consider the similarities 2/

— Brendan Nyhan (@BrendanNyhan) August 18, 2017

(Extending the analogy as Nyhan does not do, that would make Clinton Kerry: A wooden candidate picked by the establishment after an insurgency from the left — Bernie Sanders; Howard Dean — who lost a winnable campaign. More on the same idea from Vox–

"The best analogy to Donald Trump in 2017 is George W. Bush in 2005" [Vox]. "Then, like now, the winner had no clear policy mandate, and quickly suffered massive legislative defeat (Social Security privatization for Bush, Obamacare repeal for Trump). Then, like now, the president watched his favorability ratings tumble into the 30s, and appeared to be headed for a severe backlash in the midterms." Klein, of course, then goes on to add the appeal to suburban Republicans: "I would take the analogy yet further. Trump's callousness and indiscipline has left many liberals yearning for Bush's more dignified and decent bearing." Dear Lord. Was Klein even born in 2005? I well remember what Democrats were saying about Bush then, and "dignified and decent" didn't figure largely in it ("Now watch this drive.") And now the kicker:

If Trump's presidency continues to flail — to say nothing of if there's a recession or a poorly managed foreign crisis — it's easy to imagine a Democrat beating him in 2020 and entering office with massive congressional majorities, setting up, again, a period of sweeping progressive governance.

Whatever the Obama administration was, it was not "sweeping progressive governance." ObamaCare, not Medicare for All. A handshake deal with Boehner on a Grand Bargain. An utterly flaccid and enfeebled response to the crash, including no prosecution of any bank CEOs, the HAMP debacle, and the inadequate stimulus package. And of course, the continued wars, including Obama whacking a US citizen on his kill list disposition matrix without due process. One could go on, but if the Nyhan/Klein analogy holds, we can expect a squandered 2018 and 2020, just as we got a squandered 2006 and 2008. Perhaps including the long-awaited rehabilitation of the Republican party as a reasonable interlocutor, as the "fever" breaks? Of course, there's one difference between 2005 and today that Nyhan and Klein carefully airbrush away: The existence of a functional, though tiny, left. It may be too much to ask that the left prevent the Democrats from squandering 2018 and 2020, but that's where we are. That's what we've got.

"Democratic Socialists of America Win Big for a Small Party" [Truthdig]. Sarah Jaffe interviews David Duhalde, DSA's deputy director:

[DUHALDE]: We ultimately endorsed six candidates nationally — some of whom were running against Democrats, like Ginger Jentzen, who was in Socialist Alternative. Others, like Jabari Brisport, who is a Green, ran against the machine Democrats. Most of them were Democrats themselves and were running either in primaries like Khader Al-Yateem in Brooklyn and Tristan Rader who won, as well, in Lakewood, Ohio.

Six is, of course, a tiny number. On the other hand, it's not zero. It remains to be seen how the DSA's endorsement strategy — as opposed to running on their own ballot line — works out; Our Revolution seems to have adopted the same strategy. (Bypassing the ballot line seems to have first been proposed by Seth Ackerman in this Jacobin article, at least that's where I first read about it.)
Stats Watch
Chicago Fed National Activity Index, October 2017: "The national activity index shot to a far higher-than-expected 0.65 in October with the 3-month average moving from flat to 0.28. The latest level is an expansion high and the 3-month average is near one, both pointing to economic growth that is significantly stronger than average" [Econoday]. " Industrial production fell sharply in August then rebounded in September and then rebounded very strongly in October. The report's three other components are steady with both employment and sales, orders & inventories making slightly smaller contributions and with personal consumption & housing pulling down growth slightly more. Putting production aside, this report continues to run at a modest pace. But indications from the factory sector have been increasingly promising and do hint at production-driven acceleration for fourth-quarter growth." Snap-back from the hurricanes, but with a little extra snap. But: "The single month index which is not used for economic forecasting which unfortunately is what the CFNAI headlines. Economic predictions are based on the 3 month moving average. The single month index historically is very noisy and the 3 month moving average would be the way to view this index in any event" [Econintersect]. "There was significant upward revision to the last 3 months of data…. [S}ee the three month rolling average for the last 6 months – it now shows an improving economy."
Existing Home Sales, October 2017: Stronger than expected [Econoday]. "The pending home sales index, which tracks initial resale signings, has been flat to negative which adds to the positive surprise of today's report. Housing data struggled through most of the year and the lack of supply will continue to hold back resales, but recent reports have been good and do point to a year-end contribution from the sector." And: "sales were above the consensus view. For existing home sales, a key number is inventory – and inventory is still low" [Calculated Risk]. But: "Up a touch more than expected, but still down year over year" [Mosler Economics].
Energy: "Energy producers are running out of places to send all the natural gas that's gushing out of West Texas. Pipelines running from the region's Permian Basin to Gulf Coast chemical plants, cities and export terminals are essentially full…, leaving a growing gas glut that is already weighing on regional prices" [Wall Street Journal]. "The oversupply is part of the fast changing energy business in the U.S., where readily available natural gas has slashed prices at electricity plants while making it tougher for oil and gas operators to match production to pricing."
Manufacturing: "India's automotive supply chain is starting to reach into the U.S. Mumbai-based manufacturer Mahindra & Mahindra Ltd. plans to build rugged off-road vehicles at a small factory north of Detroit…, a potential step toward a bigger goal of selling cars in the U.S. The move marks the latest action by non-U.S. auto makers and suppliers to scale up their presence in the country" [Wall Street Journal]. "Mahindra will be building rugged utility vehicles aimed at the specialized market for work equipment, but the Auburn Hills, Mich., site will give the company a stake in a recovering U.S. factory sector and a new base to consider the future of its auto making."
Shipping: "'Despite a brighter economic outlook, the industry is still weighed down by excess capacity, poor profitability and high levels of debt and many owners are struggling to survive. Poor financial returns have kept the pressure on costs and we expect this to remain the case for the foreseeable future,' Drewry noted in a release" [Splash 247].
Supply Chain: "Apple's iPhone X assembled by illegal student labour" [Financial Times]. "Apple's main supplier in Asia has been employing students illegally working overtime to assemble the iPhone X, as it struggles to catch up with demand after production delays. Six high school students told the Financial Times they routinely work 11-hour days assembling the iPhone X at a factory in Zhengzhou, China, which constitutes illegal overtime for student interns under Chinese law."
The Bezzle: "Volvo Promises Uber Fleet of Self-Driving Taxis by 2019" [Wall Street Journal]. "The deal between Volvo, owned by China's Zhejiang Geely Holding Group Co., and Uber was disclosed Monday as a framework agreement without financial terms." So it's a "promise," but not a deal?
The Bezzle: "This ex-trucker has some questions about the Tesla Semi" [AutoBlog]. Very important. Here's a taste:
[T]he Semi seems most impressive to those who don't know what it's like to be a truck driver…. I only have space here to address a few issues, so we'll start with the central seating position. I don't see how that helps a trucker. I already get "a commanding view of the road" in a traditional truck because I sit six feet above traffic. What I need is a commanding view of my own truck, which the central seating position compromises. The worst blind spot in a tractor is next to the doors; in the Tesla Semi, I can't lean over to see if there's a Toyota Corolla camped out beside me. The central seating position hampers my commanding view when I need that view most: when I back up. For any backing maneuver, I watch both sides of the trailer in my mirrors to make sure I don't clobber anything, or I lean out of the truck to watch the trailer as I back. Being able to physically watch the trailer – not camera images on screens – can be the difference between making a clean back-up or making an insurance claim.
I believe we have some drivers in the readership. Perhaps they can expand on this?
The Bezzle: "Tesla mass firings could show impact down the road" [Mercury News]. "More than a dozen current and former employees interviewed said their dismissals came with little or no warning and were unrelated to performance. Some said they were fired weeks before stock options vested. Many added that morale suffered at the plant, as workers were unsure of their job status. The company has also angered outgoing employees by requiring them to sign a broad non-disparagement clause as part of their separation package. The separation agreements ban ex-employees from bad-mouthing the company, its executives, investors, affiliated companies, and contractors and products. Fired employees are prohibited from specifically criticizing Musk, in return for two weeks severance pay."
The Bezzle: "U.K. ruling on Uber drivers may lead SEC to re-examine company's revenue approach" [Francine McKenna, MarketWatch]. "A recent U.K appeals court decision that gives Uber drivers the right to be paid the national minimum wage and other benefits may prompt the Securities and Exchange Commission to take another look at Uber's recent decision to leave driver revenue and costs out of its financial filings…. [Professor Gia Chevis] told MarketWatch that even if Uber files its S-1 paperwork to go public before any final decision is made, the SEC will likely expect a risk disclosure from the company that outlines what might happen if it is forced to comply with a U.K ruling that compels the company to record expenses for minimum wages and other benefits for drivers as workers."
The Bezzle: "Study Finds Sharp Drop in Time Spent on Facebook" [eMarketer]. (The original of this story in 247 Wall Street, "Users Spending 44% Less Time on Facebook.") "According to the latest monthly data from the firm, Facebook users in the US spent more time with the platform than users of any other social network, 18 hours, 24 minutes. But that was a significant drop from the 32 hours, 43 minutes recorded by Verto Analytics a year ago." However: "The dropoff seen in the Verto Analytics data is at odds with eMarketer's latest estimates for time spent with Facebook. eMarketer expects adult US Facebook users to spend roughly 41 minutes per day on the platform in 2017, up one minute from 40 minutes in 2016." 44% seems pretty big…
Mr. Market: "On Oct. 6 a note from Wells Fargo & Co.'s equity research department downgraded Facebook Inc. to sell, making it one of only three brokerages with such a dour rating. The analyst making the call was unusual, too. Its name is Aiera, or artificially intelligent equity research analyst" [Bloomberg]. Hmm…
Tech: "Facebook Prevails In Privacy Battle Over Tracking Via 'Like' Button" [Media Post]. "The ruling stemmed from a series of lawsuits dating to 2011, when a group of Web users accused Facebook of violating a host of federal and state laws, as well as its own privacy policy, by collecting data about people through its social widget. The consumers said Facebook gathered data about its users whenever they visited sites with a "Like" button, even if the users were logged out of Facebook at the time. In June, [U.S. District Court Judge Edward Davila] dismissed the users' wiretap claims with prejudice. At the time, he also threw out claims that Facebook violated its privacy policies, but allowed the users to revise those allegations and bring them again…. [Friday, Davila ruled] that the users could not proceed with allegations that Facebook violated its privacy promises. The dismissal was with prejudice, meaning that the users can't attempt to revise their complaint and try again."
UPDATE Tech: "Google collects Android users' locations even when location services are disabled" [Quartz]. "Many people realize that smartphones track their locations. But what if you actively turn off location services, haven't used any apps, and haven't even inserted a carrier SIM card?
Even if you take all of those precautions, phones running Android software gather data about your location and send it back to Google when they're connected to the internet, a Quartz investigation has revealed." Remember: It's the phones that are smart. Not the users.
Tech: "Blockchains for Blockheads. I think I finally get it" [DC Velocity]. A simple explanation of the distributed public ledger (but leaves the energy costs of blockchain transactions out of fhe picture.)
The Fed: "A Key Indicator Points to a Strong 2018. That's the Risk" [Bloomberg]. "If this year's economy has been kind to you, signs are good for your 2018 as well…. This more optimistic picture is painted by the U.S. government bond yield curve – which is not so curvy these days…. Lately, the gap between the two has been narrowing. In market parlance, the curve has been flattening. Whenever this happens, it's generally accompanied by predictions of a slowdown. But this time, there's a backdrop of synchronized global growth, low unemployment and some capital spending by businesses…. The flattening yield curve doesn't seem to be suggesting an imminent end. The most likely scenario is another strong year like this one… "If there is a risk apparent now, it's that the Fed may need to tap the brakes – a good problem to have."
Five Horsemen: "Our Fab Five romp higher in stocks' customary pre-Thanksgiving rally" [Hat tip, Jim Haygood (who is off for the holidays)].
Today's Fear & Greed Index: 56 Greed (previous close: 50, Neutral) [CNN]. One week ago: 49 (Neutral). (0 is Extreme Fear; 100 is Extreme Greed. Last updated Nov 21 at 12:20pm. The index now seems to be back to same day updates, thankfully.
Health Care
"Here's a Path to Medicare for (Almost) All That Isn't Doomed to Fail" [The Nation]. "It doesn't fit neatly on a bumper sticker, but we could still capitalize on Medicare's popularity and familiarity by calling it an alternative pathway to Medicare for All." All the centrists and wonks want to hijack Medicare's branding while strenuously avoiding Medicare for All. The exact same tactic was used in 2009, when the "public option" advocated by Jacob Hacker — actually quoted, non-ironically, in this article — was framed as Medicare-like, and dangled like an ever-shrinking shiny baubel before credulous progressives, before diminishing to nothing.
Gaia
"Carbon Pricing: A Critical Perspective for Community Resistance" (PDF) [Indigenous Environmental Network].
"Why Pipeline Opponents Cheered Monday's Keystone XL Approval" [Ecowatch]. "That's because the commission approved the "mainline alternative route," and that's not the route that the pipeline operator wants. It could take years before the project finally gets off the ground (if it ever does), as the alternative route includes 63 miles of new pipeline not yet approved by the federal government and plenty of landowners could stand in the way."
"[C]ompanies including Exxon Mobil Corp. and Ford Motor Co. are working on high-tech versions of engine oil. They believe the new, thinner oils will help them squeeze more efficiency out of traditional engines, and remain relevant as new technologies gain traction" [Wall Street Journal]. "Most companies expect the combustion engine to remain dominant for decades, and the efficiency improvements are critical to keeping their energy supply chains moving."
Class Warfare
"Here's what happened to teachers after Wisconsin gutted its unions" [CNN]. "In the five years since Act 10 was passed, median salaries for teachers in the state have fallen by 2.6% and median benefits declined 18.6%, according to an analysis of state administrative data by the left-leaning Center for American Progress Action Fund…. In addition, 10.5% of public school teachers in Wisconsin left the profession after the 2010-2011 school year, up from 6.4% the year before. The exit rate remains elevated, at 8.8%…. That's particularly difficult for rural districts, which can't afford to pay more to retain good teachers. The report found that teachers in rural areas were the most likely to move districts, and the average level of experience among teachers in those areas had fallen the most: One out of four rural teachers had taught for fewer than five years in 2015-2016, up from 17.6% in the year before Act 10 passed."
"The LA Times flirts with unionization, defying its history" [Columbia Journalism Review].
News of the Wired
"The Sad Legacy Of Copyright: Locking Up Scientific Knowledge And Impeding Progress" [TechDirt (CL)].
The Bezzle: "Big Pharma is taking advantage of patent law to keep OxyContin from ever dying" [Quartz]. "Feldman, together with Connie Wang, a law student at Stanford University, meticulously went through a decade's worth of versions of the US Food and Drug Administration's "Orange Book" and US Patent and Trademark Office website listings to investigate the relationship between patent filings, exclusivity extensions, and drug approvals. They found that of the 100 best-selling drugs from 2005 to 2015, about 80% (paywall) had a patent extension filed on them at least once. About 50% of these drugs had multiple extensions."
UPDATE It's been awhile since we visited Scarfolk:

What a typical day looks like for the council on #OurDay. #1. Delivering Black Spot cards to offenders. More info: https://t.co/TDuKIyLdRz pic.twitter.com/xAHp2LsuKu

— Scarfolk Council (@Scarfolk) November 15, 2016
* * *
Readers, feel free to contact me at lambert [UNDERSCORE] strether [DOT] corrente [AT] yahoo [DOT] com, with (a) links, and even better (b) sources I should curate regularly, (c) how to send me a check if you are allergic to PayPal, and (d) to find out how to send me images of plants. Vegetables are fine! Fungi are deemed to be honorary plants! If you want your handle to appear as a credit, please put it in the subject line. Otherwise, I will anonymize by using your initials. See the previous Water Cooler (with plant) here. Today's plant (Re Silc):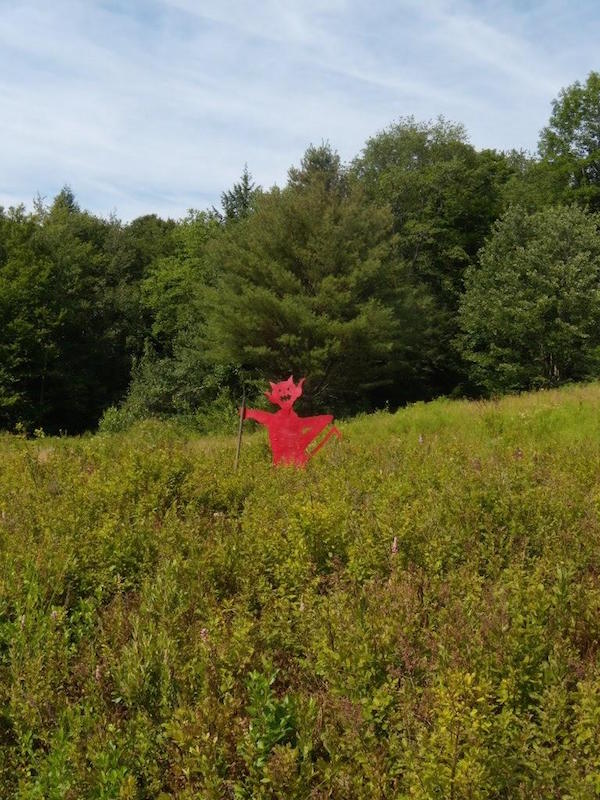 Re Silc writes: "Meadowsweet I can grow. My Vermont pasture earlier this year."
* * *
Readers: Water Cooler is a standalone entity not covered by the NC fundraiser. So do feel free to use the dropdown and click the hat to make a contribution today or any day. Here is why: Regular positive feedback both makes me feel good and lets me know I'm on the right track with coverage. When I get no donations for five or ten days I get worried. More tangibly, a constant trickle of small donations helps me with expenses, and I factor that trickle in when setting fundraising goals. So if you see something you especially appreciate, do feel free to click the hat!