Dear patient readers,
We are starting our holiday schedule today: Links, Water Cooler, and three rather than four posts. You will get weekend-level coverage (Links plus two posts) on Thanksgiving Day and Friday. Hope our American readers who are on the road have safe and smooth travels!
World's best cheese is revealed Yahoo (furzy)
It's the 1st known interstellar asteroid EarthSky (Chuck L)
Self-taught rocket scientist plans to launch over ghost town Associated Press. Chuck L: "I smell a Darwin Award in the offing."
RIP net neutrality: FCC chair releases plan to deregulate ISPs ars technica (Chuck L)
America is about to kill the open internet – and towns like this will pay the price Guardian
Apple Finds Foxconn Interns Worked Illegal Overtime on iPhone X Bloomberg (Chuck L)
Major new study finds people who spend a lot of time on Facebook are materialistic Thai Tech (furzy)
How Evil Is Tech? New York Times (David L)
People are 'enslaved' by 24-hour email and businesses must take action, experts say Independent. One of several reasons I have a dumbphone and regularly leave it at home.
Sugar industry withheld evidence of sucrose's health effects nearly 50 years ago MedicalXpress (Chuck L)
There's new evidence that the sugar industry suppressed scientific studies linking sugar to heart disease and cancer Business Insider (David L)
Why I injected myself with an untested gene therapy BBC (David L, Mark P). I'm more willing to try non-mainstream approaches than most people. These guys are completely mad. Darwin Award winners in the making.
China?
Zimbabwe coup a win-win for China – for now Asia Times

Chinese censor feted by Mark Zuckerberg is accused of corruption Guardian
Merkel Agonistes
The beginning of the end of Angela Merkel Politico

Battle to avoid new German election The Times. A new election is unlikely to deliver different results. But most voters want one.

FDP legt zu – Union unter 30 Prozent Der Spiegel
Brexit
Donald Tusk issues ultimatum to Theresa May over Brexit trade talks The Times

Why Angela Merkel's troubles make Brexit harder for London Politico

"We are just 500 days from chaos", warns immigration charity openDemocracy
Oxford graduate sues university for £1million because he did not get a first class degree Telegraph
Syraqistan
New Cold War
Russia to act against Google if Sputnik, RT get lower search rankings: official Reuters (Chuck L)

The Lost Journalistic Standards of Russia-gate Consortiumnews (Chuck L)
Russia, in Reversal, Confirms Radiation Spike New York Times (David L)
RED ALERT FOR OLIGARCHS – DID PRESIDENT PUTIN AGREE WITH PRESIDENT MACRON TO THE ARREST OF SULEIMAN KERIMOV FOR MONEY LAUNDERING John Helmer
Big Brother is Watching You Watch
Intel: We've found severe bugs in secretive Management Engine, affecting millions ZDNet (Chuck L)

Plant spies: DARPA's plan to create organic surveillance sensors New Atlas (David L). Depressing.
Trump Transition
The Feds Just Sued to Block the AT&T–Time Warner Merger Vice
The Bizarre True Story of the Neighborhood Scuffle That Left Rand Paul with Six Broken Ribs GQ. Chuck L: "It appears that the GQ reporter actually committed journalism!"
On the Rehabilitation of George W. Bush TomDispatch
Sex in Politics….Not!
House Ethics panel announces probe of Conyers The Hill

Clinton and Character Rolling Stone (October 28, 1998)

Will the Prison Rape Epidemic Ever Have Its Weinstein Moment? Intercept. Short answer: don't hold your breath. The reason sexual harassment has become a national cause celebre is that elite women and celebrities were being harassed. Have we yet seen any stories about harassment of secretaries and nurses? Or Walmart workers? Prisoners are way lower on the "deserving of media sympathy" than them.
Police State Watch
Cops Thought Innocent Man Shoplifted a Shirt, So 50 SWAT Cops Tore Down His House Free Thought Project (Judy B). Even with the victim not helping his situation, this does seem a tad excessive.

Crowd-control weapons: "These weapons should not be interpreted as less than lethal" operDemocracy
CalPERS: Stop investing in deforestation Sacramento Bee (jpr). Not as clear-cut as it seems. CalPERS is investing in stocks, and likely through indexes, which means it is not contributing to the funding of deforestation. The usual argument from the CalPERS side, which has some merit, is it can do more to pressure companies via being an activist shareholder than by selling.
Uber Paid Hackers $100,000 to Conceal Large 2016 Breach Wall Street Journal. That was all they could extract? They should have gotten at least another $100K for not going to the press.
Uber Paid Hackers to Delete Stolen Data on 57 Million People Bloomberg (David L)
Tesla's Burning Through Nearly Half a Million Dollars Every Hour Bloomberg
Guillotine Watch
Wholefoods Magazine Names Jeff Bezos 'Person of The Year' PR Web (Scott)
Class Warfare
Antidote du jour (Kittie Wilson via Lawrence R):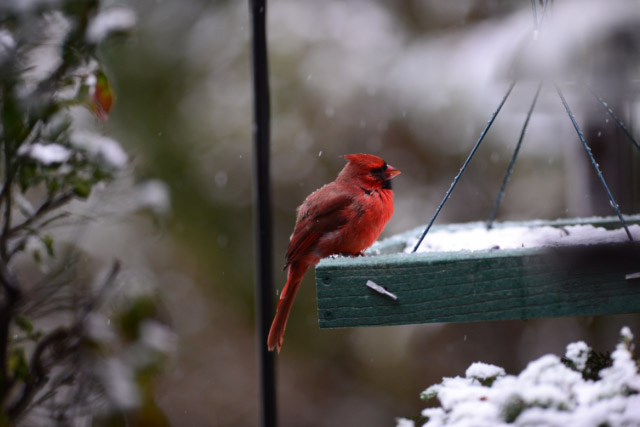 And a mild anti-antidote, from bob:
i first saw this video of suburban turkeys doing a satanic circle walk around a dead cat about two years ago. i think about it maybe once a month. pic.twitter.com/IP0AjRPlEG

— Alex Lau (@iamnotalexlau) November 11, 2017
See yesterday's Links and Antidote du Jour here.