By Lambert Strether of Corrente.
Readers, welcome back from Thanksgiving, and I hope your holiday — assuming you had one — was excellent!
Politics
2020
"Trump Counties Give Economy Strongest Marks" [Wall Street Journal]. Based on… .

"Bernie makes moves pointing to 2020 run" [Politico]. "Recognizing the senator's post-campaign national platform and 99 percent name ID across the country — and aware that his status as a potential 2020 front-runner draws further eyeballs — his team has stopped sticking to . Now it tries to inject him into as many productive national conversations as possible, sometimes with the support of his wife's new Sanders Institute think tank." LIke #MedicareForAll is a "pet issue." Dear Lord. And watch that word "conversation."

UPDATE "Bernie Sanders will Face Donald Trump in 2020 Election, Democrats Say" [Newsweek]. "Advisers to the Vermont senator also have indicated that he's eyeing the top job. When one of Sanders' associates was asked if his team was thinking about another run, the associate simply said, 'Yes, is the answer.'" "But hes not a Democrat!" Yes, and your point? "Other Democratic contenders for 2020 include former Vice President Joe Biden, Senators Elizabeth Warren, Kamala Harris and Sherrod Brown and former Massachusetts governor Deval Patrick. But overall it's a weak field, said political strategist Phil Singer, who served as press secretary on Clinton's 2008 presidential run. 'You have a bunch of Celine Dions but there's no Beatles,' he said." Why oh why do any reporters still have Clintonites in their Rolodexes?
2018
"Voting at black colleges has tumbled. Can Dems fix the apathy in time for 2018?" [McClatchy]. "Voter turnout among the estimated 300,000 students at HBCUs fell nearly 11 percent from 2012 to 2016…. If historic trends hold, Democrats could see black voter turnout drop 30 percent in 2018, resulting in 5.2 million fewer African American voters, according to a report by the non-partisan Voter Participation Center and Democratic pollster Celinda Lake." I remember Lake's work against single payer; Maine had to force her to put single payer in as one of her options on a health care poll. So I'd speculate that whatever else this poll is about, it's also about getting some consultants funding, including Lake.

UPDATE "The 3 Types of Districts that Could Give Democrats the House" [The Crosstab]. Interesting, I suppose. Do we have any statisticians in the commentariat today?
2017
"PRESENTING THE OFFICIAL STORE OF THE DEMOCRATIC PARTY" [Democrats.org (J-LS)]. I don't see any Clinton bobblehead dolls, so there's that. But am I the only one who sees this merch as rather uninspiring?
2016 Post Mortem
UPDATE "Africans are being sold at Libyan slave markets. Thanks, Hillary Clinton." [Glenn Reynolds, USA Today]. "Libya, before Clinton got involved, was comparatively stable and no strategic threat to the United States or its allies. Now it's a shambles, with people literally being sold in slave markets." Ugh, I'm agreeing with Instapundit. It's been a strange year.
New Cold War
"Special counsel Robert Mueller stands on reputation that belies a record including fumbles" [Los Angeles Times]. Reasonably balanced, but with some odd omissions, including Mueller's sleazy record of entrapment.
Realignment and Legitimacy
UPDATE "Sarah Smith Responds to Washington State Democrats' Silence on VAN Access" [Progressive Army]. The party says you can't get access to VAN "endorsements from 51% of the Legislative Districts and the approval of the State Party Chair." But they're not willing to produce the bylaws that say that.

UPDATE "Patti Solis Doyle: Drop the partisan nonsense on harassment" [CNN]. Given Solis Doyle is from HillaryLand, this is quite remarkable:

Of course, putting away my partisan hat means I have to acknowledge my own decisions over the years. I worked on Bill Clinton's 1992 and 1996 campaigns and in the Clinton White House. Like every Clinton White House staffer I know, I'm proud of my service and President Clinton's record. Like every Clinton White House staffer I know, I never took the allegations against him lightly. But that doesn't mean I took them seriously enough.

I lumped Paula Jones and Monica Lewinsky in with partisan attacks about Whitewater and crazy Vince Foster murder plots. I saw Clinton as "the Comeback Kid" and our White House as a continuation of the famous "war room" that elected him. When it's all "us" vs. "them" polarization, you lose perspective.

Each of us who defended President Clinton by dismissing his accusers needs to reckon with it.

I'm not sure what there is to do about Bill Clinton now.

Urge him gently under the bus? You know, like those sexist Bernie Bros?

UPDATE "The Red-State Revolt Spreads to Oklahoma" [The Atlantic]. "But the overriding factor [in recent Democrat successes] is likely a budget crisis [due to Republican tax cut nostrums] that has starved funding for Oklahoma's schools, resulting in a teacher shortage and prompting more than one-quarter of the state's districts to hold classes only four days a week. "The people are just not happy," former Oklahoma Governor Frank Keating, a Republican, told me in a phone interview. "Government appears dysfunctional, and government officials appear unwilling to solve the problems of the state and the nation. And there will be hell to pay." The political backlash in Oklahoma has parallels to the recent reckoning in Kansas, its neighbor to the north and another Republican-led state where deep tax cuts led to significant, ongoing budget shortfalls."
Stats Watch
New Home Sales, October 2017: "New home sales are suddenly on fire and far surpassing the highest estimate for a second month in row" [Econoday]. "The Northeast is the standout sales region for the second month." This is nuts. Who the heck buys a house in the Northeast in the winter?! And but: "A better than expected, but somewhat peculiar details, and note the approximate average over the last 4 months. And maybe some tax related buying?" [Mosler Economics]. This is the peculiar detail Mosler noticed: "More than two-thirds of the new homes sold last month were either under construction or yet to be started." And: "This month the backward revisions were mixed, but the rolling averages significantly improved. Because of weather and other factors, the rolling averages are the way to view this series – and the rolling averages are about average for the levels seen since the beginning of 2016" [Econintersect].
Dallas Fed Manufacturing Survey, November 2017: "The pace of Dallas factory growth, as in most other regions this month, eased back in November" [Econoday]. "Indications from the regional reports have been at or near record highs all year as have signs of strains in these reports including elevated employment readings and lengthening delivery times. Actual factory data out of Washington are only now beginning to show the acceleration first signaled by the various diffusion reports." And: "This survey remains well into positive territory with new orders declining and unfilled orders improving" [Econintersect].
State Coincident Index (last week): "Nice bounce up to 42. Note the prior, similar bounces" [Mosler Economics]. And not that I believe charts, but this is a nasty one: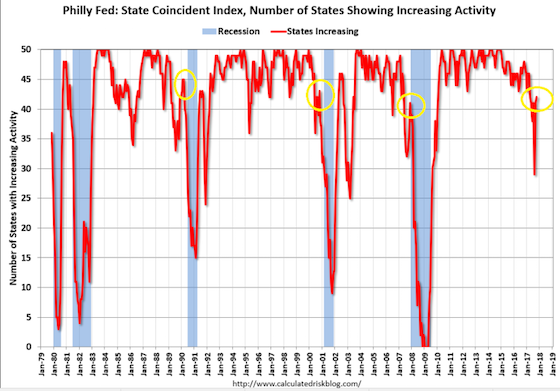 Retail: "Black Friday – the world's gluttonous orgy of excess" [Asian Correspondent]. If I shopped, and if I shopped on Black Friday, I would adopt a simple two-step strategy: 1. Purchase the loss-leader; 2. Leave.
Retail: "Amazon Merchants Continue to Find Ways to Cheat" [Bloomberg]. "Manipulation of reviews has been increasing the past several months and Amazon doesn't appear to be fixing the problem, said Chris McCabe, a former employee who now runs a consulting business to help Amazon merchants. The gamesmanship on the site is so bad he has created new teams to help merchants fight review manipulation, he said." This is very bad. I would urge that Amazon is, in fact, an enormous content company, and that the quality of its comments should form a large part of its valuation. And as we all know, moderation is hard…
Retail: "Why Amazon Won't Save Your Struggling Town" [The American Conservative]. "Ultimately, true economic development cannot be bought. As Judith Schwartz explained in Pacific Standard, studies have found that when businesses are brought in with incentives, 90 percent of corporate spending still happens out of state. This attenuates local economic development by reducing the opportunity for the people supposedly benefitting from development to learn the skills of running the larger enterprise. In some cases, companies have received tens of millions in tax abatements or subsidies without providing anything more than a few part-time retail jobs."
Shipping: "Despite all the evidence of feverish activity, ThyssenKrupp's shipbuilding division is in a mess. Sources at the company told Handelsblatt that the division suffered an operational loss in the financial year 2016-2017, and that the dire situation is unlikely to change going forward. As a result, company sources told Handelsblatt that division chief financial officer Evelyn Müller will depart the firm by the end of the year" [Handelsblatt]. "If every dry dock in Kiel is occupied with a ship or sub under construction, how could the company be losing money? Because of technical and planning bottlenecks and delays, almost every ship is finished well behind schedule. The company actually loses money every time the Dom Perignon bottle smashes on a hull at launch. "No submarine is delivered on time," said one source at the company."
The Bezzle: "Uber customers torn between scandals and service" [AP]. And the hidden subsidies, did they but know it.
The Bezzle: "Your Future Commute Could Be by Taxi Drone" [Bloomberg]. Oh, please. Just stop.
The Bezzle: "How many must be killed in the Internet of Deadly Things train wrecks?' [ZD Net]. "History tells us that technology doesn't get regulated properly until people start to die. Why will IoT be any different?"
The Bezzle: "Sorry, Jeff Bezos. Amazon Key won't get online retailers through the front door" [Recode]. "Although it's hard to remember now, there was a time when the Amazon smile, the iconic Apple and Google's quartet of primary colors inspired loyalty and engendered a sense of trust. As we happily traded away the hours in the day for more screen time and personal data for more convenience, we welcomed tech companies to claim more and more surface area in our lives. But it becomes clearer every day that these companies' sense of stewardship and accountability did not scale up with their market caps."
Tech: "How tech giants are ruled by control freaks" [Economist], "[Let's consider] today's prominent tycoons, who often hail from technology, e-commerce and media. At the moment they seem omnipotent. But many founders are gradually cashing in shares in their companies. A flurry of selling activity has been in evidence of late. On September 13th Jack Ma and Joe Tsai, co-founders of Alibaba, a Chinese e-commerce behemoth, said they planned to sell up to $4bn of stock by the end of 2018. Nine days later Mark Zuckerberg said he would dispose of Facebook shares worth up to $13bn by early 2019. Jeff Bezos has cashed in $2bn of Amazon stock this year. Pony Ma, the boss of Tencent, a Chinese digital giant—and no relation to Jack—intends to sell $5bn of its stock (although the timetable is unknown). The transactions add up to a tenth of the total value of these founders' holdings in their companies. More sales can be expected." Hmm?
Tech: "Which tech companies beat Facebook, Amazon and Netflix on the markets this year?" [Barry Ritholtz (Re Silc)]. Chart. Jack's other company is doing rather well.
Five Horsemen: "On rumors of strong Cyber Monday sales, Amazon busts the top off our chart for the second day in a row" [Hat tip, Jim Haygood].
Rapture Index: Closes unchanged [Rapture Ready]. Record High, October 10, 2016: 189. Current: 183.
Today's Fear & Greed Index: 53 Neutral (previous close: 58, Greed) [CNN]. One week ago: 50 (Neutral). (0 is Extreme Fear; 100 is Extreme Greed. Last updated Nov 27 at 1:00pm.
Our Famously Free Press
"Peter Thiel May Be Looking To Buy Gawker.com" [Buzzfeed]. Swell. Squillionaire reaches into deep pockets to fund the destruction of a news organization, then buys up the remnants and destroys the archives.
"Anatomy of a fake news scandal" [Reveal News]. Pizzagate.
New York Times History Lesson (1):
In honor of Thomas Friedman's latest love letter to Saudi here is 70 years of the NY Times describing #Saudi royals in the language of #reform.

— Abdullah Al-Arian (@anhistorian) November 24, 2017
New York Times History Lesson (2):
a thread on actual Hitler puff pieces https://t.co/xYRl797Cnh

— Mark (@haircut_hippie) November 26, 2017
Big Brother Is Watching You Watch
"Bayard Rustin was being investigated by the FBI while, unbeknownst to the Bureau, he was working for the CIA" [Muckrock].
Black Injustice Tipping Point
"Philly social worker: What court supervision is like for people who aren't Meek Mill" [Philadelphia Inquirer].
"How slave labor built and financed major U.S. cities" [Salon].
Health Care
"How to Make a Fortune on Obamacare" [Bloomberg]. Narrow networks.
"Time is running out to lock in your Medicare coverage" [CNBC]. Neoliberal crapification. Why does "coverage" need to be "locked in," anyhow?
"A Patient's Journey: What Is 'Just Right'?" [MedPage]. Interesting interactions with that quaint relic, "my primary care physician."
Class Warfare
"Timed toilet breaks, impossible targets and workers falling asleep on feet: Brutal life working in Amazon warehouse" [The Mirror]. "There were complaints of filthy toilets and breaks still too short. One asked: 'Why are we not allowed to sit when it is quiet and not busy? We are human beings, not slaves and animals.' I was told by one worker: 'I expected it to be all modern and powered by robots in here, but my eyes are wide open now.'"
"If only slavery really had been abolished" [Guardian].
"Seattle, capital of the hipster boom" [Le Monde Diplomatique].
"Facebook Founder's Favor Comes With Complications" [New York Times].
"Why a Toronto single mom felt 'terrified' after receiving a long-awaited Phoenix payroll deposit" [CBC]. Because an IT constractor screwed up the payroll system for the entire government. More neoliberal crapification.