By Lambert Strether of Corrente.
In this simple post I'm going to consider the Tesla Semi truck — which Tesla CEO Elon Musk announced November 16 to predictably credulous laudable coverage, along with statements that were said to be orders but were, in fact, not — as a vehicle, and not a financial vehicle[1]. (I also won't address the role for which the Semi may be most appropriate: Line haul, short haul, port duty, etc., though I may address these supply chain issues at a later date.) First, I'll look at the Semi's cab and wheels; then, I'll look at the Semi at the truck stop and on the dock. In each case I'll rely heavily on the informed commentary of the NC commentariat, as well as the wisdom of Hurbert Horan. First, though, here's a look at the thing: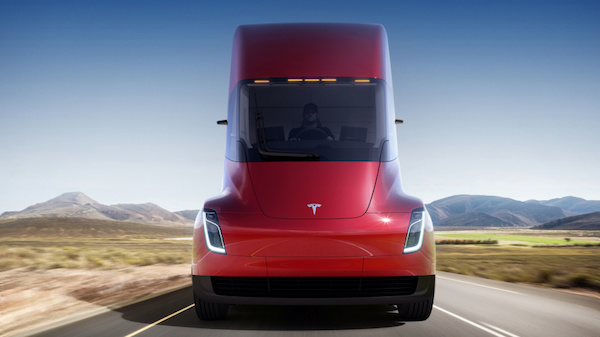 OK, OK, it's a little dystopian, but since Tesla released it with their even more dystopian unveiling, who am I to argue?
The Cab and the Wheels
Starting with the cab, I'll requote this, from AutoBlog:
[W]e'll start with the central seating position.
A second reason I picked the image above: It shows that central seating position clearly.
I don't see how that helps a trucker. I already get "a commanding view of the road" in a traditional truck because I sit six feet above traffic. What I need is a commanding view of my own truck, which the central seating position compromises. The worst [1]blind spot in a tractor is next to the doors; in the Tesla Semi, I can't lean over to see if there's a Toyota Corolla camped out beside me.
I just hope I'm not in that Toyota Corolla, even if it is a robot car!
The central seating position hampers my commanding view when I need that view most: when I [2]back up. For any backing maneuver, I watch both sides of the trailer in my mirrors to make sure I don't clobber anything, or I lean out of the truck to watch the trailer as I back. Being able to physically watch the trailer – not camera images on screens – can be the difference between making a clean back-up or making an insurance claim.

Furthermore, I can't see around [3]trucks in front of me without pulling halfway into another lane. When I need to [4]exchange paperwork with the guard at a terminal, or the police, I can't lean out the window to do so. Speaking of which, I have to believe one of the windows on the Tesla Semi [5]rolls down, but I can't figure out which one. If, as it appears from the renderings, the windows only vent, well… that's unacceptable.
I've helpfully numbered the driver use cases that seem not to have been considered in the design of the Tesla Semi's cab; five ([5]) seems like rather a lot, particularly since I get the sense that the writer was just getting started.
NC commenter altandmain raises a second issue, again, visible from the Semi image: Clearance (see here as well), also visible in the photograph above:
Look at the front and rear axles. It was no doubt for the sake of aerodynamics, but a production version would have to have it raised or else the semi simply cannot operate as is. Particularly in [1]hilly terrain, even trucks today can get stuck on the crest of a very steep hill (it does happen in the industry). Very simply put, the production version cannot be as aerodynamic.

[2]Snow will also be an issue with low clearance. This might be a big problem in Canada, the northern US, Alaska, and northern Europe. Russia too, if Tesla ever intends to sell to the Russians. Also, notice that the rear wheels are concealed. This could be an issue [3]if the vehicle is stuck in the snow (ever see a car get stuck in the snow)? Trucks have more ground pressure and as a result, are at a larger risk for "getting stuck"….

There must also be the ability to attach [4]moose bumpers. That is necessary in Canada and northern US. I did not see anything on the images that would imply that a bumper provision was available.
Here, too, I have helpfully numbered the use cases that the Tesla Semi's designers ignored; four (4) also seems like rather a lot. No snow in Fremont, California, eh? Or moose, for that matter.
Now, the suggestion has been made that getting us lost in the weeds like I just did is a clever scheme by Tesla. Hubert writes:
Objective is to get people discussing minor design/implementation details in order to convince people that these vehicles are inevitable and only a few years away from mass production and widespread acceptance, and to distract from the fact that the underlying technology doesn't exist, and even if it did the underlying economics are abysmal.
Plausible, but to me, this is a variation of The Eternal Question in DC: "Stupid, or evil?"[2]. And frankly, I'd consider going with stupid. Tesla is a creature of Silicon Valley, and there are plenty of software types who'd try — and even succeed! I've watched it happen! — to take a wireframe that "looked cool" all the way through to production while ignoring any and all User Interface/User Experiece inputs, out of sheer arrogance and indifference to the needs of others. And when I look at all the obvious use cases Tesla missed — nine really obvious ones, after a pretty shallow examination — it looks like one of those software types was in charge of this project.[3] (Lots of these types work on the Internet of Things.)
The Truck Stop and the Dock
One thing I've noticed about trucks is that they do a lot of parking and backing up and maneuvering around obstacles. That makes mirrors very important. The Semi doesn't have mirrors. It has cameras that display on screens. From fan site Teslarati:
Because the Tesla Semi doesn't have any side mirrors, video from these cameras likely provide the driver with a birds eye view of both sides of the truck as seen from the interior touchscreen displays. Kman also discovered a row of cameras mounted below and above the massive windshield, and even more cameras discreetly mounted within Tesla Semi's headlight assembly.
NC commenter Edward E writes on the limitations of cameras;
Some docks are easy to back into and the cameras would be fine for those. But a large number of docks are extremely challenging to back into. Lighting at night causes glare and cameras would have trouble with that, even with mirrors you occasionally have trouble. Really difficult docks are the covered ones where you must back into a dark building from the sunny outdoors and hit a dock while narrowly missing poles, walls and doors. The only way to see anything is to get out and look and then stick your head out the window and look straight back while backing in. The Tesla appears useless for that. Warehouses in underground caves are especially difficult in this regard and you may have to back up quite a distance around obstacles like rock pillars. I could tell you some stories about long distance backing a semi, sometimes I do it from the highway up a half mile of twisting County road to my driveway.
Altandmain makes an additional point. No backups:
one issue I see is that there are no manual backups. A camera can be covered by mud. If you own a car and you have a backup camera on your car, you have some idea of the limitations. There should be mirrors. Otherwise, the cameras don't always work in all conditions. Plus the camera can die or face other problems.
No backups? For a computer system? Kidding, right?
And then, besides the cameras, there are those screens (Indignant programmer: "But I work with screens all the time!") Autoblog once more:
Another reason to have physical mirrors: so I can turn off, or turn down, the two giant screens in the cab (screens which, by the way, hinder my view of the corners of my truck). The light required to provide a useful camera image at night would kill my eyes during a full drive shift. Doing an 11-hour stint in a dark cockpit in the glow of large digital screens only works in anime and "Battlestar Galactica." I had one computer in both trucks I drove, and unless I was using it, I turned the screen off.
"Anime and 'Battlestar Galactica.'" Ouch!
Conclusion
In concluding, a word from NC commenter XXYY:
I gained a tremendous respect for people who drive trucks for a living. It's difficult and demanding work, and there are great dangers in driving an 80,000 lb vehicle in heavy traffic, rain, snow, and city streets. The pay is low, the stress high, and long-haul drivers are frequently away from home for weeks at a time. Despite all this, the truckers I met had tremendous professionalism and pride in their work, and saw themselves as part of a collective effort to get everyone (not just their own load) where they are going quickly and safely.
Those are Musk's users, and if the Tesla is to be a real product — instead of a bright shiny object[4] dangled before the Wall Street touts analysts to detract from the Model 3's production woes, not that I'm cynical — he could start by listening to them. If you hose away all the technobabblish froth, and consider the truck as a truck, it becomes readily apparent he hasn't. I'm sure I'll have more to say on this topic in the future, especially on larger issues like batteries, charging, and the supply chain generally, but I thought it was important to kick the Semi's tires first. As usual, comments from drivers and allied professions most welcome!
NOTES
[1] Though somebody should probably look at how the Semi will be financed; Musk and company could well have made that there first concern.
[2] Yes, I know it's both/and, not either/or.
[3] That, or Musk thinks he's Steve Jobs, except as "thin" is to Jobs, "aerodynamic" is to Musk.
[4] The Verge comments:
It's probably best to view Thursday night's truck-and-pony show Hawthorne as a bit of savvy marketing move, plus a down payment on the future of transport. "Given the production issues around Tesla and its significant cash burn, it might be easy to discount this announcement as more marketing than substance, but I expect Tesla will build this truck eventually," said Michael Ramsey, an analyst at Gartner. "If the future is electric — and it likely will be at some point — then laying the groundwork now is not a waste of time."
I'd expect more puffery from Gartner. Or perhaps that is the puffery?