By Lambert Strether of Corrente.
Net Neutrality
"Ending net neutrality will destroy everything that makes the internet great" [NBC News]. "Try this scenario on for size: You wake up, reach for your phone, and head to your favorite news site to check the headlines. But instead of the latest news, you see a message from your cell phone carrier: 'This site is not available. Please upgrade to our deluxe package to access it.'" Exactly. Or, "Your package does not include Naked Capitalism."
"Comcast hints at plan for paid fast lanes after net neutrality repeal" [Ars Technica]. Shocker!
"More than 200 businesses and trade organizations have signed a letter to the FCC asking that the agency reconsider its plan to end net neutrality. The letter is signed by an array of big and recognizable tech and web companies: that includes Airbnb, Automattic (which owns WordPress), Etsy, Foursquare, GitHub, Pinterest, Reddit, Shutterstock, Sonos, Square, Squarespace, Tumblr (certainly to the displeasure of its owner, Verizon), Twitter, and Vimeo, among quite a few others" [The Verge].
Trade
"Executives from Ford, General Motors and Fiat Chrysler were able to get an audience with Vice President Mike Pence on Monday, where they were able to "directly address the industry's concerns with the administration's rule of origin proposals," they said" [Politico].
"Another study to add to the pile: BMO Economics, a division of the North American financial services giant, also found NAFTA withdrawal would hurt the auto sector. But unlike the C.D. Howe report, it concluded withdrawal could negatively affect the trade deficit with both countries and the rest of the world. That's because withdrawal would likely hurt the value of the Mexican peso and the Canadian dollar more than the U.S. dollar, the report said. As a result, Mexican and Canadian imports would become relatively less expensive for U.S. consumers, and Mexican and Canadian buyers would have to pay more in their currencies to buy American-made goods" [Politico].
Politics
2018
Democrat swag:

the democrats sent out a cyber monday email trying to get people to buy a t-shirt of the word "democrat" fading into nothing pic.twitter.com/mERoLzSsIM

— 𝕒𝕕𝕒𝕞 🌹☭ (@adamkshuck) November 27, 2017

"Running in 'Bernie Country,' a former Obama and Clinton staffer battles for state Assembly seat" [Los Angeles Times]. "[Buffy] Wicks, who worked as a White House aide to former President Obama and helped steer Hillary Clinton's victory in California, is now attempting to win a seat in the state Assembly. Some nicknamed her 'Buffy the Bernie slayer' during the primary. Wicks says now she appreciates what the Vermont senator has done for her party." Of course she does.
2017
"Alabama Senate Special Election – Moore vs. Jones" [Real Clear Poitics]. "Jones +0.8." (11/22: Jones +0.8). Here is AL.com's round-up.

"Alabama Republican Roy Moore has reopened a 49–44 lead over Democrat Doug Jones in the race for U.S. Senate. In Change Research's third poll since the sexual misconduct allegations against Moore first surfaced on November 9, we found that he has completely erased the 3-point lead Jones had opened up in mid-November. Moore's lead is now just as large as it was just after the story broke" [Medium]. "What has changed? The largest difference is turnout: many Republicans who ten days ago said they might not vote, now say they plan to show up on Election Day and vote for Moore." A poll not averaged by RCP; looks like a Clinton shop, so perhaps this is a sort of push poll (amplified by Salon). Not that I'm foily.

"But once more the Democratic Party is starting late and doing too little. Of 902,000 voting-age African-Americans in Alabama, analyst Frank Watkins reports, 273,000 are unregistered. Another 15 percent — 143,900 — are disqualified due to felony convictions. The Democratic Party has spent little energy or resources in registering minority people of voting age. Many college students didn't know that the deadline to register was Nov. 27, when most were away for Thanksgiving" [Jesse Jackson, Chicago Sun-Times]. And the deadline to register was yesterday.

"Voters like Luckie — reliable Republicans in the middle — will determine whether Moore or Democrat Doug Jones wins on Dec. 12. While Moore needs evangelicals to show up at the polls and Jones will rely heavily on black Democrats, a large swath of Alabama Republicans — typically Christian and conservative — holds the key to victory for both" [AL.com].

"Why Many Christian Conservatives Support Roy Moore" [Patrick Buchanan, The American Conservative]. They're voting for Moore on policy, like good voters are supposed to do, no?
2016
"'Blowback': Clinton campaign planned to fire me over email probe, Obama intel watchdog says" [FOX]. " McCullough – who came to the inspector general position with more than two decades of experience at the FBI, Treasury and intelligence community – shed light on how quickly the probe was politicized and his office was marginalized by Democrats…. [T]he former inspector general, with responsibility for the 17 intelligence agencies, said the executive who recommended him to the Obama administration for the job – then-Director of National Intelligence James Clapper – was also disturbed by the independent Clinton email findings. "[Clapper] said, 'This is extremely reckless.' And he mentioned something about — the campaign … will have heartburn about that," McCullough said." Indeed.

Hillary Clinton interviewed at WaPo: "So even what he told people was a fraud. It's in keeping with his bankruptcies and his Trump University. He is a con artist, and that's what ["]["] called him at our convention and every day that goes by seems to prove that" [WaPo]. Clinton is relentlessly on message in her appeal to Republicans, isn't she?

"What Hillary Clinton Taught Lauren Duca About Feminism" [Teen Vogue]. (Clinton was guest editor of the December 5 newsstand edition.) "It took me years to unpack the lies I'd been told about feminism and about Hillary. Gender inequality was so aggressively denied in the 2016 campaign, it was easy to lose sight of the most concrete examples. For me, the most grounding and concise description came from Rebecca Traister, who asked, during a panel at Rutgers University in spring 2017, 'If we only have a problem with Hillary Clinton, not with women, why is she the only woman who has ever gotten this far?'" Because she started with the advantage of eight years in the White House as co-President with Bill Clinton, a privilege no other woman has been afforded?
Trump Transition
Tax "reform":

"Senate Republicans are hoping to pass their tax plan this week, but it won't be easy, as the Wall Street Journal identifies three blocs of wavering GOP senators. "One group, including Ron Johnson (R., Wis.) and Steve Daines (R., Mont.), wants deeper tax cuts for so-called pass-through businesses such as partnerships and S corporations that pay taxes on individual rather than corporate tax returns… Another group, including Bob Corker (R., Tenn.), Jeff Flake (R., Ariz.) and James Lankford (R., Okla.), is concerned about the $1.4 trillion addition to budget deficits the bill would cause… A third group, including Susan Collins (R., Maine) and John McCain (R., Ariz.), helped kill the Republican health-care bill earlier this year and could pose resistance over a variety of provisions, including plans to repeal the Affordable Care Act's health-insurance mandate as part of the tax bill" [NBC News]. "To pass, Republicans need 51 votes, meaning they can afford only two defections with their 52-48 majority."

"[Susan Collins, the] moderate from Maine is the only Republican senator from a reliably Democratic-leaning state, and as such she's always a difficult vote for party leaders. While Collins was initially warm to the tax bill, she has turned sour after party leaders opted to add repeal of the Obamacare individual mandate to help limit deficits" [Bloomberg]. "Collins said it's a mistake to ax the mandate in tax legislation, fearing that it'll cause healthy people to drop their coverage and drive premiums higher for others — the same reason she cast a pivotal vote to block an Obamacare repeal bill in July. 'I hope that will be dropped,' she said recently." Plus thumbnails of other Republicans, as in the article above. Here is Bloomberg's continuously updated story.

"Senate passage of a big tax bill, whether it is actual reform, as House Speaker Paul Ryan and many other conventional Republicans want, or just a huge tax cut, as President Trump and many of his backers are urging, is highly problematic. Keeping 50 of the 52 Republicans on board for anything, which would allow Vice President Mike Pence to break a tie, is quite a challenge even under the best of circumstances. The GOP may be one party, but it is composed of ideological factions that often have antithetical interests" [Charles Cook, Cook Political Report]. Good also on how the Republicans can position themselves for 2018.

"With administration and leadership aides frantically negotiating with holdout senators, the Senate's tax vote scheduled for late this week could lapse into next week. That would raise everyone's blood pressure: Everything is fragile" [Axios]. And: "House leaders are insisting on a conference committee to work out the vast differences between the two chambers' tax bills: They say they don't have the votes for the Senate bill, and won't swallow it whole.That's a whole new minefield." Pass the popcorn.

"Pelosi, Schumer pull out of White House meeting over spending" [WaPo]. "The decision by House Minority Leader Nancy Pelosi (D-Calif.) and Senate Minority Leader Charles E. Schumer (D-N.Y.) to back out of a meeting with Trump came a few hours after he signaled in an early-morning tweet Tuesday that he is unlikely to bend to requests by Democrats in talks over how much more money the federal government may spend in the coming years and on pressing concerns regarding immigration and health care. 'Meeting with 'Chuck and Nancy' today about keeping government open and working. Problem is they want illegal immigrants flooding into our Country unchecked, are weak on Crime and want to substantially RAISE Taxes. I don't see a deal!' Trump tweeted. In response, Schumer and Pelosi said that 'rather than going to the White House for a show meeting that won't result in an agreement,' they've asked to meet alone with Senate Majority Leader Mitch McConnell (R-Ky.) and House Speaker Paul D. Ryan (R-Wis.)." Alone?

Interesting from Yglesias:

It's fascinating how uninfluential once-mighty interest groups have been over the tax reform process. pic.twitter.com/SNjazuKGTp

— Matthew Yglesias (@mattyglesias) November 28, 2017

I'd say that we don't need "interest groups" when squillionaires can just buy what they want, but that doesn't really give an account of the failure to repeal ObamaCare (at least legislatively).
Realignment and Legitimacy
"How to Topple a Dictator" (interview) [Erica Chenoweth, The Nation]. From February 2017, still germane:

What does the success of a civil-resistance movement depend on?

[CHENOWETH:] Generally speaking, successful civil-resistance campaigns have four things in common: the continual growth of the number and diversity of participants; the ability to elicit loyalty shifts among the opponent elites and their supporters; the innovation of new methods rather than reliance on a single method; and the ability to remain resilient, disciplined, and united in the face of escalating repression.

Assuming arguendo that "the resistance" is in fact a case of a civil resistance movement as Chenoweth understands it, I'm dubious that it has met any of Chenoweth's criteria, especially innovation of new methods. (Indivisible's handbook, for example, amplifies old methods, not that there's anything wrong with calling your Congress critter.) There's enormous ferment out there, but a "civil resistance movement"? On the level of, say, ACT-UP? No.

"A Mafia State Within a Totalitarian Society" (interview) [Masha Gessen, The Atlantic]. This exchange:

GESSEN: "What we have seen now of what Russia did in the campaign is mostly ridiculous. And yet the way that Americans have reacted to it—or a large number of Americans have reacted to it—has actually elevated Putin exactly to the level of the Bond villain that Putin aspires to be….

GOLDBERG: Are you surprised that American liberals now are on the Russia-paranoia bandwagon?

GESSEN: I am really surprised, and I'm really disappointed."

"The word "complicit" — defined as "choosing to be involved in an illegal or questionable act, especially with others" — is Dictionary.com's word of the year. That's thanks in part to the fact that lookups for the word increased by nearly 300% in 2017 as compared to 2016. (Past words of the year have included xenophobia in 2016 and identity in 2015.)" [Moneyish].

"Franken's apology fails the full candor test" [Star-Tribune]. "Franken's apology is less a statement of accountability and more akin to 'I'm sorry for what you think I did.' …

"Robert Reich: The Poor Are Being Barred From Voting. And That's Unconstitutional" [Newsweek]. True, and a problem the Democrats have done squat about for at least 17 years (since Florida 2000). Which is why — in addition to staying in their class comfort zone and ideological compatibility — the Clintonites are appealing to suburban Republicans. They have no place to go.
Stats Watch
Consumer Confidence, November 2017: "Consumer confidence continues to soar, at 129.5 in November which is a new 17-year high and easily surpasses Econoday's top estimate" [Economic Calendar]. "Wage growth has been limited but so has price inflation which perhaps is another factor boosting income expectations. In any case, consumer confidence as measured by this report and others is enjoying its best run in a generation." And: "Dow Jones and Reuters were both calling for an expected drop" [247 Wall Street]. And: "The U.S. economy is on fire. Growth has hit 3% for two quarters in a row and the streak could reach three for the first time since 2004-2005. Unemployment is at a 17-year low and the biggest problem in the labor market is a shortage of skilled workers. Americans haven't felt this good about the economy since the end of Bill Clinton's presidency" [MarketWatch].
Gallup US Economic Confidence Index, November 2017: "Economic confidence rose last week among various demographic and political subgroups, including some that have been pessimistic about the economy this year" [Econoday]. "Nearly four in 10 Americans (37 percent) described the economy as "good" or "excellent" during the latest week, while 19 percent characterized it as "poor." As a result, the current condition component rose five points to plus 18, tying its highest level since Gallup began tracking economic confidence in 2008."
Richmond Fed Manufacturing Index, November 2017: "Manufacturing activity in the Fifth District expanded at an unexpectedly strong pace in November" [Econoday]. And: "The Richmond Fed subcategories were positive, The data is much better than last month" [Econintersect].
Federal Housing Finance Agency House Price Index, September 2017: "Home prices continued to rise in September in what, however, are mixed signals from this morning's FHFA and Case-Shiller reports" [Econoday]. "Taking these two reports together, home prices appear to be steady at a roughly 6 percent annual rate which is rich in a low inflation, low interest rate economy."
S&P Corelogic Case-Shiller Home Price Indices, September 2017: "Case-Shiller data came in at the high end of expectations" [Econoday]. "Details in the Case-Shiller report show wide strength with all 20 cities posting monthly gains led by Atlanta, San Francisco and Las Vegas at all 1 percent or more. Seattle continues to dominate in the year-on-year category…. Where there's acceleration in Case-Shiller, there is however slowing in FHFA." And: "Many pundits believe home prices are back in a bubble. Maybe, but the falling inventory of homes for sale keeps home prices relatively high. I continue to see this a situation of supply and demand. It is the affordability of the homes which is becoming an issue for the lower segments of consumers. This is the highest year-over-year growth since July 2014" [Econintersect].
International Trade in Goods, October 2017 (Preliminary): "October's goods deficit was much higher-than-expected" [Econoday]. "The details speak to weakness with exports down 1.0 percent, reflecting declines for food products and capital goods, while imports rose 1.5 percent on increases in industrial supplies and, once again, consumer goods." And: "While this is a wider deficit, investors have seen deficits for three decades now. These reports rarely move the markets, but they can cumulatively ratchet up or down expectations for GDP forecasts if the disparities are large enough" [247 Wall Street].
State Street Investor Confidence Index, November 2017: "Global institutional investor appetite for equities continued to wane in November" [Econoday]. "The minor decline in global sentiment was driven by a steep drop of 12.0 points in the European component." Brexit?
Wholesale Inventories, October 2017 (Preliminary): As above [Econoday].
Retail Inventories, October 2017 (Preliminary): "Preliminary inventory data for October show draws for both retailers and wholesalers, at minus 0.1 percent and minus 0.4 percent respectively which are both negative for GDP" [Econoday].
Retail: "Industry analysts RetailNext Inc. say store foot traffic during the [Thanksgiving and Black Friday] holiday period fell 4% from last year, while Adobe Systems Inc. estimates online sales increased 18% over the period. The change is hitting supply chains in new ways this year, with many retailers looking to more aggressively calibrate the stocking and pricing of goods both online and in stores" [Wall Street Journal]. "[B]road measures, including the inventory-to-sales ratio, suggest retailers are keeping shipment counts low even with their expectations high."
Shipping: "The seasonal rush is off to a fast start at warehouses and fulfillment centers, with some companies reporting heavy demand that's jammed back-end operations. Logistics providers were offering extra incentives and catered meals to keep pick, pack and ship lines moving" [Wall Street Journal]. "Deutsche Post AG's DHL Supply Chain ramped up from 200 workers to 2,500 at an Ohio fulfillment center it runs for Toys 'R' Us and is lining up $10,000 in worker giveaways that include flat-screen TVs during the peak season. Logistics firm Radial, which handles fulfillment for many online retailers, says orders were so heavy at one of its two Northern Kentucky warehouses that the shipments jammed a conveyor belt." "Worker giveaways…." Idea: Wages, benefits, working conditions?
Shipping: "'The primary driver of the supply/demand tightness is the economy-wide shortage of skilled, blue collar labor,' [says Stifel Nicolaus trucking analyst John Larkin]. 'It has become very challenging to find drug free, compliant drivers given today's driver wages'" [Logistics Management]. "'While driver pay scales began to rise in the 2nd half of 2017, the starting point for wages was so low, that it may take multiple wage hikes before we see any alleviation of this chronic challenge.'" "Compliant"?
Shipping: "A monthly index of truckload line-haul prices in October increased 5.5 percent from the year-earlier period, hitting the highest level since the index was formed in 2005, according to data published late yesterday" [DC Velocity].
Transportation: "Global sales of battery electric vehicles (BEVs) and plug-in hybrid electric vehicles (PHEVs) totaled more than 764,000 units in the first nine months of this year, up 46% compared with sales in the same period last year. September unit sales topped 120,000 units to set an all-time monthly sales record" [247 Street]. "The data were reported last week by research firm EV-Volumes, which noted third-quarter growth was strongly influenced by growth in China, the United States and Europe. Toyota's Prius Prime PHEV was an instant best-seller in Japan…. The top-selling vehicle in the third quarter was the BJEV EC180 EV from China's Beijing Automotive group with sales of nearly 20,000 units. The Tesla Model S sold more than 14,000 units in the quarter to finish second in the rankings, while China's Zhi Dou D1/D2 EVs with sales of nearly 14,000 ranked third. "
Transportation: "Lowell, Ark.-based J.B. Hunt plans to use the [Tesla Semi] electric tractors for its intermodal and dedicated contract services divisions to support operations on the West Coast, the company said. 'Reserving Tesla trucks marks an important step in our efforts to implement industry-changing technology,' J.B. Hunt president and CEO John Roberts said in a statement. 'We believe electric trucks will be most beneficial on local and dray routes, and we look forward to utilizing this new, sustainable technology'" [DC Velocity]. (Drayage: "transporting goods a short distance via ground freight.")
The Bezzle: "Harry Glasbeek on the Corporation as Criminal" [Corporate Crime Reporter]. "Law has lost its integrity when it comes to corporations. In the corporate sphere, we make responsibility disappear. And the primary tool is through limited liability for shareholders. We should tackle it head on. There is no good reason to grant shareholders limited liability. We should say to shareholders – you should be responsible, just like anybody on the street is responsible for their actions. That would be a vast improvement."
The Bezzle: "Elon Musk says he's not bitcoin's mystery man Satoshi Nakamoto" [MarketWatch]. Noted.
Mr. Market: "Short Activism: The Rise in Anonymous Online Short Attacks" [The Harvard Law School Forum on Corporate Governance and Financial Regulation]. "In recent years, anonymous online hit pieces against public companies have become an increasingly common and effective form of short activism. Given their success in driving down stock prices, anonymous online short campaigns are likely here to stay. Anonymous online short attacks pose unique challenges to public companies. In order to defend successfully against anonymous online short attacks, public companies must have ready-to-execute plans in place—whether or not an online short attack appears imminent." Hmm.
Five Horsemen: "All five horsemen are trading at or near record highs, as the beat goes on" [Hat tip, Jim Haygood].
Today's Fear & Greed Index: 57 Green (previous close: 51, Neutral) [CNN]. One week ago: 54 (Neutral). (0 is Extreme Fear; 100 is Extreme Greed. Last updated Nov 28 at 10:00AM.
Black Injustice Tipping Point
"How Southern socialites rewrote Civil War history" [Vox]. "The United Daughters of the Confederacy, a women's group that was formed in 1894, led the effort to revise Confederate history at the turn of the 20th century. That effort has a name: the Lost Cause. It was a campaign to portray Confederate leaders and soldiers as heroic, and it targeted the minds and identities of children growing up in the South so they would develop a personal attachment to the Confederate cause."
Health Care
"Grassley's passion is needed on children's health insurance program" [Des Moines Register]. CHIP: "[A] dysfunctional Congress is putting insurance for these children in jeopardy. Lawmakers missed a Sept. 30 deadline to extend funding to the popular program. Now it's running out of money for the first time since its creation. …Officials in nearly a dozen states plan to begin notifying families this week that the health insurance program may come to an end." Not just Grassley. How about Schumer? (Or, for that matter, Clinton. I didn't have time to listen to Capeheart's entire interview with Clinton, noted above in "2016 Post Mortem," but I can say his account doesn't mention CHIP.)
"Barely Swimming: Systemic Burdens that Ravage Nurses" [Left Voice]. "One morning, I bumped into a veteran nurse I knew in the hall. Miss James was old school as old school gets: wore her nurse's hat, crisp knee-length skirt, white stockings, and Guyanese accent proudly. I floated to her unit a few weeks back and she looked out for me, gave me the code to the bathroom, showed me where they kept the hypos. She wore a mini portable fan around her neck 'to keep me cool when it heat up' and carnival beads as a lanyard. Her back was straight as a rod and she stalked through the unit like someone who handled it. That morning, she looked wrecked. After a tight hug, she looked into my eyes with her tired ones."
"Taken For A Ride? Ambulances Stick Patients With Surprise Bills" [Kaiser Health News]. "Forty years ago, most ambulances were free for patients, provided by volunteers or town fire departments using taxpayer money, said Jay Fitch, president of Fitch & Associates, an emergency services consulting firm. Today, ambulances are increasingly run by private companies and venture capital firms. Ambulance providers now often charge by the mile and sometimes for each 'service,' like providing oxygen." Pretty soon they'll introduce "Premium" charges for enough oxygen [gasp, choke].
Class Warfare
"Private jets and golden parachutes: The L.A. Times Guild asks, 'Where is the money?'" [Los Angeles Times Guild]. "[A] great deal of money continues to flow into The Times, because of the high-quality journalism our newsroom produces every day. At a recent all-hands meeting, Ross Levinsohn said Tronc still earns $1.5 billion in annual revenue and remains profitable. The problem is that a disproportionate amount of those profits are lavished on the salaries and perks for Levinsohn and a handful of other richly compensated Tronc executives."
"Why a leading political theorist thinks civilization is overrated" [Vox]. Interview with James C. Scott, author of Against the Grain. Scott: "I think the standard narrative is that once we had domesticated plants, then we immediately shifted to an agricultural society so that we could stay in the same place. People also assume that before the agricultural revolution, humans had to wander around as foragers and hunter-gatherers. But that's not quite right. Four thousand years passed between the first firm evidence of domesticated plants, cereals, and the beginning of truly agrarian communities that are living largely by agriculture. The other mistake, which I had never thought about, was this assumption that we couldn't wait to settle down, that this was part of the inevitable progress of humanity. That's not true at all, and it certainly could have gone another way." I'm working my way through Scott's book, and it's really interesting. (Although, I suppose of I were Michael Pollan, I'd ask if we domesticated grains, or if grains domesticated us.) Well worth a read. Scott speculates a lot, but in a grounded way.
About Electronic Arts:
Wow. This video essay on the history of exploitative video game gambling and how EA is hollowed-out and financially dependent on a soon-to-be-regulated revenue stream is utterly phenomenal. This is a must-see. By @SkillUpYT. (via @puddingassault) https://t.co/9aMsmLpKcc

— SwiftOnSecurity (@SwiftOnSecurity) November 25, 2017
Exploitation! Well, I never!
News of the Wired
"Ciao, Chrome: Firefox Quantum Is The Browser Built for 2017" [WIRED]. I've downloaded it, no time to mess about with it yet…
"Looking at William Henry Fox Talbot's Pioneering Photographs—Without Causing Them to Disappear" [The New Yorker]. "These traces of failed and faded images make evident the challenge that Talbot spent his life working to solve: finding a way to take and then fix photographs on paper." Today, unreadable media and obsolete formats destroy digital images…
Zeitgeist watch:
I accidentally texted my wife with voice recognition…while playing the trombone pic.twitter.com/tWCPSXbbrO

— Paul The Trombonist (@JazzTrombonist) November 21, 2017
Ha: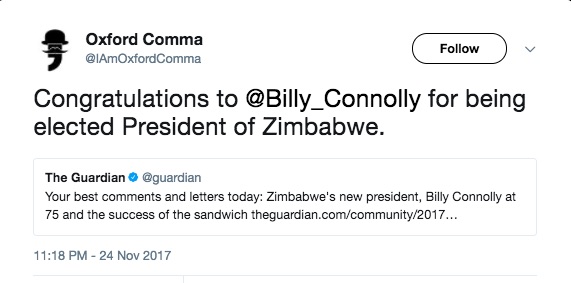 * * *
Readers, feel free to contact me at lambert [UNDERSCORE] strether [DOT] corrente [AT] yahoo [DOT] com, with (a) links, and even better (b) sources I should curate regularly, (c) how to send me a check if you are allergic to PayPal, and (d) to find out how to send me images of plants. Vegetables are fine! Fungi are deemed to be honorary plants! If you want your handle to appear as a credit, please put it in the subject line. Otherwise, I will anonymize by using your initials. See the previous Water Cooler (with plant) here. Today's plant (Re Silc):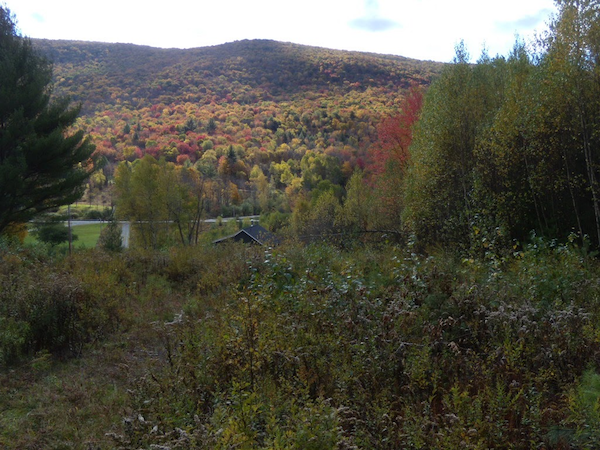 Re Silc writes: "View across the bunker in stamford, VT."
That view will be pretty when it snows, too.
* * *
Readers: Water Cooler is a standalone entity not covered by the NC fundraiser. So do feel free to use the dropdown and click the hat to make a contribution today or any day. Here is why: Regular positive feedback both makes me feel good and lets me know I'm on the right track with coverage. When I get no donations for five or ten days I get worried. More tangibly, a constant trickle of small donations helps me with expenses, and I factor that trickle in when setting fundraising goals. So if you see something you especially appreciate, do feel free to click the hat!