By Lambert Strether of Corrente.
Trade
"U.S., Canadian and Mexican negotiators have added two additional days of meetings onto their fifth round of NAFTA talks, a source close to the negotiations told Morning Trade. The round, now slated to begin Nov. 15 in Mexico City, was delayed by nearly a month after deep fissures were exposed between the parties during round four. The fourth set of meetings, which were held outside of Washington in October, were also extended to give negotiators more time to try to reach consensus on various proposals" [Politico].
"Japanese government and business officials weren't shy about extending an invitation to the United States to consider rejoining the TPP on the eve of Trump's visit to Japan" [Politico].
"Asia Trip Spotlights Chasm Between Trump Campaign Rhetoric on Trade and Action, Raising Political Stakes for Meaningful Deliverables" [Public Citizen]. "Trump pledged to make U.S. trade policy 'a lot better' for working people, starting with day-one action to reverse the China deficit, renegotiating or ending the 'job-killing' Korea Free Trade Agreement (FTA) and reducing the U.S. trade deficit with Japan. But so far, beyond formally burying the Trans-Pacific Partnership (TPP) – a pact widely acknowledged as already dead for a lack of majority congressional support – Trump has accomplished nothing on the Asia trade front. The lack of action is especially problematic because many of Trump's trade critiques – including those raised by Democrats for decades – are correct. Since his election, the situation is getting worse and whether Trump can deliver on his pledges to bring down the trade deficit and create American manufacturing jobs will be measurable via monthly government trade and jobs data."
Politics
2016 Post Mortem
"So far, neither Clinton nor her former campaign apparatus has responded to Brazile's assessment of the primary" [Politico]. No dooubt the Clintonite hive mind is having some trouble with this, since their goto moves are "Russian meddilng," "Bernie Bros!," racism, and sexism, and it's hard to see where to fit Brazile in those categories. However, "divisive" seems to be coming up on the charts; perhaps that will work.

"Trump and Clinton spent $81M on US election Facebook ads, Russian agency $46K" [TechCrunch]. Check my math here, readers: 46,000.00 / 81,000,000 = 0.000568." I supppose, though, that only goes to show that Russian targeting was devilishly sophisticated. Or that Democratic strategists are more incompetent (and expensive) than anyone would have believed possible.

"The DNC owes Bernie Sanders and all Dems an apology" [Brent Budowsky, The Hill]. "The DNC should bring in a major new player with a proven record of party building, such as former DNC Chairman Howard Dean, to lead a powerful march to the 2018 midterms. It is immaterial whether anyone currently at the DNC stays or leaves." No. Not Hoho. If it's Hoho, please kill me now.
2017
"Virginia Governor – Gillespie vs. Northam" [RealClearPolitics]. The average of all polls: Northam 3.5% (Yesterday: 3.3%). New from The Polling Company. Northam has never trailed, since September.

"Longtime Arlington Elections Guru Predicts Near-"Presidential" Turnout, Strong Night for Virginia Dems Next Tuesday" [Blue Virginia].
2018
"For years, the best tool to predict which party will gain House seats in any given election has been the so-called "generic ballot test." The "generic" is a poll question that asks voters which party they'd support in the upcoming congressional election. While it can't tell us exactly how many seats one party or the other should expect to gain/lose, it does give us a good idea of the range we can expect. And, right now, Democrats should be very happy about what they are seeing" [Amy Walter, Cook Political Report]. "The conventional wisdom, which was supported by most pollsters I spoke with this week, says that the generic ballot isn't meaningful until at least the summer of the election year. Others say we should only really start to pay attention to the generic as a predictor of seats gained/lost around Labor Day of the election year." And: "Finally, what is the "magic number" Democrats need to hit in the generic ballot? My colleague David Wasserman thinks Democrats need to win the national House vote by seven to eight points in order to flip the 24 seats they need to take control of Congress. Given that FiveThirtyEight's Enten notes that the "true margin of error for generic ballot polls is about +/- 5 percentage points, even for those done at the end of the campaign," to feel confident that they can hit seven points on election day."
Puerto Rico
"The Puerto Rico Contract's Lack Of Transparency? It's Not Unusual" [International Business Times]. "The issue was summed up in a March report from the General Services Administration Inspector General, which found that, of 45 contracts sampled, 44 were awarded without a price analysis."

"Meet the Legal Theorists Behind the Financial Takeover of Puerto Rico" [The Nation]. Hoping they got this one right…
Trump Transition
"How the GOP tax bill will impact you differently if you're middle-class or rich" [MarketWatch]. Summarizes of all the brackets from a taxpayer perspective.

Infrastructure: "Canada Eyes Billions in Northern Road-Rail Corridors To Gain Resource Access" [Engineering News Record]. "The infrastructure project would link the country's far north with the rest of the country via a 4,349-mile-long, three-mile-wide corridor that could be used for roads, rail tracks pipelines and utility lines. The [Association of Consulting Engineering Companies] hopes to make the case for the ambitious project to Minister of Natural Resources James Carr and other government attendees." Sure, it's not passed, but at least the ACEC can get it together to push a project. If the Canadians can do this, why can't The Greatest Country On Earth?

"One fundamental flaw, however, is that it ignores why Washington collects taxes in the first place, which is to cover the cost of the services the federal government delivers. Financed in part with budget gimmicks, the GOP plan is likely to raise the federal deficit more than its supporters acknowledge, with predictable and unwelcome results" [Editorial Board, Los Angeles Times]. Sigh.

"Five Big Sticking Points in the Republican Tax Plan" [Bloomberg]. "The ink was barely dry on the first draft when at least four [House]. Republicans declared they would vote against the bill in its current form. While the early opponents represent high-tax states that would get slammed by the plan's elimination of state and local income-tax deductions, several other areas began to emerge as points of contention as Republicans sifted through the 429-page bill."

"Because the fact is that in 2017, the Republican electorate is deeply, perhaps fatally, divided on a range of issues — and that very much includes taxes. A functioning party is supposed to channel public opinion into policy. But that's not what the GOP has done with the bill released Thursday morning. It's taken the priorities of the party's donors and less than half of the party's voters and championed them at the expense of the preferences of everyone else" [The Week]. "That's the behavior of a broken party." As readers know, I'm a big fan of gridlock. What if the tax bill turns out to be just like health care? The Republicans, out of power for eight years, turn out not to have a plan they can put to a vote, after Ryan tries (and fails), McConnell tries (and fails) and other bit players try (and fail). It would certainly be a strange world to live in if Republicans can't manage to pass a bill that "cuts taxes," but this is a strange world,
New Cold War
"Mueller grand jury investigating top DC lobbyists" [AP]. "Special counsel Robert Mueller's grand jury is investigating a prominent Democratic lobbyist and a former GOP congressman for their involvement in an influence campaign on behalf of Ukrainian interests tied to Paul Manafort, according to a person with direct knowledge of the investigation. At the center of the widening probe are Tony Podesta, a longtime Democratic operative, and Vin Weber, a former GOP congressman and leader of his own high-powered lobbying firm, Mercury LLC. The two men were hired as part of a multimillion-dollar lobbying effort directed by Manafort and longtime associate Rick Gates. With the emphasis on the Ukrainian lobbying efforts, Mueller's criminal probe is moving beyond investigating ties between the Trump campaign and Russia and is aggressively pursuing people who worked as foreign agents without registering with the Justice Department. More witnesses are expected before the grand jury in coming weeks." If the Mueller investigation must broaden its scope beyond "Russian meddling," it would be nice if they, er, drained the swamp of influence peddling by both parties. But it's very, very hard for me to believe that anything remotely like that is on offer. And Mueller's no choir boy (careful of the sourcing on this one): His entrapment skills jibe nicely with Clapper's skills in perjury and Brennan's in torture.

"America is facing an epistemic crisis" [Vox]. "In short, an increasingly large chunk of Americans believes a whole bunch of crazy things, and it is warping our politics." Like Federal taxes fund Federal spending, for example [guffaw]. "The primary source of this [epistemic] breach, to make a long story short, is the US conservative movement's rejection of the mainstream institutions devoted to gathering and disseminating knowledge (journalism, science, the academy) — the ones society has appointed as referees in matters of factual dispute." Garçon! Another round of epistemes!
Realignment and Legitimacy
Holy moley. How Facebook's advertising sales department sees the political world (large version):

Facebook's way of grouping political constituents or whatever the fuck together has me in fucking tears, can we please analyze this pic.twitter.com/YyXmAsdPPh

— Rawan/روان? (@rawanabanana) November 3, 2017

Does any of this look like anyone you know? This table looks like Mark Penn wrote it when he was drunk.

"Maine's Legislature Is Blocking Ranked-Choice Voting. But Voters Have One Chance To Save It" [The Intercept]. "The campaigners who successfully convinced voters to support ranked-choice voting last year are not giving up. Four days after the legislature's vote, the Committee for Ranked Choice Voting Maine, or RCV Maine, submitted an application to the secretary of state to trigger what is called a 'people's veto.' … The campaigners who successfully convinced voters to support ranked-choice voting last year are not giving up. Four days after the legislature's vote, the Committee for Ranked Choice Voting Maine, or RCV Maine, submitted an application to the secretary of state to trigger what is called 'people's veto.'" This may even be possible, assuming RCV Maine's process is clean; they've done very well against implacable resistance by (most of) the political class.
Stats Watch
Employment Situation, October 2017: "Wage inflation backed off but payroll growth bounced higher and the unemployment rate shrunk some more in what points to further tightening for the labor market" [Econoday]. "The unemployment rate edged 1 tenth lower to a new 17-year low at 4.1 percent. After spiking 0.5 percent in both July and September, average hourly earnings came in unchanged in October with the year-on-year rate falling back sharply to a very moderate 2.4 percent. Whether wages can stay moderate given the strong demand for labor is the puzzle of this report…. The pool of available workers shrunk sharply in the month, down 724,000 to 11.705 million which underscores the tight conditions. How long can employers dip into the pool without having to raise wages is the central question right now for policy makers. And the sharp dip in the labor participation rate, down 4 tenths to a much lower than expected 62.7 percent, suggests that discouraged workers, despite the high demand, may be drying up as a source of additional labor." And but: "The headline jobs number was strong at 261 thousand – due to a bounce back from the hurricanes – but below expectations. However a key reason for the 'disappointing' headline number was that the previous two months were revised up by a combined 90 thousand jobs" [Calculated Risk]. And but: "All in all, this report would be considered weaker-than-expected on the headlines. That changes after you factor in the revisions for September and October, and then the trends still look better when comparing the large numbers to October of 2016" [247 Wall Street]. But, but, but: "This report was the bounce from the hurricane effected report from last month. The household and establishment surveys were extremely out of sync from each other. The unemployment rate cannot be believed as the household survey removed a lot of people from the workforce" [Econintersect].
International Trade, September 2017: "Exports rose 1.1 percent in the month to $196.8 billion but in a gain offset by a 1.2 percent rise for imports to $240.3 billion" [Econoday]. "Exports of industrial supplies jumped $1.9 billion in the month to $38.4 billion yet with most other components, including the key capital goods group, showing declines. A plus is exports of services which rose a solid 0.4 percent to $66.2 billion in the month. Imports of capital goods were especially strong in the month…" But: "The data in this series wobbles and the 3 month rolling averages are the best way to look at this series. The 3 month averages are declining" [Econintersect].
Purchasing Managers' Service Index, October 2017: "Growth in the nation's service sector remains solid based on Markit's U.S. sample… unchanged from September though down 6 tenths from the mid-month flash" [Econoday]. "What stands out in this report is a lack of acceleration which points to a steady but still healthy fourth quarter for the bulk of the economy."
Institute for Supply Management Non-Manufacturing Index, October 2017: "ISM's non-manufacturing sample continues to report unusual strength" [Econoday]. And: "Both services surveys are in expansion. I would weight the Markit numbers higher which would indicate a slightly slowing service sector" [Econintersect].
Factory Orders, September 2017: "Today's factory orders report, up 1.4 percent in September following a 1.2 percent rise in August, closes the book on what was a second straight strong month for manufacturing" [Econoday]. "The key to this report is core capital goods (nondefense ex-aircraft). This is a central reading for business investment and the gains are very impressive… The gains for core capital goods shipments are a boost for GDP as is a general inventory build underway, up 0.7 percent and 0.6 percent in the last two months. This build is very positive as manufacturers try to keep up with demand. The inventory-to-shipments ratio is unchanged at a very constructive 1.38… . [O]ne positive for the sector that has yet to appear, and that's production volumes in the Federal Reserve's industrial production report, look to bounce solidly higher based on hours data in this morning's employment report." But: "The data in this series is noisy so I would rely on the unadjusted 3 month rolling averages which continue to weaken. Remember the headline numbers are not inflation adjusted. Backlog of orders continues in expansion year-over-year" [Econintersect].
Commodities: "The world's big grain processing companies are having a hard time digesting the global glut in agriculture commodities. Grain trading and processing giants Archer Daniels Midland Co. and Bunge Ltd. are slashing hundreds of millions of dollars in spending and restructuring their operation" [Wall Street Journal]. "Several years of bumper crops in markets across the globe have kept grain prices low, upended traditional farm-sector dynamics and roiled supply chains. Farmers are storing grain rather than sell it to grain companies at low prices, and some food companies are placing fewer long-term orders since prices are expected to stay cheap."
Retail: "Growing use of consumer data is helping drive bigger gains in online sales at Alibaba Group Holding Ltd. The Chinese e-commerce giant more than doubled its net profit to $2.7 billion in a blockbuster second quarter" [Wall Street Journal].
Retail: "New York City may not be a perfect test case, but lines there are often too long to wait in. Better to go to the local deli or coffee vendor. If this is a problem in many other high-traffic areas, Starbucks will have trouble building bigger stores" [247 Wall Street]. Good. Great!
Shipping: "Truckers are getting more confident than ever in the U.S. freight economy. Fleet owners ramped up orders for new heavy-duty trucks to the highest level in nearly three years [Wall Street Journal]. "Truckers are glowing over robust demand and stronger prices for shipping services to go along with it… The orders also provide a long-awaited boost to truck and engine makers that will pump up factory operations that were pulling back just a few months ago."
Concentration: "Google boosted revenue by more than $5 billion in the third quarter, and while the core advertising business contributed the bulk of that new money, "other" businesses grew much faster" [MarketWatch]. "Though ads provide the bulk of the revenue, Google's segment noted as "Other" grew twice as fast, adding 40% compared with the same period last year. The segment—which includes the Google Cloud Platform, hardware sales and revenue from the Google Play store—logged $3.41 billion of revenue, up from $2.43 billion a year ago. Alphabet does not disclose exact revenue figures for the different parts of that revenue segment, but on its earnings call, executives did list the divisions from greatest to least amount of revenue—cloud, apps, hardware."
The Bezzle: "Blue Apron Holdings Inc. is having trouble fulfilling customer ordersand investor expectations. The meal-kit delivery company more than doubled its net loss in the third quarter to $87.2 million…, amid signs that the fulfillment operations at the heart of its business are growing costlier and slower" [Wall Street Journal]. "The company and competitors like HelloFresh and Plated have drawn consumer interest to a new business, but the results suggest they're still working on a profitable logistics recipe."
The Fed: "Donald Trump's short time in office has been met with a barrage of criticism over more things than you can shake a stick at—and most of it is richly deserved. But his pick of Jerome Powell as the new Federal Reserve chair is not one of them. He has handled this very important task well and deserves praise for doing so" [MarketWatch]. "Powell, a former investment banker and member of the Fed's board of governors since 2012—shares Trump's view that one piece of conventional wisdom on the economy is wrong: namely that it's not destined to grow at an anemic 2%, like it has for many years now. If they're right, if we can grow at 3% or more on a sustained basis—and the last two quarters have put us there—it could possibly result in something that Trump haters (as much as two-thirds of the country) simply can't stomach: a second term. I personally don't see it, but anything's possible in this topsy-turvy world…. What I do see—and this is unquestionably a contrarian view—is the steady-as-she-goes U.S. economy running into headwinds in the next year or two—and that's why Powell may have trouble on his hands."
The Fed: "Shocking: Trump Makes the Right Choice With Jerome Powell" [Steven Rattner, New York Times]. "Mr. Trump, more surprisingly, picked by far the better suited of his two semipublic finalists. That's because Mr. Powell, a current member of the Federal Reserve Board, resides firmly in the camp of supporters of the Fed's policy of maintaining its low interest policy as long as inflation stays muted and wage increases remain stubbornly small… Mr. Powell, a lawyer and, later, a partner at the investment firm Carlyle Group, has substantial amounts of [experience in Washington and in finance], including at the Treasury Department."
The Fed: "Trump's Fed pick is incredibly important. And he made a good call" [Editorial Board, WaPo]. "Mr. Powell is a lawyer, not an economist, but he served in the George H.W. Bush Treasury Department and has obtained extensive central-bank experience serving on the Fed's Board of Governors. His appointment signals that the Fed's recent approach probably will not change drastically. That is a good thing."
Five Horsemen: "Apple gets a lift after its earnings report." [Hat tip, Jim Haygood].
Today's Fear & Greed Index: 69 Greed (previous close: 72, Greed) [CNN]. One week ago: 71 (Greed). (0 is Extreme Fear; 100 is Extreme Greed. Last updated Nov 1 at 8:00pm That's what the update date is…
Our Famously Free Press
"Want to be a better online sleuth? Learn to read webpages like a fact-checker." [Poynter Institute], "Instead of reading an entire web page from top to bottom, fact-checkers frequently scanned the page, jumping in and out of the browser tab to check the validity of a website. That 'lateral reading' style enabled them to quickly detect fake news sites at much higher rates than students and historians, who often fell for official-looking logos and domain names… The study casts doubt on the efficacy of current news literacy efforts at colleges and universities. One common feature are checklists like the CRAAP test that are aimed at helping students determine whether or not information should be trusted. Wineburg and co-author Sarah McGrew write in the article that those are unhelpful because they focus students' attention on the most easily manipulated parts of a website, such as the logos and URLs."
"When the Facebook Traffic Goes Away" [The Atlantic]. From Facebook's perspective, the company has to be allowed to try out new versions of its software. It can't be asked to keep its tools static because publishers have gotten used to them. And some tests might need to be disruptive to get to a future, better Facebook. This iterative process is, in fact, how Facebook has built the product that so many people use for an average of more than 50 minutes per day. But Facebook did not simply end up controlling news distribution in countries across the world. They strategically entered the market, much as any company would, as part of their own competitive battle with other internet companies. Some responsibility must come with the deliberate rerouting of the public sphere through Facebook's servers and ad networks. Right?" And: "Are all the people in the test areas some tiny percentage of Facebook's user base (say, 1 percent) who want to see more posts from their family and friends, or are they the citizens of six sovereign nations who have come to rely on Facebook as a crucial part of their news-distribution infrastructure?"
"Steve Brill — founder of American Lawyer, Court TV, Brill's Content and the Yale Journalism Initiative — has almost finished raising $6 million to launch News Guard, which will rate news content so search and social-media platforms can help their users know what to trust" [Axios]. "Rating will be done by 'qualified, accountable human beings,' not algorithms. They'll hire 40-60 journalists, who will be 'well-paid.' They expect to have a product for U.S. users by mid-2018." Did we used to have news rooms that did this?
Health Care
ObamaCare open enrollment begins:
Today marks the start of open enrollment for 2018 health coverage. Go to https://t.co/LTQmZQt3jJ to find your perfect plan. #GetCoveredNow

— Hillary Clinton (@HillaryClinton) November 1, 2017
"Your perfect plan…" Have these people lost their minds?
Gaia
"The Lancet Countdown on health and climate change: from 25 years of inaction to a global transformation for public health" [The Lancet]. "The Lancet Countdown tracks progress on health and climate change and provides an independent assessment of the health effects of climate change, the implementation of the Paris Agreement,1 and the health implications of these actions. It follows on from the work of the 2015 Lancet Commission on Health and Climate Change,2 which concluded that anthropogenic climate change threatens to undermine the past 50 years of gains in public health, and conversely, that a comprehensive response to climate change could be 'the greatest global health opportunity of the 21st century."" Free log-in for the whole article; well worth a read.
"How Human Beings Almost Vanished From Earth In 70,000 B.C." [BBC]. "Once upon a time, says Sam [Kean], around 70,000 B.C., a volcano called Toba, on Sumatra, in Indonesia went off, blowing roughly 650 miles of vaporized rock into the air. It is the largest volcanic eruption we know of, dwarfing everything else…. That eruption dropped roughly six centimeters of ash — the layer can still be seen on land — over all of South Asia, the Indian Ocean, the Arabian and South China Sea…." So if Mother Nature wants to take care of any little problems…
Big Brother Is Watching You Watch
Now we know:
Spectator takes down a drone with a roll of toilet paper during a soccer match in Argentina. https://t.co/FdoLJYWiOh pic.twitter.com/AfsQa60dIG

— ABC News (@ABC) November 1, 2017
Class Warfare
"Saudi Arabia criticized for giving female robot citizenship, while it restricts women's rights" [ABC].
"About that Great Moderation" [Yeah But… Thoughts on Economics]. "Financial fragility apart, the Great Moderation era has also generally been associated with prolonged periods of slack in the labor market. Note that the unemployment rate has been above NAIRU for the majority of this period compared with the previous era. Thus, stability in inflation may well have been purchased by keeping the labor market perennially weak, in which case the low overall GDP growth during this era must also be chalked to Great Moderation policies rather than other forces that apologists are wont to do."
News of the Wired
"Documentary on the endangered art of hollerin', possibly the earliest form of human communications" [Boing Boing]. A classic.
"USS McCain collision ultimately caused by UI confusion" [Ars Technica]. "[I]n the case of the USS McCain, the accident was in part caused by an error made in switching which control console on the ship's bridge had steering control. While the report lays the blame on training, the user interface for the bridge's central navigation control systems certainly played a role." Fascinating piece: "In the course of 3 minutes of confusion in a high traffic sea channel, the McCain was in irreversible trouble."
* * *
Readers, feel free to contact me at lambert [UNDERSCORE] strether [DOT] corrente [AT] yahoo [DOT] com, with (a) links, and even better (b) sources I should curate regularly, (c) how to send me a check if you are allergic to PayPal, and (d) to find out how to send me images of plants. Vegetables are fine! Fungi are deemed to be honorary plants! If you want your handle to appear as a credit, please put it in the subject line. Otherwise, I will anonymize by using your initials. See the previous Water Cooler (with plant) here. Today's plant (Oguk):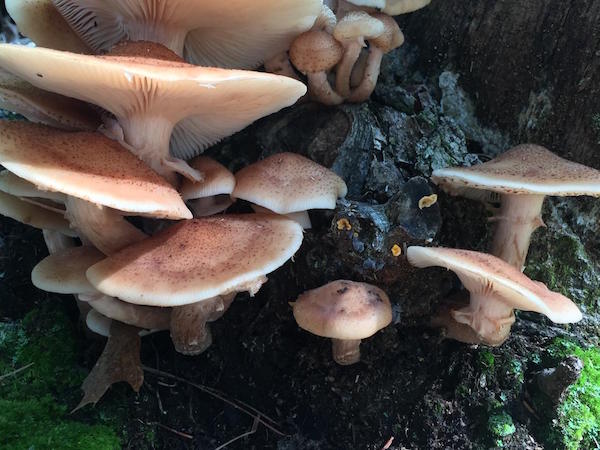 Also, it would be nice to have more pictures of people's gardens buttoned up for the winter, for those of you for whom winter is coming. And fall foliage, ditto.
* * *
Readers: Water Cooler is a standalone entity not covered by the NC fundraiser. So do feel free to use the dropdown and click the hat to make a contribution today or any day. Here is why: Regular positive feedback both makes me feel good and lets me know I'm on the right track with coverage. When I get no donations for five or ten days I get worried. More tangibly, a constant trickle of small donations helps me with expenses, and I factor that trickle in when setting fundraising goals. So if you see something you especially appreciate, do feel free to click the hat!