By Lambert Strether of Corrente.
Trade
"Airbus Deal With Bombardier Won't Last Long: Analysts" [247 Wall Street]. "While the deal may have saved Bombardier and was thought to be an easy pickup for Airbus, that initial reaction may have proved to be too quick…. According to Moody's, the airline industry prefers larger narrow-body jets, like Boeing's 737 and Airbus's A320, to smaller planes like the CS-100. The 737 seats a maximum of 172 to 230 passengers in four different members of the 737 family, and the A320 family seats from 100 to as many as 240 in four different airplanes. The CS-100 seats around 100, and Bombardier is also building a larger version of the plane, the CS-300, to seat about 125 to 150 passengers."
"'We're talking with the administration and Congress about some mitigation efforts if that were to occur; about how we could protect our producers with that [farm] safety net based on prices that may respond negatively to any kind of NAFTA withdrawal,' Perdue told reporters" [Politico]. "The statement from Perdue is significant as it is one of the first public, Cabinet-level admissions that preparations are underway to respond to a potential NAFTA withdrawal — a move President Donald Trump has repeatedly threatened…. Perdue doesn't think a contingency plan will have to be put into action, however, saying that he believes NAFTA 2.0 will be 'successfully' renegotiated." Nevertheless.
"Pacific rim countries are trying to revive the region's sweeping trade deal, even if the pact's biggest member won't take part. Trade negotiators led by Japan are meeting in Vietnam this week seeking a revised version of the Trans-Pacific Partnership, looking past Mr. Trump's move to withdraw the U.S. from TPP" [Wall Street Journal]. "They're seeking to do that by essentially carving the U.S. out of the agreement…, by suspending clauses that the U.S. had backed in negotiations under former President Barack Obama. A new deal would bring together nations with a combined GDP of more than $10 trillion. It is a far cry from what the pact would have been with the U.S., but experts say it would still wield strategic significance and would leave the door open for the U.S. to join later."
Politics
2016 Post Mortem
"[L]ast year, in April, as Trump's shocking political ascent became impossible to ignore, Schilling's 32-year-old son died of a heroin overdose. She found needles in the pockets of the clothes he wore to work in the mines before he got laid off" [Politico]. "Desperate for change, Schilling, like so many other once reliable Democrats in these parts, responded enthusiastically to what Trump was saying." Liberal Democrats, even today, are The Party of Government Does Stuff, even if in a half-assed, ObamaCare-style neoliberal way. Opioid deaths correllate to Trump votes, yet the Democrats have nothing to say about what government can do to prevent "deaths of despair." Odd. I grant that such a program wouldn't necessarily appeal to wealthy suburban Romney supporters, but it's still odd.

"As Ohio Goes: One Year Removed From Election Day 2016, Voters From The Ultimate Bellwether State Reflect On A Divided Nation" [Belt Magazine]. (I reject the "divided nation" trope, which translates directly to the "divisive" keyword liberal Democrats deploy against critics. The country is divided depending on how you slice it; for exanple, 63% of Americans are "dissatisfied with corporate influence.") This from a Clinton voter, of a Trump voter: "They [the Trump voter] have a son who has a history of drug addiction. What I said was, '" But because he has that issue, he's had to work through that, and that has sucked up a lot of time and energy and resources — both in their lives and in their son's life. If nothing else, parents worry about their kids. I think that that's a lot of what I see happening with Trump in office." I think if I were the Trump voter, I would have found that "have him succeed as an adult" remark a little grating.
2018
"By all accounts, political spending for the November 2018 election will shatter every record" [McClatchy]. "Democrats today are buoyed by what they see as a prime opportunity to take back the House. As of Sept. 30, a record number of Democratic challengers —some 391 — had raised a not insignificant $5,000 each. Of those 391, 145 have already raised at least $100,000….. As important as the money candidates raise is cash from the parties and outside groups. Relatively new major players are the four super PACS aligned with top congressional leaders which can ask for and receive unlimited contributions. They also have the ability to inject huge amounts of late money into close races."

"How 15 Democrats helped tank the 2013 assault weapons ban" [ABC]. Just a reminder that a Democrat "wave" isn't necessarily good in itself; it can be squandered, as the Democrats squandered 2006.
2017
"What the Virginia and New Jersey elections tell us about public polling and Donald Trump" [Brookings Institute]. "The reality: Republicans and President Trump lost a winnable governor's race in one state and failed to hold a Republican seat in another. While Mr. Trump might have had a marginal effect on tonight's races (although the massive boosts in turnout in Northern Virginia [especially Loudoun County] may suggest that the anti-Trump resistance is real), the narrative will say otherwise. The governors' races will not tell us what will happen in the 2018 midterms, but if you're a candidate for the House, Senate or a governorship next year, you have to feel better tonight if you have a 'D' after your name."

On Virginia: "Here is some cold water, to keep ourselves grounded" [RealClearPolitics]. "[T]he [gerrymandered] map moved out from underneath Republicans while no one was looking – or, while no one was willing to adjust their views in light of the facts on the ground…. If we use presidential vote numbers to calculate an efficiency gap (EG) score, which is the measure of gerrymandering before the Supreme Court right now (using presidential votes avoids the problems of handling races where a candidate is unopposed, and it helps control for the candidate and campaign effects that make the metric being utilized so problematic), the House of Delegates map had an EG of -.16 in 2012. Using the 2016 data, that gap falls to -.11. You can think of this as the map losing about a third of its partisan advantage over the course of four years. I suspect that if the 2008 data were available, we would see a substantially larger gap than we saw even in 2012… We frequently see this with gerrymanders: Parties draw them to their advantage in the first year of implementation, but then time takes its toll. Partisan loyalties and attachments change, and the map's strength is eroded." Hence the Democrat Party's insistence on court cases, and not, ya know, actually registering people. Oh, wait….

"Republicans regain razor-thin edge in Virginia House of Delegates, pending recounts" [Richmond Times-Dispatch].

The Northam campaign thinks that people who have been charged with crimes should not be allowed to vote:

Statement from Northam campaign on Rick Gates leaving house arrest to go vote tomorrow pic.twitter.com/dBNkdySuwH

— Ben Jacobs (@Bencjacobs) November 7, 2017

Quite remarkable.

"Philly Is About to Get a Radical District Attorney. How Much Can He Really Change?" [Splinter News]. Krasner: "We have a very, very long history in criminal justice of not addressing trauma. A lot of research indicates that when people are harmed and they lose control [of their own life], whether they are victimized by violence or in some other fashion that is profound, what they do is they later act out in their lives in a way so that they can be in control. [The explanation is no excuse, he says, but if we want to reduce crime] we need to address the trauma that is visited on all of these different players in the system."

"Respect means subordinating deeply held positions—no matter how valid—to winning power and containing Trump" [Daily Beast]. Funny how the finger-wagging always goes only one way…
Trump Transition
"She flipped off President Trump — and got fired from her government contracting job" [WaPo]. (This the woman who gave the Presidential motorcade the finger while out riding her bike. "[Juli Briskman] bosses at Akima, who have not returned emails and calls requesting comment, showed her the blue-highlighted Section 4.3 of the firm's social-media policy when they canned her. ""Covered Social Media Activity that contains discriminatory, obscene malicious or threatening content, is knowingly false, create [sic] a hostile work environment, or similar inappropriate or unlawful conduct will not be tolerated and will be subject to discipline up to an [sic] including termination of employment." I certainly hope Briskman gets a new job at a less craven and Puritanical company!

"Despite wins, Dems face an identity crisis" [The Hill]. "On Tuesday, Stephen Cloobeck, a major Democratic donor, expressed his frustration with the direction of the party and promised to stop donating if it becomes too progressive. 'I can tell you if we go far left, I'm out,' Cloobeck said on MSNBC. 'I'm out. We [who?] need middle ground. It drives me nuts," Cloobeck added. 'So much so it would make me quit the party. And . We need a new brand.'" Good. Go. What the Sanders campaign showed is that you can run a first-class Presidential campaign without Cloobeck and his ilk. The Democrats should proceed forthwith to do so, and show Cloobeck the door.
Realignment and Legitimacy
"One weird trick to end gerrymandering: cake-cutting game theory" [Boing Boing]. This is very clever, and might go over better with the Supreme Court than complex statistical theories.

"[A]ll around the country, people have channeled the restless, do-it-yourself political energy that fueled the Women's Marches and the airport protests into the formation of locally grounded, multi-issue resistance groups" [Guardian]. "Nobody has an exact count of how many of these new groups exist, but more than 6,000 have registered with Indivisible, the organization that grew out of the now-famous post-election guide to congressional advocacy written by a group of progressive former congressional staffers." Indivisible instantly got good press, and I don't like the lack of agency in "grew out of," either. Since "progressive" is a meaningless term, a good litmus test is support for #MedicareForAll, and Indivisile does not. Call me overly paranoid, but the whole thing has the smell of yet another Democrat decapitation effort, just as happened with Black Lives Matter. Now, that's not to say anything about local chapters! They have their own agency/autonomy, exactly like Black Lives Matter, distinct from the narrative forced on them by journalists who have those staffers' names in their Rolodexes.
Stats Watch
Wholesale Trade, September 2017: "Wholesale trade inventories rose 0.3 percent in September, confirming the advance report and in line with consensus expectations of a slowdown to a more sustainable pace following the outsized (though revised downward by a tick) 0.8 percent gain in the prior month" [Econoday]. "The stock-to-sales ratio fell a notch to 1.27, the lowest reading since December 2014, continuing the downward trend in force this year. Excluding autos, wholesale inventories were up 0.4 percent after a 0.7 percent rise in the prior month."
Bloomberg Consumer Comfort Index, week of November 11, 2017: Slipped two-tenths of a point [Econoday]. "Current views of the economy edged up. Personal finances index declined. The index of buying climate though increased to."
Jobless Claims, week of November 4, 2017: "Initial claims for the November 4 week were up 10,000 to 239,000 and above Econoday's consensus estimate" [Econoday]. "The Labor Department reported that claims taking procedures continued to be severely disrupted in the Virgin Islands while backlogged filings in Puerto Rico continued to be processed."
JOLTS (Tuesday): "Note that hires and quits have stopped growing, and historically both lead job openings, in yet another indication that this cycle has reversed" [Econoday].
Shipping: "Forwarders and shippers caught in the updraught of an air cargo 'perfect storm'" [The Loadstar]. "Forwarders and shippers are "feeling the pain" of a serious lack of air freight capacity in the market…. The air freight market is particularly tight out of Hong Kong, mainland China and South-east Asia, with the situation 'worsening by the week.'"
Retail: "Sophisticated logistics is helping build a new business in a rarely-touched corner of the food market: Leftovers. A series of startups with names like ReFED, Spoiler Alert and FoodMaven are pushing into U.S. distribution channels they say waste billions of dollars in food every year…, and they're working with companies from wholesale suppliers to restaurants to get the food moving in new and potentially profitable directions" [Wall Street Journal]. "That includes convincing industrial distributors like Sysco Corp., Aramark Corp. and Sodexo SA to add nodes to their supply chains. The key is to move fast when companies end up with excess supplies, find new markets for food that might otherwise be thrown out and get the goods sold and delivered in good condition."
The Bezzle: "Uber's 'flying car' project Elevate came whizzing back into view today with a number of key announcements about where it will first appear, who will be working on it, and how this futuristic service will look when it ultimately takes off" [The Verge]. "[T]o round it all out, Uber released a glossily produced video to demonstrate what using its aerial taxi service would look like from the perspective of a working mom who just wants to get home to her kids." Of course they did…
Mr. Market: "Is the stock market a bubble?" [Calculated Risk]. "[A]s long term readers know, I rarely comment directly on the stock market (although I did post on the market in 2009 since that was a turning point)…. Since I don't think a recession is imminent, I'd generally expect further gains in the market over the next year. The PE ratio is high (around 25), and that is well above average. However it is typical for the PE ratio to expand during an economic expansion… The bottom line is the U.S. economy is doing well (the global economy is doing well too). There might be some speculation with margin debt, but everyone isn't talking stocks (like in 1999). So, in general, I don't think this is a bubble. Of course, as always, we could see a 10% to 20% correction starting at any time. I'll now go back to avoiding discussing the stock market."
Five Horsemen: "Our Fab Five remain on the Permanently High Plateau to which they were elevated on Amazon Friday, Oct 27th." [Hat tip, Jim Haygood].
Today's Fear & Greed Index: 54 Neutral (previous close: 58, Greed) [CNN]. One week ago: 72 (Greed). (0 is Extreme Fear; 100 is Extreme Greed. Last updated Nov 7 at 7:00pm. Election Day.
Health Care
"How Many of the Uninsured Can Purchase a Marketplace Plan for Less Than Their Shared Responsibility Penalty?" [Kaiser Health News]. "Just over half (54%) of uninsured individuals who are eligible to purchase a marketplace plan with or without a subsidy would better off financially if they purchased a bronze plan rather than remaining uninsured. Of the 10.7 million people who are currently uninsured and eligible to purchase marketplace coverage, around 7.7 million people will be subject to the shared responsibility penalty. Most of these people will have access to at least some subsidies (6.3 million) to purchase a Marketplace plan."
Water
"Researchers studying the [Flint] water crisis recently found a high number of fetal deaths and fewer pregnancies in Flint since April 2014, which is when the city switched its water supply to use water from the polluted Flint River without adding anti-corrosives to treat it" [Rewire]. "'There have been far too many miscarriages to count,' local activist Melissa Mays told Rewire. 'It's sad because we have no idea what the heavy metals, carcinogenic byproducts, bacteria, and whatever else we have been, and are still being, exposed to has done to our bodies. Will our sons have low sperm counts? How many young girls will not be able to become mothers because their eggs are poisoned? We just don't know, and the State of Michigan just wants to sweep it all under the rug like it's all in the past.'"
Class Warfare
"Poor Whites and Slavery in the Antebellum South: An Interview with Historian Keri Leigh Merritt" [History News Network]. "In these Deep South states in 1860, you have about one-third of white people who own slaves or live in families who own slaves. About one-third of white people could classify as middling class status – yeomen who owned land and not slaves, or the up-and-coming middle class of merchants, lawyers, and bankers, and then men who were overseers and hadn't come into their inheritances yet. And the last third are poor whites….. The economists Samuel Williamson and Louis Cain came out with a paper called "Measuring Slavery." .. [They] came up with a figure that purchasing a slave would cost something like $130,000 today. That's a totally different figure than the cliometrician scholars were using in the 1970s to estimate slave prices." The American Dream…
"Persona Non Grata" [Inside Higher Ed]. "For Duke University students interested in learning about hedge funds and the economic forces that drive them, Economics 381S — Inside Hedge Funds, taught by Linsey Lebowitz Hughes, a lecturing fellow of economics — is probably a good place to start. There's just one small catch, found six bullet points down on the front page of the course syllabus. 'Anyone who is on the staff of The Chronicle is not permitted to take this class.'" And here is the Duke Chronicle's article about that: "Emma Rasiel, professor of the practice of economics and associate chair in economics, wrote in an email Thursday that the language used in the syllabus was meant to highlight the importance of confidentiality, not to 'disallow' Chronicle members." Rasiel apparently doesn't understand the plain meaning of English words, since disallowing Chronicle members is exactly what the syllabus does.
"#ThemToo" [Boston Review]. "[S]exual harassment happens to women (and sexual and gender minorities) at work. It is intersectional, a case of economic and gender oppression. But progress is uneven. As women become more equal as women, their rights and the power of the institutions that represent them as workers are progressively being overtaken by the prerogatives of employers and corporations. The result: it is every woman for herself, which means only a few women prevail." Those with the social capital to attract and endure media attention, primarily?
News of the Wired
"Philadelphia's Boulevard of Broken Dreams" [The American Conservative]. The Benjamin Franklin Parkway. A sad article, especially since there's no solution proferred for making it come alive. And I would bet that airdropping in a new museum, the Barnes Foundation, hasn't done a thing since I was there in the earily 2000s. Any readers from Philly care to comment?
"How to Hire Fake Friends and Family" [The Atlantic]. "[Ishii Yuichi's] 8-year-old company, Family Romance, provides professional actors to fill any role in the personal lives of clients. With a burgeoning staff of 800 or so actors, ranging from infants to the elderly, the organization prides itself on being able to provide a surrogate for almost any conceivable situation. Yuichi believes that Family Romance helps people cope with unbearable absences or perceived deficiencies in their lives. In an increasingly isolated and entitled society, the CEO predicts the exponential growth of his business and others like it, as à la carte human interaction becomes the new norm."
Warren Mosler, MMT conference closing remarks:
Takes an hour, so listen to this instead of Morning Edition [snort], and grab a cup of coffee!
* * *
Readers, feel free to contact me at lambert [UNDERSCORE] strether [DOT] corrente [AT] yahoo [DOT] com, with (a) links, and even better (b) sources I should curate regularly, (c) how to send me a check if you are allergic to PayPal, and (d) to find out how to send me images of plants. Vegetables are fine! Fungi are deemed to be honorary plants! If you want your handle to appear as a credit, please put it in the subject line. Otherwise, I will anonymize by using your initials. See the previous Water Cooler (with plant) here. Today's plant (JK):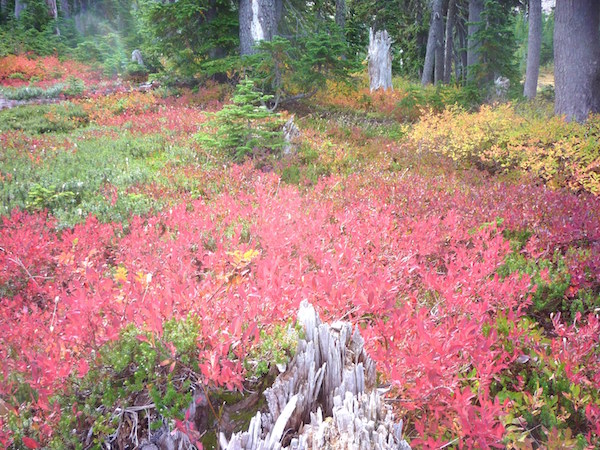 From Mt. Hood.
Readers, I'm doing OK on fall foliage now, but I'm so fascinated to learn that this map is off, I'm going to leave the request up just to see what there is to see…
* * *
Readers: Water Cooler is a standalone entity not covered by the NC fundraiser. So do feel free to use the dropdown and click the hat to make a contribution today or any day. Here is why: Regular positive feedback both makes me feel good and lets me know I'm on the right track with coverage. When I get no donations for five or ten days I get worried. More tangibly, a constant trickle of small donations helps me with expenses, and I factor that trickle in when setting fundraising goals. So if you see something you especially appreciate, do feel free to click the hat!