On the one hand, the latest public disclosure of misconduct by CalPERS executives and staff isn't earthshaking. On the other, it was still significant enough to merit a Financial Times story. And it also illustrates a thumb-nosing attitude toward the law that has become a CalPERS trademark.
In a Financial Times FundFire article, Ex-CalPERS Exec's Interactions With Pension Raise Red Flags [paywalled, no online source], Fola Akinnibi ferreted out that CalPERS' Chief Investment Officer Ted Eliopoulos accepted the impermissible overtures of a former CalPERS employee almost immediately after he resigned and joined an asset management firm that was pitching business to CalPERS. As the article explains:
CalPERS' former head of infrastructure investments Todd Lapenna, who resigned from the pension in December and officially joined StepStone in January, arranged a meeting between CalPERS CIO Ted Eliopoulos and StepStone executives to discuss the changing business immediately after joining the firm. Lapenna is subject to the California Political Reform Act, which prohibits lobbying by former employees for a certain period after changing jobs, according to emails and other documents obtained via a California Public Records Act request.
StepStone had been an infrastructure consultant to CalPERS, but abruptly and without explanation resigned from its contract in August of this year, even though the five-year agreement ran until February 2020. Author Akinnibi reported that StepStone was in the process of changing its strategy to give much more priority to asset management than consulting. CalPERS is attentive to the fact that consultants that are also money managers have a conflict of interest. CalPERS' director of real assets Paul Mouchakkaa had noticed in October 2016 that StepStone's promotional materials were touting its asset management prowess, particularly in infrastructure and real estate. StepStone had also stated in its SEC form ADV filed in March that being in the asset management and consulting business represented a potential conflict of interest. And StepStone said that was an issue with CalPERS. Again from the article:
"StepStone resigned its board advisor r[o]le because it determined that it could be more helpful to CalPERS in an investment advisor role, and in CalPERS' structure a service provider cannot effectively be in both roles," says the spokeswoman in an email.
To beef up its asset management business, StepStone had hired an infrastructure team from KPMG, including the team's leader, James O'Leary, who then became head of StepStone's infrastructure and real assets asset management initiative.
Recall that StepStone was still CalPERS' infrastructure adviser during December 2016 and January 2017. But more important, the ex-CalPERS staffer LaPenna was subject to a two-year prohibition "aiding, advising, consulting with, or assisting a business entity to obtain a contract or contract amendment with his or her former agency." From the Financial Times story:
On December 10, just days after Lapenna resigned from his post to join StepStone, O'Leary reached out to Mouchakkaa to pitch a new line of business to the pension.

"As you may know, since I have joined StepStone, I have been focusing on our business being an asset management provider, not a general consultant," O'Leary says in the email. "While I am cognizant of our existing board advisory role at CalPERS (and will continue to support it), I do think our greatest value to funds like CalPERS will be around tailored investment solutions, leveraging my global team's experience and reach."

Lapenna, the former CalPERS employee, emailed Eliopoulos on January 12, via a personal email account, looking to arrange a meeting between Eliopoulos and O'Leary. O'Leary followed up a week later, looking to discuss "our new business model at StepStone, which is to provide SMA solutions to investment teams such as yours at CalPERS…" Neither Eliopoulos nor Mouchakkaa appear to have rebuffed any of the overtures, as per the documents released to FundFire…

Lapenna ultimately secured a meeting for StepStone executives with Eliopoulos to discuss the new "private market business model," among other things, according to an email sent from his StepStone address.
Lapenna did not attend that meeting. However, author Akinnibi published this document: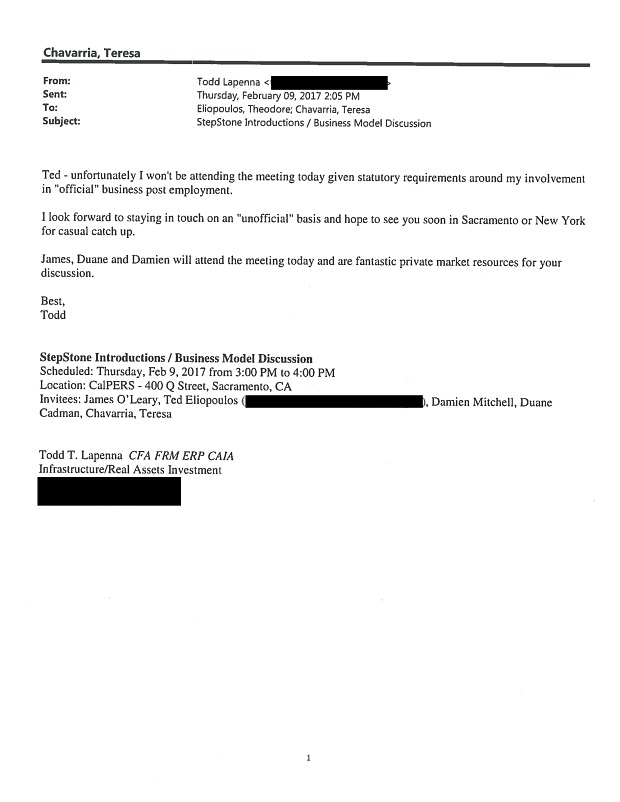 As anyone with an operating brain cell can tell, this is too cute. Departing CalPERS employees like Lapenna get firm written and verbal instructions on the legal restrictions on soliciting CalPERS business. Lapenna signaled that he knew what he was doing wasn't kosher by first trying to pretend his business facilitation wasn't really that by e-mailng from a personal account. Reporter Akinnibi points out Lapenna did it again with the February e-mail we reproduced above. Since when does anyone put their employer name and title in a personal e-mail? This was clearly meant to be seen as official correspondence.
Lapenna tried to have it both ways again by encouraging Eliopoulos to keep in contact with him in an "unofficial" capacity. It's a no-brainer that Lapenna's interest is to assist StepStone in winning more business with CalPERS, and that is clearly verboten under the California Political Reform Act. Even if Lapenna and Elopoulos had a pre-existing, shared, non-finanace interest, like they both sat on the board of a not-for-profit theater company, it would still be hard for Lapenna and Eliopoulos to steer clear of violating the law. As any provider of professional services will tell you, the reason most people participate in activities like that isn't for the cause, it's for the networking and informal selling opportunities.
Having said all that, the California Political Reform Act impose sanctions only on former employees, and not on government employees and officers who take lobbying and business pitches they know they should reject. So Eliopoulos was not the one at criminal risk in this impropriety. Nevertheless, he can't pretend he didn't know that any communication with Lapenna was not on the up and up. Eliopoulos was an accomplice to the violation. And CalPERS would have every incentive to release records that showed Eliopoulos rejecting Lapenna's overtures, but Akinnibi says none were provided.
Elioupoulos is a lawyer. He's been in politics for years. When his boss and mentor Phil Angelides left CalPERS, you can be sure both Angelides and Eliopoulos adhered strictly to the cooling-off requirements. Now it may have been that CalPERS, and even Eliopoulos himself, nixed Lapenna attending the February 9 business pitch, but they never should have been in communication, much the less even have scheduled a meeting with Lapenna.
The reason this incident matters isn't just that it illustrates that CalPERS has a fast and loose relationship with the law. It's also that Eliopoulos, remarkably, has managed to abandon virtually all of the parts of the Chief Investment Officer job that involve making investment decisions, and has turned it into an almost entirely administrative and ceremonial post. If he can't even do that right, why is he still employed, much the less getting big bucks?