The Uber-Wayo trial, in which the Google unit is suing Uber over the alleged misappropriation of trade secrets in connection with Google's self-driving car initiative, had an explosive day yesterday that put Uber in serious hot water. Uber withheld considerable, critical, and directly relevant evidence from discovery and appears to have engaged in a systematic program of hiding and possibly destroying evidence. It also looks close to certain that some Uber executives, at a minimum its associate general counsel Angela Padilla, perjured themselves in depositions.
These revelations weaken Uber's odds of success in the Waymo trial and have the potential to put Uber in a world of legal hurt on other fronts. It isn't just, as the understandably furious judge, William Alsup, said that he can no longer trust Uber's attorneys and that he has delayed the trial, which was supposed to start next week, to allow Waymo to do more discovery. It's that under the principle of spoilage of evidence, judges in some jurisdictions can instruct juries to assume that the evidence was destroyed or withheld to hide bad conduct. They can also use spoilage to bar some types of evidence from being presented. And that's before you get to the fact that the content of the revelations are damaging and open up new paths of investigation that could be very helpful to Waymo.
To put it more simply: Uber is facing a jury trial. Juries do not like liars. Based just on the information revealed today, it will not be hard to get a jury to see Uber as a pathologically dishonest company.
Specifically, the hearing yesterday also revealed that Uber had a competitive espionage unit that sought to steal trade secrets from competitors. While any large company gathers competitor intelligence, there is a big difference between obtaining public information and misappropriating internal information. Moreover, Uber set up this unit (and one has to wonder if other units were organized along similar lines) on servers separate from Uber's regular servers, making as heavy use as possible of communication services that did not retain message content. Uber astonishingly took the position that nothing on this parallel system was subject to disclosure.
Even more surprisingly, these revelations came about because the US attorney that has an ongoing criminal investigation into Uber tossed a letter of its own, plus a 37-page letter from the attorney for a former Uber employee, Richard Jacobs, to Judge Alsup. It is unheard of for a prosecutor to provide information from a not-completed investigation into a somewhat-related civil trial. The most logical reason is that the US attorney thought the gambit would increase pressure on Uber.
The most complete press report I have read thus far on what happened in court comes from the New York Times, which appears to have had a reporter at the hearing. I have also embedded. Even with what little you can infer, it's devastating. But the testimony by the former employee Jacobs was also a stunner.
Jacobs was fired by Uber in April 2017 yet curiously received a $4.5 million settlement which included payouts as a consultant for his help on a supposed ongoing internal investigation. Needless to say, this is a hell of a lot of hush money. It turns out that the 37-page letter from Jacob's attorney to Uber about what Jacobs had learned about Uber's so-called Market Analytics group was what triggered the settlement.
Uber has been accused of operating a sophisticated unit dedicated to "stealing trade secrets"….

Mr Jacobs, who split from Uber earlier this year and reached a confidential settlement with the company, described sophisticated techniques that Uber used to evade current and future legal discovery requests…

Mr Jacobs said he was aware that an intelligence unit at Uber was implementing "encrypted and ephemeral communications intended to both protect and destroy communications that might be considered sensitive", and that employees were instructed to make "phone calls or video calls", treating email as "a last resort".

Mr Jacobs alleged that the legal director for Uber's threat operations team had "described the need to protect sensitive information and ensure we didn't create a paper trail that could come back to haunt the company in any potential criminal or civil litigation".

He said that devices that could not be tied back to their users were used by the security team to communicate with third party vendors providing information about competitors, without having to store it on Uber's network, as well as information about "protest groups and threat actors".

Judge Alsup told Uber's lawyer: "It turns out that the server is only for the dummies and the real stuff goes on the shadow system . . . You should have come clean with this long ago."
More juicy detail from the New York Times:
In discussions with other Uber employees, Mr. Jacobs testified, he learned of an internal organization that gathered trade secrets, code and other information about its competitors. It was called the "marketplace analytics team," according to the letter, which had been redacted by Uber. The group frequented the code-sharing site GitHub, searching for private material that may have been accidentally revealed by competitors.

This Uber team also led efforts "to evade, impede, obstruct, influence several ongoing lawsuits against Uber," according to the letter. The team also tried to find out what other companies were doing. And in 2016, Uber hired a man named Ed Russo to help recruit employees of competitors to steal trade secrets, according to the letter.

This group relied on "anonymous" servers separate from the rest of the Uber network, and some employees were expected to rely on devices that encrypted or automatically deleted messages after a certain amount of time, Mr. Jacobs testified. Email was a last resort.
Remember that Jacobs is still a consultant to Uber, which also paid for his travel costs to appear at the trial. Quartz describes how Jacobs tried to discredit what his attorney had previously written:
A Waymo attorney asked Jacobs under oath: "Your lawyer sent letter that you approved alleging that Market Analytics exists solely to acquire code and trade secrets from competitors, yes?" according to McPherson. Jacobs reportedly responded: "I disagree with this now. I have no firsthand knowledge. No knowledge at all."
And from the Times:
Mr. Jacobs said this effort focused solely on overseas competitors and that he was not aware of the unit obtaining trade secrets from Waymo or other competitors in the United States. That contradicted an assertion in his letter, which said he was aware that this team had at least stolen trade secrets from Waymo…

The letter from Mr. Jacobs's lawyer, parts of which were read in court, also said three Uber employees had gone to Pittsburgh to instruct the company's autonomous vehicle group, which is testing self-driving cars in the city.
Now why might Jacobs be so eager to say he wasn't on board with what his attorney had written, which clearly had to be based on what Jacobs had told him, and Uber must have recognized as credible, otherwise they never would have made such a hefty payout? As one commentor at ars technica pointed out, "Accepting money in exchange for silence and/or perjury related to criminal activity is textbook conspiracy." The New York Times pointed out that the FBI is investigating Uber's conduct in its program to steal drivers from Lyft, and that the systems Jacobs described sounded similar to those used to try to sabotage Lyft.
Contrast Jacobs' testimony with this section of Waymo's letter about the Jacobs and US attorney letters: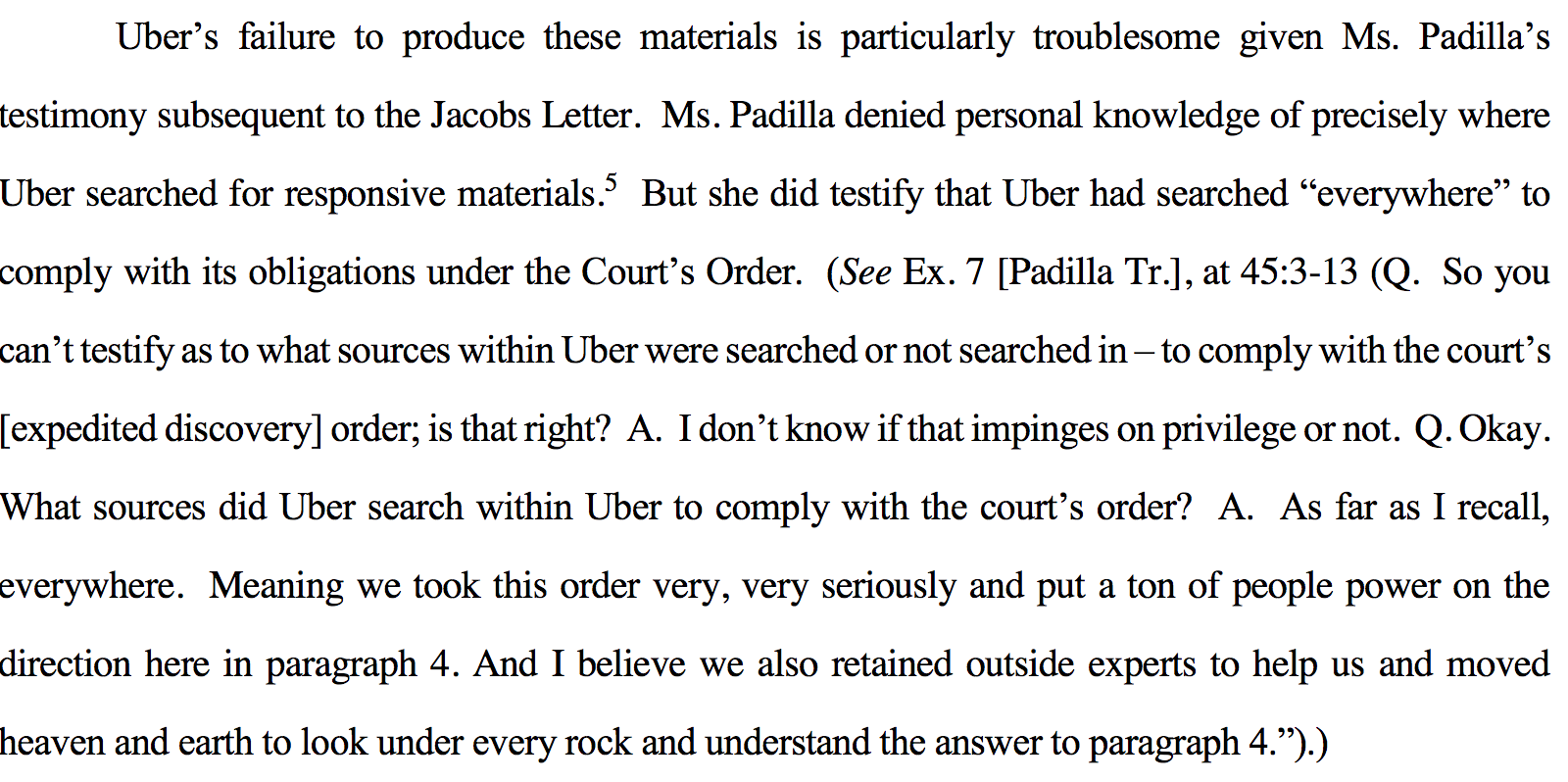 Sure looks like perjury to me. And as you will see from the embedded letter, Waymo's attorneys want to re-depose a pretty long list of people, staring with Travis Kalanick, along with other individuals whose names are redacted.
You can see that at spots, the document itemizes discovery requests, presumably ones that it is now clear were not satisfied, with big redacted sections following, and in some cases, phrases like "concealing information" are exposed.
The implications of these bombshells go beyond shifting the odds of success in this case in favor of Waymo. If the new revelations are firmed up to be facts, they have the potential to open new cans of worms other criminal and civil actions against Uber, and could even provide grounds for re-litigating old cases.
Uber's lawyers are also in hot water. It looks like they withheld information from the court that was required to be disclosed in a big way. Unless they can persuade the court that Uber kept them in the dark, they may face sanctions, which could include disbarment.
Pass the popcorn. Couldn't happen to a more deserving bunch.
2281-3-Waymo-s-Response-to-Order-Re-Letter-From