Pigs to debut at new zoo in the Muslim-majority north Asia Times
The Changing Colors of our Living Planet NASA (Kevin W)
Tim Berners-Lee on the future of the web: 'The system is failing' Guardian
Tezos, a cryptocurrency that raised $232 million in July, is in crisis ars technica
Current CRISPR gene drive systems are likely to be highly invasive in wild populations BioRxiv
Brexit
A bruising Brexit could shipwreck the British economy Martin Wolf, Financial Times

Okay, then peeps. LONG THREAD. Put down your union flag for a moment and just take some information in. I will try to explain the approaching #Brexit nightmare using a single, calm, factual example, so far largely ignored. I urge you to think, share and talk about this. Ready?

— Alex Andreou (@sturdyAlex) November 17, 2017

Britain prepares case to cut Brexit divorce bill Financial Times

EU threat to withhold Britain's budget rebate in Brexit bill wrangle Telegraph

Irish PM: EU prepared to wait for Brexit 'concessions' Politico
Syraqistan
New Cold War
Is America Up for a Second Cold War? American Conservative (resilc)

The Democrats Used to Love Russian Oligarchs – Glen Ford, Truthdig (Oregoncharles)
Imperial Collapse Watch
World, horrified at Trump, sends US Ranking Plummeting Juan Cole (resilc)
Trump Transition
Tax "Reform"
Class warfare fight erupts over tax bills The Hill

GRAD STUDENTS ARE FREAKING OUT ABOUT THE GOP TAX PLAN. THEY SHOULD BE Wired
Health Care
Millions of kids may lose health insurance over missed deadline by Congress NBC (furzy)
Net Neutrality
With net neutrality on the chopping block, some communities aren't waiting Huffington Post
Democrats in Disarray
The Clintons held the Democratic Party hostage for 2 decades — and the sudden revisionism is inconveniently late Business Insider (resilc, Scott)

Democrats Are Doomed Unless They Start Listening to Millennials Vice

Democrats still love pay-day lenders and banks New Republic
Oklahoma Tried the GOP Agenda. Now, It's Electing Democrats. New York Magazine
Sex in Politics…Not!
A Reminder That America Is Incredibly Corrupt and Only Getting Worse Vice
I'm still dumbfounded that @PolitiFact dedicated 500+ words to debunking a @DuffelBlog article.

Here's your fact check in 7 words: It's a satire site, you dumb shit.https://t.co/cUl1u52cju

— Paul Szoldra (@PaulSzoldra) November 17, 2017
Can journalists ever regain Americans' trust? Financial Times
Will Powell Be an Accidental Hawk? Council on Foreign Relations
Oil Short-Sellers Return as Doubts Loom on OPEC's Horizon Bloomberg
Unemployment falls as a majority of states see job growth Economic Policy Institute
CalPERS says no to adding leverage Top1000Funds (Joe R)
Guillotine Watch
Everyday Objects Tiffany. Kim M: "I am not sure which item is most over the top, but as a knitter, I am particularly appalled by the $9,000 sterling silver "ball of yarn" desk ornament. Yeesh, I thought sock yarn was getting outrageous when I paid $30 for a hand dyed limited run skein 2 years ago.
Class Warfare
For Women Restaurant Workers, Sexual Harassment Starts with the Day You're Hired In These Times (Mo Tkacik)

'Robots are not taking over,' says head of UN body on autonomous weapons Guardian
Antidote du jour. From Jim D: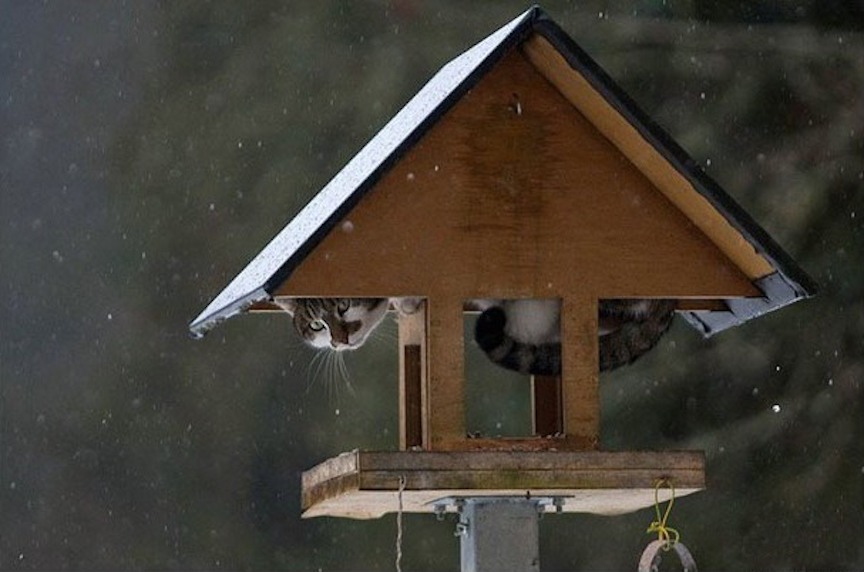 And doubling up on cats, a bonus from martha r:
I put a heating pad out for the neighborhood cats. I think they like it. pic.twitter.com/M05QgRFHMl

— Awwwww (@AwwwwCats) November 15, 2017
See yesterday's Links and Antidote du Jour here.