By Lambert Strether of Corrente.
Net Neutrality
"Koch Brothers Are Cities' New Obstacle to Building Broadband" [WIRED]. "At the end of the day, the Koch-funded campaign backfired. It helped fire up some council members who might not have understood the importance of city fiber; once they knew the Koch brothers were against it, the city's plan got their attention. … If the Koch brothers were willing to throw money at opposing an incremental, cheap effort to string fiber alongside an existing state network plan, just imagine what they'll be capable of around more ambitious local efforts. There is a major onslaught looming."
"Despite improvements in recent years, rural libraries tend to spend more per capita for fewer services and fewer open hours, according to a report from the American Library Association (ALA)" [The Daily Yonder]. "Technology challenges, access to high speed internet, and funding to pay for staff and facilities are the main challenges facing rural community libraries, the report says."
""There will be a [Senate] vote" to reinstate net neutrality, Schumer says" [Ars Technica]. "'It's in our power to do that and that's the beauty of the [Congressional Review Act (CRA)] rule,' Schumer said. 'Sometimes we don't like them, when they used it to repeal some of the pro-environmental regulations, but now we can use the CRA to our benefit, and we intend to.'"
"Internal FCC Report Shows Republican Net Neutrality Narrative Is False" [Vice]. "President Obama led a government takeover of the internet, and Obama illegally bullied the independent Federal Communications Commission into adopting the rules. In this version of the story, Ajit Pai's rollback of those rules Thursday is a return to the good old days, before the FCC was forced to adopt rules it never wanted in the first place…. But internal FCC documents obtained by Motherboard using a Freedom of Information Act request show that the independent, nonpartisan FCC Office of Inspector General—acting on orders from Congressional Republicans—investigated the claim that Obama interfered with the FCC's net neutrality process and found it was nonsense."
Trade
"An unreleased White House document offers the strongest hint yet that the Trump administration is preparing to slap emergency safeguard tariffs on Chinese-made solar power equipment in response to a petition filed by American manufacturers. The paper argues that cheap solar imports allow China to unfairly profit from Americans' use of renewable power and gain influence in the developing world's energy infrastructure. Trump is expected to make a decision on solar duties in January, after receiving final input from USTR" [Politico].
"A longtime reader offered an upbeat and somewhat contrarian view of the results from the World Trade Organization's 11th Ministerial Conference last week in Buenos Aires. 'I have to say I'm surprised that headlines are so negative coming out of the WTO ministerial,' National Foreign Trade Council Vice President for Global Trade Issues Jake Colvin told Morning Trade. 'There was pretty widespread anxiety going into the ministerial about the role the United States might play, but my impression is they showed up sincere about sending signals about their readiness to work with like-minded countries at the WTO. In particular, I thought the e-commerce statement was a real breakthrough and something that was not certain by any means just a couple of weeks ago," Colvin said in an email" [Politico].
Politics
2018
"Maciej's List of Candidates" [Pinboard]. "These are the people I've identified so far, starting with the most likely to win, who are running effective races in districts , and constrained by fundraising." No DNC means they're certainly worth a look! Thread:

The Federal reporting deadline for election fundraising is coming up on December 31. Let me talk just briefly about what that means

— Pinboard (@Pinboard) December 18, 2017

NC readers will recall Maciej Cegłowski's post: "Notes From an Emergency: Tech Feudalism."
2017
"But will they respect me in the morning?" (1): "Jones promises he will consider voting Republican in the Senate" [The Hill].

"But will they respect me in the morning?" (2): "Democrat Doug Jones: Trump shouldn't resign over sexual misconduct claims" [Guardian]. "Believe All Women" (restrictions apply).

"But will they respect me in the morning?" (3): "Franken urged to reverse his resignation" [Politico]. Moore having lost, the "moral high ground" can now immediately be abandoned.

"But will they respect me in the morning?" (4): "Virginia's governor-elect angers Democrats by saying he won't push for Medicaid expansion" [Salon].

Perspective on Moore v. Jones: "Despite what the party would eventually become, the Readjusters in mid-19th-century Virginia initially formed because of one issue: financing debt owed to Northern banks after the Civil War…. Frustrated, [William] Mahone set out to put together a political machine that could challenge the Conservatives. This movement would bring together newly-freed slaves and poor white farmers in Southside Virginia, as well as mountain Republicans in the Shenandoah Valley. They would be united by their desire to "readjust" the debt so that the Commonwealth paid as it could, but also to repeal the poll tax and tax the wealthy to fund the rebuilding of infrastructure destroyed during the war and public education" [The South Lawn]. "The Readjuster Party did all of this and more in the decade that they were a major force in Virginia politics…" The post considers the present, as well, but this Yankee presents this nugget as a reminder that the history of the South is rich and various. Well worth a read. And I like the name, "The Readjuster Party." There's a lot of things I'd like to adjust.

"Pennsylvania's 18th Congressional District special election, 2018" [Ballotpedia]. March 13. "The Republican Party held a special convention on November 11, 2017, to choose a nominee, selecting state Rep. Rick Saccone. The Democratic Party selected former federal prosecutor Conor Lamb at their nominating convention on November 19, 2017."
2016 Post Mortem
The headline: "The past year of research has made it very clear: Trump won because of racial resentment" [Vox]. The deck: "Another study produces the same findings we've seen over and over again." One more monocausal explanation. Given that — all other things being equal — Clinton would not have lost had Obama voters not flipped to Trump, it's hard to take the headline seriously. After all, those Trump voters voted for a black President once, and in many cases, twice. Of course, they could still be prey to racist thinking, because who among us, etc., but at least they were able to overcome it in the voting booth.
Tax "Reform"
The state of play:

Worth remembering when you think about the Corker story: With McCain out, if Corker and Flake or Collins vote no, Trump's entire $1.5 trillion tax bill will be defeated. That's how big the stakes are. This is why the #CorkerKickback hashtag is trending. https://t.co/U2b3bHjYaI

— David Sirota (@davidsirota) December 18, 2017

"Tax Bill: Bob Corker Demands Answers From Chairman Orrin Hatch About Last-Minute Tax Provision" [David Sirota, Business Insider]. "Facing a firestorm of criticism, Republican Sen. Bob Corker (TN) sent a letter Sunday night to Senate Finance Committee Chair Orrin Hatch, R-Utah, asking how the final tax bill ended up including a special tax cut provision experts say would particularly benefit investors in real-estate related LLCs. The letter follows an International Business Times investigative series showing that Corker, President Donald Trump, House Speaker Paul Ryan and a handful of key GOP lawmakers overseeing the tax bill have multimillion-dollar ownership stakes in such LLCs, meaning they could be personally enriched by the provision, which was added to the final tax legislation released on Friday."

Oh, the humanity!


The Republican tax bill caps the mortgage interest deduction at $750,000 for new mortgages. In California, seven counties have average home prices that are more than $750,000: Alameda, Marin, Orange, San Francisco, San Mateo, Santa Clara and Santa Cruz counties. #GOPTaxScam

— Sen Dianne Feinstein (@SenFeinstein) December 17, 2017
New Cold War
"Why Republicans Launched the GSA Email Attack Now" [emptywheel]. Obviously, the Trump Transition Team should have used a private email server, and then wiped half the mail off it before turning it over to the Mueller investigation. "Worse than a crime: A blunder." –Talleyrand.
Trump Transition
"One particular focus of the [Administrations national security] strategy, which will be released this morning ahead of the speech, is protecting the U.S. 'national security innovation base.' That's a term coined by the Trump administration to capture a broad list of activities it believes the United States needs to protect and promote to make sure the nation can continue to innovate and maintain its technological lead" [Politico]. Oh gawd. "Innovation" was already a bullshit tell. Gawd knows what it will turn into now that the administration has its hands on it.
Realignment and Legitimacy
"Warren and Sanders: Who Is Congress Really Serving?" MR SUBLIMINAL It's a cookbook! [Elizabeth Warren and Bernie Sanders, New York Times]. "The task in front of Congress over the coming week boils down to a basic question: Does Washington work for all of us or just for those at the top? Congress has a chance, right now, to take steps that will make life a bit better for millions of working people immediately and in the years to come." Very true, but the key words are "a bit better." This is a retreat even from the demands of the agreed platform at the 2016 Democrat national convention.

"Progress you can believe in will make us the great we've never not been" [Diary von Davidly]. "Question: Can whoever is elected after this guy leaves undo this crap he has done?" In answer, an excellent series of rhetorical questions. Fun, but warning: Horrid formatting.

* * *

Elevator pitch for Alien IV: The aliens land, but the locals are so busy gaslighting themselves they don't notice:

That NYT UFO story didn't get nearly enough coverage. I am reposting here along with that amazing video footage — https://t.co/gJvYfVDmvt pic.twitter.com/mdqLv5LSyF

— Jon Levine (@LevineJonathan) December 18, 2017

* * *

Concrete material benefits:

My kind of socialism: Local chapters of. Democratic Socialists of America have been offering free brake light replacements in various cities around the country — largely to prevent traffic stops, fines and even arrests, especially of POC.

— Barbara Ehrenreich (@B_Ehrenreich) December 16, 2017
Stats Watch
Housing Market Index, December 2017: "New home sales began to surge back in September and are now giving a significant lift to home builder sentiment" [Econoday]. "Today's report points to strength for tomorrow's housing starts and permits report." And: "This was above the consensus forecast, and a strong reading" [Calculated Risk].
Rapture Index: Closes the week unchanged. [Rapture Ready]. Record high, October 10, 2016: 189. Current: 187.
Retail: "Inflation is spreading through supermarkets, but it's not reaching consumers. Instead, it appears that higher food costs are at the heart of a growing battle for leverage between grocers and their suppliers as a multiyear glut of many staples disappears and companies look to hand off the impact in an increasingly competitive grocery business" [Wall Street Journal]. "The spread between producer and retail prices is the widest in more than three years, a sign of the tensions across supply chains."
Shipping: "Package-delivery companies are bracing for their busiest week of the holiday season with less room than ever for error. FedEx Corp., United Parcel Service Inc. and the U.S. Postal Service all expect to handle a record number of packages this peak season… One added wrinkle this year: Christmas falls on a Monday, putting even more pressure on shippers and delivery companies to get e-commerce orders delivered two days before the holiday" [Wall Street Journal]. "Operators say the boom in home deliveries has strained many systems since they are more time-consuming and demand more care than big shipments heading to stores. Reports of jammed systems even have some shippers cutting back delivery guarantees, meaning Christmas may come early this year when it comes to online ordering."
Shipping: "Trucking's electronic logging era begins this week with the questions around the costs and complications of the driver-tracking devices still under heated debate" [Wall Street Journal]. "Smaller truckers warns shipping costs will rise as strict rules pull trucks off the road, and the rule is taking effect as prices already are rising thanks to growing demand. The impact may take months to figure out, however, since federal regulators will phase in enforcement over time, with the toughest oversight starting next April." Hmm. "Strict rules" like how many hours drivers really work?
Shipping: "Facing up to the reality of a much smarter marine future" [Splash 247]. "In August, in cooperation with our customer Gulfmark Offshore, we successfully tested the remote controlling of the 'Highland Chieftain', an 80-metre long platform supply vessel owned by Gulfmark Offshore. This was carried out by satellite from a distance of 8000 kilometres using standard bandwidth, and without the use of any land-based technology for communications between the vessel and the remote operator work station. Remarkably, the vessel was sailing off the east coast of Scotland, while it was being remotely operated from Wärtsilä premises in San Diego, California."
Shipping: "Shipping lines turn to WWII-era tech to foil hackers" [DC Velocity]. "Out of concern that hackers could jam the global positioning system (GPS) signals used by cargo ships to navigate, several nations are considering replacing modern satellite-based systems with legacy World War II-era radio technology… The technology in question is an earthbound navigation system known as eLoran, a descendant of the LORAN (long-range navigation) technology used during World War II, and which scientists say is relatively impervious to hacking. While hostile programmers can disrupt distant satellite signals with inexpensive jamming devices, they would need large antennas and powerful electricity sources to defeat eLoran's local radio signals." Dumb phones for boats!
Shipping: "Blockchain ePODs 'can help eliminate supply chain cashflow bottlenecks'" [The LoadStar]. "OpenPort's solution is 'an immutable' electronic proof of delivery (ePOD) providing an indisputable record of the freight's history, linked to a blockchain-created digital agreement, or 'smart contract.'" Uh oh. When you hear the word "smart," pat your wallet (or, alternatively clutch your purse).
The Bezzle: "Analysis of Wells Fargo Shareholder Litigation" [The Harvard Law School Forum on Corporate Governance and Financial Regulation]. "Plaintiffs brought a shareholder derivative action against Wells Fargo & Company's officers, directors, and senior management… The complaint alleges that the Director Defendants knew about the alleged fraudulent activity because, among other things, they were aware of (1) letters explaining that the company's "Gr-Eight initiative" created a high-pressure sales culture fostering fraudulent practices; (2) complaints made through Wells Fargo's "EthicsLine"; (3) a whistleblower lawsuit by an employee related to the creation of fake accounts; (4) several wrongful termination and employment discrimination lawsuits; (5) investigations and inquiries by government agencies; and (6) a Los Angeles Times article that examined the fraudulent account creation scheme and the company's internal policies and pressure that allegedly fueled it."
The Bezzle: "CME Group launched it bitcoin futures contract Sunday evening, opening at $20,650. The contract, designated BTC, follows by one week the introduction of CBOE's futures contract, XBT" [247 Wall Street]. "The exchanges also open the door to institutional investors previously unable to invest in bitcoin because they are forbidden from holding an unregulated asset in their portfolios. A futures contract is something tangible and has the added advantage of not forcing these big investors to hold the physical asset. That eliminates custody issues and reduces counterparty risk. Neither CME nor CBOE is taking a big chance on a sudden drop in bitcoin prices. Neither are banks and brokers. The Chicago Tribune reported that Goldman Sachs is demanding that some clients collateralize their purchases with a 100% margin requirement. Interactive Brokers Group requires a 50% margin on long contracts and around 240% on shorts. The huge margin on shorts reflects the fact that there is no limit to how much an investor can lose. A word to the wise."
Today's Fear & Greed Index: 74 Greed (previous close: 68, Greed) [CNN]. One week ago: 62 (Greed). (0 is Extreme Fear; 100 is Extreme Greed. Last updated Dec 18 at 1:21pm.
Police State Watch
"Man says cops ordered him to cut off his dog's head or go to jail" [Macon Telegraph].
Class Warfare
"Two billion dollars in stolen wages were recovered for workers in 2015 and 2016—and that's just a drop in the bucket" [Economic Policy Institute]. "In 2015 and 2016, a total of $2 billion in stolen wages ($880.3 million in 2015; $1.1 billion in 2016) were recovered for workers by the U.S. Department of Labor ($246.8 million in 2015; $266.6 million in 2016); by state departments of labor and attorneys general in 39 states ($170.0 million in 2015; $147.5 million in 2016); and through class action settlements ($463.6 million in 2015; $695.5 million in 2016)…. [T]hese recovery numbers likely dramatically underrepresent the pervasiveness of wage theft—it has been estimated that low-wage workers lose more than $50 billion annually to wage theft. Regardless of what share of actual wage theft the recovery numbers represent, these data are one more reminder that wage theft is not isolated to a few bad employers, but affects workers much more broadly."
News of the Wired
"Microbial Murder Mystery Solved" [Harvard Medical School]. "Now, for the first time, researchers have caught killer cells red-handed in the act of microbial murder, observing them as they systematically killed three strains of microbes: E. coli and the bacteria responsible for causing Listeria infection and tuberculosis. The process inflicts bacterial cell death regardless of whether the environment contains oxygen. The team's findings, published Nov. 16 in Cell, reveal that killer cells act methodically, shooting deadly enzymes into bacteria to program a complete internal breakdown and cell death."
"The Digital Ruins of a Forgotten Future" [The Atlantic]. " if Second Life promised a future in which people would spend hours each day inhabiting their online identity, haven't we found ourselves inside it? Only it's come to pass on Facebook, Instagram, and Twitter instead. As I learned more about Second Life, and spent more time exploring it, it started to seem less like an obsolete relic and more like a distorted mirror reflecting the world many of us live in."
"The Case for Bad Coffee" [Serious Eats]. "The best cup of coffee I ever had was the leftover swig of overly cream-and-sugared Taster's Choice my father would always leave in his mug when he departed for work each morning (I would come downstairs in my pajamas and down it like a shot when I was just nine years old). It was the Folgers my father and I drank out of Styrofoam cups five years later while attending his Alcoholics Anonymous meetings in a church basement off a suburban commercial strip."
"Memory Matters: A special RAM edition of Dirty Coding Tricks" [GamaSutra]. I can almost understand this; it's like a police procedural, but with code. Coders and techies, be sure to read the very last example.
* * *
Readers, feel free to contact me at lambert [UNDERSCORE] strether [DOT] corrente [AT] yahoo [DOT] com, with (a) links, and even better (b) sources I should curate regularly, (c) how to send me a check if you are allergic to PayPal, and (d) to find out how to send me images of plants. Vegetables are fine! Fungi are deemed to be honorary plants! If you want your handle to appear as a credit, pleas s e place it at the start of your mail in parentheses: (thus). Otherwise, I will anonymize by using your initials. See the previous Water Cooler (with plant)
here
. Today's plant (SV)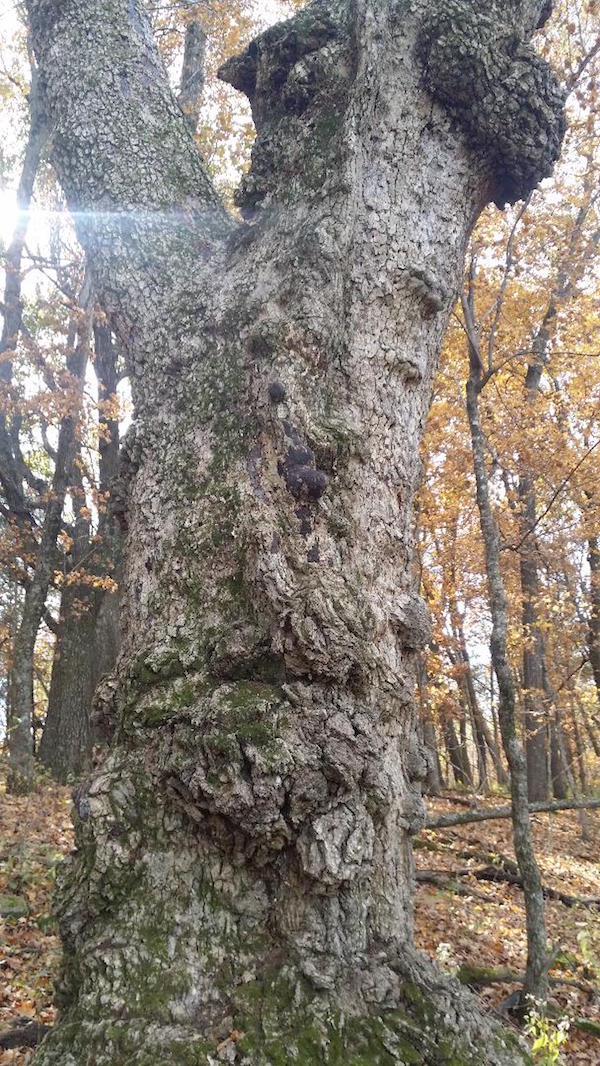 A touch of flare can be a good thing….
Readers, thanks for the latest batch of pictures. My anxieties are considerably eased when I have a good stockpile!
* * *
Readers: Water Cooler is a standalone entity not covered by the NC fundraiser. So do feel free to use the dropdown and click the hat to make a contribution today or any day. Here is why: Regular positive feedback both makes me feel good and lets me know I'm on the right track with coverage. When I get no donations for five or ten days I get worried. More tangibly, a constant trickle of small donations helps me with expenses, and I factor that trickle in when setting fundraising goals. So if you see something you especially appreciate, do feel free to click the hat!