By Lambert Strether of Corrente.
Trade
"he Office of the U.S. Trade Representative is declining to say whether it supports renewal of the Generalized System of Preferences, which expires at the end of this year, or approval of a new Miscellaneous Tariff Bill. Both pieces of legislation unilaterally waive tariffs on imported goods, an action that's at odds with the Trump administration's preference for "reciprocal" trade relationships" [Politico]. "A USTR fact sheet shows that India, Thailand and Brazil are the three largest beneficiaries of the GSP, accounting for more than half of the $18.95 billion in total imports under the program in 2016. The single largest product — $1 billion worth of motor vehicle parts — stands out at a time when the Trump administration is trying to revamp NAFTA to boost auto and auto parts production jobs in the United States."
Politics
2018
In Minnesota, Franken's resignation and replacement by Tina Smith (D) means that both Smith and Senator Amy Klobuchar will be running at the same time, where Senate elections are usually stagged. Larry Sabato calls such elections "double-barreled," tabulated them, and concluded: "The main takeaway from Table 1 is the fact that the same party tends to win both seats in a double-barrel Senate election. In 54 cases, just eight have featured split-ticket outcomes" [Sabato's Crystal Ball]. "Given the straight-ticket pattern in such elections, Minnesota's historical Democratic lean, and the likelihood of a pro-Democratic environment next year (to an unknown extent at this point), it seems at this early juncture that a Democratic sweep in Minnesota in 2018 may be more likely than not. But time will tell — Minnesota has consistently trended toward the GOP in presidential elections even while remaining the second-most Democratic state in the Midwest (behind only Illinois), so we're certainly not writing off a GOP win in Franken's soon-to-be-old seat." Sabato also mentions the possibility that Arizona could be a double-barrel if McCain can no longer serve.
2017
"Last uncounted ballots: Moore can't close 20,000-vote loss" [Spokesman-Review]. "Republican Roy Moore hasn't conceded his 20,000-vote loss to Democrat Doug Jones in Alabama's Senate race, and military and provisional vote totals announced Wednesday aren't enough for Moore to close the deficit. … Alabama Secretary of State John Merrill announced Wednesday that a total of 366 military ballots were returned from overseas. He also said 4,967 provisional ballots were cast. Even if all of those votes went to Moore, that is well short of the 20,000-vote deficit that Moore would need to close the gap. It also would not be enough to trigger an automatic recount. 'No additional ballots are eligible to be received," Merrill's office said in announcing those last ballot totals.'"
Obama Legacy
Remember that poster? Good times. Thread:

[Thread] Obama years, in no particular order …. pic.twitter.com/jCdg0m8liU

— Esha Christmaswamy ?☃️ ? (@eshaLegal) December 19, 2017
Tax "Reform"
"Boeing applauds tax bill with $300 million workforce-related and charitable investment plan" [MarketWatch] and "Three banks boost worker pay with tax cut money" [MarketWatch]. I thought the days of the boss telling workers who to vote for were long gone. Silly me!

"U.S. tax curbs on debt deduction to sting buyout barons" [Reuters].
New Cold War
"Prosecutors ask FBI agents for info on Uranium One deal" [NBC]. "Stewart Baker, a former top lawyer in the George W. Bush administration and an expert in the CFIUS process, said he doubted that the Uranium One decision ever reached Clinton's desk. About the donations [to the Clinton Foundation, and Bill Clinton's $500K for a speech in Moscow], he said, "Is it possible that the Russians thought they needed to do this and that it would help them? Yeah, but that doesn't mean that it actually did." Sensible, but if the same logic is applied to communications between some Russians and the Trump campaign, don't all the claims of "collusion" disappear as well?
Realignment and Legitimacy
"#MeToo run amok" [Shikha Dalmia, The Week]. "Movements collapse when they become more interested in collecting heads than advancing their cause. Unfortunately, the very worthy #MeToo movement against sexual harassment and abuse might have just reached that point…. Last Friday, #MeToo took down Pulitzer Prize-winner Stephen Henderson, the editorial page editor of the liberal Detroit Free Press (or Freep as it is called locally). Henderson was fired for 'inappropriate behavior' — even though no women actively complained about it — [outside the workplace] that allegedly violated the newspaper's 'zero tolerance policy."" "Inappropriate behavior" is even vaguer and less suspectible to any sort of due process than "sexual misconduct." Looking on the bright side, it's even easier to weaponize.

"The Year in Resistance" [Michelle Goldberg, New York Times]. "Throughout February, enraged citizens, coordinated by groups like Indivisible, MoveOn and the Working Families Party, flooded congressional town halls to demand that their representatives save the Affordable Care Act. Repeal, which seemed inevitable in January, failed in July and again in September." No mention, of course, of #MedicareForAll…

"The Democratic Socialists of America are growing — rapidly" [Nuvo]. From an Indianapolis alternative newspaper (didn't know there were any more!): "The Central Indiana DSA chapter operates out of the Indianapolis Worker Justice Center—established in 2013 by the Indianapolis Faith and Labor Coalition to focus on wage theft, particularly in the construction and service industries. DSA holds weekly meetings there for coordination, planning and communal eating. About half the members I spoke with on a Sunday in November told me the 2016 election was a pivotal event for them politically. The Bernie Sanders campaign mobilized them, as it did many young voters. 'I didn't just want to be angry online,' one member said who canvassed for Sanders. 'I wanted to put that anger into something.'"

The headline: "Since Trump's Victory, Democratic Socialists of America Has Become a Budding Political Force" [The Nation]. The deck: "Why an army of young people is joining DSA." No. DSA membership is 30,000. That's not an army. I think the DSA is enormously interesting — far more interesting than liberal icons like (see above) "the resistance" (Prominent resistor and liberal Democrat enforcer Neera Tanden's sinecure at the Center for American progress is, after all, funded in large part by corporate donations), but let's not get ahead of ourselves. DSA has yet to be seriously challenged.

Can we please not use the phrase "deep state" anymore?

Ok guys, so Steven Seagal wrote a book called

THE WAY OF THE SHADOW WOLVES: The Deep State and the Hijacking of America.

If you were wondering "is the foreword written by Joe Arpiao," well of course it is.

What we need to talk about though are this book's reviews. pic.twitter.com/LqKXIA0CKm

— The Warax (@iAmTheWarax) December 21, 2017
Stats Watch
Lots of stats today!
GDP, Q3 2017 (Final): "The third estimate puts third-quarter GDP at a very solid 3.2 percent annualized rate though the gain isn't based on consumer spending which rose at only a 2.2 percent pace. What held up the quarter was a very solid 4.7 percent showing for nonresidential fixed investment in what was the third straight strong reading for this key measurement of business spending" [Econoday]. Animal spirits? And but: "The consumer spending declined, but the real improvement came from using a lower inflation deflator. I am not a fan of quarter-over-quarter exaggerated method of measuring GDP – but my year-over-year preferred method showed moderate acceleration from last quarter" [Econintersect].
Leading Indicators, November 2017: "[T]he index of leading economic indicators is back at a steady and healthy pace of growth [Econoday]. "Initial jobless claims have returned to pre-hurricane levels with financial indicators, manufacturing orders and consumer sentiment also positives." But: "Because of the significant backward revisions, I do not trust this index" [Econintersect].
Philadelphia Fed Business Outlook Survey, December 2017: "Respondents to the Philly Fed's manufacturing sample are reporting new acceleration from an already enormously strong rate of growth" [Econoday]. "New orders are pouring in this month, up more than 8 points to an unusually strong 29.8. The build in unfilled orders slowed slightly but also remains unusually strong at 10.8. Shipments are moving quickly at 23.4 despite congestion in the supply chain as deliveries slowed once again. Input costs remain elevated and selling prices are showing traction." And: "Consider this a stronger report than last month" [Econintersect]. "This is a very noisy index which readers should be reminded is sentiment based. The Philly Fed historically is one of the more negative of all the Fed manufacturing surveys but has been more positive then the others recently."
Chicago Fed National Activity Index, November 2018 2017*: "November was once again a strong month for the national activity index" [Econoday]. "The economy is definitely solid based on this index which, after a very soft year, began to show real life in September." NOTE * Econoday says "2018." First sighting of that typo, which I'm surprised I haven't yet made myself!
Corporate Profits, Q3 2017 (Revised): "Corporate profits, at an annualized rate of $1.854 trillion in the second estimate for the third quarter, rose 9.8 percent compared to the third quarter of 2016 vs an initial estimate of 10.0 percent" [Econoday].
Federal Housing Finance Agency House Price Index, October 2017: "Year-on-year, rose prices were up 6.6 percent in October and 6.5 percent in September which is strong appreciation in a low interest rate, low inflation economy" [Econoday].
Jobless Claims, week of December 16, 2017: "Jobless claims moved higher in a report that nevertheless points to strength for the December employment report" [Econoday] .
Retail: "Best Buy Co. may be offering a model for how to withstand the Amazon juggernaut. The electronics retailer seems to be having success with its recent investment in e-commerce…, building up the anything-anywhere strategy known as omni-channel while adding new marketing and pricing plans aimed at meeting Amazon on the discount floor" [Wall Street Journal]. "Best Buy is leveraging its real-estate by having stores do double-duty as warehouses while helping speed up shipping times. Best Buy also has turned parts of stores over to space where online consumers can pick up goods. And it is looking to outflank Amazon on shipping by offering free delivery with no minimum purchase this season.
Commodities: "The commodities rebound of 2017 is being forged in copper.The metal is on track to post its best year since 2010…, with prices rising on a strong gap between strengthening demand and troubled supply. The demand comes from bullish sentiment over the use of copper in prospective electronic vehicles and in new U.S. infrastructure spending" [Wall Street Journal]. "But the bigger boost may be the straightforward growth across the global economy that's helped bulk carriers recover this year after a years-long commodities shipping downturn. Demand in China is a big driver, and the country's 18.9% gain in iron ore imports from October to November, according to Alphabulk, signaling the manufacturing sector there remains robust."
Commodities: "More than 300 large dry cargo ships are having to wait outside Chinese and Australian ports in a maritime traffic jam that spotlights bottlenecks in China's huge and global commodity supply chain as demand peaks this winter" [Reuters]. "Adding to the congestion is a coal and iron ore buying spree that kicked in after the National Congress of China's communist party in October…. 'Bad weather, substitution of domestic ore with better quality imported ore caused by the anti-pollution policy, and strong steel prices…have all helped to push freight rates up,' [Ong Choo-Kiat, president of Taiwan's dry cargo shipper U-Ming Marine Transport] said."
Shipping: "Air cargo boom pushes Moscow Sheremetyevo to break ground on new handling terminal" [The Loadstar]. "Construction is set to begin next year. Freight terminal operator Moscow Cargo has reported a 35% upturn in volumes since the first site opened this year."
Shipping: "Americans are taking a dim view of excessive packaging, and so is the country's biggest e-commerce shipper. Amazon.com Inc. is taking extra steps to ship orders in correctly-sized packaging…, in a push to take vast tons of cardboard and filler out of package distribution channels" [Wall Street Journal]. "It's an effort driven partly by cost and partly by environmental concerns—and by the growing consternation of online consumers who find their front porches filled with big boxes filled with tiny items, and often see different items from the same order spread across several parcels. Those deliveries are part of a fundamental logistics problem that arises when various goods are stocked at different distribution centers."
Shipping: "New tax plan will not curtail port infrastructure investment" [Logistics Management]. "[T]he AAPA was pleased that several important tax related policy priorities were addressed in the final "Tax Cuts and Jobs Act" legislation recently passed by Congress. These included provisions related to tax-exempt bond financing and wind energy production tax credits. … "We're extremely pleased that the final legislation keeps the tax-exempt status for [private activity bonds (PABs)]. This provision will help foster investments, not just in and around ports, but also in needed infrastructure development throughout the nation," [said Kurt Nagle, AAPA's president and CEO] added… Another "win" for ports and for all engaged in wind energy in the final legislation was the continuation of the existing level of wind energy production tax credits…. A sizable number of ports on the east, gulf, and west coasts and the Great Lakes handle wind energy components as part of their cargo mix…. In addition, AAPA had supported the House bill's repeal of the alternative minimum tax (AMT). This is important since most PABs issued by ports are subject to the AMT, and therefore, increases the cost of financing. In the final bill, Congress repealed the AMT for corporations, but retained it in a modified form for higher-income individuals."
The Bezzle: "Shares of The Long Island Iced Tea Corporation soared as much as 432% pre-market Thursday morning after the company said it would change it's name to Long Blockchain Corp." [Business Insider]. "The company will continue to sell its line of bottled drinks based on the eponymous cocktail, it said, but its parent company 'is shifting its primary corporate focus towards the exploration of and investment in opportunities that leverage the benefits of blockchain technology,' according to a press release."
The Bezzle: "Investors in bitcoin and other virtual currencies would lose a lucrative tax break under the Republican tax bill that's on its way to President Donald Trump's desk" [Bloomberg]. "New limits in the bill would bar cryptocurrency owners from deferring capital gains taxes when trading one type of virtual currency for another — effectively closing a gray area in the tax code, experts say. Those gains can be considerable."
The Bezzle: "Opinion: Why Tesla is literally an unbelievable stock" [MarketWatch]. "Tesla isn't an attractive investment now — not just because of the stock's high valuation but also because it fails a basic quality test, which I shamelessly borrowed from Warren Buffett: Would I own the shares if the stock market were to close for 10 years?… Recessions are tough for deeply cyclical companies like Tesla. The bulk of their costs are fixed, and accordingly lower sales usually result in significant declines in net income and often lead to losses. This is why car companies and their cyclical brethren don't trade at high price-to-earnings levels when the economy is doing well and their earnings are high. The market doesn't usually take these high earnings at face value, knowing full well that there are lower earnings (or losses) when recession comes. Tesla doesn't have to worry about this low price-to-earnings problem, because in spite of its $50 billion market valuation, it has no earnings, just losses. It trades at whatever price-to-future Musk tells you it does." Ouch!
Fodder for the Bulls: "The global economy looks steadier, but uncertainty remains, from Trump to Brexit" [Joseph Stiglitz, MarketWatch]. "In short, as the advanced economies' post-2008 recession fades into the distant past, global prospects for 2018 look a little better than in 2017. The shift from fiscal austerity to a more stimulative stance in both Europe and the U.S. will reduce the need for extreme monetary policies, which almost surely have had distortionary effects not just on financial markets but also on the real economy." Although there are plenty of caveats!
Honey for the Bears: "As director of wine for [the newly opened Four Seasons mega hotel] as well as its private members club, [Jan Konetzski] gets a unique view of how City workers are feeling about the business environment as they unwind, network or celebrate with clients over lunch or dinner. Oh, and lots of conversation about bitcoin's wild ride" [Financial News]. "And the overall sentiment at the moment? Upbeat but with a fair amount of trepidation about the year to come. "[The mood] is 'we are fine, so let's enjoy the moment' — but maybe it is the celebration before it all goes down' he says. 'We overhear a lot of conversations on the tables in the City and there are so many diverse opinions about what is going to happen next year. I do not know anyone who I would trust that knows what will happen.'" Nobody knows anything!
Five Horsemen: "Seattle sluggers Amazon and Microsoft are tied for first place with a 28.66% gain since April 26th. Silicon Valley stalwarts Alphabet and Facebook are tied for third place with a 21.05% gain. Apple's in the middle with a 23.25% gain. All are beating SPY, an S&P 500 index tracker" [Hat tip, Jim Haygood].
Today's Fear & Greed Index: 72 Greed (previous close: 72, Greed) [CNN]. One week ago: 65 (Greed). (0 is Extreme Fear; 100 is Extreme Greed. Last updated Dec 21 at 11:49am.
Black Injustice Tipping Point
"P.T. Barnum's Most Famous 'Freaks'" [RealClearLive]. "Chang & Eng: Born in what's now Thailand, the conjoined twins (called Siamese twins due to their birthplace) earned enough as a sideshow attraction that they were able to buy a plantation in North Carolina… The Civil War wiped out their fortune, however." I had no idea that Chang & Eng were slave-owners. Learn something new every day.
Here's hoping Erica Garner runs for Senate and wins her primary against Chelsea. Anyhow:
democrats run this city right? Black lives matter … right? Court denies Legal Aid Society police disciplinary records in Eric Garner case https://t.co/YK5cwgqq5G

— officialERICA GARNER (@es_snipes) December 21, 2017
More from Cornel West on Ta-Nehisi Coates:
"You're misleading a whole generation of people."@CornelWest speaks to #TheRoot about his recent criticism of @tanehisicoates in the New York Times. pic.twitter.com/dtRxH9BBCK

— The Root (@TheRoot) December 19, 2017
"Journalist Ta-Nehisi Coates' love letter to Barack Obama" [World Socialist Web Site]. From 2016, but still germane.
"'We Were Eight Years in Power,' by Ta-Nehisi Coates" [San Francisco Chronicle].
And this:
Just my two cents on the ongoing Coates-West argument: I saw Cornel West on Market St in Charlottesville confronting Unite the Right. I saw DSA and PSL there too. I didn't see Coates, I didn't see Hillary's fan club, & I didn't see most of the online crew attacking West there ?

— Bullneck (@Bullneck) December 19, 2017
I hesitate to join in the fray here, but: Coates cancelled his Twitter account. However, Black Twitter is quite large and very dynamic, and I would speculate that Coates discovered that not enough people were willing to watch his back.
Neoliberal Epidemics
Young Ezra:
US drug overdose deaths in 2016: 63,600

For comparison:

US deaths in the Vietnam war: 58,000

US HIV/AIDS deaths in 1995, the peak of the crisis: 43,000

US motor accidents deaths in 2016: 37,461

Annual gun deaths in the US: 33,000https://t.co/s3zCIUwNR6

— Ezra Klein (@ezraklein) December 21, 2017
Class Warfare
"Disney union workers reject company's latest offer on wage increase" [Orlando Weekly]. "In its latest contract offer, Disney proposed an increase of 6 to 10 percent raise over two years for non-tipped full-time and part-time workers. That means cast members who made $10 per hour would only get a 50-cent raise in their first year. Other workers who earn more would get a 3 percent raise in the same time frame. Disney also offered its employees a one-time $200 bonus and promised no increase in health care costs." Mickey Mouse, indeed!
"America's Dental Gap Has Left People Relying on Pliers, Chisels, and Whiskey" [The Nation]. And if you've got bad teeth, down into the underclass you go, so the pliers are only the beginning!
"Kaffer: 8 years into tests of abandoned rape kits, Worthy works for justice" [Detroit Free Press]. Important:
In 2009, 11,341 untested sexual assault kits — the results of an hours-long process that collects evidence from the body of a rape victim — were found during a routine tour of a Detroit police storage warehouse, some dating back to 1984. [Wayne County Prosecutor Kym Worthy] and her team started the long and laborious process of testing those kits, investigating the crimes, and prosecuting the perpetrators… Ten thousand rape kits tested. One hundred twenty-seven convictions won, 1,947 cases investigated, …. . … Of our set of 817 … over 50 of them have 10 to 15 hits apiece.
The "serial" aspect caught my eye. (Linked to here, but see again: "Whatever they're after, clearly no quantity of it ever suffices. Learning about other humans acting so robotically presents a conceptual difficulty. We wish to emphasize the moral agency of the predators, their supposed gains—sadistic pleasure, the glee of getting away with it—which enlarges their monstrosity and distinguishes them from the rest of us. But who would 'choose' to be a robot?") I'm struggling here, but it's almost as if the sin is not lust, or even a lust for power, but greed (never enough). In fact, it's almost as if the accumulation of capital is a sublimated, and socially sanctioned, version of this form of "primitive" accumulation. Or vice versa.
News of the Wired
"She Giggles, He Gallops" [The Pudding]. "Analyzing gender tropes in film with screen direction from 2,000 scripts." Most frequent word for women: "snuggles." Most frequent word for men: "straps'"(!).
"I Write Because I Hate" [n+1]. Retrospective on William Gass, obviously an interesting writer I should have known more about. Any post that raised the question of "the identity of indiscernibles" is alright with me!
"Designing Against Misinformation" [Jeff Smith, Medium]. Smith is Product Designer, Facebook News Feed. "We will continue working hard on these efforts by testing new treatments, improving existing treatments, and collaborating with academic experts on this complicated misinformation problem." Idea: Let users curate their own feeds. Present the feeds in reverse chronological order. Forget about the algorithm. Fire the programmers. Fire the Product Designer. Problem solved! (Inidentally, one misfeature of Facebook is that you can't embed links in your posts. There is, therefore, no way for users to address (both senses) problems or contextualize material, very much unlike blogging platforms. So all that functionality falls onto the algorithm, and — is there a computer science-y way say this? — there is no algorithm that cannot be gamed, given a level of effort.
I hope this one's still on the shelves:
So, four days to Christmas… @michaelneale. pic.twitter.com/ExwujhFkyl

— Stilgherrian (@stilgherrian) December 21, 2017
* * *
Readers, feel free to contact me at lambert [UNDERSCORE] strether [DOT] corrente [AT] yahoo [DOT] com, with (a) links, and even better (b) sources I should curate regularly, (c) how to send me a check if you are allergic to PayPal, and (d) to find out how to send me images of plants. Vegetables are fine! Fungi are deemed to be honorary plants! If you want your handle to appear as a credit, pleas s e place it at the start of your mail in parentheses: (thus). Otherwise, I will anonymize by using your initials. See the previous Water Cooler (with plant)
here
. Today's plant (PH):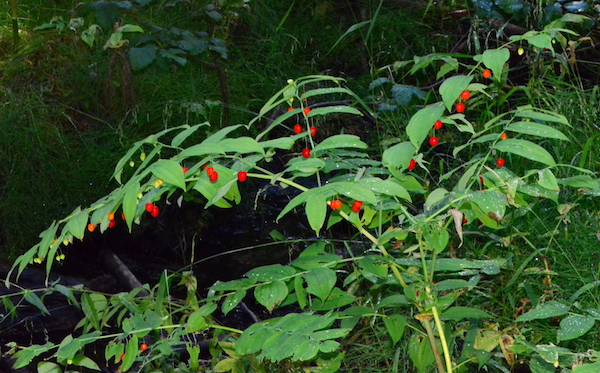 PH writes: "Streptopus amplexifolia, Claspleaaf Twistedstalk, from around Kamloops, s.c. BC, Canada."
Readers, thanks for the latest batch of pictures. My anxieties are considerably eased when I have a good stockpile!
* * *
Readers: Water Cooler is a standalone entity not covered by the NC fundraiser. So do feel free to use the dropdown and click the hat to make a contribution today or any day. Here is why: Regular positive feedback both makes me feel good and lets me know I'm on the right track with coverage. When I get no donations for five or ten days I get worried. More tangibly, a constant trickle of small donations helps me with expenses, and I factor that trickle in when setting fundraising goals. So if you see something you especially appreciate, do feel free to click the hat!