By Lambert Strether of Corrente.
Net Neutrality
"Think about all of the recent news stories that are about or are a result of concentration/deregulation of media power and the inevitable consequences. Obviously, net neutrality falls under this category" [Observational Epidemiology]. "For most of the 20th century, the government kept a vigilant watch for even potential accumulation of media power. Ownership was restricted. Movie studios were forced to sell their theaters (see United States v. Paramount Pictures, Inc). The largest radio network was effectively forced to split in two (that's why we have ABC broadcasting today). Media companies were tightly regulated, their workforce was heavily unionized, and they were forced to jump through all manner of hoops before expanding into new markets to insure that the public good was being served. In short, the companies were subjected to conditions which we have been told prevent growth, stifle innovation, and kill jobs. We can never know what would've happened had the government given these companies a freer hand but we can say with certainty that for media, the Post-war era was a period of explosive growth, fantastic advances, and incredible successes both economically and culturally. It's worth noting that the biggest entertainment franchises of the market-worshiping, anything-goes 21st century were mostly created under the yoke of 20th century regulation."
"A Public Internet Is Possible" [Current Affairs]. "In the last few years, several cities or counties around the the country entered the broadband market themselves. Their goal was to provide cheaper and faster internet. The list includes Chattanooga in Tennessee, Lafayette in Louisiana, and Wilson in North Carolina. The results have been astonishing. For example, Chattanooga was able to provide discounted prices to lower income residents and sell internet access at speeds that surpassed Google Fiber, which until then was the fastest internet in the country. Other cities like Sandy, Oregon were able to offer fast speeds for prices lower than the average ISP's packages. The winners in all this were the consumers rescued from the Invisible Consolidating Hand's shortcomings by a government able to prioritize the provision of an important public good over maximizing profit. You could imagine a future in which every city and state ran an ISP that would ignore the FCC's repeal vote and provide faster and cheaper internet on the basis of net neutrality principles. What reasonable consumer would ever choose a private ISP over the public broadband? If we followed this model in more cities, we could create a world where the repeal of net neutrality doesn't matter. To compete with the public broadband, the private ISPs would have to ditch their restrictions and actually have to lower their prices as well."
Trade
"Things are already starting to quiet down a bit on the trade front as Christmas approaches, but don't expect that to last long. On Jan. 3, USTR will hold a hearing on Whirlpool's request for emergency safeguard restrictions on washing machine imports from around the world. The U.S. International Trade Commission has already recommended import relief, but USTR also plays an advisory role as Trump makes up his mind on what to do. Nothing says "Happy New Year" like squeezing into USTR's F Street annex building and struggling to hear witnesses over the acoustically challenged sound system" [Politico], Infrastructure!
Politics
2018
"So in a little less than a year, the Democrats could have control of both houses of Congress. What will they do then?" [The Week]. As far as establishment Democrats go, we already know from what Jones and Northam did: They'll backtrack on all their promises, and the Establishment will then vigorously kick the left for pointing this out. (Of course, we already know this from 2006, but now we really know it.)
2017
UPDATE "Buried inside the Alabama election, a lesson for the GOP in 2018" [NBC]. "Tallies out of Alabama's biggest vote-producing counties suggest the election was just another example of a trend that's shaped the most-watched races of 2017: the GOP's retreat from the suburbs. More than 60 percent of the vote on Tuesday night came out of just five counties — Jefferson, Madison, Mobile, Montgomery and Shelby — around big metro areas. And the swing away from Moore in those counties compared to the state's last Senate race in 2016 was extraordinary. Roy Moore lost the vote from those five counties by 24 points, 37 percent to 61 percent. In 2016 Republican Sen. Richard Shelby won those same counties by 9 points, 54 percent to 45 percent. That's a 33-point swing." So if the Republican establishment decides to run more pedophiles in 2018 and 2020, Democrats are all set.

"Rebelling Republican Suburbs Offer Democrats Path to House Control" [New York Times]. It's not clear to me whether this is reporting, or the Times in its role as liberal Democrat house organ. Clearly, the Democrat establishment will do anything rather than try to expand their base and appeal to the vast majority of all voters with universal concrete material benefits, especially for the working class. Hopefully, Thomas Frank is working on a new book about this.

"Roy Moore is still not admitting he lost the Alabama election" [Twitter Moment].
Obama Legacy
"Obama's Interview With Prince Harry Looks Utterly Delightful" [Vanity Fair]. No doubt.
2016 Post Mortem
"Why did Broward destroy 2016 ballots? Sanders ally seeks US probe." [Christian Science Monitor]. "Florida regulations require retention of records related to a federal election for 22 months. That would mean that documents from the August 2016 Democratic primary election would not become eligible for routine destruction until late June 2018." The Sanders ally is Tim Canova and his opponent was Debbie Wasserman Schultz, of blessed memory.

"Experts: Broward's elections chief broke law in destroying ballots" [Politico]. "'The documents were not destroyed because they were maintained in an electronic format,' Snipes' attorney, Burnadette Norris-Weeks, told POLITICO. 'They have the documents. … They did a two-day inspection of the ballots.' But Canova, a Nova Southeastern University law professor, and his attorney say they wanted originals to make sure they weren't tampered with. Digital copies can be altered, they said. Seven election-law lawyers interviewed by POLITICO do not share Snipes' attorney's interpretation of the statute. Nor does the Department of Justice's voting division, which is in charge of enforcing the federal law."
Tax "Reform"
"Republican Senators Will Save Millions With Special Real-Estate Tax Break" [International Business Times]. Sirota has been all over this. Kudos!

"We're witnessing the wholesale looting of America" [Vox]. File under Things Suddenly Discovered To Be A Problem Under Trump That Were Never A Problem Under Obama, much beloved by liberal Democrats.

Noted Without Comment: "A longtime champion of the working class, Mr. Rubio had tried in vain to secure a more generous tax break for lower-income Americans as Congress embarked on a sweeping rewrite of the federal tax code" [Sheryl Gay Stolberg, New York Times].
New Cold War
"You have to remember Putin's background. He's a KGB officer. That's what they do. They recruit assets," Clapper added. "And I think some of that experience and instincts of Putin has come into play here in his managing of a pretty important account for him" [CNN]. Clapper made clear he was when referring to Trump as a Russian asset." Oh. Sounds like Clapper and Morell should get together to make sure they're on the same page, speaking figuratively.

"People with knowledge of the investigation said it could last at least another year — pointing to ongoing cooperation from witnesses such as former Trump campaign adviser George Papadopoulos and former national security adviser Michael Flynn, as well as a possible trial of two former Trump campaign officials" [WaPo]. I'm waiting for the next stage of the "puppet" to "interference" to "meddling" to "collusion" declension: "appearance of impropriety."

"The Entire Russian Hacking Narrative Is Invalidated In This Single Assange Tweet" [Caitlin Johnstone, Black Agenda Report]. Odd to see Johnstone receiving BAR"s imprimatur, but this: "If [Mueller is running] an actual investigation into an actual alleged crime, then Assange is necessarily either (A) a source of useful information, (B) a person of interest, or (C) a suspect in the crime itself. None of those allows for any excuse for not speaking to him. If it's either (A) or (B), he's a potential goldmine of information for their investigation to make use of. If it's (C), they can grill him and try to get him to give something up. Even someone caught on video committing a murder eventually gets interviewed by the law enforcement officials responsible for investigating their case to establish the accused's side of the story; if they didn't, they'd be committing malpractice. Since they did not seek to question Assange early and extensively, this cannot possibly be an actual investigation into an actual allegation." Hard to argue with that.

The repetitious loon quoted at left was Director of Clinton's Rapid Response team in 2016:

Congress asks for docs to see if there's connection between Jill Stein's campaign & Russia. There's zero evidence there is. Yet the mere Congressional inquiry has instantly prompted declarations of guilt & treason like this. Just please don't call the climate McCarthyite: pic.twitter.com/X4aur2xu0p

— Glenn Greenwald (@ggreenwald) December 18, 2017

The Clintonites really have lost their minds.
Trump Transition
"The federal Office of Surface Mining Reclamation and Enforcement deemed the work of Steven Gardner's firm so shoddy that it cut ties with the firm. Now President Trump has nominated Gardner to lead the federal agency that once called his work 'a piece of junk'" [Daily Yonder].
Realignment and Legitimacy
"Michigan Gerrymandering Reform Hits A Major Milestone" [HuffPo]. "A Michigan grassroots group says it has gathered enough petition signatures to put a measure on the 2018 ballot that would allow voters to choose whether to amend the state constitution to create an independent redistricting commission. The group, called Voters Not Politicians, plans to turn in more than 425,000 signatures to the Michigan Secretary of State's Office on Monday to begin the verification process. The group needs at least 315,654 valid signatures to get the measure on the ballot. The campaign and petition collection effort was run completely by volunteers, though the group has recently brought on paid public relations, fundraising and legal assistance."
Stats Watch
Housing Starts, November 2017: "A pivot higher is underway in the new home market. The latest evidence comes from housing starts and permits which matched their unusual October strength with stronger-than-expected results for November" [Econoday]. "New home sales shot higher in September and data from the sector haven't slowed down since in what looks to be a major positive for the fourth-quarter economy." And: "Note the low level of single family starts and completions. The "wide bottom" was what I was forecasting following the recession, and now I expect a few more years of increasing single family starts and completions" [Calculated Risk]. And but (from charts): "On this capita basis housing starts are for all practical purposes are still at or below all time lows of prior recessions" (figures are not population adjusted) [Mosler Economics]. But: "The backward revisions this month were moderately downward.The nature of this industry normally has large variations from month to month (mostly due to weather) so the rolling averages are the best way to view this series – and it shows permits rate of growth declined, and completions rate of growth declined" [Econintersect].
Current Account, Q3 2017: "Hurricane receipts from foreign insurance companies for losses resulting from hurricanes Harvey, Irma, and Maria shaved $24.9 billion from the nation's current account deficit to a much lower-than-expected $100.6 billion in the third quarter" [Econoday]. "But the quarter also benefited from a $6.2 billion narrowing in the goods deficit to $195.3 billion which saw gains for capital goods exports and aircraft. Other details include a narrowing in the secondary income deficit on higher income from government fines and penalties and a widening in the primary income surplus on increases in portfolio investment income and in direct investment income." And but: "Another hurricane influenced number. Without the receipts from foreign insurance companies looks like it would have been about the same as last month" [Mosler Economics].
Commodities: "The announcement made by uranium giant Cameco in November that it's suspending operations at its flagship McArthur River mine in northern Saskatchewan and surprisingly deep three-year cuts by Kazakhstan's state-owned Kazatomprom provide a 'step change/ for uranium prices says a new report on the sector from Cantor Fitzgerald equity research" [Mining.com].
Commodities: "The search is on for the next banana with mass appeal. A fungal disease threatens the Cavendish variety that dominates global sales of the fruit today, kicking off a quest by researchers and fruit producers to find a replacement" [Wall Street Journal]. "The banana-destroying fungus is an example of how failing to cultivate a diversified supply chain can lead to disaster, much like how a smartphone manufacturer can be thrown into disarray if a typhoon cripples production at the sole factory producing an important part. Unlike in the technology sector, replacing the Cavendish won't be as simple as opening a new factory."
Shipping: "As online shopping, or e-commerce, becomes an ever-growing piece of holiday retail sales, so, too, does the commensurate returns, or, reverse logistics, activity" [Logistics Management]. "Product returns comprise 8% of total retail sales but are much higher for e-commerce sales from 15%-30% depending on the product type and peak during the holiday sales season."
The Bezzle: "Bitcoin's illiquidity is going to be a huge problem when the bubble bursts [Business Insider]. "Like the price of bitcoin itself, transaction time has been rising as the months go by. Right now, it takes four and a half hours to confirm a bitcoin trade, on average" [Business Insider]. "The transaction time is built into the system, as each transaction must be confirmed by six bitcoin miners. There is a finite number of them, and the more transactions they have to confirm, the longer it takes as their network bandwidth fills.Worse, they charge for transactions and prioritize transactions based on price. Those who pay more get processed first. Imagine how bad this would get on a day some negative news hits the wires and the significant holders of bitcoin decide 'I've had enough of this, I've made my money, I am bailing.' The majority of bitcoins are held by a tiny percentage of the market — 40% by 1,000 people. Those few holders could crash the market whenever they wanted."
The Bezzle: "Some creative Tesla owners came up with a way to make a few bucks from their parked EVs: Cryptocurrency mining" [EcoMotoring News]. "Any source of electricity you don't have to pay the normal rate for, or that you don't have to pay for at all, is an opportunity for miners to increase their already thin profits. Teslas and other EVs have free access to power at many charging stations, so it was probably only a matter of time until somebody decided to plug their mining computers in." In terms of class and culture markers, wowsers, what a two-fer.
The Bezzle:
A few years ago, this Kenyan farmer was working odd jobs; now he mines cryptocurrencies from his living room https://t.co/wDr9DEAOoZ (via @CNNafrica) pic.twitter.com/J6OKjuXggX

— CNN (@CNN) December 19, 2017
Good for him, but doesn't this feel a bit too much like froth for comfort?
The Bezzle: "At Tuesday's hearing on Uber's license denial appeal, Transport for London (TfL)] also said it had 'one or two' issues regarding the accuracy of details provided by Uber. 'The decision letter says, well, there are one or two issues about the extent to which the information given to TfL was correct," TfL lawyer Martin Chamberlain told the court. 'That is one of the points that the decision is based on'" [Reuters]. I'm not sure how to translate the English "one or two issues" into American, but I suspect it means something like "no [family blogging] way."
The Bezzle: "[I]t is essential to remember that maintaining this "real-life Tony Stark" persona is tremendously valuable to Musk. In addition to the ego gratification (and we have every reason to believe that Musk has a huge ego), this persona is worth hundreds of millions of dollars to Musk. More than any other factor, Musk's mystique and his ability to generate hype have pumped the valuation of Tesla to its current stratospheric levels" [Observational Epidemiology]. "When Musk gets tons of coverage for claiming he's about to develop telepathy chips for your brain or build a giant subterranean slot car race track under Los Angeles, he keeps that mystique going. Eventually groundless proposals and questionable-to-false boasts will wear away at his reputation, but unless the vast majority of journalists become less credulous and more professional in the very near future, that damage won't come soon enough to prevent Musk from earning another billion dollars or so from the hype."
The Bezzle: "Or You Could Just Do Away With The Algorithm" [Eschaton]. Atrios is 100% right. Prompted, I believe, by this thread:
For those of you who work in social media, I need to share the story of my friend who died, and I didn't know because algorithms.

— Caryn Vainio (@Hellchick) December 18, 2017
Five Horsemen: "Amazon has gained over 30 percent since this chart began on April 26th." [Hat tip, Jim Haygood].
Today's Fear & Greed Index: 74 Greed (previous close: 74, Greed) [CNN]. One week ago: 66 (Greed). (0 is Extreme Fear; 100 is Extreme Greed. Last updated Dec 19 at 11:48am.
Puerto Rico
"Broken bonds: The role Wall Street played in wiping out Puerto Ricans' savings" [CNBC]. This is horrible. Read for the detail. Some UBS executives should be strung up, but of course they have impunity, like all CEOs, so that will never happen.
Guillotine Watch
"One family told the kids they were riding on Santa's sleigh, so they required the pilot [of their rented private plane] to dress up like Santa. Other holiday requests include mistletoe on each doorway of the plane, presents under a tree onboard, goggles so flyers could pop champagne onboard safely and a menorah lighting onboard" [Moneyish].
Elon Musk on public transportation: "I think public transport is painful. It sucks. Why do you want to get on something with a lot of other people, that doesn't leave where you want it to leave, doesn't start where you want it to start, doesn't end where you want it to end? And it doesn't go all the time. It's a pain in the *ss. That's why everyone doesn't like it. And there's like a bunch of random strangers, one of who might be a serial killer, OK, great" [Wired]. Worse, one of the strangers might be a sociopathic squillionaire, who kills at scale.
Class Warfare
"Peterson Foundation and Ford Foundation Launch US 2050" [Ford Foundation]. "In the coming decades, a transformational wave of foreseeable demographic changes will create a new American tapestry. Social, economic, and technological changes will reshape the domestic and global economy, and the nation's fiscal condition will face increasing challenges resulting from a range of factors, including an aging society and a structural mismatch between spending and revenues. These interconnected trends will have significant, but not yet fully understood, implications for the social and financial well-being of Americans. US 2050 will explore these issues and their link to the country's fiscal and economic health." Gawd help us all… .
"AN APPEAL TO THE REPUBLICAN-SUPPORTING PLUTOCRATS OF AMERICA" [Brad DeLong]. "In the America the politicians you support are building, it may well become the case that one day your grandchildren are in the center of a web of political influence, and the next day they will find themselves not: Some of them will be involuntary guests at the Wichita Ritz-Carlton, The rest will try to make a run for it in the Learjet, or in the rubber boat." So the Democrat-supporting plutocrats can continue sipping white wine out on the deck of an evening, watching the flames in the distance?
"Identity in the modern sense is necrological. It is an obituary notice that overwrites us, in lapidary fashion, with the deposit of history: race, class, sex, nation, a list of attributes. It is somehow both about singularity and belonging; who we uniquely are, and who we are like because of our ancestry" [Salvage Zone]. This is pretty dense, and uses Lacanian categories, but if you'll like it, if it's the sort of thing you like. (I found it at BLCKDGRD, which is another one of those interesting small blogs Comcast would like to strangle by killing off net neutrality.)
Oops: @tanehisicoates (apparently putting a period or perhaps an exclamation point to a controversy generated by Cornel West: "Ta-Nehisi Coates is the neoliberal face of the black freedom struggle").
News of the Wired
"The problem with 'cloud' isn't its meaning, which is roughly 'where offsite storage and computing happens.' The problem is that the tech industry uses "cloud" to blur where stuff actually is and where it is happening. It's a sleight-of-noun trick that causes far more harm than good. It bloats cognitive overhead, wastes time and forecloses countless opportunities" [Doc Searles]. "Apple has also done its ironic best to both popularize podcasting and to make listening to podcasts as hard as possible. The worst thing it has done, of course, is locate podcasts in iCloud, while making it nearly impossible to figure out where the hell one's podcasts are."
"The College Student Who Decoded the Data Hidden in Inca Knots" [Atlas Obscura]. "Medrano noticed that the way each cord was tied onto the khipu seemed to correspond to the social status of the 132 people recorded in the census document. The colors of the strings also appeared to be related to the people's first names…. 'Manny has proven that the way in which pendant cords are tied to the top cord indicates which social group an individual belonged to. This is the first time anyone has shown that and it's a big deal,' [Sabine Hyland of the University of St. Andrews] says."
* * *
Readers, feel free to contact me at lambert [UNDERSCORE] strether [DOT] corrente [AT] yahoo [DOT] com, with (a) links, and even better (b) sources I should curate regularly, (c) how to send me a check if you are allergic to PayPal, and (d) to find out how to send me images of plants. Vegetables are fine! Fungi are deemed to be honorary plants! If you want your handle to appear as a credit, pleas s e place it at the start of your mail in parentheses: (thus). Otherwise, I will anonymize by using your initials. See the previous Water Cooler (with plant)
here
. Today's plant (Shane from Australia):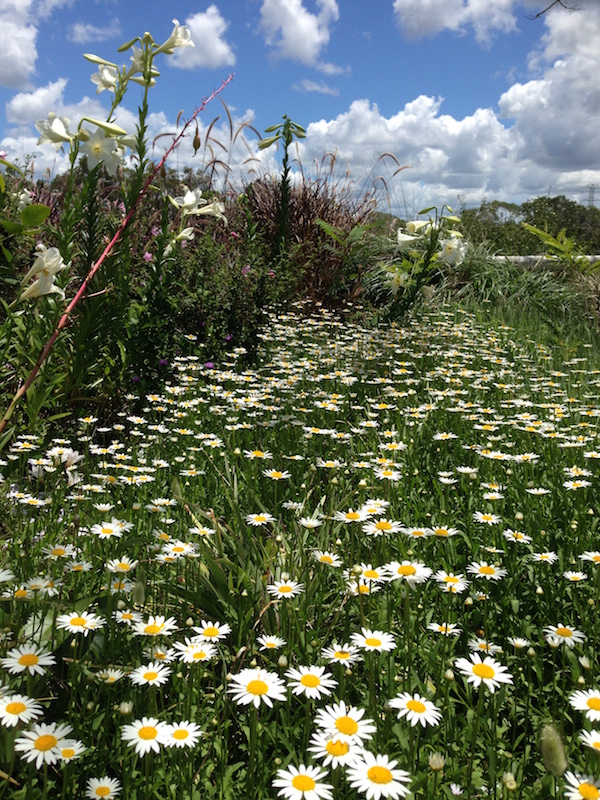 Shane writes: "Lilium longiflorum and ox-eye daisies." And look at that sky!
Readers, thanks for the latest batch of pictures. My anxieties are considerably eased when I have a good stockpile!
* * *
Readers: Water Cooler is a standalone entity not covered by the NC fundraiser. So do feel free to use the dropdown and click the hat to make a contribution today or any day. Here is why: Regular positive feedback both makes me feel good and lets me know I'm on the right track with coverage. When I get no donations for five or ten days I get worried. More tangibly, a constant trickle of small donations helps me with expenses, and I factor that trickle in when setting fundraising goals. So if you see something you especially appreciate, do feel free to click the hat!