By Lambert Strether of Corrente.
Patient readers, this is a little shorter than it should be, because I'm feeling a bit under the weather. –Lambert
Trade
"The commercial aircraft business could be on the cusp of its biggest upheaval in two decades. Boeing Co. has been in talks to take over Brazilian plane maker Embraer SA, the WSJ's Dana Mattioli, Dana Cimilluca and Liz Hoffman report. The move that would counter an attempt by Airbus SE to strike a similar deal with Canada's Bombardier Inc. and extend the competition between the two manufacturing giants to the regional jet market. The maneuvers come amid a trade dispute between the U.S. and Canada over alleged state subsidies to Bombardier, and U.S. moves to slap the company with tariffs" [Wall Street Journal]. "Boeing's move on Embraer faces high hurdles since the company plays a big role in Brazil's economy and defense business."
Politics
2020
"Bernie Sanders and the progressive renaissance of 2018 and 2020" [Brent Budowsky, The Hill]. "When historians look back on the Sanders campaign in 2016, they will note two fundamentally important and lasting contributions that Sanders and his supporters made. First, the Sanders platform in the 2016 primaries, which was significantly but not fully included in the Democratic platform at the convention, will provide the policy blueprint for the next Democratic presidential campaign and the next great Democratic president. The second historic legacy of the Sanders campaign in 2016 was that he challenged, and defeated, the old style campaign fundraising paradigm of previous major candidates. It was revolutionary and historic that Sanders energized a gigantic army of small donors and became a fundraising leader who changed campaign fundraising forever." The second point is especially important, although liberal Democrats have erased it from the discourse (and defenestrated as many people at the DNC who supported it as they could).
2018
"Clinton mulls role in 2018 midterms" [The Hill]. Please kill me now. More: "Those who have spoken to Clinton say she's fielding requests and deciding how to best wade into 2018 waters. 'Has she gotten a lot of asks? Yeah,' one longtime Clinton ally said. '… I don't see a scenario where she's not doing anything publicly.' Still, the ally acknowledged that Clinton will pick her spots if she hits the trail. 'Obviously, there's a huge difference between Alabama and Darrell Issa's [R-Calif.] district,' the ally said." Not if the election is nationalized, there won't be, and that's exactly what the Democrats hope to do with their "wave" election.

"Only the Economy Could Change the Political Atmosphere" [Charles Cook, Cook Political Report]. "But what if the economy continues to grow at this pace through the November 2018 election? What if unemployment remains at such a low level, consumer confidence stays high, and people's 401(k) retirement funds continue to grow? Would six quarters of a buoyant economy ease the disenchantment of Republican and conservative voters, the anger of independent and centrist voters, and the intensity of opposition toward both Trump and the Republican Congress among Democratic and liberal voters? Would the economy have ameliorative effects strong enough to save the GOP majority in the House and allow Senate Republicans to pick up Democratic seats in traditionally Republican states?… I remain quite skeptical that this will happen, but in thinking about how the trajectory of this election could shift, this would seem to be the most plausible factor, and one to be monitored for changes in the political mood."

"Democrats believe their path to the House majority winds through the Golden State, where the June "open" primary figures to serve as a bellwether of sorts for the November midterm elections. Of the two-dozen Republican districts Hillary Clinton carried last year, seven are in California. If Democrats can't pick off a sizable chunk of them, it's unlikely they can retake the lower chamber from Republicans" [RealClearPolitics]. "In addition to Rohrabacher and Issa, they are targeting Ed Royce, Mimi Walters, Steve Knight, David Valadao, and Jeff Denham. And beyond the seven from Clinton districts, Democrats also have Duncan Hunter Jr., Devin Nunes, and Tom McClintock in their sights. Their districts represent the kinds of areas where Democrats hope to make strides elsewhere in the nation by exploiting tensions between traditional Republicans and Donald Trump. '," said [John Vigna, spokesman for the state Democratic Party]." Of course, the Democrat Establishment signaled the kind of race it wanted to run when Perez purged all Sanders supporters from the Rules and Bylaws Committee.

Taxes and 2018:

Hypothesis — GOP is betting low- and middle-income people care more about absolute well-being than relative well-being. Dems planning to run against the tax plan are betting that's wrong. There's an element of the "Ultimatum Game" here. #DoesFairnessMatter?

— Stephanie Kelton (@StephanieKelton) December 22, 2017

Wikipedia on the ultimatum time. Guys, it's time for some game theory?
Tax "Reform"
"Trump signs tax bill into law" [MarketWatch]. "'We did a rush job today and it wasn't fancy,' Trump said of the Oval Office signing ceremony. Trump also signed a bill to keep the government running through Jan. 19."

Via Moody's: "The SALT change, combined with the higher standard deduction and tighter limit on the mortgage interest deduction, also reduces the tax incentive for home ownership, which is likely to slow home construction and sales, and moderately suppress home values and property tax growth in higher-price markets" [Credit Slips].

"Tax reform delivers goodies to the supply chain, if it needs to feast" [DC Velocity]. "The folks in the supply chain management ecosystem are a pragmatic bunch. That pragmatism includes not allowing tax consequences to drive capital investment decisions. That said, many companies will find the tax bill about to be signed into law by President Trump amply rewarding, even if they don't invest a dime in capital equipment next year. Lower tax rates, generous expensing, depreciation laws could be potent brew. But is it needed?"

"Tax Bill Is Great for Accountants — Unless They Have Holiday Plans" [New York Times] and "Wall Street Rushes to Find Winners and Losers From Tax Overhaul" [Bloomberg].
Trump Transition
"McConnell says he's unlikely to push for Social Security, Medicare changes next year" [MarketWatch]. "'The only way I would be willing to go to entitlement reform—I assume that's a euphemism [ouch!] for things like Social Security and Medicare—would be if there were Democratic support,' McConnell said in an interview with The Wall Street Journal. 'I've not heard of any.'"

"There Is No Ban on Words at the CDC" [Slate]. "Reports about the seven dirty words at CDC should be understood in light of [the current] budgetary process. Right now, the Trump administration is in the middle of preparing its fiscal 2019 request, to be submitted to Congress this coming February. It's likely that the staffers at each agency at HHS have already submitted their proposals for how much money they think they need, for which specific projects, along with "budget narratives" explaining why. These, in turn, have probably been passed up to the budget team for the whole department, aggregated and sent on to the Office of Management and Budget in the White House. Now the OMB is trying to combine proposals from across the federal government into one colossal document to be reviewed by lawmakers… HHS staffers have been telling those at CDC and other agencies that it would be better to avoid any phrases that might attract extra notice from the budget-slashers higher up the chain. This is tactical advice: They want to bolster the CDC's position during these negotiations. Levin suggests that words like vulnerable, entitlement, or diversity might annoy Republicans in Congress and make them less inclined to grant requested funds. But it seems more likely that the same advice is meant to ward off cuts from OMB Director Mick Mulvaney and his team of budget hawks; after all, they've been more tight-fisted than even congressional Republicans." This is an important article because, gosh darn it, I bought into it, and so liberal Democrat gaslighting ended up concealing worse real problems.
Realignment and Legitimacy
"Can the Tax Bill Unite a Divided GOP?" [Amy Walter, Cook Political Report]. "Tucked into the always insightful NBC-Wall Street Journal poll is a question that asks 2016 Trump voters whether their vote was determined more by their support for Trump or their dislike of Clinton and/or her policies…. [W]hile the pro-Trump and anti-Clinton GOPers both give Trump solid job approval ratings, those in the pro-Trump category give him a 97 percent job approval rating, with 80 percent very strong approval. Among those in the anti-Clinton camp, Trump has an 82 percent job approval rating and just 33 percent strong approval…. The good news for Trump and Republicans is that these "dislike Clinton, voted Trump" voters aren't moving into the Democratic camp." And the last paragraph: "Lots of folks think of Trump's 'base' as those folks who show up to his rallies. However, his base also encompasses those who don't and won't come to a rally. A fear of a Clinton presidency may have been enough to get them to vote for Trump in 2016, but will Trump's erratic temperament and their lackluster support of the GOP's signature policy achievement in Congress, keep them home in 2018." Odd little typo, there; the last sentence of the last paragraph should end with a question mark, not a period.

"Better Angels: Slowly Bridging Our Partisan Divide" [Jonathan Rauch, RealClearPolitics]. "Sixteen local people have gathered for a Better Angels workshop. Eight are Donald Trump supporters and Republican voters; eight supported Hillary Clinton and vote Democratic. One is a progressive transgender man still in his late teens; another is a conservative, middle-aged academic. They don't agree on much, but they're here to see if they can talk to each other, instead of at or about or against each other." More detail on the post, which is worth reading, But from the last paragraph: "Check out stories in the media spanning the political spectrum. Here's a Washington Post piece. Here's one in the Daily Caller. And NPR did a feature story on the group earlier this month." So that's two liberal venues (WaPo and NPR) and one conservative venue (Daily Caller). Where's the left? I'd like to think this is a good faith effort, but I'm thinking there's one thing that liberals and conservatives both agree on: Kicking the left. Maybe some DSA or Our Revolution members should volunteer…

"Death of disgraced Cardinal Bernard Law reveals a truth we'd rather ignore about the Catholic Church" [Kansas City Star]. "The disgraced cardinal's full treatment in death at St. Peter's, with "an unusually small congregation of mourners," reveals a truth we'd rather ignore… [A]fter all this time, I'm sorry to say that if leaders in entertainment, politics and media want to make women and men safer in the work place and change a culture that shrugged off accounts of abuse, they will only be able to look to the Catholic Church for a model of what not to do."
Stats Watch
Durable Goods Orders, November 2017: "A jump in aircraft skewed durable goods orders 1.3 percent higher in November which however is well below Econoday's consensus for 2.0 percent and no better than the low estimate" [Econoday]. "Weakness in the latest month and an upward revision to the prior month is also the story for core capital goods orders…." And: "Our analysis is more positive [(!)] than the headlines as the rolling averages significantly improved. Civilian and defence aircraft were the main drivers this month" [Econintersect].
Kansas City Fed Manufacturing Index, December 2017: "Manufacturing activity in the Kansas City Fed's district proved very strong this month" [Econoday]. "Respondents in the regional factory reports like Kansas City have been reporting about as much strength as they can handle without overheating, a contrast to actual data on the national factory sector where strength is more moderate." And but: "Of the three regional manufacturing surveys released for December, all were in expansion…. Kansas City Fed manufacturing has been one of the more stable districts and their index declined. Key internals were in expansion but likewise declined" [Econintersect]. And: "So far, all of the regional Fed surveys have been solid in December" [Calculated Risk].
New Home Sales, November 2017: "New home sales rose to a 733,000 annualized rate in November for a 17.5 percent monthly spike that is the largest in 25 years" [Econoday]. "New home sales are always volatile due to low sample sizes but the report right now is easily the hottest of any economic indicator, in what is certainly a reflection of the strong labor and stock markets as well as favorable pricing." And: "This month the backward revisions were significantly downward which affected the growth rate this month. Because of weather and other factors, the rolling averages are the way to view this series – and the rolling averages are above average for the levels seen since the beginning of 2016. This month was better than last month" [Econintersect].
Personal Income and Outlays, November 2017: "[S]trong but there are still soft spots in the personal income and outlays report" [Econoday]. "The inflation data are moving in the right direction but just barely. And while the spending and wage data are favorable, the low level of the savings rate may become a concern especially if the labor market begins to lose strength. For retailers and holiday spending, today's report is solid but still less than robust." And: "The savings rate declned and historically is extremely low. Consumer spending continues to far outpacing income – not good news" [Econintersect].
Consumer Sentiment, December 2017 (Final): "[T]he softest showing since September" [Econoday]. "[A] positive for the holiday shopping outlook is that the current conditions component is firm… Levels in this report have been edging lower but still remain the best in 17 years in what points to a strong holiday season for consumer spending." And but: "Final December 2017 Michigan Consumer Sentiment Continued to Sink" [Econintersect]. And importantly: "Most of the decline was among lower-income households. Even though current conditions are deemed to be strong, there was growing uncertainty about the future. Consumers were split about the Republican tax cut plan. While the small gain in take-home pay that will kick in starting in February might not spark an uptick in optimism, it might dampen any renewed pessimism, the report said" [MarketWatch].
Shipping: "Trucking's electronic-logging era is getting off to a rocky start. Companies that provide the devices commonly called ELDs say they've been swamped by a late rush of orders ahead of this week's deadline to get them installed, even as some drivers complain that they're hitting technical speed bumps and getting limited customer support" [Wall Street Journal]. "With full enforcement still months away, ELD makers say the logjam may continue until spring."
Retail: "Consumers wanting to tie a bow on their online holiday gifts are going to have to do it themselves. Some online retailers have been closing down their gift-wrapping stations" [Wall Street Journal]. "J.C. Penney Co. Inc. stopped offering gift-wrapping for online orders this year, and California warehouse manager Onestop Internet Inc., says none of the 35 brands it handles are doing gift wrap this year."
The Bezzle: "Bitcoin plunges again, now down more than 28% since Sunday's all-time high" [MarketWatch]. "Other leading cryptocurrencies were also hit hard Thursday night, with ether — which runs on the Ethereum network — down about 8% to $758 and bitcoin's rival spinoff, bitcoin cash, down more than 20% to $2,969, according to CoinMarketCap.com…. The steep plunge Thursday coincided with the start of the Asian trading day, a pattern reflected throughout the week. One reason for the Asian selloff may be worries following Tuesday's hack of a bitcoin exchange in South Korea — possibly by North Korea — resulting in Youbit exchange owner Yaipan losing about 17% of its total assets. Some have speculated that Asian buyers had been fueling bitcoin's rapid ascent in recent months."
The Bezzle: "Major cryptocurrencies crash more than 30% as 'fear, uncertainty, and doubt' grip the market" [Business Insider]. "[Neil Wilson, an analyst at ETX Capital] added: 'Whilst there have been some hacks, public infighting in the mining community, lots of rumoured forks, and regulatory pressure building on some fronts, this is likely to be a simple bout of risk-off selling as investors rebalance towards year-end.'"
The Bezzle: "Coinbase, one of the biggest bitcoin marketplaces, says buying and selling is temporarily disabled amid price rout" [CNBC]. "The company added in a subsequent statement that 'due to today's high traffic, buys and sells may be temporarily offline. We're working on restoring full availability as soon as possible.'"
The Bezzle: "I AM HODLING" [BitCoin Forum] (via). From 2013, still relevant. Can somebody who really understands Mr. Market comment?
Today's Fear & Greed Index: 66 Greed (previous close: 68, Greed) [CNN]. One week ago: 68 (Greed). (0 is Extreme Fear; 100 is Extreme Greed. Last updated Dec 22 at 1:53pm.
Health Care
"Enrollment for 2018 Affordable Care Act exchange plans through the HealthCare.gov platform totaled about 8.8 million, slightly below 9.2 million last year, the Centers for Medicare and Medicaid Services said on Thursday" [MarketWatch]. "The enrollment figures, though below those for both 2017 and 2016, are better than expected, given big cuts to promotional efforts under President Donald Trump's administration and a six-week long sign-up window, half the length of previous years."
Neoliberal Epidemics
"Life expectancy in US down for second year in a row as opioid crisis deepens" [Guardian]. "It is the first time in half a century that there have been two consecutive years of declining life expectancy…. Despite years of warnings about the growing epidemic, congressional leaders have often failed to do more than convene commissions and panels and draw up white papers." Nice to see those nice liberal Democrats all over this. Oh, wait….
Class Warfare
"America is shedding retail jobs and women are bearing the bulk of the losses" [Moneyish]. "[A] recently published analysis of BLS data conducted by the Institute of Women's Policy Research… found that women retail employees lost 160,300 jobs in that 12-month period [between October 2016 and October 2017], whereas men gained 106,000 positions in the trade. As a result, women now make up a minority of retail workers, with their share of the profession dropping from 50.4% to 49.6% The IWPR called the trend the 'longest stretch of job losses in the industry for women or men since the Great Recession."
News of the Wired
"Mathematicians Find Wrinkle in Famed Fluid Equations" [Quanta]. "Two mathematicians prove that under certain extreme conditions, the Navier-Stokes equations output nonsense." Sure to interest those who can understand it!
"Approaching the world as a software problem is a category error that has led us into some terrible habits of mind" [Idle Words]. From 2016, more germane than ever: "Instead of relying on algorithms, which we can be accused of manipulating for our benefit, we have turned to machine learning, an ingenious way of disclaiming responsibility for anything. . It's a clean, mathematical apparatus that gives the status quo the aura of logical inevitability. The numbers don't lie." Must-read.
* * *
Readers, feel free to contact me at lambert [UNDERSCORE] strether [DOT] corrente [AT] yahoo [DOT] com, with (a) links, and even better (b) sources I should curate regularly, (c) how to send me a check if you are allergic to PayPal, and (d) to find out how to send me images of plants. Vegetables are fine! Fungi are deemed to be honorary plants! If you want your handle to appear as a credit, pleas s e place it at the start of your mail in parentheses: (thus). Otherwise, I will anonymize by using your initials. See the previous Water Cooler (with plant)
here
. Today's plant (MF):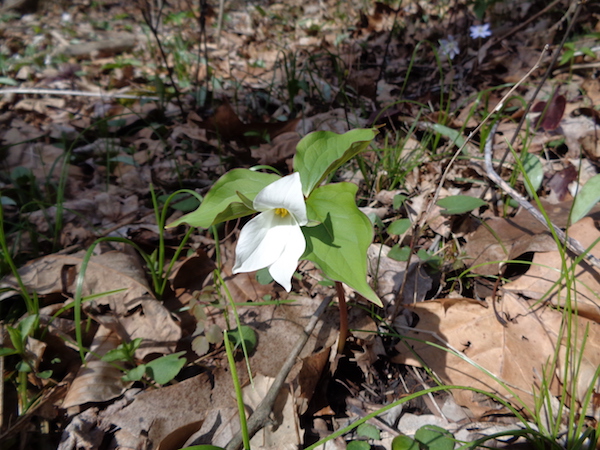 MF writes: "Hi, Lambert. Here's a Snow Trillium, a Spring ephemeral from Highland County in Southern Ohio."
Readers, thanks for the latest batch of pictures. My anxieties are considerably eased when I have a good stockpile!
* * *
Readers: Water Cooler is a standalone entity not covered by the NC fundraiser. So do feel free to use the dropdown and click the hat to make a contribution today or any day. Here is why: Regular positive feedback both makes me feel good and lets me know I'm on the right track with coverage. When I get no donations for five or ten days I get worried. More tangibly, a constant trickle of small donations helps me with expenses, and I factor that trickle in when setting fundraising goals. So if you see something you especially appreciate, do feel free to click the hat!