By Lambert Strether of Corrente.
Net Neutrality
"Net neutrality protests start Thursday—how to find one near you" [Ars Technica]. That's tomorrow! Here's a search tool.
"How repealing net neutrality could hurt small Texas businesses" [Texas Tribune]. "Small businesses could be disproportionately hurt by a net neutrality reversal, experts say, because they could be priced out if service providers charge businesses higher fees for access. While online titans like Netflix and Amazon could afford to pay higher rates for fast consumer access to their sites, businesses with smaller profit margins could struggle with newly exorbitant fees — 'and that's what scares a lot of companies,' explained Prabhudev Konana, a professor of information management at the University of Texas at Austin…. Service providers could create a tiered system for internet access, forcing small businesses into a higher bracket for essentially the same product they already receive, explained Roger L. Kay, an independent technology analyst." And then there's this: "'If you think about it, what would stop a big company from paying a service provider to choke down the speeds of its small competitors? Which in turn would put those people out of business, or damn near,' [PDQ Resharpening's co-owner Shane Killingsworth said. 'I'd rather not rely on a 'pinky promise' from companies like Verizon or Comcast.'" That's an impressively paranoid thought from Killingsworth. When you call your Congresscritter or write your letter to the editor, be sure to mention this.
"Of the record 23 million comments filed with the Federal Communications Commission on the contentious issue of net neutrality — or whether to repeal rules that prevent Internet providers from blocking or throttling Websites — millions were faked or used stolen identities" [USA Today]. "It isn't clear whether such falsified comments are coming from individuals, organizations, bots or some combination." Hmm. Wouldn't this be good to know?
"A group of House Democrats are urging the Government Accountability Office (GAO) to investigate fake comments submitted to the Federal Communications Commission (FCC) on the agency's efforts to repeal its net neutrality rules" [The Hill] (the letter).
"How the FCC's Net Neutrality Plan Breaks With 50 Years of History" [Tim Wu, WIRED]. An excellent history and a must-read.
Trade
"Fate of NAFTA remains a dicey situation, rail stakeholders say" [Logistics Management]. '"I would say that NAFTA is one thing I am more worried about than others,' said [Chuck Baker, president of the National Railroad Construction & Maintenance Association]. 'We are nearing a crisis stage, and there is a real legitimate concern that the President is going to pull out of NAFTA, which would be, by any legitimate economic analysis we looked, at a devastating blow to the freight economy and be extraordinarily problematic. I do think it is at risk of happening and I do think our industries need to try to do a better job of sounding the alarm louder and louder on the risks to the economy and trade patterns in North America could be severely disrupted.'"
Politics
2018
"One of the best ways to gauge the relative health of a political party's brand is to see how willing people are to say they identify with the party. Which is why new Gallup poll numbers on party identification should worry Republicans heading into an election year" [CNN]. "Just 37% of people identify as Republicans or leaning toward the Republican Party, compared with 44% who identify as either leaning toward the Democratic Party or as solid Democrats. Another 14% say they are independents and don't lean to either party…. If Republicans are even with, or close to even with, Democrats in terms of party ID, they win elections — like in 2016, 2014 and 2010. If the Democratic edge is mid-single digits or higher, Republicans usually lose."
2017
"Alabama Senate Special Election – Moore vs. Jones" [RealClearPolitics]. "Moore +2.3" (Previous: Moore +1.5).

"Roy Moore speaks at a black church; social media erupts" [AL.com]. "At one juncture during his sermon, [Bishop] Lowe appeared not so much to be preaching to Moore, but his detractors. He referenced the benched judge's infamous refusal to comply with a federal court order to remove a 5,280-pound block of granite featuring the Ten Commandments, which he had placed in the rotunda of the Alabama Judicial Building, defying the law separating church from state. He was ultimately removed from the bench for judicial misconduct.
2016 Post Mortem
"Weinstein's Complicity Machine" [New York Times]. One nugget: "Days after Mrs. Clinton's election loss, the Clintons had dinner with Mr. Weinstein, Mr. Boies, the lawyer, and their wives at Rao's restaurant in Harlem, Manhattan. Mrs. Clinton and Mr. Weinstein began planning a documentary TV show about her campaign. Discussions about the project stretched out for months with her lawyer, Robert Barnett, who emailed with Mr. Weinstein on Sept. 28 about potential European buyers."

Details like this aside, a must-read on the nitty gritty of power structures.
New Cold War
"The failure to impeach former President George W. Bush and former Vice President Dick Cheney for the high crimes and misdemeanors that characterized their tenure sent a signal that lawlessness would not be checked and balanced — even by a Congress in which the legislative branch was, in the last years of the Bush-Cheney interregnum, controlled by the opposition party. This was a terrible error on the part of congressional Democrats and responsible Republicans, and it has come back to haunt the United States" [Truthout]. Correct, IMNSHO. And the people who made that terrible error are still in charge.
Tax Reform
"FATCA repeal fails, new efforts focus on government agreements" [Cayman Compass]. "Kentucky Senator Rand Paul on Nov. 14 introduced his S. 869 bill that would have repealed FATCA. …. Friday's failure to include S. 869 in the Tax Cuts and Jobs Act means FATCA will remain effective as activists shift their focus to the intergovernmental agreements that bind scores of countries to local enforcement of Washington's legislation…. 'Keep in mind that this was a target of opportunity we did not anticipate. We took a shot; it looked good; we fell short. No info yet on why. Post-mortem efforts,' [Washington, D.C., lawyer and anti-FATCA activist James Jatras] said, adding that 'since the repeal provision is not in either House or Senate bill, [the reconciliation] conference will not deal with it.'" So, a territorial system of taxation for artifical persons, but not for real ones?

"Republicans just found the money for $3 trillion in tax cuts for the wealthiest entities in society. Rolling those back to Obama-era levels creates a $3 trillion kitty for liberal initiatives" [David Dayen, The New Republic]. No. Somebody like Stephanie Kelton should take Dayen aside and explain to him that taxes don't work the way he thinks they do. More: "With Republicans slashing taxes so irresponsibly and in such an unpopular manner, the next Democratic leader can simply call to 'repeal the Trump tax cuts,' and transfer the windfall to worthwhile initiatives." No no no no no no no no no. This is shockingly disinformative.

Historical Revisionism from Annie Lowrey:

1. Man, are some Dems pissed about how they got snookered by the deficit hawks in 2010.

— Annie Lowrey (@AnnieLowrey) December 2, 2017

The Democrats weren't snookered; they believed (and still believe) that stuff. Lowrey also believes that Federal taxes pay for Federal spending. It's a thread worth reading, though….
Trump Transition
"With three days remaining before the government runs out of money, lawmakers have yet to settle on a strategy to keep the lights on — and resolve multiple extraneous but significant issues including health care, immigration and defense spending" [RealClearPolitics]. "Democrats are not necessarily unified on the immigration strategy, and many are keeping their powder dry as negotiations among leaders continue." Keeping their powder dry…
Realignment and Legitimacy
"This Poisonous Cult of Personality" [New York Review of Books]. "It was this politics of narcissistic identification, of fanciful private bonding with the famous, that set us up for, first, the disappointment with Obama, and then, the appalling shock of Trump."

"The Sickeningly Narrow Focus of Our Outrage" [Power of Narrative]. "I myself heard rumors about Levine and his predilection for young boys (usually boys of color) as long ago as the 1980s…. The "worst kept secret in the business" isn't the only similarity the Levine case has to some others in recent weeks. Levine's days of glory at the Met were the 1980s and 1990s… Levine was no longer protected by the immense power he had once wielded, and he was no longer a hugely valuable asset to the Met. From the Met's perspective, all the incentives were now on the side of dumping Levine, particularly in terms of general public relations concerns and with regard to fundraising, a vital issue for the Met and its future…. In this regard, Levine is much like Harvey Weinstein, another man who was on the downward slope of his career, with much of his previous power now dissipated." And then there's Afghanistan. Silber is always worth a read.

"Another woman says Franken tried to forcibly kiss her" [Politico].

"Sen. Kirsten Gillibrand (D-NY) called on Sen. Al Franken (D-MN) to resign in a Facebook post… Almost immediately after, Sens. Maggie Hassan (D-NH), Masie Hirono (D-HI), Claire McCaskill (D-MO) and Patty Murray (D-WA) also called on Franken to resign" [Political Wire].
Stats Watch
Productivity and Costs, Q3 2017 (Final): "This year's pickup in the economy combined with thin wage growth is helping to improve productivity and unit labor costs" [Econoday]. "Underscoring the weakness in wages is a downward revision to second-quarter labor costs… Gains in output that outstrip gains in hours worked is a healthy combination. The question is whether and when full employment will begin to drive up wages." And but: "A simple summary of the headlines for this release is that there was significant growth of productivity while the labor costs contracted. We believe there is little growth in productivity" [Econintersect].
ADP Employment Report, November 2017: "A pre-hurricane total of 190,000 is ADP's call for November private payroll growth which would follow a hurricane-related upswing of 252,000 in October and 15,000 downswing in September" [Econoday]. "Demand for labor has been very strong this year though wage traction has still been limited." And but: "When the goods sector of the economy is gaining more workers than historically – it is a warning that something is wrong. This is the fourth month in a row of the service sector weakness" [Econintersect]. "ADP employment has not been a good predictor of BLS non-farm private job growth." And: "slightly below the consensus" [Calculated Risk].
MBA Mortgage Applications, week of December 1, 2017: "Purchase applications for home mortgages rose by a seasonally adjusted 2 percent" [Econoday].
Leading Indicators: "At this point, Econintersect sees NO particular dynamic at this time which will deliver noticeably better growth in the foreseeable future – and the majority of the indicators are forecasting a slower rate of growth" [Econintersect]. And they're mostly subject to backward revision, and how leading is that?
Shipping: "ICAO has backed IATA proposals to segregate shipments containing lithium batteries and those containing class-one dangerous goods in ULDs and cargo compartments" [The Loadstar].
Shipping: "The strong surge in online sales this season is starting to slow down delivery of the goods to homes. United Parcel Service Inc. says big seasonal volumes that are running ahead of expectations are backing up its U.S. distribution system" [Wall Street Journal]. "The delays show delivery operations critical to e-commerce are still struggling with the busiest shopping periods despite heavy investment to build out and automate operations." Maybe there's something to be said for bricks and mortar after all….
Shipping; 'The rebound in truck manufacturing is running at high throttle. Fleet operators ordered 32,900 Class 8 trucks in November, a 70% boost over a year ago that ACT Research says gives truck makers their strongest two-month stretch for orders since the start of 2015. Trucking companies are adding capacity as strong economic growth fuels surging freight volume" [Wall Street Journal]. "Factories will be operating in high gear in the coming months, and ACT expects orders to remain high next year as operators replace trucks and add capacity. The only brake on the fleet owners' expansion plans, in fact, may be finding enough drivers to run the big rigs."
Transportation: "Investment in JFK air freight infrastructure seeks to revitalise New York gateway" [The Loadstar]. Say, how about turning the international terminal into something other than a dark and filthy pit? Every time I return to the US through JFK I'm humiliated as an American that this is how we introduce ourselves to the world.
The Bezzle: "Millions Are Hounded for Debt They Don't Owe. One Victim Fought Back, With a Vengeance" [Bloomberg]. "[S]ystematic schemes to collect on fake debts started only about five years ago. It begins when someone scoops up troves of personal information that are available cheaply online—old loan applications, long-expired obligations, data from hacked accounts—and reformats it to look like a list of debts. Then they make deals with unscrupulous collectors who will demand repayment of the fictitious bills. Their targets are often poor and likely to already be getting confusing calls about other loans. The harassment usually doesn't work, but some marks are convinced that because the collectors know so much, the debt must be real."
The Bezzle: "As of today, Steam will no longer support Bitcoin as a payment method on our platform due to high fees and volatility in the value of Bitcoin" [Steam]. "In the past few months we've seen an increase in the volatility in the value of Bitcoin and a significant increase in the fees to process transactions on the Bitcoin network. For example, transaction fees that are charged to the customer by the Bitcoin network have skyrocketed this year, topping out at close to $20 a transaction last week (compared to roughly $0.20 when we initially enabled Bitcoin). Unfortunately, Valve has no control over the amount of the fee. These fees result in unreasonably high costs for purchasing games when paying with Bitcoin. The high transaction fees cause even greater problems when the value of Bitcoin itself drops dramatically."
Mr. Market: "Here's how violent the stock-market rotation out of tech has been" [MarketWatch]. "A Tuesday pause aside, it's been a rough week or so for technology shares, which have been the victim of a violent rotation that's seen investors flee what's been by far the hottest sector of 2017 for companies expected to get a bigger boost from tax legislation working its way through Congress…. The shift last week was historically unique. Citing data from Cornerstone Macro, Sonders observed there have only been eight instances since current S&P sector data began in 1989 when technology shares fell 2% or more in the same calendar week that industrial stocks rose 2% or more—an incident rate of just 0.54%." All I know is what I read in the papers…
Today's Fear & Greed Index: 60 Greed (previous close: 63, Greed) [CNN]. One week ago: 67 (Greed). (0 is Extreme Fear; 100 is Extreme Greed. Last updated Dec 6 at 11:28am.
Gaia
"How to Build a City That Doesn't Flood? Turn it Into a Sponge" [JSTOR Daily]. "One way to make cities spongier is to use permeable pavements…. Another way to make cities hold water is by building rain gardens and bioswales."
Class Warfare
"Why are America's farmers killing themselves in record numbers?" [Guardian]. "The CDC report suggested possible causes for the high suicide rate among US farmers, including 'social isolation, potential for financial losses, barriers to and unwillingness to seek mental health services (which might be limited in rural areas), and access to lethal means… Since 2013, net farm income for US farmers has declined 50%. Median farm income for 2017 is projected to be negative $1,325. And without parity in place (essentially a minimum price floor for farm products), most commodity prices remain below the cost of production." It doesn't matter. They're from flyover states. They probably deserve it. Why don't they just move? Or learn to code.
"Are you doing better than the previous generation? The Pew Research Center, a nonprofit think tank in Washington, D.C., asked nearly 43,000 people in 38 countries around the globe that question this past spring. Residents in 20 countries said people like them were better off than they were 50 years ago. In Vietnam, 88% felt better off, followed by India (69%), South Korea (68%), Japan (65%), Germany (65%), Turkey (65%), the Netherlands (64%), Sweden (64%), Poland (62%) and Spain (60%). Overall, 43% of people in those countries said they were better off. All told, a majority of respondents in these 20 countries said they were better off. However, the U.S. wasn't one of them. The U.S. was among the other 18 countries in which people said they were actually worse off than half a century ago" [MarketWatch]. There's your elephant chart….
"Defining "innovation": sometimes it's easy" [Keywords for The Age of Austerity (SD)]. "[A] reader would need to discern that, for its advocates, 'innovation' in the U.S. health care system means 'medical technology.' Given the privatized nature of the U.S. health sector, it follows that what what we are really talking about here are 'profitable medical technology corporations.' As if the function of a national health-care system is to facilitate the profitability of manufacturers of medical machinery.
News of the Wired
"In first, 3-D printed objects connect to WiFi without electronics" [UWNews]. "Imagine a bottle of laundry detergent that can sense when you're running low on soap — and automatically connect to the internet to place an order for more." Do I have to? "Imagine a book that can sense when you're reading it — and automatically connect to the Internet to inform the FBI."
"How the Index Card Cataloged the World" [The Atlantic]. "The index card was a product of the Enlightenment, conceived by one of its towering figures: Carl Linnaeus, the Swedish botanist, physician, and the father of modern taxonomy. But like all information systems, the index card had unexpected political implications, too: It helped set the stage for categorizing people, and for the prejudice and violence that comes along with such classification."
"Why some people can hear this silent gif" [BBC]. Hmm…
* * *
Readers, feel free to contact me at lambert [UNDERSCORE] strether [DOT] corrente [AT] yahoo [DOT] com, with (a) links, and even better (b) sources I should curate regularly, (c) how to send me a check if you are allergic to PayPal, and (d) to find out how to send me images of plants. Vegetables are fine! Fungi are deemed to be honorary plants! If you want your handle to appear as a credit, please put it in the subject line. Otherwise, I will anonymize by using your initials. See the previous Water Cooler (with plant)
here
. Today's plant (Re Silc):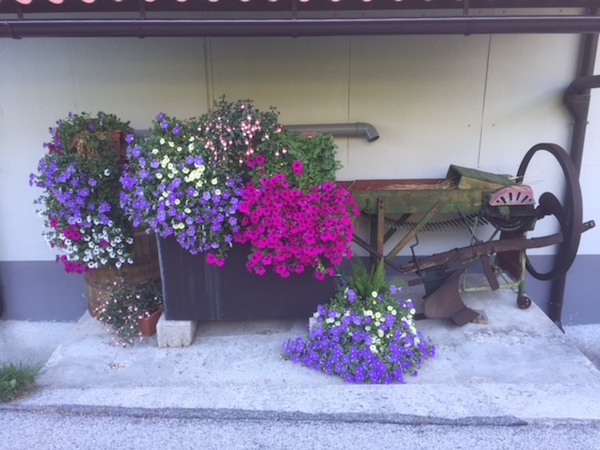 A Slovenian barn.
* * *
Readers
: Water Cooler is a standalone entity
not
covered by the NC fundraiser. So do feel free to use the dropdown and click the hat to make a contribution today or any day. Here is why: Regular positive feedback both makes me feel good and lets me know I'm on the right track with coverage. When I get no donations for five or ten days I get worried. More tangibly, a constant trickle of small donations helps me with expenses, and I factor that trickle in when setting fundraising goals. So if you see something you especially appreciate, do feel free to click the hat!