By Lambert Strether of Corrente.
Trade
"The White House will never admit this publicly, but the president is developing a softer attitude towards the North American Free Trade Agreement (NAFTA). Five sources who've spoken privately with Trump about NAFTA say he's taking more seriously the risks of withdrawing the U.S. from the trade deal with Canada and Mexico" [Axios]. Big if true.
"China in talks for sale of jet engine technology to Germany" [South China Morning Post]. Lateral move?
"The U.S. International Trade Commission's recommendation for combined quotas and tariffs up to 35 percent on imports of solar cells and panels have sparked some panic among many in the industry who argue it will hike costs for the clean energy systems and wipe out up to a third of the solar jobs in the U.S. But the recommendation is still far weaker than the measures sought by Suniva and SolarWorld Americas, the two companies that lodged the trade complaint" [Politico]. "Panels are also only one part of the total cost of building a solar installation, and they now make up less than 20 percent of the overall price of a home system and about one-third the cost of a large, utility-scale plant."
Politics
2020
"'I'm Running,' Romney Says Privately, but as a Trump Friend or Foe?" [New York Times].

"Haley for President? UN Diplomats Bet Trump Envoy Has Ambitions" [Bloomberg]. Maybe Romney and Haley should run together?
2018
"[P]olitical handicappers have gradually increased the odds that Democrats will retake the House, where they need to pick up 24 seats to do so. Democrats must net two seats to take control of the Senate, a harder task given the number of competitive states where Trump won election" [WaPo]. Indeed they have.

"Republicans have a platter of good economic news to run on in the 2018 elections: a surging stock market, a 4.1 percent unemployment rate, high consumer confidence, and weeks' worth of headlines showcasing companies handing bonuses to their employees while crediting the newly signed GOP tax bill" [RealClearPolitics]. "Though so much positive economic data helps Republican congressional candidates counter the traditional midterm headwinds a party in power faces, the president continues to step on his — and his party's — encouraging news."

"Trump has succeeded in doing something extraordinary, something neither Clinton nor House Minority Leader Nancy Pelosi could do — he has united and energized Democrats" [Inside Elections]. "Moreover, if national polls are accurate, the president has taken his own party to the edge of a political cliff, the 2018 midterm elections. This has occurred in spite of a growing economy, a booming stock market, a shrinking unemployment rate and tax cuts intended to stimulate even more growth."

Governorships: "The GOP is forced to defend 13 states that former President Barack Obama won — from Maine to New Mexico to Wisconsin — while Democrats are protecting just one — Pennsylvania — that fell to Trump" [Politico]. "With exactly half of the 26 Republican-held seats up for grabs in 2018 being left open by a departing governor, a surge of Democratic turnout could overwhelm any goodwill individual GOP incumbents may have built up in tight states."

Arizona Senate: "GOP faces brutal Arizona primary fight" [The Hill]. "Republicans hoping to hold on to the Arizona Senate seat currently held by Sen. Jeff Flake (R) face an increasingly tumultuous primary environment, with firebrand former sheriff Joe Arpaio entering the race from the right and Rep. Martha McSally trying to win over President Trump's supporters without alienating more moderate general election voters."

Arizona House: "McSally Senate Bid Moves AZ-02 to Lean Democratic" [Cook Political Report]. "But without McSally, Republicans may struggle to hold this district. In fact, Democrats are hoping for a scenario in which McSally loses the GOP Senate nomination to a more conservative candidate and moderate Republicans abandon the ticket altogether, allowing Democrats to waltz into this middle-of-the-road seat."

"Infrastructure Is A Political Opportunity For Trump That Will Likely Go To Waste" [FiveThirtyEight]. "Democrats have strong incentives, in an election year, to block any Republican achievements and cast the GOP as a party that had total control of Washington for two years but did little beyond passing a tax cut that disproportionately benefited the wealthy. Also, Trump is so unpopular with voters that his backing a bill (on any issue) may decrease its chances of gaining popular support — no matter what is in the legislation." So the Republicans will no doubt propose a bad bill, which the Democrats prevent from passing (unless the Republicans go the reconciliation route).
Realignment and Legitimacy
"The Voters Abandoning Donald Trump" [Ron Brownstein, The Atlantic]. "Previously unpublished results from the nonpartisan online-polling firm SurveyMonkey show Trump losing ground over his tumultuous first year not only with the younger voters and white-collar whites who have always been skeptical of him, but also with the blue-collar whites central to his coalition… Many things could change between now and November's election—much less 2020. But these detailed soundings show how the gales of resistance Trump has fueled are reshaping the electoral landscape. Whether by age, gender, race, or education, Trump is deepening almost every social and political division that existed before him—with unpredictable consequences for the parties and for the country itself." No mention of the suburbs, oddly. What this does show is that essentialist characterizations of Trump voters are simply wrong; as the Obama voters who flipped to Trump in 2016 showed. I said that these voters would flip away from Trump, not because of windy "gales of resistance," but if he didn't deliver, and I don't think for them he is. The economy isn't performing nearly as well for these voters as the glittering statistics suggest; for example, consumers fueled their holiday retail spending with debt; now commentators suggest tax cuts will keep the retail "boom" going. If "consumers" (that is, workers in the aspect of reproducing their labor power) are driving the economy, then, they'll be doing that on debt and tax cuts. When that can't go on, it will stop.

"Republicans Poised for Collapse in New York" [New York Magazine]. "The Republican Party has yet to find a single 2018 candidate for any of New York's statewide offices. Two potential challengers to Cuomo backed out this week. Kirsten Gillibrand remains, for the moment, unopposed. And there still isn't any declared Republican candidate for state attorney general or comptroller." Because a one-party state works so well in California…

"Don't Expect Too Much From the DNC Fraud Lawsuit" [Walter Bragman, Paste]. "While the outcome of the DNC fraud lawsuit is uncertain, a smaller suit with tailored plaintiffs, would likely have a better chance of succeeding. Instead of pursuing this latter option, however, the Becks chose to gamble on a high profile long shot. And unfortunately, it isn't their credibility on the line—they will come out of this with a heightened public profile no matter what—but rather, that of everyone who claims Bernie Sanders was denied a fair shot in 2016." This article is from June; if I read the current status of the DNC lawsuit correctly, the Becks — the lawyers bringing the case — have cured the defects identified by Bragman, which is why the case is moving ahead.

"First shots in war on Medicaid, Medicare, Social Security" [Newsday]. "It's no good thinking the Medicaid work requirement doesn't matter because it seems those allowing it aren't coming for you. They are coming for you. They've said so. And they've begun." Never forget that Bill Clinton and Newt Gingrich had a deal on a Grand Bargain, derailed by the Lewinsky matter (so the country owes Monica Lewinsky a debt of gratitude). And Obama and Boehner had a deal too; but the Freedom Caucus derailed it. So, "They've said so," indeed.
Stats Watch
Empire State Manufacturing Survey, January 2018: "Activity remains strong this month in the New York manufacturing region but did slow slightly compared to December" [Econoday]. "Employment is a soft spot in January's report but strength is evident in unfilled orders and especially prices. This is the first indication on 2018's factory sector and, like last year's very strong run for the regional samples, conditions and optimism among these samples remain very strong." And: "slightly below expectations, but still a solid report" [Calculated Risk]. And but: "I am not a fan of surveys – and this survey jumps around erratically – but has been relatively steady for the last year" [Econintersect].
Debt: "Pretty clear here there's been almost no loan growth over the last year or so" (chart) [Mosler Economics].
Retail: "The U.S. Supreme Court may take a big role in the direction of online commerce. The court will consider whether states can broadly require online retailers to collect sales taxes even if they lack a physical presence in the state" [Wall Street Journal]. "It's a challenge to a system of tax and economic regulation that hasn't kept up with the online explosion that has put far-flung retailers and virtual businesses in competition with local store owners. Many retailers say the playing field is heavily tilted against them, with online companies undercutting prices and effectively gaining a subsidy by offering tax-free sales. Many states also are being hurt as revenues from sales taxes erode."
Retail: "Online grocery sales account for less than 3% of the roughly $800 billion grocery market. Analysts expect that share will grow into the double digits in the next five years, however. Amazon sold nearly $2 billion in groceries in the U.S. last year, says One Click, which analyzes patterns in e-commerce transactions" [Wall Street Journal].
Retail: "No brick-and-mortar meltdown during holiday, panelists say at NRF convention" [DC Velocity]. "The conventional wisdom heading into the holiday was that brick-and-mortar retailers would buckle under the pressure of online commerce, notably from Seattle-based Amazon.com Inc… Holiday sales during November and December 2017 increased 5.5 percent over the same period in 2016, as consumers spent more than expected thanks to growing wages, stronger employment, and higher confidence, according to an NRF report released Friday. The rise was the largest increase since the 5.2 percent year-over-year gain seen during 2010 after the end of the Great Recession, NRF said."
Shipping: "69% of Danish shipowners hit by cyber crime in the past year" [Splash 247]. "In the poll of CEOs of local lines carried out by Danish Shipping, 42% of executives indicated that they are very worried or extremely worried that their company will be attacked or that their data will be lost in the coming 12 months."
Big Ag: "The U.S. wheat glut is resisting farmers' efforts to cut back production. Wheat farmers planted the least acres of winter wheat in over a century, as tumbling prices and strong production overseas pushed more farmers to switch to crops like soybeans and corn" [Wall Street Journal]. "American farmers are being hurt by bumper harvests in Russia, where exporters are supplying North Africa and the Middle East at a better price than U.S. farmers can offer. While U.S. planting is at a record low, Russia's exports are at a record high. Regulators say U.S. wheat stockpiles are rising, and strong corn and soybean harvests signal a difficult year for those commodities. The impact has been evident in transport networks: Grain volumes on U.S. railroads fell 13.9% in the second half of 2017."
Manufacturing: "Dutch firm unveils world's first 3-D-printed propeller" [DC Velocity]. "Now comes word that a Dutch consortium has brought 3-D printing to the maritime—or at least, the shipbuilding—world. Late last year, the Dutch firm Damen Shipyards Group unveiled what it called the world's first class-approved 3-D-printed ship's propeller. Known as the WAAMpeller, the triple-blade prop was fabricated using the wire arc additive manufacturing (WAAM) technique, which deposited 298 layers of nickel aluminum bronze alloy to create the item. Damen then installed the 4.5-foot diameter, 880-pound WAAMpeller on one of its "Stan Tug 1606″ tug boats, where it passed tough tests such as speed trials, a bollard pull, and a crash stop scenario, which stresses the propeller by going from full throttle ahead to full throttle reverse."
Supply Chain: "Apple Supplier Workers Describe Noxious Hazards at China Factory" [Bloomberg]. "Chinese recruiters play up the chance to build advanced consumer electronics to attract the millions of typically impoverished, uneducated laborers without whom the production of iPhones and other digital gadgets would be impossible. Goggles and earplugs are not always available, a problem when some factory machines are noisy and spray tiny metallic particles or coolant, according to Bloomberg interviews with workers…. Hundreds throng a workshop where the main door only opens about 12 inches. Off-duty, they return to debris-strewn dorms bereft of showers or hot water. Many go without washing for days at a time, workers told Bloomberg."
Transportation: "Ford Motor Co. will more than double spending on electrified vehicles, amplifying its investment in a segment that the auto industry sees growing from what's now just a fraction of the market" [Bloomberg]. "With battery costs declining rapidly and regulators around the globe cracking down on the internal combustion engine, automakers have been rushing to step up their game with regards to all-electric models. While the segment comprises less that 1 percent of annual deliveries in the U.S., global demand is expected to rise as governments phase out gasoline and diesel engines and batteries reach price parity with traditional powertrains." See NC here on those batteries.
Transportation: "The forgotten history of how automakers invented the crime of 'jaywalking'" [Vox]. "'In the early days of the automobile, it was drivers' job to avoid you, not your job to avoid them,' says Peter Norton, a historian at the University of Virginia and author of Fighting Traffic: The Dawn of the Motor Age in the American City. 'But under the new model, streets became a place for cars — and as a pedestrian, it's your fault if you get hit.'" You can bet the same thing will happen with robot cars; it will be your job to avoid to bots, not the bots' job to avoid you. That will certainly simplify the algos!
Fodder for the Bulls: "Goldman: 'Recession Risk is Low … For Now'" [Calculated Risk]. Goldman: "Our model suggests that near-term recession risk is low. The probability of a downturn is also below normal over the next 2-3 years, but has been rising steadily in economies that are seeing unusually easy financial conditions and tightening labor markets. These include the US, Germany, the UK and a number of smaller G10 economies." Calculated Risk: "CR Note: My view is recession risk is low this year, and I expect further growth in the US in 2018."
Five Horsemen: "Amazon's raging melt-up blows the top off our chart for the fourth day in a row" [Hat Tip, Jim Haygood].
Rapture Index: Closes down on Supernatural. "The lack of activity has downgraded this category" [Rapture Ready].
Today's Fear & Greed Index: 81 Extreme Greed (previous close: 79, Extreme Greed) [CNN]. One week ago: 76 (Extreme Greed). (0 is Extreme Fear; 100 is Extreme Greed. Last updated Jan 16 at 11:41am.
Black Injustice Tipping Point
Two Civil War podcasts I recommend:
"The Civil War (1861-1865): A History Podcast" (RSS). "A history podcast in which we weave together a chronological narrative of the Civil War era." Every battle! The authors are very good at describing terrain, which is a gift. The battles are interwoven with history and political economy as well. We are up to the Battle of Davis Bridge on October 5, 1862.
"HIST 119: The Civil War and Reconstruction Era, 1845-1877" (RSS). "Four broad themes are closely examined: the crisis of union and disunion in an expanding republic; slavery, race, and emancipation as national problem, personal experience, and social process; the experience of modern, total war for individuals and society; and the political and social challenges of Reconstruction."
* * *
"There is No Racial Justice Without Linguistic Justice" [Language Log]. "The goal of the NSF REU site is to address these issues by increasing the number of speakers of African-American English engaged in linguistics and related fields, such as communication, speech and hearing sciences, and education. Part of the challenge of meeting this goal is that many of the colleges and universities that serve these speakers do not offer undergraduate majors in linguistics."
"Ban the Box, Criminal Records, and Racial Discrimination: A Field Experiment" [The Quarterly Journal of Economics]. "[C]riminal records are a major barrier to employment: employers that asked about criminal records were 63% more likely to call applicants with no record. However, our results support the concern that [Ban the Box (BTB)] policies encourage racial discrimination: the black-white gap in callbacks grew dramatically at companies that removed the box after the policy went into effect. Before BTB, white applicants to employers with the box received 7% more callbacks than similar black applicants, but BTB increased this gap to 43%. We believe that the best interpretation of these results is that employers are relying on exaggerated impressions of real-world racial differences in felony conviction rates."
Gaia
"Water Warriors Escalate Actions Against Fracked Gas Plant" [Last Real Indians]. "Last Monday, activists climbed a crane to stop construction of the Tacoma LNG facility. On Thursday, activists used tripods to block all three gates to the site. That same day, a Tacoma jury, finding that they couldn't determine whether the LNG facility is on Puyallup or City of Tacoma-owned land, acquitted two women who locked down to construction equipment."
Crapification Watch
"I think Google has stopped in­dex­ing the old­er parts of the We­b. I think I can prove it. Google's com­pe­ti­tion is do­ing bet­ter" [Tim Bray] (Bray works for Amazon, but has great credibility for his standards work). "This isn't just a proof, it's a rock-n-roll proof. Back in 2006, I pub­lished a re­view of Lou Reed's Rock n Roll An­i­mal al­bum. Back in 2008, Brent Sim­mons pub­lished That New Sound, about The Clash's Lon­don Calling. Here's a chal­lenge: Can you find ei­ther of these with Google? Even if you read them first and can care­ful­ly con­jure up exact-match strings, and then use the "site:" pre­fix? I can't. [Up­date: Now you can, be­cause this piece went a lit­tle vi­ral. But you sure couldn't ear­li­er in the day.]… My men­tal mod­el of the Web is as a per­ma­nen­t, long-lived store of humanity's in­tel­lec­tu­al her­itage. For this to be use­ful, it needs to be in­dexed, just like a li­brary. Google ap­par­ent­ly doesn't share that view." I've had the same experience; I will search Google for words I know I have written, and they won't come up. But it's good to have my experience validated, as we say, by a personage who is not a random blogger.
Health Care
"As insurers and pharmacy benefit managers consolidate and increase their market share, they have been able to capture an increasing share of the money spent on drugs for themselves. Indeed, a 2017 report found that, of the money spent on prescription drugs by patients and health plans at the point of sale, brand drug makers only realized 39 percent. Meanwhile, supply-chain participants, such as pharmacy benefit managers, realized 42 percent of these expenditures" [Truth on the Market].
"An unmistakable theme arising from the Tax Cuts and Jobs Act is increasing Congressional skepticism that nonprofit hospitals and health systems deserve the benefits associated with tax exempt status under Section 501(c)(3) of the Internal Revenue Code. This skepticism is reflected not only in the final exempt organization provisions of the Act, but also in several significant proposals that surfaced in, but did not ultimately withstand, the full legislative process" [The Bond Buyer]. "In many respects, the concerns expressed in the recent legislative process are consistent with those expressed in the past by senior IRS Exempt Organizations officials and longstanding legislative concerns that the nonprofit health care sector is inexorably drifting towards the purely commercial sector (and thus should be taxed accordingly). These concerns have included the consistency of exempt status with several factors: e.g., (i) the emergence of the "nation-sized" nonprofits—organizations that are national (or even global) in scope and scale; (ii) the blurring of the line between tax exempt and commercial health care; and (iii) highly complex, lucrative executive compensation arrangements. Many of these concerns—and their compatibility with the community benefit standard— remain relevant today."
Neoliberal Epidemics
"How could differences in 'control over destiny' lead to socio-economic inequalities in health? A synthesis of theories and pathways in the living environment." [PubMed]. "We conducted the first synthesis of theories on causal associations and pathways connecting degree of control in the living environment to socio-economic inequalities in health-related outcomes. We identified the main theories about how differences in 'control over destiny' could lead to socio-economic inequalities in health, and conceptualised these at three distinct explanatory levels: micro/personal; meso/community; and macro/societal." Handy diagram: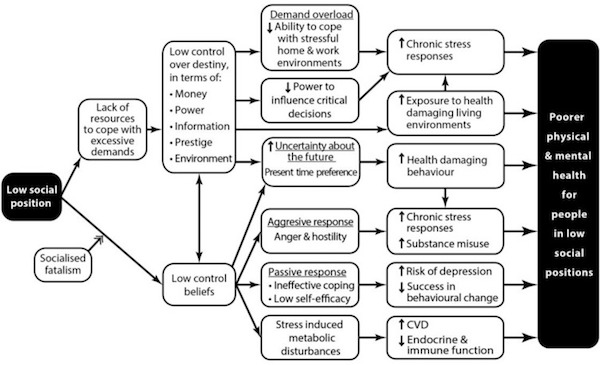 If you have the time for a dense article, this is a dense article that also speaks to the notion of embodiment.
Class Warfare
"Persistent Precarity" [The Nation]. "The 'millennial' is created, not born, as Harris shows, and as is true of all creations, her qualities reveal more about her makers than they do about her. From preschool to college to their entrance into a precarious labor market, Harris tracks how young people in America operate within a system that reinforces the economic, educational, and political injustices that sort us all into upper and underclasses. The proverbial participation trophy, the frantic visions of meritocracy, the generational recriminations—they've always said more about the parents of millennials than millennials themselves. It's not the kids these days that we need to worry about, but the world their parents helped build. 'In order to fully recognize the scope of these changes,' Harris explains, 'we need to think about young people the way industry and the government already do: as investments, productive machinery, 'human capital.'" That is, "parents" "who control industry and government". For pity's sake.
Still true:
Post crisis, our world was united
The Bankers were hated & blighted
But MSM news
Has altered our views
And Bankers are simply delighted

Our politics Bankers control
To hide all the wealth that they stole
They govern each side
Their plan: to divide
It's how all kleptocracies roll

— Limerick King (@TheLimerickKing) January 15, 2018
News of the Wired
"The Vegas Pinball Hall of Fame astounds us with a huge, rare collection" [Ars Technica]. "This collection of roughly 260 working pinball, electromechanical, and video games has been open to the public for over a decade… It arguably includes the most varied and valuable open-every-day collection of pinball and pinball-like games in the United States, if not the world…" Visitors must pay 25 or 50 cents a play in coin: 'If the games aren't played, they will say, '[family blog] you,' because they dry out, and they get corroded,' the staffer told Ars. 'They need to be played.'" "They need to be played." The difference between analog and digital…
"AI learns how to fool speech-to-text. That's bad news for voice assistants" [The Next Web]. "A pair of computer scientists at the University of California, Berkeley developed an AI-based attack that targets speech-to-text systems. With their method, no matter what an audio file sounds like, the text output will be whatever the attacker wants it to be." So much for transcripts…
"Budist, the Russian Chatroulette for Wake-up Calls, Is the Only Network that's Actually Social" [Vice]. "The Budist system is simple: People sign up for a time slot to be woken up, in five minute increments, and altruistic callers sign up on the page pictured above to wake one of them up…. You don't get any info about who you're about to call, which I guess makes for more interesting conversation with your random stranger." I hope the callers remain altruistic…
* * *
Readers, feel free to contact me at lambert [UNDERSCORE] strether [DOT] corrente [AT] yahoo [DOT] com, with (a) links, and even better (b) sources I should curate regularly, (c) how to send me a check if you are allergic to PayPal, and (d) to find out how to send me images of plants. Vegetables are fine! Fungi are deemed to be honorary plants! If you want your handle to appear as a credit, please place it at the start of your mail in parentheses: (thus). Otherwise, I will anonymize by using your initials. See the previous Water Cooler (with plant) here. Today's plant (eberhard grossgasteiger):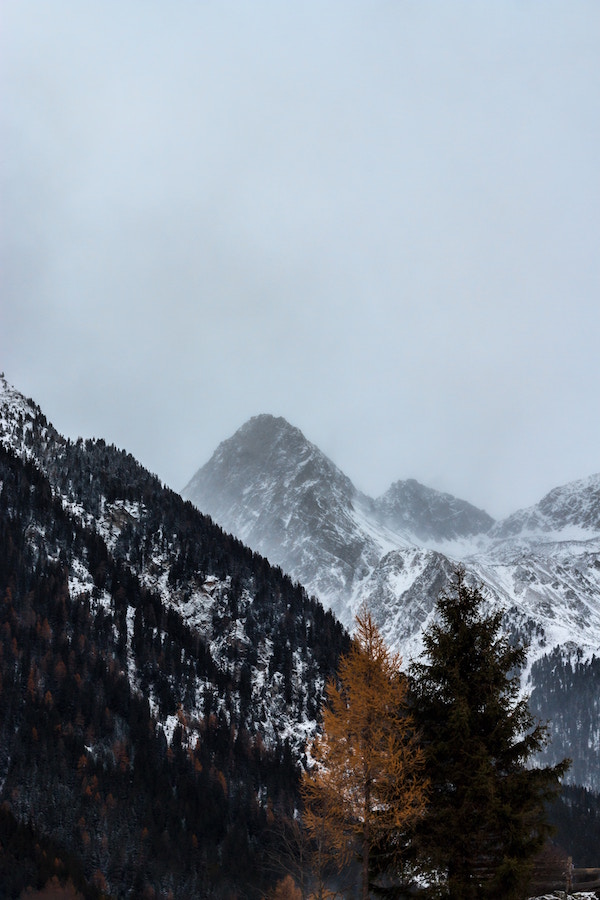 * * *
Readers: Water Cooler is a standalone entity not covered by the NC fundraiser. So do feel free to use the dropdown and click the hat to make a contribution today or any day. Here is why: Regular positive feedback both makes me feel good and lets me know I'm on the right track with coverage. When I get no donations for five or ten days I get worried. More tangibly, a constant trickle of small donations helps me with expenses, and I factor that trickle in when setting fundraising goals. So if you see something you especially appreciate, do feel free to click the hat!