Alert reader Katy sends the following note:
My new Minnesotan NC reader friends and I are having our first meetup this Saturday, January 20 at 10:30 AM. The location is Dunn Brothers Coffee at 201 3rd Ave S, Minneapolis, MN 55401. We have no particular agenda other than to get together and meet each other and talk.
Plenty of power outlets; that's my kind of coffee shop. Here is a map: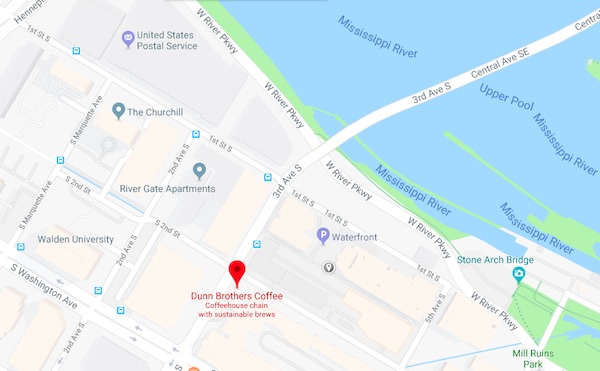 Yves and I have talked about what the criteria for a self-organized local meetup should be, and we're pleased that this meetup seems to have evolved them, organically, in parallel. They are:
1) The Meetup should have a local point-person who is responsible to NC for the date, the time, the venue, and local contacts;
2) The Meetup is social in nature. (If we were to make Meetups agenda-driven, we'd have to evolve a management structure to make sure the agenda was NC-appropriate, and who wants that? More to the point, we don't have time to do it.)
Other criteria may evolve, but this is the baseline for now.
So NC Minnesota readers, go and have fun. And do note the morning time: 10:30AM. This is not usual for meetups, which tend to be in the evening; I'm guessing the dark and the cold have something to do with meeting in the bright morning.