By Lambert Strether of Corrente.
Trade
"Bombardier's C Series Jet Regains US Access in Win over Boeing" [Industry Week]. "Bombardier Inc.'s marquee jet, slapped with crushing U.S. tariffs last year, got a new lease on life when an American trade panel nixed the duties. The Friday ruling, a surprise defeat for Boeing Co., enables Bombardier to jump-start sales campaigns in the world's largest aircraft market…. After the International Trade Commission's decision, Bombardier reaffirmed its commitment to build in Mobile once the Airbus [partnership] deal is completed. The closing is expected to occur later this year."
"Trump capped off his two days at the World Economic Forum in Davos, Switzerland, on Friday with a TelePrompTer-driven speech at the forum's closing session that sought to present the U.S. as willing to engage with all countries on trade — as long as interested partners agreed to play by his administration's rules" [Politico]. "'In other words, our way or the highway — politely phrased, of course,' said Bill Reinsch, a trade policy specialist with the Center for Strategic and International Studies."
"In His First SOTU, How Will Trump Bridge the Chasm Between the Populist Trade Pledges That Powered Him Into Office and His Actions as President?" [Eyes on Trade]. "Now with record-low approval ratings and a tax bill that could not more thoroughly shatter the pro-working-American populist image he rode into the While House, not surprisingly, Trump is expected to spotlight trade in his first State of the Union speech. But what will he say? There is a wide gap between Trump's trade-transformation and end-tooutsourcing campaign promises and actual deliverables. Perhaps the speech will employ Trump's familiar change-the-topic technique – either with dramatic real news about imminent China trade actions or with controversial rhetoric."
"REPLACING NAFTA WITH A DEAL THAT DELIVERS BROAD BENEFITS" [Public Citizen]. A wish list.
"Canada, Mexico Reject Proposal to Rework Nafta Corporate Arbitration System" [FOX]. "Mexican and Canadian officials have said that they'd prefer to remove the investor-state provision from the three-way Nafta agreement and form their own bilateral investor pact rather than remain a part of a system under Nafta where different countries have different rights, according to people familiar with the talks."
"Lighthizer Sees `Some Progress' as Latest Nafta Round Wraps Up" [WaPo]. "While Nafta looks to have avoided collapse for now, talks could run for months or into next year as the three hash out differences…. The most contentious U.S. demands are on the automotive industry, dairy and agriculture, dispute panels, government procurement and a five-year sunset clause that would kill Nafta unless the three agree to extend it…. The next round of Nafta talks is scheduled for Mexico City in February. Stakeholders expect subsequent rounds to take place the U.S. and Canada, with discussions potentially running into 2019."
Politics
2020
"To summarize: Clinton ignored Strider's alleged sexual harassment, moved his victim to a different a job on her campaign, then kept Strider in her orbit for years. It's a damning story for an ostensibly feminist public figure—and it isn't even the first time Clinton allegedly brushed aside such warnings. As the Times notes, Lena Dunham recently claimed that she informed Clinton during the 2016 race that Harvey Weinstein, a major Democratic fundraiser, was a 'rapist'" [The New Republic]. When you've lost Lena Dunham… (Buzzfeed has the creepy details.)

The 420 on Joe Kennedy the Third Rater:

Here's a list of 67 Republicans who are more progressive on marijuana than Rep. Joe Kennedy III, who Dems picked to respond to Trump's State of the Union.

In 2015, Kennedy voted to let the DEA arrest medical cannabis patients and providers. These GOP members voted to protect. pic.twitter.com/7vES29UTgk

— Tom Angell ?? (@tomangell) January 28, 2018
2018
"All Signs Point to Big Democratic Wins in 2018" [Bloomberg]. "Even if only one chamber flips to the Democrats, Trump's ability to impose his agenda would be thwarted, and his administration almost certainly would find itself pinned down by investigations and subpoenas from congressional committees." What's not to like? And note: "Democrats improved their showing in well-educated, historically Republican areas in the 2016 and 2017 elections, so some hard-fought races in the fall will be in the suburbs. Among the House districts that may be in play are those of Representatives Rodney Frelinghuysen [who just announced he is not seeking re-election] and Leonard Lance in New Jersey, John Culberson in the Houston area, Barbara Comstock in the Virginia suburbs near Washington, and Peter Roskam in the Chicago area." Suburban Republicans are the Democrat Establishment's story, and they're sticking to it.

"Koch network: 2018 is going to be tough" [Axios]. "The Koch network will engage early in what it sees as difficult elections for the GOP in 2018; the plan is to start with advertising, then ramp up their grassroots efforts the second half of the year. Koch had earlier announced plans to spend up to $400 million, its largest investment in midterms ever."

"Analysis: It's the 'economy, stupid'. And right now, the Trump economy is blasting off" [ABC News]. "In conversations with business and political leaders gathered at the World Economic Forum in Davos, Switzerland, there is almost zero mention of the controversies which consume coverage of Trump in America. Instead, people talk about the real possibility now that growth in the U.S. economy could hit 4 percent this year — a positively Clintonian benchmark. The impact worldwide would be tremendous."

Pennsylvania: "Republicans Aim to Stop a Democratic Wave Right Here" [Bloomberg]. "The Democratic candidate, 33-year-old Conor Lamb, a former federal prosecutor and Marine Corps veteran with family roots in the area, is youthful and polished on the stump. The Republican, state Representative Rick Saccone, a 59-year-old ex-Air Force officer with a doctorate in international affairs, counters with legislative experience and proven success with voters…. Helped by his family's political roots, Lamb is out-fundraising his opponent" (while simultaneously running as an outsider, a neat trick). Lamb does not support #MedicareForAll.

"Democratic group will spend $5 million to elect secretaries of state, the latest front in 'voting wars'" [WaPo]. Idea: Instead of relying on one-shot grants from squillionaires, Democrats make voter registration a core party function.
2017
Doug Jones really pulling his weight:

Senate voted 55 to 43 to make greedy #BigPharma CEO Alex Azar head of @HHSGov.

Which Democrats helped Repubs confirm Azar?@SenatorCarper – DE@ChrisCoons – DE@SenDonnelly – IN@SenatorHeitkamp – ND@GDouglasJones – AL@Sen_JoeManchin – WV#WeWantBetterDems #SaturdayMorning pic.twitter.com/7hucrux00Y

— RoseAnn DeMoro (@RoseAnnDeMoro) January 27, 2018
Government Shutdown
"Step back and look at the broader context: Why was there an endgame in January 2018 that led to the brief shutdown? It is true that the status of nearly 700,000 recipients of DACA, or Deferred Action for Childhood Arrivals, needed to be resolved ahead of a deadline of March 5. But the fundamental answer is that the Republicans in charge of all three governing entities could not manage to enact into law a single one of the dozen spending bills that make up the discretionary part of the government for a fiscal year that had begun three-and-a-half months earlier, on October 1" [Norrman Ornstein, The Atlantic]. "[There were] four continuing resolutions for funding most of what government does, still providing no clear guidance for the remaining seven-and-a-half months of the fiscal year. Put shutdown politics and DACA aside for a moment; that is simply pathetic."
New Cold War
Sensible questions:

If the CIA, NSA, and FBI cannot prevent Russia from interfering in our internal affairs, then why do we have them? And where was Obama when all this was going on?

— Alice Marshall (@PrestoVivace) January 28, 2018
SOTU Pre-Game Analysis
"The White House said Sunday that the president would point to a robust economy and low unemployment during his first year and the benefits of a tax overhaul during Tuesday's address to Congress and the nation. Aides have said Trump, who stayed at the White House over the weekend as he prepared, is expected to set aside his more combative tone for one of compromise and bipartisanship" [AP].

"State of the Union: 6 things to watch at Trump's speech, including the elephant in the room" [Susan Page, USA Today]. "Trump's dark, defiant Inaugural address last January left even the former presidents on the dais looking stunned. "This American carnage stops right here and stops right now," he declared. Trump did nothing to acknowledge Hillary Clinton, the election rival seated behind him who had won the popular vote. He did little to reach out to voters who hadn't supported him. A different Trump showed up when he addressed a Joint Session of Congress a month later. He was sunnier and more conciliatory — more 'presidential,' some pundits opined. He opened his speech by acknowledging Black History Month. He condemned recent attacks on Jewish community centers and cemeteries. 'I am here tonight to deliver a message of unity and strength,' he said, 'and it is a message delivered from my heart.'" Page is always interesting to read, because she's one of the very few journalists, on either side, who didn't lose her mind.

That Joint Session: "Trump mostly stuck to the traditional script last February when he addressed a joint session of Congress for the first time. The president's sober tone and emotional tribute to the wife of a slain Navy SEAL earned him plaudits across the political spectrum" [The Hill]. "', period,' liberal commentator Van Jones said on CNN after the speech. Trump "became President" several times, in the collective wisdom of the press; as for example, when he bombed Syria, because everybody loves it when a Preznit bombs something.

Personally, I think it would be extremely cool if Trump tweeted from the dais:

In today's print NYT: a year's worth of presidential Twitter insults, from @Acosta to @jeffzeleny. I recommend reading the whole thing, top to bottom, left to right. I learn something new every time. pic.twitter.com/pkijQsoEpk

— Kevin Quealy (@KevinQ) January 29, 2018
Realignment and Legitimacy
"An Article of Impeachment Against Donald J. Trump" [David Leonhardt, New Yprk Times].

"Poll: Majority have favorable view of George W. Bush" [The Hill]. Who should have been impeached over warrantless surveillance. And here we are!

Joy Reid on Reagan:

My mother was vehemently anti-Reagan, and my sister and I were too (my brother was too young). But we were able to listen to Reagan when he spoke from the pulpit of the presidency. A reminder that Trump has robbed the office of something real, and valuable.

— Joy Reid (@JoyAnnReid) January 28, 2018

Who will the liberal Democrats rehabilitate next? Nixon?

That word "norms": "The discourse of norm erosion isn't really about Trump. Nor is it about authoritarianism. What it's really about is 'extremism,' that old stalking horse of Cold War liberalism. And while that discourse of norm erosion won't do much to limit Trump and the GOP, its real contribution will be to mark the outer limits of left politics, just at a moment when we're seeing the rise of a left that seems willing to push those limits. That was my thought" [Corey Robin]. "Democracy, we might even say, is a permanent project of norm erosion, forever shattering the norms of hierarchy and domination and the political forms that aid and abet them." An important article, well worth a read.
Stats Watch
Personal Income and Outlays, December 2017: "Personal income rose 0.4 percent in December with wages and salaries up a solid 0.5 percent" [Econoday]. "The wages and salaries reading is a positive for the outlook as is the upward revision to November consumer spending. But the low reading for the savings rate is a concern and suggests that consumers dipped into their bank accounts to fund spending." Or went into debt. And but: "Pretty much in line with expectations, but last month's spending increase means what I think was an unsustainably low savings rate is now even lower" [Mosler Economics]. "At 3.8% consumer spending is again, to me, unsustainably high given the personal income numbers, and therefore subject to either a large revision or a reversal in coming quarters. Likewise residential investment, the way I see it, is at odds with the monthly housing reports, and likewise subject to revision or reversal." And but: "The savings rate declned and is at 21st century lows. Consumer spending growth was lower than income growth year-over-year" [Econintersect]. "The backward revisions this month were mixed."
Dallas Fed Manufacturing Survey, January 2018: "Business remains very brisk for the Dallas Fed's manufacturing sample" [Econoday]. "This report falls in line with the host of other regional manufacturing reports all of which are showing strength which, however, does contrast with the manufacturing component of the industrial production report which has been flat. Still, last week's durable goods data were strong and do, along with the regional reports, point to a factory sector that is accelerating strongly."
Finance: "Examining Opportunities and Challenges in the Financial Technology ('Fintech') Marketplace" (written testimony) [Adam Levitin, Credit Slips (PDF)]. "What's new here, then, is not so much the use of technology, but that there are a set of new nonbank entrants in the financial services marketplace that are operating across state lines and frequently using the Internet, rather than brick-and-mortar stores or agents, brokers, and correspondents with physical locations, as their mode of consumer interface. Traditionally banks relied on their monopoly of access to the payment system through deposit accounts as a way of obtaining customers for other products—the customer relationship with the depositor enabled the cross-selling for other products. Nonbank finance companies had to maintain brick-and-mortar presences to compete or rely on agents, brokers, and correspondents with physical locations, all of which added to the expense of their products. The Internet has made it possible for nonbank financial services companies that do not partner with banks to readily acquire customers without the deposit-relationship-based cross-sell…."
Consumer Spending: "Consumer spending hits 6-year high — as Americans cut savings to 12-year low" [MarketWatch]. "Americans increased spending in the final three months of 2017 at the fastest pace in almost two years, reflecting an economy hitting its stride nearly nine years after the end of the last recession…. What might keep spending at current levels are the recently passed tax cuts. They are expected to deliver extra cash to 90% of households starting in February and that could boost spending in the months ahead."
Real Estate: "The warehouse market in New York City is looking up, quite literally. Strong demand for distribution space in one of the country's biggest consumer markets is colliding with the city's chronic land shortage, leading some property developers to set plans for multistory warehouses" [Wall Street Journal].
Retail: "Wal-Mart Stores Inc.'s drive stave off Amazon.com Inc. is going global. The retailer is joining with Japan's largest online retailer, Rakuten Inc., in a trans-Pacific pact taking in grocery delivery in Japan and distribution of e-books and audio books in the U.S." [Wall Street Journal]. "The deal between Wal-Mart and Rakuten will include opening a combined distribution center in the Tokyo area to deliver groceries to homes, pushing Wal-Mart ahead of Amazon in a Japanese food-delivery market worth some $19 billion. More important, it shows that Wal-Mart is extending overseas its U.S. strategy of taking in established online operators, even if that involves partnerships rather than acquisition."
Rail: "The rolling averages for the economically intuitive sectors are now in contraction, and the decline in the last four weeks negatively affected all the averages" [Econintersect].
Supply Chain: "Some of the biggest breaks for industrial operations in the new tax rules may go to the robots. The revisions allowing companies to immediately deduct the entire cost of equipment purchases from their taxable income for the next five years already are hastening automation and modernizing in U.S. factories" [Wall Street Journal]. "[The deduction] also puts the tax law at the heart of a growing push toward automation in warehouses, where fast-improving technology is bringing in robotics that can handle more tasks. Some manufacturers including heavy-duty trucks parts maker Toth Industries have already increased their capital spending, boosting productivity. The automation will also add production capacity that will push more goods through distribution networks, where they're more likely than ever to be handled by robots."
Shipping: "Chinese state-owned enterprises now own 10% of Europe's container terminal capacity" [Splash 247]. "More pertinently the data provided by the International Transport Forum shows that while Chinese SOEs have been able to buy up majority stakes in ports across Europe, Beijing has not reciprocated with no European terminal operator able to hold a majority holding of any port in the People's Republic…. [And] China's cabotage rules continue to bar foreign container lines from operating intra-China routes."
The Bezzle: "'Without this bitcoin price would collapse': Fears grow over tether 'printing press' as auditors part ways" [News.com]. Hard to know what's not speculator-driven with Bitcoin, so read this with a truckload of salts. That said: "Bitfinex [owner of tether] has repeatedly promised investors it would produce a full audit of its books to prove it has US dollars on deposit to calm fears, but no audit has taken place."
Tech: "Microsoft Disables Spectre Mitigations Due to Instability" [Security Week]. "Both microcode and software updates designed to address the Spectre and Meltdown vulnerabilities have turned out to be buggy, often making systems unbootable or causing them to reboot more frequently. Intel has suspended its patches until the issue is resolved and advised customers to stop deploying the updates. HP, Dell, Lenovo, VMware, Red Hat and others had paused the patches and now Microsoft has done the same." Oopsie.
Tech: "After the weekend release of a draft plan calling for the nationalization of the 5G network, Federal Communications Commission Chairman Ajit Pai said he's against such a move" [MarketWatch] Pai: "I oppose any proposal for the federal government to build and operate a nationwide 5G network."
Tech: "Apple iPhone X demand: More data, more questions" [MarketWatch]. "Nearly three months after the iPhone X went on sale, analysts are still debating supply and demand, though the tone has changed…. Initially, the big question was whether Apple Inc. AAPL, -1.58% would be able to produce iPhone X devices quickly enough to meet demand for the phone, which was expected to drive a 'supercycle' of upgrades. Now, however, analysts are wondering whether Apple might be easing up on build orders for the phone given that interest hasn't quite manifested as anticipated, and whether this even matters for the stock. On Wednesday alone, four analysts revealed their views on rumblings from the Apple supply chain. Another chimed in Thursday. They diverged on many points, including how useful supply-chain data points are, whether demand is indeed weak, and whether Apple shares will be negatively affected in the months to come." From last week, but still (see Five Horsemen) still germane.
Globalization: "The Current Economic Sweet Spot Is Not the 'New Normal'" [IMF Blog]. "The current upturn did not arise by chance. It began to take hold in mid-2016 and owes much to accommodative macroeconomic policies, which supported market sentiment and hastened natural healing processes." I can't believe I'm reading this from a putatively serious source: "Natural hearing processes" is a gross category error; markets are not alive. Markets are not organic beings.
Co-ops: Employee Ownership Pays Dividends in Rural, Says Private Equity Firm" [Daily Yonder]. There's a headline I never expected to see!
Five Horsemen: "Amazon blazes to a new record high as Apple sinks into below-market performance" [Hat Tip, Jim Haygood].
Rapture Index: Closes unchanged [Rapture Ready]. Record high, October 10, 2016: 189. Current: 186.
Today's Fear & Greed Index: 70 Extreme Greed (previous close: 79, Extreme Greed) [CNN]. One week ago: 79 (Extreme Greed). (0 is Extreme Fear; 100 is Extreme Greed. Last updated Jan 29 at 12:01pm. Big drop. Approach of the Blue Moon on the 31st?
Gaia
"Hunting for the ancient lost farms of North America" [Ars Technica]. "Over 2,000 years ago in North America, indigenous people domesticated plants that are now part of our everyday diets, such as squashes and sunflowers. But they also bred crops that have since returned to the wild. These include erect knotweed (not to be confused with its invasive cousin, Asian knotweed), goosefoot, little barley, marsh elder, and maygrass. We haven't simply lost a few plant strains: an entire cuisine with its own kinds of flavors and baked goods has simply disappeared."
"Increased nature relatedness and decreased authoritarian political views after psilocybin for treatment-resistant depression" [Journal of Psychopharmacology]. n=7, sadly.
Our Famously Free Press
If your business depends on a platform…
In case anyone wants to know how Face book suppression works – I have 330,000 followers there but they've stopped showing my posts to many ppl. I used to gain 6,000 followers a week. I now gain 500 and FB unsubscribes ppl w/out their knowledge – so my total numbr never increases

— Lee Camp [Redacted] (@LeeCamp) January 27, 2018
Class Warfare
"U.S. employers got used to abundant and cheap labor following the 2007-2009 recession. Unemployment peaked at 10% in October 2009, and didn't return to the lows of the previous business cycle until last year. Firms still remain reluctant to boost pay or train employees with less-than-perfect credentials, though recruiters say that may have to change amid a jobless rate that's set to dip further" [Industry Week].
News of the Wired
"In 2013, Google decided to test its hiring hypothesis [that only technologists can understand technology] by crunching every bit and byte of hiring, firing, and promotion data accumulated since the company's incorporation in 1998. Project Oxygen shocked everyone by concluding that, among the eight most important qualities of Google's top employees, STEM expertise comes in dead last. The seven top characteristics of success at Google are all soft skills: being a good coach; communicating and listening well; possessing insights into others (including others different values and points of view); having empathy toward and being supportive of one's colleagues; being a good critical thinker and problem solver; and being able to make connections across complex ideas" [WaPo].
Bruh:
NEW VIDEO: We Stole Tampons from the Cashier-less Amazon Go Storehttps://t.co/A15EKaaZp8 pic.twitter.com/jZyYzGhWcm

— Linus Tech Tips (@LinusTech) January 27, 2018
"93,000 pounds of Mardi Gras beads among debris removed during citywide catch basin cleaning project" [New Orleans Advocate].
* * *
Readers, feel free to contact me at lambert [UNDERSCORE] strether [DOT] corrente [AT] yahoo [DOT] com, with (a) links, and even better (b) sources I should curate regularly, (c) how to send me a check if you are allergic to PayPal, and (d) to find out how to send me images of plants. Vegetables are fine! Fungi are deemed to be honorary plants! If you want your handle to appear as a credit, please place it at the start of your mail in parentheses: (thus). Otherwise, I will anonymize by using your initials. See the previous Water Cooler (with plant) here. Today's plant (Paleobotanist):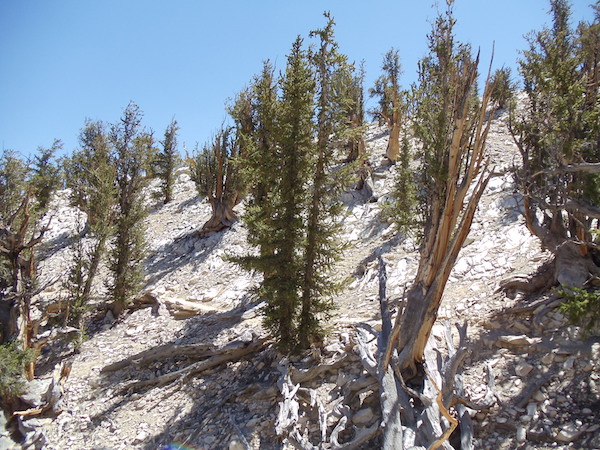 Paleobotanist writes: "White Mountains California, bristlecone pine from Methuselah's grove."
* * *
Readers: Water Cooler is a standalone entity not covered by the NC fundraiser. So do feel free to use the dropdown and click the hat to make a contribution today or any day. Here is why: Regular positive feedback both makes me feel good and lets me know I'm on the right track with coverage. When I get no donations for five or ten days I get worried. More tangibly, a constant trickle of small donations helps me with expenses, and I factor that trickle in when setting fundraising goals. So if you see something you especially appreciate, do feel free to click the hat!