By Lambert Strether of Corrente.
Trade
"U.S. Trade Representative and self-professed curmudgeon Robert Lighthizer admitted some progress at the close of the sixth round of NAFTA talks in Montreal, but not before effectively eviscerating a significant new Canadian proposal meant to break open the talks on auto rules of origin as enormously vague" [Politico]. "One official close to the talks said the fact that Lighthizer didn't hit Canada over its alternatives to U.S. proposals on an investor-state dispute mechanism and sunsetting the deal was seen as a good sign. But the trade ministers appeared to have not yet waded into the negotiating weeds."
Politics
2020
"The Case Against Cuomo" [Jacobin]. "Andrew Cuomo is no Berniecrat. He's merely figured out how to manipulate New York state's opaque, oligarchical political system to give himself a left-liberal sheen without risking his connections to his richest donors…. It's an open secret in Albany that Cuomo is committed to maintaining Republican control of the state senate, where creative redistricting deliberately gives the upstate GOP minority an advantage. The governor could have used his veto power over districting maps in 2012, or used some of his vast campaign resources to elect a stronger Democratic majority in the upper chamber. Instead he has carefully maintained this structural barrier to the passage of progressive bills." Same strategy the national Dems use with the Blue Dogs.
2018
"We've Never Seen Congressional Resignations Like This Before" [FIveThirtyEight]. "On Jan. 15, Pat Tiberi became the 12th member of the 115th Congress to resign from office. If that feels like a lot, that's because it is; it's the most people who have resigned from Congress through this point in the session in at least 117 years…. The 115th Congress owes its historic turnover to the confluence of two events, one normal and one abnormal. First, there's the start of a new presidential administration. Five of the first six members to resign this session1 did so to accept jobs in President Trump's administration. That's not unusual…. But in addition, three of the four most recent members to resign from the 115th Congress did so because they were accused of unwanted sexual advances."
2016 Post Mortem
"How could former deputy director of the FBI Andrew McCabe assume an oversight role in the FBI probe of the Clinton email scandal when just months earlier his spouse had run for state office in Virginia and had received a huge $450,000 cash donation from Common Good VA, the political-action committee of long-time Clinton-intimate Terry McAuliffe?" [National Review]. "[T]he answer was clear. McCabe assumed that Clinton would easily win the election." Like most everyone else.
Tax "Reform"
"What Companies Are Really Doing With Their Tax Windfall (So Far)" [Industry Week]. "[Willis Towers Watson, the] HR consulting firm asked 333 employers with at least 1,000 employees what they have done or plan to do as a result of the Tax Cuts and Jobs Act. Only 4% of companies said they had "increased wages for all employees"; an additional 3% said they planned to do so in the next year. While a further 13% said they're "considering taking action this year or next," a full 80% of companies aren't considering giving raises at all."

"Since Wal-Mart Stores Inc. announced it would hand out bonuses and expand benefits to more than 1 million associates thanks to new tax reform measures, the retail giant has also laid out plans for store closures and thousands of layoffs at both the store and corporate level" [MarketWatch].
New Cold War
Please tell me things have not reached this point:

Just asked on @MSBNC, finally: Is it possible that Nunes is a Russian agent?

— Pedro da Costa (@pdacosta) January 30, 2018
Realignment and Legitimacy
"Top DNC official out after less than a year on the job" [NBC News]. "In a farewell email to DNC staff on Monday night, O'Connell thanked them and said she was proud of their work, while not offering a specific reason for her departure."

"The Case of the Missing "Fraudulent" Voters: An Interview With Greg Palast" [Truthout]. "Kobach and Trump are destroying the voter files they received from a couple of states. The real [question] is: What is the commission's agenda? Did they find fraudulent voters? I'm certain they are covering up the fact that they didn't find fraudulent voters. Kobach also bought lists of [Latino] voters. The purpose is clear: Match any José Garcia on voter rolls with José Garcia on deportation orders and purge an American for the crime of having a common [Latino] name." Yes, what Kobach's CrossCheck is doing really is that brain-dead.

"Democratic Establishment Tries To Keep Progressives Off Congressional Ballots" [TRNN]. "Several grassroots and progressive congressional candidates are facing expensive lawsuits from the Democratic establishment, which is challenging their ballot petitions in hopes of clearing the primary field…. Anthony Clark was one of the first congressional candidates to receive the backing of Brand New Congress, an organization founded in late 2016 by former Bernie Sanders staffers aimed at replacing current members of Congress, Republican and Democrat. Clark is running as a Democrat against Rep. Danny K. Davis (D-IL), who has held the seat of Illinois' 7th Congressional District since 1997. Davis' campaign has tried to file several legal complaints to remove Clark… On January 22, a judge overruled several objections filed by incumbent Rep. Davis' surrogates, former State Senator Ricky Hendon and his staffer Cherita Logan, that alleged Clark's signatures to get on the ballot were fraudulently obtained. This week, the board of elections will decide on whether to accept the judge's recommendations." Filthy.

"The Post-Physical Economy and the Rise of Trump" [Splice Today]. "The only way to have something resembling a service or information economy, or a whole workforce of professionals and cubicle-dwellers, is to outsource physical reality more or less entirely. First, this sets up a situation in which your society of professionals is massively parasitic on a worldwide system of economic exploitation. And second, this is a solid formula for devaluing and immiserating a portion of your own population: the people who are unsuited to the cubicle, or just for one reason or another fall by the wayside in the mechanical march of robotic education. Such people fall out of the economy completely, or they continue in the physically-oriented tasks: we still have to build and fix things. But the dignity of that sort or work was massively under attack in the technocratic vision that valued education, keyboard-stroking, strategic messaging, and filling in little circles with #2 pencils above all."

"Donald Trump, #MeToo, Facebook, And The Breakdown Of Institutional Power" [BuzzFeed]. "Smash the exterior of an institution and you may reveal catacombs of cruelty, shame, sickness, all the terrible things people with power can do to those without it in the corridor of a hotel suite, inside an office, inside a home, in small places you feel as though you are not meant to be…. If you read all these stories and start writing down (or calculating out) the ages of the people in them, the interns and assistants and desk assistants and students, especially the women (and men) whose names you've never heard before, a pattern emerges…. Many of these stories concern people too inexperienced to know who to tell, or how or when." I like the musing sensibility of this piece, which is worth a read, but I don't think much of the institutional/structural analysis.
Stats Watch
Consumer Confidence, January 2018: "Consumer confidence moved back higher in January… and is just off November's 17-year high" [Econoday]. "But the consumer confidence index has in fact been tracking the stock market higher over the last year, in some contrast to the rival consumer sentiment index which has been flattening out. But today's report is another reminder that a strong jobs market is the solid foundation for the American consumer."
S&P Corelogic Case-Shiller Home Price Index, November 2017: "Prices for existing homes rose a strong 0.7 percent in November to just beat expectations and match October's gain" [Econoday]. "A limited number of homes on the resale market is a positive factor for prices though this is an increasing negative for sales which, in contrast to sales acceleration in the new home market, have in fact been flat." And: "According to the data, prices increased in all 20 of 20 cities month-over-month seasonally adjusted" [Calculated Risk]. And: "Many pundits believe home prices are back in a bubble. Maybe, but the falling inventory of homes for sale keeps home prices relatively high. I continue to see this a situation of supply and demand. It is the affordability of the homes which is becoming an issue for the lower segments of consumers" [Econintersect].
State Street Investor Confidence Index, January 2018: "Global institutional investors regained confidence and became net buyers of equities in January for the first time in four months" [Econoday]. "The return of confidence in European equities after two years of subdued risk appetite among institutional investors probably reflects improving European economic growth, subsiding political uncertainties, and the ECB's accommodative policies. But with North American equities rocketing higher to record highs at the start of the year, continued albeit moderating net selling by institutional investors here indicates that the tendency towards risk aversion seen since September towards this region still prevails."
Commodities: "A gold rush for cobalt is underway. Booming demand for cellphone and electric-vehicle batteries is driving a once-unthinkable growth in companies focused entirely on the metal" [Wall Street Journal]. "One commodities group expects annual demand for cobalt to triple to roughly 100,000 metric tons by 2030. Mining giant Glencore PLC says there could be shortage as electric-car production ramps up unless a new supply is discovered."
Retail: "The profitable business of selling to the hard-up" [The Economist]. "Yet with well over 14,000 outlets across America (about the same number as there are McDonald's restaurants) almost 75% of Americans now live within five miles of a Dollar General… The chain's profits have risen like a helium balloon since the recession, to more than double those of Macy's, one of the most famous brands in retail, in the past fiscal year. Its market value is a whopping $28bn…. Around 70% of Dollar General's customers live in rural places which have been slow to recover from the recession…. Yet rural communities account for only 46m, or 15%, of the population—and they are shrinking fast…. To keep expanding so rapidly, Dollar General will need to appeal to those with a higher income than the working poor."
Shipping: "Wal-Mart Stores Inc. is tightening delivery requirements for its suppliers still more as it looks to get its supply chain moving faster and leaner. The retailer will tell suppliers to deliver more goods to warehouses exactly on-time or face penalties, the WSJ's Sarah Nassauer and Jennifer Smith write, in a new sign of how e-commerce competition is raising pressures across distribution channels. The new guidelines call for large suppliers to deliver full orders within a specified one- or two-day window 85% of the time or face a fine of 3% of the cost of goods. That's up from earlier thresholds, and Wal-Mart is also boosting the demand on smaller suppliers from 33% to 50% on-time delivery. The standards are aimed at keeping shelves stocked and inventory low, a tough combination in retail but one that's increasingly important as consumers scan both stores and websites for available goods. Suppliers will get something in return: data on sales and inventory that should help them put the right goods in motion.
Shipping: "A joint venture that includes the industrial real estate arm of financial titan Goldman Sachs Asset Management said today it will develop a three-story warehouse and distribution center in Brooklyn, New York that will be the first multilevel industrial facility on the East Coast" [DC Velocity]. "The facility's design is expected to become more commonplace in densely populated urban areas where land is scarce and expensive, and where strong demand exists for last-mile fulfillment services for goods ordered online…. The project is perhaps the most visible so far that the Goldman Sachs Asset Management unit has financed… All told, the unit controlled $1.9 billion of real estate assets as of last Sept. 30."
Supply Chain: "Some U.S. importers may find the legal ground at the border growing more precarious. Recent court rulings have opened the door to more whistleblower lawsuits over goods that have been mislabeled to avoid customs duties. The cases take an expanded view of the False Claims Act…, encouraging lawyers that specialize in the anti-fraud cases and raising risks for corporations as they match documents to the goods they move into the country" [Wall Street Journal]. "The shift came last October when the Supreme Court declined to hear an appeal by Victaulic Co. in a case involving imported pipe fittings. Recent cases like one involving may broaden the impact of whistleblower cases across the supply chain. In one case, a garment wholesaler failed to note several signs that overseas suppliers were avoiding duties by submitting fake invoices to customs."
The Bezzle: "The Follower Factory" [New York Times]. "The Times reviewed business and court records showing that Devumi has more than 200,000 customers, including reality television stars, professional athletes, comedians, TED speakers, pastors and models. In most cases, the records show, they purchased their own followers. In others, their employees, agents, public relations companies, family members or friends did the buying." In other words, corrupt professionals. Say it's not so!
The Bezzle: "Tesla's self-driving technology has been particularly disappointing, [Steve Wozniak] said, noting that Musk predicted a Tesla would drive itself cross-country for the first time by 2017…then early 2018…or perhaps later" [MarketWatch].
Tech: "Robots could kill many Las Vegas jobs" [CNN]. "But Las Vegas is also the U.S. city most at risk for losing jobs to automation, according a study from the University of Redlands. In 20 years, about 65% of the city's jobs could be automated. For example, Las Vegas has approximately 39,000 retail salespeople. About 36,000 of those positions could be technically automated by 2035, according the study. Cashier, cook and game dealer jobs could be automated almost entirely. How many positions actually end up automated depends on factors like cost and if customers accept the switch."
Tech: "Scoop: Apple delays iOS features to focus on reliability, performance" [Axios]. "Apple is prioritizing work to make iPhones more responsive and less prone to cause customer support issues…. While a renewed focus on quality and performance might ease some outside criticism, some inside the team question whether the approach will actual lead to higher quality. Plus, customers tend to pay for features more than security and reliability, which are tough to assess at the time of purchase."
Tech: "Apple is reportedly slashing iPhone X orders because it isn't selling well" [Business Insider]. "Apple is set to report its holiday-quarter earnings on Thursday, where it will provide total iPhone sales from October to December. It will also give revenue guidance for next quarter that analysts can bake in to iPhone shipment estimates."
Tech: "WSJ jumps on iPhone X production cut story, add new fictions" [Apple Insider]. "One day after Japanese financial newspaper Nikkei issued its annual iPhone component panic story, the Wall Street Journal published its own hand-wringing coverage of the state of iPhone X, just two days before Apple is set to deliver financial results for the holiday quarter…. Strangely enough, while two major financial newspapers have now claimed that Apple has actually slashed orders for 20 million units (that would be over 13 years of 2017 Pixel sales, or more than all the Microsoft Surface, Amazon Alexa, Samsung Galaxy Gear and Android Wear devices ever sold) of iPhone X in just this quarter, the implied reduction of manufacturing volume hasn't triggered any apparent collapse in Apple's supply chain."
Five Horsemen: "Amazon thunders on into the asteroid belt as Apple lags and sags" [Hat Tip, Jim Haygood].
Today's Fear & Greed Index: 64 Extreme Greed (previous close: 68, Extreme Greed) [CNN]. One week ago: 78 (Extreme Greed). (0 is Extreme Fear; 100 is Extreme Greed. Last updated Jan 30 at 11:10am. Oil?
Gaia
"Modern human brain organization emerged only recently" [Science Daily]. "Only fossils younger than 35,000 years show the same globular shape as present-day humans, suggesting that modern brain organization evolved some time between 100,000 and 35,000 years ago. Importantly, these shape changes evolved independently of brain size."
"Association between Traffic-Related Air Pollution in Schools and Cognitive Development in Primary School Children: A Prospective Cohort Study" [PLOS Medicine]. "Children from highly polluted schools had a smaller growth in cognitive development than children from the paired lowly polluted schools, both in crude and adjusted models… [C]hildren attending schools with higher levels of EC, NO2, and UFP both indoors and outdoors experienced substantially smaller growth in all the cognitive measurements…. Residual confounding for social class could not be discarded completely; however, the associations remained in stratified analyses (e.g., for type of school or high-/low-polluted area) and after additional adjustments (e.g., for commuting, educational quality, or smoking at home), contradicting a potential residual confounding explanation." N= 217.
Our Famously Free Press
In memoriam Robert Parry:
"Radio War Nerd EP #76* [*REPOST] — Robert Parry on Lost History & Death of US Journalism" [Patreon (open free repost)]. Parry starts at 33:30. "We talk about the stories Parry broke, the destruction of targeted journalists including his late friend Gary Webb who was driven to suicide, and Nixon's plot to sabotage Vietnam War peace talks in 1968 to make sure Humphrey didn't win the election." I think it's time for the liberal Democrats to rehabilitate Nixon, now that they're finished with Bush and Reagan.
"Robert Parry RIP: A Reporter Outcast In His Own Land" [Greg Palast]. "Bob Parry has died. He was a giant… The reporter who uncovered the Iran-Contra scandal. Instead of a Pulitzer, he was fired by the AP. Then fired by Bloomberg and Newsweek for more reports. And, 30 years ago, he convinced me to take on two unknown and dangerous brothers: the Kochs. He exposed them in Nation Magazine — which he told me led Nation to fire him."
"A Tribute to Robert Parry: Independent Journalism at Its Best" [FAIR]. "Frustrated with the limits and compromises of corporate media—he was once told that a story on Contra financial skullduggery had to be watered down because Newsweek owner Katharine Graham was having Henry Kissinger as a weekend guest (Media Beat, 4/23/98)—Bob launched his own online outlet, Consortium News."
"Robert Parry Has Died" [Moon of Alabama]. "This is a huge loss for everyone who has kept some skepticism about the propagandistic media onslaught on our conciseness. Parry's writing was always fact based, well grounded and beyond the usual claptrap. The Iran-Contra stroy, Reagan's October surprise and dozens of other political crimes would have been buried had Robert Parry not dug into them."
"The Passing of Robert Parry" [TruthDig]. "When I think of Bob, I am reminded of sitting in a D.C. bar with I. F. Stone. 'I just can't stand the suffering of the innocent,' he said. It was that humanity that led him to establish the beloved, I.F. Stone's Weekly."
* * *
"Blackstone Group LP, the private equity giant led by Stephen Schwarzman, is considering its biggest foray yet into the $27 billion-a-year industry for financial information" [Reuters]. Just what we need; private equity controlling financial reporting. What could go wrong?
Imperial Collapse Watch
"The Uncomfortable Truth About Whole Foods and Amazon's Grocery Monopoly" [Jacob Bacharach, Alternet]. "I have sometimes joked that although the Soviet Union collapsed, it was the Soviet system that won the Cold War. It's only half joking…. [T]he drift of western capitalism, at least in the Anglosphere, has been toward something more and more Soviet in appearance—vast, state-related and state-subsidized industries controlling whole sectors of our domestic economies with largely fictional financial statements signed off by corrupt, captured audit firms replacing fake quotas and production reports. Better gross margins are the new record harvest of wheat. Meanwhile the shelves at the premier grocery stores are literally empty [as at Whole Foods under Amazon]. Imagining life in a declining empire, where the basic mechanisms of food, housing, and transportation seem everywhere to be breaking down even as we continue to build shiny districts for the tourists, is no longer an act of imagination. "
Class Warfare
"White-Collar Unionization Is Good for All Workers" [The Nation]. "White-collar unionization has an important role to play in helping labor to expand under these difficult conditions. Newly unionized white-collar workers provide dues to increasingly cash-strapped unions, whose funding is under greater attack than ever thanks to the Trump administration. And unionization raises wages sector-wide, both for union and non-union workers. Further, unions in the media sector are capable of drawing a disproportionate amount of attention to the virtues of organizing. Journalists love talking about themselves, and when an outlet unionizes, it's a national story."
"When algorithms are introduced into public assistance programs, the effects are rarely good for poor and working-class beneficiaries" (interview) [Virginia Eubanks , Jacobin]. "I had this conversation with a woman who I called 'Dorothy Allen' in my first book. We were talking about her EBT [Electronic Benefit Transfer] card. She told me, 'Yeah. It's more convenient. It's great to not have to carry around paper [food] stamps anymore. But also, my caseworker uses it to track all of my purchases.' And I had this look on my face, a look of total shock. And Dorothy said, 'Oh. You didn't know that, did you?' I did not. She said, 'You all' — meaning middle-class people like me — 'You all should be paying attention to what happens to us, because they're coming for you next.'" At an Amazon Go store?
"Boston's Bid For HQ2 Overlooks Amazon's Awful Labor Practices" [WBUR]. "What you see in the Amazon warehouses is a culture of industrialized brutality in which the worker isn't a human with attendant needs, but a body that exists to be utilized until it's too broken or too spent to be productive anymore. But this culture doesn't just apply to Amazon's manual labor workspaces. It goes all the way to the executive level."
The headline: "Pot, Terrorism Boost Security-Guard Pay in Era of Puny Wages" [Bloomberg]. The deck: "Organized labor also a factor in outsize wage gains."
News of the Wired
"Garbage collectors open library with abandoned books" [CNN]. "Garbage collectors in [Ankara] have opened a public library comprised entirely of books once destined for the landfills… Today, the library has over 6,000 books ranging from literature to nonfiction. There is also a popular kid's section with comic books and an entire section for scientific research. Books in English and French are also available for bilingual visitors."
* * *
Readers, feel free to contact me at lambert [UNDERSCORE] strether [DOT] corrente [AT] yahoo [DOT] com, with (a) links, and even better (b) sources I should curate regularly, (c) how to send me a check if you are allergic to PayPal, and (d) to find out how to send me images of plants. Vegetables are fine! Fungi are deemed to be honorary plants! If you want your handle to appear as a credit, please place it at the start of your mail in parentheses: (thus). Otherwise, I will anonymize by using your initials. See the previous Water Cooler (with plant) here. Today's plant (pq):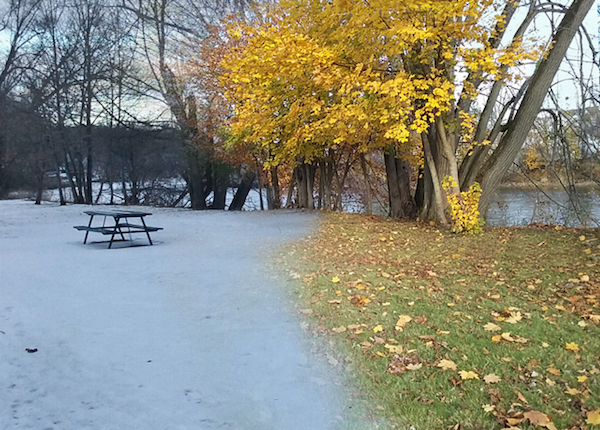 pq writes: "Here's a photo, first from me in many months. I couldn't hold out any longer in Seattle's booming economy, and in October moved back to upstate New York, near where I was born. Moving from affluent blue to below-average red has been interesting, although not as painful as leaving cold rain for daytime highs of 0-5.
I took advantage of our January thaw (three whole days, woo-hoo) to go for a walk down by the river, which remains frozen solid. When I got home, I was looking through my files and found a photo of the sugar maples along the banks, which I shot in early November in the same spot. I thought it would be fun to do a composite."
* * *
Readers: Water Cooler is a standalone entity not covered by the NC fundraiser. So do feel free to use the dropdown and click the hat to make a contribution today or any day. Here is why: Regular positive feedback both makes me feel good and lets me know I'm on the right track with coverage. When I get no donations for five or ten days I get worried. More tangibly, a constant trickle of small donations helps me with expenses, and I factor that trickle in when setting fundraising goals. So if you see something you especially appreciate, do feel free to click the hat!
[Readers, I need to fiddle with my PayPal account re: The missing hat. –lambert]