Yves here. It is telling that the very measured Bruegel website is pretty bothered that Intel looks likely to get away with relatively little in the way of financial consequences as a result of its Spectre and Meltdown security disasters. This is a marked contrast with Volkswagen, where the company paid huge fines and executives went to jail.
However, it was the US that went after a foreign national champion. The US-dominated tech press is still frustratingly given the Intel train wrecks paltry coverage relative to their importance.
One thing that could change the dynamic would be if a foreign regulator, say in the EU or China, were to lower the hammer on Intel. And that would take a while to develop, since that authority would want to have a very well thought out case before it took on such a high profile player. But the flip side is Intel's lapse was glaring, and some of the comments on tech-savvy sites and threads suggest that Intel was not only not unaware, but understood the implications of its business/profit decisions.
Consider a discussion at Slashdot kicked off by this summary:
troublemaker_23 quotes ITWire:

Disclosure of the Meltdown and Spectre vulnerabilities, which affect mainly Intel CPUs, was handled "in an incredibly bad way" by both Intel and Google, the leader of the OpenBSD project Theo de Raadt claims. "Only Tier-1 companies received advance information, and that is not responsible disclosure — it is selective disclosure," De Raadt told iTWire in response to queries. "Everyone below Tier-1 has just gotten screwed."

In the interview de Raadt also faults intel for moving too fast in an attempt to beat their competition. "There are papers about the risky side-effects of speculative loads — people knew… Intel engineers attended the same conferences as other company engineers, and read the same papers about performance enhancing strategies — so it is hard to believe they ignored the risky aspects. I bet they were instructed to ignore the risk."…
Notice this reaction in particular:
I was one of those who called "no way" at first, but just yesterday I found this quote [danluu.com] from an Intel engineer. It was originally posted in a reddit thread [reddit.com] but has since been deleted – but not before being confirmed by other former engineers at Intel.

As someone who worked in an Intel Validation group for SOCs until mid-2014 or so I can tell you, yes, you will see more CPU bugs from Intel than you have in the past from the post-FDIV-bug era until recently.

Why?

Let me set the scene: It's late in 2013. Intel is frantic about losing the mobile CPU wars to ARM. Meetings with all the validation groups. Head honcho in charge of Validation says something to the effect of: "We need to move faster. Validation at Intel is taking much longer than it does for our competition. We need to do whatever we can to reduce those times… we can't live forever in the shadow of the early 90's FDIV bug, we need to move on. Our competition is moving much faster than we are" – I'm paraphrasing. Many of the engineers in the room could remember the FDIV bug and the ensuing problems caused for Intel 20 years prior. Many of us were aghast that someone highly placed would suggest we needed to cut corners in validation – that wasn't explicitly said, of course, but that was the implicit message. That meeting there in late 2013 signalled a sea change at Intel to many of us who were there. And it didn't seem like it was going to be a good kind of sea change. Some of us chose to get out while the getting was good. As someone who worked in an Intel Validation group for SOCs until mid-2014 or so I can tell you, yes, you will see more CPU bugs from Intel than you have in the past from the post-FDIV-bug era until recently.
If this sort of thing is leaking out, Intel may be more vulnerable in discovery or regulatory proctology than Mr. Market is assuming now.
By Alexander Roth, a Research Intern at Bruegel who previously at the European Commission, the Centre for European Economic Research, Commerzbank AG and the University of Mannheim, and Georg Zachmann, a member of the German Advisory Group in Ukraine who has also worked at the German Ministry of Finance and the German Institute for Economic Research in Berlin. Originally published at Bruegel
Intel suffered only minimal pain in the stock market following revelations about the 'Meltdown' hardware vulnerability. But if the market won't compel providers to ensure the safety of their hardware, what will?
On January 3, it became public that almost all microprocessors that Intel has sold in the past 20 years would allow attackers to extract data that are not supposed to be accessible. This hardware vulnerability termed "Meltdown" is depicted as one of the largest security flaws in recent chip designs.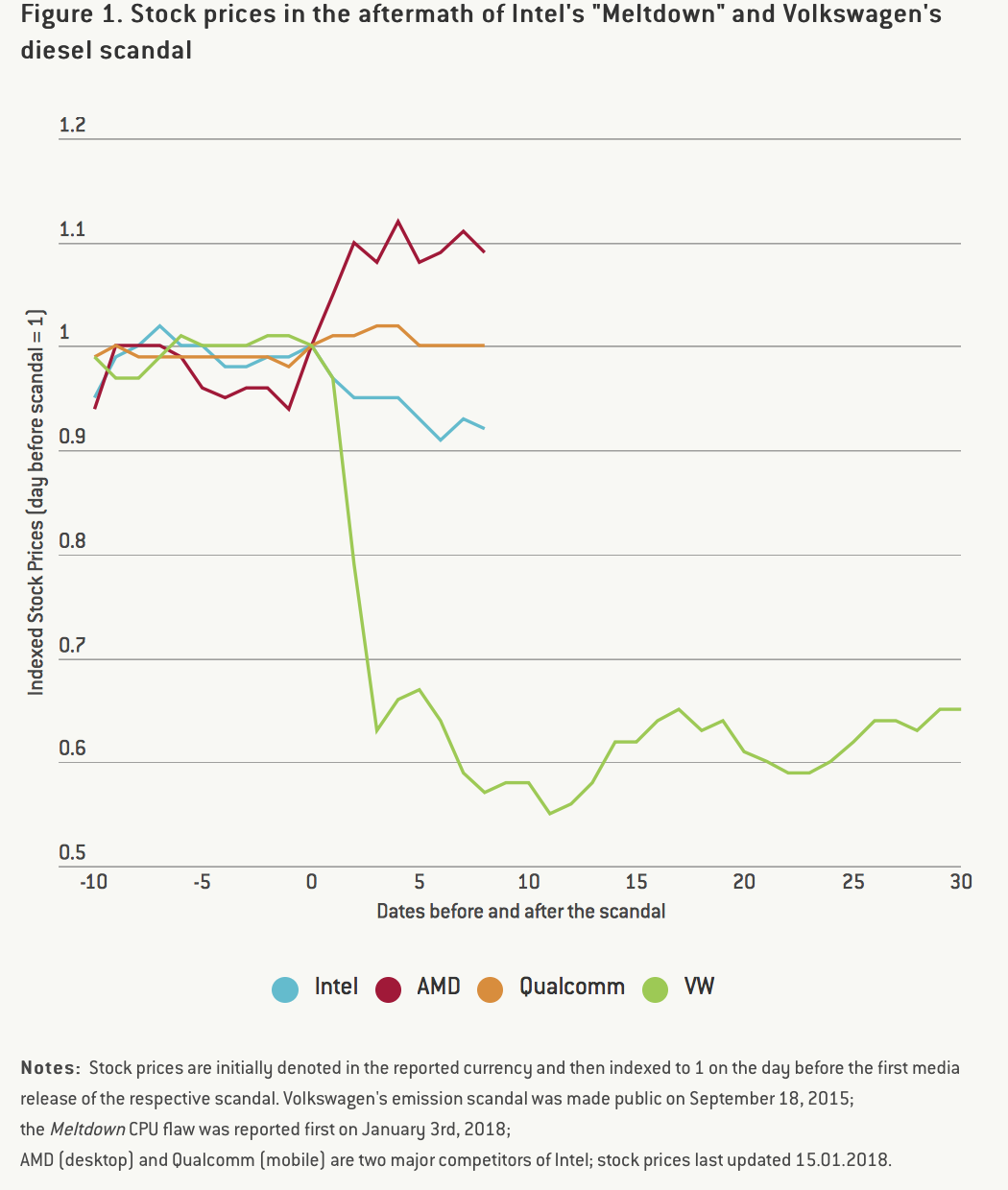 Financial markets were relatively unimpressed with the news; Intel's stock price fell initially by 5% but stabilised afterwards. This contrasts sharply with the Volkswagen diesel scandal of 2015, which saw the car company's value fall by almost 40% within a week. The two cases have more differences than similarities, but the striking resilience of Intel's market valuation to the revelation that most Intel CPUs are vulnerable to specific attacks raises an interesting question:
Do hardware providers have sufficient incentives to make sure their products are as safe as possible?
Intel – having been made aware of the flaw more than six months ago – was able to provide guidance in how to address this security problem, so that patches to millions of computers could be rolled out. However, it is the providers of operation systems (such as Microsoft in the case of Windows) that provided these patches and that have to bear substantial cost.
We have already learned about the incompatibility of the original patch with AMD-processors or certain standard antivirus software. Administrators of complex IT infrastructures in particular will have to expend substantial resources on testing and adapting any patch on their critical hardware. Moreover, to date it remains unclear how severe the implications for processor performance are. As the security flaw lies in a feature to increase a processor's computing power, modifying this feature could cost speed. First reports do not agree over the expected performance losses: some expect significant speed reductions, while Intel and Googleclaim that effects will most likely be minimal.
However, the reaction of the stock market suggests that Intel will not be held fully accountable for this incident, therefore will not have to bear the full cost of the flaws in its processors. This is somewhat worrisome, as it indicates that producers of essential IT hardware seem not be incentivised by the stock market to provide secure products, while the costs of the flaws in their products have to be paid by others.
Intel's domination in the market of desktop and server processors could partly explain the gentle reaction of its stock. In a more competitive market, consumers would have more product choices and consequences for Intel would have been more severe. In contrast to Intel's case, the stark drop of Volkswagen's stock price could be explained – among other factors – by the more competitive market environment.
The question, however, of whether more competition in the processor market would have prevented a flaw such as "Meltdown" remains very much disputed. It is unlikely that higher investments by Intel, induced by stronger competition, would have prevented "Meltdown" – which has remained undetected by the entire chip industry for 20 years.
The most worrying aspect of the Intel case remains, though, the implication that providers of essential hardware might have more to lose from continuously searching for problems that do not exist, than from occasionally failing to spot a potential threat.
---