By Lambert Strether of Corrente.
Readers, once again I'm late coming to Water Cooler, this time [cough] because of writing the post on [cough] marijuana that you are about to see. Today, however, the complete Water Cooler will not be nearly so truncated, when I get to it. In the meantime, talk amongst yourselves! –lambert UPDATE 4:24 More, more, more!
How are your pipes doing? How about the roof? Or is all this talk of "bombogenesis" yet more fear-mongering? (Bangor is said to be getting eighteen inches; that's practically a "light dusting." So what's the hysteria about?)
* * *
Politics
2020
"Clinton Hits Record Low In Poll With 61 Percent Unpopularity" [Jonathon Turley]. "Clinton's low favorability ratings were previously at 38% in late August/early September 2016 during the presidential campaign. Notably this really did not move from April 1992 when she also registered a 38% favorable rating. What is different is not just the dip of popularity but the significant increase in unpopular figures."

"Socialist Bernie Sanders Wears a $700 Jacket While Complaining About Rich People" [Newsweek]. "Senator Bernie Sanders sported a $700 coat on Monday during New York City Mayor Bill de Blasio's swearing-in ceremony. The socialist was cozy and warm in a $690 Burton 2L LZ down jacket as de Blasio was assuming office for the second time in a row during the frigid temperatures at City Hall. Sanders, 76, joked, saying of the weather, "By Vermont standards this is a warm and pleasant afternoon.'" My L.L. Bean parka cost $400, and though it's excellent, I wouldn't want to be sitting for an hour in the cold wearing it, as Sanders did. $700 is perfectly reasonable for a good winter coat. I mean, it's not like a parka is a fashion item, right? But wow. They hate Sanders. They really, really hate him.
2018
"On Tuesday, now-former Sen. Al Franken (D-MN) officially resigned from the U.S. Senate following allegations of inappropriate behavior toward women. As we discussed in our last newsletter for 2017, Franken's resignation means that Minnesota will hold a special election for Senate this coming November, which will take place at the same time as the regular election for the state's other Senate seat (a "double-barrel" election). Franken's exit paved the way for Gov. Mark Dayton (D) to officially appoint now-Sen. Tina Smith (D), previously Minnesota's lieutenant governor" [Larry Sabato's Crystal Ball]. "With an overall success rate of just above 50%, the history of appointed incumbents shows that Smith's certainty of holding her seat is far from a sure thing. Placing Smith's position in context, we only rate her chances as Leans Democratic to start with. She may be aided by the presence of her popular colleague, Sen. Amy Klobuchar (D), on the ballot as well as what may be a positive national Democratic environment. However, Smith has not run for office on her own before — she was elected lieutenant governor as a part of Dayton's 2014 ticket — making her an unproven choice in that respect. It's also possible that the Minnesota GOP will pick a strong nominee — a favorite rumored choice is former Gov. Tim Pawlenty — who can make the race competitive."

"Utah Senate: Hatch Retirement Makes Seat Safer" [Cook Political Report]. "Republican U.S. Orrin Hatch announced today that he will not seek a seventh term in November, creating a third open seat for Republicans…. It is widely expected that 2012 GOP presidential nominee and former Massachusetts Gov. Mitt Romney will seek the GOP nomination. Romney, who directed the 2002 Winter Olympics in Salt Lake City, remains popular in the state and would be a heavy favorite in the general election. In that respect, Romney would probably put this seat more firmly in Republicans' grasp than Hatch, who might have drawn a competitive primary challenge."

"It's Not Just Romney: Hatch Retirement Could Lead to Decisions for Grassley, Crapo" [Roll Call]. "Hatch was one of the lead authors of the Children's Health Insurance Program, along with Democratic Sen. Edward M. Kennedy of Massachusetts, and its stalled reauthorization is poised to be a key priority for Hatch in his final year as a senator." That would be nice.

"Somehow, Senate Dems united as election year begins" [McClatchy]. In retrospect, the Berniecrats should have occupied the DNC offices after Ellison's defenestration; that would have brought about unity, just by a different route.
2017
"And the winner is… Republican wins after name drawn from a bowl in Virginia House race" [USA Today]. However: ""At this moment I am not conceding,' a solemn [Democratic challenger Shelly Simonds] said after the drawing. 'I am reflecting on a very interesting campaign and a very hard-fought campaign.'" Sortition isn't so bad. Say, why don't we pick all our candidates by lot? Could we do worse?

"Which 2020 Democrat Won 2017?" [Politico]. "The candidate who best fortified his position as the public face of the Democratic Party is unquestionably Sen. Bernie Sanders. How much more airtime does he get than everyone else in pack? Consider this stat: Bernie was a guest on the Sunday morning talk shows for a whopping 21 out of 52 weeks this year. No other potential candidate appeared more than four times… Still, by no means has Bernie locked down the nomination, or even consolidated the left. His attempts to prioritize economic populism have caused friction with activists concerned about racial equality and reproductive freedom…. The only prospective candidate who aggressively elevated her position in the invisible primary was Sen. Kirsten Gillibrand, thanks to her seizing of the sexual misconduct issue." If you like horse-race posts, this is a good one. Oh, I forgot — by which I mean repressed — Biden. Herewith: "Much of the activist left sees Biden as a relic and a joke, unfit for the populist times, still yapping about bipartisanship and the Trans-Pacific Partnership. But in that moment [of consoling] Meghan McCain, Biden showed what he does that few in politics can: comfort and connect so effortlessly that . He will not be put out to pasture so easily." Oh, please. Stop. Just stop.
Trump Transition
"Now that tax cuts — the one cause that animates all Republicans — are in the statute books, Mitch McConnell will be dealing with the reality that a 51-49 Senate majority can be as fragile as a snowflake. Especially when two retiring Republican senators (Jeff Flake and Bob Corker) make no secret of loathing Donald Trump. And two other GOP senators (John McCain and Thad Cochran) are in fragile health. Pretty soon Mike Pence won't be able to leave Massachusetts Avenue for fear that his vote will be needed to break a Senate tie" [Walter Shapiro, Roll Call]. "When it comes to anything with a whiff of controversy, like the debt-ceiling vote, Paul Ryan's current 26-seat majority is as secure as a bitcoin investment. Whether the threats come from the right-wing Freedom Caucus or northeastern moderates panicked about the 2018 elections, Ryan will be as worried about defections as the North Korean border patrol." So the Democrats have some strength in the upcoming budget negotiations. "In such negotiations, the Democrats' mantra should be: Human beings are more important than money or symbolism. A prime example is the deal that the president keeps saying he wants — trading statutory protection for the Dreamers in exchange for funding his cherished border wall."
New Cold War
"Beating a Hasty Retreat from the Steele Dossier" [Andrew McCarthy, National Review]. Just as the Grey Lady offered a platform to disgraced fabulist Louise Mensch, they offer a platform to Fusion GPS, the firm that couldn't sell the Steele Dossier even to Jebbie: "Yet, while the authors attest to the sterling reputation of Steele, they elide any mention of his claims — i.e., of the sensational allegations of a traitorous conspiracy between the Trump campaign and the Kremlin that Fusion GPS, while working for the Clinton campaign, generated and tried mightily to publicize through the Clinton-friendly media. Instead, Simpson and Fritsch erect a strawman: What their work has really been about, they now say, is "decipher[ing] Mr. Trump's complex business past." This includes scrutinizing financial ties between Trump's business conglomerate and Russian interests. It is from this effort that Republicans and other Obama administration critics are supposedly trying to deflect attention." The original Democrat claim, as made by Clinton in debate, was that Putin would "rather have a puppet [Trump] as president." Democrats don't get to gaslight the whole country with that charge for a year, and then back off from it when it doens't pan out. I mean, come on:

"Business dealings," forsooth. Trump's an oligarch. Of course his business dealings are unsavory.
Realignment and Legitimacy
Indeed:

There is an entire parasitic consultant class whose livelihood depends on hoovering up campaign money. They run the casino. The DCCC demands that candidates spend hours a day on the phone, fundraising, and rate people on $ raised per hour. It's ugly.

— Pinboard (@Pinboard) December 31, 2017

Also too, the DSA dog caucus.

always remember: @MikPappas is the @pghDSA endorsed district justice who retweets the dog caucus. pic.twitter.com/VyAsKoqaEK

— DSA Dog Caucus (@DSADogCaucus) January 4, 2018



Stats Watch
Challenger Job-Cut Report, December 2017: "Modest" layoffs "underscore the health of the nation's labor market" [Econoday]. And: "That is the lowest annual total since 1990" [Econintersect].
ADP Employment Report, December 2017: "ADP sees a strong gain of 250,000 for December private payrolls" [Econoday]. "At a 190,000 estimate vs an actual 221,000, ADP did get the direction right in its November private payroll forecast, calling for a substantial decline from October's post-hurricane surge when private payrolls rose 247,000. The consensus for ADP's December call is steady strength at 188,000." But: "ADP employment has not been a good predictor of BLS non-farm private job growth" [Econintersect]. And but: "The ADP report hasn't been very useful in predicting the BLS report for any one month, but in general, this suggests employment growth above expectations" [Calculated Risk].
Jobless Claims, week of December 30, 2017: "Initial jobless claims rose 3,000 in the December 30 week to 250,000 which is higher than Econoday's consensus but still consistent with strength in the labor market and points to strength for December's payroll data and unemployment rate" [Econoday].
Bloomberg Consumer Comfort Index, week of December 31, 2017: "Slowed," "still at an historically high level and hinting at strength for consumer spending" [Econoday].
Purchasing Managers Services Index, December 2017: "Down noticeably from … November but also up substantially from December's mid-month flash" [Econoday]. "[A]ctually points to acceleration and solid strength. New orders are the strength for the last two weeks with backlogs also a positive. Hiring is described as solid and price pressures eased though respondents in the sample continue to report upward pressure for fuel costs and, more importantly, wages as well. Less than positive, however, is business confidence in the survey which the report describes as relatively subdued."
Commodities: "A handful of Canadian [cobalt] miners are looking at producing more of the crucial component in lithium-ion batteries, betting they can build a bigger supply chain with a socially responsible source of the metal" [Wall Street Journal]. "Most cobalt currently comes from the Democratic Republic of Congo, where supply is threatened by political, legal and labor issues, leaving suppliers looking elsewhere for the mineral. Canada is the world's third-biggest producer of cobalt."
The Bezzle: "Tesla managed to push out only 793 of [Model 3] cars in the last week of December" [Wall Street Journal]. Let's be fair. The Model 3 is hand-made. That takes time.
Retail: "Reis reported that the vacancy rate for regional malls was 8.3% in Q4 2017, unchanged from 8.3% in Q3, and up from 7.8% in Q4 2016. This is down from a cycle peak of 9.4% in Q3 2011" [Calculated Risk]. "Although unchanged in Q4, recently both the strip mall and regional mall vacancy rates have increased from an already elevated level."
Shipping: "New Jersey lawmakers say the days of mob influence at the New York region's seaports are long gone and it's time to wind down federal anti-corruption oversight. Legislators are trying to pull the state out of the Waterfront Commission of New York Harbor, the 64-year-old bistate agency designed to combat the organized crime and racketeering that plague the docks" [Wall Street Journal].
The 420: "U.S. Pot ETF's Assets Soar as Investors Rush Into Sector" [Bloomberg]. "Investors are falling over themselves to get into the first pure-play marijuana ETF to list in the U.S., sending its assets up more than 13-fold in five trading days."
Tech: "Intel Memory Access Design Flaw Already Addressed by Apple in macOS 10.13.2" [MacRumors]. Assuming the patch isn't buggy.
Tech: "Apple Battery Replacement May Mean 16 Million Fewer iPhones Sold" [Bloomberg]. "[Barclays analyst Mark Moskowitz] estimates around 519 million users are eligible for the battery offer, and that in the most likely scenario 10 percent take the $29 offer, and about 30 percent of those people decide not to buy a new iPhone this year. This means Apple could miss out on 16 million iPhone upgrades in 2018, the analyst said."
Honey for the Bears: "Stock-market investors should 'brace for a possible near-term melt-up': Jeremy Grantham" [MarketWatch]. "Grantham favorably cited an academic paper published last year that concluded that the strongest indicator of a bubble in U.S. and almost all global markets was price acceleration."
Five Horseman: "Amazon threatens to blow the top off of our "techs gone wild" chart, while Apple — ever solicitous of the battery life of its older phones — languishes in the doghouse" [Hat tip, Jim Haygood].
Today's Fear & Greed Index: 72 Greed (previous close: 67, Greed) [CNN]. One week ago: 62 (Greed). (0 is Extreme Fear; 100 is Extreme Greed. Last updated Jan 4 at 2:54pm.
Our Famously Free Press
"In war, the battle today is less on the ground than on social media" [WaPo]. Examples: Ukraine and Syria. I don't know about that. I think war on the ground was pretty important both places…
Imperial Collapse Watch
Meanwhile, we can't even build a new train tunnel under the Hudson, even though we know the existing tunnel must fail, and when it does, the Northeast Corridor will fail:
This is how the Chinese Metro System has evolved pic.twitter.com/nfAga8uZkv

— How Things Work (@ThingsWork) May 27, 2017
Health Care
"Get ready for a revived brawl over single-payer healthcare in California" [Los Angeles Times (MR)]. "Seeking to redirect the debate [away from single payer], the Assembly has held a number of hearings in recent months to explore how to achieve 'universal healthcare,' be it through a single-payer model or other ways to expand coverage. The hearings compared systems in other states and countries and looked into other ways to control costs."
"Following The Affordable Care Act: A Look Back" [Timothy Jost, Health Affairs]. Farewell to Jost, a truly excellent and informative blogger.
Police State Watch
A parallel case to this morning's "tense New England police encounter." Thread (via JBird):
Here's a story about how I nearly just got killed by this cop. pic.twitter.com/3IYZFM9Ggh

— Ziggy (@TheHipsterRebbe) January 3, 2018
JBird writes:
Apropos of the earlier thread on NY Times report on a swatting and police shooting. This gets me because being hard of hearing, I don't need any headphones to not hear, or not clearly enough, especially when tired, sick, distracted, poorly working aid. Of course that's only about half the time, so no worries!
Class Warfare
"Death of the American Trucker" [Rolling Stone]. "In his stagecraft, Trump puts truckers on a pedestal. Behind the scenes, his administration is seeking to hasten a revolution in robotic driving that poses an existential threat to their livelihoods. We're at the dawn of the self-driving truck. The technology will benefit most Americans: Ever-alert robotic semis promise safer highways, reduced emissions, faster ship times and, for the 70 percent of goods that travel by truck, lower costs. Yet this same revolution threatens every single job in heavy trucking – 1.7 million in all, according to a White House analysis published in the final days of the Obama administration. Truckers earn $60 billion in annual wages. And trucking is now the most common profession in 29 states." Assuming robot trucks work.
"Episode 14: The Job Guarantee & Social Justice (w/ Pavlina Tcherneva)" (podcast) [The Next System].
News of the Wired
"In Which Nietzsche Learns the True Meaning of Christmas" [Existential Comics].
"Cracking the Brain's Enigma Code" [Scientific American]. "[Eva Dyer, a neuroscientist at the Georgia Institute of Technology] calls her work a proof of concept for using cryptographic strategies to decode neural activity."
"I've re-recorded Alan Turing's "Can Computers Think?" radio broadcasts" [The Aperiodical]. "Throughout the lecture, Turing's language is friendly and inclusive. He is also charmingly humble, admitting there are many other opinions and that these were just his own. I was also pleased to see Turing acknowledge the legacy of computing with a quotation from Ada Lovelace speaking about Charles Babbage's Analytical Engine. I found the script so pleasing that I decided it would be nice to rerecord it so that new audiences would be able to hear Turing's words as he intended."
"Power Causes Brain Damage" [The Atlantic]. From July, still germane: "[When] Sukhvinder Obhi, a neuroscientist at McMaster University, in Ontario… put the heads of the powerful and the not-so-powerful under a transcranial-magnetic-stimulation machine, he found that power, in fact, impairs a specific neural process, 'mirroring,' that may be a cornerstone of empathy. Which gives a neurological basis to what Keltner has termed the 'power paradox': Once we have power, we lose some of the capacities we needed to gain it in the first place."
"You're Descended from Royalty and So Is Everybody Else" [Nautilus]. Fascinating data structure:
You have two parents, four grandparents, eight great-grandparents, and so on. Each generation back the number of ancestors you have doubles. But this ancestral expansion is not borne back ceaselessly into the past. If it were, your family tree when Charlemagne was Le Grand Fromage would harbor around 137,438,953,472 individuals on it—more people than were alive then, now, or in total. What this means is that pedigrees begin to fold in on themselves a few generations back, and become less arboreal, and more a mesh or weblike. You can be, and in fact are, descended from the same individual many times over. Your great-great-great-great-great-grandmother might hold that position in your family tree twice, or many times, as her lines of descent branch out from her, but collapse onto you. The further back through time we go, the more these lines will coalesce on fewer individuals. "Pedigree" is a word derived from the middle French phrase "pied de grue"—the crane's foot—as the digits and hallux spread from a single joint at the bottom of the tibia, roughly equivalent to our ankle. This branching describes one or a few generations of a family tree, but it's wholly inaccurate as we climb upward into the past. Rather, each person can act as a node into whom the genetic past flows, and from whom the future spills out, if indeed they left descendants at all.
"The father of virtual reality sounds off on the changing culture of Silicon Valley, the impending #MeToo backlash, and why he left Google for Microsoft" [Business Insider (MR)]. Jaron Lanier. Well worth a read, especially now that we know about "cuddle puddles"….
* * *
Readers, feel free to contact me at lambert [UNDERSCORE] strether [DOT] corrente [AT] yahoo [DOT] com, with (a) links, and even better (b) sources I should curate regularly, (c) how to send me a check if you are allergic to PayPal, and (d) to find out how to send me images of plants. Vegetables are fine! Fungi are deemed to be honorary plants! If you want your handle to appear as a credit, pleas s e place it at the start of your mail in parentheses: (thus). Otherwise, I will anonymize by using your initials. See the previous Water Cooler (with plant) here. Today's plant (SC):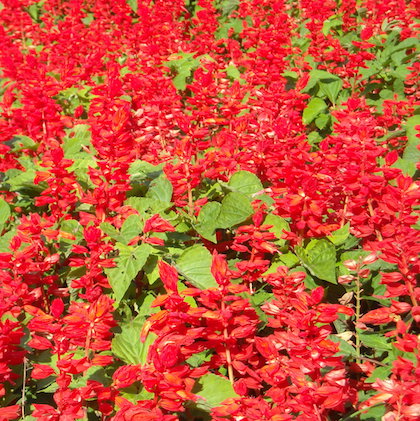 SC writes: "I did a mass planting of Salvias in front of a church in mid-Summer this year (months late, but I had multiple die-offs of the first couple of hundred plants and had to re-start from seed twice; this was definitely a learning year for me). By early Autumn they were gorgeous and remained so until November cold killed them. This photo is the least bad of the lot, take a week or two before the cold got them. I apologize for the soft focus." And now a blizzard is going to cover up the beds with snow! Which will melt in due course, beginning the cycle once again…
* * *
Readers: Water Cooler is a standalone entity not covered by the NC fundraiser. So do feel free to use the dropdown and click the hat to make a contribution today or any day. Here is why: Regular positive feedback both makes me feel good and lets me know I'm on the right track with coverage. When I get no donations for five or ten days I get worried. More tangibly, a constant trickle of small donations helps me with expenses, and I factor that trickle in when setting fundraising goals. So if you see something you especially appreciate, do feel free to click the hat!