It Snowed in the Sahara and the Photos Are Breathtaking Earther (David L)
States Confront the Spread of a Deadly Disease in Deer New York Times
A Game of Civilization May Help People Understand AI's Existential Threat MIT Technology Review (David L)
The quantum computing apocalypse is imminent Tech Crunch (Chris M)
A Crypto Website Changes Its Data, and $100 Billion in Market Value Vanishes Wall Street Journal
Pole-dancing robot STRIPPERS are in Las Vegas to spice up the geeky CES tech conference Mirror Online (resilc)
First Came the Snow Bomb, Now Comes the Salt Bomb Bloomberg
Parliament Proposes 'Latte Levy' to Curb England's Cup Waste Grub Street (J-LS). About time. There are, among other options, perfectly fine collapsable cups.
New approach can save up to 95 percent of energy used for pipelines PhysOrg. Chuck L: "This approach might also reduce pipeline failures by minimizing pressure spikes."
Swallowable sensors reveal mysteries of human gut health TechXplore (Chuck L)
China?
Making China Great Again New Yorker (Bill B)
Australia's hard choice between China and US Asia Times
Koreas reach symbolic breakthrough for Winter Olympics Financial Times
Continent desperately seeking inflation Politico
Brexit
David Davis attacks EU's 'damaging' no-deal Brexit planning Financial Times. If Davis spent as much time on negotiations as he does trying to shift blame, the UK would be much further along than it is.

Plus see this tweet, courtest guurst:

A very good report from @LordsEUCom on the "no deal" scenario – plus transition and extension of membership issues. Thread on the main points. 1/× https://t.co/dqkPQc1WrU

— Steve Peers (@StevePeers) December 7, 2017

This is remarkable, even by Brexit standards.

Davis complaining that EU preparing for No Deal.

Davis complaining UK to be treated as "third country" by EU.

Davis even considering legal action.

What di he expect? All follow from Article 50 notification. https://t.co/6OtfAO9Kut

— David Allen Green (@davidallengreen) January 9, 2018
Theresa May's Cabinet Reboot Descends Into Chaos Bloomberg
D-Day Venezuela Project Syndicate. Lambert: "Hoo boy."
Syraqistan
Pakistan believes it has effectively bribed the international community with the specter that any instability could result in terrorists getting their hands on Pakistani nuclear technology, fissile materials, or a weapon.
Trump Transition
Russia probe: Trump lawyers 'in talks over Mueller interview' BBC

Genius Trump unveils general theory of pussytivity Daily Mash

Yes, The Trump Cease & Desist Letter Over The Bannon Book Is Stupid Above the Law
Tax "Reform"
How Progressive States Could Fight Back Against the Republican Tax Scam Dean Baker, Truthout

Pfizer, pocketing a big tax cut from Trump, will end investment in Alzheimer's and Parkinson's research Los Angeles Times (resilc)
Senate bill to reverse net neutrality repeal gains 30th co-sponsor, ensuring floor vote https://t.co/oi8nsXLgl1

— PDAmerica (@pdamerica) January 8, 2018
Regulators kill Perry's proposal to prop up coal, nuclear power plants The Hill. A rare victory for the public.
I Can't Believe I Have to Explain Why Oprah Shouldn't Be President VICE (resilc). Hopefully this is just the bad political idea of the week.
The Oprah 2020 Hype Reveals Democrats' Existential Crisis Vanity Fair (resilc). Ahem, the real issue with Sanders is not his age, as we all know, but that he is not a candidate of the Dem donor class.
How The FBI and DOJ Intelligence Units Were Weaponized Around Congressional Oversight… The Last Refuge. Chuck L:
I've never encountered this site before but from this post it does seem a case is building that senior Obama administration people, some of whom are still in office, were illegally driving the use of intelligence community capabilities to spy on the Trump campaign and transition team. It will be interesting to hear what Admiral Rogers has to say under oath after he is safely retired into civilian life.
New Jersey Prisons End Ban On 'The New Jim Crow' After ACLU Protests Huffington Post (Chuck L)
Fake News
How to Fix Facebook—Before It Fixes Us Washington Monthly. I would take this with a fistful of salt. From an early investor who therefore has a bias to believe that FB has political influence, as opposed to at most reinforces people's priors. Cooler heads who have actually read the studies, such as Masha Gessen, take the opposite view, that FB didn't affect the outcome of the 2018 election. And as Marina Bart explained, consumer advertising and political persuasion are very different processes, and regarding them as the same or even similar is wrongheaded.

Sanders Family Disputes Report of Escalating Burlington College Probe Off Message (resilc). Read to the end. This report forced a correction of the hit piece.
Congratulations to Kim Kardashian Angry Bear
Retail Investors Finally "Up To Their Chest" in Stocks, Become True Believers with Record Exposure Wolf Street (EM)
Markets are ignoring 'major risk' of rising interest rates and end of QE, warns Citigroup Ambrose Evans-Pritchard, Telegraph
Class Warfare
Antidote du jour. Tracie H: "Sea jellies at the Aquarium of the Pacific. Long Beach, California."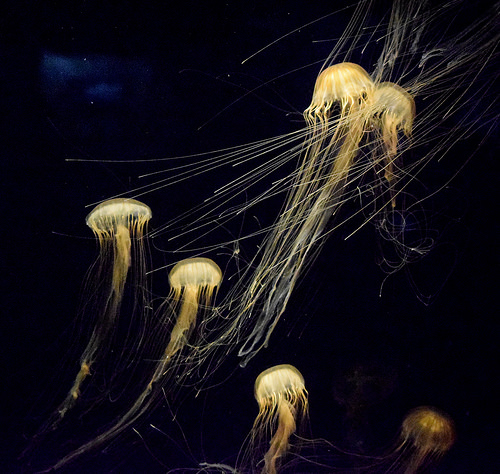 And a bonus from Margarita:
A pair of peacocks near Leipzig.

The lady says: "Can you spell 'not interested….?'"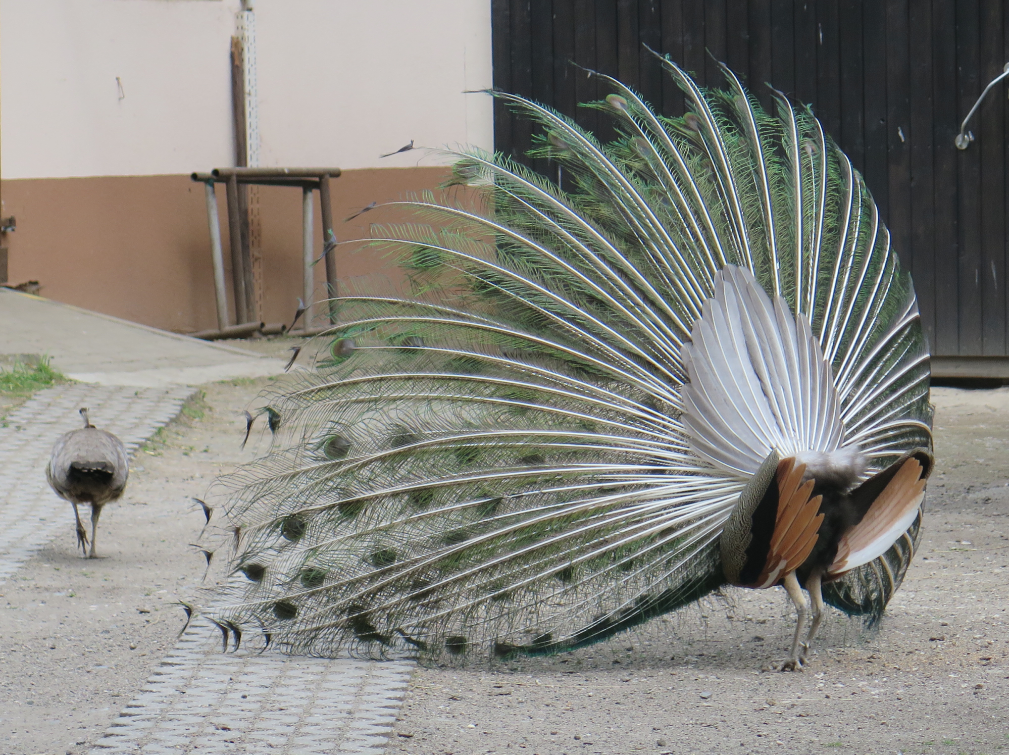 See yesterday's Links and Antidote du Jour here.