How to Watch the Super Blue Blood Moon, a Once-in-a-Lifetime Event Bloomberg
What really happened after this photo was taken BBC. Re an iconic Vietnam War image.
Artificial Intelligence May Have Cracked Freaky 600-Year-Old Manuscript Gizomdo (David L)
'Carl Sagan's rolling in his grave': Academic hits out at profit-making on alien-bound Golden Record RT (Kevin W)
Today in cryptocomedy FT Alphaville
Americans are saving energy because fewer people go outside The Verge. Bad for your psyche, though.
Doctors Refuse to Treat Trans Patients More Often Than You Think Vice
Soda taxes target the young but not individuals with high sugar diets VoxEU
Australia shoots for bigger gun sales Asia Times
The ECB as vulture fund: how central banks speculated against Greece and won big Defend Democracy. IMHO, the bigger scandal is that the ECB promised to give profits to Greece and largely reneged.
VW chairman calls for probe into monkey emissions test scandal Politico. Humans too!
Congrats to our Richard Smith, co-author:
One of Scotland's biggest law firms hosts hundreds of secretive shell firms. A quick threat on our Page 1 story today https://t.co/LGfhA1J9kM pic.twitter.com/sILwyXbxKj

— David Leask (@LeaskyHT) January 29, 2018
Brexit
This Leaked Government Brexit Analysis Says The UK Will Be Worse Off In Every Scenario BuzzFeed

EU to UK: You won't set rules during Brexit transition Politico. Totally consistent with EU position. We also predicted this even before the EU cleared its throat, because it was obvious that the only deal possible was a standstill (as in UK staying in EU legal/regulatory framework).

Malta grants EU citizenship to Legatum backer Financial Times. Legatum has managed the difficult task of darkening the name of think tanks via its airheaded pro-Leave handwaves masquerading as analysis and now this.
Automation to take 1 in 3 jobs in UK's northern centres, report finds Guardian
Did young voters turn out in droves for Corbyn? The myth of the 2017 youthquake election LSE
New Cold War
The Trump admin has notified Congress that last year's bipartisan Russia sanctions bill is serving as a "deterrent" and as such, specific sanctions aren't needed at this time. From a State Dept spox: pic.twitter.com/rwkd6Vzh66

— Elana Schor (@eschor) January 29, 2018

Russia is aiming to interfere in US midterm elections, warns CIA chief Guardian (Kevin W)

U.S. Releases Sweeping List of Russian Oligarchs and Officials Bloomberg

US defies Moscow with list of Russian elite Financial Times. Lambert: "These people have lost their minds. That's like saying the US 'defies' Spain, since that's the size of the Russian economy."

Belgian prime minister to meet Putin in Moscow Politico. "Since the imposition of EU sanctions on Russia, the prime ministers of Italy, Luxembourg, the Czech Republic and Malta have traveled to Moscow. French President Emmanuel Macron is expected to visit the Kremlin in the spring."
Syraqistan
Washington Widens the War in Syria by Provoking Turkey Counterpunch versus
Trump Transition
House Panel Votes to Release Memo Alleging FBI Anti-Trump Abuses Bloomberg

Did Trump Screw Over Booming U.S. Solar Industry? Real News

Hung out to dry twice, Tennessee city stumped by Trump's washer tariffs Reuters (EM)
Health Care
Bernie Sanders​' Medicare For All Town Hall — Post Game Critique W/ Ana Kasparian & Ryan Grim Young Turks
Planning public works – history has a lot to say if we listen properly Bill Mitchell (UserFriendly)
Humane Society CEO is subject of sexual harassment complaints from three women, according to internal investigation Washington Post
Fake News
The Follower Factory New York Times (Chuck L)
Remembering Investigative Journalist Robert Parry Norman Solomon, Nation
After Four Months, Much of Puerto Rico Still Dark and Damaged Atlantic. Resilc: "See #20."
Wall Street to Vanguard: We're Not Your Doormat Wall Street Journal (via Yahoo, h/t JohnnyGL)
Um, Is the US Treasury "Yield Curve" Steepening or Flattening? Wolf Street (EM)
Global Bonds Swoon Wall Street Journal
Lex in Depth: the case against share buybacks Financial Times
Market Euphoria May Turn to Despair If 10-Year Yield Jumps to 3% Bloomberg
Uber looked at buying a truck logistics company Recode
Guillotine Watch
Elon Musk Is Selling Flamethrowers Bloomberg

Why Amazon built its workers a mini rainforest inside three domes in downtown Seattle Washington Post (Kevin W)
Class Warfare
Union-Backed Democratic Congressman Rejects $15/Hour Minimum Wage Intercept

Berlin's Airbnb law replenishes housing market DW

The Uncomfortable Truth About Whole Foods and Amazon's Grocery Monopoly Alternet. Totally misleading headline and reveals top 10% insularity of the writer. Whole Foods has a teeny number of stores compared to WalMart. Even the Publix chain has way way more. But some interesting factoids.

Obsession for the Perfect Worker Fading in Tight U.S. Job Market Bloomberg. Help me. More neoliberal messaging. Ridiculous overspecing of jobs was a huge management perk in a weak labor market. They got to keep themselves busy by wasting time on job searches with the spurious goal of not having to train workers. Do you really think that netted out ahead in managerial time saving? If so, I have a bridge I'd like to sell you. Making jobs artificially hard to land also increased boss power v. worker power. See Kalecki on why capitalists don't like full employment even though that preference cost them in profit terms.

Waymo orders "thousands" of driverless cars ahead of public debut Axios

In L.A., resources grow for homeless community college students Christian Science Monitor
Antidote du jour. Tracie H: "The Dow did what, now?"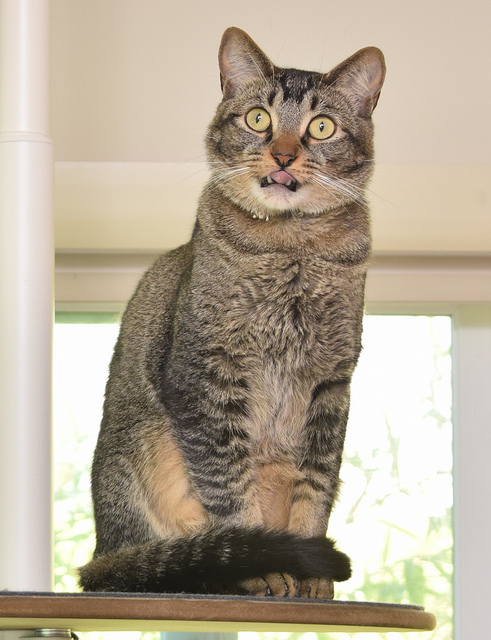 See yesterday's Links and Antidote du Jour here.