Yves here. I got a look at the super blue moon. Did you? Very bright here in NYC.
World's first talking killer whale: Wikie the orca learns to say 'hello' and 'bye bye' Telegraph (MGL).
United denies woman's attempt to bring peacock onto flight Business Insider (Chuck L)
Miami's new mosquitoes carry sterility bug NBC (David L)
The Executioners Who Inherited Their Jobs Smithsonian (witters)
Looking for an Exit Off the Information Superhighway American Conservative (resilc)
Can't stop thinking about the fact that a company promised to put fruit and produce on the blockchain (whatever the hell that means), held an ICO, ran away with their investors' money, and only left the word "penis" on its website.

— Ryan Mac (@RMac18) January 28, 2018
Facebook is banning all ads promoting cryptocurrencies — including bitcoin and ICOs Recode
Do NOT Use Bitcoin Assuming It Is Anonymous Ian Welsh
Woman denied emotional support peacock on United flight Fox News. Resilc: "Moronistan".
Charles Mann: Can Planet Earth Feed 10 Billion People? Atlantic
Erica Garner and Serena Williams' stories underscore health inequalities facing black women MinnPost (Chuck L)
New research reveals genetic evidence of "muscle memory" New Atlas (David L)
China?
Don't Fear China's Arctic Takeover Bloomberg. JTM: "Yeah, no problem! How do you say "loot" in Mandarin, again?"

The Unintended Consequences Of Trump's Solar Tariffs OilPrice
North Korea
Entry 32: A Gem from the Virtual Archives War on the Rocks (JTM)
Secret govt files sold off in a cheap cabinet: Biggest security breach in Australian political history News.com.au (Kevin W)
UN urged to launch global effort to end offshore tax evasion Guardian
Extreme inequality in Germany Der Spiegel (Glenn F)
Venezuelan Pirates Rule the Most Lawless Market on Earth Bloomberg (JTM)
Brexit
Brexit Winner, Brexit Loser Der Speigel (Glenn F)

Theresa May: 'I'm not a quitter' Politico

MPs demand 'urgent investigation' into Cabinet ministers' support for hard-Brexit lobby group openDemocracy

Cabinet office: Brexit is punching ourselves hard in the face.
Government spokesman: This account ignores the fact that we will be wearing bespoke gloves.

— Rafael Behr (@rafaelbehr) January 30, 2018
As Richard Smith noted re the tweet below: "Coming off as that deeply captured is not a good look in a financial services regulator, not even a British one." Background here, here and here.
Publishing s166 report into RBS Natwest's Global Restructuring Group was supposed to risk breaching criminal provisions (s. 348 of Financial Services Act). So the FCA kept saying. But suddenly that's gone away: https://t.co/RTZEswmypB What's changed – the law? Or the politics?

— Andrew Verity (@andyverity) January 30, 2018
As I recall, Deloitte was Carillion's outsourced compliance manager:
the head of the Insolvency Service has just told a select committee that Carillion kept such bad records that it had been hard to work out even simple information such as the identify of all its directors

— Jim Pickard (@PickardJE) January 30, 2018
New Cold War
Washington Reaches New Heights of Insanity with the "Kremlin Report" Paul Craig Roberts (Glenn F)
Syraqistan
Miscalculations in Israel Could Pave Way to Wider War Consortiumnews (Chuck L)

Yemen separatists capture most of Aden, residents say BBC

The condensed case against the White Helmet imposters in Syria Aletho News (Chuck L)
Trump Transition. Keeping SOTU links down so as not to eat Links, so if you saw an analysis you liked not featured below, please add it to the Comments section. And be sure to read Lambert's live blog, which had oodles of useful info and links, including the full text of Sanders' rebuttal.
Health Care
Amazon, Berkshire Hathaway and JPMorgan Team Up to Try to Disrupt Health Care New York Times (Kevin W). Beware of billionaires bearing gifts. And Amazon hates people, expect as appendages to wallets, when a great deal of the efficacy of health care is the result of trust in the health care provider. This serves as a reminder that I need to get serious about becoming an expat, although at my age and with my severely constrained time, I don't have time or $ for the basics, like identifying "finalist" countries and paying visits.

Senators urge new rule to combat opioid crisis in rural areas The Hill (UserFriendly)
Clinton–Obama Emails: The Key to Understanding Why Hillary Wasn't Indicted National Review. Oregoncharles:
I can't believe I'm sending you something from the National Review, but apparently we've come to this. It appears to be a densely factual (if correct) investigative piece.

Moi: The entire piece hinges on the idea that Obama e-mailed Clinton's non-compliant e-mail address with some frequency. I don't think this is as clear cut at NR presents it. Even 20 e-mails could be depicted as inattentiveness. But I can seem image-sensitive Obama not wanting to touch this for a bunch of reasons, including not wanting to have to 'spalin himself even if he could and not wanting the close of his Presidency tainted by a huge scandal. After all, there was his Congressional Library to think of.

To me, the much bigger question is why did Obama allow Clinton to continue to have the Clinton Foundation raise $ from foreign donors when she was Secretary of State? Her deal with Obama was that the Clinton Foundation was supposed to cut that out while she was at State. Why didn't Obama call her on the carpet? Those missing e-mails almost certainly include ones that relate to Clinton Foundation donors.
Washington Activists Sue For Right To Ban Fossil Fuel Trains Shadowproof (UserFriendly)
Fake News
Facebook Users Cry 'Censorship' After Being Told Which Russian Troll Pages They Liked Gizmodo (Dr. Kevin)
What Does it Mean, Saving Rate drops to 12-Year Low when 50% of Americans Don't Have Savings? Wolf Street (EM)
IKEA to Launch "Ready to Assemble" Casket. flat pack furniture assembly services (EM)
The Hot Mess Of The Free Market's Side Effects Current Affairs (Glenn F)
FEMA To End Food And Water Aid For Puerto Rico NPR
Jackpotting' hackers steal over $1 million from ATMs across U.S.: Secret Service Reuters. EM:
As interesting as the story is, it is useful to put things in perspective by comparing the amount cited here with oh, say, that stolen from investors in the run-up to the GFC via fraudulent mortgage securitizations (figure on the order of $1 trillion or roughly $1 billion per day for 3 years), or the amount stolen from hoi polloi via the subsequent QE and ZIRP regimes by the Fed and transferred to very same crooked bank cartels, or the amount stolen every day by way of civil asset forfeiture, a.k.a. legalized theft by law enforcement. At least the ATM-hacking crooks had to put some actual serious effort and cleverness into the scheme.
Authers Note: #Resistance is broken. Now what? Financial Times. Authers called the credit market turn in June 2007. We made our prediction a few days later in part based on his work, as well as cracks opening in the subprime dike. Ignore him at your peril.
Class Warfare
Antidote du jour. Fro MGL's photos of NZ kakariki (red-crowned parakeet) from December 2017. This one was in captivity at Mt. Bruce, Wairarapa, N Island. He also had ones from the wild where he couldn't (understandably) get a close, so this one gives a better idea of what they look like and how beautiful they are.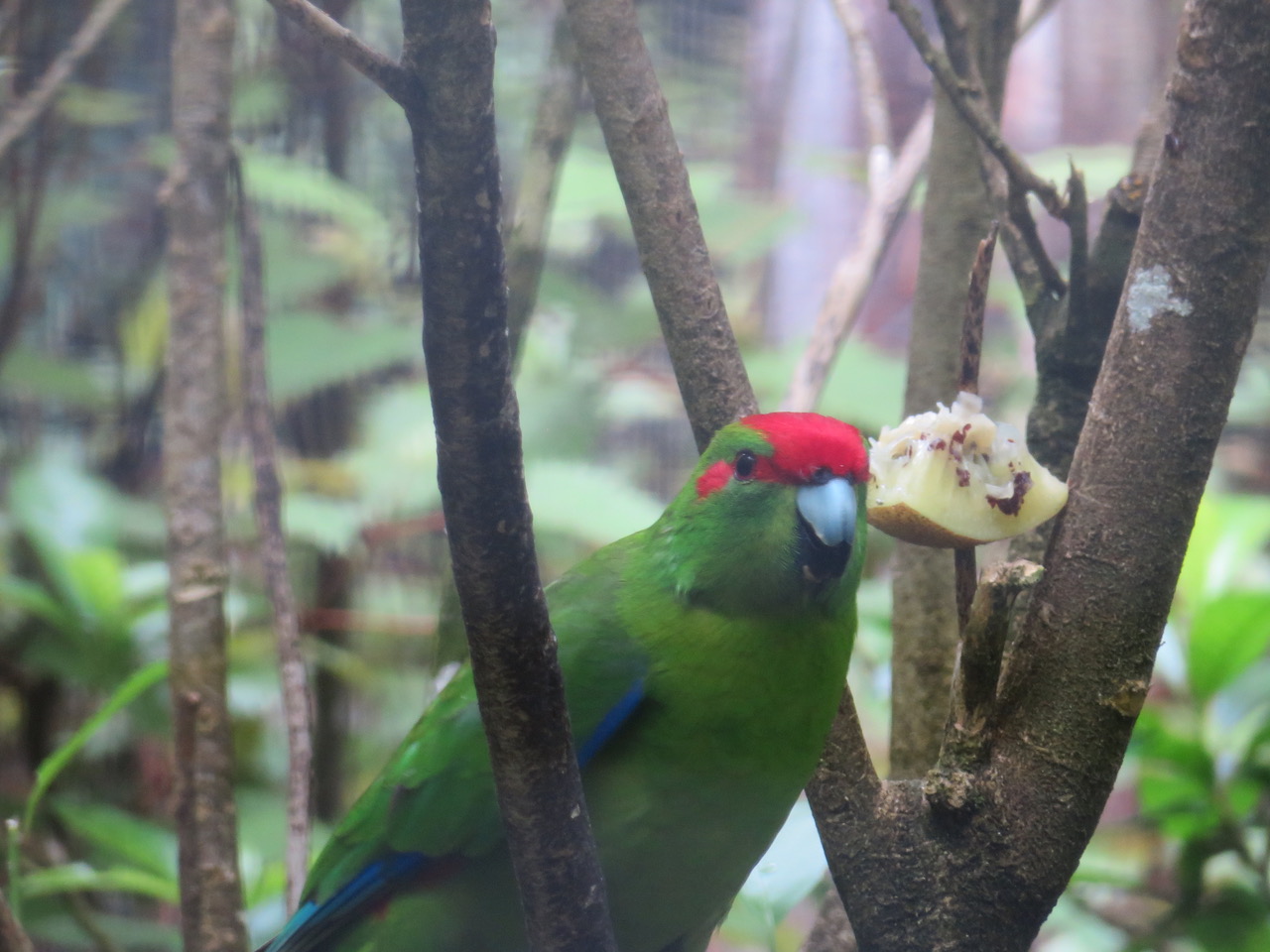 And a bonus video from furzy:
See yesterday's Links and Antidote du Jour here.