Dear patient readers,
I've been beavering away on some longer-term digging that may or may not lead to posts. Sometimes leads are dead ends or low yield in terms of number of posts relative to time invested. So please be forgiving!
And I hope those of you in the East got through the storm OK. It was overhyped in NYC. Eight inches of snow and some wind and chilly weather after that is not a cause for freakout. How hard is it to dress sensibly and not go outdoors overmuch? If you are going to worry, worry about vulnerable groups like the homeless and stay at homes like old people who would find the bad footing and cold to be a serious problem.
In the 1980s through the early 1990s, we'd have at least one one to three day cold snap where the daily high was lower than five degrees. That is markedly worse than our forecast. But the storm surge in Boston was nasty, and some areas got fierce winds.
Cats' New Year resolutions already broken Daily Mash
As of today, no US airlines operate the mighty Boeing 747 ars technica. I love 747s.
First grader's somber response to a class puzzle has the Internet questioning life USA Today (JTM)
Don Pesci: New research shows Connecticut signed Bill Of Rights in 1790 The Register Citizen. UserFriendly:
Stumbled across this nugget. Apparently the House should have 1 rep for every 50k people but doesn't because CT made a clerical error in 1790 (discovered in 2011) ​and now just needs action from the archivist of the US or a senator from CT. I wonder if a little publicity might help.
Surprise as DNA reveals new group of Native Americans: the ancient Beringians Guardian (Kevin W)
Roughly a quarter of the planet is slowly turning into a perpetual desert Grist
Oceans suffocating as huge dead zones quadruple since 1950, scientists warn Guardian
Brazil announces end to Amazon mega-dam building policy Momgabay (martha r)
Winter Storm Causes Major Flooding in Boston Harbor Daily Beast (furzy)
RTA provides free rides to transit centers to help people get out of the cold Fox8 (martha r)
Light quake shakes San Francisco; no immediate damage reported Reuters. EM: "I was in bed watching late-nite TV, thought it was my upstairs neighbor falling out of bed – because I think he did when the quake hit."
Experts say software 'patches' may remedy security flaw Financial Times. This is such a big deal that it means a minimum 5% performance hit and up to 30% depending on the process. While it might be possible to optimize it later, that is all up in the air.
Wow. US-CERT changes original advisory recommendation from "replace hardware" to "apply updates".
v1: https://t.co/sN49I3Lkbs
v2: https://t.co/c5tQ0inY4C https://t.co/FwTsMavcb6

— Kenn White (@kennwhite) January 5, 2018
As drone demand soars, New Jersey poised to bar drunken droning Reuters (EM)
Drinking alcohol causes cancer by 'damaging DNA' Independent (David L)
There is a Whole Cottage Industry of Doctors Helping Parents Skip Their Kids' Vaccines – Mother Jones. Wait till one of them gets tetaus.
China?
The US is preparing for a trade war with China – don't be fooled by the noise South China Morning Post (George P)
North Korea
South, North Korea to talk after military drills postponed Asia Times
Waning US: Germany Must Learn To Take Responsibility Der Spiegel (resilc)
Brexit
5 ways Germany's coalition talks could come unstuck Politico
Syraqistan
Big Brother is Watching You Watch
Ex-U.S. NSA contractor to plead guilty to massive theft of secret data Reuters (EM)

Brazil says it has bagged Royal Navy flagship HMS Ocean for £84m The Register. Lambert: "Imperial collapse watch."

Mapping a World From Hell: 76 Countries Are Now Involved in Washington's War on Terror Tom Engelhardt
Trump Transition
Ryan's Goal To Eviscerate And Discard Medicare Is Closer Than Anyone Thinks DownWithTyranny!
FCC Chairman Ajit Pai canceled his appearance at CES because of death threats Recode. Couldn't happen to a nicer guy.
Comey's original Clinton memo released, cites possible violations The Hill
FBI launches new Clinton Foundation investigation The Hill
Democratic Party Obsession With Neo-Liberal Deficits Have Been Financing GOP Upward Redistribution DownWithTyranny!(UserFriendly)
Fake News
Fighting Fake News is Not the Solution New Yorker. FluffytheObeseCat:

Shockingly pearl-clutching-free article in the New Yorker. Masha Gessen makes good sense, but judging from the surrounding articles the magazine's other contributors and editors don't share her high regard for the public. Other than in her piece, the wailing and elegant gnashing of teeth continues apace.

The CIA's 60-Year History of Fake News: How the Deep State Corrupted Many American Writers Truthdig
Peter Thiel Is Reportedly Exploring Launching Conservative News Outlet Bloomberg (UserFriendly). As if we are suffering from a shortage of them…
Appeals Court: Idaho's Ag-Gag Law Aimed At Suppressing Journalism Shadowproof (UserFriendly)
Vermont House Votes to Legalize Marijuana Seven Days Vermont (resilc)
NTSB hasn't interviewed engineer in fatal Amtrak derailment south of Tacoma Seattle Times (Chris M)
Everyone has a different idea about what harassment is, study says The Verge
FDIC win against PwC could finally force auditors to look for fraud MarketWatch (resilc)
The Tax Law Hits Manhattan Home Sales Bloomberg
Dow Climbs, but Individuals Aren't Buying It Wall Street Journal
The Banks with the Most Consumer Complaints: A Dive into CFPB's Database Wolf Street (Dr. Kevin)
Guillotine Watch
Travis Kalanick to sell part of his Uber shares for first time Financial Times
Class Warfare
Charter Schools Are Reshaping America's Education System for the Worse The Nation

Americans are poorer than in decades Axios (resilc)
Antidote du jour. KPF: "This gorgeous crab was hanging out in a mangrove swamp at the Oslo Road conservation area in Vero Beach Florida. It's a high-resolution photo and the detail when you blow it up is fascinating."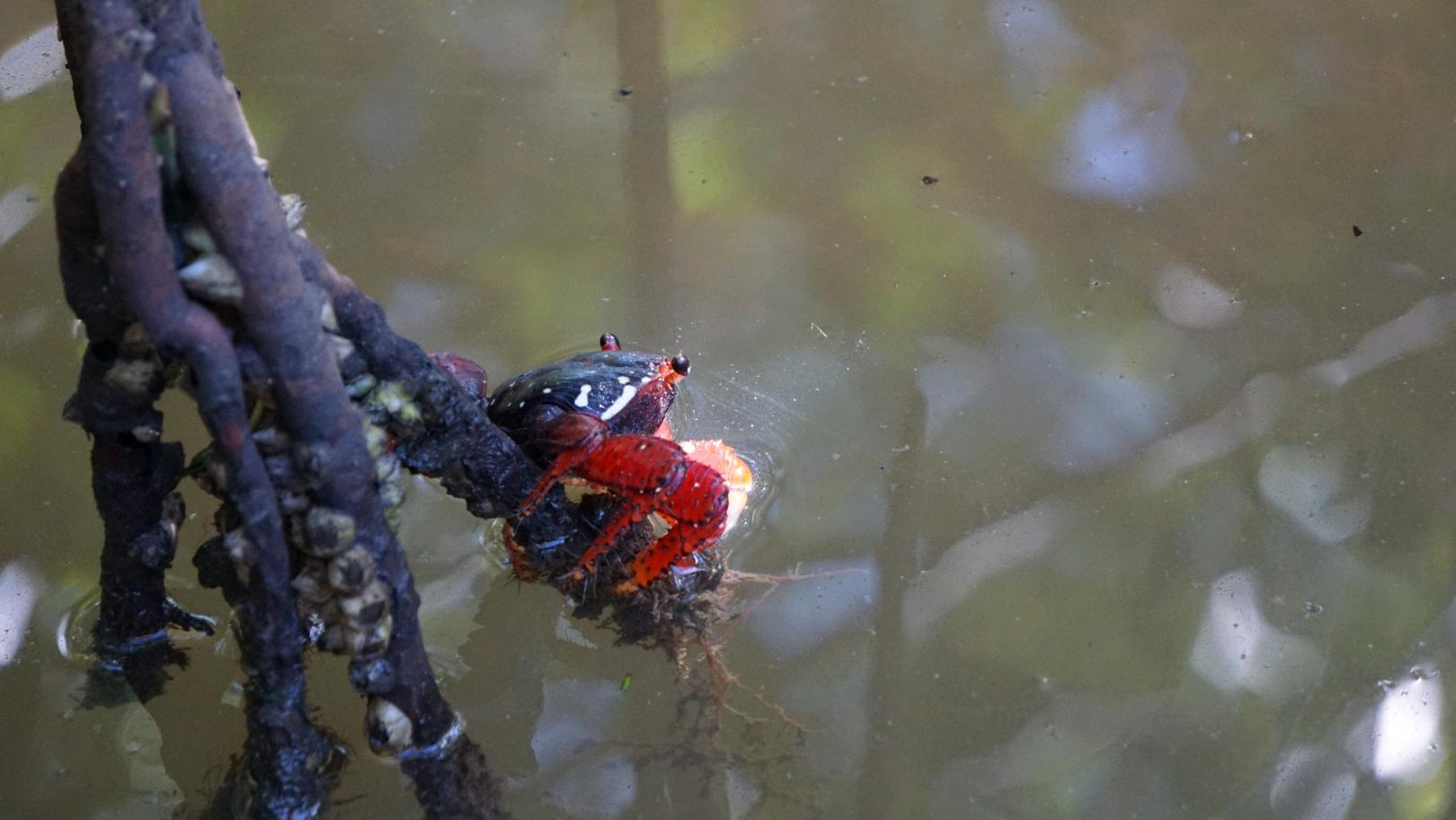 And an anti-antidote, of course from Richard Smith:
A baby Echidna is called a puggle.
(Image: Perth Zoo) pic.twitter.com/dWKrrg67gb

— Quite Interesting (@qikipedia) January 4, 2018
See yesterday's Links and Antidote du Jour here.