By Lambert Strether of Corrente.
Patient readers, I got a late start on Water Cooler today, and will be back with more in a bit. However, I think there's already plenty to discuss…. –lambert UPDATE 3:36PM All done!
Trade
UPDATE "I Spent Two Years On China's Belt And Road, And This Is What I Found" [Forbes]. "After spending two years visiting "Silk Road" projects I can conclude that for all the pomp and soft power, formal BRI developments are a rare sight on the ground — can we count pre-2013 projects? Can we count projects started by other countries but funded by Beijing? Can we count as-yet-unrequited MOUs?…. [T]his is a fully multinational endeavor with a much longer history than is often credited to it. When we talk about the New Silk Road we are talking about an array of interconnected and interdependent trade routes and infrastructure and economic development projects, not a singular initiative cooked up in some back room on Tiananmen Square…. [And while] the [Asian Infrastructure Investment Bank (AIIB)] is so far a successful example of China working in productive collaboration with an array of international players, many of the country's other large-scale off-shore infrastructure projects have been all-out developmental quagmires, to put it mildly."
Politics
2020
Nice numbers:

#FeelTheBern pic.twitter.com/vjRqYddaeM

— People For Bernie (@People4Bernie) January 31, 2018

Following immediately on the 1.6 million views for Sanders' dynamic town hall on the details of Canadian single payer, with actual Canadians.
2018
UPDATE "Kaiser Health Tracking Poll – January 2018: The Public's Priorities and Next Steps for the Affordable Care Act" [Kaiser Health News]. "Health care is at the top of a group of issues that voters want 2018 midterm candidates to talk about, but it's a much higher priority for Democratic voters (39 percent) and independent voters (32 percent) than Republican voters (13 percent); and ."

UPDATE Pennsylvania: "Silence makers: Why did Pa. Democratic Party go MIA on sex harassment? [Will Bunch, Philadelphia Daliy News]. "The party has done nothing about two lawmakers — Leach and state Rep. Thomas Caltagirone — who stand accused of misconduct and still plan to be on the ballot as Democrats in 2018, while it's also dithered on a sexual-harassment policy that was promised a year and a half ago."

UPDATE Pennsylvania: "Groen Resigns As Pa. Dems Chair" [Politics PA]. "'I accept full responsibility for comments attributed to me in an article printed several days ago in The Philadelphia Inquirer by Will Bunch. Some of my comments were taken out of context and some were inaccurate. They were certainly in artful and in hindsight were not offered with the level of clarity I would have liked,' Groen said."

UPDATE Ohio: "Non-endorsement for local state senator illustrates Cuyahoga County Democratic Party's continued divisions" [Cleveland Plain-Dealer]. "State Sen. Kenny Yuko fell just one vote short of getting an endorsement in a county party meeting late last month. His primary opponent, State Rep. John Barnes, didn't get the endorsement, but managed to pull just enough support to keep Yuko from reaching the 60 percent threshold Yuko needed. The move surprised political observers not only in Cuyahoga County, but in Columbus too. Yuko, a former union organizer, is popular with progressive activists, and recently was chosen as the top Democrat in the Ohio Senate. Like other top Democratic elected officials, a picture of Yuko hangs at Ohio Democratic Party headquarters. Barnes, in contrast, is not well-regarded by statewide Democrats, and occasionally has voted with Republicans on key issues."

UPDATE "Democrats Anonymously Target Muslim Candidate, Questioning His Eligibility to Run for Michigan Governor" [The Intercept]. "'While we knew the attacks were coming, we didn't think they would come in the form of insider Democrats using Trump's 'birther' tactics," the [Abdul El-Sayed] campaign said in a statement." Come to think of it, the "insider Democrats" didn't think much of another "progressive" Muslim: Keith Ellison. Odd.

UPDATE "2018 House Open Seats" [Cook Political Report]. Handy table.

UPDATE "[I]f you look at national support for the tax legislation, you will see that it lines up almost exactly with voters' overall perception of the president" [Amy Walter, Cook Political Report]. "In other words, if you like the president, you like the tax reform legislation. If you don't like Trump, you either don't like the bill or you are undecided about it. It is a reminder that whatever the president touches carries his polarizing brand. Even as voters are overwhelmingly positive about the economy, it doesn't translate to their opinions of the president or the tax law."
2017
UPDATE "DNC exaggerated how much it spent to defeat Roy Moore" [McClatchy]. "After Jones defeated Republican and accused pedophile Roy Moore, the DNC said it had quietly spent $1 million constructing a voter-outreach effort for the Democrat, including an extensive campaign of text messages, phone calls, and door-knockers. Now, faced with documentation that questions the claim, DNC officials say the committee spent only $250,000 of its own money on the race, cash that funded more than two dozen staffers on the ground in the state who, among other things, conducted extensive outreach to African-American voters. The rest – nearly three-quarters of the total funds originally claimed – was not a direct injection of DNC money but instead cash the DNC raised on behalf of Jones through email solicitations. Counting that kind of assistance as funds spent is unusual, according to Democrats familiar with campaign fundraising; political groups typically make clear distinctions between the money they raise for a candidate and the money they spend backing a candidate."
2016 Post Mortem
"Hillary Clinton Just Can't Say Sorry" [The Daily Beast].

UPDATE "What Juanita Broaddrick Wants You to Know" [Katie Halper, New York Magazine]. The part most relevant to electoral politics: "Hillary Clinton's actions of protecting her male staffer [Burns Strider] accused of sexually harassing a young female staffer did not surprise me. Hillary's relationship with this man as a faith adviser was important to her personally. Therefore, the young woman's degrading assaults took a back seat to Hillary's own needs. Just because Hillary is a woman does not automatically translate her championing other women, especially if it does not fit her agenda."
Obama Legacy
"Michelle Obama on divisiveness and fear: 'Forget what they're saying in Washington'" (interview with Ellen DeGeneres) [WaPo]. In answer to this question from DeGeneres: "I personally feel frightened. What is your take on what's happening?"
New Cold War
The Nunes Memo ("the memo") is released (and not, sadly, read into the Congressional Record as The Hill suggested this morning, but declassified by Trump. Here is a PDF, which starts with a letter from teh White House Counsel justifying the declassification. The key paragraphs, at least for this hot take:

(Caveat that we don't have any backup evidence for this.) Nunes also writes: "The FISC's rigor in protecting the rights of Americans, which is reinforced by 90-day renewals of surveillance orders, is necessarily dependent on the government's production to the court of all material and relevant facts. This should include information potentially favorable to the target of the application. … However, our findings indicate that, as described below, material and relevant information was omitted." So, Obama's Justice Department managed to get the FISA Court to sign off on the same oppo that Steele and Fusion couldn't manage to peddle to Jebbie? Without telling the Court it was oppo? Impressive.
Realignment and Legitimacy
Oof:

And thus ends the DNC's year of pain.

FEC December
DNC
Rcpt $5.21M ($65.9M YTD)
Expn $4.98M ($69.9M YTD)
COH $6.53M
Debt $6.1M
COH – Debt $422,582

RNC
Rcpt $11.1M ($132.5M YTD)
Expn $12.1M ($119M YTD)
COH $38.8M
Debt $0
COH – Debt $38,818,629 pic.twitter.com/VBydAbcUTz

— Rob Pyers (@rpyers) February 1, 2018

"How Can Democrats Connect 'Identity Politics' to Economics?" [Rebecca Traiser, New York Magazine]. I sat down with [Roosevelt Institute head] Felicia Wong, along with Institute fellows Dorian Warren and Andrea Flynn:

FLYNN: I want to talk about wealth. We talk about income as sort of the problem solver. But actually you can equalize incomes, you can equalize education, and that actually won't get you to equalizing wealth. The ability of families to pass wealth down from one generation to another has driven these massive economic inequities. So even if you're making more money, if you don't have any wealth, you can't capitalize on that income as much as you might be able to. You might not be able to start a business, might not be able to invest in education. It requires savings and a cushion to do this.

UPDATE Concrete material benefits:

Midwest DSA medic training sign up with @ChicagoCityDSA feb 24/25https://t.co/QFKBvKE8ek@SWMIDSA @southern_il_dsa @GrandRapidsDSA @Bricks_RosesDSA @NoMiDSA @HuronValleyDSA @LansingDSA @SoInd_DSA @KalamazooDSA

— DSA Medics (@DSAMedics) February 2, 2018
Stats Watch
Employment Situation, January 2018: "A very solid employment report for January, one however tinged with a hint of weakness, is led by a 200,000 gain in nonfarm payrolls. This is 25,000 above Econoday's consensus and near the high estimate" [Econoday]. "The fall in the workweek could be the first tangible confirmation of what the Federal Reserve's Beige Book has been warning, that lack of available workers is holding down the expansion. But the gains in average hourly earnings are clear and certainly underscore the FOMC's language that points to improvement in inflation and rising interest rates this year…. Note that today's report includes routine benchmark revisions to the establishment survey." But: "The household and establishment surveys could not be compared this month – according to the BLS "December – January changes in household data are not shown due to the introduction of updated population controls". This was a confusing report so I will pass on making any other comments" [Econintersect]. And: "Overall this was a strong report, with a nice pickup in wage growth" [Econintersect]. "I don't expect a downturn for employment any time soon (unlike in 2007 when I was forecasting a recession)."
Employment Situation: "The Jobs Numbers: Who's Hiring in America—and Who's Not" (charts) [Bloomberg]. Handy interactive graphic on jobs by industrial sector.
UPDATE Employment Situation: "Making Sense of the Jobs Report: It's Not Always Easy" [New York Times]. "For one thing, it's really two reports stitched together. One, based on a survey of employers, provides information on jobs: how many were created (or eliminated) the previous month and how much those jobs pay. The other, based on a survey of households, focuses on individuals: how many are working or not working, along with information on their age, race, education and other characteristics. Over the long run, the two surveys tend to tell pretty much the same story. Both, for example, show that the labor market has experienced a slow but remarkably long-lasting recovery over the past eight years. But in any given month, the two sources can diverge, sometimes significantly."
Consumer Sentiment, January 2018 (final): "Consumer sentiment has shot higher the last 2 weeks" [Econoday]. " strength is in future expectations which nevertheless leaves this component at a year-on-year decline of 4.4 percent. The component for current conditions fell in the month which is a reminder of yesterday's weakness in unit auto sales and which is also not positive for the January retail sales report…. Though more subdued than other consumer readings, the late-month bounce in today's sentiment report, despite the hint of weakness for January spending, echoes the strength of this morning's jobs report." And: "To put today's report into the larger historical context since its beginning in 1978, consumer sentiment is 11.6 percent above the average reading (arithmetic mean) and 12.9 percent above the geometric mean. The current index level is at the 80th percentile of the 481 monthly data points in this series" [Econintersect].
Factory Orders, December 2017: "Downward revisions to capital goods shipments offset to a degree the strong 1.7 percent headline gain for December factory orders. Shipments of nondefense capital goods excluding aircraft, which will be inputs into the second estimate for fourth-quarter GDP, are revised 2 tenths lower in December" [Econoday]. "Orders on the durables side are led once again by civilian aircraft but also include good showings for vehicles, primary metals, fabrications, and machinery. But orders for core capital goods, like shipments, are revised lower… Nevertheless, today's report is consistent with a factory sector that, despite mixed signals like the capital goods data or the dip in manufacturing hours in this morning's employment report, is probably accelerating into the new year." And: "According to the seasonally adjusted data, it was aircraft which accounted for much of the increase. The data in this series is noisy so I would rely on the unadjusted 3 month rolling averages which improved" [Econintersect].
GDP: "The U.S. economy is on track to grow at a 5.4 percent annualized rate in the first quarter following the latest data on manufacturing and construction spending, the Atlanta Federal Reserve's GDPNow forecast model showed on Thursday" [Reuters].
Retail: "Amazon is tightening its 'iron grip' online" [Business Insider]. "A revised estimate by GBH Insights pegs the company at capturing 47% of all online commerce for the most recent holiday season. In a note to investors, GBH Insights analyst Daniel Ives wrote that this proves that Amazon has an 'iron grip' on online spending that will only strengthen as 2018 continues. That grip is boosted by the 'unmatched consumer fortress' Amazon has built with its Prime membership, according to Ives. Amazon does not disclose how many members it has signed up for Prime, but GBH estimates it could be as many as 90 million…. During its earnings call Thursday, Amazon said it would continue to add membership benefits and work on getting Prime to be the rewards program for Whole Foods, which is set to roll out later this year."
Retail: "What Drew Amazon and Alibaba to Bricks-and-Mortar: Q&A" [Bloomberg]. "The world's online shopping giants are following smaller web retailers into what might appear to be the merchandising past. Amazon, Alibaba and most recently Alibaba's rival, JD.com, are operating brick-and-mortar stores, joining companies such as the formerly web-only Warby Parker, Athleta and Chinese smartphone maker Xiaomi. Even Tencent, the Chinese games and social media giant, is doing deals in retail. These companies are part of a new "bricks and clicks" trend blurring the division between online and in-person sales. Traditional store-based retailers are joining in by elevating their web game."
Retail: "Telling sign at the local McDonalds" [GP via email]: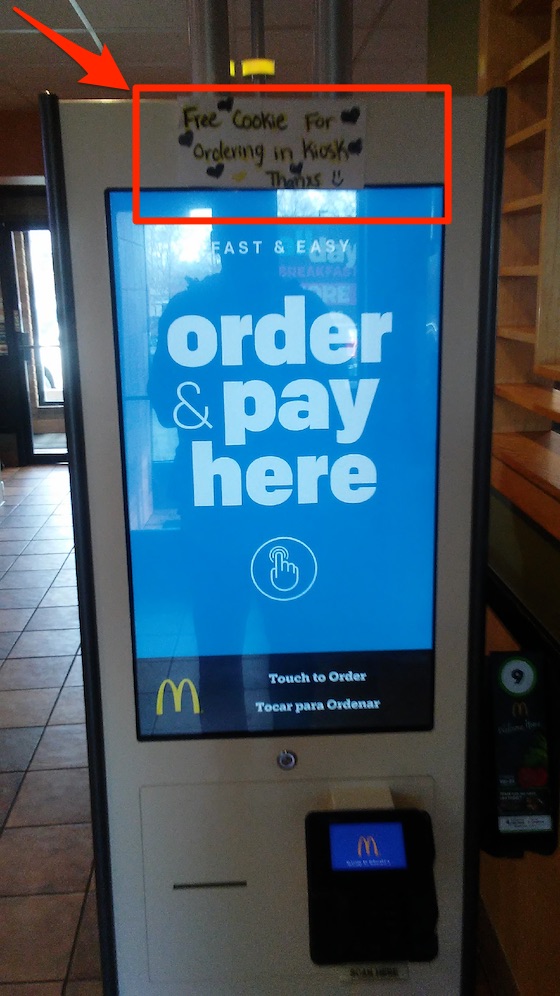 GP comments: "If consumers preferred the computer kiosks over human cashiers McDonalds management would not have to offer inducements to use them. And by the way – I ordered at the kiosk and no cookie was forthcoming."
The Bezzle: "A Bitcoin Conference Rented a Miami Strip Club—and Regretted It" [Bloomberg]. "'We're a bunch of dudes with a lot of money in our 20s. We like naked girls,' said Jeff Scott, a cryptocurrency trader from New York. He got a table for 12 with a hedge fund analyst and the heads of two startups, and said the evening wasn't much different than his typical night in a strip club. 'If you don't like it, that's fine, but you're not going to expect us to change.'"
The Bezzle: "I haven't followed Elon Musk's flamethrower-selling stunt closely, but I gather that the gist of it is that he got some flamethrowers, peddled them on the internet for $500 each, and will use the money to fund the operations of The Boring Company, the company he started to (1) drill tunnels or something and (2) conduct hilarious pranks. And it worked: "Elon Musk Stops Taking Flamethrower Orders After $10 Million in Sales," congrats everyone. The Boring Company is not a public company, so I do not expect to follow up in six months with a story about a securities fraud investigation over its failure to disclose to investors that the flamethrowers could light people on fire" [Bloomberg].
UPDATE The Bezzle: "Sometimes companies need chief executives who are visionary geniuses. Sometimes more mundane skills are required. Tesla's plan to hand Elon Musk as much as $60 billion in stock over 10 years shows the electric-car maker is confused about what sort of boss is appropriate" [Reuters]. "[F]or Musk to reach his lucrative milestones Tesla has to become the opposite of a startup. To collect the incentive scheme's last 1 percent of the shares, the company must reach about the same size and achieve roughly the same level of profitability as General Motors, currently the most successful U.S. car company. That's a real stretch."
UPDATE The Bezzle: "Check-in time at Airbnb just got postponed. The home-rental app ruled out doing an initial public offering in 2018 after its finance chief abruptly quit. With positive cash flows, boss Brian Chesky doesn't need to rush. And naming a chief operating officer shows Airbnb has learned from some of its Silicon Valley peers' mistakes" [Reuters]. "Meanwhile new operations head Belinda Johnson steps up at a good moment. That role, held by Sheryl Sandberg at Facebook, for example, is crucial for companies that must deal with regulators and governments. Johnson has already honed her skills on such matters as head of business and legal affairs. After initially suing authorities in San Francisco and New York, the company dropped its pugnacious approach and has begun working with cities to ensure its renters aren't exacerbating housing shortages or flouting laws. In short, Airbnb is growing up without being dragged up. By contrast, car-hailing counterpart Uber only just hired its first chief operating officer, and did so after abundant regulatory and cultural issues."
UPDATE The Bezzle: "Berlin regulates Airbnb and safely deflates its housing bubble while returning 8,000 rentals to the market" [Boing Boing]. "The rules were created in 2014, with a two-year grace period. They banned whole-home rentals outright, but preserved limited rights to rent out rooms within homes on a short-term basis. This is one of Airbnb's touted advantages — the ability to stay with locals in their homes — but the majority of Airbnb rentals were for whole-homes….. The Berlin Senate Department for Urban Development and Housing has published a report on the effect of the measure's first year, and found that it returned 8,000 units to the city's long-term rental market. More than half of those units had not been used for short-term rentals, but had been left empty, presumably in anticipation of flipping them as property rates rose, due, in part, to the supernormal rental returns Airbnb offers to homeowners."
Tech: "Expanding the borders into hell: Can a new crop of female and minority founded venture funds rescue us from the 'hoodie kings'?" [Pando Daily]. No, by Betteridge's Law. More: "My journalistic spidey sense tells me that a new wave of startups is sloshing around and forming now. I hope it's looking at the cost of the toxic cultures like Uber, Zenefits, and SoFi, and saying 'no thanks, toe-stepping, hard-drinking, bro culture.'" Would Uber be "a good corporate citizen" if "Travis Kalanick" were "Victoria Kalanick"? Dubious, because without a profit model, you're left with criminality, no?
UPDATE Gentlemen Prefer Bonds: "Daily: The Bond Bear Market, Greenspan Edition" [Credit Writedowns]. "I was watching the former Fed Chairman on Bloomberg yesterday. And even though he refrained from taking a view on how the Fed should be conducting monetary policy right now, I heard him say a number of things that were rather controversial. One was that we risk 'stagflation' in the future. The second was that one driving force for the stagflation would be high government deficits. In the end, I got the impression that Greenspan was a bond bear. However, I found his arguments unconvincing and I remain sceptical of the secular bear market thesis."
UPDATE Gentlemen Prefer Bonds: "Ignore the Doomsday Talk Surrounding Bonds" [Bloomberg]. "The situation looks more benign when you pull back the covers. Yields as measured by the Bloomberg Barclays Corporate Bond Index have risen from 3.05 percent in early September to 3.45 percent currently, which is a smaller increase than seen in Treasuries…. This is telling in two ways. First, it shows the tremendous compression of risk assets to their Treasury benchmarks as demand has kept up for any sort of yield. Second, it shows that the increased costs of corporate borrowing are nowhere near what you might expect if you looked at just the Treasury market. This is notable because it means that not only are borrowing costs less than what you might expect, but that corporate profit margins are not going to be impacted as significantly as many predict."
Five Horsemen: "Amazon defies this morning's tech wreck to move higher on earnings news" [Hat Tip, Jim Haygood].
Today's Fear & Greed Index: 58 Greed (previous close: 61, Greed) [CNN]. One week ago: 77 (Extreme Greed). (0 is Extreme Fear; 100 is Extreme Greed. Last updated Jan 31 at 7:00pm.
MMT
"A BEGINNER'S GUIDE TO HOW MODERN ECONOMIES WORK" [Modern Money Basics]. Nicely done.
Gaia
"Brr! Six more weeks of winter for US, says furry forecaster" [Agence France Presse].
"Pollen weighs in on a climate conundrum" [Nature]. "Ultimately, we can have confidence in global temperature reconstructions only when they are based on comprehensive, multi-proxy data sets that span the Earth, and in which local and proxy-based noise is dampened. Marsicek and co-workers' synthesis of North American and European pollen records continues the march in this direction — these data were previously analysed within each continent to produce reconstructions6,7, but they have now been carefully joined together and compared with a model. Further progress could be made through similar efforts to mine data obtained from around the world, much as has been done to refine the hockey-stick reconstructions."
"The scientist who predicted ice-sheet collapse — 50 years ago" [Nature]. "In a 1978 paper in Nature, Mercer updated his arguments in clear and elegant terms. "A disquieting thought is that if the present highly simplified climatic models are even approximately correct," he wrote, "this deglaciation may be part of the price that must be paid in order to buy enough time for industrial civilisation to make the changeover from fossil fuels to other sources of energy" (J. H. Mercer Nature 271, 321–325; 1978)."
From The Department of Well, Who Knows?
High fat intake: longer life, no greater risk of cardiovascular disease. High carb intake: shorter life (!) https://t.co/j2kfEHyU7T pic.twitter.com/kEAScMtRLJ

— Steve Stewart-Williams (@SteveStuWill) August 29, 2017
Then again, I like fat, so this confirms my priors, and if carbohydrates equal grains, Against the Grain has something to say about that….
The 420
"SF will wipe thousands of marijuana convictions off the books" [San Francisco Chronicle]. "San Francisco will retroactively apply California's marijuana-legalization laws to past criminal cases, District Attorney George Gascón said Wednesday — expunging or reducing misdemeanor and felony convictions going back decades…. Rather than leaving it up to individuals to petition the courts — which is time-consuming and can cost hundreds of dollars in attorney fees — Gascón said San Francisco prosecutors will review and wipe out convictions en masse."
Class Warfare
UPDATE: When you hear the word "disruption"…
uber eats, foodora and so on are disrupting the market by using new techniques such as [squints at notes] underpaying workers in order to [peers through glasses] maximise profit pic.twitter.com/Ow1NbRZANz

— Tongs Clodbill (@burgerdrome) January 30, 2018
"Hour of the Furnaces: Imperial Finance and the Colonization of Daily Life" [Viewpoint Magazine]. A bit dense, but this: "While conversations around the relationship between imperialism and finance have been ongoing in Latin America, these connections have been largely missing in discussions of 'cultures of finance' in the United States since the financial crisis. What would it mean to recenter our critiques of finance and financialization around an anti-imperialist politics? To begin, we might ask if the so-called 'financialization of daily life,' beginning in the early-2000s in the United States, is really something new, or whether, as some have suggested, it signals the further extension of imperial finance within centers of capital accumulation. Here, the logic of the 'internal colony,' a term utilized by various activists in the 1960s to describe conditions of colonization in centers of capitalist command and which foregrounded alliances with struggles for national liberation abroad, might be useful to understand how victims of the subprime mortgage crisis, student loan crisis, and numerous other schemes of debt and indenture have been subject to something like the colonization of daily life by finance." Deaths of despair?
"Warren Buffett & Imperial Economics" [Economics of Imperialism]. "The market power of a monopolist is a wonderful thing – if you are the monopolist. There is rarely only one supplier unchallenged by rivals. But being one of very few suppliers, or having a government contract that guarantees high prices for your product, or using advertising and brand recognition to cement market domination, or building a commercial barrier to limit what competitors can do, or using patents to stall their development, are all means of building a favourable position in the market. These are the kinds of company, big and small, that Berkshire Hathaway seeks."
News of the Wired
UPDATE "Tractor Hacking: The Farmers Breaking Big Tech's Repair Monopoly" [Motherboard]. The trailer:
See Naked Capitalism on the "right to repair" here, here, here, and here (from J-LS).
UPDATE The mysterious East:
WESTERN WEB DEVELOPER: uhhh i designed my website with the japanese feeling of "wabi-sabi," an untranslatable japanese concept of minimalism and "zen"

JAPANESE WEB DEVELOPER: pic.twitter.com/2wcAkbDA2i

— SHI+NORA (@shi_nora) January 31, 2018
There'll always be an Oz:
Absolutely MAD story: FOI documents show the NSW government spent $100,000 running a public competition to name a new ferry. The minister then ignored the result and named it "Ferry McFerryface" https://t.co/oJ4UDjT63Z

— Mark Di Stefano ?? (@MarkDiStef) January 30, 2018
* * *
Readers, feel free to contact me at lambert [UNDERSCORE] strether [DOT] corrente [AT] yahoo [DOT] com, with (a) links, and even better (b) sources I should curate regularly, (c) how to send me a check if you are allergic to PayPal, and (d) to find out how to send me images of plants. Vegetables are fine! Fungi are deemed to be honorary plants! If you want your handle to appear as a credit, please place it at the start of your mail in parentheses: (thus). Otherwise, I will anonymize by using your initials. See the previous Water Cooler (with plant) here. Today's plant (Annie Spratt):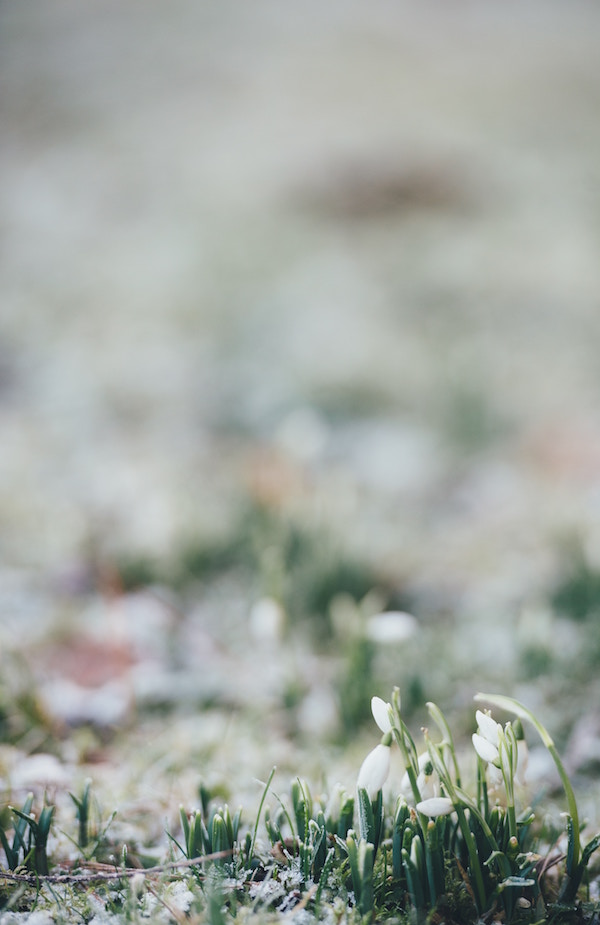 * * *
Readers: Water Cooler is a standalone entity not covered by the NC fundraiser. So do feel free to use the dropdown and click the hat to make a contribution today or any day. Here is why: Regular positive feedback both makes me feel good and lets me know I'm on the right track with coverage. When I get no donations for five or ten days I get worried. More tangibly, a constant trickle of small donations helps me with expenses, and I factor that trickle in when setting fundraising goals. So if you see something you especially appreciate, do feel free to click the hat!
[Readers, I have successfully fiddled with PayPal, and the hat is back! –lambert]