By Lambert Strether of Corrente.
Politics
2020
"Oprah Winfrey Reveals the One Thing That Could Make Her Run for President" [People]. That's right. Oprah: "I went into prayer. ''God, if you think I'm supposed to run, you gotta tell me, and it has to be so clear that not even I can miss it.' And I haven't gotten that." That's not exactly a Sherman statement.
2018
"Democrats marshal strike force to counter Trump on national security in 2018, 2020 elections" [WaPo]. "[A] group of Democrats is betting Trump's record in office will push national security issues to the fore in the 2018 midterms and the next presidential election. A group of mostly young veterans of President Barack Obama's administration and Hillary Clinton's 2016 presidential campaign is launching a political strike force aimed at countering Trump and Republicans on national security." One of the founders is Ben Rhodes, coiner of the phrase "The Blob." Hmm.

"Analysis: Will the Suburbs Flip the House? Watch These Seats" [Roll Call]. "If there is a partisan shift in the suburbs in November, a couple of dozen House Republican seats should be among the first to feel the movement."

"Dems surge in generic ballot as economy fades from spotlight" [The Hill]. "[P]ollsters warn that the generic ballot is better as a gauge of the entire electorate's mood than as a predictor of outcomes in individual races. In the Senate, Democrats are defending 25 seats, while Republicans are only tasked with defending eight seats. Many of the GOP incumbents are running in states that Trump won handily in 2016, while several Democrats are running in states Trump won by double-digit margins. Pollsters say not to read too deeply into generic ballot polling at this early stage, pointing to the extreme volatility in the polls in recent weeks. Over the past month, polls have put the Democratic advantage everywhere from 2 points to 16 points."

"'9.0 earthquake': Kansas, Missouri at epicenter as independents try to upend politics" [McClatchy]. "Missouri hasn't sent an independent to the U.S. Senate in its nearly two centuries as a state, but Kansas City attorney Craig O'Dear says he can prevail in what promises to be one of the most competitive Senate races in the country. In Kansas, Johnson County businessman Greg Orman hopes to be the first independent governor since Kansas officially became a state in 1861. …. Both candidates are backed by the same organization, Unite America, which has recruited a slate of independent candidates to run in high-profile races in a half-dozen states….. Unite America, a Denver-based group previously known as the Centrist Project, existed in an early form when Orman mounted his unsuccessful run for U.S. Senate in 2014." Here's United America's website. I don't see anything about funding. (To be fair, although the Centrist Project's website is dead, its snippets live on in Google: "The Centrist Project is a 501(c)4 non-profit organization funded by individuals across the country –– including Democrats, Republicans, and independents. We do not accept any contributions from corporations, unions, or lobbyists.") Joel Searby, the strategist, ran Evan McMullin's 2016 campaign. McMullin worked for the CIA as an operations officer with the National Clandestine Service from 2003-2010, says Wikipedia. Not that I'm foily.

California: "Feinstein's trouble underlines Democratic Party's shift to left" [The Hill]. "Some Democrats suggest the party has to tailor its message to different districts and states to win." A "tailored" message isn't like a bespoke message. It's more like the Emperor's New Clothes.

California: "Republican drops out of race for California governor" [Sacramento Bee]. "Republican Doug Ose dropped out of the race for California governor Monday, citing a crowded field of candidates and lack of fundraising needed to defeat Democrats, who are leading in the polls…. Ose declined to say whether he'd back another Republican in the campaign, but suggested that if it's a Democrat-on-Democrat race, he'd vote for a moderate. 'Every time I go to the ballot box, I look at my choices,' Ose said. 'As an example, in the absence of a Republican candidate for U.S. Senate, I will be wholeheartedly supporting Dianne Feinstein.'"

PA-18: "Rating Change: Pennsylvania 18 Special Moves to Toss-Up" [Inside Elections]. "Republicans have spent nearly two months attacking Democrat Conor Lamb with television ads, but he's not only still standing but well-positioned to take over a GOP seat in western Pennsylvania that Donald Trump won by 19 points in 2016, 58-39 percent. In 2012, Mitt Romney carried the district by 18 points, 58-41 percent…. What might be most fascinating is that both parties are fighting over a seat that is on the verge of extinction. The state supreme court threw out the congressional map and ordered new lines for the 2018 elections, but directed the 18th District special election to take place under the "old" lines because the race had already started. Win or lose, Lamb is most likely to run in the new 17th District, where he'd likely face GOP Rep. Keith Rothfus…. That means this is a fight for the narrative of the 2018 elections. Republicans explained away previous special election results by either winning or blaming Roy Moore. But losing a district that Trump won by 18 points with a state legislator as the nominee will be more difficult to dismiss. In that way, it could be a bigger political earthquake than Alabama because Republicans won't have the Roy Moore excuse."

GA-10: Running on the Jobs Guarantee:

This guy is making moves. Don't sleep on him. He is down in the middle of Georgia talking about the Poor People's Campaign.@ZephyrTeachout @NortheastGADSA @MetroATLDSA @esglaude @CornelWest @BlackSocialists @girlziplocked @SandyDarity https://t.co/vMybDpjX8q

— Irami Osei-Frimpong (@IramiOF) February 27, 2018

IL-05: If not MMT, MMT-inflected:

No force in the world has more potential to eliminate poverty and protect middle-class lifestyles than the US government's spending power.

I will use that power to provide essential services like Medicare and housing, not for war and corporate handouts.https://t.co/HSuqoog5LG

— Sameena Mustafa (@sameenacongress) February 25, 2018

NH-1: "Bernie Sanders' son Levi announces run for Congress" [New York Post]. Good for him, though he must stand or fall on his own merits (unlike, say, Chelsea).
New Cold War
Readers, I'm still gobsmacked that Clinton's communications director, Jennifer Palmieri, seriously believes she might be abducted by Russians. A moment's thought will show how lunatic this is: Nothing would suit America's adversaries more than leaving the grossly incompetent Clintonite team in positions of power.

"Robert Mueller Doesn't Need a Smoking Gun" [Elizabeth Drew, The New Republic]. "Therefore, we are guaranteed more surprises." The final sentence. Classic Elizabeth Drew!

"Judge sets Sept. 17 trial date for Manafort on Mueller charges" [Politico]. "The decision from U.S. District Court Judge Amy Berman Jackson would put Manafort on trial at the height of the midterm campaign season, a potentially unwelcome distraction for Republicans as they try to maintain majorities in Congress." This is the first set of Mueller's charges, not the second; and I'm confused why there is a second set of charges at all, if the concept is that you climb the ladder by flipping the underlings. If Manafort flipped, why the second set?
2016 Post Mortem
"Nota bene: The arbitrage that won the 2016 election" [Nota Bene]. This is Felix Salmon's retelling of the story that broke in Wired on how Facebook's algo priced Trump's ads much lower than Clinton's, because Trump's ads had a greater likelihood of going viral (which apparently the five (5) consultants the Clinton campaign paid a cool $700 million didn't have the mad skillz to figure out). Salmon: "Either way, it seems clear that the more incendiary Trump's ads became, the less he had to pay to run them, and the more of an audience they could reach. It's hard to imagine an incentive structure more damaging to democracy and the substantive nationwide debate that presidential elections are supposed to encourage. The good news is that it's pretty easy to fix this problem. Facebook could simply insist that political campaigns buy ads on a CPM basis, with the M measuring actually-seen impressions. At the very least, it could insist on a CPM-based floor: a minimum price paid per impression no matter how inflammatory a campaign is. This is urgent. Facebook's ad-pricing algorithms have failed American democracy once. They cannot do so again." Just spitballing here, but why not outlaw political advertising on social media entirely?
Obama Legacy
"Meet the Community Organizers Fighting Against … Barack Obama" [Politico]. "'The [Presidential] library is a great idea, but what about a community benefits agreement?' [Jeanette Taylor, the education director of the Kenwood Oakland Community Organization], asked [Obama], referring to a contract between a developer and community organizations that requires investments in, or hiring from, a neighborhood where a project is built. 'The first time investment comes to black communities, the first to get kicked out is low-income and working-class people. Why wouldn't you sign a CBA to protect us?'" Read the piece for a classic response from Obama.
Gunz
"Bulletproof Vests, Security Guards Approved for House Members" [Roll Call].

"Mass shootings in America are just the tip of a tragic toll" [The Economist]. It's the onesies and twosies that really add up…
Realignment and Legitimacy
"From Pushing 'Thoughts and Prayers' to Dissing Medicare for All, DCCC Called Out for Sabotaging Bold Demands" [Common Dreams]. That word "bold" — as in "Bold Progressives" — makes my back teeth itch. If you're really bold, you don't have to go around saying you are. That said: "Documents on healthcare messaging that were handed out to House Democrats in the wake of the 2016 election treated universal healthcare as a fringe issue, suggesting that lawmakers are not to entertain Medicare for All as a potential solution to the nation's high healthcare costs and poor outcomes…. The messaging memo also included Republican talking points attacking a single-payer system like the Medicare for All plan proposed by Sen. Bernie Sanders (I-Vt.), without providing any rebuttals to the claims."

"Democratic National Committee war plan: Target 50 million voters" [NBC News]. "The DNC, which has struggled financially and faced doubts about its relevance, will focus its 2018 organizing plans for the midterms around partnerships with a wide range of groups aimed at boosting turnout among Democratic-leaning voters, who have been less likely to get to the polls in recent nonpresidential elections." Wake me when the Democrat party makes voter registration and expanding the base a core party function, 24/7/365, instead of a random, election by election effort. (Oh, and a political version of Conway's Law seems to be at work: Liberals think of themselves as an aggregation of silos (mostly identity-based silos), hence the "partnerships with a wide range of groups," i.e. not a core party function.
Stats Watch
GDP, Q4 2017: "There's very little change between the second and first estimates for fourth-quarter GDP, revised 1 tenth lower to an as-expected 2.5 percent annualized rate. Consumer spending is unchanged at a very strong 3.8 percent as downward revisions to spending on durables (down 4 tenths to a 13.8 percent rate) and nondurables (down 9 tenths to 4.3 percent) are offset by an upward revision to the largest category of service spending (up 3 tenths at 2.1 percent)" [Econoday]. "Strength is definitely the message of this report, masked by the nation's trade imbalance and the quarter's inventory change excluding which GDP rose 4.3 percent, a reading that is unchanged from the first estimate." And but: "There was little change between the advance and this second GDP esitmate. The consumer spending declined from the previous quarter, but the real improvement came from fixed investment. I am not a fan of quarter-over-quarter exaggerated method of measuring GDP – but my year-over-year preferred method showed moderate acceleration from last quarter" [Econintersect]. And: "This was at the consensus forecast" [Calculated Risk].
Chicago Purchasing Managers Index, February 2018: "Deceleration at a still blistering pace is February's result" [Econoday]. "New orders are also the lowest in six months but, like the headline composite, remain very strong with backlogs, however, at a 10-month low. These order readings do hint at slowing in the months ahead for this report including for production where February growth hit a 5-month low. Hiring is likewise slowing but from January's 6-month high…. The volatility of this report, one that covers both the manufacturing and non-manufacturing sectors of the Chicago economy, limits its usefulness as a predictor of other data. But the takeaway is strength, though easing strength." And: "The results of this survey continue to correlate to district Federal Reserve manufacturing surveys – and generallly aligns with the overall trend of the ISM manufacturing survey" [Econintersect].
Pending Home Sales Index, January 2018: "Existing home sales appear to be slowing, the latest evidence coming from the pending home sales index which fell an unexpected 4.7 percent in January" [Econoday]. "Lack of supply is a key factor holding down sales along with rising mortgage rates." And but: "Way down and prior month revised lower as well" [Mosler Economics]. And but: "The rolling averages moved into positive territory. The data is very noisy and must be averaged to make sense of the situation. There is no signs of a surge in home sales, although the trends continue to be upward. I personally do not believe the new tax laws will affect home sales next year as most people do not consider income tax savings when buying a home" [Econintersect].
Retail: "Amazon.com Inc. is coming to your door. The e-commerce giant is acquired video-doorbell maker Ring in a deal valued at more than $1 billion, the WSJ's Laura Stevens and Douglas MacMillan report, giving the company a bigger foothold in the home-security business and signaling it's moving more aggressively to deliver packages into customers' homes. More broadly, the deal plays to Amazon's ambition to control the devices that power 'smart' homes—devices that include its own Echo voice-based home assistant" [Wall Street Journal].
Retail: "Kohl's fights back—with its stores" [DC Velocity]. "Retailer Kohl's Corp. aims to stay relevant with the assets that have gotten it to this point: Its 1,100 stores…. Kohl's stores currently perform 32 percent of its online fulfillment, according to Chawla. On "Cyber Monday," the stores collectively did three times the fulfillment volume of its traditional e-commerce channels, she said. A key factor for the strategy is that stores shorten the distance to customers, Chawla said. Delivery from stores is 25 percent faster than filling an e-commerce order from a distribution center, she said."
MBA Mortgage Applications, week of February 23, 2018: "With the rise in mortgage rates taking a pause, purchase applications for home mortgages rose by a seasonally adjusted 6.0 percent" [Econoday]. And but: "Nice increase but year over year remains weak" [Mosler Economics].
Tech: "Facebook rolls out job posts to become the blue-collar LinkedIn" [Tech Crunch]. "Businesses will be able to post job openings to a Jobs tab on their Page, Jobs dashboard, Facebook Marketplace, and the News Feed that they can promote with ads. Meanwhile, job seekers can discover openings, auto-fill applications with their Facebook profile information, edit and submit their application, and communicate via Messenger to schedule interviews."
Mr. Market: "Short Sellers Can't Make Up Their Minds on Major Banks" [247 Wall Street]. "[W]hen short sellers make a play against these major banks, they are effectively betting for a downturn. Conversely, when they back off they might be expecting a surge. Granted, some plays are directly against individual companies, like we saw with Wells Fargo early in 2017. The February 15 short interest data have been compared with the previous figures, and short interest moves in these selected bank stocks was mixed." (Bank of America (short interest up), JPMorgan Chase (drop), Citigroup (drop), Wells Fargo (up), Goldman Sachs (down), Morgan Stanley (up).)
Mr. Market: "Social Media Short Sellers Grow More Selective" [247 Wall Street]. (Facebook (short interest up), Twitter (drop), Match Group (up), Weibo (down), Yelp (up), Snap (down).)
Five Horsemen: "Amazon takes a run at a new high" [Hat Tip, Jim Haygood].
NakedCap Mania-Panic Index, February 2018: 41 (worry) [Hat Tip, Jim Haygood]. Readers will recall that I've been whinging about how CNN's Fear and Greed Index is lagged, sometimes by as much as four days, and Haygood generously volunteered to create a similar index in chart form. (I'll leave it to him to chime in with methodology in comments). What do you think?
Health Care
"New Proposal Designed to Confuse Public and Prevent Medicare for All" [Margaret Flowers, Health Over Profit]. "The Center for American Progress (CAP), a Washington-based Democratic Party think tank funded by Wall Street, including private health insurers and their lobbying group, unveiled a new healthcare proposal designed to confuse supporters of Medicare for All and protect private health insurance profits. It is receiving widespread coverage in 'progressive' media outlets. We must be aware of what is happening so that we are not fooled into another 'public option' dead end." Very good, and includes notes with good perspective on "progressive" machinations in 2009.
"States of Disgrace: A Flawed System Fails to Inform the Public" [MedPage Today]. "Now, a MedPage Today/Milwaukee Journal-Sentinel investigation reveals the scope of the problem: between 2011 and 2016, at least 500 physicians were chastised by one state medical board and yet able to hang their shingles at a new address with a 'clean' license. They slipped through the cracks even though their actions resulted in suspensions, revocation, remedial classes or a portfolio of 'letters of concern' that castigate them for misconduct."
Net Neutrality
"Washington becomes first state in the nation to pass net neutrality regulations in defiance of FCC" [GeekWire]. "Washington state's net neutrality law is likely to face legal challenges. The FCC's official repeal of net neutrality, which was published in the Federal Register last week, preempts states and local jurisdictions from passing de facto net neutrality laws. The FCC said it would 'preempt any state or local measures that would effectively impose rules or requirements that we have repealed or decided to refrain from imposing in this order.' That includes laws that would require disclosure of business practices from internet providers, like the one moving through the Washington state legislature.'" At the very least, this lays the basis for more court challenges.
Police State Watch
"Mother of baby killed in Baton Rouge crash involving off-duty cop arrested for failing to secure child seat" [The Advocate].
"Man arrested on six charges four days after publicly criticizing Etowah County sheriff" [Birmingham News].
"NYPD sergeant arrested after refusing to move double-parked car" [New York Post].
MMT
"The Radical Left-Wing Theory That the Government Has Unlimited Money" [Vice] (blessed by Mosler). "Most of us assume government has to tax before it spends, that like you and me it has to earn money before it purchases goods. If it wants to spend more than it taxes—and it almost always does—it must borrow from the bond market. But by examining the granular way government accounts for its spending, Mosler saw that in every case, expenditures come first. When your Social Security check is due, the Treasury doesn't look to see if it has enough money to pay it. It simply keystrokes that money directly into your bank account and debits itself simultaneously, thereby creating the money it pays you out of thin air. When you pay your taxes, the same process happens in reverse. The federal government subtracts dollars your account and eliminates the same amount from the liabilities side of its ledger, effectively destroying the money you just paid to it. Unlike households or firms or even state and local governments, the federal government is authorized to create dollars. It adds money into the economy when it spends, and it takes it out when it taxes. 'There's nothing to prevent the federal government from creating as much money as it wants and paying it to somebody,' is how Alan Greenspan, then the Fed chairman, put it to Congressman Paul Ryan during a 2005 hearing." And: "Mosler's understanding of money provided him with an insight: Any government that prints its own currency can't go bankrupt. That insight made him millions." Skin in the game….
Class Warfare
"The Widening Cost-of-Living Gap" [Governing]. "In fact, the costs of living in different places throughout the United States are moving apart more now than at any time in the recent past. Local area cost-of-living data tracked by the Council for Community and Economic Research shows increasing divergence over the past few years as the economy has recovered. In 2007, the average cost-of-living composite index for the 20 most expensive urban areas in the nation was 50 percent greater than the average for all other areas. By Governing's calculations, this gap had widened to 62 percent by the third quarter of last year."
"Where have all the workers gone?" (charts) [Occasional Links & Commentary]. "As is clear from the chart above, the employment-population ratio (the blue line) has collapsed from a high of 64.4 in 2000 to 59 in 2014 (and had risen to only 60.1 by the end of 2017). During the same period, the average real incomes of the bottom 90 percent of Americans have stagnated—barely increasing from $37,541 to $37,886. That should be indicator that the problem is on the demand side, that employers' demand for workers' labor power has decreased, and not the supply side, that workers are choosing to drop out of the labor force."
"Why 'Deaths of Despair' May Be a Warning Sign for America – Moving Upstream" (video) [Wall Street Journal]. Interesting that Case-Deaton have finally made it to the Wall Street Journal.
"Casper Star-Tribune journalists vote to unionize" [Casper Star-Tribune]. "'Negotiating a collective agreement for the Star-Tribune's newsgathering staff will allow us to create more stable reporting jobs in Wyoming, attract more experienced journalists and incentivize them to stay longer,' according to a Feb. 6 news release from the organizers. 'It will also allow us to have a voice in the event of future layoffs or cost-cutting measures. Finally, it will enable us to speak directly to our readers so that any business decisions by Lee Enterprises that hurt Wyoming will not go unnoticed.'"
"By Day, a Sunny Smile for Disney Visitors. By Night, an Uneasy Sleep in a Car" [New York Times]. Very Third World, showing deference to the tourists. Of course, you've got to have your good teeth…
News of The Wired
"Sex and drugs and self-control: how the teen brain navigates risk" [Nature]. "Telzer's studies7 suggest that teenagers who show heightened ventral striatum activity when making decisions that help others, such as donating money, take fewer risks in the long term and have a lower risk of depression as adults. "There's very much a yin and yang to this," says Dahl."
* * *
Readers, feel free to contact me at lambert [UNDERSCORE] strether [DOT] corrente [AT] yahoo [DOT] com, with (a) links, and even better (b) sources I should curate regularly, (c) how to send me a check if you are allergic to PayPal, and (d) to find out how to send me images of plants. Vegetables are fine! Fungi are deemed to be honorary plants! If you want your handle to appear as a credit, please place it at the start of your mail in parentheses: (thus). Otherwise, I will anonymize by using your initials. See the previous Water Cooler (with plant) here. Today's plant (Kokuanani):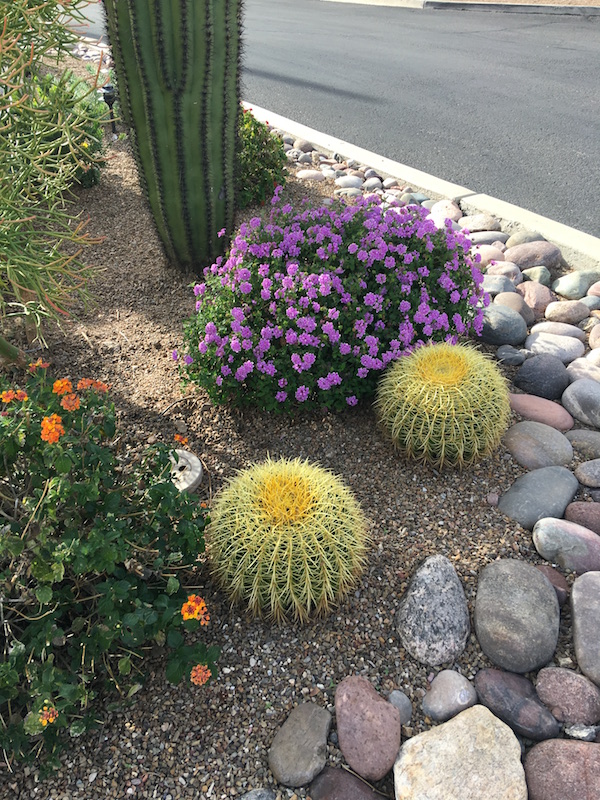 Kokuanani: "Weekend escape from DC's snow & ice in Tucson."
Readers, I'm running a bit low on plant images. So, whether you're from the tropics or merely anticipating mud season, we'd like to see what you've taken.
* * *
Readers: Water Cooler is a standalone entity not covered by the NC fundraiser. So do feel free to use the dropdown and click the hat to make a contribution today or any day. Here is why: Regular positive feedback both makes me feel good and lets me know I'm on the right track with coverage. When I get no donations for five or ten days I get worried. More tangibly, a constant trickle of small donations helps me with expenses, and I factor that trickle in when setting fundraising goals. So if you see something you especially appreciate, do feel free to click the hat!