"A company for carrying on an undertaking of great advantage, but nobody to know what it is." –Prospectus for a joint stock company in the South Sea Bubble (1720)
By Lambert Strether of Corrente.
Last week, Warren Buffett (Berkshire Hathaway), Jeff Bezos (Amazon), and Jamie Dimon (JP Morgan) have initated a venture that the AARP (itself in the insurance business) describes as follows:
Amazon, Warren Buffett and JPMorgan Chase are forming a new company to address the health care costs of their employees, sending shares of health care companies down sharply across the entire sector despite the nature of the announcement.

Amazon's Jeff Bezos said that he, along with Buffett and JPMorgan Chase, would attempt to make health care better for hundreds of thousands of their employees, and perhaps, eventually, the country.

There were few details, and those involved said the project is in the early planning stage.
(Since the project as yet has no name, and I have to call it something, I'm going to call it "the undertaking.")
All the coverage I can find agrees on the "vague" character of the announcement (the New York Times: "unclear"; Reuters: "did not elaborate on their strategy"; Vox: "we don't know much"); hence my strictures on "an undertaking"[1]. So, let's look at the announcement, and try to dope out what we can from it. (Weirdly, the URL of the original press release has too many redirects; here is the Wayback machine version). The first and second paragraphs (I've helpfully introduced numbers in square brackets where I will comment):
SEATTLE & OMAHA, Neb. & NEW YORK–(BUSINESS WIRE)–Amazon (NASDAQ: AMZN), Berkshire Hathaway (NYSE: BRK.A, BRK.B) and JPMorgan Chase & Co. (NYSE: JPM) announced today that they are partnering on ways to address [1]healthcare for their U.S. employees, with the aim of improving [2]employee satisfaction and reducing costs. The three companies, which bring their [3]scale and complementary expertise to this [4]long-term effort, will pursue this objective through [5]an independent company that is free from profit-making incentives and constraints. The initial focus of the new company will be on [6]technology solutions that will provide U.S. employees and their families with [7]simplified, high-quality and transparent healthcare at a reasonable cost.

Tackling the enormous challenges of healthcare and [8]harnessing its full benefits are among the greatest issues facing society today. By bringing together three of the world's leading organizations into this new and [9]innovative construct, the group hopes to draw on its combined capabilities and resources to take a fresh approach to these critical matters.
[1] "healthcare for their U.S. employees": Some coverage (e.g., Vox, Reuters) says or implies that the undertaking will provide insurance, but the press release doesn't say that Buffet, Bezos, and Dimon are going into the insurance business. It says they're going into the health care business; presumably the statement was carefully worded. Further, the undertaking will leave employer-based health insurance intact ("U.S. employees").
[2] "employee satisfaction": "Satisfaction" is not at all the same as health; "customer satisfaction" isn't necessarily the best way to allocate health care resources; in pharmaceuticals, for example. And if you are measuring "satisfaction," and you aren't measuring health care outcomes, what results are you likely to get?
[3] "scale and complementary expertise": Note that scale is not the scale of the employees served by the companies initiating the undertaking; one million is just not very much. So scale must mean scale with respect to the problem to be solved (whatever it may be).
[4] "long-term effort": In other words, not expected to become profitable in one quarter, or even several years.
[5] "an independent company that is free from profit-making incentives and constraints": Much of the coverage (Reuters, Fortune) says that the undertaking will be structured as a non-profit, but presumably if the writers of the press release had meant to say that, they would have. For example, "free from" could mean that the board was ideologically committed to profit not being a driver. Until it was. Further, that the undertaking itself does not profit does not at all mean that Amazon, Berkshire Hathaway, and JP Morgan will not profit, not only because savings will go directly to their bottom lines, but because they will be able to extract rent from the "technology solutions."
[6] "technology solutions": The undertaking may be "free from" the constraints of profit, but the rest of the health care system most definitely will not be.
[7] "simplified, high-quality and transparent healthcare": I have to say I boggled a little bit at this. I don't see how health care, as such, can be "transparent." I can see how the process of delivering it might be, but not the care itself. What on earth can possibly be transparent about an appendectomy, or (taking things to the extreme, and assuming dental) extracting a wisdom tooth, or (moving to outright fantasy) therapy? The same goes for "simplified." As for "high quality," what's the metric? Customer satisfaction?
[8] "harnessing [health care's] full benefits": What does this even mean? Benefits other than being cured, or staying well?
[9] "innovative": Oh.
The last paragraph is as important as the first two:
The effort announced today is in its early planning stages, with the initial formation of the company jointly spearheaded by Todd Combs, an investment officer of Berkshire Hathaway; Marvelle Sullivan Berchtold, a Managing Director of JPMorgan Chase; and Beth Galetti, a Senior Vice President at Amazon. The longer-term management team, headquarters location and key operational details will be communicated in due course.
I'll look at the personnel choices in section (2) below. (I'm not sure what "jointly spearheaded" might mean; surely a troika is an unusual management structure in the United States?)
(1) The Undertaking Is Not Single Payer
Since the undertaking is employee-based, it's not single payer. So, while Sanders is correct to be hopeful (so we can hang failure round the undertaking's neck later), single payer na ga happen:
Could this be the beginning of the American business community understanding that a not-for-profit Medicare for All, single payer system makes sense not only for the average American, but for the business community as well? https://t.co/jC7G7g7ub5

— Bernie Sanders (@SenSanders) January 30, 2018
That's unfortunate, because Warren Buffett, at least, thinks single payer is the best alternative from the standpoint of "bending the cost curve." In an interview with Judy Woodruff on PBS:
JUDY WOODRUFF: Are we now at the point where the country does need to think about some sort of single-payer system in some form or another?

WARREN BUFFETT: With my limited knowledge, I think that probably is the best system, because it is a system — we are such a rich country. In a sense, we can afford to do it.

But in almost every field of American business, it pays to bring down costs. There's an awful lot of people involved in the medical — the whole — just the way the ecosystem works, that there is no incentive to bring down costs.

JUDY WOODRUFF: And it sounds like you're saying, with a single-payer system, it would be easier to figure out a way to get those costs down.

WARREN BUFFETT: It would be more effective, I think.
An independent health benefit company serving their employees, even if including the employees of a large conglomeration of other companies, could not adapt most of the beneficial features of a well designed single payer model. Most of the policy defects that result in the dysfunction of our health care financing would remain in place. As smart businessmen, the last thing they should want is to invest considerable effort and resources into a venture that proves pretty much for naught.

Rather than setting up yet another technology-based company wouldn't it be better to begin with a group of experts who understand the health needs of patients and the community at large and the public policies that would deliver on those needs? But leave out those who place markets first such as the insurers, pharmaceutical executives, for-profit corporate executives and the like.
Lol no. At this point, we might deploy Thomas Ferguson's investment theory of politics, and ask in which politician Amazon, Berkshire Hathaway, and JP Morgan invested their money. I'm sure you can guess (although weirdly the Times-Free Press regards Clinton as "left wing"):
Berkshire Hathaway CEO Warren Buffett endorsed Clinton, campaigned for her and gave her the most money he's ever given a candidate. And JPMorgan Chase was the fourth biggest corporate donor in the S&P 500 to Clinton's campaign.
And we know what Hillary Clinton thinks of single payer:
So, framing the undertaking in political terms, one might speculate that our three squillionaires have decided to head off single payer themselves, since liberal Democrats increasingly seem unable to do so (though they're certainly doing their best).
(2) Personnel Choices Show that The Undertaking Is an Important Initiative
The final paragraph of the press release listed a troika that would "spearhead" the undertaking: Beth Galetti, Marvelle Sullivan Berchtold, and Todd Combs. Let's take each of them in turn. Each is, of course, in the corporate world, highly competent, and high in the heirarchy of three giant companies at the top of their game.
Beth Galetti: Gallette is head of Human Resources — how I hate that term — at Amazon. Speaking of technology solutions at scale:
Not only does Galetti have experience in recruiting for one of the most prominent tech companies in the world, she also has experience leading teams for huge projects. For example, while at FedEx, she led a team of 100 software developers for the package tracking system during the process of migrating the existing system to a new technology.
That's genuinely impressive. In an interview with Galetti, she shares this touching anecdote:
Working during the busy holiday season was the highlight, to serve the most customers. After a few months, I was promoted to shift supervisor.
I was the same way when I worked in the mills. Still, it's pretty easy to see how "racing the other team members [sic]" scales up, at the Human Resources level, to the weeping, abused workers whipped on at "Hell Foods" (as Yves puts it), and in Amazon warehouses. No doubt she will bring the same approach to the undertaking.
Marvelle Sullivan Berchtold: Berchtold is a JP Morgan Managing Director:
Sullivan Berchtold joined JPMorgan in August after almost eight years at Swiss pharmaceutical giant Novartis where she most recently served as the global head of M&A.

While at Novartis, she represented the company in over $100 billion in transactions, according to her LinkedIn profile. Some of her high-profile deals include buying GSK's Oncology portfolio for $16 billion and selling Novartis Animal Health to Lilly for $5.4 billion. In addition, she served as a board member for more than two years at GSK Consumer Healthcare, a joint venture between GSK and Novartis.
Hopefully, over in M&A, Berchtold was insulated from research misconduct in Japan, bribery in Greece, bribery in China, bribery in Korea, sexual harassment in Korea, and kickbacks in the United States.
Todd Combs: Combs is a Berkshire Hathaway investment officer (there seem to be such two officers):
And from Berkshire Hathaway is one of Buffett's investment deputies, Todd Combs, a value investor who previously ran hedge fund Castle Point Capital for five years. Combs, who graduated from Florida State University and received an MBA from Columbia Business School, joined Berkshire Hathaway in 2010. He's a member of JPMorgan's board of directors. Combs estimates that he spends 80% to 90% of his time straight reading, whether it's combing through SEC filings, scanning conference call transcripts, and devouring a couple of dozen trade magazines. For him, the reading commences when he gets into Berkshire's offices on Farnam Street at 7 or 8 a.m.
(I like that Combs is a reader; this predisposes me toward him, which I suppose is a way of saying he seems suspiciously clean.) Interestingly, Combs shorted finance companies in the Crash:
In 2006 and 2007, as the bubble in credit markets grew, Mr Combs's skills in spotting problem-areas started to become apparent. He found construction loans in Florida's slowing real estate market and traced their origination to banks in the US mid-west, and identified financial firms that had large exposures to illiquid assets and were heavily reliant on short-term funding that could dry up suddenly.

Mr Combs profited by "shorting" the stocks of some financial companies as markets crumbled. By early 2006, Mr Combs had become downbeat about the prospects for Fannie Mae and Freddie Mac, the mortgage lenders that two years later would run into deep trouble and be rescued by the government.

His short positions on financial shares helped him through the financial crisis and market-meltdown, though he didn't emerge unscathed. Mr Combs suffered losses of a little more than 5 per cent in 2008.
Combs is also on JP Morgan's board. Interestingly, Combs has been tapped as Buffett's successor; I'd say that's an indication that Berkshire Hathaway takes the undertaking very, very seriously.
(3) Speculation: The Undertaking Will Be a Platform
Now, I have to admit that "It's a platform" reminds me of "It's a baby" in this famous old Charles Addams cartoon, given Silicon Valley's proclivity for ruthless, Robber Baron-style rent-seeking on the platforms it controls: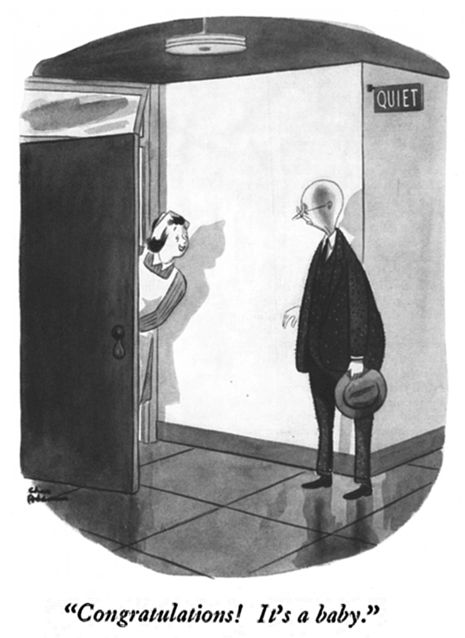 That said, let's look at why we might come to such a conclusion. Here's how The Times describes some potential "technology solutions":
One potential avenue for the partnership might be an online health care dashboard that connects employees with the closest and best doctor specializing in whatever ailment they select from a drop-down menu. Perhaps the companies would strike deals to offer employee discounts with service providers like medical testing facilities.

Erik Gordon, a professor at the University of Michigan's Ross School of Business, predicted that the companies would attempt to modernize the cumbersome process of doctor appointments by making it more like booking a restaurant reservation on OpenTable, while eliminating the need to regularly fill out paper forms on clipboards.
On the surface, the dashboard and the dropdown are as banal and misconceived as Obama's vision of how ObamaCare's "marketplace" would work: "just like you'd buy a flat-screen TV or plane tickets or anything else you're doing online." For example, the dropdown assumes that patients have already self-diagnosed. You aren't going to want to pick "hypertension" off a [family-blogging] drop-down menu, and I very much doubt a software developer is going to choose "ringing in the ears," or "shortness of breath" as menu items. Ditto the "funny mole" menu item for the case of cancer, right? Honestly, what are these people thinking?[2] Similarly for Gordon's galaxy-brain concept of making booking a doctor's appointment like making a restaurant reservation, which takes no account of narrow networks, for starters (and also involves an Amazon-style workforce; I know someone who ruined their health at an OpenTable call center).
Looking deeper, we might move past the widget perspectives of dropdown menus and OpenTable-style screens, give the undertakers the benefit of the doubt, and imagine from a business perspective what the undertaking would look like if Galetti succeeed in project management as she did at FedEx, Berchtold picked up the right small companies in Silicon Valley as she did when she was doing M&A, and Combs reads the right sources. I'd speculate the undertaking would be a platform (like Amazon, or Facebook, or Twitter, etc.) From Stratechery:
What is "this", though? ["This" being the undertaking.]

Amazon builds out "interfaces" for its employees (as well as those of Berkshire Hathaway and J.P. Morgan Chase — I'll just refer to Amazon from here on out), both digital and physical, to access basic healthcare needs; these sit in front of pharmacy benefit managers (PBMs), insurance administrators, wholesale distributors and pharmacies.
Amazon starts building out infrastructure for those healthcare suppliers, requiring them to serve Amazon's employees using a standard interface.

Amazon could then go in one of two directions. First, Amazon could start to backwards integrate into its suppliers' business; there are hints the company is already exploring pharmaceutical sales, and the Wall Street Journal says the idea was broached. That said, I actually think this is less likely; insurance operates best at more scale, not less: first and foremost, the larger the pool, the more risk can be spread, as well as obvious efficiency gains in administration. More scale also gives more bargaining power over other parts of the healthcare chain. Three companies, large though they may be, aren't going to be as effective as large insurers, no matter how well-managed they may be.

What would make more sense to me is that, where PBMs, insurance administrators, distributors, and pharmacies have to compete to serve employees. And then,

This is certainly ambitious enough — basically intermediating U.S. employers and the U.S. healthcare industry — but in fact this only sets the stage for the wholesale disruption[1] of American healthcare. First, Amazon could not only open up its standard interface to other large employers, but small-and-medium sized businesses, and even individuals; in this way the Amazon Health Marketplace could aggregate by far the most demand for healthcare.

.
Of course, "having first built an interface" and "a superior user experience" are very much in "assume a can-opener" mode; see the discussion of the "Funny Mole" dropdown, above. Nevertheless, from the business perspective, given the can-opener, it's very much in line with how Amazon operates generally, as well as being in line with the press release describing the undertaking:
[T]he scenario that I sketched out above is wildly profitable, to be sure, but only years down the road when demand is fully aggregated and ; if short-term profit isn't the goal, long-term goals become much more realistic.
(4) Speculation: The Companies Involved in The Undertaking Show the Potential Issues with Platform
Assume the platform sketched above, and consider that the troika ultimately reports to Bezos, Buffett, and Dimon. What would these three executives like to see from the business perspective? Here, we can only speculate based on past performance. First, to repeat from Stratechery:
… taking a skim off of every transaction…
I'm sure each executive would like to see that (and the "skim" is why there must be no single payer, even though, as Buffet accepts, single payer would be "most effective" at cutting costs, partly precisely because it eliminates the skim!). But looking at each individual Robber Baron executive:
(A) Dimon would like to see accounting control fraud. From Bill Black, on Dimon's role at JP Morgan during the Great Financial crisis:
What Dimon actually did was to vastly expand JPM and use executive compensation systems for the officers and employees that created the perverse incentive systems that gave him "plausible deniability" while enriching him by inducing endemic accounting control fraud. Many of these frauds cost JPM billions of dollars rather than enriching them, but others do create very large profits. [Stanford's expert in executive compensation, David Larcker] could not be more wrong that in his bland assurance that paying Dimon in a manner that "aligned" Dimon's interests with those of the shareholders he was enriching through JPM's frauds would be a good thing for the world.
(B) Buffet would like to see financial predation: Yves writes:
I'm sure readers can add to this antidote to the pervasive Warren Buffett hagiography in American media. For instance, Buffett lavishes praise on the executives of Wells Fargo, when Wells engages in abusive servicing (see here and here for examples). So Buffett is part of the cohort that has held bank leaders as competent and deserving of their leadership roles, which serves to hide the fact that a big chunk of industry profits rests on predatory behavior, like gotcha terms in checking accounts and credit cards.
It is just one in a pattern of deceptions that Clayton has used to help extract billions from poor customers around the country — particularly people of color, who make up a substantial and growing portion of its business.

The company is controlled by Warren Buffett, one of world's richest men, but its methods hardly match Buffett's honest, folksy image: Clayton systematically pursues unwitting minority home buyers and baits them into costly subprime loans, many of which are doomed to fail
Of course, the undertaking's platform wouldn't do anything like that. Right?
(C) Bezos would like to see an abused workforce: Yves writes again:
It's bad enough that Bezos engages in the worst sort of class warfare and treats warehouse workers worse than the ASPCA would allow livery drivers to use horses. Not only do horses at least get fed an adequate ration, while Amazon warehouse workers regularly earn less than a local living wage, but even after pressure to end literal sweatshop conditions (no air conditioning so inside temperatures could hit 100 degrees; Amazon preferred to have ambulances at ready for the inevitable heatstroke victims rather than pay to cool air), Amazon warehouse workers are, thanks to intensive monitoring, pressed to work at such a brutal pace that most can't handle it physically and quit by the six month mark. For instance, from a 2017 Gizmodo story, Reminder: Amazon Treats Its Employees Like Shit
Reminder: These are "human resources" issues. Beth Galetti is head of HR at Amazon. (Of course, Bezos gets the skim as well; perhaps the employee abuse is merely the fun part.)
Yes, "would like to see" implies the requirements, specification, and implementation need to be carefully done. Certainly, at Uber, everybody knew what Kalanick liked to see, and acted accordingly. Whether it was openly stated or not.
Conclusion
Readers know that I apply a hermaneutic of suspicion to squillionaires with bright ideas, and here we have three of 'em, with the same idea, or at least an idea to have an idea. Turning the mic over to Maciej Cegłowski:
Given this scary state of the world, with ecological collapse just over the horizon, and a population sharpening its pitchforks, an important question is how this globalized, unaccountable tech industry sees its goals. What does it want? What will all the profits be invested in?

What is the plan?

The honest answer is: rocket ships and immortality.

I wish I was kidding.

The best minds in Silicon Valley are preoccupied with a science fiction future they consider it their manifest destiny to build. Jeff Bezos and Elon Musk are racing each other to Mars. Musk gets most of the press, but Bezos now sells $1B in Amazon stock a year to fund Blue Origin. Investors have put over $8 billion into space companies over the past five years, as part of a push to export our problems here on Earth into the rest of the Solar System.

As happy as I am to see Elon Musk and Jeff Bezos fired into space, this does not seem to be worth the collapse of representative government….

The circumstances that have given the tech industry all this power will not last long. There is a limited time in which our small caste of tech nerds will have the power to make decisions that shape the world. By wasting the talents and the energies of our brightest people on fantasy role play, we are ceding the future to a more practical group of successors, some truly scary people who will take our tools and use them to advance a very different agenda.

To recap: the Internet has centralized into a very few hands. We have an extremely lucrative apparatus of social control, and it's being run by chuckleheads.
I hesitate to say that an IT system that depends, for its success at the patient level on a menuing system with a "Funny Mole" drop-down falls under the heading of "fantasy role play." After all, Galetti, Berchtold, and Combs aren't dumb, they will have squillions to spend, and they will be able to hire the best. Nevertheless, that Buffett says, out loud, that single payer is "more effective" at cost control, and yet pursues a "technology solution," as opposed to the political solution he could equally well fund, should be a ginormous honkin' red flag that there's nothing other than bad faith at the root of the undertaking. So, "innovate" away….
NOTES
[1] Whatever else it may be, the initiative is unlikely to be "disruptive" (despite headlines here, here, and here, for starters). Here is the how the Harvard Business Review, where the term was coined, defines the term:
"Disruption" describes a process whereby . Specifically, as incumbents focus on improving their products and services for their most demanding (and usually most profitable) customers, they exceed the needs of some segments and ignore the needs of others. Entrants that prove disruptive begin by successfully targeting those overlooked segments, gaining a foothold by delivering more-suitable functionality—frequently at a lower price. Incumbents, chasing higher profitability in more-demanding segments, tend not to respond vigorously. Entrants then move upmarket, delivering the performance that incumbents' mainstream customers require, while preserving the advantages that drove their early success. When mainstream customers start adopting the entrants' offerings in volume, disruption has occurred.
(Apple taking on the IBM mainframe with the Apple II would be an example of disruption.) Whatever Buffet, Bezos, and DImon are doing is unlikely to have the characteristics listed here.
[2] They're thinking they already have their own personal doctors, and that won't change. That's what they're thinking. Drop-downs are for proles.