Meow-ch! Shocking image shows a cat with a dangerous SNAKE coiled around its neck Daily Mail
Student who says she flushed hamster down toilet in Spirit Airlines flap has a replacement rodent, lawyer says USA Today (resilc)
Scientists studying psychoactive drugs accidentally proved the self is an illusion Quartz (David L)
Teens Are Running Away from Home and Spending the Night in Dressers at IKEA Vice
The U.S. dropped to 12th place in countries with best patent systems Axios (resilc)
How quantum dots supercharge farming, medicine and solar, too CNET (resilc)
Russian Nuclear Scientists Used Supercomputers To Mine For Cryptocurrency International Business Times (Kevin W). "Prosecution futures."
Bitcoin dives as regulators call for cryptos to be reined in Financial Times
French Farmer Makes Fresh Start in Diary Production in Russian Village Sputnik International
China?
Djibouti is Becoming Gateway to Africa for China Der Spiegel (furzy)

The US and China are overhauling their approaches to diplomacy and foreign service, in entirely opposite ways Quartz (resilc)
North Korea
'Trump' and 'Kim' thrown out of Opening Ceremony Reuters (Kevin W)

Pence skips Olympics dinner in snub to North Korean officials Guardian. Resilc: "How tragic for the world."

Pence's Olympic mission: Countering North Korean propaganda Washington Post (Kevin W)
Here's why Trump can't find a US ambassador to South Korea South China Morning Post (furzy)
Brexit
Win for German armored vehicle maker could leave British firms out in the cold Defense News (JTM)

Brexit: into the grinding machine Richard North

Barnier's implicit threat today shows how the "No Deal is better than a bad deal" rhetoric/strategy has backfired badly on the UK. I explain why here: https://t.co/3BxKuZKZTA pic.twitter.com/Us3i9psRkl

— Jonathan Portes (@jdportes) February 9, 2018
Senator Rubio calls for military coup in Venezuela Defend Democracy
New Cold War
Why 'Russian Meddling' is a Trojan Horse Counterpunch
Syraqistan
Trump Transisiton
Rachel Brand, 3rd ranking official at Justice Dept., is stepping down CNN (resilc)
Supreme Court on the verge of reversing some of its old decisions USA Today (furzy)
The Democrats' DACA leverage has all but disappeared New Republic
Sex in Politics…Not!
Rob Porter's history of domestic abuse wasn't a secret. Slate (Chuck L)

Second White House official departs amid abuse allegations, which he denies Washington Post

The Whole Fish Is Rotten, Not Just Rob Porter Charles Pierce, Esquire
Media Ignoring Puerto Rico's 'Shock Doctrine' Makeover FAIR (Chuck L)
The Equifax hack could be worse than we thought CNN
LL Bean dropping its unlimited returns policy CNBC (resilc). They got of pensions too!
Mr. Market Had a Sad
Nasdaq and the New York Stock Exchange (and possibly Herbalife) team up to help organised crime John Hempton (AFXH). Aieee.
Uber-Wayo Settlement
Uber Agrees to Pay Waymo $245 Million Equity to Settle Suit Bloomberg

Uber needed to settle Alphabet's lawsuit Recode

Hubert Horan's comment:

This should be seen as a big win for Uber. The case was always going to be settled; these are pretty close to best-case terms for Uber. It was abundantly clear that Kalanick had pursued Levandowski and Otto in order to get Google's IP and the benefits of what Google had learned about robotcar technology up to that point. However the legal case always hinged on the emergence of a "smoking gun" that would convince jurors that Uber had actually incorporated the stolen IP into its product. This settlement demonstrates that Google hadn't found that smoking gun.

Google had originally demanded a settlement of $1 billion in cash and terms that would have eliminated any possibility that Uber could be a player in a future robotcar industry. As the weakness of Google's court case became obvious, they proposed settling for $500 million, but quickly accepted Uber's counter-proposal. Today's settlement will cost Uber a lot less than the $245 million headline amount (assuming Uber eventually goes public at a valuation significantly lower than $70 billion), won't cost Uber any short term cash, and will allow Uber to continue to pretend that robotcars could be a major source of future growth. Uber won't even have to pay the $600 million cost of the Otto acquisition, since Levandowski had been fired. It removed the biggest obstacle to a future Uber IPO, and allows Uber to push the PR narrative (laid out in the Tech Crunch and other similar articles), that Uber has expunged the bad practices of the Kalanick era, totally turned the corner, and the settlement illustrates the management genius of new CEO Dara Khosrowshahi (even thoughhe had nothing to do with Google's failure to find a smoking gun).
Class Warfare
SILICON VALLEY'S TAX-AVOIDING, JOB-KILLING, SOUL-SUCKING MACHINE Esquire (Kokuanani). This loses me on the pop explanations of why these companies are successful….

Let's Cancel Everyone's Student Debt, for the Economy's Sake New York Magazine (UserFriendly). Wellie, this analysis is getting out of the leftie ghetto, which is a good sign.
Antidote du jour (Lawrence R). A Shire? Whatever breed it is, get a load of those shoulders.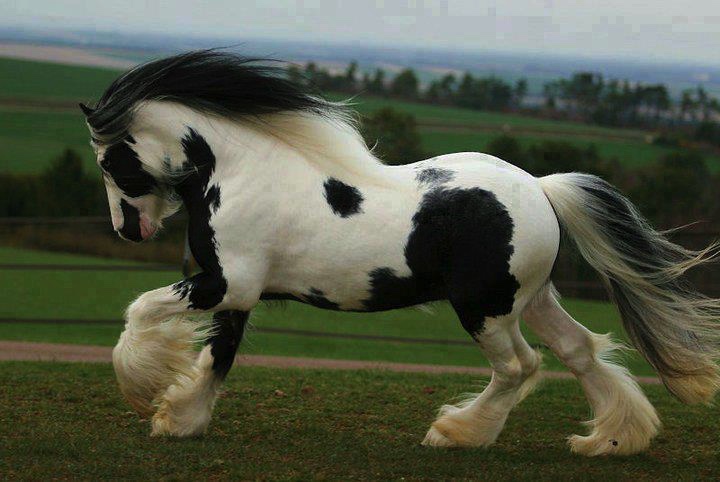 See yesterday's Links and Antidote du Jour here.