By Lambert Strether of Corrente.
Patient readers, I'm going to have the usual complement of buckets, but with not very much in each bucket. As promised, I'm working on an expanded worksheet, which turned into a somewhat madder endeavor than I thought it would be, after I had a connectivity issue [snarl]. –lambert
Trade
"Trump's Trade Gimmickry" [Dani Rodrick, Project Syndicate]. " imbalances and inequities generated by the global economy cannot be tackled by protecting a few politically well-connected industries, using manifestly ridiculous national security considerations as an excuse. Such protectionism is a gimmick, not a serious agenda for trade reform."
Politics
Midterms
PA-18: "The Memo: Moment of truth for Trump in Pennsylvania" [The Hill]. "Money has poured into the race, with NBC News reporting on Friday that TV and radio advertising alone will amount to nearly $12 million. The NBC report, based on data from Advertising Analytics, stated that Republicans had outspent Democrats on the airwaves $7.3 million to $4.4 million. Polls indicate the race could swing to either party."

PA-18: "Lamb has dominated the airwaves in recent weeks. Saccone hasn't kept pace, conspicuously absent and overly reliant on outside groups. The National Republican Congressional Committee and the Congressional Leadership Fund — a PAC backed by Speaker Paul Ryan — have spent in total roughly $7 million" [Washington Examiner].

PA-18: "My Union or My President? Dueling Loyalties Mark Pennsylvania Race" [New York Times]. "Whether Mr. Lamb wins or loses — polls suggest a dead heat in a district that President Trump won by about 20 percentage points — the lessons from the race will resonate throughout the heartland in November. Democrats will be defending vulnerable Senate seats and trying to pick up House districts and governors' mansions in Pennsylvania, Ohio and other states where Mrs. Clinton fell short."

PA-18: "How The Pennsylvania Special Election Could Matter To Trump And Pelosi" [FiveThirtyEight]. "Both Saccone and Lamb have spoken favorably about Trump's proposal to impose tariffs on steel and aluminum imports from certain countries, an idea that congressional Republicans have broadly rejected."

PA-18: "Heinz, Santorum, and the GOP's Working Class Legacy In Pennsylvania" [The American Conservative]. A good history of the district. "The 18th District, which under new boundaries is slated to disappear by Pennsylvania's May primary, has trended Republican for several election cycles. Democrats hope that a victory will signify redemption following their party's failures in 2016. But the district's electorate, like any voting base, is more complex than what is commonly presented. Lamb, the Democratic candidate, is running as a conservative sympathetic toward Trump's views. A former Marine and assistant U.S. Attorney, he hails from a Democratic dynasty in Pittsburgh-based Allegheny County. His grandfather, Thomas F. Lamb, served as the state Senate's Majority Leader in the early 1970s, just as Heinz began holding elected office. Lamb's Republican opponent, Saccone, entered the state House as part of the Tea Party wave in 2010. A retired Air Force counterintelligence officer, Saccone has claimed that he was "Trump before Trump was Trump." But Lamb's campaign seeks to establish that a Blue Dog-style Democrat can still win traditional Democratic voters… Democrats face an ongoing identity crisis, one which will become even more prominent if Lamb defeats Saccone."
2016 Post Morterm
"Haiti hires Clinton-linked PR firm to soften image in Washington" [McClatchy]. Haven't the Haitians been punished enough?
Realignment and Legitimacy
Remember that brief, shining moment we thought Schumer might be OK on antitrust?

Chuck Schumer is praising Google, Facebook, and Amazon. (h/t @HalSinger) https://t.co/qA1n9wQU1A

— Matt Stoller (@matthewstoller) March 12, 2018

This is a good thread on what conservativism ought to be about:

A lot in this thread, but this really seems to misunderstand the role of the intellectual in (Burkean) conservative thought, which is precisely to rationally justify the presumed wisdom of popular/traditional intuitions and arrangements. https://t.co/DiqcxqdTJK

— Park MacDougald ? (@hpmacd) March 11, 2018

In fact, I'm in sympathy with it. I don't think real-life conservative is much like the thread, though (and not even the milk-and-water variety purveyed on the Op-Ed page of the New York Times).
Stats Watch
There are no stats of note today.
Five Horsemen: "Juggernaut Amazon launches toward Mars on the Musk spaceship as the Silicon Valley sisters look on in awe" [Hat Tip, Jim Haygood].
NakedCap Mania-Panic Index: "Mania-panic index advanced to 54 (complacency) on Friday's strong gain in stocks" [Hat Tip, Jim Haygood]. (The NakedCap mania-panic index is an equally-weighted average of seven technical indicators derived from stock indexes, volatility (VIX), Treasuries, junk bonds, equity options, and internal measures of new highs vs new lows and up volume vs down volume … each converted to a scale of 0 to 100 before averaging, using thirty years of history for five of the seven series.)
Rapture Index: Closes up 1 on Anti-Semitism. "There has been a increase in anti-Semitic activity" [Rapture Ready]. Record High, October, 10 2016: 189. Current: 185.
Container Nook
Apparently, there is a whole subculture of young people who hop trains wearing GoPros, and then post their video journeys on YouTube. This train is a container train:
There's probably an essay or even a post here, if only I could figure out a theme. What an enormous country this is, to be sure.
Book Nook
"Site Update – The Library" [Nina Illingworth]. This is a very impressive collection, which she had to rebuild: "Sadly however, during the late fall of 2016, I had the misfortune of losing most of my cherished personal library during a move to new accommodations." I've lost at least three collections over the course of my life. So far.
Black Injustice Tipping Point
"New Racism Museum Reveals the Ugly Truth Behind Aunt Jemima" [The Atlantic]. The headline is deceptive, in that the iconography of Aunt Jemima is only implied, and never stated. But the artifacts are…. quite something. I'm glad they're being collected.
Gaia
"A Warning Cry From the Doomsday Vault" [Bloomberg]. The Svalbard seed vault: "The challenge they're facing now is that the climate is changing far quicker than they'd imagined. The facility sprung a leak last year after construction had failed to take into account that the permafrost could melt. Norway is now spending about $20 million to secure and improve the facility. But it's not just the building….. Patrick Mulvany, an agriculturalist and adviser on biodiversity and food sovereignty said the real efforts aren't being made where they are needed the most: on the ground with the farmers who are not getting adequately compensated."
Our Famously Free Press
"YouTube, the Great Radicalizer" [New York Times]. "It seems as if you are never "hard core" enough for YouTube's recommendation algorithm. It promotes, recommends and disseminates videos in a manner that appears to constantly up the stakes. Given its billion or so users, YouTube may be one of the most powerful radicalizing instruments of the 21st century. This is not because a cabal of YouTube engineers is plotting to drive the world off a cliff. A more likely explanation has to do with the nexus of artificial intelligence and Google's business model. (YouTube is owned by Google.) For all its lofty rhetoric, Google is an advertising broker, selling our attention to companies that will pay for it. The longer people stay on YouTube, the more money Google makes. What keeps people glued to YouTube? Its algorithm seems to have concluded that people are drawn to content that is more extreme than what they started with — or to incendiary content in general." I guess "dumpster fire" made it into Merriam-Webster this year for a reason.
Police State Watch
"North Carolina police officer faces charges after beating, choking and tasing suspected jaywalker" [WHNT]. Thanks to body-cam footage. The story, which includes plenty of dialog, is even worse than the headline.
Class Warfare
"In its majestic equality, the law forbids rich and poor alike to sleep under bridges, beg in the streets and steal loaves of bread." –Anatole France. Then again (DK):
— howitzer of mercy ??☠️ (@girlziplocked) March 10, 2018
"Dairy farmers in Lancaster and Lebanon County losing milk contracts" [Fox43]. From a note to the farmers by the former buyer, Dean Foods: "Additionally, we will provide farmers with resources to help them connect with counselors if needed." Nice work if you can get it, counselling.
"'Corporations Are People' Is Built on an Incredible 19th-Century Lie" [The Atlantic]. "How exactly did corporations come to be understood as 'people' bestowed with the most fundamental constitutional rights?… In 1881, after California lawmakers imposed a special tax on railroad property, Southern Pacific pushed back, making the bold argument that the law was an act of unconstitutional discrimination under the Fourteenth Amendment. Adopted after the Civil War to protect the rights of the freed slaves, that amendment guarantees to every "person" the "equal protection of the laws." Stanford's railroad argued that it was a person too, reasoning that just as the Constitution prohibited discrimination on the basis of racial identity, so did it bar discrimination against Southern Pacific on the basis of its corporate identity." This is just awful. Go to the link and search on "Conkling." Anyone else remember Nicole Hollander, "The Woman Who Lies In Her Personal Journal"? That's our Roscoe.
"Let's have a good-faith argument about socialism" [Elizabeth Bruenig, WaPo]. With an interesting discussion of what "good faith" argument is.
News of The Wired
"When daylight saving time was put to a vote" [Quartz]. "In the end, Queenslanders rejected daylight saving 54.5% to 45.5%."
* * *
Readers, feel free to contact me at lambert [UNDERSCORE] strether [DOT] corrente [AT] yahoo [DOT] com, with (a) links, and even better (b) sources I should curate regularly, (c) how to send me a check if you are allergic to PayPal, and (d) to find out how to send me images of plants. Vegetables are fine! Fungi are deemed to be honorary plants! If you want your handle to appear as a credit, please place it at the start of your mail in parentheses: (thus). Otherwise, I will anonymize by using your initials. See the previous Water Cooler (with plant) here. Today's plant (C Carroll):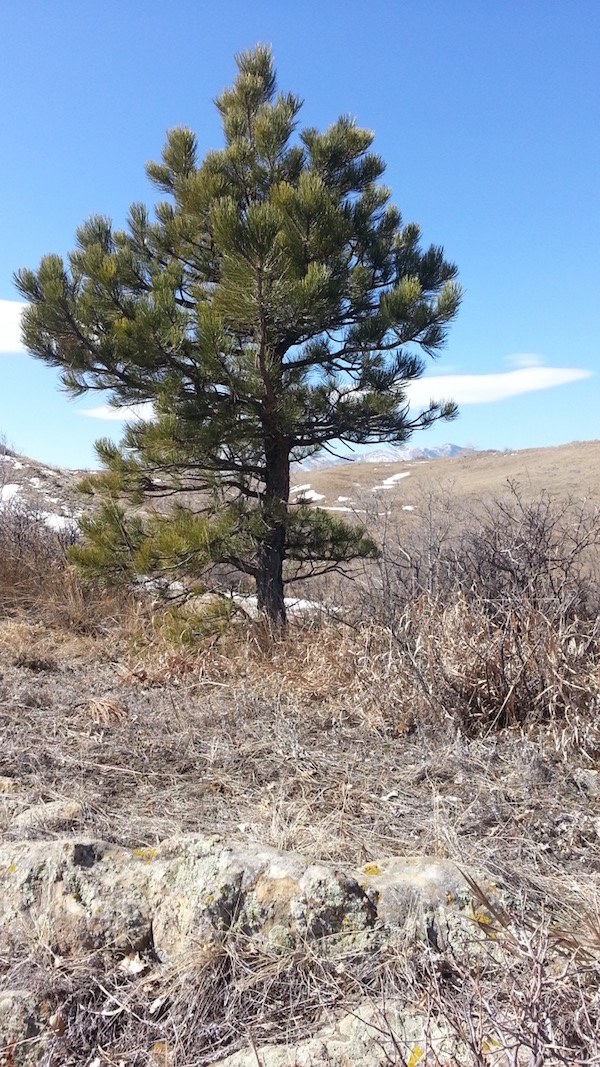 C Carroll writes: 'A lone ponderosa pine on the ridge, mountains of the front range in the background."
* * *
Readers: Water Cooler is a standalone entity not covered by the NC fundraiser. So do feel free to use the dropdown and click the hat to make a contribution today or any day. Here is why: Regular positive feedback both makes me feel good and lets me know I'm on the right track with coverage. When I get no donations for five or ten days I get worried. More tangibly, a constant trickle of small donations helps me with expenses, and I factor that trickle in when setting fundraising goals. So if you see something you especially appreciate, do feel free to click the hat!