By Lambert Strether of Corrente.
Readers, I apologize for missing yesterday's Water Cooler; I slipped a mental cog and got the day wrong. (I work not on calendar time, but on Naked Capitalism time, and when I mentally filed that I was "on for Links Monday" I thought "Oh, I'll do Water Cooler after Links." However, "Monday" is Monday evening for Tuesday morning…. So if today were Monday, I would be right on time.) In any case, I had a lovely vacation day, working on other projects. For those who were worried, I apologize. –Lambert
Trade
"[The Department of Transportation's Bureau of Transportation Statistics (BTS)] said all five major transportation modes– truck, rail, pipeline, vessel and air –moved more U.S. freight with Canada and Mexico by value in 2017 compared to 2016. And it added that total value of cross-border freight carried on all modes rose 6.6 percent from 2016 to $1.2 trillion in current dollars" [Logistics Management].
Politics
2020
These things take time. If there had been no Occupy, the "1%" trope wouldn't even exist:
How do we reenergize the American people to stand up and take on the 1% who is prepared to step on everyone in their way?#InequalityTownHall pic.twitter.com/HDpuS4RfB6

— Bernie Sanders (@SenSanders) March 20, 2018
For the vision thing, see above:
"It's not good enough to just be against Trump – we have to have a vision for this country of where we're going to go." – @SenSanders #InequalityTownHall pic.twitter.com/0vXsXYW5R9

— Our Revolution (@OurRevolution) March 20, 2018
(Oh, my answer for "How do we reenergize the American people" is, of course, universal concrete material benefits, especially for the working class. Like #MedicareForAll. Or not another war).
"Bernie Sanders: Russia and Stormy Daniels distract us from real problem of inequality" [Guardian]. No. Michael Moore took point on that.
What a shame:
You don't say pic.twitter.com/zNuvsdLEvg

— Will Bunch (@Will_Bunch) March 20, 2018
Midterms
UPDATE "Democrats Notching Key Legislative Victories Ahead of Elections" [Roll Call]. "Moderate Senate Democrats on the ballot in 2018 are racking up a number of key legislative victories in advance of what is expected to be a bitter midterm election cycle. The successes, on bills ranging from veterans' issues to bank regulation and tax credits for so-called clean coal technology, are the kind that can drive support among voters in the rural states that many of these members call home." Holy moly. Bank deregulation isn't just Democrat corruption, but their strategy?

UPDATE "'You can only scare so many people to the polls'—Republicans rethink Pelosi tactics" [McClatchy]. Well, at least it won't be "Pelosi! Pelosi! Pelosi!" vs. "Russia! Russia! Russia!" Which doesn't imply it will be better than that.

UPDATE "How The DCCC Promotes The Republican Wing Of The Democratic Party While Kicking Progressives To The Curb" [Down with Tyranny]. "But the DCCC and Democratic Party's open support for more candidates with NRA leanings suggests party leadership is favoring a trend further right, in opposition to progressives pushing the party to the left," As I keep saying, the key policy goal for liberal Democrats this cycle is preventing #MedicareForAll. Electing Blue Dogs is key to achieving that, exactly as it was in 2009. Not that I'm bitter.

UPDATE "DCCC Raised $10.6 Million in February" [Roll Call]. "The DCCC raised $3.38 million from online donations in February, with an average online gift of $18. So far this cycle, the group has raised more than $50 million online, which includes 300,000 first-time online donors, and a total of $125 million this cycle. It ended February with $49 million in the bank. 'It's been clear all cycle long that the grassroots are energized and unified around the goal of taking back the House,' DCCC Chairman Ben Ray Luján said in a statement. 'The DCCC's historic fundraising combined with incredible candidate fundraising will ensure that Democratic candidates have the resources to and connect with voters,' he added." That's terrific. When I hear one of those "powerful stories" I'm gonna write it down on a piece of paper and use that for my next co-pay. Thanks, Democrats!

CA: "Despite pleas from the state and national party, only a handful of Democrats bowed out before the candidate filing deadline, setting up a potential nightmare scenario for the party" [Los Angeles Times (Kokuanani)]. "A crowded Democratic field means most candidates will get only a small portion of the vote. That, coupled with the entry of a handful of Republican challengers into already crowded races, means there is a legitimate possibility that no Democrat would make it into the top two in some of the June primary races. (In California, the top two vote-getters advance to the November general election regardless of party.) The volume of candidates from both parties is a particular problem for Democrats in their quest to flip three crucial Orange County-area districts that chose Clinton for president and have over 50 House candidates among them."

NY: "Hell Yeah! It's Miranda For Governor! Cynthia Nixon Sets Bar For Democrats On Supporting Public Schools. Why Should We Settle for Less?" [Lush Left]. With video of Nixon's announcement. She's tanned, rested, and ready….

NIXON rips off the gloves in her opening speech: "The Koch brothers donated $80,000 to Andrew Cuomo when he first ran in 2010..They knew a good investment when they saw one."

— Shane Goldmacher (@ShaneGoldmacher) March 20, 2018

Refreshing. Although I can't find Nixon's position on #MedicareForAll.

IL: "The biggest Republican megadonor you've never heard of" [Politico]. "After a fallout with the governor over abortion policy, [Republican squillionaire Richard Uihlein] gave $2.5 million to [Gov. Bruce Rauner's GOP primary challenger, Jeanne Ives] in a single week this past January — essentially bankrolling her campaign to defeat Rauner in a Republican primary on Tuesday."

PA: The New Pennsylvania Congressional Map, District by District" (map) [New York Times]. "Democrats couldn't have asked for much more from the new map. It's arguably even better for them than the maps they proposed themselves. Over all, a half-dozen competitive Republican-held congressional districts move to the left, endangering several incumbent Republicans, one of whom may now be all but doomed to defeat, and improving Democratic standing in two open races. Based on recent election results, the new congressional map comes very close to achieving partisan balance."
Stats Watch
There were no official statistics of note yesterday (lucky me) or today.
Banks: "Policy Actions to Sustain Growth and Guard Against Risks" [Christine LaGarde, International Monetary Fund]. "When they meet again in Buenos Aires next week, their focus will be on the policies needed to protect this upswing against downside risks and bolster growth going forward. The good news is that the growth momentum has continued to strengthen, involving three- quarters of the world economy. But even though the sun still shines in the global economy, there are more clouds on the horizon. Think of the growing concerns over trade tensions, the recent spike in volatility in financial markets, and more uncertain geopolitics. Moreover, the pick-up expected for 2018 and 2019 will eventually slow, which implies a challenging medium-term outlook for many countries, especially in advanced economies. That is why countries need to implement policies to guard against downside risks, strengthen resilience, and foster medium-term growth that benefits everyone. Now is the time to take bold policy actions, and make the most of this period of global growth." I read the whole thing and I'm not seeing any bold policy actions, but then I'm not an fluent speaker of Central Banker-ese. For example: "[N]ew IMF analysis shows that the gains from technological innovation be widely shared by adjusting taxes and benefits and increasing public spending on education and training." Wow, who knew? I mean, besides neoliberal professional, er, economists.
Energy: "The Appalachian Basin remains a very busy place. Nearly 2,300 drilling permits were issued in 2017 in the three-state basin, with 1,036 of those wells being spud*, said energy consultant Timothy Knobloch" [Kallanis Energy]. "That includes 1,377 Pennsylvania permits, 462 Ohio permits and 459 West Virginia permits, said Knobloch, president of James Knobloch Petroleum Consultants, of Marietta, Ohio. In comparison, there were 1,178 Pennsylvania permits, 267 Ohio permits and 246 West Virginia permits issued in 2016, and only 771 wells were spud, he said. The wells spud in 2017 jumped 34.3% from 2016, Kallanish Energy has learned." NOTE * "A well is considered spud at the moment the drillbit hits the ground. The same goes for offshore drilling — passing through water on the way to the seabed doesn't count" [Motley Fool].
Energy: "Bakken frack sand provider expands through $15M acquisition" [North American Shale]. "According to Smart Sand data on frack sand demand, since 2016 the amount of proppant demand per new horizontal well has been on a sharp increase. In 2016, the horizontal wells market was roughly 50 million ton of proppant. Today, the market for horizontal wells has created a proppant market that demands more than 140 million tons of sand. On a per well basis, wells in 2016 required just more than 8 million pounds of sand per well. But in Q1 2018, horizontal wells are using, on average, nearly 16 million tons of proppant per well." Hmm. I wonder why?
Energy: "AG Healey pledges to fight Trump offshore drilling plan along Massachusetts coast" [MassLive]. "Healey filed formal comments with the U.S. Bureau of Ocean Energy Management on Friday. She argued that aside from the risk of oil spills, drilling would conflict with state and federal imperatives to reduce carbon emissions. She said the exploration and extraction is not needed to meet America's energy needs. Healey said she would consider a legal challenge if necessary. Healey said the proposal threatens 'Massachusetts' $7.3 billion fishing industry, the 90,000 jobs that it supports and the state's 1,500 miles of coastline that is marked by destination beaches.'
Commodities: "The rebound in commodity markets is getting nuttier. Just look at the Australian state of New South Wales, where Harvard University's endowment fund is building a dam, ploughing up more than 1,400 acres of potato fields and planting trees that will take three years to yield their first crop of … almonds" [Wall Street Journal]. "[T]he nut is turning into a lucrative endeavor for institutions with long-term investment horizons as rising global demand and higher prices are leading to new production, new distribution channels and new competition. California ships around 80% of the world's almonds, but volatile weather has led to weaker production forecasts and led to more interest from investors in farms in Australia that are suitable for the nut. Family-owned farms are giving way to industrial-scale agriculture operations that are looking to crack into increasingly global almond supply chains."
Commodities: "The Rest of the Story: Global Demand or Lack Thereof" [Farm Journal]. For soybean geeks…
Shipping: "According to the ATA, the for the fourth quarter of 2017 for large truckload fleets (those with more than $30 million in revenue) , signaling its first sub-90% reading going back to the first quarter of 2017″ [Logistics Management]. 88? Holy moly. For comparison: "There is no magic number for a healthy employee turnover rate, but comparing your rate to the average for your industry is a way to start when evaluating its healthiness. Turnover from employees leaving willingly averages 25 to 30 percent in the hospitality industry and runs about 9 percent in the banking and finance field, a rate that halved between 2013 and 2017" [Houston Chronicle]. I wonder crapifying the job has anything to do with this? Or whether Electronic Loggind had anything to do with the seven point drop?
Shipping: "A shipping industry recovery is starting to reach shipyards. Orders at Chinese shipyards soared in January and February…, with dry bulk leading the ordering spree, followed by tankers and container ships. The renewed buying is welcome news for big shipbuilders in China—and likely those in South Korea and Japan—that are still reeling from the downturn that sent demand for new ships plummeting over the past three years" [Wall Street Journal]. "Container shipping lines are looking at pulling back capacity by operating ships at slower speeds and cutting some port calls. Prices there are weak and research group SeaIntel is forecasting a big surge of capacity steaming into the market this year."
Housing: "[A] large cohort had been moving into the 20 to 29 year old age group (a key age group for renters). Going forward, a large cohort will be moving into the 30 to 39 age group (a key for ownership)" [Calculated Risk]. "This demographics is now positive for home buying, and this is a key reason I expect single family housing starts to continue to increase."
The Bezzle: "Will $80 Billion Investment in Self-Driving Cars Be a Waste?" [247 Wall Street]. Not if you got yours. More: "Whatever concerns Americans have about these vehicles will grow exponentially among many after the Uber incident. The worried won't be consumers," Well, that's why we have marketing. I'm sure some peopel were worried about cigarettes, for example.
The Bezzle: "Facebook's future depends on how it manages its user-data crisis: Goldman" [MarketWatch]. ""Google had something very similar in its early days with click-fraud and it was how the company managed through it that ultimately cemented the company as the kind of powerful platform that it is," [Heath Terry, Goldman Sachs's lead internet analyst] told CNBC… 'That's going to be the same here for Facebook. It's going to be how they manage through this that will ultimately determine their long-term future,' he said…. 'A dark way to look at this is the fact that Facebook advertising was used this way because it works,' he said."
The Bezzle: "Facebook: The Case for Not Getting Ahead of the Story" [Barron's]. "[O\n Monday, with the shares flagging, JP Morgan wrote that 'We…do not believe advertisers are moving spend away from FB currently. The platform remains extremely important in terms of scale and ROI.…We recognize the potential for ongoing negative news flow, but…we would be adding on the pullback.'… [SunTrust Robinson Humphrey analysts wrote that 'We do not see a material impact on advertiser demand given how well this channel performs for marketers.'"
The Bezzle: Tesla Model 3 Tracker" [Bloomberg]. 832 per week. By comparison, Patek Phillippe makes 50,000 of its watches a year, or 961 a week. The comparison is apt, since Model 3's are hand-made, too.
Five Horsemen: "Facebook underperforms the S&P 500 on controversy over its use of personal data" [Hat Tip, Jim Haygood].
NakedCap Mania-Panic Index: "Mania-panic index slides to 40 (worry) in response to yesterday's sharp move down" [Hat Tip, Jim Haygood]. (The NakedCap mania-panic index is an equally-weighted average of seven technical indicators derived from stock indexes, volatility (VIX), Treasuries, junk bonds, equity options, and internal measures of new highs vs new lows and up volume vs down volume … each converted to a scale of 0 to 100 before averaging, using thirty years of history for five of the seven series.)
Rapture Index: Closes down one on Earthquakes. "There has been no major quakes in recent days" [Rapture Ready]. Record High, October 10, 2016: 189. Current: 184.
Big Brother Is Watching You Watch
"Yasha Levine on Surveillance Valley" (podcast) [KPFA]. Not quite the origin story for the Internet that we're used to.
Black Injustice Tipping Point
"FBI Tracked an Activist Involved With Black Lives Matter as They Travelled Across the U.S., Documents Show" [The Intercept], Just in case anybody's falling for this line that FBI officials are Heroes Of The Republic.
Dear Old Blighty
A good question:
If Corbyn is such a Russian stooge, how come the Russian oligarchs give all their money to the Conservatives?

~Andrew Neil

— Joseph Dickerson (@joekaren46) March 19, 2018
Our Famously Free Press
"The Google News Initiative: Building a stronger future for news" [Philipp Schindler, Google]. "[W]e're also working directly with news organizations to combat misinformation. We're launching the Disinfo Lab alongside the First Draft to combat mis- and disinformation during elections and breaking news moments. Finally, to help consumers distinguish fact from fiction online, we're teaming up with the Poynter Institute, Stanford University, and the Local Media Association to launch MediaWise, a U.S. project designed to improve digital information literacy for young consumers." What could go wrong?
Neoliberal Epidemics
"U.S. Supreme Court allows Flint water contamination lawsuits" [Reuters]. Obama in Flint, May 5, 2016: "I will not rest, and I'm going to make sure that the leaders, at every level of government, don't rest until every drop of water that flows to your homes is safe to drink and safe to cook with, and safe to bathe in — because that's part of the basic responsibilities of a government in the United States of America."
Class Warfare
"Degrees of Poverty: The Relationship between Family Income Background and the Returns to Education" [The Upjohn Institute for Employment Research]. The abstract:
Drawing on the Panel Study of Income Dynamics, we document a startling empirical pattern: the career earnings premium from a four-year college degree (relative to a high school diploma) for persons from low-income backgrounds is considerably less than it is for those from higher-income backgrounds. For individuals whose family income in high school was above 1.85 times the poverty level, we estimate that career earnings for bachelor's graduates are 136 percent higher than earnings for those whose education stopped at high school. However, for individuals whose family income during high school was below 1.85 times the poverty level, the career earnings of bachelor's graduates are only 71 percent higher than those of high school graduates. This lower premium amounts to $300,000 less in career earnings in present discounted value. We establish the prevalence and robustness of these differential returns to education across race and gender, finding that they are driven by whites and men and by differential access to the right tail of the earnings distribution.
"The death of retirement is looming – and the fallout will be disastrous" [Guardian]. "Workers on defined contributions pensions also found themselves at the mercy of the market. If they happened to have the back luck of retiring during a recession, their income was going to be far lower than it might have been." Market timing for your retirement. What could go wrong?
News from the Precariat:
OH (from an awesome Lyft driver): "Today has been great. I've been blessed by the algorithm."

Immediately had an eerie feeling that this could become an increasingly common way to describe a day.

— Keith Coleman ??? (@kcoleman) March 16, 2018
News of The Wired
I just want to put in a plug for Rich and Tracy's Civil War podcast. There weren't any new podcasts for a month — the new one is Episode #228 (!!!!), "The Battle of Fredericksburg," in 1862, so you can see they have a ways to go — and I was worried that they had found the load of a weekly podcast was just too much. However, Rich had the flu, which was apparently unusually bad this year, and took almost a month to recover. Yikes!
"For the first time in history, hamburger sales in France have soared higher than the classic baguette jambon-beurre sandwich as French diners surrender to the American fast-food favourite" [Agence France Presse]. The hambourgeoisie cannot exist without constantly revolutionising the instruments of consumption….
"How hard is it to fake an accent?" [BBC] (PM). Professor Henry Higgins, courtesy phone!
"6 Emotions You Had No Clue Actually Had Names" [Cracked]. "When holding a baby or playing with an adorable puppy, have you ever had the sudden compulsion to squish them? And not even because they bit you (damn babies), but because they are just too darn cute and you want to hug them so tight they explode? No, you're not a psychopath (well, maybe). Everyone gets this feeling from time to time. In Tagalog, they call it gigil, but in English it's known as 'cute aggression.'"
"In written Japanese, it's punctuation, but not as we know it" [Japan Times]. For example, "・・・": "[A] common function of these dots is to indicate a notable silence when you might expect a response."
I. Hate. Both. Locutions:
This is a bathroom sink that has been left outside.

Let. That. Sink. In. pic.twitter.com/TtlQte0Ger

— Paul Musgrave (@profmusgrave) March 19, 2018
* * *
Readers, feel free to contact me at lambert [UNDERSCORE] strether [DOT] corrente [AT] yahoo [DOT] com, with (a) links, and even better (b) sources I should curate regularly, (c) how to send me a check if you are allergic to PayPal, and (d) to find out how to send me images of plants. Vegetables are fine! Fungi are deemed to be honorary plants! If you want your handle to appear as a credit, please place it at the start of your mail in parentheses: (thus). Otherwise, I will anonymize by using your initials. See the previous Water Cooler (with plant) here. Today's plant (MGL):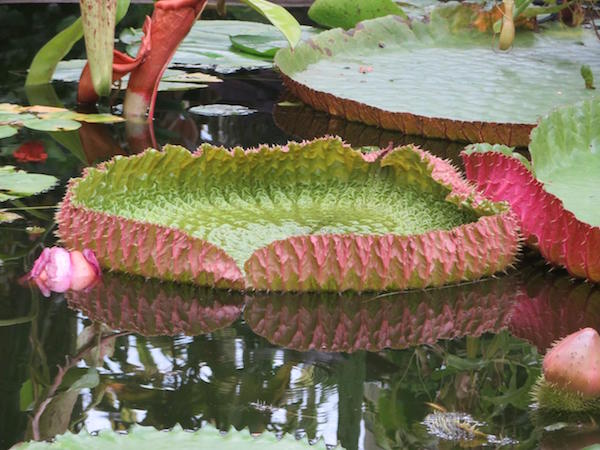 MGL writes: "From winter garden @ Auckland domain… which we attended in summer due to torrential rains outside."
Ha ha! "Winter"!
* * *
Readers: Water Cooler is a standalone entity not covered by the NC fundraiser. So do feel free to use the dropdown and click the hat to make a contribution today or any day. Here is why: Regular positive feedback both makes me feel good and lets me know I'm on the right track with coverage. When I get no donations for five or ten days I get worried. More tangibly, a constant trickle of small donations helps me with expenses, and I factor that trickle in when setting fundraising goals. So if you see something you especially appreciate, do feel free to click the hat!