By Lambert Strether of Corrente.
Trade
"Mexico's election poses a growing threat to NAFTA's survival" [CBC]. "Andres Manuel Lopez Obrador​ — or AMLO, as the presidential candidate is known to most Mexicans — is leading in the polls by as much as 14 per cent over his nearest competitor. The campaign begins officially on March 30, with polling day set for July 1 AMLO's platform calls for the suspension of NAFTA talks until a new Mexican president is elected, warning that a "weak" President Enrique Peña Nieto risks "selling" out the country under U.S. pressure."
"In my view, US negotiators will use the threat of imposing the tariffs on Chinese producers as a way to persuade China's government to abandon the policy of "voluntary" technology transfers. If that happens, and US firms can do business in China without being compelled to pay such a steep competitive price, the threat of tariffs will have been a very successful tool of trade policy" [Martin Feldstein, Project Syndicate].
"A European diplomat told Morning Trade that any further guidelines from USTR, which is handling the country exemption process, is expected to shed little light on whether the EU will be exempt [from the steel tariffs]. Even less clear is whether the EU will be considered a security partner per one of the criterion [sic] that USTR is expected to use when making a determination" [Politico]. "'He [Lighthizer] had a very broad understanding of security relationships,' said the diplomat, who was briefed on Malmström's meeting with the U.S. trade chief in Brussels on Saturday. 'I'm absolutely sure the guidance will leave no definitive clarity on that.'"
Politics
Midterns
PA-18: "Conor Lamb Ran as a Change Agent in PA-18. So Are Lots of Other Democrats" [Amy Walter, Cook Political Report]. "But, Trump's not totally wrong when he says that Lamb co-opted his message. Lamb, like Trump, ran as an outsider and a problem solver who would take on the entrenched special interests and fight for the hard-working, but under appreciated middle class. Take this ad, where Lamb tells voters that while he's honored to be stopped at airports and thanked for his military service, he wants to see teachers and nurses thanked for their important service to the country too. Lamb doesn't call these folks, 'forgotten men and women,' like Trump does, but it's essentially the same message." Voters voted for change in 2006, 2008, 2010, 2014, and 2016. They haven't gotten it. So we'll see how it goes in 2018. And: "I've met a bunch of Democratic candidates who are running in GOP-held districts. None are highlighting their opposition to Trump. Almost all, however,are highlighting their opposition to an agenda they say is only benefitting the elites and not the regular person. They are running against Washington dysfunction and obstruction. One candidate, I met this week told us: 'I'm not focused on what Trump is or isn't doing, but on [A] to our problems.' Another told me, 'Congress is out of touch and not paying attention to [B] .'" Well and good, but [A] and [B] are both centrist bafflegab, devoid of programmatic content. "Finding solutions," in particular, is the catchphrase of the "No Labels" "Problem Solver Caucus" (Co-Chair Joe Lieberman), a notoriously squishy gaggle of centrists.

PA-18: "[T]he way Lamb won does little to help Democrats adjudicate the raging debate on the left over how should they run in November: as proud left-wing populists or relative moderates willing to reach across the aisle. The 33-year-old Marine vet, federal prosecutor and Allegheny County political progeny didn't pick a side. He took some positions from out of each camp's bucket, all while brandishing his assault rifle" [Politico]. I think if you don't support #MedicareForAll, you do pick a side.
Realignment and Legitimacy
"Lamb Is A Victory For Wypipo Labor Democrats Moderates Clintonites Berniebros Anti-Racism The DCCC Republicans" [Eschaton]. Atrios writes:

"Another kind of a Democrat." "A new kind of Democrat." "A Democrat, but not like those other nasty Democrats." This is not a branding operation that works long term. There's just an immense amount of self-loathing in the party that assh*les like me can't even begin to match. The right thing to do when someone like Lamb wins – whatever his politics – is to stamp a big D on the win and claim him, not distance him from the party. It's one thing to expand the tent, it's another thing to say that everyone who wins does so by standing outside the tent pissing into it.

IMNSHO, what Atrios misses is that liberal Democrats are right to loathe themselves. Michael Hudson (I think) at NC:

It's true that the Democrats don't want to govern. But they also don't want anyone ELSE (esp. to the left) to block the Republicans from enacting the Blue-Dog/Republican neoliberal code.

The Democratic strategy is to protect the Republicans from a left attack; by blocking any alternative party, from Bernie's independents to the socialists. Co-opting any real left by "identity politics" that excludes wage-earners, workers, etc.

What's not loathsome about that?

"A Party Within the Democratic Party" [The New Republic]. A Congression Progressive Caucus [CPC] strategy summit where "the CPC had invited for the first time a delegation from European left parties: U.K. Labour's Diane Abbott (who drew cheers from the crowd when she introduced herself in her keynote as being from 'one of the oldest socialist parties in Europe'), as well as Sevim Dagdelen of Germany's Die Linke (Left Party), Eduardo Maura of Spain's Podemos, and Yiannis Bournous of Greece's governing Syriza party." This is at least an original. (Note that in at our London meetup, we saw connections made at the activist and software level between Labour's Momentum and Sanders campaign staffers.)

"If the Democratic wave manages to breach the barriers erected by the GOP in Congress and key states, liberals and progressives can begin to dismantle these institutional obstacles to majority rule. Note that when they do so, the victorious Democrats will be unlikely to enact in-kind countermajoritarian hurdles against Republicans" [The Week]. Oh?

"[Mister] Rogers created a neighborhood that was united by values and seemingly impervious to racial animus and urban crisis, a neighborhood that fit better in his imaginary world than in the actual one inhabited by the millions of Americans who tuned in. He created a Neighborhood of Make-Believe that children could enter through a magical trolley ride and the flights of their own imaginations. But in his imagination, there was a place where a code of compassion ruled, where conflicts were few and resolved quickly, and where it was possible to welcome every person as a neighbor" [JSTOR].
Stats Watch
Quadruple witching:
Industrial Production, February 2018: "Industrial production showed life in February, up 1.1 percent but following a soft run that is underscored by a 2 tenths downward revision to January which is now minus 0.3 percent. But February was a very good month" [Econoday]. "February was held back by a 4.7 percent decline in utility production which is subject to weather-related volatility. And a special sign of strength comes from capacity utilization which jumped 7 tenths to 78.1 percent and which will take the notice of Federal Reserve hawks who are looking for capacity stress and related inflationary risks. Yet one month of strength is only one month and a run of strength, especially in manufacturing, will have to unfold before any immediate inflationary concerns develop."
Consumer Sentiment (Preliminary), March 2018: "Consumer sentiment has been showing less strength over the last year than other confidence readings but now the report, driven especially by the assessment of current conditions, is beginning to gain momentum" [Econoday]. "A very important sign of strength is in inflation expectations which are up 2 tenths to 2.9 percent for the year-ahead outlook though unchanged at 2.5 percent for the 5-year outlook." And: " What is amazing about the gain is not only that it seems to be getting better each month. This was the highest preliminary sentiment reading going all the way back to 2004, and we are seeing an all-time high in the assessment of current economic conditions" [247 Wall Street]. "According to the University of Michigan's preliminary survey, (+15.7), while the economic assessments of those with incomes in the top third posted a significant monthly decline (−7.3)."
Housing Starts, February 2018: "Home sales turned lower in January as did housing starts and permits in February, and noticeably so" [Econoday]. "Besides completions, another positive is homes under construction, up fractionally to 1.115 million which is a new expansion high. But the bulk of this report is unexpectedly soft and confirms that the housing sector, despite strong year-end momentum and a very strong jobs market, opened 2018 on the defense, getting no help from rising mortgage rates which are at 4 year highs." And: "The housing market is in the best shape in at last a decade despite gradually rising mortgage rates. It might not grow as fast as it's been growing, but it's unlikely to suffer a long letdown, either" [MarketWatch].
JOLTS, January 2018: "JOLTS proved volatile in the January report, headlined by a far higher-than-expected 6.312 million for job openings but including heavy downward revisions to prior months" [Econoday]. "Details include rising openings for construction and for warehousing and especially for professional and business services where gains point to general and immediate demand for labor…. In an economy at or close to full employment and possibly nearing the risk of wage inflation, a bit of cooling in openings might be a welcome outcome." And: "The jobs market is so strong that some Americans receiving disability benefits have rejoined the workforce and companies are even hiring and training people with criminal records" [MarketWatch].
Commodities: "China is locking up the supplies for an electric-car future. Swiss commodity giant Glencore PLC agreed to sell a chunk of its cobalt production to Shenzhen-listed GEM Co…., extending China's efforts to dominate cobalt resources in the Democratic Republic of Congo, which turns out about 60% of the world's supply" [Wall Street Journal]. "China is revving up its electric-vehicle industry, helping feed a kind of global gold rush for raw materials like cobalt, a critical ingredient in batteries for electric cars and smartphones. Apple Inc., Tesla Inc., Volkswagen AG and others have been scrambling to secure their own cobalt supplies, an effort that inevitably runs through Glencore, which controls about a quarter of the world's cobalt output."
Real Estate: "As more consumers continue to buy groceries online, it has the potential to drive up the demand for roughly 35 million square-feet of United States-based cold storage space moving from retail stores to warehouses and distribution centers over the course of the next seven years" [Logistics Management]. "What's more, [CBRE Senior Vice President for its Food Facilities Group Art Rasmussen] pointed out that new retailers from Europe such as Aldi and Lidl and established retailers such as Target are increasing their frozen and refrigerated food offerings frequently. And he noted that demand for frozen food has proven to be pretty inelastic, pointing out that during the 2008 recession, restaurant visits dropped dramatically while demand for frozen food products increased. He also observed that demand from the evolving "food halls" concept is driving demand for cold storage facilities as well." Frozen food is counter-cyclical? Remarkable!
Retail: "Amazon.com Inc. is wrestling with a market-share problem in Japan. The e-tailing giant has cornered so much of the country's online sales that it's coming under antitrust scrutiny for the second time in as many years over its relationships with suppliers" [Wall Street Journal]. "Japan is Amazon's third largest market, after the U.S. and Germany, and generates $11.9 billion in sales. In Japan, it commands the biggest portion of the country's online market, at more than 20%, and government officials have said the scale makes it hard for sellers to push back on Amazon as they seek customers from a shrinking population."
Retail: "Toys 'R' Us Is a How-Not-To Guide for the Retail Business" [Bloomberg]. "A full diagnosis of the company would likely identify its massive debt load as its primary illness…. The retailer was saddled with hefty debt in a 2005 leveraged buyout in which Bain Capital, KKR & Co. and Vornado Realty Trust took the retailer private. In recent months, the company's financial burden went from seriously challenging to unsustainable." But there were other issues: "August 9, 2000, may have been a fateful day for Toys "R" Us. That was the day the company entered a 10-year agreement with Amazon.com Inc. to create a co-branded online store…. But it probably hurt Toys "R" Us to lean on Amazon's strategy and expertise as long as it did, because it meant there was less urgency to build out its own. That partnership effectively put Toys "R" Us on the path to a long and losing game of catch-up."
Shipping: "Container fire breaks out on a second Maersk box ship, but crew is safe" [The LoadStar]. There seems to be something wrong with our bloody ships today.
Shipping: "DHL launches local parcel delivery product for retailer e-commerce orders" [DC Velocity]. "The product, called "DHL Parcel Metro," has been rolled out in Chicago, New York, and Los Angeles. It will be launched in Dallas and Atlanta in the second quarter, San Francisco in the third quarter, and Washington, D.C. before year's end…. The product will function through what DHL called a "virtual delivery network" of local and regional delivery vendors and crowd-sourced drivers. DHL's software platform will select drivers that offer the capacity and meet the service levels on the specific routes." Hmm.
The Bezzle: "When Self-Driving Cars Can't Help Themselves, Who Takes the Wheel?" [New York Times]. "Developers of self-driving cars from Nissan to Zoox say such technology may be needed to address 'edge cases' — the unique situations that software programs can't anticipate. could make an autonomous car stop safely, but then what? In other words, a situation that human drivers face all the time could brick your two-ton robot car in the midde of the road; that's an "edge case." And if your algo can't handle the edge cases, sell an add-on product. More: "A car in need of help would automatically contact a Phantom Auto center, where could use the car's cameras and sensors to see what was happening, then maneuver the vehicle out of trouble. The technology prefigures a time when for the simple reason that they won't know how to drive a car — or because the steering wheel and pedals have been removed." "Automatically connect" unless there are connectivity problems, of course. And those remote operators: Will they be caring nurterers, or more like Verizon support? What do you think? And of course, there's this scenario: "Sir, everything is going to be OK. We just have to download a software patch." "How about will that take?" "Oh, about twelve hours." "In the middle of the road?" Who thinks up these ideas? And who backs them with hundreds of millions of dollars?
The Bezzle: "Traders who look for future price direction in chart patterns are finding more indicators suggesting the world's largest digital currency may have further to fall" [Japan Times]. "Bitcoin's 50-day moving average has dropped to the closest proximity to its 200-day moving average in nine months. Crossing below that level — something it hasn't done since 2015 — signals fresh weakness to come for technical traders who would dub such a move a 'death cross.' Another moving-average indicator of momentum has already turned bearish."
The Bezzle: "'They'll squash you like a bug': how Silicon Valley keeps a lid on leakers" [Guardian]. "The public image of Silicon Valley's tech giants is all colourful bicycles, ping-pong tables, beanbags and free food, but behind the cartoonish facade is a ruthless code of secrecy. They rely on a combination of Kool-Aid, digital and physical surveillance, legal threats and restricted stock units to prevent and detect intellectual property theft and other criminal activity. However, those same tools are also used to catch employees and contractors who talk publicly, even if it's about their working conditions, misconduct or cultural challenges within the company." Perhaps that's why so many of the problems with robot cars are only coming to light when the software firms have to interact with other industrial sectors?
The Bezzle: "Tesla Semi prototype spotted apparently broken down makes naysayers rejoice, but there's a twist" (photos) [Electrek]. "Here's the twist: Tesla says that the prototype wasn't even 'broken down' and that they simply stopped to do some tests and make adjustments as part of the test program." So the "twist" is that Tesla's public relations department emitted a statement. Alrighty then.
Infrastructure: "Is Accelerated Construction to Blame for Fatal Florida Bridge Collapse?" [Governing]. Very good summary. Last lines: "But [Robert Bea, a University of Californai Berkeley engineer and catastrophic risk expert] cautioned that innovative methods sometimes produce new ways for structures to fail. 'Innovations always bring potential 'failure modes' that have not been previously experienced,' he said." Ah. Innovation!
Infrastructure: "Contractors Behind Collapsed FIU Bridge Are Major Miami Political Players" [Miami News]. "To Miami-Dade County insiders, it was no shock when Munilla Construction Management (MCM) beat out three other competitors to win a $14.2 million bid to build a high-tech pedestrian bridge at Florida International University. That's because Munilla is not only one of the biggest contractors in South Florida but also one of the most politically connected thanks to years of shelling out hundreds of thousands of dollars to campaigns…. But questions are bound to be raised about Munilla's deep ties to local politicians, including U.S. Rep. Mario Diaz-Balart and Miami-Dade County Mayor Carlos Gimenez — especially because the firm has never been shy about turning its political generosity into favorable decision-making…. And Diaz-Balart, who is chairman of the House Appropriations Subcommittee on Transportation, Housing, and Urban Development, was instrumental in building support for the bridge's creation. Last weekend, FIU praised the congressman, along with Rep. Debbie Wasserman Schultz, for making the project a reality." So it's bipartisan!
Political Risk: "This political-risk gauge just hit a 15-year high — and here's what it means for the stock market" [MarketWatch]. "[Saxo Bank's head of commodity strategy Ole Hansen] highlighted the Geopolitical Risk Index in a tweet (pointed out in MarketWatch's Need to Know column), noting that the previous high for the GRI was back in August during intensifying fears that North Korea could spark a military, or even nuclear, conflict."
Fodder for the Bulls: "Even with the sudden prospect of a trade war, it's hard to find a bear on Wall Street" [MarketWatch]. "According to the AAII Investor Sentiment Survey, just 21.3% of polled investors describe themselves as bearish, meaning they expect prices to be lower in six months. This is the second-lowest level of the year, and significantly below the historical average of 30.5%. It has been below that average in 13 of the past 14 readings. Compared with last week, the ratio of bears fell 7.1 percentage points. The current level of pessimism is only slightly above 20.7%, or what AAII sees as 'the breakpoint between typical and unusually low readings.'"
Five Horsemen: "Speculative darling Amazon flatlines as stocks churn" [Hat Tip, Jim Haygood].
NakedCap Mania-Panic Index: "Mania-panic index slips to 49 (worry) as new lows exceed new highs and down volume exceeds up volume" [Hat Tip, Jim Haygood]. (The NakedCap mania-panic index is an equally-weighted average of seven technical indicators derived from stock indexes, volatility (VIX), Treasuries, junk bonds, equity options, and internal measures of new highs vs new lows and up volume vs down volume … each converted to a scale of 0 to 100 before averaging, using thirty years of history for five of the seven series.)
Our Famously Free Press
"The $10 billion opportunity at Reuters" [Recode]. "Opportunities like this don't come along very often — indeed, to a first approximation, they never come along. But now, thanks to a $17 billion M&A deal in which private equity giant Blackstone is taking over the Thomson Reuters financial-terminal business, Reuters News (which is not part of the deal) has found itself in possession of an astonishing $10 billion lottery ticket." Of course, the newsroom won't see a penny….
"On Tom" [DeadSpin]. From February, but I missed it. Stories about what it's like to work with a really good editor (one of those positions that being slashed away at, crapifying writing everywhere).
"Local News Anchors Are Being Forced to Deliver Pro-Trump Propaganda" [New York Magazine]. Sinclair, the ClearChannel of print (though still in business).
Book Nook
"Memoirs of an Ass" [The Paris Review]. " Probably around 180 A.D. (which is to say probably during the reign of the emperor Marcus Aurelius), a novel was written in Latin. It really is a novel. Trot out any definition of novel: it's that. Also, it's the only one, complete, that we have from ancient Rome…. The author's name was Apuleius…. Once you grasp that Apuleius is right up there with Jonathan Swift in terms of playing dumb while installing deep ironies and perversities, you are suddenly faced with a book that will stand up to a half dozen rereadings…. Apuleius called this book Metamorphoses. History knows it as The Golden Ass.
Health Care
"Some thoughts on healthcare injustice, moralism, and suffering" [T-Bone Faust]. This whole piece is worth a read. It's encouraging! But this story caught my eye. Pain City. And not HappyVille:
I met a couple, a husband and wife, in South Carolina. A few years ago, she was rushed to the hospital for an ectopic pregnancy (a common medical emergency in which the body implants a fertile egg incorrectly and a fetus begins to grow outside the uterus). It appears to cost a hospital a few thousand dollars to treat an ectopic pregnancy. Since pricing in healthcare is fully irrational, the cost to insurers is about $25k, while the uninsured are charged higher, unpredictable prices.

The husband worked a few jobs, including at a pizza place, but none that offered insurance. Thanks to federal ACA subsidies, they were able to get a plan with low out-of-pocket premiums. They lived in a nice home in a pretty neighborhood. He even got a raise at the pizza place; another dollar an hour. Things were going well..

Then they weren't. The wife began bleeding. God, how awful—I get a little stressed out when my girlfriend has something as basic as an upset stomach—to feel that excruciating pain (or see your partner endure it). How cruel is God to let us at once understand the devastating certainty that the pregnancy is terminated, but not how or why. But they had done everything right, at least—they were responsible, At least they had insurance..

Except—.

That little pizza raise changed the husband's annual pay. Federal ACA subsidies are adjusted for income, so when someone's annual income, the federal subsidy must increase or decrease to compensate. The husband had been particularly diligent—more than I would be, for sure—and remembered to report his raise to the IRS. This meant the federal payor would pay less per month to the insurer, who would then bill the husband the difference—a few dollars more a month..

But that didn't happen. Nobody seems to know why. For some reason, the insurer received less subsidy from the federal payor, did not increase the amount billed to the husband, and then silently terminated the couple's coverage after a couple months of "nonpayment"..

So while the wife lay on the hospital bed, her world split apart, she was uninsured and nobody knew it..

A few weeks later they got the bills. Massive, unreadable, terrifying documents—you know what they look like. Now they owe the hospital tens of thousands of dollars. A lifetime of debt for want of a few dollars per month—no fault of their own, but with no recourse.
Of course, with #MedicareForAll, this wouldn't happen, because the eligibility determination process at the heart of ObamaCare wouldn't exist.s
"Faust: Don't let Chase or Amazon control your health care" [Houston Chronicle]. "The simple fact is that the private insurance market is incapable of reopening hospitals in rural Texas or sending doctors into poor neighborhoods. Amazon/Chase/Hathaway has no reason to invest in the programs that keep people healthy so that they never need health care in the first place, such as affordable or free housing for nonemployees, or providing or subsidizing healthy food for people who need it. But the federal government can – and it is accountable to us at the ballot box. Single-payer is moral. Single-payer is necessary. And single-payer is achievable. All we need to do is demand it – else we abandon ourselves to a nation of, by and for the likes of JPMorgan Chase, Amazon and Berkshire Hathaway."
"Surprise Billing — Adapted from An American Sickness: How Healthcare Became Big Business and How You Can Take it Back" [Elizabeth Rosenthal, Medium]. Her solution:
Until the laws and regulators in your state better address this problem, we have to push back ourselves. Informed consent is a bedrock legal and medical principle and your grounds to not pay. This is the essence of your argument:

You went to an in-network hospital so that your care would be covered.
You were not informed of the out-of-network status of these providers and did not consent to them participating in your care.
If it's an emergency — if you were taken to the nearest ER or your newborn suffered a respiratory arrest — you were not in a position to go elsewhere.

Don't write a check. Find out if your state has passed a surprise billing law. Then, whether it has or not, write a letter of protest. (In my book, I provide some templates for protest letters that you may adjust to suit your situation. They work. I've used them myself.)
Surely "the laws and regulators" ought to include #MedicareForAll?
Neoliberal Epidemics
"Delaware's Opioid Crisis" [The Outline]. "It is perhaps the defining feature of someone my age and from my state to have a dead sibling, cousin, or friend."
Class Warfare
Tech: "It's Time To Get Real About Power in Silicon Valley" [Medium]. "Power is sought so it can be wielded. Just as no one builds a multi-billion dollar empire without some sort of savage determination and intense will to power (otherwise they would have stopped at some earlier point, taken their winnings and gone home), no one accumulates power and then declines to use it in the face of existential threats — of which Thiel counted Gawker as one to his business interests. A Mark Zuckerberg or an Elon Musk doesn't build an empire and allow others to encroach on their borders. And yet, it says something about our reflective, childlike understanding of the minds of these people that we condemn, the Koch Brothers or George Soros for various schemes, without stopping to think about why they are doing these things. It's not simply to save on their taxes, I'll tell you that. It's because they have those same "privileged claims to knowledge" and "strong claims of human agency," that Peter [Theil] was talking about."
News of The Wired
"The Multiworse Is Coming" [BackReaction]. "The reason this cycle of empty predictions continues is that everyone involved only stands to benefit. From the particle physicists who write the papers to those who review the papers to those who cite the papers, everyone wants more funding for particle physics, so everyone plays along. I too would like to see a next larger particle collider, but not if it takes lies to trick taxpayers into giving us money. More is at stake here than the employment of some thousand particle physicists. If we tolerate fabricated arguments in the scientific literature just because the conclusions suit us, we demonstrate how easy it is for scientists to cheat. " Ouch.
"In a Historic Vote, Renowned Art School Cooper Union Commits to Bringing Back Free Tuition For All" [Artnet News]. GOOD NEWS! "In an historic vote on Wednesday, the school's board approved a 10-year plan to bolster its finances in order to provide a free education, the principle on which industrialist Peter Cooper founded the school in 1859. Citing a budget squeeze, the school caused an uproar when it began charging some students tuition in 2014. 'I came here because I deeply believe in what The Cooper Union stands for,' president Laura Sparks, who took office in January as the school's first female president, told artnet News via email." (See NC on Cooper Union here.)
* * *
Readers, feel free to contact me at lambert [UNDERSCORE] strether [DOT] corrente [AT] yahoo [DOT] com, with (a) links, and even better (b) sources I should curate regularly, (c) how to send me a check if you are allergic to PayPal, and (d) to find out how to send me images of plants. Vegetables are fine! Fungi are deemed to be honorary plants! If you want your handle to appear as a credit, please place it at the start of your mail in parentheses: (thus). Otherwise, I will anonymize by using your initials. See the previous Water Cooler (with plant) here. Today's plant (Shane in Australia):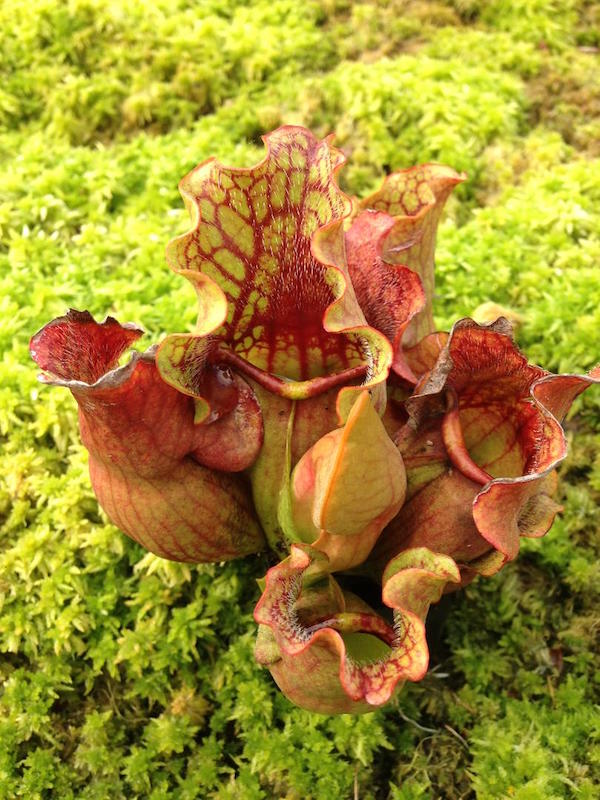 Shane writes: "This is a purple pitcher plant (Sarracenia purpurea venosa) from my collection (almost looks wild since you can't see the pot)."
* * *
Readers: Water Cooler is a standalone entity not covered by the NC fundraiser. So do feel free to use the dropdown and click the hat to make a contribution today or any day. Here is why: Regular positive feedback both makes me feel good and lets me know I'm on the right track with coverage. When I get no donations for five or ten days I get worried. More tangibly, a constant trickle of small donations helps me with expenses, and I factor that trickle in when setting fundraising goals. So if you see something you especially appreciate, do feel free to click the hat!