By Lambert Strether of Corrente.
Trade
"President Trump's decision yesterday to impose tariffs of 25 percent on about 1,300 imported products from China—the affected items won't be published by the U.S. Trade Representative's (USTR's) office for another week or two—is aimed at punishing China for alleged thefts of American high-end technology and intellectual property. Yet underlying Trump's action is a simmering resentment on the part of U.S. business interests that China has spent nearly two decades unfairly protecting its markets and industries while at the same time enjoying the fruits of open and profitable trade that came with its entering the World Trade Organization (WTO) in 2001" [DC Velocity]. "No one would talk on the record about the broader concerns of U.S. business in trading with China. However, one person said yesterday's decision reflects a years-long buildup of tensions and aggravation about a lopsided playing field in U.S.-China trade. 'There are so many stories and anecdotes' about how difficult it is for American companies to compete with state-owned Chinese firms while having to jump through one regulatory hoop after another, the person said."
"The U.S. and China are quietly talking about ways to resolve their showdown over trade. Top officials in Washington and Beijing have started negotiating over a range of ways to improve access by American companies to Chinese markets….." [Wall Street Journal]. "The talks may provide relief to those rattled by announcements last week of U.S. plans to hit China with tariffs and other measures aimed at addressing the U.S. $375 billion merchandise trade deficit with China. The negotiations cover a wide range of areas, including financial services and manufacturing, and are being led by Liu He, China's economic czar, U.S. Treasury Secretary Steven Mnuchin and U.S. trade representative Robert Lighthizer. The U.S. demands offer an opportunity for China to respond in very specific areas such as automotive trade, providing details Beijing has been looking for as the sharp rhetoric between the countries has escalated."
Politics
Midterms
"Extreme Gerrymandering & the 2018 Midterms" [Brennan Center for Justice] (PDF). Both parties gerrymander when they can but the practice has been worsened by increasingly sophisticated data and map-drawing techniques…. Because of maps designed to favor Republicans, Democrats would need to win by a nearly unprecedented nationwide margin in 2018 to gain control of the House of Representatives. To attain a bare majority, Democrats would likely have to win the national popular vote by nearly 11 points. Neither Democrats nor Republicans have won by such an overwhelming margin in decades. Even a strong blue wave would crash against a wall of gerrymandered maps….. As gerrymanders become ever more sophisticated, ." Importantly:

Political scientists call the relationship between the votes a party gets in a state and how many seats it picks up "responsiveness." In a highly responsive map, a party steadily increases its seats as it increases its share of the vote. That is how most assume a democracy should function. A non-responsive map would be the reverse: one in which a party can increase its vote share by 10 or even 20 percent without gaining a single extra seat. A handful of states have non-responsive maps that are especially stark: [Michigan, North Carolina, Ohio, Texas]. and the first to visualize the responsiveness of maps, highlighting the stark differences between gerrymandered and non-gerrymandered states.

Too bad Democrats didn't want to govern in 2009-2010, because these maps were drawn after their 2010 debacle.

MN-08: "Democrats in disarray in must-win House race" [Politico]. "The unusual dynamics of the race suggest Trump could make a difference. On Minnesota's Iron Range — a historically Democratic and blue-collar part of the state that Trump won by a wide margin in 2016 — conflict between environmentalists and pro-mining Democrats over the future of copper-nickel mining in the region has fractured the party. And Trump's decision to set new tariffs on steel and aluminum imports has further scrambled the equation after the announcement drew widespread local praise — including from veteran Democratic Rep. Rick Nolan and other Democrats."

PA-06: "Costello Retirement Moves PA-06 from Toss Up to Likely Democratic" [Cook Political Report]. "Over the weekend, moderate GOP Rep. Ryan Costello (PA-06) confirmed that he wouldn't run for reelection, reversing course just days after filing petitions to put his name on the ballot. The move deprives Republicans of a well-liked incumbent with $1.3 million in the bank in a suburban Philadelphia district and puts Democrat Chrissy Houlahan in the driver's seat to take over a very favorably redrawn seat. Costello was probably the biggest loser in Pennsylvania's new court-ordered map."
2016 Post Mortem
"Inside the Last Days of the Hillary Clinton Campaign" [Jennifer Palmieri, Time]. Palmieri, you will recall, is the lunatic who thought her limo has going to be hijacked by Russians. Anyhoo: "Women haven't plateaued; it is the rules we were playing by that are outdated. We are learning to appreciate that with this uncertainty comes an empowering new sense of possibility. I look around at all that women are doing in America today and I am inspired. Women aren't just running for office in record numbers, they are winning in record numbers, too. In the worlds of art, politics, and business, women aren't following anyone's rules — they are creating their own game." Which is all to the good, one thinks; until one remembers that the Daughters of the Confederacy — women, I trust — played a key role in formulating and propogating the pernicious and deeply racist "Lost Cause" mythology that poisoned the well of popular perceptions of the Civil War to this very day. As Sanders said: "It is not good enough for somebody to say, 'I'm a woman, vote for me.' No That is not good enough," the Vermont senator continued. 'What we need is a woman who has the guts to stand up to Wall Street, to the insurance companies, to the drug companies, to the fossil fuel industries.'"
Realignment and Legitimacy
"Liberal World Order, R.I.P." [Richard Haass, Project Syndicate]. "After a run of nearly one thousand years, quipped the French philosopher and writer Voltaire, the fading Holy Roman Empire was neither holy nor Roman nor an empire. Today, some two and a half centuries later, the problem, to paraphrase Voltaire, is that the fading liberal world order is neither liberal nor worldwide nor orderly." Pause to note that Haass is President of the Council on Foreign Relations. More: "But the weakening of the liberal world order is due, more than anything else, to the changed attitude of the US." Horseshit (and I'm skipping over the hagiography, too, stuff like "…. based on the rule of law and respect for countries' sovereignty and territorial integrity…."). Amazingly, Haas doesn't even mention the Iraq War (or Global War on Terror). Is it just possible that the liberal world order lost all credibility because its guarantor lost its credibility, in the eyes of the world? And rightly? A really second-rate piece. Lack of competence at the elite level isn't only a problem in the United Kingdom.

"The pragmatic futurist: interview with Shekar Natarajan" [DC Velocity]. This interview may appeal more broadly than to logistics buffs. For example: "At Coca-Cola Bottling Co., we developed the CooLift beverage-delivery system, which is now a standard throughout the industry. The specially designed carts and pallets make the job of moving beverages from truck to store much quicker, safer, and more efficient. We developed the solution by looking for a merchandising delivery system that reduced the risk of injury and could be used easily by anyone. We analyzed the whole supply chain as a system, deconstructed it, and identified where and how we could improve it." That's pretty cool; who wants to risk their back horsing around a stupidly designed palette? But the larger point is this: I think when we say "Government should be run more like a business," we mean this sort of process improvement. In reality, when government is run like a business, it's run like a business is run at the executive level, hence looting, fraud, corruption and chicanery of all sorts, and immunity from prosecution.
Stats Watch
Chicago Fed National Activity Index, February 2018: "A jump in industrial production fueled a sharp rise in the national activity index" [Econoday]. "[T]today's report in sum is very positive and, with the 3-month average gaining strength…. hints at factory-led strength for the first quarter." And: "The single month index which is not used for economic forecasting which unfortunately is what the CFNAI headlines. Economic predictions are based on the 3 month moving average. The single month index historically is very noisy and the 3 month moving average would be the way to view this index in any event" [Econintersect]. "There was insignificant revision to the last 3 months of data…. [S]ee the three month rolling average for the last 6 months – it shows an improving economy."
Dallas Fed Manufacturing Survey, March 2018: "Three months of building surge eased this month for the Dallas Fed manufacturing report" [Econoday]. "Under the low estimate but still an extremely favorable reading, and an arguably more favorable reading given that prior strength was pointing to unwanted capacity stress." And but: "This survey remains in positive territory with new orders significantly slowing and unfilled orders also slowing – but both in positive territory. This was a weaker report than last month" [Econintersect]. "Of the four Federal Reserve districts which have released their March manufacturing surveys – all are in expansion."
Energy: "U.S. crude exports are on a tear, but foreign trade houses appear to be reaping some of the biggest gains. Two years after Washington lifted a ban on exporting U.S. oil, a handful of international houses are dominating the buying and selling of that crude thanks to their greater expertise in trading and logistics. ..[S]hipments by three of the world's top five oil traders accounted for 22% of U.S. crude exports in the past year. That's partly the result of the fragmented nature of the U.S. shale industry, which can't compete with more nimble, mostly Europe-based trade houses that buy and sell oil and ship it around the world" [Wall Street Journal]. "Some of the foreign traders' edge in U.S. exports is expected to diminish as logistical issues are ironed out and U.S. infrastructure is built to handle outbound flows*, but international traders have a foothold and say they're in the business for the long haul." NOTE * Translation: As the colonies are whipped into line on pipelines, bomb trains, and ports.
Shipping: "Railroad service issues once again have the attention of the Department of Transportation's Surface Transportation Board (STB), with STB Acting Chairman Ann Begeman and Vice Chairman Deb Miller penning letters to the top executives at the seven North American Class I railroads, requesting each carrier's service outlook for both the near term and the rest of 2018" [Logistics Management]. "In the letter, Begeman and Miller also noted that the STB also received letters from the National Grain and Feed Association (NGFA) [and others…] The NGFA's letter was delivered with a sharper tone, explaining that there is a fundamental concern shared by rail shippers that the main reason, or "root cause," of the railroads' service and accessorial charges is driven by the Class I railroads' aggressive effort to reduce their operating ratios to impress Wall Street investors and shareholders. 'This, in turn, has resulted in the systemic shedding of resources by Class I carriers, including locomotives and crews, that has degraded service to unacceptable levels, and resulted in virtually non-existent surge capacity to meet rail customers' needs,' wrote NGFA….. Industry stakeholders have pointed to various reasons as to why railroad service continues to decline. One reason provided to LM was that in an economic response to lower volumes, the railroads are running fewer, longer trains in order to lower costs, which results in longer waits between departures, boosting yard dwell times. And these huge trains also tend to be slower, with the resulting average train speeds substantially down."
Infrastructure: "Through clenched teeth, President Trump today signed a $1.3 trillion omnibus spending bill to fund the federal government through the end of the 2018 fiscal year. With smiling faces, transport interests hailed the president's pen hitting the paper" [DC Velocity]. "Trump labeled the bill "ridiculous" as he signed it into law. For those seeking more money to fund the transport ecosystem, the results were anything but ridiculous. The popular Transportation Investment Generating Economic Recovery, or TIGER, received $1.5 billion in funding, three times what it got in fiscal 2017…. The law adds $1 billion to $45 billion in funding from the Highway Trust Fund for the U.S. Department of Transportation's Federal Highway Administration (FHWA) surface transportation program. It includes $6.83 billion for the U.S. Army Corps of Engineers, an increase of $789 million from fiscal 2017. Of that, $3.63 billion will go to the Corps' operations and maintenance program, which pays for maintenance dredging in America's deep-draft harbors and channels. The Harbor Maintenance Trust Fund, which contributes to the program through a tax paid by importers on the declared value of merchandise, will get $1.4 billion in FY 2018, up $100 million from FY 2017 levels. Customs and Border Protection (CBP) will receive $14 million, a nearly 15-percent increase over fiscal 2017. Of that, $7.6 million will be used to hire 328 CBP officers. In the maritime environment alone, a minimum of 500 CBP officers are needed annually, according to the American Association of Port Authorities (AAPA), the leading port trade group. The bill also more than doubles Maritime Administration funding levels to $980 million. The Marine Highways program designed to move long-haul freight off the highways and onto coastal, inland, and intracoastal waterways was appropriated $7 million, up $2 million from last year's levels."
Mr. Market: "Facebook stock plunges on FTC probe and news it records users' call logs" [NBC News]. More on the Facebook Fracas below. I may be a dinosaur, since I still have a landline, and my portable phone is dumb, but I feel like I'm a pretty smart dinosaur, since Facebook doesn't have my call logs!
Five Horsemen: "Amazon, Microsoft and Apple bounce in morning trade, while Facebook wilts again." [Hat Tip, Jim Haygood].
NakedCap Mania-Panic Index: "The mania-panic index fell to 22 (worry) as Friday's plunge sent the CBOE put-call ratio soaring to 1.54, a 99th percentile value indicating heavy trading in put options protection" [Hat Tip, Jim Haygood]. (The NakedCap mania-panic index is an equally-weighted average of seven technical indicators derived from stock indexes, volatility (VIX), Treasuries, junk bonds, equity options, and internal measures of new highs vs new lows and up volume vs down volume … each converted to a scale of 0 to 100 before averaging, using thirty years of history for five of the seven series.)
Rapture Index: Closes unchanged [Rapture Ready]. Record High, October 10, 2016: 189. Current: 184.
Big Brother Is Watching You
UPDATE America's industrial policy in action:
Steve Jobs had nothing to do with most of the tech inside your iPhone (it was biiiiiig government!). On this weeks @tmbsfm illicit history @_michaelbrooks debunks this and other innovation myths with @huntermaats. https://t.co/3doaYThb6J pic.twitter.com/u1FnrRl1de

— Aimee Terese (@aimeeterese) March 25, 2018
MMT
UPDATE A splendid indictment of the fave liberal Democrat panacea, training, among other things:
A terrific clip of Warren Mosler, recommended by Stephanie Kelton. What more do you want? Deficits matter – but not the way most people think they do. https://t.co/f8ZvUNcTRt

— Steven Hail (@StevenHailAus) March 24, 2018
Facebook Fracas
"FTC says it is investigating Facebook privacy practices" [MarketWatch]. "'The FTC is firmly and fully committed to using all of its tools to protect the privacy of consumers,' said Tom Pahl, acting director of the FTC's bureau of consumer protection, in a statement. 'Foremost among these tools is enforcement action against companies that fail to honor their privacy promises, including to comply with Privacy Shield, or that engage in unfair acts that cause substantial injury to consumers in violation of the FTC Act. Companies who have settled previous FTC actions must also comply with FTC order provisions imposing privacy and data security requirements. Accordingly, the FTC takes very seriously recent press reports raising substantial concerns about the privacy practices of Facebook. Today, the FTC is confirming that it has an open non-public investigation into these practices.'"
UPDATE "The Latest: Attorneys general demand answers from Facebook" [Associated Press]. "The chief law enforcement officers for 37 U.S. states and territories are demanding to know when Facebook learned of a huge breach of privacy protections. The officers say in a letter Monday to CEO Mark Zuckerberg that users' trust in the social media platform is 'broken.'"
UPDATE "Cook County Sues Facebook, Cambridge Analytica for Consumer Fraud" [WTTW]. "The complaint claims Facebook may have begun as a social media site, but over the years it has essentially transitioned into a data aggregation machine designed to 'manipulate users into making the decisions Facebook and its business partners want them to make.' "This kind of mass data collection was not only allowed but encouraged by Facebook, which sought to keep developers building on its platform and provide companies with all the tools they need to influence and manipulate behavior,' the complaint states. 'That's because Facebook is not a social media company: it is the largest data mining operation in existence.'" Here's the complaint (PDF); it certainly does consolidate a lot of useful information in one place, especially on manipulating behavior, so if you've got the time, grab a cup of coffee because it's well worth the read. Presumably the complaint wouldn't have gone forward with Rahm's OK.
UPDATE "Apple's Tim Cook Calls for More Regulations on Data Privacy" [Bloomberg]. ""I think that this certain situation is so dire and has become so large that probably some well-crafted regulation is necessary,' Cook said after being asked if the use of data should be restricted in light of the Facebook incident. 'The ability of anyone to know what you've been browsing about for years, who your contacts are, who their contacts are, things you like and dislike and every intimate detail of your life — from my own point of view it shouldn't exist.'
"Facebook Needs a Contract With America" [Scott Galloway, L2]. Stonger stuff than we're used to hearing:
Facebook should enter into a "Contract with America." This agreement would put national security and the well-being of our children above all else, but recognize that Facebook, Inc. is a corporation charged with growing stakeholder value. The contract needs to address the short-term threats while ensuring this engine of capitalism continues to fire on 2.1B cylinders — the size of the Facebook community.

The Contract:

Facebook will immediately cease all advertising from entities advocating a political candidate, issue, or orthodoxy;
Facebook will shut down Messenger Kids until more is known regarding the impact of social platforms on children and their emotional and mental well-being; and
The chairman and CEO roles will be separated. The board will create a special committee charged with naming a chairman whom Facebook management can learn from regarding the tension between revenue growth and the well-being of the commonwealth.

In Sum, What to Expect

Facebook: delay and obfuscation
Advertisers: powerless at hands of duopoly
Consumers: continue to post
Investors: Facebook is the new tobacco stock
DC: barking at the moon
Brussels / red state AG: maybe
Gardeners' Corner
Alert reader EM writes: "Several ways to make weather resistant nest boxes that should never rot and fall apart. If you have leftover PVC boards and pipe they can be put to use making weather resistant bird houses. Just be sure to roughen up the inside tubes so that the babies are able to grip with their toenails and climb out when ready for flights. I glued plastic coated screen inside with silicone adhesive. If you have leftover PVC boards and pipe they can be put to use making weather resistant bird houses. Just be sure to roughen up the inside tubes so that the babies are able to grip with their toenails and climb out when ready for flights. I glued plastic coated screen inside with silicone adhesive." EM's workbench: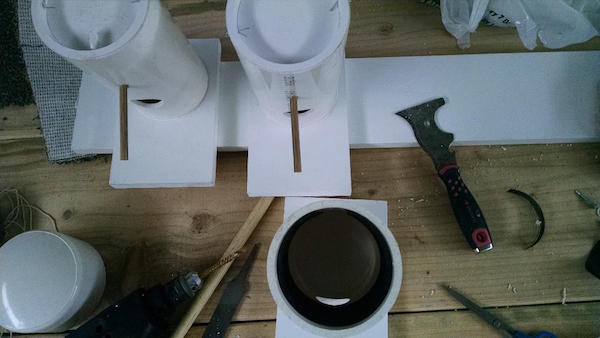 "Have about a dozen bird houses plus a purple Martin box that they don't like. But other birds use it."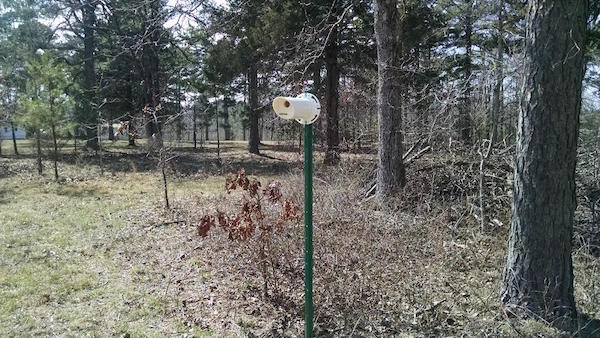 "When the time comes to clean them out just pull the cap off."
Class Warfare
"Teacher Strike Fever Spreads" [Labor Notes]. "Teachers in Oklahoma, Arizona, and Kentucky are now striking, sicking out, rallying, and Facebooking to push officials to raise their salaries and defend their benefits…Five states have seen average teacher salaries decline since 2015-2016; West Virginia, Oklahoma, and Arizona are three of them." Oklahoma strike date: April 2. West Virginia did two things that I'm not seeing all these states do (though some do one or the other): All school employees struck (including the bus drivers) and feeding kids who couldn't do school lunches. The first meant that the strikers controlled the workplace completely. The second meant that the important but ancillary social benefits from the workplace continued to be delivered. FWIW!
"Are More Strikes Coming? West Virginia Wasn't the Only State Neglecting Employee Health Care" [Governing].
"Study: threat of job automation may make workers sick" [DC Velocity] (original). "Researchers from Ball State University and Villanova University found that a 10-percent increase in 'automation risk' at the county level worsens laborers' general, physical, and mental health by 2.38 percent, 0.8 percent, and 0.6 percent, respectively."
"The pursuit of seafarer happiness" [Splash 247], "Happiness has become quite a topic of conversation lately – there has been the International Day of Happiness, and the United Nations recently released its global happiness report. [T]he Mission to Seafarers has relaunched the Seafarers Happiness Index… The levels are then marked out of ten. The latest index showed a seafarer happiness result of 6.25 in 2017, a figure averaged across the key areas of seafarers' work lives. This shows a downward trend from earlier incarnations of the index – and so we see that seafarer happiness is on the slide. Workload and access to onshore facilities presented the largest setbacks, while on-board interactions and friendships were seen as the best part of the job. The most divisive issue was connectivity with family and home. On ships where internet access was available, happiness was marked very highly, but without it connectivity was a significant source of real discontent…. Research constantly indicates that happy people work harder, achieve more and create an environment of constant improvement." Hmm.
News of The Wired
When I ran that YouTube showing a trainhopper, alert reader Maps contacted me, since he hops trains. I shared the lyrics of "King of the Road" with him, and by return came this YouTube:
Maps commented: "Classic, love that song. Here's some of my friends that I used to ride trains with and occasionally busked with. The big guy on the mandolin was Tomas, he died when he fell off of a train." If there are any other travelers in the NC readership, I wouldn't mind hearing from you.
I just hate the time-change; I'm still reeling from it. And I'm not alone!
Putting the clocks forward at #Stonehenge – English Heritage staff repositioning the stones for the start of British Summer Time tomorrow. #BST pic.twitter.com/hpyxUzrvFE

— Stonehenge U.K (@ST0NEHENGE) March 24, 2018
"In Game Theory, No Clear Path to Equilibrium" [Aeon]. "Rubinstein and Yakov Babichenko, a mathematician at the Technion-Israel Institute of Technology in Haifa, have explained why. In a paper posted online last September, they proved that no method of adapting strategies in response to previous games — no matter how commonsensical, creative or clever — will converge efficiently to even an approximate Nash equilibrium for every possible game. It's "a very sweeping negative result," Roughgarden said….. Economists often use Nash equilibrium analyses to justify proposed economic reforms, Myerson said. But the new result says that economists can't assume that game players will get to a Nash equilibrium, unless they can justify what is special about the particular game in question." Oopsie.
* * *
Readers, feel free to contact me at lambert [UNDERSCORE] strether [DOT] corrente [AT] yahoo [DOT] com, with (a) links, and even better (b) sources I should curate regularly, (c) how to send me a check if you are allergic to PayPal, and (d) to find out how to send me images of plants. Vegetables are fine! Fungi are deemed to be honorary plants! If you want your handle to appear as a credit, please place it at the start of your mail in parentheses: (thus). Otherwise, I will anonymize by using your initials. See the previous Water Cooler (with plant) here. Today's plant (TH):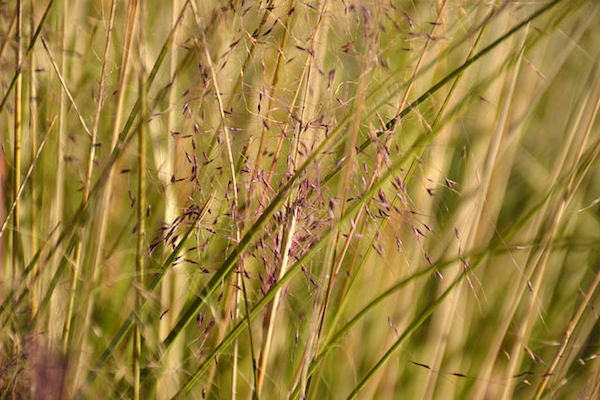 Ornamental grass, one thing I have never planted enough of. Quack grass, I have more of than I want, and I didn't plant it at all…
* * *
Readers: Water Cooler is a standalone entity not covered by the NC fundraiser. So do feel free to use the dropdown and click the hat to make a contribution today or any day. Here is why: Regular positive feedback both makes me feel good and lets me know I'm on the right track with coverage. When I get no donations for five or ten days I get worried. More tangibly, a constant trickle of small donations helps me with expenses, and I factor that trickle in when setting fundraising goals. So if you see something you especially appreciate, do feel free to click the hat!