By Lambert Strether of Corrente.
Trade
"U.S. negotiators are considering putting forward a proposal that would include workers' salaries in the calculation to determine which cars qualify for reduced duties under the agreement. The development, which was first reported by Inside U.S. Trade and confirmed by the Canadian Press, has been floated informally over the past week and is aimed at incentivizing car companies to pay wages far higher than the current average rate in Mexico" [Politico]. "'Of course, Mexico does not agree with' the reported proposal, a source close to the talks told Morning Trade. Mexico rejects the idea 'because it makes North America less competitive. If you artificially increase wages for one industry, you can be sure of that.'"
"A quarterly report on global trade patterns published today by transport and logistics giant DHL indicated a strengthening of activity in March over the last reading in January, DHL said. The 'DHL Global Trade Barometer' increased to 66 points in March from 64 points in January, when the index was published for the first time. With an index value well above the break-even mark of 50, the report is sending bullish signals about the current and future outlook for trade, DHL said" [DC Velocity].
Politics
2020
"Many of the negatives about Trump are already baked in, said Monmouth University pollster Patrick Murray" [The Hill]. "'There's no question, Donald Trump is the chaos president, pretty much from the campaign through the first months of his presidency, he established that would be the pattern," Murray said. 'So in many respects, the fact that we have all these new revelations doesn't change that voters were expecting chaos.'"

"Baked in" for Stormy Daniels, certainly. From a transcript of a focus group of female Trump voters on Anderson Cooper 360:

UNIDENTIFIED FEMALE: She's enjoying this way too much.

RANDI KAYE, CNN NATIONAL CORRESPONDENT (voice-over): On Palm Sunday, these conservative Christian women gathered in Dallas to watch Stormy Daniels' interview on "60 Minutes."….

KAYE (on-camera): What was your first impression of Stormy Daniels?

UNIDENTIFIED FEMALE: I feel sorry for her. My heart hurts for her.

SHERRY MASSEY, DONALD TRUMP SUPPORTERS: This is a porn star. Why are we giving it any credibility?

UNIDENTIFIED FEMALE: Exactly.

KAYE (voice-over): These women all voted for Donald Trump, and despite Stormy Daniels' claims, they still don't buy her story.

(on-camera): Why would she come out and give this interview if she wasn't telling the truth?

UNIDENTIFIED FEMALE: Money….

KAYE (voice-over): Most in this group believe God ordained Donald Trump to be president and stand by him despite his imperfections.

UNIDENTIFIED FEMALE: I know that when I voted for him, I wasn't voting for a choir boy.

Very reminiscent of what Bill Clinton supporters said of Paula Jones, Juanita Broaddrick, etc.

"Buttigieg Gets Closer to a 2020 Campaign" [Politico]. "Pete Buttigieg's PAC is investing money here—but also in Georgia, Arizona, Michigan and Colorado. And Iowa, per an announcement coming Tuesday. Next month, he'll campaign in Ohio. It's not happenstance. Nor is keeping on Lis Smith, the hard-charging political operative who makes sure he's constantly in the news. Or keeping up with Obama strategist David Axelrod, who recommended he hire Smith in the first place for the Democratic National Committee chair race that put Buttigieg on Democrats' radar last year. Or quietly building relationships over dinners and drinks with big-name Democrats, or courting national reporters, or wooing donors for his PAC, or digging in on political advertising research." For a "fresh face," this sounds deeply conventional.

"Deconstructed Podcast: We Need to Talk About Inequality (With Bernie Sanders)" (podcast) [The Intercept (JohnnyGL)]. Well worth a listen, only fifteen minutes or so. Sanders is always on message.

Always on message:

One way to destroy Social Security is to underfund and understaff the Social Security Administration. That is what Republicans have been doing. I am glad to have helped lead the effort to reverse that situation. It's a start. https://t.co/evCFnVYNSv

— Bernie Sanders (@SenSanders) March 28, 2018

UPDATE "Bernie Sanders coming to Jackson for a town hall with the mayor" [Clarion-Ledger]. "U.S. Sen. and 2016 presidential candidate Bernie Sanders will join Mayor Chokwe Antar Lumumba in Jackson next week. Sanders and Lumumba will be commemorating the 50th anniversary of the assassination of the Rev. Martin Luther King Jr on April 4. The event, titled "Examining Economic Justice 50 Years Later," will be held from 7-8:30 p.m. at the Alamo Theater in the Farish Street District. The city's communications department plans to launch a multimedia campaign to gather public input this Friday. In August, Sanders joined Lumumba in support of unionizing workers at Nissan's Canton plant."

UPDATE "Tom Steyer's Impeachment Campaign Is Building Him a Political Death Star" [Daily Beast]. See, that's what we need. A good oligarch for President.
2018 Midterms
"Can Obama Rescue the Democrats?" [James Wolcott, Vanity Fair]. "[L]istening to fellow liberal neurotic Democrats over the last year, I detect a sense of abandonment. Of Obandonment, to be more precise. Obama, Obama, where art thou? The Obamas get to land a joint book deal in the ballpark of $65 million, which is one hell of a ballpark. Obama gets to deliver speeches to Wall Street firms for hundreds of thousands of dollars a pop while millions of Americans ( [That's it right there, isn't it?]) have to make do at Costco. O.K., maybe he's earned his perk walk, his frolics in the holiday sun, but still!" Yet there is hope:

Obama is aware [how many years late?] of the need to rebuild troop strength. Reinforcements are being trained and readied. In 2017 the Obama Foundation held three Training Days—the first in Chicago, the next two in Tempe, Arizona, and Boston—to teach organizing skills to a new generation of activists from all over the country and world. Many more of those days will take place in 2018. It's not as sexy to the media as a superstar mogul summit at Davos or Aspen, but it shows that the Obamas haven't forsaken teaching and inspiring rookie activists to become the change agents of tomorrow. Obama plays a long game, doing his patient best to bend the arc of history an extra bend toward justice. Hence, the Obama Presidential Center, to be built on the South Side of Chicago, will be more than a museum—according to its Web site, it will function as "a living, working campus—an ongoing project where we will shape, together, what it means to be a good citizen in the 21st century." It'd be nice to return to the 21st century and [And there it is, a second time] again.

It's the rare piece that makes me want to scrub the smarm off in a hot shower afterwards, but Woolcott's piece is one such. And liberal Democrats wonder why they lost…

"As of this writing, just 379 of 435 House districts will have incumbents running in them this November. That's the second-lowest total of the post-World War II era" [Larry Sabato's Crystal Ball]. "The 56 total open districts include 37 open Republican-held seats and 19 open Democratic seats. The best pickup opportunities for both parties come in these open seats…. It's possible the Democrats could get a third or more of the way toward flipping the House just through netting gains among the open seats."

UPDATE Then again:


"If it's a slim [GOP] majority, we also win," said Rep. Gerry Connolly (D-Va.), whip of the moderate New Democrat Coalition.

"Democrat" from Virginia says a win by the GOP is a win for him

Let that sink in. https://t.co/8aAaIkFKYD

— People For Bernie (@People4Bernie) March 28, 2018

It's crossed my mind that the Democrats don't actually want a landslide. If they got one, they might have to govern, which they strenuously avoid doing.

UPDATE "Tom Steyer Is Going To Hold Debates In Democratic Primaries Across The Country" [Buzzfeed]. Why the [family blog] is a squillionaire holding debates? See above… More: "The debates will also serve as fundraisers for local progressive groups. As they are targeted to young voters, they will be hosted at venues that cater to those groups — for instance, the debate in Pennsylvania's 7th District will be held at a brewery. Candidates will be welcomed onto the stage to the strains of an unspecified pop song. The tentative format of the debates will be a combination of a moderated question-and-answer session and rapid-fire questions, bracketed by opening and closing remarks by the candidates. The hope is that the debates will be hosted by national activists or celebrities whose presence will appeal to young voters. Steyer himself may even host one." We'll see who those "progressives" are, I suppose.

PA: "Democrats can win a whole lot of House seats in Pennsylvania" [Vox]. "Pennsylvania holds the key to the 2018 midterms for Democrats — and could determine which party will control the House of Representatives come January 2019…. The other piece of good news came for Democrats on Tuesday, when progressive candidate Beth Tarasi, who had been weighing an insurgent primary bid against the newly elected Lamb, announced that she would withdraw from the race." And why is that good news for Democrats?

WI: "Gov. Scott Walker abandons court fight to hold off special elections after appellate judge rules against him" [Journal-Sentinel]. No time to impeach the judge, I guess. More: "Republicans are seeking to approve legislation next week that would head off the special elections and give Walker broader powers to determine when to allow voters to fill vacancies in the Legislature. In the meantime, Walker is under a court order to issue a call for the special elections, which would likely be held June 12. But Republicans contend those elections would be canceled if Assembly Bill 947 is approved."

MD: "Supreme Court To Take Hard Look At Partisan Gerrymander, This Time By Democrats" [HuffPo]. "The Maryland case is different from the Wisconsin one in a few key ways. While the Wisconsin lawsuit challenges an entire map, the Maryland suit seeks to redraw just one district (though obviously that would affect other districts). The Maryland case is being brought by Republicans, who were the main beneficiaries of congressional gerrymandering after the 2010 Census. And the Maryland plaintiffs are advancing the novel legal idea that partisan gerrymandering amounts to an unconstitutional retaliation based on voters' past choices."
Obama Legacy
UPDATE "Obama Library Already Displacing Residents" [Beachwood Reporter]. "Tenants who live in the Jackson Park Terrace Apartments, across the street from the proposed Obama Center, are already facing a rent increase ranging from $100 a month to more than $250 a month. '[Obama] heard that we would not be displaced but my rent is going up next week,' said Cindy Lee, a Jackson Park Terrace tenant and longtime neighborhood resident. 'I don't want to move now that the Obama Center is coming, but with this rent increase I may have no choice.' The building is owned by politically connected Leon Finney, who has put up 'We Trust Obama' signs on the housing development." Ouch. Quick, somebody tell James Wolcott!
Health Care
"David J. Shulkin: Privatizing the V.A. Will Hurt Veterans" [New York Times]. Newly fired, Shulkin writes: "The advocates within the administration for privatizing V.A. health services, however, reject this approach. They saw me as an obstacle to privatization who had to be removed. That is because I am convinced that privatization is a political issue aimed at rewarding select people and companies with profits, even if it undermines care for veterans." Sanders, with his long record on the Veterans Committee, should own this issue, and it will be interesting to see how he plays this. It will also be interesting to see which Democrats try to hijack it, and how the coverage plays out.
Realignment and Legitimacy
"The problem is, striving for equality only with respect to opportunity is myopic. This approach focuses on fairness of process, while ignoring inequality in outcomes. It reflects the very meritocratic mentality that has helped sustain wide gaps between black Americans and white Americans, between the genders, between classes, and between broader demographic categories. Envisioning our future through an egalitarian lens would require us to seriously reconsider political ideologies that embrace equal outcomes. More broadly, it would compel us to prioritize the well-being of the collective over that of the few, even if this came at the expense of the few" [New York Magazine].

UPDATE Demographics and the major parties:


feel the math pic.twitter.com/GkWvCqpXX9

— ?IPM ?????? (@IPM_Prime) March 28, 2018

UPDATE "American Voting Machines Are Old and Vulnerable, But Who Will Pay for New Ones?" [Pro Publica]. Nobody should pay. We should hand-marked paper ballots, hand-counted in public. Election day should also be a national, pai holiday.
Stats Watch
Consumer Sentiment, March 2018 (Final): "Consumer sentiment held strong the last two weeks of the month as the final March index came in at a 14-year high" [Econoday]. "The gain here [in current conditions] is tied to rising confidence among lower income respondents in contrast to the expectations component… is being held back by easing confidence among higher income respondents. The report notes that the risk of rising interest rates, tied to Fed policy, is a negative factor for the high-end group…. This report took much longer to get going than other measures of consumer confidence making its positive signal for March, especially for current conditions, a new positive in the indicator mix." And: "The general trend in the Michigan Sentiment Index since the Financial Crisis lows was one of slow improvement. The survey findings saw a jump in late 2016 with improvements that have continued through present" [Econintersect].
Personal Income and Outlays, February 2018: "Inflation data are inching higher while softness in spending is offset by strength in wages" [Econoday]. "The strongest news in the report comes from the wages & salaries component of personal income which posted a fourth straight sharp gain, at 0.5 percent. This helped total income which rose 0.4 percent for a third straight month and also helped the savings rate which rose 2 tenths to a still modest 3.4 percent…. Also helping savings, unfortunately for retailers at least, was softness in spending which gained only 0.2 percent for the second straight month. Spending on services, at 0.3 percent, continues to hold up this component…. wages and inflation are moving in the right direction, that is consistent with moderate economic growth and gradual removal of stimulus by the Fed." But! "The savings rate improved but remains near 21st century lows. Consumer spending growth is higher than income growth year-over-year. The backward revisions are driving this analyst crazy. They continue to change the trends" [Econintersect].
Chicago Purchasing Manager's Index, March 2018: "Unexpected slowing to what nevertheless is a very strong rate of growth is March's signal from what usually is a robust report" [Econoday]. "This is the slowest rate of growth for this index since this time last year as is growth in new orders which likewise slowed. The build in backlog orders also slowed as did production. But signs of capacity stress are still evident with delivery times lengthening and respondents still having trouble finding skilled workers." And: "The Chicago Business Barometer again declined but remains firmly in positive territory" [Econintersect]. "The results of this survey continue to correlate to district Federal Reserve manufacturing surveys – and generallly aligns with the overall trend of the ISM manufacturing survey."
Bloomberg Consumer Comfort Index, week of March 25, 2018: "The consumer comfort index held unchanged … only 2 tenths shy of a record" [Econoday]. "This year's tax-cut boost and continuing strength in the labor market are big pluses for consumer confidence."
Jobless Claims, week of March 24, 2018: "March looks to be another strong month for the labor market based on jobless claims which are at record lows" [Econoday].
Shipping: "Stronger U.S. domestic shipping demand is translating into higher earnings for truck drivers. An American Trucking Associations survey showed annual driver salaries rose as much as 18% from 2013 to 2017, and operators at the high end of the business working for private fleets reached top annual compensation of $86,000. Pay for the biggest share of drivers was well below that: ..[T]he median salary for a truckload driver working broader, "irregular" national routes was around $53,000 last year, up around 15% from four years earlier" [Wall Street Journal]. "Wages vary widely by job, but the broad trend shows trucking companies are paying more to keep drivers on board. That's echoing across supply chains, with a growing lineup of retailers and suppliers reporting soaring logistics costs and thinning margins. With freight marketplaces persistently reporting far more loads than trucks on the spot market, those shipping costs and driver wages are likely to continue rising."
Shipping: "Shipments of motor vehicles and parts on U.S. and Canadian railroads were off 7.1% in the first two months of the year, according to the Association of American Railroads" [Wall Street Journal].
Infrastructure: "U.S. transportation infrastructure spending is veering in a sharply different direction. The Trump administration has more than tripled the amount of money flowing from a popular transportation grant program to projects in rural areas, a shift in priorities likely to raise heated and politically-charged arguments in infrastructure circles. The Transportation Investment Generating Economic Recovery, or Tiger, grants will send nearly $500 million to highway and transit projects… and almost two-thirds of the money will go to rural locations" [Wall Street Journal]. "The administration says it is helping regions that have been neglected since the recession with projects like freight rail enhancements in Oklahoma. Critics say the grants give weak attention to relieving congestion in the cities and suburbs where the vast majority of Americans live. With diminished federal backing, those densely populated areas may become bigger draws for the private investment the administration wants to attract." It's a two-fer, isn't it? Send money to the Republican base, p0wn the Democrats by privatizing their stuff.
The Bezzle: "The turmoil at Uber Technologies Inc. following a fatal auto crash is reaching the company's freight business. Lior Ron, the head of Uber's freight trucking operation and a key figure in developing its autonomous-vehicle technology, is leaving the company" [Wall Street Journal] "Mr. Ron's departure isn't related to last week's fatal accident in Arizona involving one of Uber's self-driving vehicles, an operation he was not working on. Uber had been testing its autonomous-truck technology in Arizona before the passenger-vehicle crash, and that program was suspended following the fatal collision."
The Bezzle: "Tesla Urges Workers to Prove the 'Haters' Wrong and Ramp Up Production" [Bloomberg]. "Tesla Inc. exhorted its factory workers to disprove the 'haters' betting against the company wrong and to join the effort to ramp up output of the crucial Model 3 line. In a pair of internal memos last week, the heads of engineering and production spelled out measures to free up workers for the Model 3 line and challenged them to reach production goals. Doug Field, the engineering chief, told staff that if they can exceed 300 Model 3s a day, it would be an 'incredible victory' at a time when short-sellers and critics are increasingly doubting the company's ability to fulfill CEO Elon Musk's vision of building a mass-production electric-vehicle manufacturer." Volunteers… They're not even offering free yoghurt?
Mr. Market: "Commentary: Welcome to the machine" [Pensions & Investments]. "What will the next wave of managers look like and where will it come from? We believe we know, because over the past three years we have found and met with more than 200 of them. We call them managers specialized in . They are usually run by , whose brains seem to be wired differently from the earlier generations. They believe they can use advances in to run investment strategies at a fraction of the cost of established managers. With the newer AI techniques, ALIS managers have the "learning" taking place within the machine, with the machine gaining experience and teaching itself at an exponentially faster pace than a human, on thousands of securities, potentially with thousands of data points per security. This means that instead of dozens, or in some instances more than a hundred Ph.D.s needed to run a quantitative strategy, one now only needs a few…. February was an important reference point. Markets shifted gears and volatility spiked. Commodity trading advisers fell 4.8%, according to the Eurekahedge CTA/Managed Futures Hedge Fund index. Yet . Digging into why this was shows ALIS managers aren't just smaller and leaner versions of established firms, they are investing in a different way." "Brains" aren't "wired," since the brain is living tissue. That said, readers, is it likely the quant PhDs are going to lose their Wall Street jobs?
Mr. Market: "A source who's spoken to POTUS: "[Trump has] wondered aloud if there may be any way to go after Amazon with antitrust or competition law" [Axios]. Worth returning to the Axios story that sparked the Amazon sell-off, because antitrust has dropped out of the coverage as a theme; they cover the Post Office, taxes, and dying retail (which, to be fair, are the topics of Trump's tweet on this subject).
Mr. Market: "What makes [Trump's expressed views on Amazon] a conundrum is that Jeff Bezos also owns the Washington Post, which regularly publishes inside scoops exposing the worst of what's going on in the White House. The president is often critical of the "failing" newspaper. So, even when Trump has a point, it's impossible to take him seriously because there's at least the appearance that he has a corrupt motive" [Gizmodo]. Unlike anybody else in Washington DC. Gotcha. That said, the whole article is worth a read, because it's a good roundup of the back-and-forth on the Post Office, Amazon's tax bill, and retailers (but not concentration). It's better than today's story in the Times, in fact.
Mr. Market: "Amazon's stock falls further as Trump again lashes out at company" [Los Angeles Times]. "Before the latest declines, Amazon's shares had soared more than 70% over the prior 12 months, a surge that more reflects Amazon's future growth prospects than its current size and earnings ability. So investors were ready to cash out at least some of those big gains when the news site Axios.com reported that Trump was 'obsessed' with somehow further regulating Amazon's business model."
Five Horsemen: "Amazon continues its slide as Facebook bounces" [Hat Tip, Jim Haygood].
NakedCap Mania-Panic Index: "The mania-panic index eased to 21 (worry) as new 52-week lows exceeded new highs for the 11th day running" [Hat Tip, Jim Haygood]. (The NakedCap mania-panic index is an equally-weighted average of seven technical indicators derived from stock indexes, volatility (VIX), Treasuries, junk bonds, equity options, and internal measures of new highs vs new lows and up volume vs down volume … each converted to a scale of 0 to 100 before averaging, using thirty years of history for five of the seven series.)
Facebook Fracas
"Facebook Delays Home-Speaker Unveil Amid Data Crisis" [Bloomberg]. "The social-media company had already found in focus-group testing that users were concerned about a Facebook-branded device in their living rooms [and bathrooms. And bedrooms…], given how much intimate data the social network collects. Facebook still plans to launch the devices later this year." Of course they do.
"Facebook Could Be Fined Millions for Violating Consent Deal" [Bloomberg]. "Former Federal Trade Commission officials say that Facebook Inc. appears to have breached a 2011 consent agreement to safeguard users' personal information and may be facing hundreds of millions of dollars in fines. The agency could fine Facebook up to $40,000 per violation per day — which could add up quickly with millions of users involved — if it finds the social media giant broke its earlier promises to protect user data, they say." Millions? Not billions? Apparently not: "'The penalty could potentially be huge,' because each user adversely affected could be considered a violation, said [Jessica Rich, a former head of the FTC's consumer protection bureau], now vice president of consumer policy and mobilization for Consumer Reports. 'The FTC is unlikely to get billions,' Rich said. 'It could get hundreds of millions.'" Curious example of the revolving door….
"Facebook can't stop monetizing our personal data for the same reason that Starbucks can't stop selling coffee — it's the heart of the enterprise" [New York Times]. Interesting idea: "Making social graphs temporary, rather than preserving them forever by default, would undoubtedly be bad for most social networks' business models. But it could create new and healthy norms around privacy and data hygiene, and it would keep problems from piling up as networks get older and more crowded. It might even recapture some of the magic of the original social networks, when things were fresh and fascinating, and not quite so scary." Even more interesting, however, would be a system where people owned their data and were paid for what they create.
"Media vs. Facebook: This time it's personal" [Axios]. "Outrage over Facebook's misuse of user data and failure to rein in election fraud is real. But the zeal that media outlets bring to their Facebook coverage is personal, too. It's turbocharged because journalists, individually and collectively, blame Facebook — along with other tech giants, like Google, and the internet itself — for seducing their readers, impoverishing their employers, and killing off their jobs." Then again, both Facebook and the press are in the business of monetizing eyeballs for providing a public good….
Health Care
"Piecemeal bills will not fix California's health care. Single payer is the only solution" [Sacramento Bee]. "Last June, Assembly Speaker Anthony Rendon unilaterally blocked public hearings, amendments and legislative votes on Senate Bill 562, a Medicare-for-all proposal that had passed the state Senate and that would guarantee health care for all Californians without ever-rising premiums, deductibles and other costs…. Now desperate for the appearance of action in an election year, Rendon is telling legislators to let a 1,000 ideas bloom. But in a telling admission, lobbyists for the California Medical Association characterized these bills as giving cover to Democrats not to support single payer as proposed by the California Nurses Association."
"A new poll found that a majority of Americans support a radical change to the US healthcare system" [Business Insider].
The poll, from the Kaiser Family Foundation, a nonpartisan health policy think tank, found that:

59% of respondents supported a Medicare-for-all healthcare system in which all Americans would get coverage through a government program like Medicare or Medicaid.
Moving to a public-option model, under which people could sign up for the Medicare-like program, would be even more popular.
About 75% of the public would favor a program framed as a public option for anyone who wants it.
No question which is the better policy; the "progressive" "public option" advocates, foot-soldiers the liberal Democrats' log war against single payer, in 2009 did incalculable damage.
Black Injustice Tipping Points
Why proposals to further militarize the schools in reponse to mass shootings aren't met with universal enthusiasm. Thread:
Several PoC #onhere including me have made mention of why simple "gun control" rhetoric doesn't work for our communities and I want to take a second to explain what I mean by that.

— wikipedia "Killmonger, But Make It Feminist" brown (@eveewing) March 27, 2018
UPDATE And the same point made by Stoneman Douglas students:

A group of Black students from Marjorie Stoneman Douglas High called a press conference today to say they have concerns that may not mirror those of their white peers. And that the media should listen. #MSDStrong pic.twitter.com/f3iy85Szi7

— Nadege C. Green (@NadegeGreen) March 28, 2018
Class Warfare
Light dawns?
"Maybe we are not yet at maximum employment." @MarkLJWright looks at E/P and LFP rates from 2006 to 2018. pic.twitter.com/kKnRPfACaA

— Minneapolis Fed (@MinneapolisFed) March 29, 2018
News of The Wired
Sounds legit:
ICO alert: this blockchain-based startup delivers 3D-printed bitcoins and clean, nootropic-infused meals-on-demand via autonomous drones; first customers are Amazon marketplace sellers co-living in WeWork office spaces where desks convert to beds and everyone is 19

— Christopher Mims ? (@mims) March 28, 2018
"Pre-Columbian earth-builders settled along the entire southern rim of the Amazon" [Nature]. Super interesting:
The interfluvial (terra firme) forests that account for ~95% of the Amazon are particularly uncharted. These areas have been archaeologically neglected following traditional views that Pre-Columbian people concentrated on resource-rich floodplains. However, the discovery of large Pre-Columbian earthworks in terra firme along the Southern Rim of the Amazon (SRA) undermines the assumption that these areas were marginal in terms of past human impact and the development of complex societies
And from WaPo's coverage of the Nature article:
Since the 1970s, scientists have identified large, elaborate geoglyphs across other parts of the Amazon. Some have estimated there is about 60,000 square miles of terra preta in the basin. Others' research shows that entire regions of the rain forest are dominated by tree species once cultivated for food by indigenous people. And highly planned networks of villages have been identified on either side of the region de Souza studied.

The latest discovery, de Souza said, suggests there was a continuous string of settlements across the entire southern rim of the Amazon basin.
So it looks like Charles Mann's picture of Amazonia in his wonderful 1491 (2005) was substantially correct, including the idea of the Amazon basis as the world's largest horticultural project and a "cultural artifact" (see NC here on that topic and edible forests in the United States).
* * *
Readers, feel free to contact me at lambert [UNDERSCORE] strether [DOT] corrente [AT] yahoo [DOT] com, with (a) links, and even better (b) sources I should curate regularly, (c) how to send me a check if you are allergic to PayPal, and (d) to find out how to send me images of plants. Vegetables are fine! Fungi are deemed to be honorary plants! If you want your handle to appear as a credit, please place it at the start of your mail in parentheses: (thus). Otherwise, I will anonymize by using your initials. See the previous Water Cooler (with plant) here. Today's plant (PM):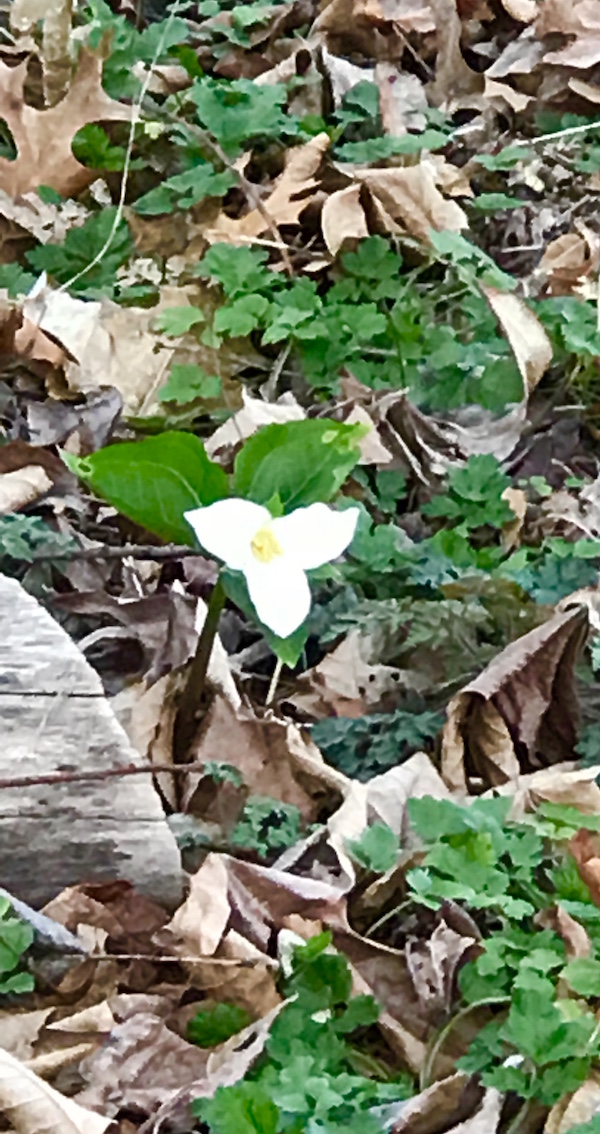 PM writes: "First trillium. Idylwood Park, Redmond WA." Yay! Five days earlier than the trillium I published in 2017, FWIW (not much…).
* * *
Readers: Water Cooler is a standalone entity not covered by the NC fundraiser. So do feel free to use the dropdown and click the hat to make a contribution today or any day. Here is why: Regular positive feedback both makes me feel good and lets me know I'm on the right track with coverage. When I get no donations for five or ten days I get worried. More tangibly, a constant trickle of small donations helps me with expenses, and I factor that trickle in when setting fundraising goals. So if you see something you especially appreciate, do feel free to click the hat!