By Lambert Strether of Corrente.
Trade
"The price tag on new infrastructure projects is rising and could go still higher just as the U.S. is preparing to build more highways and bridges. President Donald Trump's move to impose tariffs on U.S. steel and aluminum imports could end up undermining the president's agenda to rebuild American infrastructure" [Wall Street Journal]. "An improved global economic outlook has already raised demand, and prices, for building materials. One index of prices for a broad set of construction materials rose at its fastest pace in seven years in November, and was up 4.9% in January. Economists don't expect proposed tariffs to have a big impact on the broader U.S. economy, but the construction business is a big consumer of steel and aluminum. Experts say new curbs on imports and rising domestic materials costs mean $1.5 trillion won't buy as much as infrastructure as it used to."
Politics
Midterms
Now that the special elections are more or less past, I've changed this heading from "2018" to midterms.

"Dems Should Worry About Long-Term Direction, Not 2018 Message" [Charles Cook, Cook Political Report]. "Midterm elections are never about a party that has no power. They never have and never will be about a party that doesn't have the White House, majorities in the House or Senate, or for that matter, control of governorships or state legislative chambers. No offense, Democrats, but everything is not about you." Ouch! More: "At a dinner the other night with former political directors of one of the Democratic campaign committees, none of us had a clue who would win their party's presidential nomination, or even what frame of mind Democratic voters would be in as they make the choice." Or, as they say in Hollywood, nobody knows anything. Cook concludes: "My hunch is that a November 2020 electorate might prefer …." Er… "You're gonna have to learn your cliches." It's hand at the tiller, a horizontal bar fitted to the head of a boat's rudder post and used as a lever for steering, not hand at the till, a cash register or drawer for money in a store, bank, or restaurant. Dr. Freud, courtesy phone!

"If there is a partisan shift in the suburbs in November, a couple of dozen House Republican seats should be among the first to feel the movement" [Inside Elections]. "Of course, all suburbs are not alike. In some places, closer-in suburbs tend to be older and more moderate, while suburban areas farther out tend to be newer and more conservative. Strongly conservative suburbs are less likely to be strongly anti-Trump, but even in those areas a shift to the Democrats could have a significant impact."

"Donald Trump's Short Congressional Coattails" [Larry Sabato]. "The only time Trump has had a chance to exhibit his coattail pull came on Nov. 8, 2016, when he was elected with a solid 304 electoral votes but only 46.1% of the popular vote — 2.1 percentage points behind Democrat Hillary Clinton. Of the 241 Republican House candidates elected at the same time, Trump outran just 24 of them — or put another way, one out of 10. It was the smallest demonstration of coattail pull by a presidential winner since 1992, when Bill Clinton's 43% of the vote in a three-way race with President George H.W. Bush and Ross Perot enabled him to run ahead of just five House Democrats."

TX: "How Much Can Primaries Predict the General Election?" [Nate Cohn, New York Times]. "A strong Democratic showing in a partisan primary in Texas would indicate that Republicans can't count on vestigial partisan strength to insulate them from Mr. Trump's distinct weakness among college-educated voters. Alone, a Democratic primary ballot victory won't make the Democrats favorites in any of Texas' Republican-held congressional districts, let alone statewide. But it would suggest that Republicans should not be optimistic about their chances to survive a wave election in Texas, and in well-educated, traditionally Republican suburbs elsewhere across the country."

TX: "What to look for in tonight's Texas primary" [CNN]. Wrap-up with names and districts with nothing else. Texas politics can be colorful…

PA-18: "A new poll from Emerson College shows Democrat Conor Lamb with 48% support and Republican Rick Saccone with 45%" [Politics PA].

PA-18: "The Lamb Surge: Democrat Looking Strong in Trump-Country Special Election" [New York Magazine]. "No, the outcome won't have any literal impact on the balance of power in the House come 2019: The 18th is about to be reconfigured as part of the Pennsylvania Supreme Court's remapping of the state's House districts to reverse GOP partisan gerrymandering, and will probably be significantly less Republican than it appeared to be in 2016. But if Republicans can't win this sort of district, the list of competitive contests for November may need to be expanded significantly."
New Cold War
"In response to recent reports about the integrity of Reddit, I'd like to share our thinking." [Reddit]. "When it comes to Russian influence on Reddit, there are three broad areas to discuss: ads, direct propaganda from Russians, indirect propaganda promoted by our users." Oh. "Indirect propaganda." Seems a rather… capacious concept. But useful for that very reason!

"The New Blacklist" [Matt Taibbi, Rolling Stone]. "This Russians-are-in-our-precious-bodily-fluids insanity has progressed to the point where an anti-Russian documentary won the Oscar and host Jimmy Kimmel proudly declared, "At least we know Putin isn't rigging this competition!" If you don't think that the endgame to all of this lunacy is a world where every America-critical movement from Black Lives Matter to Our Revolution to the Green Party is ultimately swept up in the collusion narrative along with Donald Trump and his alt-right minions, you haven't been paying attention."

"It's offensive to disrespect Sen. Dianne Feinstein. She's 84, female and essential." [Melinda Henneberger, USA Today]. "Before the 2016 election, Feinstein alerted the country to the danger of Russian interference (we didn't listen, but she did tell us)." Henneberger is a member of USA Today's Board of Contributors.

"Jailed Russian 'sex coaches' offer to trade election info for US asylum" [CNN]. Anything's possible, but the last place I'd go for a straight story about anything would be the Pattaya, Thailand, and that very much includes any "Russian sex coaches" doing business there. I mean, yikes.
Realignment and Legitimacy
"Stop Doing the Banks' Bidding" [US News (!)]. "AT A TIME WHEN Democrats at the grassroots level are more fired up and ready to go then they've been in years – spoiling for a fight with President Donald Trump and his cronies in the GOP – a group of Senate Democrats is joining with Republicans to, if you'll believe it, deregulate banks…. Democrats supporting this thing are making the case that it's for the benefit of small, community banks, which are politically sympathetic and generally not the cause of global financial panics. Don't buy it. While there are some bits of the bill that would reduce reporting requirements for small banks, it also includes big benefits for large financial institutions."

Sigh…

Trump is not a president for the people — he's a president for wealthy donors, big corporations, and the people he runs into at Mar-a-Lago. https://t.co/ONEYBVlhZN

— The Democrats (@TheDemocrats) March 6, 2018

Mar-a-lago as opposed to the Hamptons or the Vineyard, I suppose. I mean, come on.

"[There is] an increasingly important mutual aid pact among U.S. states and territories that is changing the way governments plan for major disasters. The Emergency Management Assistance Compact (EMAC) allows states to reach out to each other — instead of to the federal government — to get the resources they need. So when Puerto Rico needed police officers, it could see a list of all the states able to deliver them, how quickly they could get to the island and how much they would cost. Puerto Rico chose Massachusetts" [Governing].
Stats Watch
Factory Orders, January 2018: "Today's factory orders report, down 1.4 percent at the headline level but showing life underneath, closes the book on what was a mixed to soft month of January for manufacturing" [Econoday]. "The split between the report's two main components shows a 0.8 percent rise for nondurable goods — the new data in today's report where strength is tied to petroleum and coal — and a 3.6 percent drop for durable orders which is 1 tenth less weak than last week's advance report for this component…. This report is a reminder that not all the data on the factory sector are strong and underscores the second straight no change reading in the manufacturing component of the previously released industrial production report for January." And but: "According to the seasonally adjusted data, it was aircraft which accounted for much of the decline. The data in this series is noisy so I would rely on the unadjusted 3 month rolling averages which improved" [Econintersect].
Capital Spending: "Research by Industrial Reports, Inc. shows combined U.S. and Canadian planned capital spending improved 27 percent in February compared to January. February spending for the two nations totaled $50.65 billion compared to January's $39.76 billion. The research organization reported 252 planned U.S. and Canadian projects in February" [Industrial Reports]. Planned U.S. project spending increased by 35 percent in February with $42.44 billion in planned investment compared to the January total of $31.29 billion. Canadian planned investment dipped to $8.21 billion in February compared to $8.47 billion in January. Projects in both nations ranged in value from $500,000 to $6 billion….. Process projects led U.S. spending with $26.50 billion in planned investment, followed by manufacturing projects with $6.58 billion. Power and energy projects reported $6.43 billion in planned U.S. spending…. Texas was also the leader in U.S. project activity with 16 planned projects. New York reported 11 planned projects and Indiana, Kentucky and North Carolina each had 10."
Energy: "The world's oil supply chains increasingly will run through the U.S. The International Energy Agency says the country will overtake Russia to become the world's largest oil producer by 2023…, in a stark sign of how a U.S. oil and gas boom is overhauling global energy markets" [Wall Street Journal]. "The industry monitor says the growth in the U.S., which is expected to produce a record of 12.1 million barrels a day in five years, is part of a broader movement away from OPEC countries. The pace is getting the U.S. closer to producing enough crude to meet domestic demand, and it's bringing greater influence in global markets. U.S. oil exports are forecast to more than double by 2023, putting more pressure to expand exporting capacity, including port terminals and shipping."
Commodities: "Manganese's novel chemical state could create more efficient batteries" [Mining.com]. "According to the U.S. Department of Energy's Lawrence Berkeley National Laboratory, this new state enables a high-performance, low-cost sodium-ion battery that could quickly and efficiently store and distribute energy produced by solar panels and wind turbines across the electrical grid."
Apparel: "'Sewbots': the hi-tech revolution with designs on fashion logistics" [The Loadstar]. "The retail supply chain could be "crushed" by new technology that would allow consumers to buy personalised apparel, locally made. While there has been much scepticism over 3D-printing and robotics in the logistics market, now that applications for the technologies are being found, the future is becoming easier to predict. And it involves shorter, cheaper supply chains for fashion logistics. Nike, famously, has already been using 3D printing for customised sport shoes. But perhaps most critically for the fast fashion industry, 'Sewbots' – something of a mixture of AI, robotics and 3D printing – could be a true game changer. According to Transport Intelligence's latest report, Global E-commerce Logistics 2018, Chinese contract manufacturer Tianyuan Garments Company is building a plant in Little Rock, Arkansas, US, manned by sewbots. 'These are robots that can manufacture clothing; in this case t-shirts for German company Adidas, incredibly fast,' notes the report." Lot of ironies in this story. The effect, if it scales up, will be to blight a lot of Southeast Asia. Working in a clothing factory and sending money back to the village isn't the best existence, but it's better than being in debt back on the farm.
Retail: "The Nordstrom family wants to take Nordstrom Inc. (NYSE: JWN) private for $50 a share, a very modest amount compared to where the company's shares trade. This is after the family members who run the company have taken huge bonuses for years and dragged the retailer's prospects down. An independent committee of the board of directors rejected the offer" [247 Wall Street].
Retail: "The stakes in store-pickup are big: one-third of Zara's global online sales are picked up in stores—an increasingly popular fulfillment strategy for retailers. Under Zara's automation plan, online customers will scan or enter a barcode at a store, triggering a behind-the-scenes robot to search for the package in a small warehouse, and deliver it quickly to a drop box" [Wall Street Journal].
Shipping: "Mergers and acquisitions activities for ocean cargo carriers are likely to slow down in 2018, say industry analyts, as trend is likely to "pivot" to freight forwarders" [Logistics Management]. "According to SeaIntelligence Consulting's CEO, Lars Jensen, the limited number of supercarriers left make any further major consolidation efforts unlikely. 'We're now down to only seven supercarriers,' he says. 'I don't think anything is going to happen up there anymore. There might be some that want to merge, but I'm not sure that the competition authorities are going to allow it,' he adds." Seven seems like rather a lot. Why not three? Or two?
Shipping: "Latest data from Alphaliner puts the idle fleet capacity at just 89 vessels in hot or cold lay-up, with just 10 containerships demolished so far this year against about 50 that had been scrapped by the same time in 2017" [The Loadstar].
Shipping: "Skinning the tight-capacity cat" [DC Velocity]. "The numbers and anecdotes tell the story. Truckload and logistics giant Werner Enterprises Inc. ran on some days in January at 145 percent of capacity. Celadon Group Inc., another large truckload carrier, had days when it was turning away 800 to 1,200 loads. Non-contract, or "spot," rates for refrigerated truck capacity were quoted as high as $10.38 a mile in January. … The leverage of asset players in today's ultra-tight-capacity environment may have been best summed up by a trucking executive who said, 'Our negotiating strategy is indifference.'"
Shipping: "The production pace is picking up at heavy-duty truck assembly plants. North American fleet owners ordered 40,200 Class-8 trucks last month…, extending a rebound for manufacturers that has fleet operators racing to get slots on production lines. Analysts FTR boosted their forecast for truck production this year to 330,000 vehicles" [Wall Street Journal]. "The orders mark a big turnaround for a truck-making industry that was laying off workers less than two years ago but is now scaling up for what could be its biggest production year in more than a decade."
Fodder for the Bulls: "What Are Indicators Saying about a Potential Recession?" [Federal Reserve Bank of St Louis]. "Forecasting recessions is notoriously difficult. Even so, knowing that a recession may be imminent enables consumers and businesses to make better strategic decisions." Nevertheless:
What do these indicators say about a recession occurring in the near future? Most suggest that one is not imminent. For instance:

The slope of the yield curve is positive.
The most recent release of residential investment is consistent with its average since the end of the previous recession.
The Index of Consumer Expectations remains at a relatively elevated level.
Barring so-called accidents like (say) the failure of Amtrak's tunnel under the Hudson…
Five Horsemen: "Juggernaut Amazon motors on blissfully into the empyrean as the Silicon Valley sisters huddle together for warmth" [Hat Tip, Jim Haygood].
NakedCap Mania-Panic Index: "The mania-panic index rose to 33 on improvement in five of its seven component series" [Hat Tip, Jim Haygood]. (The NakedCap mania-panic index is an equally-weighted average of seven technical indicators derived from stock indexes, volatility (VIX), Treasuries, junk bonds, equity options, and internal measures of new highs vs new lows and up volume vs down volume … each converted to a scale of 0 to 100 before averaging, using thirty years of history for five of the seven series.)
Police State Watch
"Secret NYPD Files: Officers Can Lie And Brutally Beat People — And Still Keep Their Jobs" [Buzzfeed]. "Secret files obtained by BuzzFeed News reveal that from 2011 to 2015 at least 319 New York Police Department employees who committed offenses serious enough to merit firing were allowed to keep their jobs. Many of the officers lied, cheated, stole, or assaulted New York City residents. At least fifty employees lied on official reports, under oath, or during an internal affairs investigation. Thirty-eight were found guilty by a police tribunal of excessive force, getting into a fight, or firing their gun unnecessarily. Fifty-seven were guilty of driving under the influence. Seventy-one were guilty of ticket-fixing. One officer, Jarrett Dill, threatened to kill someone. Another, Roberson Tunis, sexually harassed and inappropriately touched a fellow officer. Some were guilty of lesser offenses, like mouthing off to a supervisor…. In every instance, the police commissioner, who has final authority in disciplinary decisions, assigned these officers to "dismissal probation," a penalty with few practical consequences. The officer continues to do their job at their usual salary."
Our Famously Free Press
"Yes, there's a crisis of trust in journalism. But it's inside newsrooms, too" [Columbia Journalism Review]. "[T]he undercurrent of much of the turmoil is jobs. It's safe to say that job insecurity is the major cause of distrust between newsroom staffers and media executives. While newspaper ranks have been shrinking for years, a rising set of digital competitors promised to take up the slack. Instead, media companies saw digital media as an excuse to keep costs low, which ushered in a gig economy of permalancing and low-paid piece work in journalism. Now even the full-time digital media jobs are getting cut in industry-wide layoffs. The prospect of arbitrary firings and paltry severance encouraged digital newsrooms including Gawker to start unionizing in 2015." And then of course there are the squillionaires with bright ideas: "he intensifying economic pressures on the media industry have caused executives to ping-pong among bright, new ideas—Branded content! Pivot to video! Newsletters!—with hopes that the latest strategy will be the messianic answer to the media industry's ills. (Spoiler: none of them are, nor can be.) The head-swirling shifts in strategy—paired, usually, with restructuring and layoffs—have created deep rifts between reporters and newspaper management, a mutual wariness that's appearing across the industry as unprecedented mistrust." The sooner reporters become working stiffs with job security as opposed to Listen, Liberal!-stule professionals, the better, IMNSHO.
MMT
"Money, Power, and Monetary Regimes" (PDF) [Pavlina Tcherneva, Levy Institute]. Immediately preceding the heading "ON MONEY AND POWER":
This paper presents a historically grounded analysis of the origins of money to illustrate that money predates markets. Not only is it not a "creature of the market," but a strong case can be made that money is instead a "creature of the state," however broadly defined. This proposition stands at the heart of the Chartalist (or Modern Money) approach to money. This paper extends an earlier analysis of Chartalism (Tcherneva 2006) and defines money as a power relationship of a specific kind, namely a social credit-debt relationship, that is codified by some authority or institution of power—be it an ancient religious authority, tribal chief, or an early administrative body, such as a Mesopotamian palace or a Greek polis, and later a monarchy, colonial power, or a modern nation state. Far from being a simple medium of benign exchange, the history of money as a creature of the state indicates that it is instead a means of distribution, a tool of transferring real resources from one party to another, subject to the power relationship of the specific historical context.
"Bernie's Economist Explains Why We Can Actually Have Nice Things"
Kudos to Bernie for giving Stephanie Kelton a platform. Now only if he would escape the austerity trap by endorsing her ideas…
Class Warfare
"Philando Castile charity wipes out kids' lunch debt in district where he worked" [CNN]. Why the heck is "school lunch debt" even a thing? Are we training them up to be debt slaves early, or what?
"The Economic Colonization of Rural America" [Daily Yonder]. This is a must read:
Economic colonization is a term typically used in reference to neoliberal economic development in nations previously colonized politically. Rather than being colonized by national governments, most economic colonization today is carried out by multinational corporations, which is the case in rural America. Much like colonial empires of the past, transnational corporations have been extending their economic power to dominate people in rural places all around the globe. Rural people are losing their sovereignty, as corporations use their economic power over local economies to gain control of local governments. Irreplaceable precious rural resources, including rural people and cultures, are being exploited – not to benefit rural people but to increase the wealth of corporate investors. These corporations are purely economic entities with no capacity for caring or commitment to the future of rural communities. Their only interest is in extracting the economic wealth from rural areas. This is classic economic colonialism.

The business of America has been largely and without apology the plundering of rural America, from which everything of value—minerals, timber, farm animals, farm crops, and "labor"—has been taken at the lowest possible price. As apparently none of the enlightened ones has seen in flying over or bypassing on the interstate highways, its too-large fields are toxic and eroding, its streams and rivers poisoned, its forests mangled, its towns dying or dead along with their locally owned small businesses, its children leaving after high school and not coming back. Too many of the children are not working at anything, too many are transfixed by the various screens, too many are on drugs, too many are dying."
"Are Intersectionalism Or Afro-Pessimism Paths To Power? Probably Not. Part 3 of 3" [Bruce Dixon, Black Agenda Report (Judith)]. Dixon lucid as always:
"While patriarchy, white supremacy and the other concerns of honest left intersectionalists are vitally important, context is everything. In the real world men wield actual power over women, white Americans enjoy privileges inherited from the settler-colonial heritage of the US, and cis het people often viciously oppress even the queers in their own families. But more than half of white women voters cast their ballots for Trump. There are tens of millions of unemployed and underemployed white people whose "privilege" is pretty much confined to the insides of their heads. We just had eight years of a black president, who surrounded himself at the Democratic convention with almost two dozen black generals and admirals. Black mayors in scores of US cities are gentrifying and privatizing and administering austerity more effectively than any white mayrs could. And Condoleezza Rice has always been black, queer and a woman – for a time, with a Chevron oil tanker named after her. The most reliable marker we have for delineating who has power, and over whom this power is enforced has for generations been economic class – a class analysis."
Follow the money.
News of The Wired
"Surprise graphene discovery could unlock secrets of superconductivity" [Nature]. "A sandwich of two graphene layers can conduct electrons without resistance if they are twisted at a 'magic angle', physicists have discovered. The finding could prove to be a significant step in the decades-long search for room-temperature superconductors…. 'We can expect a frenzy of experimental activity over the next few months to fill in the missing parts of the picture,' says Robert Laughlin, a physicist and Nobel laureate at Stanford University in California."
"The Benjamin Franklin Effect: The Surprising Psychology of How to Handle Haters" [Brain Pickings]. Do them a favor!
"Why I'm not on board with quiet carriages" [The Spectator]. "The quiet carriage, when you think of it, is akin to the idea of a safe space. Just as in a quiet carriage the rules are set by the single most neurotic person on the train, in a 'safe space', the terms of acceptable discourse are set by the thinnest-skinned 0.01 per cent of the population. And like the quiet carriage, this simply does not work." It works fine. Now, get off your cellphone before I call the conductor.
"THIS IS SERIOUS, and a Proposal" [Power of Narrative]. Silber is one of the old-school bloggers, still in there punching, and always worth a read.
* * *
Readers, feel free to contact me at lambert [UNDERSCORE] strether [DOT] corrente [AT] yahoo [DOT] com, with (a) links, and even better (b) sources I should curate regularly, (c) how to send me a check if you are allergic to PayPal, and (d) to find out how to send me images of plants. Vegetables are fine! Fungi are deemed to be honorary plants! If you want your handle to appear as a credit, please place it at the start of your mail in parentheses: (thus). Otherwise, I will anonymize by using your initials. See the previous Water Cooler (with plant) here. Today's plant (Carla):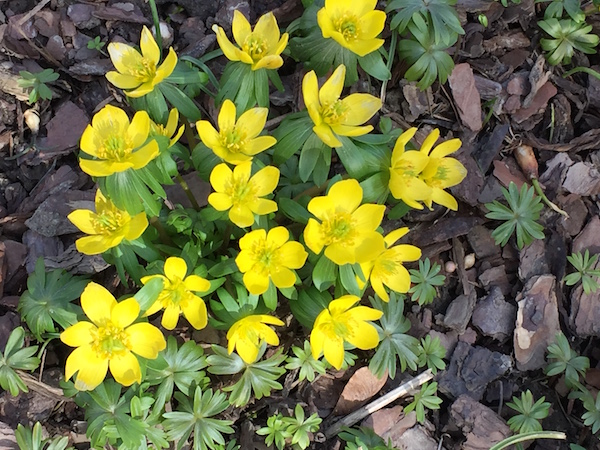 Lovely aconite, but do readers hate so-called bark mulch as much as I do?
Readers, thanks for all the photos! I think I'm all set for now (though do feel free to send more, especially if you've never sent in a plant photo before).
* * *
Readers: Water Cooler is a standalone entity not covered by the NC fundraiser. So do feel free to use the dropdown and click the hat to make a contribution today or any day. Here is why: Regular positive feedback both makes me feel good and lets me know I'm on the right track with coverage. When I get no donations for five or ten days I get worried. More tangibly, a constant trickle of small donations helps me with expenses, and I factor that trickle in when setting fundraising goals. So if you see something you especially appreciate, do feel free to click the hat!