By Lambert Strether of Corrente.
Trade
When a country (USA) is losing many billions of dollars on trade with virtually every country it does business with, trade wars are good, and easy to win. Example, when we are down $100 billion with a certain country and they get cute, don't trade anymore-we win big. It's easy!

— Donald J. Trump (@realDonaldTrump) March 2, 2018
"President Donald Trump next week is set to finalize tariffs of 25 percent on steel imports and 10 percent on aluminum, setting the United States down an uncertain path in its relationship with trading partners" [Politico]. "European Commission President Jean-Claude Juncker called Trump's decision 'a blatant intervention to protect U.S. domestic industry' under the guise of national security. He said he would submit a proposal in the next few days to hit back at the U.S…. The timing of the announcement also embarrassed Mexico and Canada, longtime allies and trading partners that are in the midst of the seventh round of talks with the U.S. to renegotiate NAFTA."
"The tariffs Mr. Trump announced of 25% on imported steel and 10% on aluminum mark some of the steepest protections the U.S. has imposed in years… Mr. Trump says they're aimed at protecting national security and reviving American producers he says have been battered by years of unfair trade" [Wall Street Journal]. "The curbs could hit imports from countries including Canada, South Korea and Brazil. [T]hey're likely to ripple across the U.S. economy, hitting manufacturers of goods from jets and cars to beer cans that already have been coping with higher commodity prices. Some countries already are warning of retaliation, but a bigger concern is that actions could fracture a global trading system built up over decades under the World Trade Organization."
"Trump steel tariffs to hit these 8 countries the hardest — and China isn't one of them" [MarketWatch]. "The U.S. already imports four times as much steel as it exports, and imports are on the rise again. While the U.S. imports steel from more than 100 countries, three-quarters come from just eight countries, according to the International Trade Organization. The top supplier to the U.S. in 2017 was Canada, followed by Brazil, South Korea, Mexico and Russia. Other notables include Turkey, Japan and Taiwan."
Bueller? Bueller? Bueller?
1/2 "In 1930, the Republican-controlled House of Representatives, in an effort to alleviate the effects of the… Anyone? Anyone? …the Great Depression, passed the… Anyone? Anyone? The tariff bill? The Hawley-Smoot Tariff Act? Which, anyone?…" pic.twitter.com/WOQsKTOMBE

— Scott Monty (@ScottMonty) March 1, 2018
Politics
2020
"Bernie Sanders' Single-Payer Message Won't Fly" [RealClearPolitics]. A compendium of conservative talking points that liberals will no doubt find very useful.
2018
"Trump, GOP Fall Back to Earth" [Charles Cook, Cook Political Report]. "Historic midterm voting patterns combined with national, state, and district-level polling data and off-year election results are combining to make a strong case for a classic midterm wave—obviously not what Republicans want to see. But district boundaries and natural population patterns provide at least some degree of protection for House Republicans. Similarly, in the upper chamber, the states that have Senate seats up tilt the playing field decidedly toward Republicans… There is no question that passage of the tax-cut bill in late December was a huge shot in the arm for Republicans…. The hope among Republican officials and strategists is that the enthusiasm among GOP voters for the tax measure would be contagious, and help among the 7 in 10 voters who identify as independents or Democrats. But polling over the past two weeks suggests that the boost for President Trump and Republicans was relatively contained and short-lived."

TX: "The districts in Texas, and the women running in them, are relatively diverse. Gina Ortiz Jones, an Iraq veteran and former Obama administration official, is running in a perennial swing district that includes 800 miles of the U.S.-Mexico border. Lawyer Lizzie Pannill Fletcher and activist and journalist Laura Moser are running in the primary to face Rep. John Culberson in a district outside Houston that is considered a critical target for Democrats. Lillian Salerno, a small business owner, is running to challenge Rep. Pete Sessions in a north Dallas district. All of these women face crowded primaries and multiple other well-funded, credible candidates" [RealClearPolitics]. "Clinton won each of those districts narrowly, even though the Dallas and Houston districts are longtime Republican strongholds. Candidates and party strategists argue that to repeat that success, they'll need to court independent and moderate voters, particularly women, who are opposed to Trump. 'If we're looking for a path to victory, it makes sense to get on the path that worked last time,' Fletcher told RCP." W-e-l-l-l. "the path that worked last time" would be the Clinton campaign of 2016, with a candidate who wasn't awful, and an appeal to the ~70K working class voters in flyover states who flipped to Trump from Obama ("change versus more of the same"). That appeal would be simple: #MedicareForAll, or support for unions. That would be a simple and very conservative play. But the Democrats aren't "repeating that success" at all. What they're doing instead — with the help of the intelligence community and the liberal press, to the extent those are separate entities, at this point — is fomenting a Red Scare, fomenting a War Scare, doubling down on identity politics, kicking the left, and standing up Blue Dogs. They have also institutionalized nothing to expand the electorate, despite project onesies and twosies. This strategy deserves to fail so much it could very well succeed.

IL: "Nancy Pelosi Just Endorsed a Congressman Who Opposes Abortion and Gay Rights" [Mother Jones]. Calm down. How is Pelosi supposed to stop #MedicareForAll without the Blue Dogs?
2016 Post Mortem
"Accusation in a Mirror" [Kenneth L. Marcus, SSRN]. "Essentially, accusation in a mirror (AiM) is a common technique for inciting genocide by accusing one's intended victims of precisely the crimes that one intends to commit against them. This article argues that the usage of this common genocidal technique should satisfy the directness requirement for incitement to genocide under international law." Well, genocide is an extreme application. But that the psychological mechanism is named and arguably presentable in a court of law is interesting.
Obama Legacy
"Obama Foundation Scholars":

"The program will build lasting relationships among emerging leaders who are committed to working together to solve the most pressing challenges of our time, creating a global network that reaches across issues and borders. After completing the program, Obama Foundation Scholars will return to their communities and continue the important work they started in the program by implementing their own personalized action plan. They will also have an opportunity to play a role in the Obama Foundation's efforts to inspire, train, and connect rising leaders from around the globe."

Weird that the first program isn't for "emerging leaders" — what a Clinton-esque phrase — who aren't in the United States. But what struck me is the use of Obama for America's trade dress for an Obama Foundation program. I wonder how that was worked?
New Cold War
Hoho loses his mind:

APPARENTLY THE RUSSIANS WERENT THE ONLY ONES SCREWING AROUND WITH OUR ELECTIONS Sanders fined for accepting foreign donations in 2016 election https://t.co/gA70CmRjy5 via@vtdigger

— Howard Dean (@GovHowardDean) March 1, 2018

From the original VT Digger story: "Sen. Bernie Sanders' presidential campaign will pay $14,500 as part of an agreement with the Federal Election Commission over allegations that the campaign wrongfully accepted in-kind donations from an Australian political party. The complaint centered on a group of seven Australians who volunteered for the Vermont independent's 2016 presidential bid." So, wait, not Russians, but Australians? Seven Australians? THIS MERITS ALL CAPS? [insert "Dean Scream" joke here]. And while we're at it: "Lots Of British People Are In The US Campaigning For Hillary Clinton." Too bad. I was rather looking forward to the March on Melbourne. Certainly better duty than the March on Moscow.
Puerto Rico
"Puerto Rico Governor Orders Review of Hurricane Death Count" [Insurance Journal]. "Puerto Rico's governor has announced that a team of experts at George Washington University will lead an independent, in-depth review to determine the number of deaths caused by Hurricane Maria amid accusations that the U.S. territory has undercounted the toll. The team, led by the dean and an epidemiologist of the university's school of public health, expects to have a preliminary report in three months and a final report in one year…. Goldman said the team will review all deaths from September until the end of February, relying on death certificates in addition to possible funeral home and hospital visits and interviews with family members and doctors. The team also will review mortality records from the past 10 years to calculate possible excess deaths and analyze the process that Puerto Rico used to count victims. She said the type of research her team will be doing could lead to an improved U.S. model for estimating deaths after a disaster."
Realignment and Legitimacy
"Dark Money Basics" [Open Secrets].

"Fear and Loathing in Cascadia" [The Baffler]. "Today, Cascadian iconography is deeply engrained in the Pacific Northwest's liberal, hipster culture. Responsibly sourced coffee roasters and craft beers "brewed on site" incorporate Cascadia's name, its flag's insignia, and its devotion to all things locally sourced. The Cascadian flag is flown at gay pride parades, Occupy protests, and by Portland Timbers soccer fans. Yet this liberal spirit veils the Cascadia brand's nationalistic undertones. In 2009, Hopworks beer released Secession Cascadian Dark Ale. As expected, the beer was organic, sustainable and handcrafted. Its label featured a map of Cascadia floating alone, superimposed over the Cascadian flag. The clear message, literally bottled up and presented as a hipster product, was that Cascadia could be its own country."

"The Void Stares Back" [Jacobin]. "Rising abstention and alienation suggests that the political choices on offer are not enough to motivate people to pay attention and vote. As for anti-political hostility: 'as Alexis de Tocqueville once observed in the case of the old French aristocracy, it is easy to breed contempt for those who continue to claim privileges on the basis of functions they no longer fulfill.' Indifference or hostility to conventional politics is not confined to those outside the system, but expressed in the media, among technocrats, and by elected officials themselves. The predominant flavor is the centrist disdain for both partisanship and populism, where root problems are identified as dysfunctional pandering to ideological party bases and irresponsible promises to voters. Nowhere is this stronger than in the parties themselves, where electoral logics have thrown up centrist leaders who must resist their popular base as well as the opposition."
Stats Watch
Consumer Sentiment, February 2018 (Final): "Consumer sentiment, at 99.7, ended February roughly at the mid-month reading and well above January's 95.7" [Econintersect]. "The tax cut appears to be the driver of the optimism and was quantified in yesterday's personal income & outlays report where personal taxes fell 3.3 percent in data for January…. Consumer confidence remains a standout feature of the economic data, which has been more moderate than robust." Quel scandale, that "in contrast to actual." And: "Final 2018 Michigan Consumer Sentiment Favorable" [Econintersect].
Personal Income and Outlays (yesterday): "About as expected, with a relatively small increase from the tax cuts, which are a one time event. And the weakness in consumption hints at those receiving the cuts having a low propensity to spend. Also, the still too low personal savings rate suggests continuing weakness" [Econoday].
Commodities: "SQM talks down lithium oversupply, says market to grow 80% a year" [Mining.com]. "Chile's Chemical and Mining Society (SQM), one of the world's largest lithium producer, said global demand for the white metal, a key ingredient in the making of batteries that power electric vehicles, will continue to grow at rate of roughly 80% annually in the next five years. According to chief executive officer Patricio de Solminihac, the world will need at least 50,000 tonnes of lithium a year until 2023 due to an expected increase in the use of electric vehicles and high tech devices, and the company wants to be ready to meet that demand…. 'We truly believe in the lithium market, [which] will need more efficient projects to come on line to maintain the market equilibrium and support the development of the EVs and battery industries,' he noted."
Retail: "Amazon.com Inc. is starting to feel pain from a natural result of moving into the grocery business—spoilage" [Wall Street Journal]. "Investors looking at the company's recent drive into the supermarket arena are pushing Amazon to explain how much of the food from its operations goes to waste. The demand from Green Century Capital Management, Inc. and other investors is through a request to the Securities and Exchange Commission…. and comes as Amazon is bulking up in a field where waste counts for a major cost." Spoilage in the grocery business; who knew? More: "More investors are pushing companies to change food-waste and packaging practices that they see as a potential drag on profits in a low-margin business." Amazon, however, has been exempt from worries about margins, no? Perhaps "the story is changing" (see below) here, too?
Retail: "KFC is topping off its supply-chain troubles in the U.K. with a new shortage crisis. The restaurant chain, which had to close many of its outlets in the country after the disastrous rollout of a new distribution contract with DHL, finally has the chickens mostly where they need to be. But the BBC reports KFC now is facing a nasty aftertaste with a shortage of gravy" [Wall Street Journal]. Dear me, what next? Rats? Kidding! More: "KFC, which has 900 restaurants in the U.K. and Ireland, last month switched its supplier contract from Bidvest Logistics to DHL, which worked with Quick Service Logistics to overhaul the company's delivery network and consolidate much of the operation into a single distribution center. The troubled result provided a lesson in the gap between designing far-flung and fast-moving distribution networks and actually putting them into motion."
Shipping: "Teamsters withdraw demands banning UPS use of drones, autonomous vehicles" [DC Velocity]. "Denis Taylor, who heads the Teamsters' package division responsible for labor relations between the Atlanta-based company and the approximately 256,000 union members who handle UPS' main business line, pulled the proposal, according to a note published yesterday on the 'Teamsters United' website. Teamsters United was a slate formed prior to the union's 2016 general election largely out of dissatisfaction with the mainstream Teamster leadership…. Organized labor is typically suspicious of technological advancements for fear it will take jobs away from humans. UPS, which is moving aggressively to integrate technology across its entire operation, has made no secret of its interest in drones and has made drone testing available for public viewing. It has been more circumspect with regards to autonomous vehicles, sensitive to the direct impact their utilization would have on concerns over drivers' job security." Or maybe it's not that UPS is "sensitive"; maybe it's that robot cars don't work.
The Bezzle: "Wells Fargo board investigates wealth and investment management unit" [Pensions & Investments]. "The board's review, which [Wells Fargo's 10-K filing Thursday] said is in its preliminary stages, is assessing 'whether there have been inappropriate referrals or recommendations, including with respect to , certain alternative investments, or referrals of brokerage customers to the company's investment and fiduciary services business," the filing said." This headline, like others, focus on "wealth and investment management," which makes it sound like some kinda bespoke high-net-worth individual type thing. But in the text, a 401(k) rollover scam makes it sound like the little guy could be being screwed. I guess we'll see!
The Bezzle: "Merck insider bought stock 14 minutes after no-trade warning" [The FCPA Blog]. "A former Merck & Co. executive bought shares in a company Merck was acquiring 14 minutes after a Merck lawyer warned him not to trade in the stock. Yang Xie was the director of a research unit at Merck. He settled the SEC's charges by paying a penalty and disgorgement of about $9,000." $9K isn't very much, but wowsers. No conscience.
Honey for the Bears: "Sheila Bair Sees the Seeds of Another Financial Crisis" [Barron's]. Interesting interview, well worth a read, especially on Dodd-Frank. This:
Where, then, do you see potential problems that could trigger the next crisis?

I'd keep an eye on credit-card debt. Subprime auto has been a problem for a couple years, and valuations on loans used to finance leveraged buyouts are high. Any type of secured lending backed by an asset that is overvalued should be a concern. That is what happened with housing. Corporate debt also has not gotten as much attention as it should. It is market-funded, rather than bank-funded, but the banks still have exposure. Then there's cyber-risk. It took us so long to get around to the reforms post-crisis that we got a little behind on systemic cyber-risk, but regulators are very focused on it now.
Tech: "Facebook is not getting any bigger in the United States" [Recode]. "Pew data [shows that] Facebook growth in the U.S. has officially stalled. The good news for Facebook: Instagram is picking up some of the slack. Roughly 35 percent of U.S. adults now use Instagram, up from 28 percent in 2016." Welp. "But oh, love's day is short, if love decay. Love is a growing, or full constant light, And his first minute, after noon, is night." –John Donne, A Lecture upon the Shadow
Mr. Market: "When the Story Changes, Be Alert" [Calculated Risk]. "There is an axiom in investing that when the story changes, pay attention. As an example, if a company changes their focus, reconsider your investment…. Over the last several years, the economic story has been consistent: Strong employment growth, steady economic growth (solid given demographics), low inflation, and an accommodative monetary policy – with no fiscal stimulus… But in 2018, the story is changing. We are seeing some economic tailwinds and some headwinds. Although the tax changes are poorly conceived, and mostly benefit high income earners, there should be some short term boost to economic growth. That might lead the Federal Reserve to raise rates a little quicker than anticipated…. And now the Trump administration is proposing tariffs and talking openly talking of a trade war. That is a downside risk to the economy. As economists at Nomura noted this morning: 'A sharp deterioration in financial conditions and aggressive trade policies by the Trump administration present notable risks.' I still think the economy will be fine in 2018, but ."
The Fed: "Fed Changing Its Tune" [Tim Duy's Fed Watch]. Parsing of Fedspeak, then: "Bottom Line: I don't think this is just about three or four hikes. It strikes me as something bigger, a more fundamental change in the policy objective. I understand if you want to resist such an interpretation. We, myself included, all have a lot of ink spilled on gradualism, so there is a natural resistance to . But as I said Monday, it felt like policy expectations had been set adrift during the transition and I was looking for Powell to re-anchor those expectations. That's what it looks like he is doing. But he is raising as many questions as he is answering. For instance, I think we need to give some extra weight to the view that 2 percent inflation is a ceiling, not a symmetric target. And now we will be talking about monetary offset. Should get interesting."
Five Horsemen: "All five Horsemen continue outperforming the S&P 500 during the recent downdraft" [Hat Tip, Jim Haygood].
NakedCap Mania-Panic Index: "Yesterday's selloff drove the mania-panic index down to 31 (worry), below its Feb 9th low of 32" [Hat Tip, Jim Haygood]. Readers will recall that I've been whinging about how CNN's Fear and Greed Index is lagged, sometimes by as much as four days, and Haygood generously volunteered to create a similar index in chart form.
Gaia
"The man who bottled evolution" [Michigan State University Today]. "Thirty years ago, Michigan State University researcher Richard Lenski added his now-famous bacteria to 12 inaugural flasks, a process he and his team of lab technicians and students have been repeating daily ever since… That was the humble beginning of Lenski's Long-Term Evolution Experiment—aka LTEE—which today ranks as one of the world's longest-running science experiments…. Lenski's bacteria grow more than six generations a day. It takes mice a year to do the same thing. On human terms, the LTEE generations span the equivalent of well more than a million years of human evolution. The long-term experiment demonstrates definitively—rather than theoretically—how new lineages arise and diverge. It confirms that evolution occurs, is ever-present and never stops. In other words, according to science writer Carl Zimmer, Lenski has done something Darwin never dreamed of: he has observed evolution in his own time." Hmm. The gut is rather like a flask, is it not?
Health
Uber for Health:
The United States of America: the place where transporting people during health emergencies is a branching out opportunity for a car service because an ambulance ride can leave you with thousands of dollars of debt, for which you can end up in prison. https://t.co/cU1N8rNG5r

— Ništa (@commietantric) March 2, 2018
Class Warfare
The West Virginia wildcat teachers strike continues:
BREAKING: All schools in West Virginia will be closed again Friday because of an historic, statewide teacher strike. It will be the seventh day of the strike. pic.twitter.com/JR3Hp1Tz32

— Jake Jarvis (@NewsroomJake) March 1, 2018
"WV Senate considers putting pay raise toward PEIA as teacher strike continues" [Charleston Gazette-Mail]. "On Thursday, one week into the statewide public school employee strike, which will continue Friday with public schools in all 55 counties closed, the West Virginia Senate pumped the brakes on a bill that would give teachers, school service personnel and the State Police a 5 percent raise. Instead, Senate President Mitch Carmichael, R-Jackson, sent the legislation (House Bill 4145) to the Senate Finance Committee to change it and create a long-term revenue source for Public Employees Insurance Agency health coverage."
"Striking teachers go out of their way to make sure students have food" [Today]. "During the four-day strike, teachers throughout West Virginia went out of their way to provide students with food. Teachers and staff at Horace Mann Middle School in Charleston prepared bagged lunches to send home with their students before they hit the picket line. Others worked with local food pantries to drop food off at students' homes."
"'I Live Paycheck to Paycheck': A West Virginia Teacher Explains Why She's on Strike" [New York Times]. Katie Endicott, 31, a high school English teacher from Gilbert, W.Va.:
What are the origins of the strike?

They told us that essentially if you weren't a single person, if you had a family plan, your health insurance was going to rise substantially. As a West Virginia teacher — and I've been teaching 10 years — I only clear right under $1,300 every two weeks, and they're wanting to take $300 more away for me. But they tell me it's O.K., because we're going to give you a 1 percent pay raise. That equals out to 88 cents every two days.

They implemented Go365, which is an app that I'm supposed to download on my phone, to track my steps, to earn points through this app. If I don't earn enough points, and if I choose not to use the app, then I'm penalized $500 at the end of the year. People felt that was very invasive, to have to download that app and to be forced into turning over sensitive information.

Go365 was thrown out. Of course they decided to give a freeze [on insurance rates], and I think people thought that might be enough. But we understand that this is an election year. They can freeze it right now, but what happens after the election? The feeling is, we have to get this fixed, and we have to get it fixed now.
Maybe now there's been a story in the Times, liberal Democrats will at least do some virtue signaling. We can but hope! The whole interview is worth a read, and dispels the image of West Virginia voters as toothless KKKers, squatting round a night-time fire, muttering: "If we're gonna save this country, we gotta git us a Socialist Jew in the White House."
Strike fund:
Help WV teachers feed their families and students while they're on strike here: https://t.co/4Y44JGUKjs

— Red (@ErinGoudreau) March 1, 2018
What I find fascinating is that this was pinned by a Twitter account from Montana. People are paying attention out in flyover country, even if not in the Acela Corridor.
* * *
"Michigan schools suffer 'critical' bus driver shortage" [Detroit Free Press]. "Short hours, split shifts, loss of benefits. These are just some of the reasons school districts around Michigan are struggling to find bus drivers and keep them on staff, an issue that has been labeled a "critical shortage" by the Michigan Department of Education for the 2017-18 academic year."
"What If We All Owned Tops?" [Daily Public]. "But what if, instead of just bailing Tops out, New York State purchased the foundering grocery chain outright and ran it as a public enterprise? Under public ownership, we could guarantee that union jobs at Tops are not abruptly eliminated or shipped out of the community. We could raise the minimum Tops wage to $15 per hour immediately, putting more money into the hands of local Tops workers and thus into our local economy. We could stock all the Tops stores with good food, the stuff that they usually only have at the suburban locations. While the idea of a publicly owned grocery store may sound radical at first, it is actually far more reasonable than other state-led economic development efforts in the area, with the potential for far greater public benefits." Creative thinking from Western New York!
News of The Wired
"Twitter is asking the public to help measure how toxic it is" [The Verge]. "'We're committing to helping increase the collective health, openness, and civility of public conversation around the world, and to hold ourselves publicly accountable toward progress,' the company said in its blog post today. 'By measuring our contribution to the overall health of the public conversation, we believe we can more holistically approach and measure our impact on the world for years to come.'" So far as I'm concerned, the best thing Twitter could do is get rid of Correct the Record's paid trolls. I think even better than that would be doing nothing. Some Twitter neighborhoods are nice; some aren't. Don't go to the bad neighborhoods unless you know what to expect!
* * *
Readers, feel free to contact me at lambert [UNDERSCORE] strether [DOT] corrente [AT] yahoo [DOT] com, with (a) links, and even better (b) sources I should curate regularly, (c) how to send me a check if you are allergic to PayPal, and (d) to find out how to send me images of plants. Vegetables are fine! Fungi are deemed to be honorary plants! If you want your handle to appear as a credit, please place it at the start of your mail in parentheses: (thus). Otherwise, I will anonymize by using your initials. See the previous Water Cooler (with plant) here. Today's plant (ChiGal):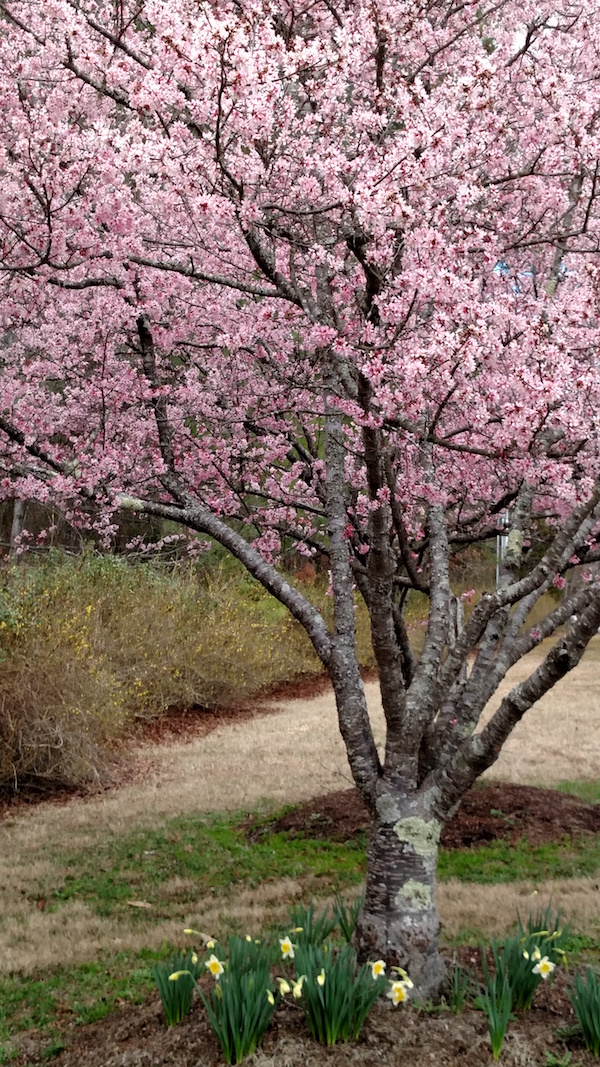 ChiGal writes: "It's February, go figure!!"
Readers, thanks for all the photos! So, whether you're from the tropics or merely anticipating mud season, we'd like to see what you've taken — especially if you've never contributed anything before!
* * *
Readers: Water Cooler is a standalone entity not covered by the NC fundraiser. So do feel free to use the dropdown and click the hat to make a contribution today or any day. Here is why: Regular positive feedback both makes me feel good and lets me know I'm on the right track with coverage. When I get no donations for five or ten days I get worried. More tangibly, a constant trickle of small donations helps me with expenses, and I factor that trickle in when setting fundraising goals. So if you see something you especially appreciate, do feel free to click the hat!