By Lambert Strether of Corrente.
Trade
"Trump opts against announcing steel and aluminum tariffs Thursday after fierce White House blowback" [WaPo]. "President Trump has decided against announcing tariffs on steel and aluminum imports on Thursday after 18 hours of frenetic push-back from inside the White House and on Capitol Hill, two people briefed on the decision said." Note the sourcing.
"Trump invites steel and aluminum industry to White House" [Star-Tribune]. "President Donald Trump summoned steel and aluminum executives to the White House on Thursday amid speculation he may impose tariffs or quotas on steel and aluminum imports. Plans for Trump to make an announcement were thrown into doubt amid internal wrangling over the decision. Some White House officials, including chief of staff John Kelly, were not fully briefed on the Commerce Department's plans, according to a senior administration official familiar with the process. This official was not authorized to publicly discuss the internal deliberations and spoke on condition of anonymity."
Politics
2020
"Bernie Sanders Wants Congress to End U.S. Support for Yemen War. Saudi Lobbyists Fought Similar Measures Last Year" [The Intercept]. "A BIPARTISAN GROUP of senators unveiled legislation on Wednesday designed to end U.S. support for the Saudi-led war in Yemen. The resolution — introduced by Sens. Bernie Sanders, I-Vt.; Chris Murphy, D-Conn.; and Mike Lee, R-Utah — attempts to use the War Powers Act of 1973, a Vietnam War-era law that limits the president's power to wage war without congressional authorization, to disentangle the U.S. from a campaign that has claimed thousands of civilian lives and led to mass starvation."
2018
"Is a wave rolling in for House Democrats? Potentially competitive districts and candidates build strength" [Brookings Institution]. "The number of Democratic challengers to House incumbents in the 2018 elections has continued to go up, from 455 on September 30 to 510 on December 31. However, 510 is no longer an unprecedented number. At the end of the year before the Republican wave election of 2010 there were 522 GOP challengers to Democratic incumbents filing with the FEC."

"The Midterms and the Turn Leftward" [Sean McElwee, The Baffler]. "Democrats will take the House, probably winning around forty seats. Despite what you've heard, Democrats won't just be winning upscale suburbs, but will pick up a basket of seats, ranging from highly educated and upscale to working-class and rural. They will make their biggest pick-ups in ten key states, though CA, FL, NY, PA, and TX alone will deliver enough seats. Here's how." Since gridlock is our friend, I don't mind the Democrats flipping the Senate, but I think flipping the House means impeachment, which will tear the country apart and culminate in Pence (and that's the best possible outcome. Pardon my pessimism.

"To counter Trump chaos, Democrats promote 'stability' candidates" [NBC News]. "Think of Ralph Northam (military background, doctor, lieutenant governor) who won Virginia's gubernatorial contest last November. Or think of Doug Jones (a former prosecutor who promised he could "work with Republicans better than Roy Moore can work with anyone") in December's Alabama contest. Or think of Conor Lamb (military background, former prosecutor) who's running in this month's special congressional election in a Pennsylvania district Trump won by 20 points in 2016. It's chaos vs. stability. It's reality-show background vs. military/prosecutor backgrounds. And it's excitement vs., well, a little boring." You know what it is? It's Blue Dogs. That's what it is. It's 2006 all over again. Rahm Emmanuel has risen from the grave!

liberals: stop trying to appeal to working class voters who weren't energised by hillary or the small % that voted trump — they are irredeemable
also liberals: we should admire *real* conservatives like Reagan and invite never-trumpers like Frum and Kristol into the #resistance

— ☭ Socialist Republic of the Moon ☭ (@AGreenNewDeal) March 1, 2018

NC: "For the first time in anyone's memory, nearly all 170 state legislative races in North Carolina will feature both a Republican and Democratic candidate" [News and Observer]. "In past election cycles, districts drawn to strongly favor one party often failed to draw more than one candidate. The 2016 general election included 73 districts in which just one of the major parties fielded a candidate. Republicans didn't have a candidate in 30 House races and four Senate races; Democrats didn't have a candidate in 28 House races and 11 Senate races."

TX: "Want More Women to Vote? Here's an Idea: Stand Up for Them" [Laura Moser, Vogue]. From 2017, still germane.
2016 Post Mortem
"Did Facebook Really Charge Trump Less for Advertising?" [New York Magazine]. Another take on the Trump vs. Clinton on Facebook ads: "So did Facebook actually charge the Trump campaign less? There are two things worth noting here: The first is that [Trump's Brad] Parscale and [Clinton's Jennifer] Palmieri probably don't know what each other was being charged on Facebook — and, further, Parscale and Palmieri both benefit from the narrative that Trump was undercharged and Clinton over-. (Parscale can claim to be a digital-campaign Facebook genius, and Palmieri can claim that the Clinton campaign was screwed over by Facebook.). The second thing worth noting that while [Antonio] García Martínez was asserting [in the original Wired article] that Trump got a bigger bang for his buck on Facebook because his ads effectively mimicked the sorts of 'provocative' content that perform well on Facebook (I'm trying not to write 'clickbait,' but it's the same genus), he didn't himself claim, as Parscale and Palmieri did, that Trump's CPM was lower."
New Cold War
Rate these dogs:

Left: liberals (rightfully) @ the NRA after a mass shooting.

Right: liberals @ America's foreign policy after we've bombed a school. pic.twitter.com/P0aNawKTlY

— ⛵ koholint island yacht club ?️ (@disco_socialist) February 28, 2018
Gunz
Ah, memories:

So great we'll arm teachers in Florida. I grew up in Florida, my teacher used to lose his temper and throw chalk at my head. I'm glad they'll have guns at all times now. Everything is fine.

— beth, an alien (@bourgeoisalien) February 28, 2018

Real life shortly after: "Despite Parkland's opposition, Florida House panel votes to arm teachers" [Tampa Bay Times]. "After vote, Speaker Richard Corcoran takes credit for ending 'gun-free zones' in classrooms."

Real life shortly after that: "Teacher fired shot, barricaded self inside HS classroom, police say" [WSB-TV]. Why are we pussyfooting around on this? Arm the students!

Real life in the future:

[Florida 2019]

Officer: Mrs. Smith you shot your student, what happened?

Teacher: He was reaching in his bag, how was I supposed to know he was just getting a ruler? Sorry.

— beth, an alien (@bourgeoisalien) February 28, 2018

"The Parkland Teens Fighting For Gun Control Have The Backing Of These Huge Organizing Groups" [Buzzfeed]. Hopefully that doesn't lead to decapitation, as with Black Lives Matter.
Realignment and Legitimacy
"What We Really Learned From Mueller's Indictment Of Russian Trolls Is That Internet Providers Know Everything" [Thomas Frank, Buzzfeed]. "Experts familiar with evidence collection say Mueller likely tapped into enormous communications archives maintained by internet companies such as Google, Facebook, and Twitter, and gained access through laws that require companies to turn over records. 'The thing that is not sufficiently appreciated is that the evidence of all of the crimes in the world has become digitized and is largely in the hands of American technology companies. They are de facto intelligence companies. Internet companies are doing the NSA's work now,' said Andrew Keane Woods, an expert in cybersecurity and international law at the University of Kentucky College of Law." Depending on the quality of the data, yes. Spitballing here, but if the intelligence community can "tap into" data for "all the crimes in the world," convert that data into Steele-style oppo, and then convert that oppo into a FISA warrant, they can p0wn any member of the political class; after all, "everyone is guilty of something." Of course, one might go one step further than assume that because this can be done, it has already been done. Not that I'm foily.

On corruption:

My unpopular opinion: I'm unconvinced that the endemic self-dealing of the Trumps and Kushners is substantively worse than the usual policy quids exchanged for post-term corporate-and-foundation gig quos.

— Jacob "Blockchain" Bacharach, LLC (@jakebackpack) March 1, 2018

Conservatives are direct: They just reach into the cookie jar and grab what they want. With Democrats, there's always a layer of indirection and often a lag: They get their cookies through their foundations, on K Street, or their book deals. Or their Presidential libraries.

"A Dozen Democrats Want To Help Banks Hide Racial Discrimination In Mortgages" [HuffPo]. "[N]ext week, the Senate is set to vote on a ]Tim] Kaine-sponsored bill that deliberately undermines the government's ability to enforce laws against racial discrimination in the housing market." Kaine was Clinton't running mate in her unsuccessful 2016 run.

"Democrat Joe Manchin Refuses to Support AR-15 Ban: 'I Don't Know Anyone Who's Committed a Crime With It'" [Newsweek]. I wonder where Manchin stands on the West Virginia teachers strike. Readers?
Stats Watch
Institute For Supply Management Index, February 2018: "No sample has been reporting consistently stronger results than ISM manufacturing where the composite index rose to 60.8 in February, Strength lies in new orders… " [Econoday]. "This sample, from the government that are comparatively flat, continues to carve out one of its very strongest runs in 70 years of data." And: "This was above expectations of 58.6%, and suggests manufacturing expanded at a faster pace in February than in January" [Calculated Risk]. And but: "Based on these surveys and the district Federal Reserve Surveys, one would expect the Fed's Industrial Production index growth rate remain about the same as last month. Overall, surveys do not have a high correlation to the movement of industrial production (manufacturing) since the Great Recession" [Econoday]. And: "What they're saying: 'Employment is one of our biggest challenges. No labor available,' said one purchasing manager in the food, beverage and tobacco products category" [MarketWatch]. "'Labor market continues to be tight for supply chain talent in the Southern California area. Overall economy is strong,' added another manager, in the transportation equipment sector."
Purchasing Managers' Manufacturing Index. February 2018: "Growth eased very slightly over the last two weeks of the PMI manufacturing sample… Despite the month-end slowing, the month's results are among the best of the last three years… New orders, the most important of any reading, lead the strength…" [Econoday]. "These results point to a strong first-quarter start for the factory sector though the directional signal does on the sector which opened the year on a weak note, specifically declines in January durable goods orders and no change for manufacturing in January's industrial production report."
Construction Spending, January 2018: "Capital goods readings in Tuesday's durable goods report were weak as is nonresidential spending in today's construction spending report for January, weakness that held total spending unchanged in the month" [Econoday]. "Housing is a larger category than nonresidential spending reflected in the total year-on-year rate which is at plus 3.2 percent, moderate but respectable. And public spending, which is a separate category concentrated in educational building and roads, is also contributing, up 1.8 percent on the month and 8.2 percent on the year. And spending here, given the outlook for new deficit spending, could prove to be an accelerating plus for the construction outlook." John Maynard Keynes, courtesy phone! However: "There continues to be significant backward revision to the date – this month was downward. The rolling averages declined. Also note that inflation is grabbing hold – and the inflation adjusted numbers are showing contraction in this sector" [Econintersect],
Personal Income and Outlays, January 2018: "Core inflation did noticeably rise but not more than expected, at 0.3 percent in January but not enough to lift the year-on-year rate which holds at an as-expected 1.5 percent…. These results fit in with the Federal Reserve's expectations for a gradual upward trend for prices but they don't accelerate the outlook" [Econoday]. "Spending data are soft, up only 0.2 percent overall and marking a weak first-quarter start for the consumer… in January, up 7 tenths to 3.2 percent. The gain in income is a positive not only for the savings outlook but the spending outlook as well. This report, despite the monthly weakness in spending, points to economic health, specifically rising income and gradually rising prices." But: " and remains at 21st century lows. Consumer spending growth was lower than income growth year-over-year" [Econintersect]. On the savings rate: "The backward revisions are driving this analyst crazy – especially the year-over-year numbers which are jumping around massively." And: "The increase in personal income was slightly above expectations, and the increase in PCE was at expectations" [Calculated Risk].
Personal Income: "Crumbs? Bonuses tied to Trump tax cuts said to boost U.S. incomes by $30 billion" [MarketMarch]. "The Bureau of Economic Analysis raised its estimate of how much U.S. incomes rose in the first month of the year in response to widespread reports of businesses handing out onetime bonuses after the tax cuts became law. If those bonuses hadn't been included, incomes barely would have risen in January. The BEA also estimated that the tax cuts reduced personal taxes in January by a $115 billion annual rate. The result: Disposable income — mostly what Americans take home after taxes — posted the biggest one-month gain since 2012. Disposable incomes leaped 0.9%. How accurate are these numbers? Hard to say…. The BEA admitted it based its calculation on "news releases" of companies that announced the bonuses. How, when and to whom those bonuses are paid won't show up in the data for several months."
Bloomberg Consumer Comfort Index, week of February 25, 2018: "Troubles in the stock market haven't been hurting consumer confidence readings including the consumer comfort index" [Econoday].
Jobless Claims, week of February 24: "Today's personal income & outlays report points to economic health as do initial jobless claims, down 10,000 in the February 24 week to a lower-than-expected 210,000 for the best reading in 49 years" [Econoday]. And: "This was lower than the consensus forecast. The low level of claims suggest relatively few layoffs" [Calculated Risk].
Retail: "Is This the Last Chapter for Barnes & Noble?" [247 Wall Street]. "In terms of its long-term strategic plans, Barnes & Noble is focused on the following four key elements: "1. Strengthening the core business by enhancing the customer value proposition." And certainly firing all the full-time employers is the obvious first step to take in doing that…. If I want to be depressed by a retail environment, I can go to Sears. Rather, I could have gone. So where's Barnes & Noble's Unique Selling Proposition, here?
Banks: "HSH Nordbank sold to private equity group, ending sad chapter in German banking: [Handelsblatt]. "The €1 billion purchase price [from Cerberus and J.C. Flowers] was more than the [Hamburg and Schleswig-Holstein] could have hoped for a year ago. But it hardly makes up for the €10 billion-plus the two governments have poured into the bank to bail it out after an ill-advised foray into shipping loans that made HSH Nordbank the global leader in maritime finance but nearly sunk it when the sector went into a slump. Total losses could reach €14 billion depending on whether the state has to pay off guarantees." Oof.
Commodities: "Mexican election to pose limited risks to positive mining outlook: BMI" [Mining.com]. " new report by BMI Research states that a possible victory by frontrunner presidential candidate Andrés Manuel López Obrador poses "minimal downside risks to an otherwise strong outlook" for Mexico's mining industry. According to the market research firm, the populist candidate's policy goals would indeed represent a major shift from the current administration and that is why they have stoked investor fears around a possible disruption in the country's trade relationships and recently liberalized energy sector. However, when it comes to mining, BMI forecasts rather positive results."
Energy: "Democrats urge DOI not to cut offshore oil royalty rates" [Splash 247]. "The Democratic members of the Senate and House of Representatives natural resources committees wrote a letter that expressed concern that the [Department of the Interior's] plan to cut the royalty rate from 18.75% to 12.5% would deprive taxpayers of billions of dollars in revenue while being a bonanza for the oil companies involved."
Shipping: "UPS announces further expansion of its Worldwide Express service" [Logistics Management]. "UPS said this week that its UPS Worldwide Express Service now is available in 124 countries and territories. This service provides customers with guaranteed delivery on the next possible business day by 10:30 a.m., 12 noon, or 2 p.m., based on destination. UPS said individuals and companies of varying sizes can use it, but it is geared towards ones with time-sensitive international shipment. It is now available in nearly areas making up 96% of global GDP and 93% of real imports."
Manufacturing: "Evolution due for automotive logistics as manufacturers drive changes" [Logistics Management]. "[Transportation Intelligence's] Automotive Supply Chain and Logistics report suggests that while artificial intelligence (AI) and the demise of diesel tend to be the two subjects that hit the headlines, a switch in materials used for making cars may be just as important. 'Less talked of than autonomous guidance or electric propulsion, is the use of different materials for the 'frame' of the car,' it said. 'Certain manufacturers, such as Jaguar, already use aluminium construction, although most vehicle manufacturers (VMs) at present use steel alloy to deliver a lighter vehicle.' The report claims a renewed interest in power-weight ratios will 'amplify' the need for materials with better performance than steel, causing changes to automotive logistics. In particular, it notes the growing of role carbon fibre." Interesting in light of the steel and aluminum tariff discussion above.
Infrastructure: "Trump willing to take GOP heat to push 25-cent-a-gallon fuel tax hike, senator says" [DC Velocity]. "The somewhat sketchy reports that President Trump would support an increase in the federal motor fuels tax came into sharper clarity today after several lawmakers said they were told by the President that he would back a 25-cent-a-gallon hike, to be imposed at one time, and that he would take the heat from his own party to get it accomplished." He's learning, albeit slowly and in fits and starts.
Tech: "Determining The Average Apple Device Lifespan" [Asymco]. "In The Number I argued that active devices is a breakthrough in quantifying the value of Apple's business. The first insight is into the size of device (read: user) base, the second is in the resilience of that device base (2/3 in use). Now we see the third insight: the specific length of time or duration of use per device–a proxy for user satisfaction and loyalty. This I (and Deming) argue, is the most important measure of the health of a business because it speaks of the future and not, as all other figures do, the past. I'll show in the next post how this single number allows us to calculate the net present value of Apple's future cash flows, or, by definition, Apple's enterprise value." Readers, methodology?
The Fed: "Treasury yields lower as Powell plays down wage pressures" [MarketWatch]. "The 10-year Treasury note price remained higher Thursday, pushing down the yield, after Federal Reserve Chairman Jerome Powell said he saw no signs of significant wage pressure."
Five Horsemen: "Facebook, leader of the pack until Amazon Friday last October, now occupies last place" [Hat Tip, Jim Haygood].
NakedCap Mania-Panic Index, February 2018: Yesterday's slump drove the mania-panic index down to 37 (worry) [Hat Tip, Jim Haygood]. Readers will recall that I've been whinging about how CNN's Fear and Greed Index is lagged, sometimes by as much as four days, and Haygood generously volunteered to create a similar index in chart form. (I'll leave it to him to chime in with methodology in comments).
Health Care
"Introducing Uber Health, Removing Transportation as a Barrier to Care" [Uber]. Funny, Andy Slavitt was talking about this just the other day, as part of the strategy for his investment firm (which naturally has nothing to do with his work for @USofCare [guffaw]).
"Why health care in Latin America is better for retirees" [MarketWatch]. Example: "After her attentive, unhurried and caring consultation, Pilar asked my wife if she'd like to have the tooth fixed right then and there. She and I were stunned and unprepared for this, but after a pause to consider the situation, we agreed. Thirty minutes later, the dental work was done so well we couldn't even see the location of the original problem. We paid our $75, said 'adios' and enjoyed my wife's improved smile."
"State Lawsuit Claims That Individual Mandate Penalty Repeal Should Topple Entire ACA" [Health Affairs]. "In their complaint, filed in federal district court in the Northern District of Texas, the states argue that the repeal of the individual mandate penalty in 2019 is fatal to the ACA and, as such, the entire law should be struck down. In summary, they argue that the Supreme Court upheld the individual mandate as a tax. Now that Congress eliminated the individual mandate penalty beginning in 2019, the mandate is no longer enforceable as a tax and thus is no longer valid. They further argue that the entirety of the ACA relies on the mandate and, without the penalty, the entirety of the ACA is also unconstitutional…" It's like the ACA was designed to maximize attack surfaces, rather than minimize them.
Net Neutrality
"The Wired Guide To Net Neutrality" [WIRED]. "The future of net neutrality is now in the hands of Congress and the courts. Twenty-one state attorneys general, led by New York's Eric Schneiderman, sued the FCC in January to block the new rules and restore the old ones; so did several consumer-advocacy groups. An industry group representing Facebook, Google, Netflix, and other internet companies has also vowed to join legal fights to preserve net neutrality." That "industry group" is the Internet Association, and I have yet to see what "vowed to" means in practice. Fine words butter no parsnips.
"There also are politically strategic reasons for Republicans to endorse net neutrality, since it does not allow for indirect censorship of political ideas. Numerous liberal media organizations are owned by major service providers, which will be able to favor their own content, while Fox News, the Wall Street Journal and other conservative media are noticeably not owned by a giant cable or wireless provider. If Republicans realized the importance of such disparity in vertical integration of service providers owning content providers, they surely would not support a policy position that hurts news outlets sympathetic to their party" [The Hill].
Class Warfare
"Rejecting W.V. Deal, Over 50 Counties Will Continue Wildcat Strike Tomorrow" [Payday Report]. "Yesterday, many expected the West Virginia teachers' strike to end as union leaders and Governor Jim Justice announced a deal to temporarily freeze PEIA health insurance premiums, deductibles, co-pays, and prescription costs. Governor Justice also agreed to create a commission to resolve the long term problems with PEIA…. Earlier today, teachers throughout the state voted down the deal proposed by their union leaders and will continue their wildcat strikes tomorrow. Some counties voted down the deal by margins of more than 85%.Many teachers prefer that a long-term fix is passed now by the legislature to address the state's PEIA health insurance program by increasing taxes on fracking to control skyrocketing out-of-pocket costs. Hundreds of teachers rallied on the Capitol, chanting 'A Freeze Is Not a Fix.' 'This is not what we wanted. Like I said, we have sold out and caved into what the legislature and governor wanted,' said AFT member Amber Brumfield on Facebook today."
Good to see the Democrats rallying behind the West Virginia teachers:
Nick the Intern wanted to speak with you today about our office standing in solidarity with teachers striking in West Virginia. @AFTWV @PFT400 pic.twitter.com/Tt2cjThDde

— Lee J. Carter (@carterforva) March 1, 2018
Well, one Democrat…
"The State of American Wages 2017" [Economic Policy Institute]. "Rising wage inequality has been a defining feature of the American economy for nearly four decades. In 2017, with an improving economy, all deciles in the overall wage distribution have improved, meaning most workers finally have higher hourly wages now than in 2007, the labor market peak before the Great Recession hit. However, large gaps by gender, race, and wage level remain, and some of these gaps are increasing. Rising inequality means that although we are seeing broad-based wage growth, ordinary workers are just making up lost ground rather than getting ahead. The bottom seven deciles have seen annual growth of hourly wages of 0.5 percent or less since 2000."
"Them Against Us: A Travesty of Two Nations" [Ghion Journal]. "The rich would do wise to read a Tale of Two Cities tonight; the same way hubris prevented the aristocracy in Paris from knowing their own limitations, greed and arrogance is blinding the gentry to the suffering of the vast of humanity. God have mercy on the poor when the next economic downturn arrives at our doorsteps. Likewise, may the poor have mercy on the rich when the middle class join the impoverished in collective destitution." I don't agree with everything, but it's a fine rant, and written from the heart.
The old is dying and the new is struggling to be born:
— Iʟʟᴜᴍɪɴᴀᴛɪ Cᴀᴜᴄᴜs ᴅsᴀ☠️? (@IlluminatiDSA) March 1, 2018
News of The Wired
"Pedestrian Deaths Remain Near Historic High Governing" [Governing].
"Huawei reveals the Matebook X Pro – like a Macbook Pro but without the duct tape" [The Star]. Oooooh, a spill-proof keyboard! I lost a MacBook Pro to a spill. I'm not yet in the market for a new laptop. However, I'd love to escape the Apple jailecosystem, Apple keeps insulting me as a professional with its product decisions, and I could get a Matebook X Pro and (presumably) slam a linux distro on it. However, my workflow demands an outliner wtih precise requirements. Currently I use the simple and wonderful Opal, which looks like this: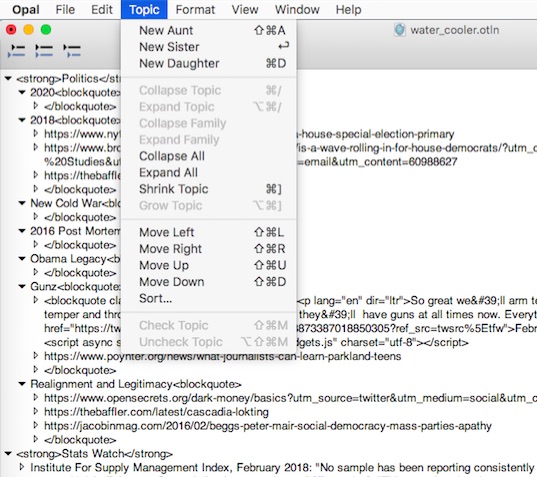 As you can see, the requirements are (1) a single pane (I don't want to be dragging stupid tree structures around, or be required to label the branches); and (2) outlines are created with simple keystroke commands. I also need to be able to export to HTML. Readers, just so I can get my head into this, can any of you steer me to a linux outliner that meets these requirements?
* * *
Readers, feel free to contact me at lambert [UNDERSCORE] strether [DOT] corrente [AT] yahoo [DOT] com, with (a) links, and even better (b) sources I should curate regularly, (c) how to send me a check if you are allergic to PayPal, and (d) to find out how to send me images of plants. Vegetables are fine! Fungi are deemed to be honorary plants! If you want your handle to appear as a credit, please place it at the start of your mail in parentheses: (thus). Otherwise, I will anonymize by using your initials. See the previous Water Cooler (with plant) here. Today's plant (Tracie Hall):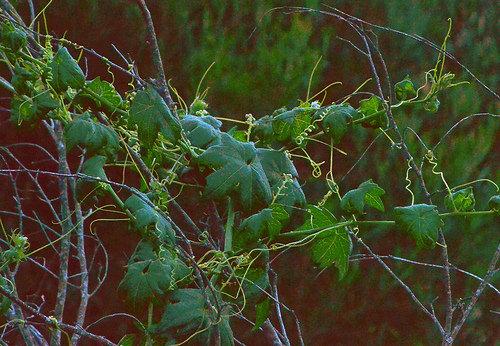 Tracie Hall: "Early morning, low light—just testing my camera setting, but ended up actually liking this picture—I love how the tendrils of vines just curl until they find things to wrap around."
I believe this tendency to twine is called "thigmotropism," which would be a good Word of the Day if it is, in fact, the right word. Readers?
Readers, I'm running a bit low on plant images. So, whether you're from the tropics or merely anticipating mud season, we'd like to see what you've taken.
* * *
Readers: Water Cooler is a standalone entity not covered by the NC fundraiser. So do feel free to use the dropdown and click the hat to make a contribution today or any day. Here is why: Regular positive feedback both makes me feel good and lets me know I'm on the right track with coverage. When I get no donations for five or ten days I get worried. More tangibly, a constant trickle of small donations helps me with expenses, and I factor that trickle in when setting fundraising goals. So if you see something you especially appreciate, do feel free to click the hat!