Yves here. One option that used to be popular among the rich but not super rich to evade taxes was to have no residence: spend 1/3 or more of the year on a cruise ship, and spend the rest in at least two other countries. Another classic one is to live in Monaco. But if you've ever visited, it is claustrophobic and seems devoid of anything besides sun (its deeming feature), too many tanned middle aged men wearing a bit too much jewelry with much younger blond women, and too many casinos.
By Andres Knobel. Originally published at Tax Justice Network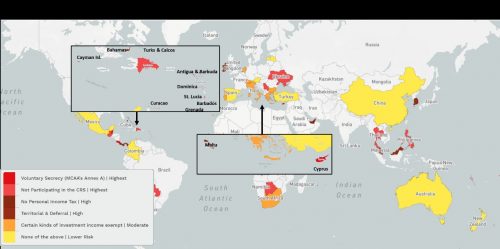 On February 19th, the OECD launched a consultation entitled "Preventing abuse of residence by investment schemes to circumvent the CRS". It was about time. Since 2014, we have written several papers and blogs (here, here, here, here and here) explaining how residency and citizenship schemes offered by countries can be abused to avoid automatic exchange of bank account information established by the OECD's Common Reporting Standard (CRS).
Today, we publish this brief report by myself Andres Knobel and Frederik Heitmüller with the list of countries presenting the highest risk to be abused for avoiding the CRS.