Dear patient readers,
I suddenly have a Michigan nexus of interest.
1. I am trying to verify the title structure and get some further information about the University of Michigan-Dearborn and Wayne State University practices (usual credentials and job duties for "adjunct professors") in the pre-2006 time frame.

2. I'd like to confirm some information about an alum of what is now called "Ross Business," the University of Michigan business school (weirdly, in the small world category, Steve Ross was once a client of mine 30 years ago…). It's a very easy query and anyone who can access the alumni database could clear things up.
If you can help or might have a connection who can help, please ping me at yves@nakedcapitalism.com with "Adjunct Professor" or "Ross Business" as appropriate in the subject line. Thanks!
Social status influences infection risk and and disease-induced mortality British Ecological Society. In spotted hyenas.
Meta-analysis and the science of research synthesis Nature
LEGO Will Start Selling Sustainable, Plant-Based Blocks This Year Global Citizen
European Clocks Slowed by Lag in Continent's Power Grid Voice of America
The dark side of daylight saving time The Conversation
How iPads Changed a Police Force's Response to Mental Illness The Crime Report (Dan K)
Oregon Couple's Final Days Captured In Intimate Aid-In-Dying Video Kaiser Health News
North Korea
Trump accepts 'milestone' meeting with Kim BBC

Trump meeting with Kim Jong Un could signal major thaw in nuclear standoff Politico
World Bank blasts EU's deepening economic divides, urging bloc to take populist movements seriously Telegraph. Help me. After the World Bank played a huge role in promoting financialization, which is a big driver of inequality.
Macron seizes moment to take on French unions Financial Times. Someone send him the World Bank memo
Brexit
Brexit Bulletin: Pushing Evolution Bloomberg. Curious to get reader reactions, but I don't see this as terribly significant. The drop dead date on formulating an exit agreement is October. The "future relationship" part was alway just a political statement. It will take years to negotiate a trade deal. The intent may simply be that the EU wants as much as possible not to look like the heavy when possible, not that it cares about UK PR, which it cannot control, but for the sake of its image with smaller EU members. Barnier and EU leaders have already done tons of things, some subtle, some very up front, to try to get the Government among other things to negotiate rather than continue posturing on issues where the EU has said "no".

Rights and equality challenges of Brexit Irish Times. "The undefined negotiated by the unprepared to get the unspecified for the uninformed."
New Cold War
US Army Docs: Plan to 'Dethrone' Putin for Oil Pipelines May Provoke WW3 MintPress (Wat)

'Progressive' Journalists Jump the Shark on Russiagate Consortium News (YY)

In 1983, American Provocations — and Soviet Fear — Drove the World Closer to Nuclear War War is Boring (PlutoniumKun)
Imperial Collapse Watch
Now we know why defense attorneys quit the USS Cole case. They found a microphone. Miami Herald. Wowsers.
Big Brother is Watching You Watch
Tell Me More About How Google Isn't Part Of The Government And Can Therefore Censor Whoever It Wants? Caitlin Johnstone (UserFriendly)

This Peter Thiel-backed Senate Candidate Has It in for Google Bloomberg
Trump Transition
Health Care
'Our Healthcare Crisis Won't Be Solved Until We Get Private Insurance Out' FAIR (UserFriendly)

Trump Administration Stops Idaho's Bid to Skirt Obamacare Rules Bloomberg

DOD ran into some tangles with new medical records system. VA hopes it can do better News-Tribune
Kill Me Now
Obamas in talks with Netflix about TV series Financial Times. Another reason to leave the US ASAP…
The Clinton Bamboozle: a "Third Way" to Irrelevance Ghion Journal (UserFriendly)
Public Ignorance or Elitist Jargon? Reconsidering Americans' Overestimates of Government Waste and Foreign Aid Sage Journals
Meet The Campaign Connecting Affluent Techies With Progressive Candidates Around The Country The Verge (Dan K)
Fake News
Fake news spreads faster than true news on Twitter—thanks to people, not bots Science News (Dan K)
Pearsons, Who Pledged $100 Million to UChicago, Want Their Money Back Chicago Maroon
Hedge fund Alden siphoned 100s of millions from newspapers in scheme to gamble on other investments, suit says News Matters
Cigna Move To Buy Express Scripts Is Latest Acquisition In Rapidly Evolving Health Industry KHN
Elizabeth Warren Refuses to Let Democrats Off the Hook for Their Latest Cave to Wall Street Alternet (furzy)
Why Isn't Wall Street Freaking Out About Trump? Politico
Most Millennials Have $0 for Retirement and We're All Fucked Vice
Class Warfare
The Devolution of the Good Society to the Bad Society Ian Welsh. I understand his point about kindness intellectually, but I am actually deeply suspicious of gestures like that and tend to brush them off. So I am not only guilty of not engaging in that sort of behavior (save giving $ to the homeless pretty regularly, but that is so inadequate relative to the scale of the problem), I discourage it. I suppose I am more of a Stoic: if people did their duty, things would work better plus we'd have way less interpersonal friction. Behavior might not rise to the level of kindness, but it would be easier for most people to be civil, even pleasant.

West Virginia teachers' triumph offers fresh hope for US workers' rights Guardian

Professor Declares Black Students 'Rarely' Graduate In The Top Half Of Law School Class Above the Law (Dan K). Cringe-making.

Why McDonald's is flipping its arches for a day CNN. Help me. Why don't they offer daycare instead.

What Airbnb Did to New York City City Lab

10 Years After: The Financial Crisis and the New York Federal Reserve District (PDF) The Center for Popular Democracy

Congress Is 80% Male and 81% White. Here's How to Change That. Ellle. "[Project 100], so christened because it aims to ensure that 100 progressive women are serving in Congress by 2020 in honor of the 100th anniversary of women's right to vote, is the result of months of research by co-founders Danielle Gram, previously the head of the Tony Blair Foundation…."
Antidote du jour. Tracie H: "Female Allen's Hummingbird displaying the coy look she flashes at the boys":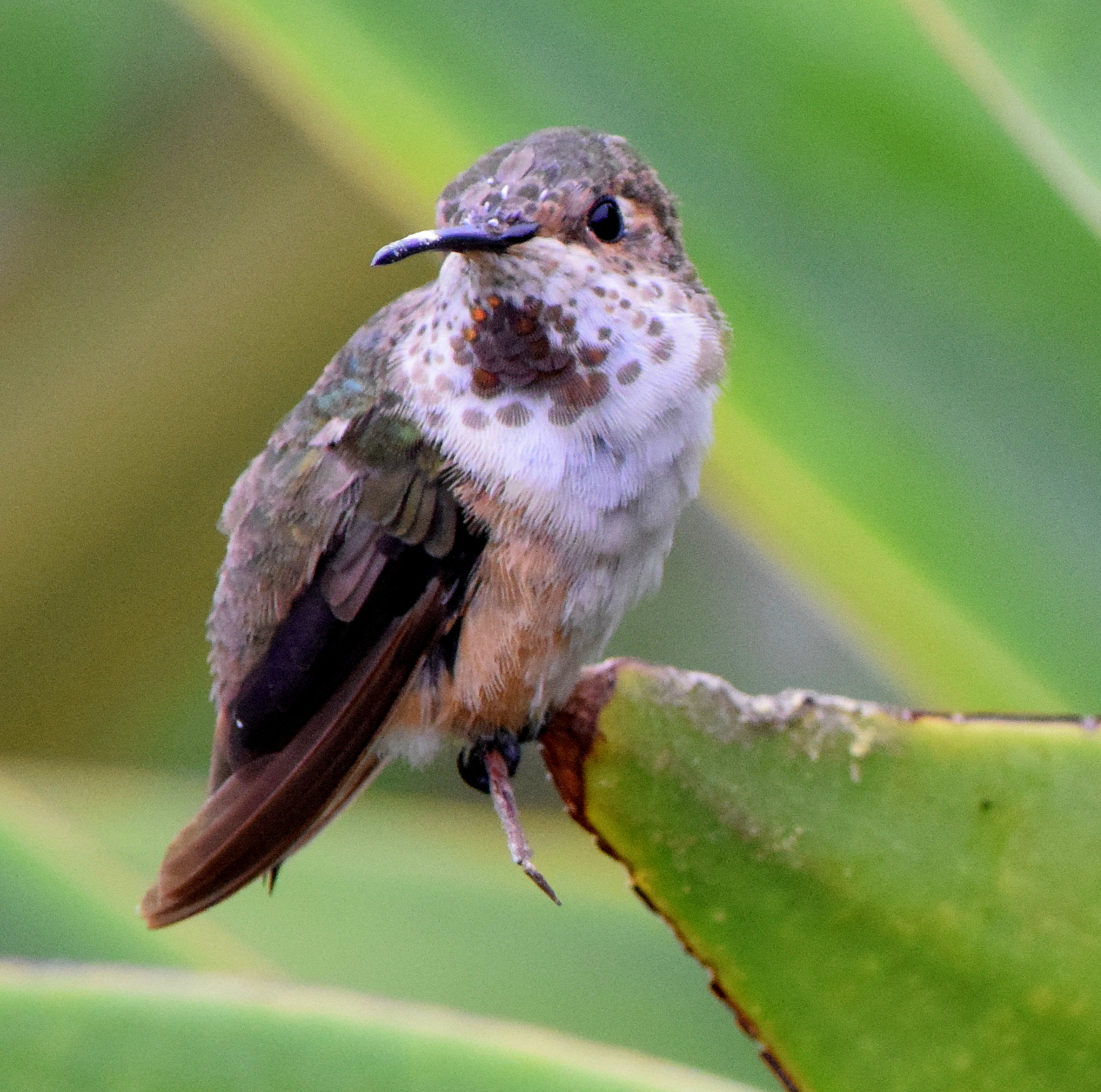 And a bonus video from Dave E. If you turn up the sound, you can hear the purring:
See yesterday's Links and Antidote du Jour here.