By Lambert Strether of Corrente.
In this post, I'll do a quick survey of the topics listed in the headline, starting with forests. When we get to power, we'll see that restoration in the interior might be complete by May — just in time for 2018's hurricane season! Weather Underground:
The Atlantic hurricane season, which officially runs from , has finally drawn to a close. The brutal 2017 season was an awful reminder of the huge hurricane vulnerability problem we face, and how unprepared we are for a potential future where the strongest storms get stronger and push their storm surges inland on top of steadily rising sea levels. Much of the Caribbean lies in ruins after the terrific beatings administered by the twin demon Category 5 hurricanes of 2017, Irma and Maria… The three great hurricanes of 2017 also killed large numbers of people. The preliminary death toll from Harvey is 84, and is 95 from Irma. Hurricane Maria, though, may be responsible for over a thousand deaths. New research that has not yet gone through peer-review puts the indirect death toll from Maria in Puerto Rico at 1,085 and rising… As we discussed in detail last week, the greatest number of indirect deaths on record for a hurricane is 500, for Hurricane Katrina of 2005.
I say "survey" because I'm skimming the surface for each topic; if I dug deeper, I fear that the enormous tangle of pathways to misfortune that I'd find simply wouldn't be tractable (as we will see Naomi Klein say, in her own way, when we conclude). That's not good news for other portions of the continental United States that may will experience disasters[1].
But first, one anecdote:
You know Puerto Rico is still in hurricane recovery mode when you get handwritten movie tickets pic.twitter.com/DNh1vPgevA

— Dánica Coto (@danicacoto) March 10, 2018
And a second:
[FOTOS] Camino a la escuela en Morovis… Para quienes piensan que Puerto Rico ya está recuperado de los daños provocados por el huracán María. La vida en muchos pueblos de la montaña no ha vuelto a ser igual. (Fotos publicadas esta mañana por Lydia Rivera en Facebook) pic.twitter.com/DgUF3x8Ny9

— Robby Cortés (@RobbyCortes) February 28, 2018
(The school bus driver was, I believe, fired. But what were they to do?) So if these two anecdotes are emblematic — a polity that can't print and distribute movie tickets, or rebuild its bridges after they collapse — the prognosis for the American citizens in Puerto Rico is not good; the political class in the continental United States has no intention whatever of focusing on the problem (despite the good efforts of Senators Sanders and Warren).
Forests
Scientific reporting on Hurricane Maria's impact on is starting to come in. Here's one from Phys.org:
Assessing the impact of hurricanes on Puerto Rico's forests

"We look for a change in the spectral signature from before and after the storm," said Chambers, a scientist in Berkeley Lab's Earth and Environmental Sciences Area as well as an associate professor of geography at UC Berkeley. "When the sunlight bounces off green vegetation it looks one way, and when it's bouncing off vegetation where the leaves are all stripped off or trees have toppled it's very different. We find dramatic changes in the spectral signature of the forests associated with damage, tree mortality, uprooted trees, stripped leaves, and canopies."
Here's a before-and-after image from the study (left and right, respectively).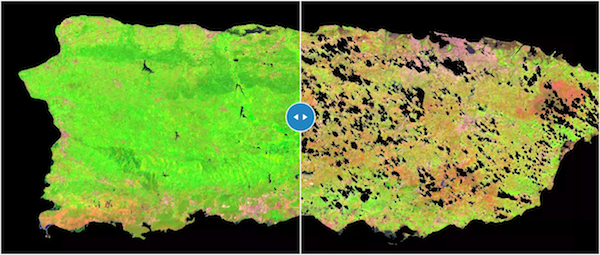 The Programme for the Endorsement of Forest Certification describes some of the effects of damaged forests like Puerto Rico:
Through stabilisation of soil, forests minimise erosion and hence reduce the impairment of water quality due to sedimentation. Forest and forest plant roots prevent run-off from heavy rains and with it soil erosion. Woodlands protect water bodies and watercourses by trapping sediments and pollutants from other up-slope land use and activities

Forests also play a role in water availability. Forests absorb water as direct rainfall from the atmosphere and through their roots from the ground. Through a process of evapo-transpiration, water is re-released to the atmosphere and the global water cycle. At the same time, forests may influence the timing of water delivery by maintaining and improving soil infiltration and the soil's water-storage capacity.

Tropical rainforests play a particularly important role in providing water for the plants and animals that shelter under their thick canopies allowing them to survive and protecting their biodiversity.

Without forests, there would be increased run-off of rain water and with it topsoil erosion.
Leaving aside ecotourism consequences, I'm guessing that effects in Puerto Rico's mountainous interior would include: Failure of subsistence farming due to topsoil erosion, more washed-out roads and bridges (as above) due to increased run-off, potablity issues due to sediment and pollutants. I'm sure that foresters and ecologists in the readership can come up with more consequences.
Power
First, another anecdote:
The power grid in Puerto Rico is so unreliable that it is being used as a "backup" at San Juan's Centro Medico, the hub of hospitals consisting of OR, ER, Trauma; 2 large generators provided by @FEMA are, and have been, the primary source of power for the last 5 months.

— David Begnaud (@DavidBegnaud) March 2, 2018
So power isn't reliable even in Puerto Rico's largest city. And it's a good thing the hospital had those generators. NBC:
The capital of San Juan was left without power, along with the neighboring municipalities of Caguas, Bayamon and Carolina, company spokeswoman Yohari Molina told The Associated Press. She said crews were working to repair the problem but that wasn't clear how many customers were affected by the outage. More than 970,000 people live in the areas hit by the blackout.
That's not to say that the workers restoring the power had an easy time of it. National Public Radio:
FLORIDO: On my way down from Barrio Borinquen, I ran into a couple of linemen here from Denver. John Davis and Dean Breidenbach were working in the rain, repairing a transformer. Breidenbach said on that day, their 24-person crew had restored power to about 30 homes.

DEAN BREIDENBACH: The fact that all the vines have grown over stuff for six months now – all our wire's under that.

FLORIDO: So it's really, really – it's, like, painstakingly slow.

BREIDENBACH: It's five times harder than normal in the United States doing the same job because of the terrain.
The terrain matters because by an accident of history, the power plants are on Puerto Rico's southern coast, while its biggest cities are on the northern coast. So the power lines have to cross the difficult mountainous territory in the middle of the island. As the power workers say: "[A]ll the vines have grown over stuff for six months now." And if you've ever been to the tropics, you know how fast those vines can grow and how hard they clutuch. USA Today reports:
Despite nearly 4,000 utility workers across the island working to repair the grid, remote areas like Yabucoa remain a challenge in the massive post-storm power restoration effort, said Col. Jason Kirk, the U.S. Army Corps of Engineers Task Force Power Restoration Commander.

Around 150,000 customers remain without power across the island, down from more than 1.4 million immediately after the storm, he said. Challenges have included gaining access to remote areas that were blocked by storm debris, patching up damaged and outdated equipment and coordinating the efforts of five different entities involved in power restoration[1], including the Puerto Rico Electric Power Authority (PREPA) and multiple crews from the mainland, Kirk said.

"This is of a magnitude beyond anything that's been undertaken[1] in the United States," he said.
That's 150,000 customers without power. Vox clarifies:
As of March 1, about 12.5 percent of utility customers still couldn't turn on the lights, refrigerate food, or run water pumps. And remember, "customer" refers to a power meter, and each meter can represent multiple people living in the same house.
Above it all, the vultures circle. Common Dreams:
As nearly 250,000 Puerto Ricans remain without power five months after Hurricane Maria struck the island territory—the longest blackout in U.S. history—the Puerto Rico Electric Power Authority (PREPA) said Sunday it will reduce its operating reserve to save money, as the island's government moves toward privatizing the authority.

A federal judge denied PREPA a $1 billion loan over the weekend, saying the authority could not prove it needed the additional cash injection. The company will now reduce its reserve by 450 megawatts, saving $9 million per month but likely resulting in more power outages.
[Puts head in hands].
Depopulation
The North American Congress on Latin America (NACLA) has a fine wrap-up on Puerto Rican diasporas, past and present. First, they point out that exodues is not a new thing:
Out-migration is such an enduring aspect of Puerto Rican history that one might say that the country's most valuable export is its people. But the exodus sparked by the 2006 recession, and exacerbated in recent months by the thousands of Puerto Ricans who have left and continue to leave in the aftermath of Hurricane Maria, sets a historical precedent. More Puerto Ricans—around 5.4 million—now live in the United States than in Puerto Rico, with around 3.3 million residents.
And:
.
The numbers:
The Center for Puerto Rican Studies at Hunter College has estimated that between 2017 and 2019, Puerto Rico could lose up to 470,335 residents, or 14% of its population. These projections were quickly superseded as over 300,000 Puerto Ricans landed in Florida after the hurricane—over twice the number of Cubans who arrived in Florida during the Mariel boatlift in 1980. The out-migration totals since Hurricane Maria exceed the number that left the island during the entire previous decade of economic stagnation and recession. The scale of the human exodus even surpassed the Hispanic Research Center's recent dire predictions that the population would decline to 3.4 million by 2030. As of this writing, Puerto Rico's population has already plummeted to 3.3 million. Fertility rates have been declining steadily while death rates have increased, further exacerbating the island's rapid depopulation.
NACLA concludes:
The scale and rapidity of depopulation has no parallel in Puerto Rican history, and bears .
Other authorities agree. The Washington Post:
"What we are observing is ," said Lyman Stone, an independent migration researcher and economist at the Agriculture Department who provided models to Puerto Rico. "People kind of treated me like a crazy person when I put it out there."
"People kind of treated me like a crazy person." They always do, don't they?
Privatization
First, school privatization. I haven't been able to pin down why school privatization instantly became the preferred policy position in New Orleans after Katrina, and has only lurched slowly forward after Maria[2]. But now privatization is on the move. Education Week:
[Governor Ricardo Rosselló and Education Secretary Julia Keleher] have made waves for proposing to close about 300 public schools, more than a quarter of the island's 1,100, and introducing new schools similiar to charter schools. Keleher has also said she wants to introduce vouchers to Puerto Rico, although she said the island's situation needs to stabilize first.
I'm not going to go into the details on why charters are one of those bright ideas squillionaires have that don't work out, but I will point out one detail that seems to have been ignored: Charters would appeat to violate Puerto RIco's Constitution. Article II, Section 5:
Everyone has the right to an education directed to the full development of his personality and to the strengthening of respect for human rights and fundamental freedoms. There will be a public education system which is free and wholly non-sectarian. Education shall be free in primary and secondary school, to the state where facilities permit, it will be made ​​mandatory for school primary. . Nothing contained in this provision to prevent the State from any child can not provide educational services established by law for the protection or welfare of children. Compulsory attendance public primary schools to the state where facilities permit, according available herein shall not be construed to apply to those who receive instruction in primary schools established under governmental auspices.
Second, power privatization. Reuters:
In January, Rossello announced his intention to sell off the Puerto Rico Electric Power Authority's power generation assets, and said it could take about 18 months to complete.

On Monday he said the energy reform bill would "define the process" for privatized and public-private partnerships (P3s). These so-called P3 projects would shift development costs onto the private sector, and in return typically would be paid fees from government to manage a property.
Another detail that's been ignored: Privatizing San Juan International Airport was an omnishambles, even more than public-private partnerships usually are.
Conclusion
Most readers are familiar with Naomi Klein, her book Shock Doctrine, and its concept of disaster capitalism. Readers may not know, however, that a visit to Puerto caused Klein to reconsider her views. From Repeating Islands:
"It is a different form, maybe it's not the shock doctrine; maybe it's something else. Maybe I have to rewrite or write , because it is not shock; it is trauma that has been exploited, which is different and surprising," added Klein, who ascribed the concept to conversations with Puerto Rican anthropologist Yarimar Bonilla, who suggested to Klein the idea of a sequel called "the doctrine of trauma." Bonilla is a researcher and professor of anthropology and Caribbean Studies at Rutgers University, as well as co-founder of the Puerto Rico Syllabus project, which collects important documents on the debt crisis in Puerto Rico.

"Puerto Ricans have been living the shock doctrine for a long time, and I think there have been different ways, different scenarios, indeed, starting with the economic crisis—and there have been several economic crises that have been exploited in Puerto Rico. But speaking of the most recent, and especially since PROMESA, you have a concrete example in which a state of exception[3] and emergency has been declared, which becomes an excuse to throw aside any pretense of self-government, to which is added an agenda of privatization and austerity that has just begun to be introduced," she said. The case of Puerto Rico after Hurricane Maria, about which she has already written for The Intercept, is so unusual that it has with which she has described so many scenarios in the past decade.
(Of course, all outcomes depend ultimately on the people of Puerto Rico, on and off the island, who are generally regarded as resilient; more so, perhaps, than the forces that colonized them.)
Oh, and I haven't covered Puerto Rico's debt situation at all; after all, debts that can't be paid won't be. What I do wonder, however, is this: Do the projections for Puerto Rico's fiscal plan, as well as the business models for privatizing Puerto Rico's schools and power grid, and the schemes of the vultures, take Puerto Rico's downward population spiral into account? I'm guessing no.
NOTES
[1] Once, we were a confident imperial power.
[2] Pushed by Trump's DeVos, of course. More than likely, the same would have happened with Clinton.
[3] Hmm. Perhaps Puerto Rico's Constitution isn't the obstacle to school privatization I thought it was?