By Lambert Strether of Corrente.
Trade
"Japanese Prime Minister Shinzo Abe is set to arrive at President Donald Trump's Mar-a-Lago resort in Florida today for a two-day visit that the White House says is expected to focus primarily on trade relations and North Korea. Indicative of the trade emphasis, U.S. Trade Representative Robert Lighthizer will also be in attendance" [Politico]. "The meeting, the two leaders' third bilateral and second at Mar-a-Lago, comes as Japan is working to get an exemption from Trump's steel and aluminum tariffs, which went into effect last month…. Abe could seize the opportunity to engage Trump over his more favorable comments toward the Pacific Rim trade agreement, as Japanese officials have expressed support for the United States' re-entry."
"After Removing US From Negotiating Process, Now Trump Suddenly Wants US Back In TPP" [TechDIrt]. "Claiming he'd only rejoin the TPP if the deal is better than what Obama negotiated is a reasonable enough claim to make, but if that was the case… why did Trump completely drop out of the negotiations and let the other countries conclude all of the negotiations without any US influence at all?…. Chances are nothing significant comes of this — certainly not a wholescale renegotiation of the TPP. Instead, we've just got yet another political mess."
"On Reports That President Trump Is Open to Rejoining the Trans-Pacific Partnership" [Lori Wallach, Public Citizen]. "Given the central role TPP opposition played in the election and Trump widely touting withdrawal from it, despite it already being dead in Congress, to declare he had delivered on a major trade promise, his reversing course could bring short term joy to Democratic campaign operatives but for the rest of the country it would signal that Trump does not give a crap about working people and cannot be trusted on anything."
"Small businesses caught up in dueling U.S.-China tariff threats are already scrambling to reset their supply chains. From a Pacific Northwest trucker paying $1,500 more for trailers to firms stocking up on raw materials, companies are looking for ways to cut their costs and stock up on inventories to avoid possible disruption" [Wall Street Journal]. "A recent survey found more than one-third of small-business owners believe tariffs will hurt their businesses, while just 5% said they would benefit. Some hope to pass their higher costs up through the supply chain, while others see a different solution in expanding their push for exports."
Politics
2020
"America's economy is back and roaring and its people are winning" [Donald Trump, USA Today]. "I want every American to have good jobs, rising paychecks and the opportunity to live a life of meaning, purpose and joy. That is why I insisted that the tax law also create "Opportunity Zones" that target investments in distressed communities. These Opportunity Zones will create more jobs in areas of our country that need them the most and benefit those whom Washington has too often left behind." OMG. Didn't we used to call them Enterprise Zones"? Anyhow: "On this Tax Day, America is strong and roaring back. Paychecks are climbing. Tax rates are going down. Businesses are investing in our great country. And most important, the American people are winning." Well, I always try to have a winning smile…

"Clinton to fundraise alongside possible 2020 contenders" [The Hill].

"Bernie Sanders Slams Netanyahu and Saudi Crown Prince, Says Israel 'Overreacted' to Gaza Protests" [Haaretz]. "Overreacted" is a love tap, one that will no doubt provoke a new round of frothing and stamping from liberals and conservatives.

"Biden: I'm not ruling out 2020 run" [Politics]. This is a story?
2018 Midterms
"Poll: Support slips for Democratic-controlled Congress" [The Hill]. Polls come and go. But Clinton headlining a DNC fundraiser should totally help.

"The Republican National Committee has committed $250 million to a midterm election strategy that has one goal above all else: Preserve the party's House majority for the rest of President Donald Trump's first term" [RealClearPolitics]. "Facing the prospect of a blue wave this fall, the White House's political arm is devoting unprecedented resources to building an army of paid staff and trained volunteers across more than two dozen states. … 'Our No. 1 priority is keeping the House. We have to win the House,' RNC political director Juston Johnson said. 'That is the approach we took to put the budget together.'"

NY: "Cuomo campaign spokeswoman Abbey Fousher said "The governor and Sen. Sanders are in : Our focus is on passing progressive policies and 100% on beating Republicans to take back the House, and the state Senate here in New York" [New York Daily News]. Nah:

.@CynthiaNixon releases her response to @NYGovCuomo's claim that he's "lock step with @BernieSanders" by showing his own words and record. pic.twitter.com/bBIk1PX5rS

— Nomiki Konst ??? (@NomikiKonst) April 16, 2018

MI: But what are their demands?

Dear #Democrats,

Your future is #Progressive. That means:
– #SinglePayer
– #Fightfor15
– #NoCorporateMoney
– #FreeCollege
– ? renewable energy
– #GunReformNow
Embrace your future, or lose your base.

yours,
a concerned #millenial of color

— Abdul El-Sayed (@AbdulElSayed) April 15, 2018

MO: "Claire McCaskill roasted by Mizzou fans after tweeting mistake about Memorial Stadium" [Kansas City Star]. Oops.
2016 Post Mortem
"Ed Schultz: MSNBC Fired Me for Supporting Bernie Sanders, 'They Were in the Tank for Hillary Clinton'" [Free Beacon]. And "Quelle surprise" going viral?

quelle surprise https://t.co/Jxb7odJgVF pic.twitter.com/yYqxl0Puxn

— Shuja Haider (@shujaxhaider) April 17, 2018

Rather like the good ship Vasa, the S.S. Clinton had too little ballast on the bottom, and too much rigging on the top….
New Cold War
"10 Questions That ABC Didn't Ask Comey" [RealClearPolitics]. Worth noting, though notbody seems to be noting it, that this stage of Comey's book tour is being conducted on ABC by "This Week" host George Stephanopoulos, a Clinton operative. It's like all these people know each other.

American exceptionalism for the win:

. @Comey says the moment Trump turned against him is when he corrected him on an answer he gave re Putin. Trump said: "There are a lot of killers. You think our country's so innocent?" Comey told him "we're not that kind of killers" and Trump went dark. https://t.co/g4g0avpDeF

— Yashar Ali ? (@yashar) April 16, 2018
Realignment and Legitimacy
"Debunking the myth that 'identity politics' is bad for the Democratic Party" [Vox]. "As the Democratic Party struggles to regain its once-solid national majority, journalists, academics, commentators, and politicos keep reverting to an irresistible narrative: that the party's commitment to racial equality has alienated it from the white working and middle classes — perhaps irreversibly. As a result of this misstep, Democrats now seem to be the "party of minorities, the marginalized, and their young and elite liberal patrons." It's not clear who the people doing the "reverting" really are, but for anybody thinking seriously about the future of the party, that's not the narrative at all. Adolph Reed:

So, if we have to choose between those two [parties], obviously for most of us who are committed to the ideals of justice and equality, the one that's committed to multiculturalism and diversity is less bad than the one that's opposed to them. But the deeper problem is that they're both actively committed to maintaining and intensifying economic inequality, and as I and my friend and colleague Walter Benn Michaels have pointed out tirelessly over the last decade or so, that , and what that means, then, is that most Black people, and most Latinos, and most white people, and most Asian Americans would would be stuck holding like the end of the stick with the stuff on it that I assume I can't call by its right name.

That is the real critique of identity politics, the alternative narrative that Vox carefully airbrushes away.

"Power to the party: Why political reforms can be bad for democracy" [Jon Ward, Yahoo News]. "Democrats are resisting empowering their own party officials as they head into the 2018 midterms and toward a 2020 showdown with President Trump. The Democratic Congressional Campaign Committee has made moves to help congressional candidates in Democratic primaries who it felt had the best chance of beating a Republican opponent. This has sparked howls of outrage." As it should. In the most charitable interpretation possible, the party operatives who lost 1000 seats over eight years and all three branches of government were totally "empowered"; just not accountable in any way. The writer seems to have a very odd idea of how parties work.
Stats Watch
Industrial Production, March 2018: [Econoday]. "Industrial production rose a very solid 0.5 percent in March for a 4.3 percent year-on-year rate with mining once again leading the report… Now the not-so-impressive news. Manufacturing production managed only a 0.1 percent gain which is just short of Econoday's already modest consensus…. Tariffs imposed on steel and aluminum during the month don't appear to have had any measurable effect in this report though they probably didn't help construction supplies." And: "Industrial production increased in March to 107.2. This is 23% above the recession low, and 2% above the pre-recession peak" [Calculated Risk].
Housing Starts, March 2018: "The residential construction business had a very strong March" [Econoday]. "Multi-family units are the standout in the March report…. One clear negative, perhaps tied to weather, is a slowing in completions which fell 5.1 percent to 1.217 million. This is not good news for a housing market starved of supply." But: "Multi-family is volatile month-to-month, and has been mostly moving sideways the last few years (although moving up over the last few months)" [Calculated Risk]. And but: "The Commerce Department's construction reports are based on small samples and data are often heavily revised. Still, activity is churning higher, even though it's slow and uneven" [MarketWatch]. "Builders aren't just keeping buyers hungry with low supply. They're constrained by higher-priced materials, and less-available labor and land."
Employment Situation: "Labor Market Survey Reveals Greater Job Stability and that Fewer Labor Market Participants Searched for Jobs" [Federal Reserve Bank of New York]. "The Federal Reserve Bank of New York's Center for Microeconomic Data today released the March 2018 SCE Labor Market Survey, which shows a decline in the proportion of individuals who searched for a job, and in the average full-time offer wage. Satisfaction with nonwage benefits and promotion opportunities both improved slightly. Regarding expectations, the average expected wage offer (conditional on receiving one) increased while expectations about the likelihood of receiving job offers continued to decline. The average reservation wage—the lowest wage at which respondents would be willing to accept a new job—jumped up, reaching its highest level since November 2016." From the original: "The reservation wage—the lowest wage at which respondents would be willing to accept a new job—jumped to $60,274." Holy moly!
Commodities: "All inventory may not be created equal, even a basic commodity like iron ore. There's enough iron ore sitting at Chinese ports right now to produce more than 100 million automobiles…., casting a shadow over iron ore prices that have tumbled nearly 15% this year" [Wall Street Journal]. "The rising mountain of iron ore at China's docks has surged by more than a third over the past year, to some 161 million tons, with stocks growing as the country's steel industry recalibrates to reduce capacity and cut pollution. High-quality iron ore has become a hot commodity as mills try to produce steel more efficiently."
Shipping: "Tighter capacity and more freight to move are among the highlights of the latest Morgan Stanley Freight Pulse 49 survey. Shippers, though, are retreating from their rosy view of the economy, dropping to a survey reading of 7.3 on the state of the economy. The last reading, in June 2017, was 7.4. Morgan Stanley notes that the reading is still the second-highest on record, though" [FreightWaves]. "The survey found that shippers remain bullish on truckload volume and pricing with expectations of volume and pricing increases continuing. The survey believes truckload pricing will rise about 7%, up from 5.2% in the last survey, and intermodal pricing will also increase about 4.5%, up from 3.3% in the last survey. Shippers, though, remain concerned about service levels."
Shipping: "U.S. freight operators appear to be on the cusp of one of their most profitable periods in years. J.B. Hunt Transport Services Inc. JBHT -0.79% reported a 15% boost in first-quarter net profit and the a 20% gain in revenue, …. a sign in the first logistics earnings report of the season that operators are seeing strong shipping demand drive growth to the bottom line" [Wall Sreet Journal]. "The demand seen in various weekly and monthly measures has defied the usual lull at the start of the year."
Shipping: "A monthly index of trucking conditions published since 1992 by consultancy FTR hit an all-time high in February, adding further evidence to what some believe is a one-for-the-ages economic scenario for the industry" [DC Velocity]. "FTR said the current conditions are likely to last at least through the second quarter, which is seasonally a strong period for trucking as warmer weather leads to more construction activity and, by extension, shipping. The first-quarter figures are remarkable in that the period is historically soft for freight demand."
Shipping: "Volga-Dnepr to pull out of NATO airlift contract for AN-124 capacity" [The Loadstar]. "Volga-Dnepr is to cease providing AN-124 capacity for EU and NATO states under the Strategic Airlift Interim Solution (Salis) contract it shares with Antonov Airlines. The move comes just over a year after the Russian freighter operator announced the end of the near-decade-long Ruslan collaboration to market AN-124 capacity with Ukraine's Antonov. Citing French media, Kommersant reports that the cessation of operations will take effect on 1 January 2019, a move thought to be in response to western sanctions on Russian companies."
Shipping: "South Carolina officially opens inland port facility in Dillon" [DC Velocity]. "The inland port concept, which is used by states like Virginia, Georgia, and South Carolina, is based upon direct rail service connecting each state's ports with customers in interior markets, rather than relying on trucks to move goods to and from port facilities."
Transportation: "FAA Limits Boeing 787 Operations" [MarketWatch]. "The FAA ruling, published in the Federal Register on Monday, notes that a total of 14 U.S.-registered 787s are covered by the [Airtworthiness Directive (AD)] and the total cost to inspect the engines on all 14 planes is $1,190. That is not the big issue…. The bigger issue for Rolls-Royce and Boeing is how to replace engines that fail the inspections with a minimum of disruption to their airline customers' routes and schedules. According to a report in The Seattle Times, repairing a faulty engine takes between 10 and 40 days, not including the time needed to transport the engine to the repair facility."
Fodder for the Bulls: "IMF lifts U.S. growth outlook on tax-cut view" [MarketWatch]. "In its world economic outlook, the IMF lifted its U.S. growth estimate for 2018 to 2.9% and its 2019 estimate to 2.7%, both increases of two-tenths of a percentage point. It kept unchanged its world economic output estimate from January at 3.9% for both this year and next year. The IMF pointed out the Tax Cuts and Jobs Act, the $1.5 trillion tax cut law, gives a temporary allowance for companies to fully expense investment. This is a strong incentive, the IMF finds, for companies to push along investment projects. That, in turn, should lift employment, which should increase consumption and also prices — which means the Federal Reserve will also lift interest rates more aggressively. However, momentum will be reduced starting in 2020…" Hmm. 2020…. 2020…
Five Horsemen: "Microsoft is not far from a record high in late morning trading" [Hat Tip, Jim Haygood].
NakedCap Mania-Panic Index: "The mania-panic index improved to 49 (worry) after yesterday's market advance" [Hat Tip, Jim Haygood]. (The NakedCap mania-panic index is an equally-weighted average of seven technical indicators derived from stock indexes, volatility (VIX), Treasuries, junk bonds, equity options, and internal measures of new highs vs new lows and up volume vs down volume … each converted to a scale of 0 to 100 before averaging, using thirty years of history for five of the seven series.)
Facebook Fracas
"I was one of the first people on Facebook. I shouldn't have trusted Mark Zuckerberg [Guardian]. "No, Mark Zuckerberg didn't give me herpes. But in the wake of the Cambridge Analytica revelations, I have been thinking back to my decision to sign up for thefacebook.com on the site's fifth day in existence, and I am struck by the parallels between Zuckerberg's creation and a pesky (if generally benign) virus. Facebook isn't going to kill me, but it has wormed its way into all of my relationships, caused me to infect other people, and I will never, ever be fully rid of it." Oh, but it gets better. "Watching him dissemble in front of Congress, I couldn't help but see him as one of those fresh-faced boys at Harvard who transitioned seamlessly from their New England prep schools to the Ivy League, and excelled at maintaining steady eye contact with the professor while they opined about books they hadn't read." Ouch.
Gaia
"First Nations and cities double down on pipeline opposition" [BOE Report]. "Several First Nations and the cities of Vancouver and Burnaby have joined together to redouble their opposition to the expansion of the Trans Mountain pipeline. Burnaby Mayor Derek Corrigan says the expansion project "short circuits" the legal process and civil disobedience against the pipeline it will only continue to grow. Corrigan says he's embarrassed that Canada's prime minister and a premier of our country are kowtowing to an American multinational oil company that isn't playing by the rules in its effort to push through the pipeline." Looks like the bloom is off the rose for Justin…
Water
"Drought Returns to Huge Swaths of U.S., Raising Fears of Shortages" [Governing]. "Nearly a third of the continental United States was in drought as of April 10, more than three times the coverage of a year ago. And the specter of a drought-ridden summer has focused renewed urgency on state and local conservation efforts, some of which would fundamentally alter Americans' behavior in how they use water…. One critical water resource threatened by shortages is the Colorado River System, which includes parts of seven states and provides water for up to 40 million people. In the absence of 'timely action to ensure sustainability,' the U.S. Bureau of Reclamation said in a 2012 assessment of the river basin, 'there exists a strong potential for significant imbalances between water supply and demand in coming decades.'"
Black Injustice Tipping Point
"7 Former Racists Share Their Stories Of What Changed Their Minds" [All That TV]. So essentialism is wrong. Who knew?
"Beyoncé Unveils New Merch at Coachella" [Teen Vogue]. Queens. What a good idea. Looks like a great show, though….
Data:
Early in my data career, I learned about how Ida B. Wells used data to launch the anti-lynching movement. Her strategy was brilliant and has inspired my work ever since, from New Orleans @noladatacenter to the @ObamaWhiteHouse w @dpatil @smithmegan #Idastime thread: 1/7

— Denice W. Ross (@denicewross) April 16, 2018
Police State Watch
"Sheriff of America's Deadliest Police Force Caught on Camera Admitting Killing Suspects Is 'Better Financially'" [The Root]. "'When a deputy shoots someone in the streets, which way do you think is better financially—to cripple them or kill them—for the county?' [Kern County Sherif Donny Youngblood asked. When someone replied, 'Kill them,' Youngblood responded, Absolutely. Because if they're crippled, we get to take care of them for life. And that cost goes way up.'"
Book Nook
"Dissecting the madness of economic reason" [ROAR]. "The key contribution of The Madness of Economic Reason revolves around an attempt to visualize this dynamic logic of capital by means of an analogy from the natural sciences: the hydrological cycle. Like water, Harvey observes, capital constantly moves around. Moreover, as it circulates, it continuously changes form — without ever losing its essence. At the starting point of the circulation process, capital appears as money. It then reappears the next moment as means of production and labor power, which are in turn mobilized to produce a commodity for sale on the market, after which capital returns to its original form as money. This money is subsequently redistributed to different claimants (as wages, taxes, profit, rent and interest), only to be thrown back into circulation through consumption, state spending and productive investment…. This visualization allows Harvey to reconstruct the analytical framework presented in Capital as a coherent and integrated whole." With handy diagram. Although the "hydrological cycle" does remind me of "The Glooper" in Terry Pratchett's Making Money…
Our Famously Free Press
"We wanted answers about Pulse. Instead, we were fed lies about Noor Salman" [The Orlando Weekly]. Bad narrative, bad.
A photograph thread on the Los Angeles Times building, saddening for anybody who's ever worked at a newspaper:
The new @latimes owner is moving the newsroom from its historic HQ to El Segundo.

I've been lucky enough to inhabit and explore the interlocking buildings at 1st and Spring for over a decade.

I'd like to share it with you. It's a beautiful day in #DTLA. Shall we take a wander? pic.twitter.com/PYnRwVraHf

— Ben Welsh (@palewire) April 14, 2018
Class Warfare
"The Special Status of Union Stewards" [Labor Notes], "A widely accepted labor relations canon allows employers to discipline workers who fail to act respectfully toward management. Some legal treatises call this the "master-servant rule." But if stewards were subject to this rule while engaging in union activity, they would face an intolerable risk: speaking up for a member could put their own jobs in jeopardy. To resolve this dilemma, labor law accords a special status to union representatives."
"On the Distribution of Wealth" [Money and Banking]. "Wealth affects welfare in at least two key ways. First, in the presence of borrowing constraints, it provides a buffer against fluctuations of income, allowing households to smooth consumption in the face of temporary bouts of illness or unemployment. Second, it provides the basis for household spending in retirement. With populations aging in many advanced economies (and soon in China), the role of wealth as a retirement buffer is becoming increasingly important. As we will see, the distribution of wealth is far less equal than that of income. Moreover, recent research shows that, following the Great Financial Crisis (GFC) of 2007-2009, the U.S. wealth distribution has become decidedly more unequal." Third… Power? Even dynastic power?
News of The Wired
"A Casino Was Hacked Thanks To The Internet Of Broken Things & A Fish Tank Thermometer" [TechDIrt]. "[Nicole Eagan, the CEO of cybersecurity firm Darktrace] gave one memorable anecdote about a case Darktrace worked on in which a casino was hacked via a thermometer in an aquarium in the lobby. 'The attackers used that to get a foothold in the network,' she said. 'They then found the high-roller database and then pulled that back across the network, out the thermostat, and up to the cloud.'"
"More than half your body is not human" [BBC]. Well, "human" is just a word…
Moar memage:
I've found the 18th century equivalent to the distracted boyfriend meme pic.twitter.com/QDKjygVDcr

— big sue (@ELXGANZA) April 16, 2018
* * *
Readers, feel free to contact me at lambert [UNDERSCORE] strether [DOT] corrente [AT] yahoo [DOT] com, with (a) links, and even better (b) sources I should curate regularly, (c) how to send me a check if you are allergic to PayPal, and (d) to find out how to send me images of plants. Vegetables are fine! Fungi are deemed to be honorary plants! If you want your handle to appear as a credit, please place it at the start of your mail in parentheses: (thus). Otherwise, I will anonymize by using your initials. See the previous Water Cooler (with plant) here. Today's plant (local to oakland):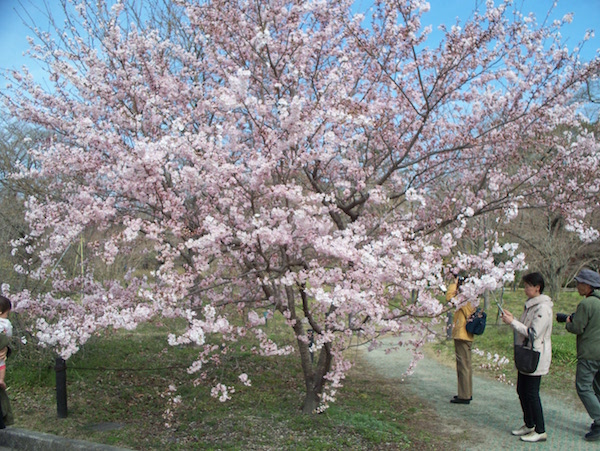 local to oakland writes: "I used gardens to organize my tourism in Japan." Sounds like a good plan!
* * *
Readers: Water Cooler is a standalone entity not covered by the NC fundraiser. So do feel free to use the dropdown and click the hat to make a contribution today or any day. Here is why: Regular positive feedback both makes me feel good and lets me know I'm on the right track with coverage. When I get no donations for five or ten days I get worried. More tangibly, a constant trickle of small donations helps me with expenses, and I factor that trickle in when setting fundraising goals. So if you see something you especially appreciate, do feel free to click the hat!