By Lambert Strether of Corrente.
Trade
"WELL, THAT ESCALATED QUICKLY: President Donald Trump upped the ante against China late Thursday by threatening to impose tariffs on an additional $100 billion in Chinese imports. That would be on top of the $50 billion worth of imports the administration is already targeting with a 25 percent tariff as part of its actions to punish Beijing for policies that the White House says forces U.S. companies to hand over valuable technology" [Politico]. "Trump said in a statement Thursday evening that he found China's retaliation 'unfair,' and, for that reason, he instructed U.S. Trade Representative Robert Lighthizer 'to consider whether $100 billion of additional tariffs would be appropriate … and, if so, to identify the products upon which to impose such tariffs.' 'Rather than remedy its misconduct, China has chosen to harm our farmers and manufacturers,' Trump said." Love the "that escalated" trope.
"Dozens of small- and medium-size American companies that bet on doing business with Iran over the past decade are growing increasingly concerned about their investments" [Wall Street Journal]. "Companies like ImEx Gulf, a Plano, Texas-based exporter of food supplements for livestock, started shipping to Iran under special exemptions created long before the nuclear pact that pulled back international sanctions. And some companies that were looking to get into Iran after 2015 now say shipping insurance costs are rising with the growing uncertainty, a signal to many that the risks are too great to take on."
Politics
2020
I'm watching the liberal Democrat outrage machine crank into action over Sanders' speech in Jackson. (Here's a piece from Buzzfeed that includes remarkably little reporting on the speech itself, but does extensively relitigate 2016.) I can't even. (In fact, the outpouring of liberal outrage has been so ginormous that it's entirely polluted by Twitter feed, which is why today is a bit light.)

Here are the Sanders quotes that has the liberal Democrats' knickers in a twist:

The business model, if you like, of the Democratic Party for the last 15 years or so, has been a failure," Sanders said in response to a question about how to harness millennial energy in efforts to reimagine the Democratic Party in Jackson and beyond.

#"[P]eople sometimes don't see that because there was a charismatic individual named Barack Obama who won the presidency in 2008 and 2012. He was obviously an extraordinary candidate, brilliant guy. But, behind that reality, over the last 10 years, Democrats have lost about 1,000 seats in state legislatures all across this country," Sanders added.

A long-overdue discussion, in my book. This is, I think, the dynamic:

Bernie "I mean, frankly it's a miracle Obama was able to drag your sorry asses into the White House at all; look at how badly you go crushed without him everywhere else – what an amazing politician"

*sound of Martha's Vineyard in open revolt*

— Nina Illingworth (@EIWBM_Cat) April 6, 2018

And this (a comment on the BuzzFeed story):

Ask yourself: who watches a talk hosted by a majority black city's black mayor in the poorest state of the union, opened by 9 talented black kids who, through art, make an impassioned plea for economic justice, & reports that the take away is 'Bernie's racist'? @rubycramer

— Optimistic Populist (@briebriejoy) April 5, 2018

UPDATE And from the same source:

From the audience, I watched the crowd of a 85% black city give Bernie Sanders a standing ovation both before & after his remarks. The crowd responded positively to Sander's point that the Democratic party has failed to retain seats – even w/ a leader as charismatic as Obama. https://t.co/VCP94nKTq0

— Optimistic Populist (@briebriejoy) April 5, 2018

I wish Sanders or Our Revolution or whoever would get YouTubes plus transcripts up instantly; it's always useful to know exactly what he said.

"The Political Landscape Is Not Even Close to Being What You Think" [Jerrry Taylor, Niskanen Center] (original). This is interesting, in that it's a contrarian article that reinforces the conventional wisdom. For example, this: "Political landscaping exercises, while interesting and useful, are less important than economic fundamentals. That's because voters have traditionally chosen presidents based (largely) not on ideological or policy criteria, but on how well the economy is perceived to be doing. The election forecasting models built by political scientists are premised on these considerations, along with other non-ideological matters like how long an incumbent party has been in power (politicians and political parties tend to wear out their welcome), the president's approval rating (which is usually heavily affected by how the public feels about the economy), etc. Those models, which pay no direct attention to the ideological landscape, have far better track records at forecasting electoral outcomes (even in 2016) than forecasts that put a lot of weight on polling data and/or where the public stands on this issue or that. In fact, when these political science models are re-run for past elections, political scientists find no evidence that presidential nominees have ever paid a price (or received a bonus) for ideological extremism."

"Warren: I'll serve my full Senate term if reelected" [Politico]. "'Yes, that's my plan. I'm running for the United States Senate in 2018,' Warren told reporters Thursday, when asked if she would commit to serving out her full term. 'I am not running for president of the United States. That's my plan.'" That's still not a Sherman statement, since plans change, but it's close enough to one that it will do Warren harm if she reneges.
2018 Midterms
"What Issues Should Democrats Ignore In 2018?" [FiveThirtyEight]. The young fogeys at FiveThirtyEight; the whole thing reminds me of Bertie Wooster's "The Drones Club," with the members throwing butter pats and wadded up bread pills at each other. IMNSHO, the whole question is irrelevant; the Democrats should settle on a solid left platform and stick to it for two or three Presidential cycles. Yeah, that would disemploy a lot of strategists and consultants. Which would be bad why?

"How to Handicap the Race for the Senate" [Charles Cook, Cook Political Report]. "With the obvious caveat that things can change between now and Nov. 6, it's reasonably clear that Republicans in the House are going to have a tough election. The question is whether it will be bad, really bad, or really, really bad…. But the Senate outlook is far more complicated. On the one hand, there are those low poll numbers for Trump (39 percent approve, 56 percent disapprove in the March 26-April 1 Gallup Poll) and a heightened intensity among Democratic voters that are flashing "danger, danger, danger" for the GOP. And yet the politics of the states where senators are up for reelection make this Senate map the most lopsided in modern history, favoring Republicans. I keep talking about the Democratic tidal wave crashing up against the Republican seawall; in the Senate, it is a fair fight between the two."

MN: "Tim Pawlenty makes it official: He's running for governor again" [Star Tribune]. "Former Gov. Tim Pawlenty announced he is running for governor Thursday, attempting a restoration after eight years out of office that saw his DFL successor move the state in a more progressive direction at odds with Pawlenty's tenure…. A comeback won't be easy. Pawlenty's long public record and most recent job as a bank lobbyist will give his opponents ammunition. And he must win over a Republican Party now led by President Donald Trump, who is fervently supported by the GOP base but was trashed by Pawlenty before the 2016 election as 'unsound, uninformed, unhinged and unfit' for office." How can I vote for a candidate who opposes the Oxford Comma?

WI: "Can Paul Ryan Be Defeated? Maybe Not, but His Race Is 'a Circus'" [New York Times]. "Janesville, a blue-collar community that was hit hard when the local General Motors plant shut down in 2009, has never been solid Ryan territory, and some in his hometown say that since he became speaker — and especially since President Trump took the White House — Mr. Ryan has lost his way…. But Mr. Ryan retains strong support elsewhere in the district, particularly in rural areas and counties like Waukesha, Walworth and Racine. His Republican backers insist that the speaker will be just fine, especially in the wake of the passage of the landmark tax overhaul, which he has been promoting during carefully controlled visits to businesses here and around the country…. The most recent Marquette Law School poll found that, statewide, 46 percent of voters approve of Mr. Ryan, while 39 percent disapprove and 15 percent say they have not heard enough about him. And his aides note that the local economy has bounced back."

WI: The Supreme Court election just past:

If you prefer comparing same type of race, the Wisconsin Supreme Court statewide vote shifted from a 4 point conservative margin in 2016 to a 12 point liberal margin in 2018, a +16 swing statewide. pic.twitter.com/o83iWEy00c

— Charles Franklin (@PollsAndVotes) April 6, 2018

MD: "Bernie's Platform Could Win in Maryland's Gov. Race, With Support From Clinton Voters" [In These Times]. "Bernie Sanders is not on Maryland's gubernatorial ballot, but cornerstones of his 2016 platform will be. Ben Jealous, former NAACP president and Sanders loyalist, is running in the June 26 Democratic primary on a bold progressive agenda that includes free tuition at public universities, Medicare for all, an end to mass incarceration and a $15 minimum hourly wage. If he is successful, he will take on sitting Republican Gov. Larry Hogan in November."
New Cold War
"Fuming Rachel Maddow Spends Entire Show Just Pointing Wildly At Picture Of Putin" [The Onion] (TF). I was wondering whether to put The Onion first, or WaPo first, and I finally decided on alphabetical order.

"Trump's mind-boggling gift to America's enemies" [Editorial Board, WaPo]. Liberal Democrats beating the war drums.

"Andrew McCabe's GoFundMe Campaign Was Put Together by K Street PR Firm" [Law and Crime]. Too funny.
Realignment and Legitimacy
"The Teachers' Strikes Have Exposed the GOP's Achilles Heel" [New York Magazine]. Yes, it's good to see the Democrat leadership rallying behind the teachers in Red States. Oh, wait…

Reminds me of the best moment of 2016:

So what do you think of our new @OurRevolution logo? I love it! pic.twitter.com/8nc2BhSQUt

— James J. Zogby (@jjz1600) April 6, 2018
Stats Watch
Employment Situation, March 2018: "In mixed results, March payroll growth of 103,000 is well below expectations but wage indications from average hourly earnings do show a little pressure as was expected" [Econoday]. "Judging by today's results, the labor market wasn't quite as hot as previously expected which turns down concern over wages even though those pressures did rise tangibly in March. On net, the March employment report will not likely turn up the heat on the Federal Reserve to increase its pace of rate tightenings." And: "The data on truck hires gives a kind of glimpse into what would be expected from the economy overall at some point. Carriers are finding it tough to find enough workers to fill available jobs, so they begin instituting wage and benefit increases to lure workers off the sidelines and attract workers from other industries. The kinds of situations are begging to crop up in other industries as well, as areas like construction and manufacturing are experience similar challenges with qualified labor. As the overall labor market continues to tighten, it will be interesting to see if trucking is able to maintain this acceleration in hiring or they find themselves out of workers to lure into the business" [Freight Waves]. And: "Not for the first time, Amazon's impact on the economy is clearly visible in the monthly jobs report" [MarketWatch]. "Breaking down the March nonfarm-payrolls report released Friday, truck transportation added 6,700 positions, courier and messenger jobs rose by 5,800, warehousing and storage added 2,500 jobs, and nonstore retail added 4,300 positions. On the flip side, the retail sector continues to hemorrhage positions — department stores slashed 7,900 jobs, warehouse clubs and supercenters cut 4,700 jobs, and clothing stores cut 7,300 jobs." But: "The headline jobs number was disappointing, however the weakness was probably related to payback due to the nice weather in February. For the first three months of 2018, job growth has been solid" [Calculated Risk]. But: "March 2018 BLS Jobs Situation As Bad As Last Month Was Good" [Econintersect]. "The household and establishment surveys were not in sync. Compared to February's employment situation which had no bad dynamics – in contrast it was hard to find any rays of sunshine in this report. However, like most other data analysis, there are good months and bad months – and the year to date employment growth is nearly the same as last year."
Leading Indexes: "Most of the leading indicators are based on factors which are known to have significant backward revisions – and one cannot take any of their trends to the bank. The only indicators with minimal backward revision are ECRI and the Chemical Activity Barometer. Unfortunately, the Chemical Activity Barometer is targeted to the industrial sector of the economy – and at best seems to be a coincident indicator, not a leading indicator" [Econintersect]. "At this point, Econintersect continues to see NO particular dynamic at this time which will deliver noticeably better growth in the foreseeable future – and the majority of the indicators are forecasting a near average rate of growth which has been seen since the end of the Great Recession."
ECRI: "Even with the decline in the rate, this index is indicating modest growth six months from today" [Econintersect].
Retail: "American auto makers are undertaking a historic shift in sales that is pushing their supply chains in different directions. Detroit's Big Three are moving away from passenger cars and scaling up production of more-profitable sport-utility vehicles and pickup trucks as those vehicles claim a bigger share of the U.S. market. The WSJ's Mike Colias and Christina Rogers report that small cars have fallen out of favor amid low gasoline prices and efficiency improvements in SUVs, and large sedans now are on the chopping block" [Wall Street Journal].
Shipping: "The Robots are Coming to the Warehouse Dock" [Logistics Management]. "To hear John Santagate tell it, in the not-too-distant future we'll see warehouse dock workers wearing robotic exoskeleton suits and lifting 200-pound boxes in Ironman-esque fashion with no other assistance…. This is just one example of how the convergence of humans and robots could play out in the warehouse and distribution center (DC) of the future. Made by companies like Sarcos Robotics, which plans to introduce a powered industrial exoskeleton suit in 2019, these advanced products will help reduce the number of workplace injuries and accidents that cost U.S. employers more than $60 billion annually, according to the U.S. Bureau of Labor Statistics (BLS)."
The Bezzle: "Is venture capital ready for companies with no founders?" [TechCrunch]. "Unlike today's startups, an ICO can be a completely decentralized way of founding and running an enterprise. A person or collective could set up an ICO and program it with all the parameters that govern the entity — what it will do, how it will operate and so on — and start a company that builds itself." What could go wrong?
The Bezzle: "Amazon ignored FDA requests for more than a decade" [MarketWatch]. "If you recently bought snacks, candy, pet food or shelf-stable beverages from the online retailer Amazon.com, it may have come from a squat gray warehouse like the one that sits in western Lexington, Kentucky, not far from a local trailer park and golf course… The safety of these and other food products is overseen by the U.S. Food and Drug Administration, which inspects facilities where food is being made and stored… Food facilities legally have to be registered with the FDA so the regulator knows about them and can inspect them. But over the last decade, each time an FDA investigator has come for an inspection, Amazon's Lexington warehouse has not been registered, according to reports obtained by MarketWatch in a public records request." It's like these guys are sovereign citizens or sumpin. Except instead of Cliven Bundy fighting the Bureau of Land Management over a patch of scrub, this sovereign citizen is the richest squillionaire in the world.
The Fed: "Yellen begins cashing in with first Wall Street speech" [MarketWatch]. Of course she does.
Five Horsemen: "Amazon weakens in overnight trading after Trump threatens action to help USPS" [Hat Tip, Jim Haygood]. (Haygood writes, Thursday evening: "Can't update tomorrow, but here are Five Horsemen as of 7 pm tonight, along with the regular Mania-panic index based on today's closing values")
NakedCap Mania-Panic Index: "The mania-panic index rose to 35 (worry) as new highs beat new lows for the first time since mid-March" [Hat Tip, Jim Haygood]. (The NakedCap mania-panic index is an equally-weighted average of seven technical indicators derived from stock indexes, volatility (VIX), Treasuries, junk bonds, equity options, and internal measures of new highs vs new lows and up volume vs down volume … each converted to a scale of 0 to 100 before averaging, using thirty years of history for five of the seven series.)
Health Care
"Why Americans are avoiding the doctor" [MarketWatch]. "Between a third and a half of people age 45 to 59 and a quarter of those 60+ went without needed health care in the past year due to its cost, according to a troubling new survey from the West Health Institute and NORC at the University of Chicago." Holy moly:
Age 45 to 59 skipping health care

Specifically, the survey found these results for people age 45 to 59 (members of Generation X and boomers) as a result of health care costs:

49% didn't go to the doctor last year when they were sick or injured
45% skipped a recommended medical test or treatment
43% didn't go to a dentist when they needed treatment
40% went without a routine physical or other preventive health care
30% didn't fill a prescription or took less than the prescribed dose of medicine

Age 60+ skipping health care

The percentages were less dramatic for people 60 + (boomers aged 60 to 72 and Americans older than 72) — perhaps partly because those 65 and older have Medicare. But they are still concerning:

30% didn't go to a dentist last year when they needed treatment
27% went without a routine physical or other preventive health care
25% didn't fill a prescription or took less than the prescribed dose of medicine
25% skipped a recommended medical test or treatment
24% didn't go to the doctor when they were sick or injured
Thanks, Obama! And thanks to years of work by both parties for Medicare's neoliberal infestation!
Water
"Mississippi River flooding worse now than any time in past 500 years" [Nature]. "Floods on the mighty Mississippi River are larger and more frequent today than at any time in the past 500 years — in part, a new study suggests, because structures erected to control the river have increased the flood risk." There is surely a catchy name for that sort of paradox.
Guillotine Watch
"Sex, Lies & Audiotapes: How New York's Establishment Protected Revered Opera Maestro James Levine From Sex Abuse Claims" [Radar]. Ugly.
Class Warfare
"Being a fed in DC is not the same as the rest of the country" [Federal News Radio]. "Those of us who have worked in the D.C. area and in the field can attest to the profound differences between being a federal employee in D.C. and being a federal employee in Florida, or Ohio, or California, or just about anywhere else…. One area where there is significant difference is the type of jobs we see. In D.C., the grade levels are much higher, leading to higher pay. [T]he average pay of feds in D.C.* is more than $31,000 higher than the overall federal work force. It is more than $35,000 higher than feds in Florida and Georgia, and more than $39,000 than those in North Carolina. There is an obvious explanation why that is so — Washington, D.C. is the seat of government and OPM classification standards give greater credit to headquarters jobs that drive agency policy. That does not explain why non-headquarters jobs in the D.C. area tend to be one or two grade levels higher than their counterparts in the field. Competition for scarce talent is the most likely cause of that discrepancy…. Another difference is in supervisory ratios. Even though grade levels are much higher in D.C. than in the rest of the country, the number of supervisors per employee is almost twice the number in Ohio, Georgia, or any other state."
"Manufacturing Jobs Are Still Pretty Good Jobs" [Bloomberg]. "it also seems fair to say that jobs in manufacturing tend to be real jobs, with a full work week and benefits, while much of the work created outside the sector over the past few decades is of a more tenuous nature. It's hard to say how much of this is intrinsic to manufacturing work and how much is historical happenstance. Mishel's report includes a section, for example, on the growing use by manufacturers of temporary-help firms and other staffing-services firms that pay less and offer fewer benefits than manufacturing firms do. 2 But for now, at least, manufacturing jobs remain better than the alternatives." Interesting in that the author recants earlier views.
"50 Years after Memphis: Black Jobs Crisis Continues" [Labor Notes]. "Since 1979, labor productivity has risen by 64.2 percent but wages have risen only 10.1 percent. This gap reflects the aggressive attack by economic elites on all workers. It means that while Black workers today earn 82 cents for every dollar earned by white workers—an improvement since 1968—neither group has fared well: wages for Blacks rose by 0.6% per year; wages for whites by 0.2% per year. In 50 years, unemployment and incarceration rates have worsened for both Black and white workers, and the racial gap has widened. For 50 years, the Black unemployment rate has remained twice that of whites (see graph). The incarceration rate for Blacks has risen more rapidly than the rate for whites: in 1968, Blacks were 5.4 times more likely to be incarcerated compared to whites; by 2016, Blacks were 6.4 times more likely to be incarcerated."
News of The Wired
"Have we reached peak English in the world?" [Guardian]. "For English, therefore, its current peak is likely to be as good as it will ever get, its glory as a world language lasting just a couple of centuries – almost a flash in the pan, not yet comparable with those forerunners Latin or Farsi. And on present form, its fall is likely to coincide with the latest rise of China, whose documented history has run for three millennia. Chinese, too, is great."
"Studio Ghibli co-founder Isao Takahata dies at 82" [BBC]. What a shame. I loved Spritied Away, and I love trains, so (from Studio Ghibli but not directed by Takahata):
Spirited Away – Train Travel Scene [HD] from Alecsander Alves on Vimeo.
* * *
Readers, feel free to contact me at lambert [UNDERSCORE] strether [DOT] corrente [AT] yahoo [DOT] com, with (a) links, and even better (b) sources I should curate regularly, (c) how to send me a check if you are allergic to PayPal, and (d) to find out how to send me images of plants. Vegetables are fine! Fungi are deemed to be honorary plants! If you want your handle to appear as a credit, please place it at the start of your mail in parentheses: (thus). Otherwise, I will anonymize by using your initials. See the previous Water Cooler (with plant) here. Today's plant (TH):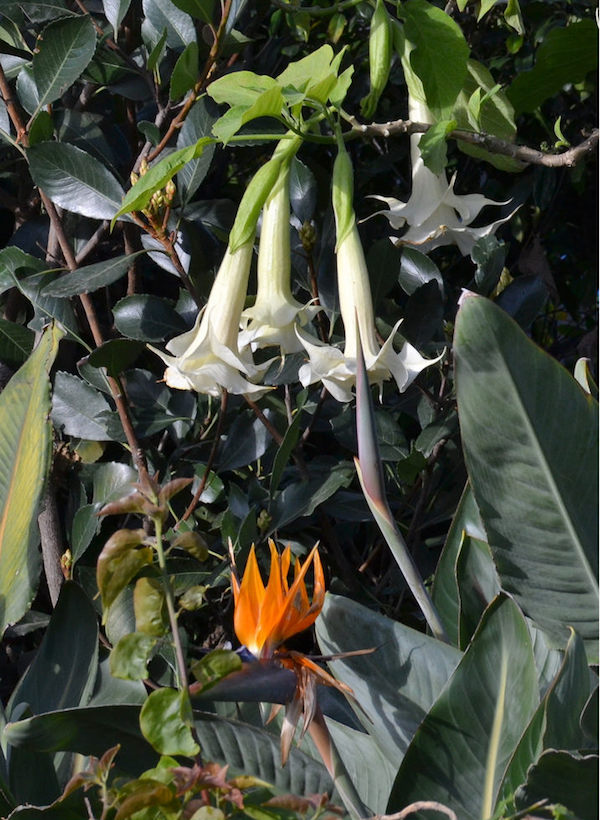 * * *
Readers: Water Cooler is a standalone entity not covered by the NC fundraiser. So do feel free to use the dropdown and click the hat to make a contribution today or any day. Here is why: Regular positive feedback both makes me feel good and lets me know I'm on the right track with coverage. When I get no donations for five or ten days I get worried. More tangibly, a constant trickle of small donations helps me with expenses, and I factor that trickle in when setting fundraising goals. So if you see something you especially appreciate, do feel free to click the hat!