Our mini-fundraiser for Water Cooler is on! As of this hour, 45 donors — our goal is 275 –have already invested to support Water Cooler, which provides both economic and political coverage, to help us all keep our footing in today's torrent of propaganda and sheer bullsh*t. Independent funding is key to having an independent editorial point of view. Please join us and participate via Lambert's Water Cooler Tip Jar, which shows how to give via check, credit card, debit card, PayPal, or even the US mail. To give more, click on the arrow heads to the right of the amount. Thanks to all!
Since Parliamentary wrangling is over my pay grade, below is a recap of some of the new Brexit stories, along with a request to readers to unpack the latest arm-wrestle between the Government and its opponents in the House of Lords. One of the many mysteries of Brexit has been the utter inattentiveness to legal and procedural realities that can't be finessed…like how exactly is the UK going to redo, what, 40 or so years of laws when no sensible legislature would give them blanket authority (aka Henry VIII powers)? But that is what is front and center today…the so-called Great Withdrawal Bill. How Parliament could have authorized the triggering of Article 50 without nailing down at least a big chunk of the Great Withdrawal Bill issues is beyond me.
I hope readers will correct me if I have the 50,000 foot view wrong. Normally, the House of Lords defers to the Commons, so the fact that the Tories have only 245 of 787 seats. However, the Lords are threatening to attach amendments to the Great Withdrawal Bill that are consistent with a soft Brexit, like having the UK stay in the customs union. In part because the amendments in Lords all have cross-party sponsorship, odds appear to be good that many of those amendments would be approved when the bill returns to the House of Commons late next month unless Theresa May finds a way to offer enough concessions to preserve the deal she has been trying to put together. If she were to fail and the amendments stick, the ultras would be faced with the choice of blowing up the Government to preserve their version of Brexit and risking getting a Labour government or capitulating, which wouldn't be like them.
In addition to "stay in the customs union," Bloomberg summarizes the other amendments:
Boost protections for the environment and workers' rights
Limit the scope of so-called Henry VIII powers that would allow ministers to bypass Parliament in changing laws and regulations
Go beyond a successful rebel amendment in the Commons in December that secured a meaningful vote for lawmakers on May's final Brexit deal by giving Parliament even more of a say over whether the premier should seek a new deal or leave the EU without one
Protect the peace process in Northern Ireland
Remove the government's fixed Brexit day of March 19, 2019 to give added flexibility
Facilitate future U.K. cooperation with EU agencies
Another Brexit bit of news was the release of a study by economics professor Jonathan Portes and an accompanying survey by Populus, which found that despite hard core Brexiter cheerleading, most Leave voters aren't willing to make big sacrifices for Brexit. And while the staunch Brexiters will no doubt try to depict Portes' analysis as Remoaner scare-mongering, the onus is on them to come up with better figures.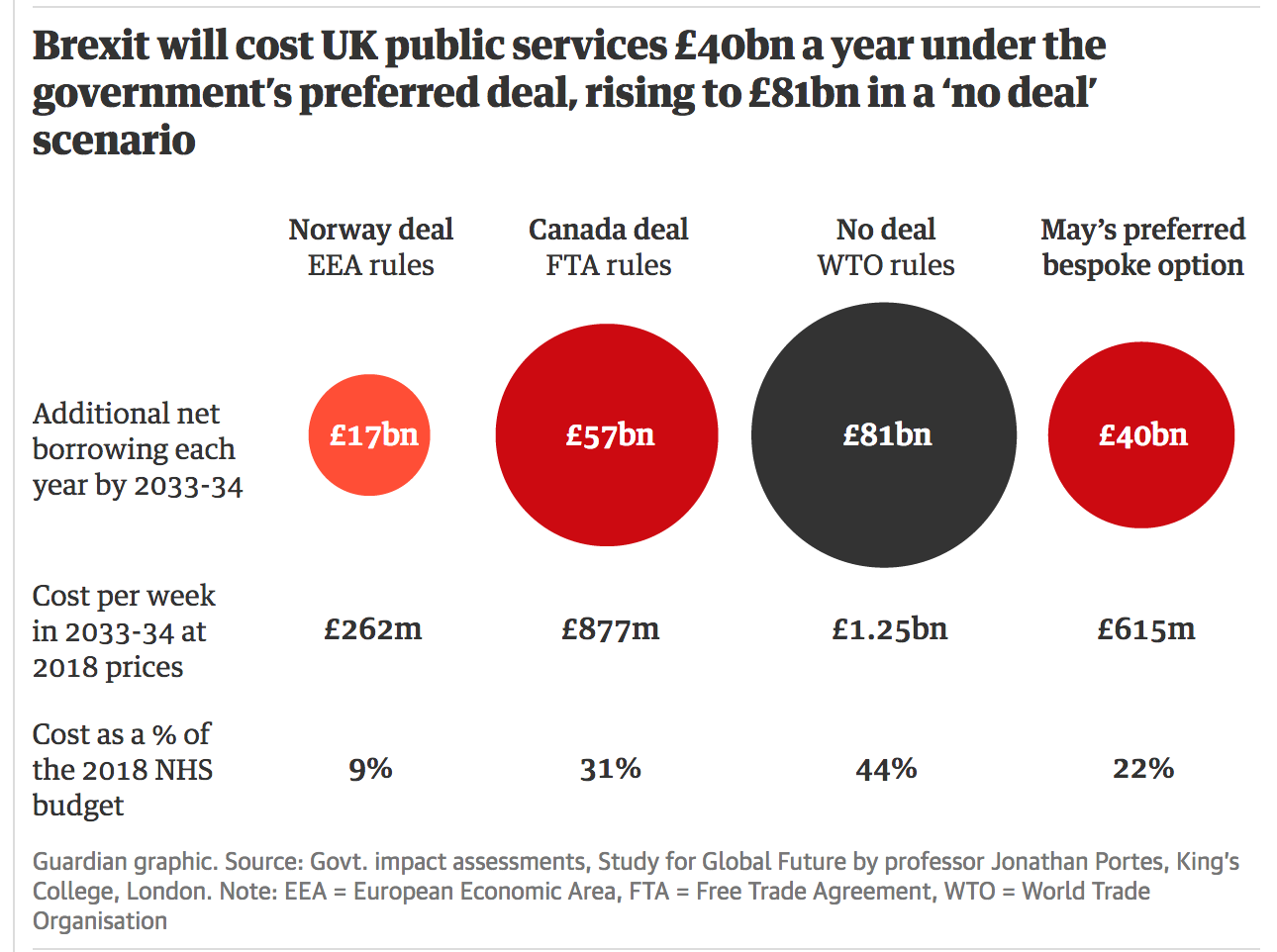 Notice how negative the reactions to this data are.
From the Guardian:
A poll of 2,000 people for Global Future found they overwhelmingly thought all four possible deals – bespoke, remaining in the European Economic Area, a free trade agreement and crashing out onto World Trade Organization terms – were bad.

It also found that 72% of those who voted leave thought that £615m a week would be too high a price to pay for the bespoke deal; while 78% felt it was worse than they had hoped for when casting their vote in the EU referendum.

When forced to choose between the four scenarios described, more than half of all those polled – 51%– opted for the Norway-style deal, which has the least impact on public finances and trade, as well as the fewest additional controls of immigration. Leave voters also narrowly preferred this option – 37% compared with 36% who backed a bespoke deal.
Finally, the EU is preparing "emergency legislation" to help it cope with a crash-out Brexit. It seems puzzling that Brussels is coming to grips with this problem at a relatively late hour, but there was some grumbling on the UK side that preparing for a worst case scenario weakened the UK's position, and the EU may have thought it was best from a negotiating perspective to enable that line of thinking. The EU putting damage control measures in place ought to serve as a wake up call to the UK, but that assumes there is anyone there alert enough to be paying attention.
Brussels is issuing dozens of legal proposals on Brexit over the next 10 weeks, in a flurry of lawmaking to prepare the EU for an sharp break from the UK — partly by giving emergency powers to the bloc's institutions.

The European Commission has drafted 30-40 proposals to amend laws and give special powers to regulators so that the union can deal with a no-deal scenario, either on Brexit day in March 2019 or after a transition period…

The push is intended to reduce uncertainty for business by granting more powers to Brussels and other EU authorities so they are better able to cope with sudden complications…

EU officials say most of the amendments are legal housekeeping, which would address anomalies that arise from the exclusion of the UK.

However, the proposals would also give the commission and other EU regulators specific "emergency powers", for a limited period, to handle the fallout from an abrupt UK exit.
Finally, the Irish government and the EU have felt it necessary to prod the UK on the Irish border issue, reminding the Government that there is not deal otherwise. From the Express:
Mr Tusk said the European Union would walk away from its Brexit transitional and withdrawal deals with the UK an Irish agreement is reached between Westminster and Brussels.

Addressing MEPs after a meeting of the Council, its President made clear to the UK that the EU will not allow any compromise on the issue.

Mr Tusk said: "The UK's decision on Brexit has caused the problem and the UK will have to help solve it.

"Without a solution, there will be no withdrawal agreement and no transition."
Of course, the UK press is not the sort of place where you are likely to read that the Irish border question was supposed to be sorted out last December, and EU chief negotiator Michel Barnier allowed May to get away with a short-term finesse that the so-called Joint Agreement made clear had to be resolved. Time on this front, like so many others, is running out.