Today, we turn to the disparities and inaccuracies of recently-hired CalPERS Chief Financial Officer Charles Asubonten's Form 700 filing and his depiction of his private equity business.
As we described in our overview post, contrary to the normal practice of private equity firms, consultants, and businesses generally, Ausbonten has very rarely presented a firm name in public settings such as on LinkedIn and other websites, or on important documments. On the rare occasions when he has, we have been unable to find an instance of him using the same business name twice. He has also used a variant spelling of his name, Asubonteng, in Ghana, further making it difficult to examine his activities over time.
On the Form 700, a disclosure document required of all government officials in California, Asubonten provided an inaccurate address for a partnership which appears to represent most of his net worth. An informal reading from the Fair Political Practices Commission indicated that the response Asubonten provided does not comply with the requirements of the law.
As we discuss in more detail below, further investigation also raises more troubling questions regarding where Asubonten's "private equity firm" was located and what sort of business it was engaged in.
Asubonten's Inaccurate Form 700 Filing
Form 700 is an annual filing required of all California government officials, including at the local level. It is a "statement of economic interests," designed to identify conflicts of interest, and so is not a comprehensive financial disclosure document. Having $200,000 in the bank or owning a dairy farm in Vermont that sold all of output east of the Mississippi would not represent a conflict of interest for a California official and hence would not be reportable.
Respondents are required, under very strong penalty of perjury language,1 to identify "reportable interests." From the instruction section to Form 700:

Below is a screenshot of part of Asubonten's Schedule A-2, Investments, Income, and Assets
of Business Entities/Trusts for 2017. You can also view it on page 3 of the first embedded document at the end of the post. Note that Asubonten listed only this business entity on his Schedule A-2: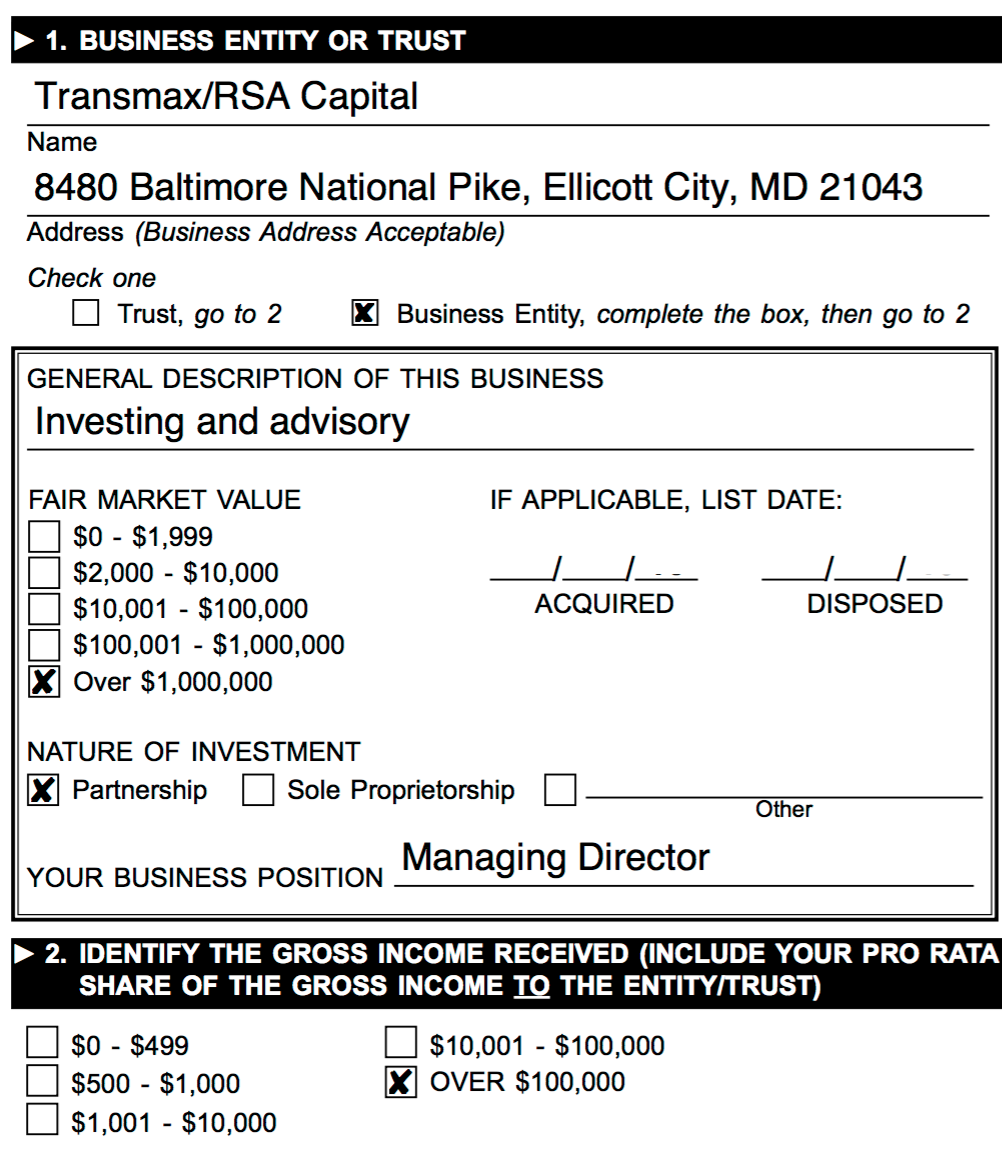 For the moment, we will put aside the fact that this business name does not appear in any Internet searches and also differs from the business name Asubonten provided on his resume.
The address is a strip mall and does not look like a fitting location for either a private equity business, a consulting firm, or a financial advisory firm serving so-called accredited investors (high net worth individuals and institutions that are deemed by the SEC to be sophisticated and/or rich enough to invest in non-SEC registered securities and private partnerships).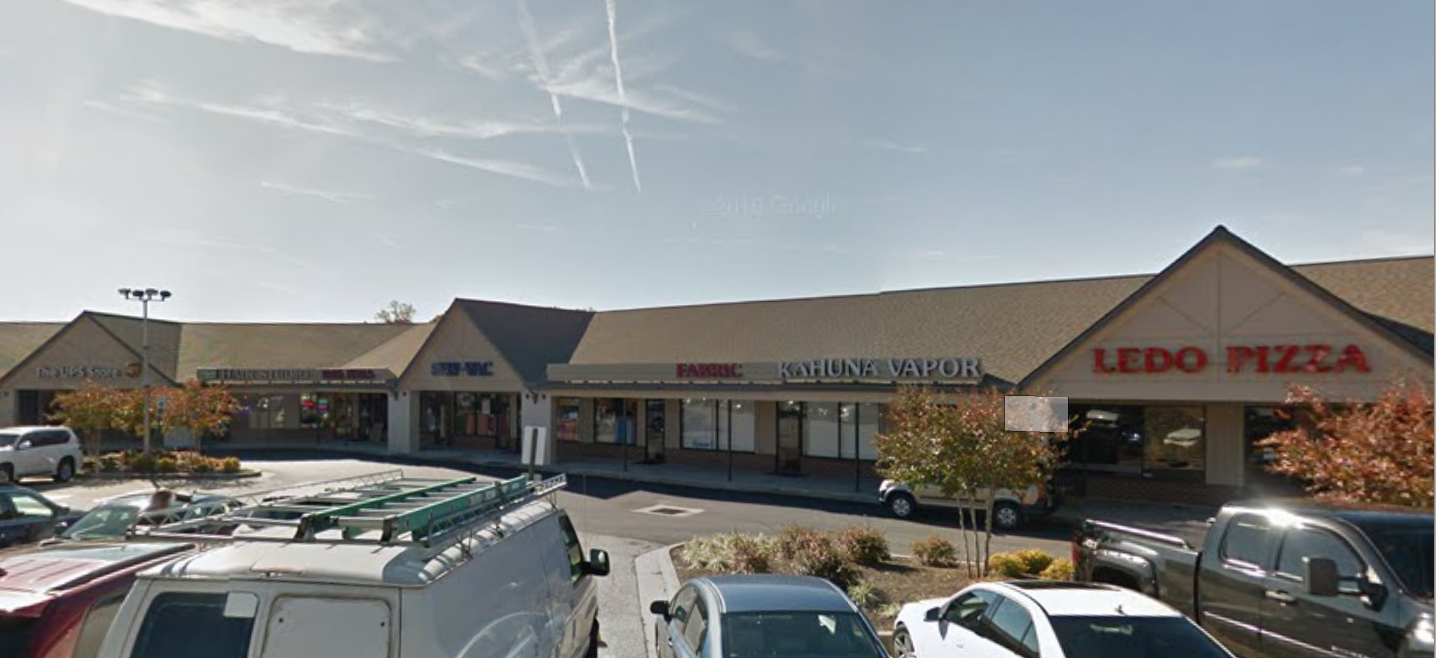 Tenants at 8480 Baltimore National Pike include:
Ellicott City Taxicab Service
The Maids Home Cleaning in Ellicott City
Kumon Math and Reading Center of Ellicott City – Normandy
Ellicott City Sew-Vac
True Nails in Ellicott City MD
The one "finance" firm is Vaughn Calloway & Associates, a Primerica broker.
Here is another look at the property and the tenants from the listing agent's website: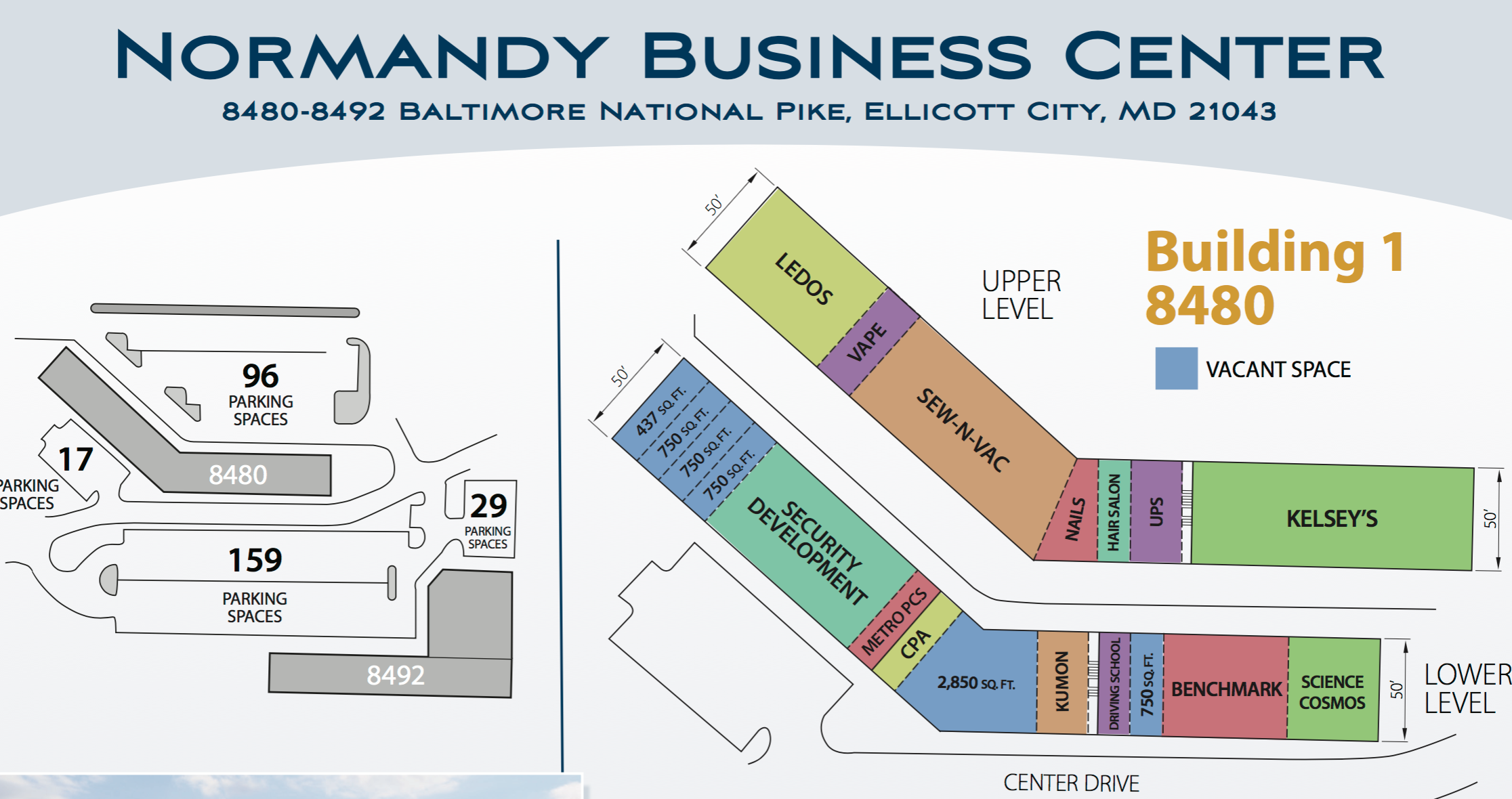 We called the listing broker and the property manager. Neither had heard of a Transmax or Charles Asubonten. Both had been responsible for the property in 2017, the year covered by Asubonten's Form 700.
We asked each of them if there was any business that might be acting as a representative for Transmax, such as a law firm or an accountant. We mentioned the accountant at the address, Daniel Stein, and asked if there were any other lawyers or CPAs who had been at that address in 2017. Both said no.
We contacted Daniel Stein, who had just moved to a new location but said he had been a long-standing tenant at 8480 Baltimore National Pike. He said emphatically that neither a Transmax nor a Charles Asubonten had ever been a client and volunteered that he'd never heard of them operating out of his former address.
We then called the UPS Store at 8480 Baltimore National Pike. UPS Stores offer a mailbox service, so it was possible that Transmax/RSA Capital had rented a box there.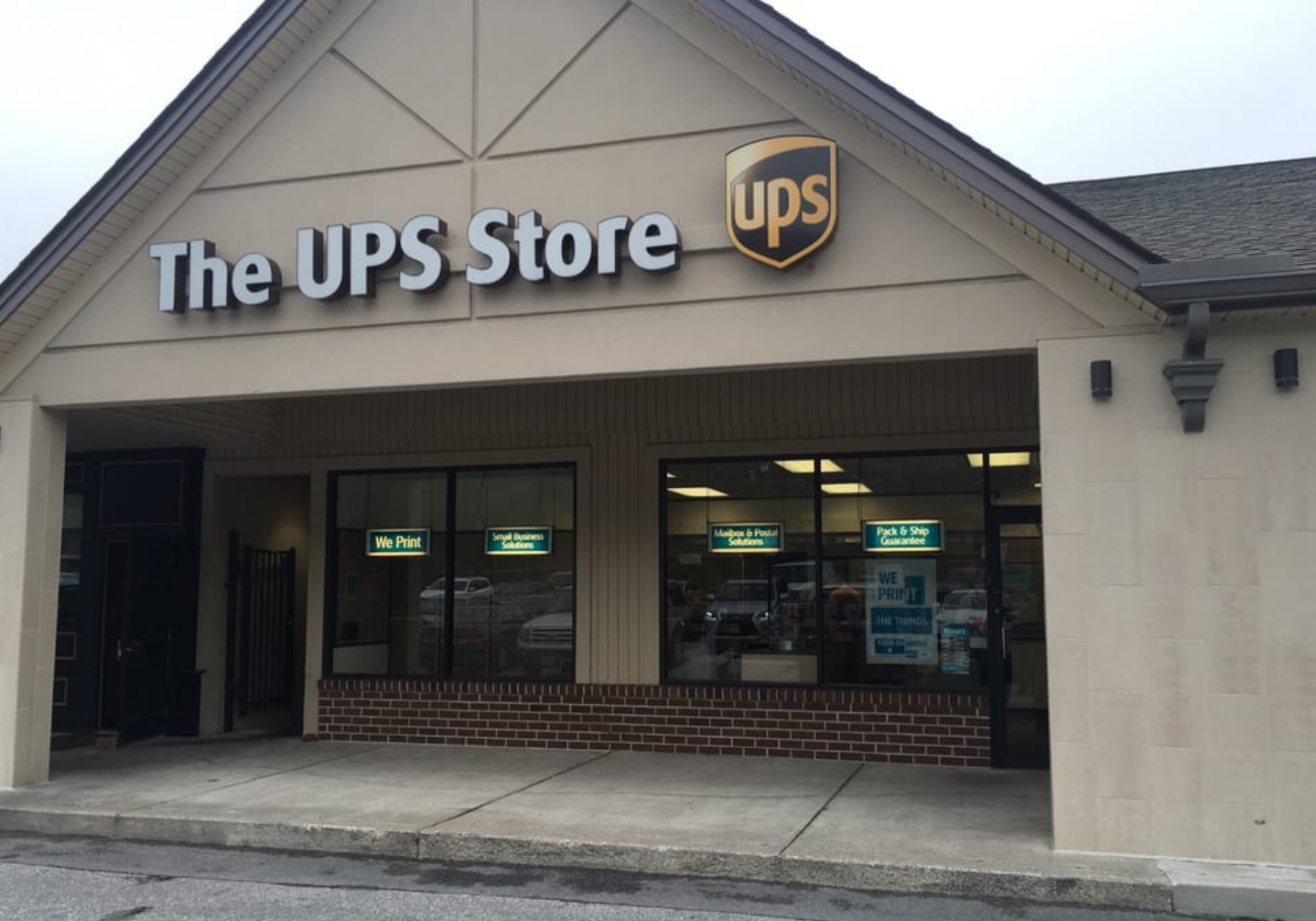 After we e-mailed a copy of Asubonten's Form 700, one of the managers confirmed that:
There had never been a mailbox in the name of Transmax/RSA Capital or even a Transmax at their facility

Asubonten had rented a personal mailbox there, but that lease expired on October 1, 2017

The UPS Store would not have accepted mail addressed to "Transmax/RSA Capital" or "Transmax." It would also have refused to take mail with Asubonten's name plus "Transmax" but no box number, or "Transmx" with Asubonten's personal box number. The store would accept mail only if it had both the name of the party renting the box and his box number on it
The Fair Political Practices Commission help line has confirmed that a business address that is not valid for mail delivery is not compliant with the requirements of Form 700.
As you can see from the resume embedded at the end of the page, Asubonten did not provide a location for his business. For all of his employers, he typically gave a city and state or country; for Mopani Copper Mines, he listed "Zambia." By contrast, for his alleged private equity concern, he put "Maximum Transformation" in the spot where he listed the location for all his other job entries.
The fact that Asubonten's "private equity firm" does not appear to have an office or even a valid address, raises further concerns, which we will discuss later.
Asubonten's "Man of Many Names" Problem
As we have pointed out, it is very difficult to find evidence that Asubonten is in fact the principal of a "private equity firm," meaning a firm which has committed capital which it invests on a discretionary basis and earns enough in fees and expense reimbursements to support its partners and staff.
Moreover, as you can see from the resume embedded at the end of this page, the description of activities that he provided is not that of a private equity firm, but a service provider to investors.
In the opening section of his resume, Asubonten further describes himself as the CFO of a "private equity company" when again, the detail under the "Transmax" section of his resume is inconsistent with that.
Moreover, private equity firms, due to their obsession with credentialing, are typically chary of using the CFO designation unless the job would be filled with someone who had CFO-level experience at a large asset manager or financial services company. While there are exceptions, most funds with less than $300 million under management use a more modest title for an in-house financial manager, like "Controller". As we mentioned in an earlier post, if Asubonten's firm had more than $150 million in assets under management, it would have been required to register with the SEC and if Asubonten were a principal, his name would be included in that listing. Neither Asubonten's name nor that of any "Transmax" produces results in a search.
As we also stressed, both a private equity firm or a firm providing services to investors would have strong business incentives to promote their business name. By contrast, Asubonten has repeatedly avoiding the use of a business name and even when he has, he does not appear to have used the same name in a public setting twice. 2 Notice that even with CalPERS, Asubonten gave "Transmax-Maximum Transformation" on his resume and "Transmax/RSA Capital" on his Form 700.
We have also been unable to find a phone number or a website associated with Asubonten's firm, which again is extremely unusual. We did an extensive search of Transmax-named business, nearly all of which are technology companies. We also searched for "RSA Capital". While we did get more leads, only two appeared to be in the private equity business.3 One said it had never heard of Charles Asubonten. The other did not reply.
Asubonten's wife is Rosiland Sheperd Asubonten, so the RSA in "RSA Capital" could refer to her.4
He did register transmax.biz on August 12, 2011, according to cubib.com, but the site appears never to have been built. The domain name is now owned by Dallas R. Dempster of Hyperion Energy in Australia.
Here is Asubonten's "private equity" listing on LinkedIn, which true to his practice lists no firm name or location. Notice the prominent play he gives to having taken a two day course:

Asubonten has used firm names other than variants of Transmax when he has had to use names. He is currently renting a house at 5247 Harvey Lane in Ellicott City, Maryland, and public records show he began renting there in August 2015. I called PCF Property Management, who is managing the property, and got them to pull the records on his application. They confirmed the rental history (which Zillow showed initially at $3,700 a month, now $4,200 a month), that Asubonten entered the lease himself without a co-signer or his wife on the lease. They confirmed that he has always paid on time.
I asked whether Asubonten had listed himself as self employed on his rental application or if not, who he showed as his employer. The rental agent pulled up the record and read out "Global Finance." I said I had never heard of such a company, and asked if she was sure. She reconfirmed it, and added that they asked renters to provide a pay stub and pass a credit and criminal background check. She said she didn't have an image of the pay stub to see that the employer name matched the employer name on the form, as it normally would.
Asubonten has also described himself as the Managing Director of Tragik Koncepts & Design. This image is from ZoomInfo, which scrapes LinkedIn profiles, meaning this information came from an older version of Asubonten's LinkedIn page: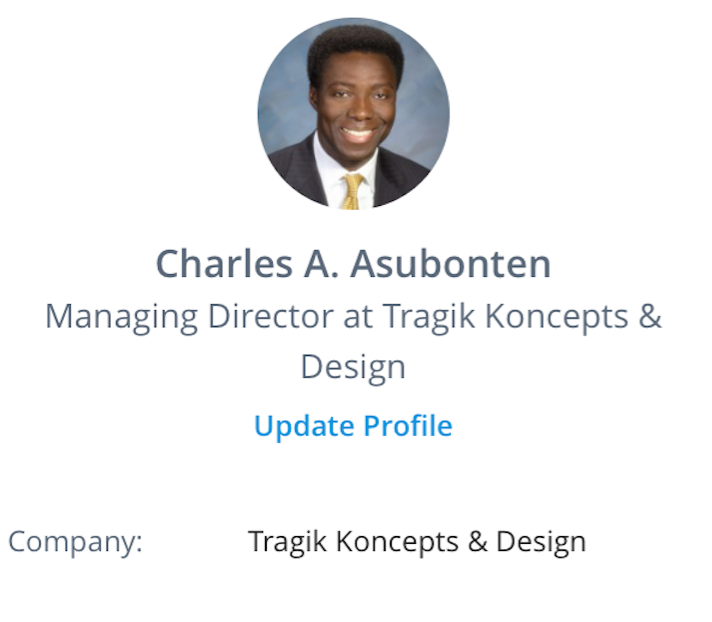 Tragik Koncepts was a tiny computer repair store, founded in 2009, which has closed: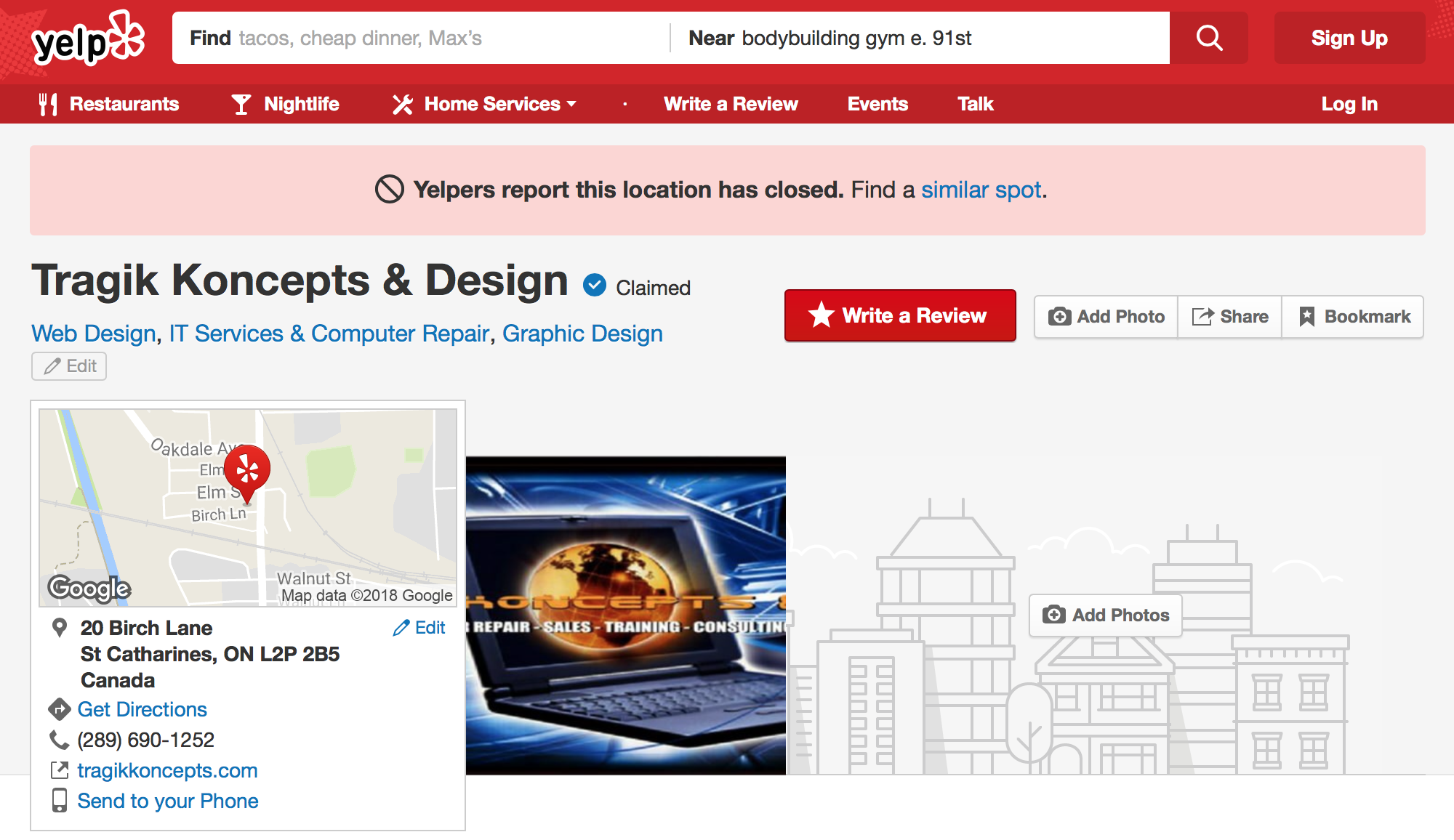 Note again that this is the only company we have been able to find that might have been either an investee business or an consulting client of Asubonten's firm.
Asubonten has also operated as "Charles Asubonten & Associates." The Mining Indaba Junior Mining Showcase lists Charles Asubonten & Associates as an "investor" that participated in its 2017.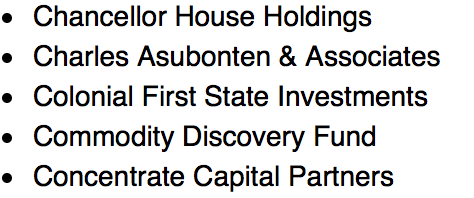 But finance professionals would regard "Charles Asubonten & Associates" as an un-investor-like company name, and would be more suited to a consulting firm.
ZoomInfo also indicates that Asubonten's older LinkedIn profiles included him describing himself as a Managing Director of "Private Equity, Inc." as well as Chief Financial Officer of the Zambia Post Office and of Rio Tinto, a company with $40 billion in revenues and 50 million employees: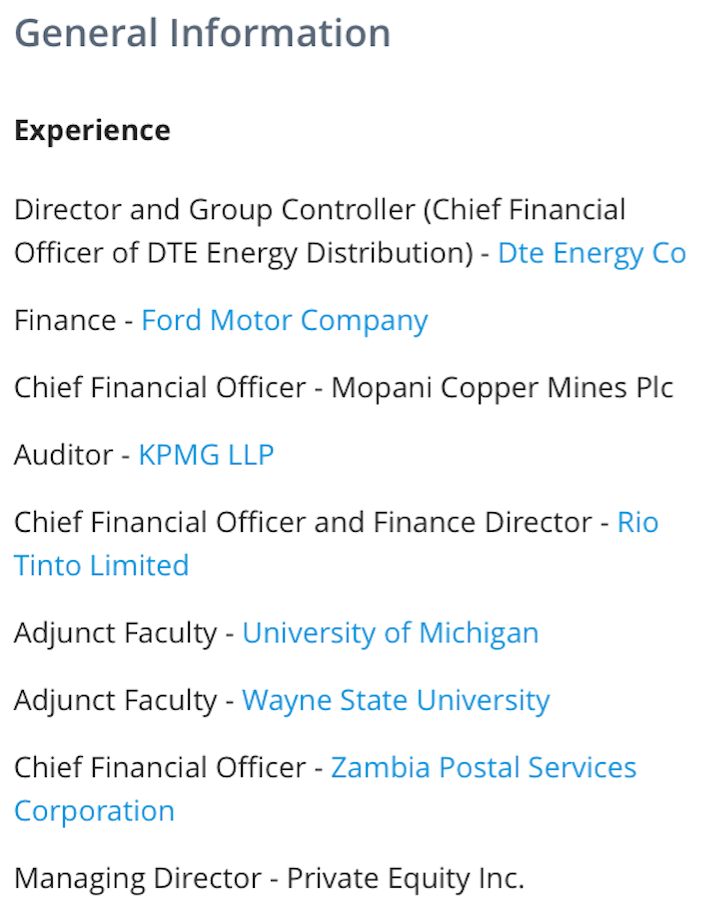 As we pointed out earlier, Asubonten has done business under a variant spelling of his name in Ghana, Asubonteng. As an advisory board member, he is in an influential enough position to have the spelling corrected. And he would have incentive to do so, since he included Solar Light in the resume he presented to CalPERS (as we noted yesterday, misrepresenting it as an independent director role):

While one instance of a misspelling could be a mistake, a second sighting suggests it might be a pattern. While there is another Charles Asubonteng in Ghana, he studies ISO/IEC 27001, Medical Electronics, and Electronic Circuits and appears unlikely to be on a public procurement committee: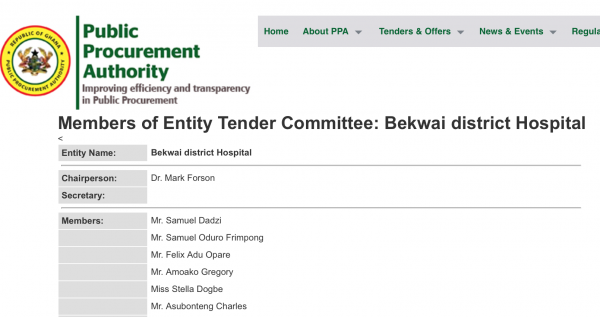 The reason to be particularly concerned that Asubonten may have operated under a different name in Ghana is that banking experts point out that the use of a mild variation in spelling leads to "no realistic possibility of detection" that the variant spelling name is that of a completely different individual.
Note that Ghana is on the GFSC Sensitive Sources Notice where financial institutions are required to engage in enhanced due diligence measures and give special attention to "all existing and new business relationships and transactions connected with such countries or territories."
https://www.gfsc.gg/sites/default/files/20160322%20-%20Instruction%20Number%2001_2016%20-%20PBs%20-%20March%202016_0.pdf
In addition, one of Asubonten's fellow advisory board members at Solar Light, Charles Botchway of Madison Street Capital in Chicago, has a less than savory reputation. The firm has pages of complaints about its "boiler room" calling operation.
Further Problems With Asubonten's Form 700
We'll return to Asubonten's Form 700 to look at a final set of inconsistencies.
One has to believe a remarkably convenient set of coincidences to view this section of Asubonten's description of his firm Transmax/RSA Capital on his Form 700 is accurate.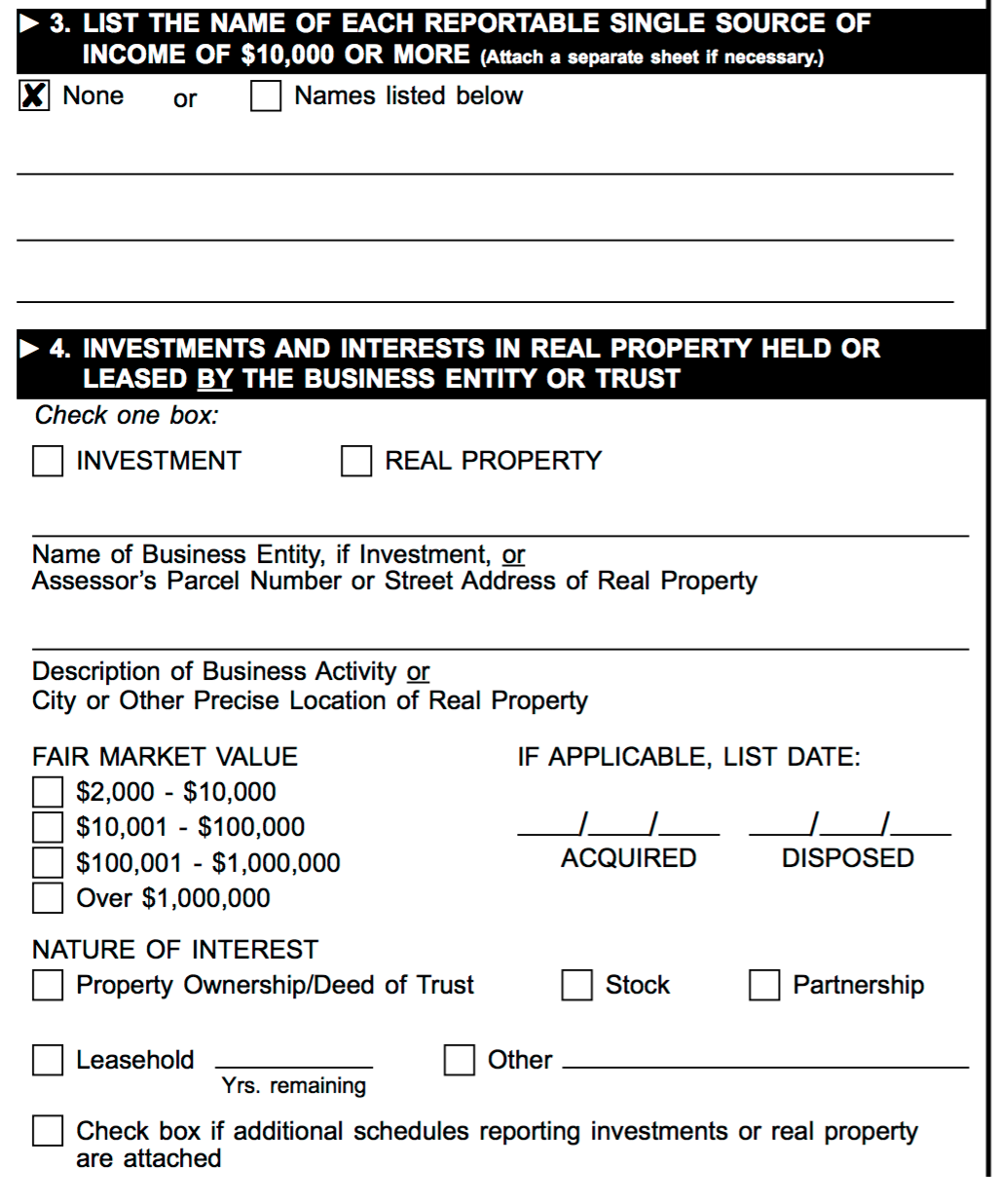 Recall that listing Transmax/RSA Capital in the Form 700 means Asubonten is acknowledging that it has a California nexus, meaning it has income or investments that are either in California or are companies that do business in California. Recall also that Asubonten has given contradictory descriptions of what business his business is really in. He has regularly described it as a "private equity firm" which means it manages other people's money on a discretionary basis. But the description of the activities of Transmax-Maximum Transformation on his resume is that of a service provider, such as a consulting firm, and not an asset manager.
Let us first assume that Asubonten's firm is indeed a private equity firm, meaning it acquires significant, usually controlling, interests in private businesses. Somehow, Transmax/RSA Capital's owned businesses do business in or are located in California, but by lucky happenstance, Transmax/RSA Capital's ownership in each of those businesses is worth less than $2,000, so it doesn't have to tell the State of California or the public about them.
To put it politely, that does not seem like a very plausible scenario, particularly given that California requires Form 700 filers to report on investments that were doing business in their jurisdiction in the two years prior to the filing year as well as ones considering doing business in the jurisdiction.
The other scenario is that Transmax/RSA Capital is a firm that provides advisory services to private equity investors. Recall that Asubonten valued his share of the firm as being in excess of $1 million. Let us assume it's $1 over $1 million, which is charitable for the purpose of this analysis.
Consulting firms sell for 1 to 2 times revenues (the exceptions are ones with big brand names, which does not apply here). That means Asubonten's firm would have had at least $500,000 in revenue in 2017.
Having regularly provided advisory services to private equity investors myself, as well as knowing many ex-McKinsey professionals who are in that business, it would be very unusual to have a client who paid only $10,000 in a year for this type of services, unless it was a small invoice from a bigger assignment in a different year.5 Yet the story we are to believe is that none of Transmax/RSA Capital's clients who had recently, were currently, or were considering doing business in California had paid for more than $10,000 of services.
Needless to say, one would hope to have a clearer and more confidence-inspiring history for someone assuming such an important position.
_____
1 From the bottom of the first page of the Form 700, which incorporates the supporting schedules, such as the one we discuss in this post (emphasis original):
I have used all reasonable diligence in preparing this statement. I have reviewed this statement and to the best of my knowledge the information contained herein and in any attached schedules is true and complete. I acknowledge this is a public document.

I certify under penalty of perjury under the laws of the State of California that the foregoing is true and complete.
2 I did manage to find one occasion in which Asubonten had use the name "Transmax" on the application for a program. But the firm stated they did not publish the firm name and the only place it could be found was in their database, which they do not sell for marketing. So that does not disprove the point.
3 We inquired with some of the firms, such as RSA Capital in New York City, which did not list having a private equity operation but could conceivably still have a small one, and we got no replies.
4 Form 700 also requires that respondents report 50% of their spouse's community property interest.
5 For a private equity firm or any investor with meaningful funds to deploy, it isn't worth the hassle to vet and negotiate with a new consultant for a mere $10,000 of bespoke work.
Charles Asubonten - Form 700 2017

Asubonten resume