Ocean circulation is changing, and we need to know why Nature
How a volatility virus infected Wall Street FT
Compliance Doesn't Pay Bloomberg
How Much Are Banks Exposed to Subprime? More than we Think Wolf Street
Norway's wealth fund blocked from investing in private equity FT
The Ad-Tech Industry's Looming Shakeout Could Finally Happen AdWeek (JB). From the EU's GDPR.
Russian Sanctions Are Maybe a Problem for You Bloomberg. "Bans on securities trading seem to leave anyone in finance vulnerable to falling foul of the U.S."
Shocked commodity traders ask who might follow Rusal FT
Russia's refusal to attend aviation talks could lead to ban on US carriers in its airspace The Loadstar
Syraqistan
Suppose another "chemical" or some other incident takes place in Syria. The "chemical" trigger looks most likely. This theme is well-covered by the media and is a serious pretext. Suppose Washington decides to use force, not just a cosmetic strike with ten or twenty Tomahawks, but a massive attack on the remaining military and civilian infrastructure of the Syrian Government. This is the scenario's first bifurcation, or the matter of Russia's involvement. Its bases can remain intact. But if Moscow uses its forces (as its military promised) a strike will be delivered at Khmeimim and Tartus. Technically it is possible to launch such a strike and destroy both bases and their military personnel, especially if US troops die during an attack on Bashar al-Assad…..

This scenario may seem extremely risky (if not crazy) but upon closer analysis it has logic of its own. And here comes the next bifurcation. What will Moscow do, if this happens? The first option (that would be the most desirable for Washington): Russia would have to bite the dust and admit defeat. Yes, Russia is a nuclear power but will it mount a nuclear strike because of a clash with the Americans in Syria, knowing that its strike will result in retaliation? In other words, the stakes here are on the hope that Moscow will not press the button because this would mean suicide. In this scenario, victory would be on Washington's side without reservation. It will show that it is possible and necessary to cut down to size an opponent that has crossed the line. This will be a powerful signal to all the rest while America and Trump personally will gain the reputation of an uncompromising and tough player.

But there is also a second option. It is difficult to analyze it on the basis of the theory of rational choice. It may simply not work within Russia's strategic culture and tradition. The Russians may press the button. Moscow is not confined to the option of Mutually Assured Destruction (MAD). It can also offer a limited, albeit very painful, response. Technically this is also possible and dangerous in its own way. If, say, an aircraft carrier or a big warship is demonstratively sunk, it is Washington that risks biting the dust. But this is not in the US tradition, either. As a result, tensions will escalate, considerably increasing the risk of MAD.
Is the US Suffering a 'War Gap'? The Diplomat. "America's distance from the frontlines of its wars and its inability to accurately discern the physical and human geography of its antagonists have led to a fatal violation of Sun Tzu's dictum, 'Know your enemy.'"
China?
Brexit
The complete failure of the Brexit project Mainly Macro

UK can change mind on EU single market until 2021, says Michel Barnier Sky News
Sports Desk
A Gentleman's Guide to the NBA: When Players Agree to Take Plays Off Bleacher Report

Mystery Consortium Is Said to Offer FIFA $25 Billion for Control of 2 Tournaments NYT. Knowing FIFA, the deal is in the bag. As it were.
New Cold War
Statement issued on behalf of Yulia Skripal Metropolitan Police

Russian Roulette: No Smoking Gun, Six Key Flaws Paul Street, Counterpunch. A review of Corn and Isikoff's new book.

Investigators Focus on Another Trump Ally: The National Enquirer NYT
Trump Transition
Paul Ryan Personifies the Devil's Bargain the GOP Struck With Trump The Atlantic. The liberal Democrat dream for decades: If only there were responsible Republicans to work with. Like Reagan…
Democrats in Disarray
Bernie Sanders in the Deep South New York Magazine. A very useful corrective.
Big Brother Is Watching You Watch
Don't Give Away Historic Details About Yourself Krebs on Security
A Google computer scientist says his new lip-reading technology has terrifying implications for fake news South China Morning Post. Normally, I toss any story with "terrifying" in the headline into the gaslighting file, but this doesn't look good.
Facebook Fracas
Hot-air dryers suck in nasty bathroom bacteria and shoot them at your hands Ars Technica (BC). BC: "Ironic how so many products designed for health and hygiene end up being clever marketing gimmicks that just make things worse."
Class Warfare
Do the Employed Get Better Job Offers? Liberty Street Economics
How the Reformulation of OxyContin Ignited the Heroin Epidemic NBER
The Emotions We Feel May Shape What We See Psychological Science
Time Out with William James and The Principles of Psychology Society for U.S. Intellectual History
Antidote du Jour (via):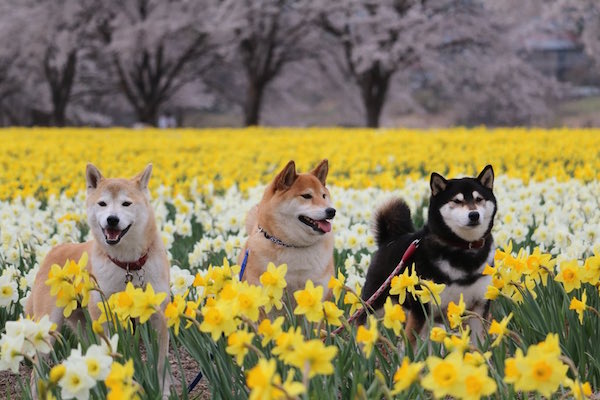 Such daffodils!
See yesterday's Links and Antidote du Jour here.