Our mini-fundraiser for Water Cooler is on! As of this hour, 107 donors — our goal is 275 –have already invested to support Water Cooler, which provides both economic and political coverage, to help us all keep our footing in today's torrent of propaganda and sheer bullsh*t. Independent funding is key to having an independent editorial point of view. Please join us and participate via Lambert's Water Cooler Tip Jar, which shows how to give via check, credit card, debit card, PayPal, or even the US mail. To give more, click on the arrow heads to the right of the amount. Thanks to all!
Recycling will be dumped by councils nationwide as costs blow out, government association says abc.net.au. Kevin W: "Is it recycling if your plan is to ship it to another country?
Theresa May's new plastic crusade: Prime Minister in dramatic pledge to ban ALL plastic cotton buds, straws and drink stirrers Daily Mail
China
China wants to wean itself off foreign technology. Now it will see how hard that will be Quartz (Kevin W)
North Korea
North Korea: Prisoner issue looms large after Mike Pompeo's secret trip DW
In China and India, men outnumber women on a massive scale. The consequences are far-reaching Washington Post. Important. Sad also.
Brexit
May dealt embarrassing Brexit defeat in House of Lords Reuters. The key amendment is pure optics. May is just supposed to report progress. She's not required to succeed. But there is the interesting question of what if anything she is required to do.

Brexit: a psychic epidemic Richard North. Important.

Government suffers two Brexit defeats in House of Lords Financial Times

David Davis looks to seize Brexit initiative from Michel Barnier Financial Times. This is ridiculous. The EU has been asking the UK repeatedly what sort of future relationship it wants. The idea that David belatedly taking up a long-overdue task amounts to a clever end-run of the EU is spin that only teh too-credulous UK press would parrot. And that's before getting to the fact that every Brexit position paper produced by the UK has sucked.
New Cold War
As lies on Syrian gas attack unravel, US and UK shift to claims of Russian "cyber war" WSWS

Ukraine's NATO Bid Risks Even Worse U.S.-Russia Ties ConsortiumNews
Our NATO ally Latvia holding "the world's only march by veterans of Nazi Germany's elite SS unit" https://t.co/CXQ86olH71

— Mark Ames (@MarkAmesExiled) April 18, 2018
Syraquistan
Out of 20 Major Editorials on Trump's Syria Strikes, Zero Opposed FAIR. UserFriendly: "Shocked!"

On Douma, the Guardian treats a Birmingham-based pro-regime change doctor in Turkey as more credible than Robert Fisk, who was in Douma. It even refused to name Fisk, referring to him merely as a reporter "favored by Moscow" https://t.co/HIgfqxJDPJ via @Jonathan_K_Cook

— Max Blumenthal (@MaxBlumenthal) April 18, 2018
Big Brother is Watching You Watch
Imperial Collapse Watch
'Eternal Flaming Wheelbarrow Full of Cash' picked as Global War On Terror Memorial Duffelblog (JTM)
Trade Traitors
Trump is swiftly backtracking on a radical change to his trade policy Business Insider

Tampa Bay Times to slash jobs in wake of paper tariff Tampa Bay Business Journal. Tariffs are a blunt instrument..
Trump Transition
Trending: the #Resistance attempting to recruit neocon corpse bride Nikki Haley. pic.twitter.com/N9frYdhoAj

— Caitlin Johnstone (@caitoz) April 18, 2018
Cynthia Nixon Gets Cuomo to Play to Type New York Times. UserFriendly: "God, they are such snobs."
There is occasionally some justice in this world:
The Real Washington: companies and rich people were paying millions of dollars to Tony Podesta for the access & influence they knew he'd have when Hillary was President. Then she lost, they stopped paying him, and now he is losing everything https://t.co/aMSrgh9Yxh

— Glenn Greenwald (@ggreenwald) April 18, 2018
Puerto Rico hit by first island-wide blackout since Hurricane Maria BBC
Black Injustice Tipping Point
Black Man Blocked From Entering a New Jersey Gym Where He's a Paid Member Alternet

Kansas Trio Convicted in Plot to Bomb Somali Immigrants New York Times (furzy)
Professor who called Barbara Bush an "amazing racist" on Twitter shortly after the former first lady's death now faces university investigation. https://t.co/r4fMvx6CVQ

— AP Central U.S. (@APCentralRegion) April 18, 2018
Amazon's Bezos Says Company Topped 100 Million Prime Members Bloomberg (Kevin W)
California Opens Investigation Into Tesla Workplace Conditions Bloomberg
Elon Musk wants to ramp up Model 3 production while it's already struggling — but his plan doesn't make sense Business Insider. Covered by Jim Haygood in comments yesterday, and IMHO better too.
What is sustainable finance? Economist (David L). A scam.
Junk Bond Market Still in Total Denial, Fighting the Fed Wolf Street (EM)
Congressional Review Act Confusion: Indirect Auto Lending Guidance Edition (a/k/a The Fast & the Pointless) Adam Levitin, Credit Slips
Finra's Black Hole Intercept (Chuck L). Finra is a joke. This is yet more proof.
Investors Are Getting Worried About an Inverted Yield Curve Bloomberg
Is the US economy booming? April 2018 update Angry Bear. For those who feel the need to say more than, "Are you kidding?"
Class Warfare
Antidote du jour (Ed T). Not quite separated at birth: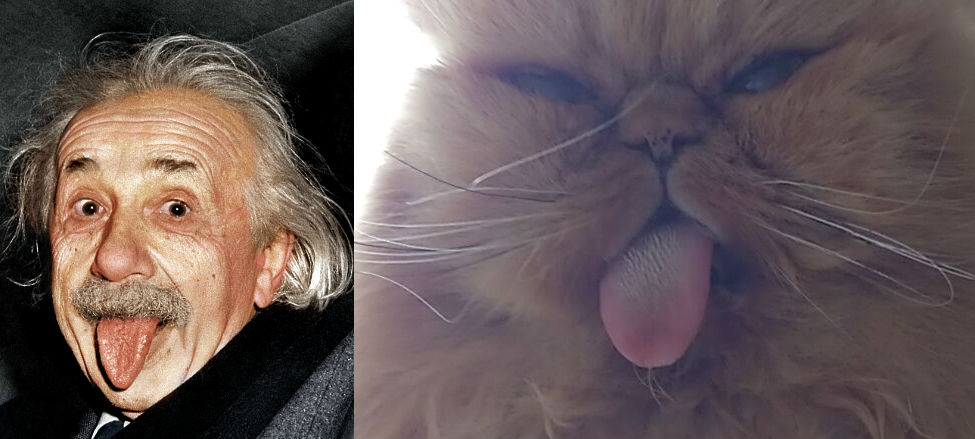 See yesterday's Links and Antidote du Jour here.